The Best Episodes of Family Guy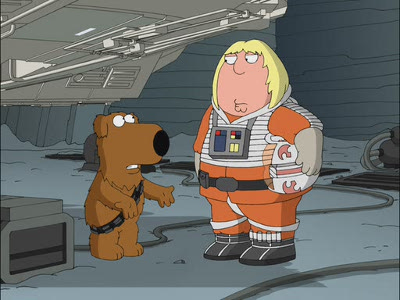 #1 - Something, Something, Something, Dark Side 8.30
Season 8 - Episode 20
Peter makes good on another power outage at home--by entertaining his family with a retelling of Star Wars Episode V: The Empire Strikes Back. Newcomers to the story include Mort as Lando Calrissian, Chris' boss Carl as Yoda, and the Giant Chicken as the nefarious Boba Fett.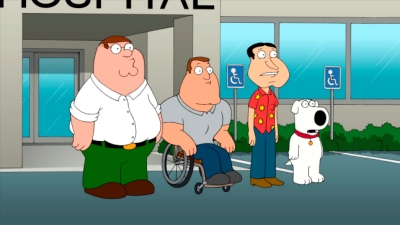 #2 - Forget-Me-Not 8.20
Season 10 - Episode 17
After a night out, Peter, Joe, Brian and Quagmire awake in a hospital and discover that they don't remember anything and that the town has been deserted.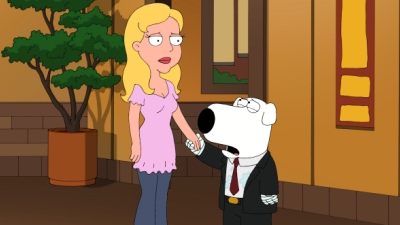 #3 - The Blind Side 8.18
Season 10 - Episode 11
Brian starts dating a blind girl and things get a little dicey when she divulges that she hates dogs. Meanwhile, the Griffin family installs a new staircase in their home, causing Peter to continually injure himself on the new one and decide to live upstairs full-time.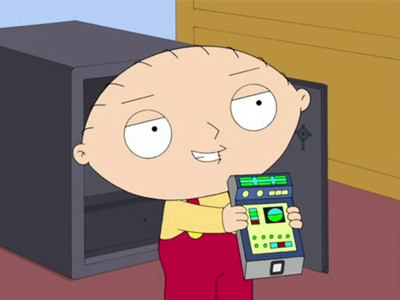 #4 - Road to the Multiverse 8.17
Season 8 - Episode 1
With the help of an out-of-this-world remote control, Stewie and Brian travel through alternate universes, including a post-apocalyptic world and a parallel world run by dogs where humans are pets.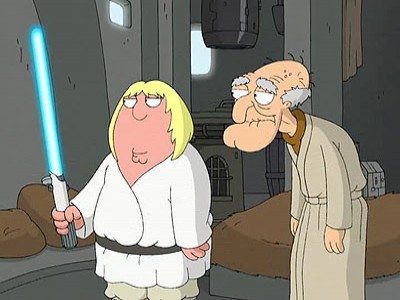 #5 - Blue Harvest 8.16
Season 6 - Episode 1
Peter retells the story of Star Wars in this hour-long episode of Family Guy. When Princess Leia is captured by the evil Darth Vader the droids C-3PO and R2-D2 escape to the planet Tatooine to find help from the Rebel Alliance. There they encounter Luke Skywalker, Han Solo, Chewbacca and Obi-Wan Kenobi who infiltrate the Death Star then rescue the captive princess from the Death Star and return to aid the Rebellion in its fight against the Galactic Empire.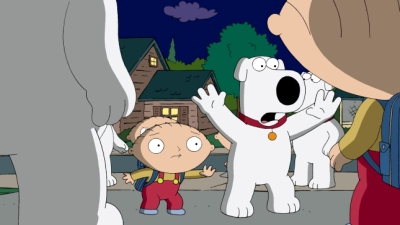 #6 - Back to the Pilot 8.16
Season 10 - Episode 5
Brian and Stewie travel back in time to the pilot episode of FAMILY GUY to change history, and then to change history again.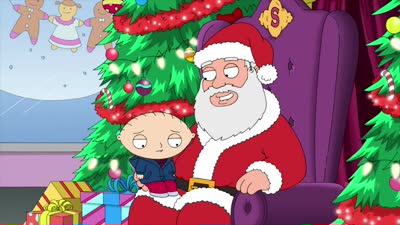 #7 - Christmas Guy 8.10
Season 12 - Episode 8
Peter fills Lois' dad with holiday spirit; Stewie tries to get the only thing he wants for Christmas.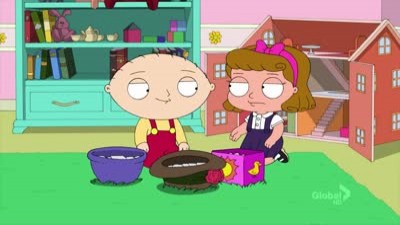 #8 - Mr. & Mrs. Stewie 8.09
Season 10 - Episode 19
Stewie meets a female version of himself and falls in love; Peter and Quagmire step up their friendship.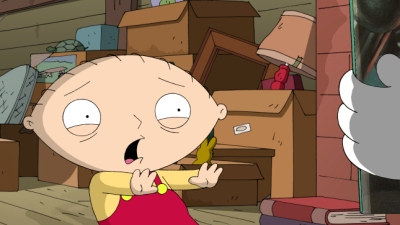 #9 - Killer Queen 8.09
Season 10 - Episode 16
Peter and Chris go to fat camp where they cross paths with a serial killer who targets overweight kids; an album cover frightens Stewie.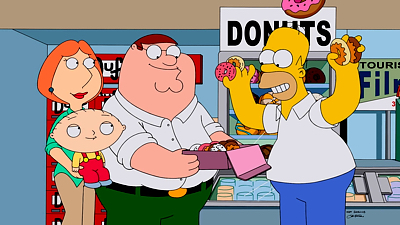 #10 - The Simpsons Guy 8.08
Season 13 - Episode 1
The Griffins travel through Springfield, where they meet The Simpsons - who greet their new "albino" friends with open arms. Homer and Peter debate which is the better beer, Bart shows Stewie some classic pranks, Lisa attempts to find Meg's talent, while Marge and Lois become bosom buddies.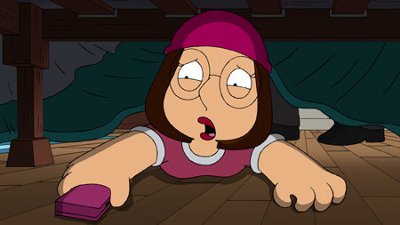 #11 - Leggo My Meg-O 8.05
Season 10 - Episode 20
Meg's exciting European adventure comes to a halt when she is kidnapped; Stewie and Brian embark on an action-packed rescue mission..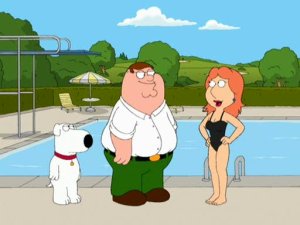 #12 - Meet the Quagmires 8.03
Season 5 - Episode 18
Death grants Peter's wish to go back in time to 1984 when he was 18, but only for one night. He ends up bailing on a date with Lois to hang out with a movie actress. When he returns to the present, he soon realizes that everything is anything but normal, as he is now married to the former actress, and Lois is with Quagmire. Meanwhile, Stewie, Chris and Meg have also taken on Quagmire's charming characteristics.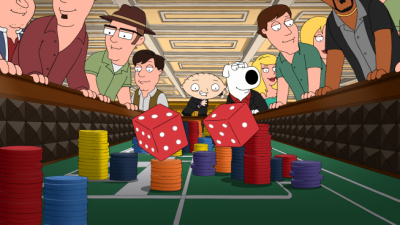 #13 - Roads to Vegas 8.03
Season 11 - Episode 21
Stewie's teleportation machine malfunctions when he and Brian use it to travel to Las Vegas for a Celine Dion concert.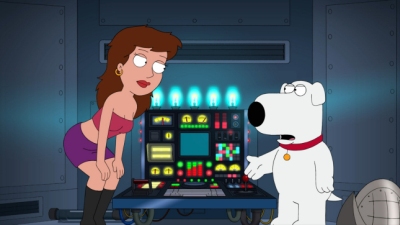 #14 - Yug Ylimaf 8.02
Season 11 - Episode 4
When Brian accidentally causes Stewie's time machine to make reality run in reverse, the two must fix the problem before Stewie is unborn.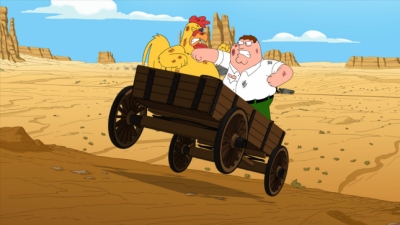 #15 - Internal Affairs 8.01
Season 10 - Episode 23
Peter encourages Joe to have a one-night stand with his attractive new partner in order to even the score with Bonnie for her own indiscretions. But when Bonnie finds out and threatens divorce, Lois insists that Peter get them back together. Meanwhile, Peter has another run-in with the angry chicken which makes for yet another epic fight.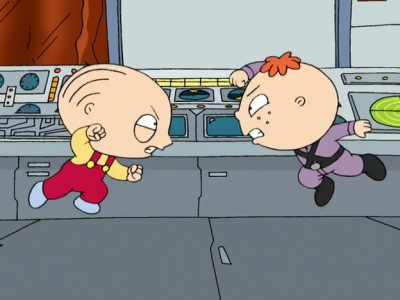 #16 - Emission Impossible 8.01
Season 3 - Episode 11
Peter goes with Lois to visit her sister Carole, who is now pregnant, but alone since her husband walked out on her. Carole goes into labor and Peter helps deliver the baby. Caught up in the moment, Peter and Lois decide that they want another baby. Stewie however, does not agree. Stewie does everything possible to keep Peter and Lois away from each other, but when he is locked out of their room, he is forced to take desperate measures. Stewie ends up shrinking himself down to microscopic size and seeking out his sperm-brother inside Peter's body. Instead of trying to kill his unborn brother Stewie and him unite to destroy Lois.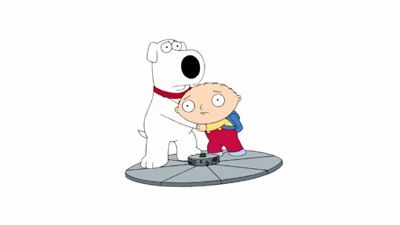 #17 - The Big Bang Theory 8.00
Season 9 - Episode 16
Stewie and Brian go back in time to stop Bertram from killing Leonardo da Vinci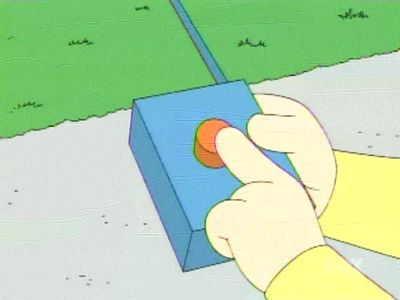 #18 - Bango Was His Name-O 8.00
Season 4 - Episode 29
Stewie convinces Brian to go on a road trip with him to San Francisco to search for a man Stewie believes is his real father.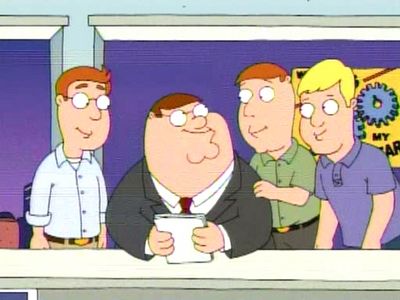 #19 - Stewie B. Goode 8.00
Season 4 - Episode 28
After losing at a swim competition, Stewie trys to eliminate his rival by blowing up a lifeguard tower. His plan backfires though, and Stewie has a near death experience that seems to change him.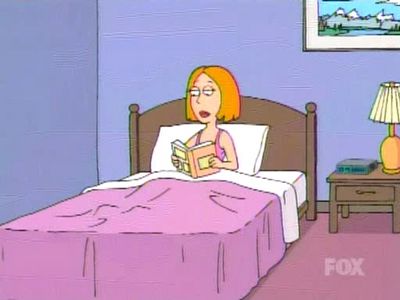 #20 - Stu & Stewie's Excellent Adventure 7.99
Season 4 - Episode 30
Stewie finds out that his life in the future is miserable. So he decides to go back in time and change events for the better.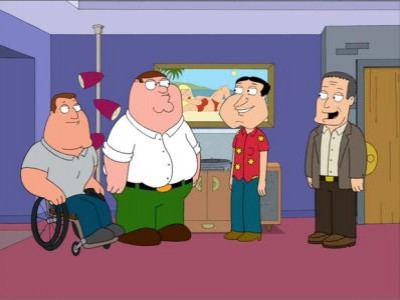 #21 - Quagmire's Dad 7.97
Season 8 - Episode 18
Quagmire can accept his dad's lifestyle choices, but not when they involve Brian.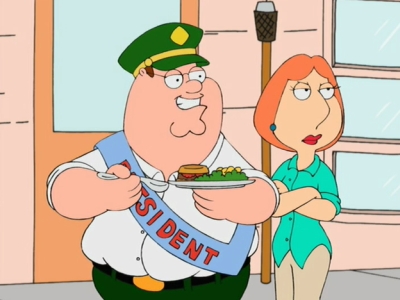 #22 - E. Peterbus Unum 7.97
Season 2 - Episode 18
The town zoning laws won't allow Peter to build a pool in his yard. When he tries to get a permit, he discovers that his property is actually not part of Quahog, and therefore not part of the United States. Armed with this new information, Peter makes his land his own country, calling it Petoria. When Peter gets no respect in the United Nation, he decides to invade Joe's pool, which brings the U.S. Army to his border. The Griffins can only survive so long without water, electricity, heat, or access to the United States, and finally, Lois and the kids leave President Peter, along with Brian, to his third-world country. Peter finally repatriates only a week after seceding.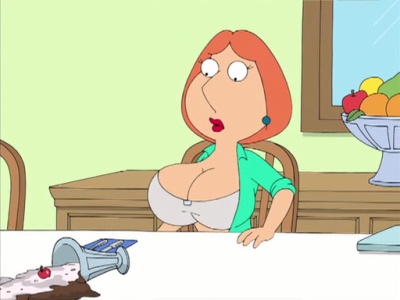 #23 - I Dream of Jesus 7.97
Season 7 - Episode 2
When Peter re-discovers his love for the painfully annoying yet seductively catchy tune "Surfin' Bird," Brian and Stewie decide to take matters into their own hands to ensure that the song will never be heard again! On the verge of tears, Peter goes to every record store in Quahog to track down his beloved jingle, and he runs into a familiar face and ends up hanging out with Jesus Christ.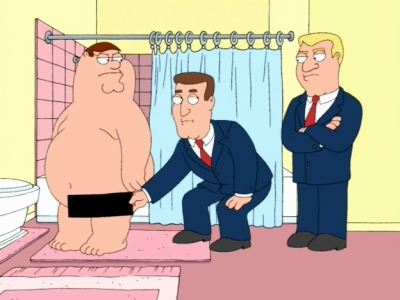 #24 - PTV 7.96
Season 4 - Episode 14
After a "wardrobe malfunction" occurs during a live broadcast, the FCC begins to censor all of Peter's favorite shows. As a result, Peter creates his own station, PTV, which broadcasts from the Griffin home. Peter and Brian create their own edgy programming until the FCC shows up to shut down PTV and censor all controversial material in Quahog.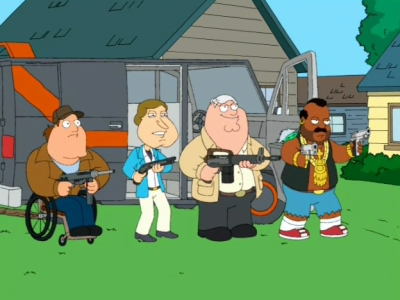 #25 - Brian Goes Back to College 7.96
Season 4 - Episode 15
After writing a story for a local magazine, Brian gets a job at The New Yorker.