Two and a Half Men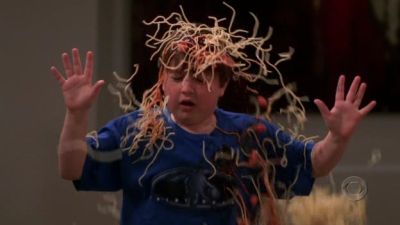 #1 - Squab, Squab, Squab, Squab, Squab 8.34
Season 2 - Episode 23
Evelyn demands Jake spend a night at her place when she finds out he spent Spring Break with Judith's parents. Neither Alan nor Charlie are keen on the idea, but going to a bar after dropping off Jake quickly erases their concerns.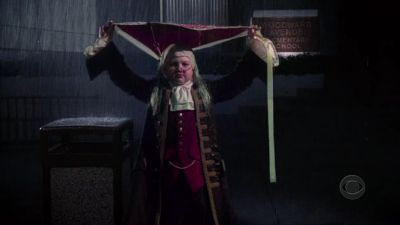 #2 - Can You Eat Human Flesh with Wooden Teeth? 8.31
Season 2 - Episode 16
When Judith decides to take a vacation, the brothers have to take care of Jake during the week. Alan finds it challenging, and even forgets to pick up Jake from soccer practice. When Alan finds out that he has to go to the I.R.S. because they're auditing him, he forces Charlie to take care of Jake, and Charlie doesn't do any better then Alan.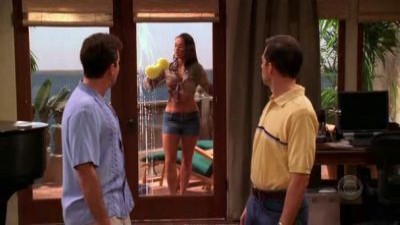 #3 - Camel Filters + Pheromones 8.25
Season 1 - Episode 12
When Berta is forced to bring her granddaughter Prudence to work with her, the boys find themselves a little preoccupied with her.
#4 - The Mooch at the Boo 8.25
Season 6 - Episode 9
Charlie finds himself in an uncomfortable position when Jake takes off with the daughter of a former NFL player. Charlie's Mercedes proves a boon to Alan's love life.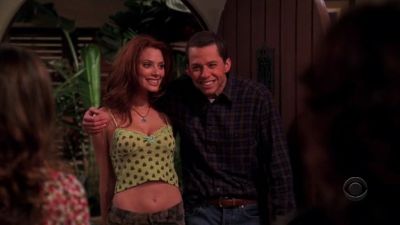 #5 - Ergo, the Booty Call 8.25
Season 3 - Episode 16
Alan has trouble deciding if he should bring his younger girlfriend to Jake's birthday party to meet his mom and his ex-wife. Rose tries to get her boyfriend to act more like Charlie.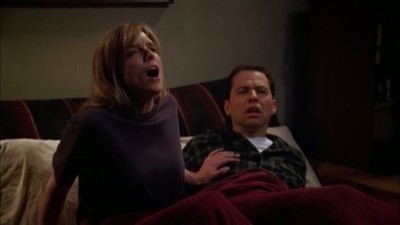 #6 - Sips, Sonnets and Sodomy 8.24
Season 9 - Episode 16
When a huge storm keeps Walden, Alan, Zoey and Lindsay at home on Valentine's Day, conflict brews and relationships are strained.
#7 - The Two Finger Rule 8.20
Season 6 - Episode 19
After Chelsea discovers a nude picture of another woman on Charlie's cell phone, he blows off steam by going out for a night of drinking with Alan, Herb and his neighbor.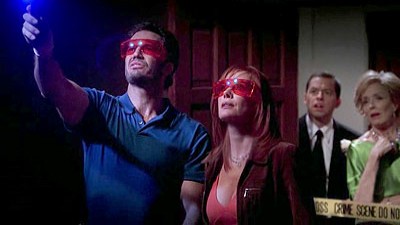 #8 - Fish in a Drawer 8.20
Season 5 - Episode 17
CSI's investigate a death at Charlie's house.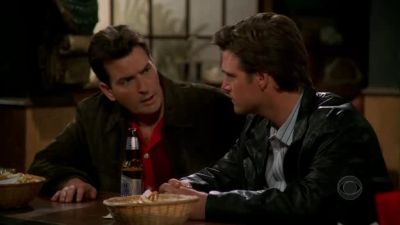 #9 - An Old Flame With a New Wick 8.18
Season 1 - Episode 18
Charlie is stunned to learn his ex-girlfriend is now a man (Chris O'Donnell).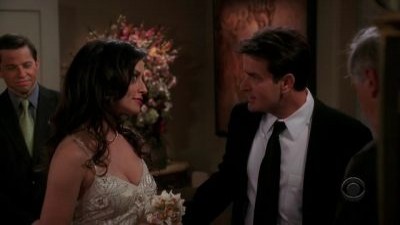 #10 - That Pistol-Packin' Hermaphrodite 8.17
Season 3 - Episode 24
Charlie and Mia start making their wedding arrangements. Things begin to fall apart when their two families meet each other. They eventually decide on a small ceremony in Las Vegas.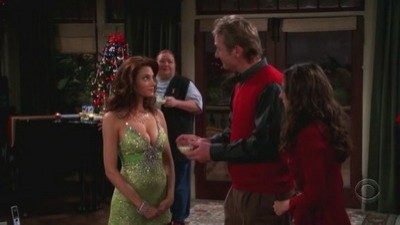 #11 - Walnuts and Demerol 8.15
Season 4 - Episode 11
Charlie's friends and family put a crimp in his plan for a romantic Christmas Eve date. When Evelyn sees who the date is, she goes to great lengths to force a wedge between them.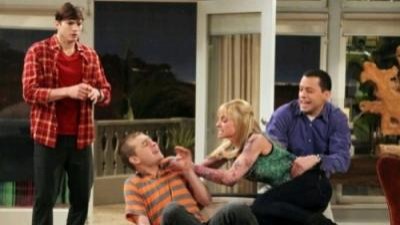 #12 - Bazinga! That's from a TV Show 8.15
Season 10 - Episode 20
Walden and Alan are caught in the crossfire when Jake cheats on his girlfriend (Jaime Pressly) with her 18-year-old daughter.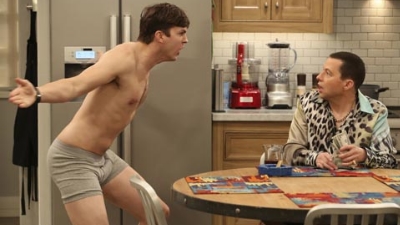 #13 - Lotta Delis In Little Armenia 8.15
Season 11 - Episode 20
Alan finds an opportunity to make money; Walden addresses his co-dependency issues.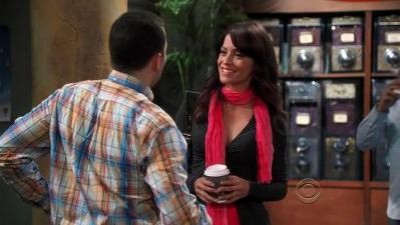 #14 - Baseball Was Better With Steroids 8.14
Season 6 - Episode 24
Charlie starts to question his relationship with Chelsea when he hears that Mia is back in town. Meanwhile, Judith goes into labor and Charlie, Alan and Herb rush her to the hospital, on the sixth season finale.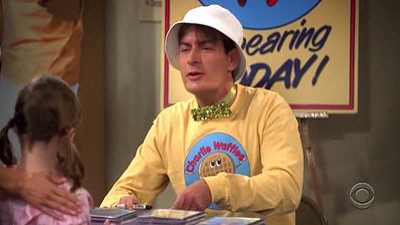 #15 - Is There a Mrs. Waffles? 8.14
Season 5 - Episode 8
Charlie writes a children's song and finds success as Charlie Waffles. The children love him and the mothers seem to as well. Charlie's new found fame irritates Alan.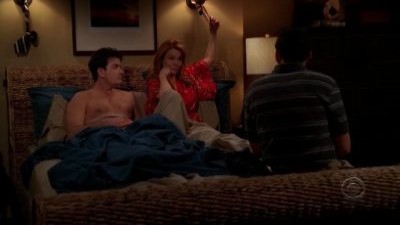 #16 - Always a Bridesmaid, Never a Burro 8.13
Season 3 - Episode 20
Alan tries to win Kandi back. Meanwhile, Charlie starts to sleep with her mom, Mandi, and Judith gets set up with her father, Andy.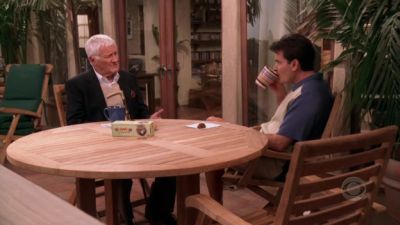 #17 - Does This Smell Funny to You? 8.13
Season 2 - Episode 24
Charlie unknowingly sleeps with an older man's trophy wife while Jake has to read a paper to his class.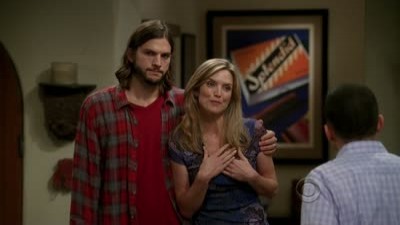 #18 - Frodo's Headshots 8.13
Season 9 - Episode 9
Upon his release from the hospital, Alan is met with a slew of challenges that test his ability to cope.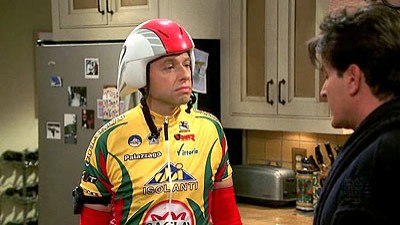 #19 - Kinda Like Necrophilia 8.12
Season 5 - Episode 10
Alan finds out that Charlie stole his girlfriend and works on a plan to get back at Charlie, even though this happened when they were in high school.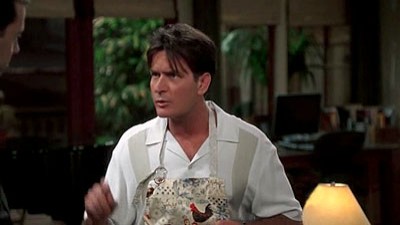 #20 - Damn You, Eggs Benedict 8.12
Season 6 - Episode 3
Alan, Jake, and Charlie all decide to try new things: Alan is dating more than one woman, Charlie learns to cook, and Jake experiments with beer.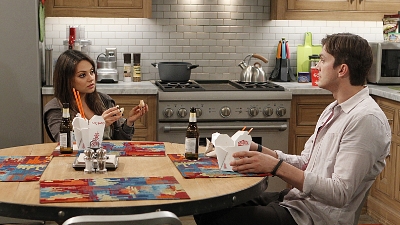 #21 - Lan Mao Shi Zai Wuding Shang 8.11
Season 11 - Episode 19
After reconnecting with Kate, Walden becomes convinced she is the one for him -- until he meets a woman named Vivian (Mila Kunis).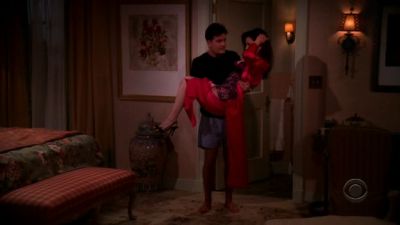 #22 - Love Isn't Blind, It's Retarded 8.10
Season 3 - Episode 14
Charlie arranges a romantic date with Mia in the hopes of consummating their relationship. Alan begins to date Charlie's most recent ex-girlfriend.
#23 - Putting Swim Fins on a Cat 8.10
Season 5 - Episode 5
Charlie has to come up with ways to keep his girlfriend's 4-year-old amused; Alan becomes a test subject.
#24 - If They Do Go Either Way, They're Usually Fake 8.10
Season 1 - Episode 7
Judith gets worried when, for a school assignment, Jake draws the tattooed buttocks of a female surfer friend of Charlie's who is in the habit of walking around his place half naked. Then Alan gets worried about Judith after she becomes friends with the surfer girl.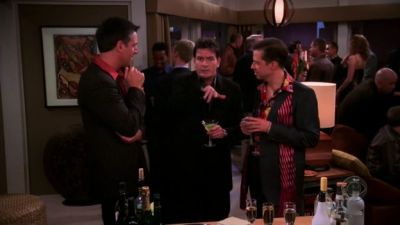 #25 - It Was 'Mame', Mom 8.10
Season 2 - Episode 18
Charlie is invited to a party hosted by a gay ad-executive named Eric, so Charlie asks Alan to pretend that he's his life partner. While at the party, Charlie meets Eric's ex-wife Pamela, and tries to sleep with her without Eric finding out.