Modern Family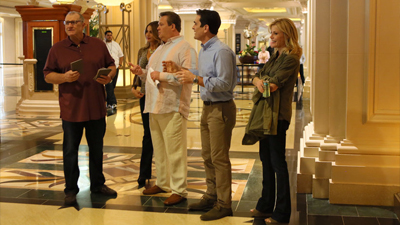 #1 - Las Vegas 8.37
Season 5 - Episode 18
Jay is determined to get the adults' hotel suite upgraded; Claire tries to win back some money; Phil auditions to be a magician.
#2 - Connection Lost 8.33
Season 6 - Episode 16
Claire's computer becomes the hub of all the family's activities when she gets stuck at the airport and is desperate to reach Haley after a big fight. After FaceTiming with Phil and the rest of the family to help track her down, Claire quickly turns to online snooping which inevitably becomes disturbing real quick and everyone gets sucked into the online drama.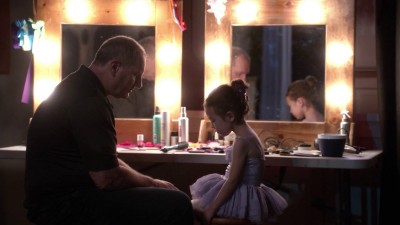 #3 - Baby on Board 8.32
Season 3 - Episode 24
Gloria's bilingualism comes in handy on Mitchell and Cameron's quest to adopt another child. Meanwhile, Jay and Manny help Lily get ready for a dance recital. Alex goes to her first prom, and Haley announces her future plans, which come as a shock to her family.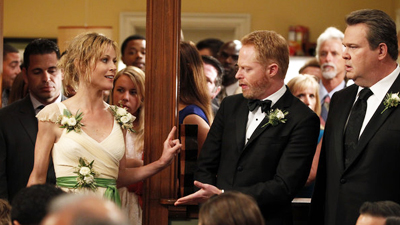 #4 - The Wedding (2) 8.27
Season 5 - Episode 24
The wedding day chaos continues as the entire party shifts from one contingency plan to another. Guests start to get testy, Mitchell and Cameron are feeling discouraged, and poor Claire shows physical wear and tear.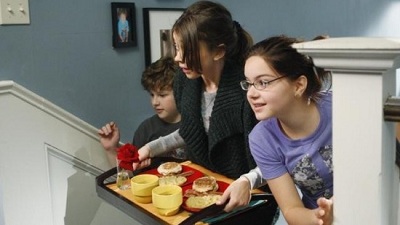 #5 - Caught in the Act 8.26
Season 2 - Episode 13
The kids get a surprise of their own when they take breakfast in bed to Phil and Claire on their anniversary. Jay and Gloria's Vegas vacation plans are ruined by a brutally honest email accidentally sent to Claire,. Mitchell and Cam try to get into a new restaurant owned by a mom at Lily's preschool.
#6 - My Funky Valentine 8.23
Season 1 - Episode 15
Phil and Claire break from their traditional Valentine's Day dinner date and plan a little "role play" excursion. Meanwhile, Jay and Gloria's ideas of romance clash when he takes her to a comedy show, and Mitchell and Cameron play cupid for Manny.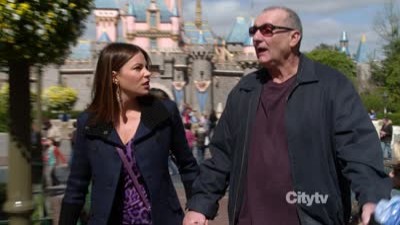 #7 - Disneyland 8.23
Season 3 - Episode 22
When the family travels to Disneyland, Phil struggles to keep up with Luke, Claire is shocked when they run into Dylan, Jay and Gloria disagree about what are sensible shoes for the day, and Mitch and Cam must contain Lily's new affinity for running.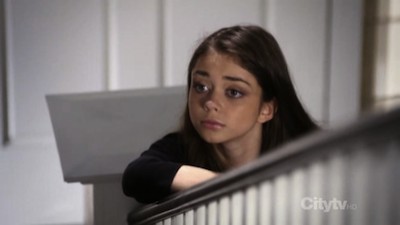 #8 - Family Portrait 8.23
Season 1 - Episode 24
Claire makes an effort to take a new family portrait, but everybody is too busy to cooperate: Gloria and Manny go with Phil and Alex to a Lakers game and share an awkward moment on the jumbotron, Cameron gets a job as a wedding singer while Mitchell takes care of Lilly and a stray pigeon, and Luke interviews Jay for a school project.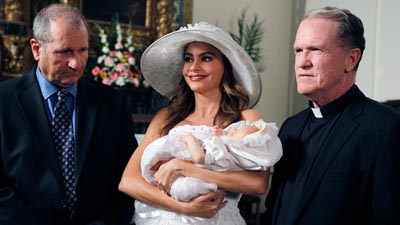 #9 - Fulgencio 8.22
Season 4 - Episode 13
When Gloria's mother and sister visit, they bring traditions, baby names and family baggage; Phil helps the kids with their problems; Mitchell and Cameron try to correct Lily's bad habits.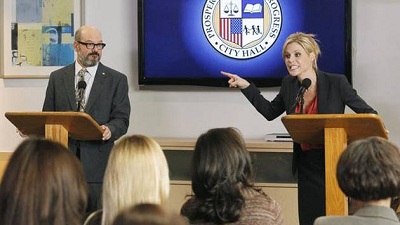 #10 - Little Bo Bleep 8.21
Season 3 - Episode 13
Claire prepares for her debate with Duane Bailey. Mitch and Cam try to clean up Lily's language before her turn as a flower girl. Jay blames Stella's strange behavior on Gloria.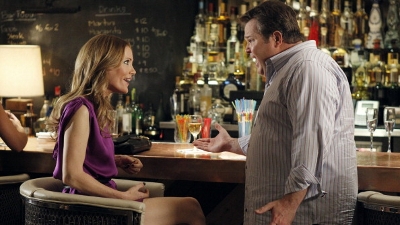 #11 - Treehouse 8.21
Season 3 - Episode 7
Gloria persuades Jay to commit to a night of salsa dancing after seeing how much his friend Shorty and his girlfriend do together. Cameron makes a bet that he can get a woman's phone number at the bar. Phil builds a tree house for Luke.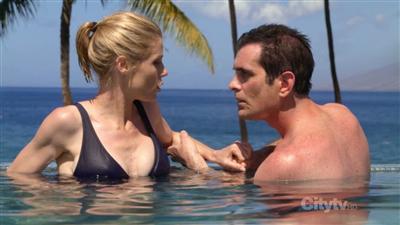 #12 - Hawaii 8.20
Season 1 - Episode 23
Jay's plans to do nothing but relax on vacation are interrupted by an unwelcome reality check. Meanwhile, Phil tries to make the trip romantic for Claire, Mitchell and Cameron disagree on whether they should go sight-seeing, and the kids get themselves into trouble.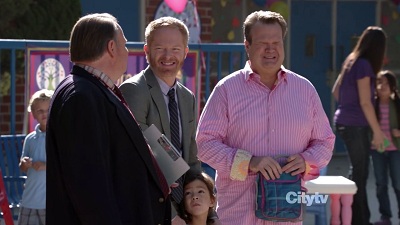 #13 - Schooled 8.19
Season 4 - Episode 2
Claire and Phil embarrass Haley when they drop her off at college; Manny makes Gloria and Jay take a class; Lily gets into a tussle on her first day of kindergarten.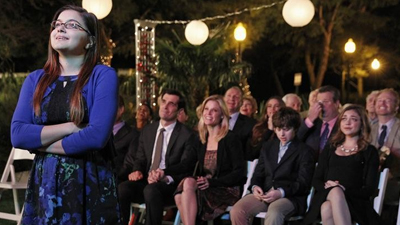 #14 - Goodnight, Gracie 8.17
Season 4 - Episode 24
Everyone flies down to Florida to be with Phil after his mom's passing. Claire helps Phil with Gracie's last wish for Frank, and the kids reflect on the gifts grandma left for them. Gloria has to contend with an outstanding arrest warrant in Florida, Cam finds himself fitting right into an elderly women's group at Frank's retirement community, and Jay runs into a pivotal person from his past.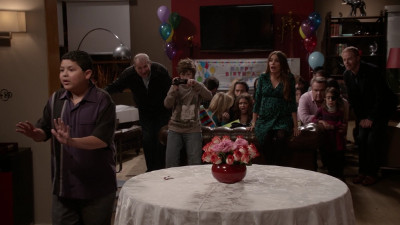 #15 - Party Crasher 8.17
Season 4 - Episode 12
Gloria and Jay try to make Manny's 14th birthday extra special by planning a surprise party; Haley starts hanging out with a much older guy.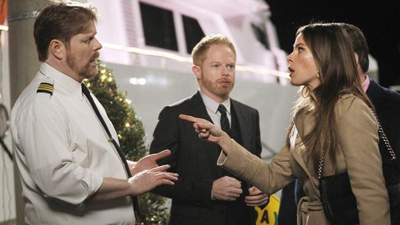 #16 - Leap Day 8.16
Season 3 - Episode 17
Mitchell feels pressured to make Cameron's birthday extra special. People start to question Jay's manliness, and the girls interfere with Phil's leap day plans.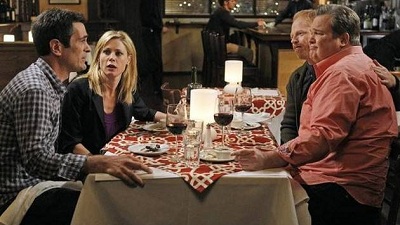 #17 - Aunt Mommy 8.14
Season 3 - Episode 15
Phil and Claire go overboard with drinks, and divulging personal information, on a night out to celebrate the sale of a house to Mitchell and Cameron's friends.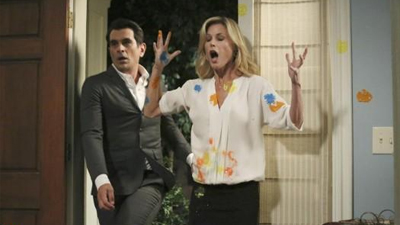 #18 - The Late Show 8.14
Season 5 - Episode 5
The adults struggle to make it to a hot new restaurant in time for the reservation Jay pulled a lot of strings to get.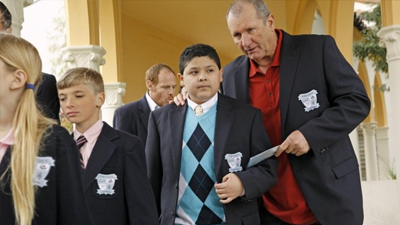 #19 - The Future Dunphys 8.13
Season 4 - Episode 19
At the hospital Claire and Phil see the older version of their family; Mitchell and Cameron plan a day for Lily and Gloria; Manny and Jay go to a private school to look around.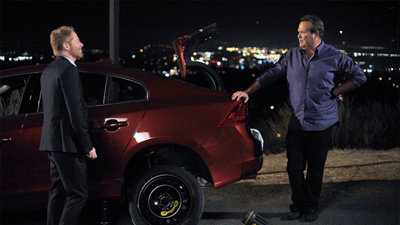 #20 - Suddenly, Last Summer 8.13
Season 5 - Episode 1
Phil and Claire try to orchestrate a kid-free week during Luke, Haley and Alex's summer activities; Cam and Mitch try to have a memorable summer.
#21 - The Wow Factor 8.12
Season 4 - Episode 18
Claire and Cam bring in a third party (Wendi McLendon-Covey) when they reach an impasse on a landscaping decision; Phil teaches basic fix-it skills to the kids; Mitch helps Lily with a bully.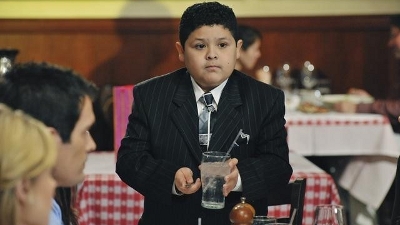 #22 - Manny Get Your Gun 8.12
Season 2 - Episode 8
Manny is depressed about his birthday. Phil and Claire engage in a not-so-friendly car race on the way to the party, and Mitch and Cam get sidetracked when they stop at the mall to pick up a gift.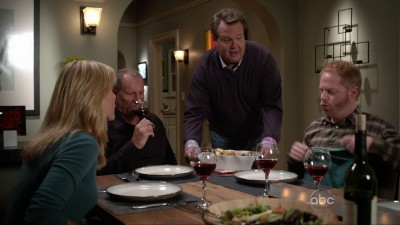 #23 - Bringing Up Baby 8.12
Season 4 - Episode 1
Phil takes Jay on an unconventional fishing trip; Gloria wonders how to break the news about her pregnancy; Dylan temporarily moves in with the Dunphys; Cam and Mitch think about adopting a cat.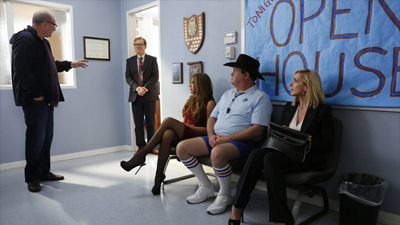 #24 - Under Pressure 8.11
Season 5 - Episode 12
Gloria has an encounter with a mean mom (Jane Krakowski) during the high school open house; Mitchell meets a judgmental neighbor (Jesse Eisenberg); Alex goes to a therapist.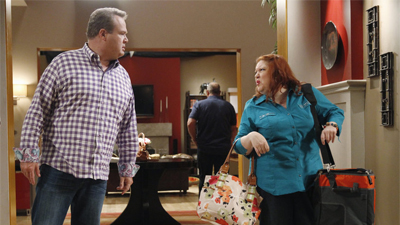 #25 - Farm Strong 8.10
Season 5 - Episode 4
When Cam's sister comes to visit, he tries to find a gentle way to break the news of his engagement; Phil and Claire decide to miss one of Luke's games; Gloria is in denial about needing glasses.