Brooklyn Nine-Nine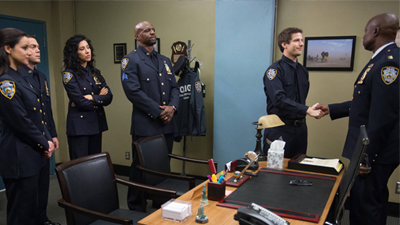 #1 - Charges and Specs 8.34
Season 1 - Episode 22
Jake's investigation of philanthropic civic leader Lucas Wint is shut down by Commissioner Podalski. Still determined to crack the case, Jake enlists Amy and a reluctant Captain Holt to help him uncover more evidence, to help him uncover more evidence, even if it means facing suspension. Meanwhile, Charles is devastated over pre-marital problems with Vivian, and Gina knows just how to cheer him up.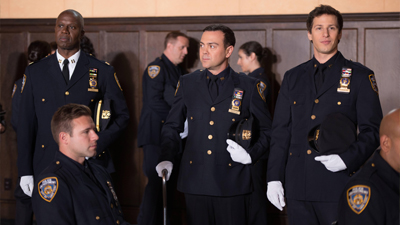 #2 - The Bet 8.23
Season 1 - Episode 13
Jake and Amy's ongoing bet about who can make more arrests comes to a close. Meanwhile, Charles receives the Medal of Valor for getting shot in the line of duty, but the pain medication he is taking causes him to reveal his true opinions about his colleagues.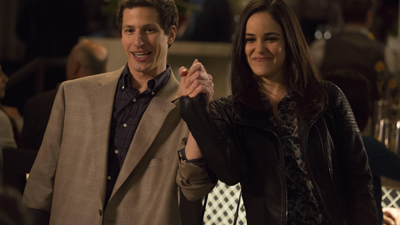 #3 - Johnny and Dora 8.13
Season 2 - Episode 23
Jake and Amy go undercover to catch Brooklyn's most notorious identity thief, and the case brings them closer together – very close. Meanwhile, the entire precinct is caught off-guard when one of their own says goodbye to the Nine-Nine.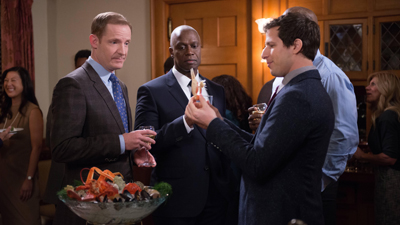 #4 - The Party 8.12
Season 1 - Episode 16
The officers in the precinct head over to Holt's house to celebrate his birthday, but they wind up making a poor impression on his husband.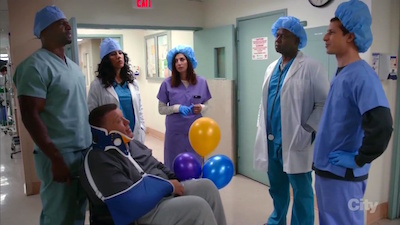 #5 - Greg and Larry 8.11
Season 3 - Episode 23
After a surprising turn of events in the Nine-Nine's attempt to track down Adrian Pimento's hitman, the precinct drops everything when they suspect Holt is in danger.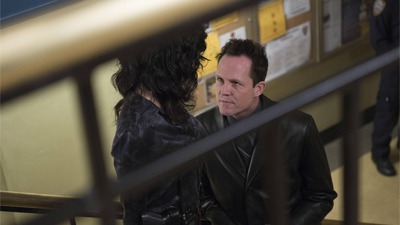 #6 - Operation: Broken Feather
Season 1 - Episode 15
Jake and Amy investigate a string of hotel robberies together, but Jake turns on her when he finds out she may leave the Nine-Nine to work in the Special Crimes unit with "The Vulture". Meanwhile Captain Holt and Sergeant Jeffords strategize to make the precinct more efficient.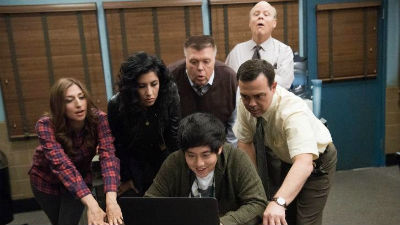 #7 - Payback
Season 2 - Episode 13
The squad decides it's high time Jake paid them back all the money he has owed them from over the years. Meanwhile, Amy and Holt team up to re-open the Brooklyn Broiler case.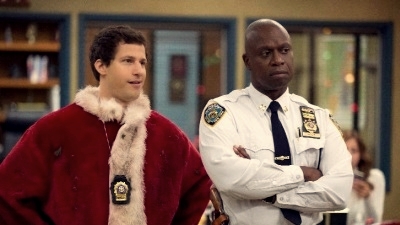 #8 - The Pontiac Bandit Returns
Season 2 - Episode 10
"The Pontiac Bandit," aka Doug Judy, is back in custody, after jamming up Jake and Rosa in his previous encounter with them. But when Rosa discovers that Judy knows the whereabouts of the "Giggle Pig" drug leader, Capt. Holt offers the perp a plea deal to help track down the drug kingpin. Meanwhile, Gina and Boyle are nervous that their parents might be getting too close, and Santiago makes Holt a Christmas gift against his wishes.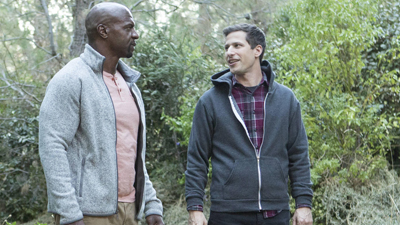 #9 - Into the Woods
Season 3 - Episode 6
Jake and Charles convince Terry to take a weekend camping trip as a much needed "babymoon," but they soon realize it might not be the idealistic weekend for which they had hoped. Meanwhile back at the precinct, Holt gives Rosa some important relationship advice and Amy enlists Gina's help to prepare her for an important presentation.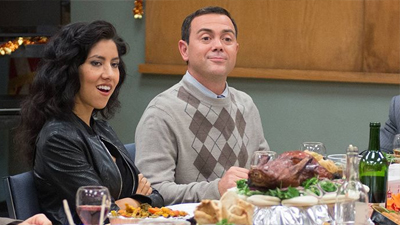 #10 - Thanksgiving 8.10
Season 1 - Episode 10
Amy wants to host a Thanksgiving dinner for the entire precinct, but it turns into a holiday disaster when Holt and Jake have to leave to go catch a perp. Boyle steps in to save Turkey Day.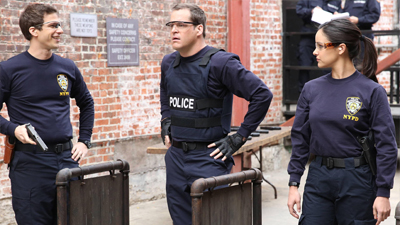 #11 - Tactical Village 8.10
Season 1 - Episode 19
The precinct heads to Tactical Village Day, a mandatory training course in which all regional precincts compete. While there, Amy runs into Teddy, a fellow officer she used to date. Meanwhile, Holt becomes addicted to a game on his phone and Rosa is pissed at Charles for not inviting her to his wedding.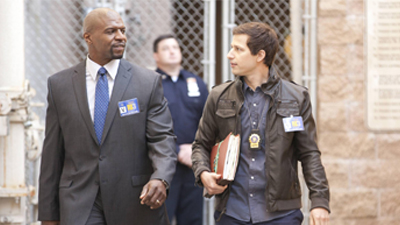 #12 - Unsolvable 8.09
Season 1 - Episode 21
When Jake gets the weekend off, he decides to take on a cold case that everyone thinks is unsolvable, but with the help of Terry, the two try to crack the case once and for all. Meanwhile, Amy plans a romantic trip with Teddy and Gina and Rosa let Charles in on one of their best-kept secrets.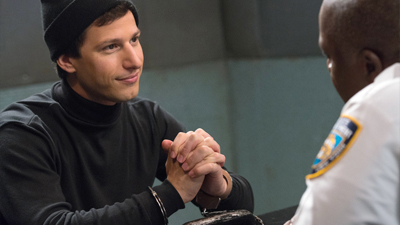 #13 - Halloween 8.07
Season 1 - Episode 6
It's Halloween night, a busy time of the year for any police precinct. Amy detests the holiday, and is not thrilled when she has to don a costume to go undercover on street patrol with Charles. Back at the precinct, Jake bets Captain Holt that he can steal his Medal of Valor before midnight, which results in him bringing out some costumes of his own.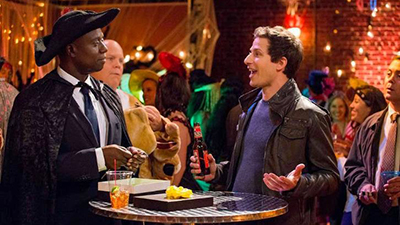 #14 - Halloween II 8.06
Season 2 - Episode 4
The Peralta / Holt annual Halloween bet continues when Jake challenges the Captain that he can steal his watch before midnight. Meanwhile, Gina is upset that her dance team, Floorgasm, kicks her off the squad and Terry confronts her about her bad attitude.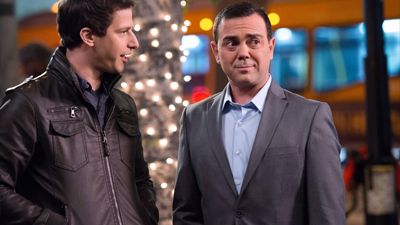 #15 - Full Boyle 8.05
Season 1 - Episode 17
Detective Boyle's new romance has upped his swagger, but Jake intervenes before his colleague goes "Full Boyle" and gets too serious, too soon, with his girlfriend. Meanwhile, Rosa and Amy have trouble taking a costumed citizen crime-fighter seriously, and Captain Holt has a new opponent.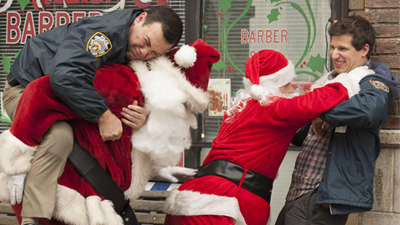 #16 - Christmas 8.03
Season 1 - Episode 11
Captain Holt receives death threats and Jake is put in charge of his security, a job he enjoys and abuses as much as he can. Meanwhile, Amy attempts to get the precinct to take a Christmas photo for Holt, but a lack of enthusiasm and Rosa's refusal to smile defeats her efforts. Also, Sergeant Terry Jeffords gets his mojo back.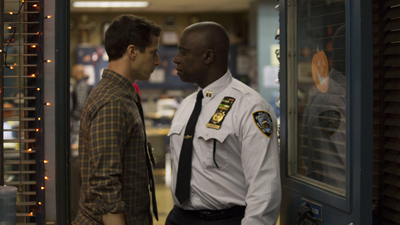 #17 - Halloween III 8.03
Season 3 - Episode 5
The third installment of Captain Holt and Jake's Halloween heist culminates with a tie-breaking competition to claim the title of "amazing detective slash genius." This year, Jake and Holt split the squad into two teams to help them win.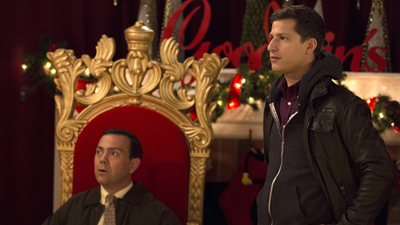 #18 - Yippie Kayak 8.01
Season 3 - Episode 10
Jake, Charles and Gina are involved in a real-life "Die Hard" situation while off-duty on Christmas Eve, and Terry must leave his family celebration to try to save his squad. Meanwhile, Amy tries to prove she's just as tough as Holt and Rosa.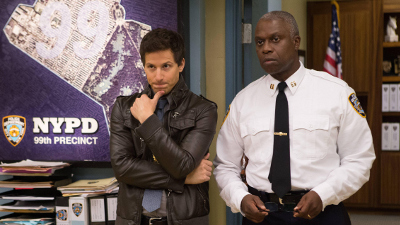 #19 - 48 Hours 8.00
Season 1 - Episode 7
When Jake makes an arrest without a lot of proof, he only has 48 hours to collect evidence, or else the "perp" will be released. After his unsuccessful interrogation of the suspect, Jake forces his co-workers to spend their weekend helping him crack the case. So, while the team is stuck at the precinct, Charles judges a pie contest between Gina and Rosa, and Holt helps Terry look better in the eyes of his in-laws.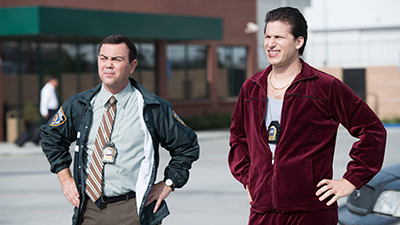 #20 - Undercover 7.99
Season 2 - Episode 1
Jake's undercover FBI operation ends in a successful sting, until he learns one mobster has gotten away. As Jake enlists Charles' help to track him down, Holt tests the squad's patience with practice drills.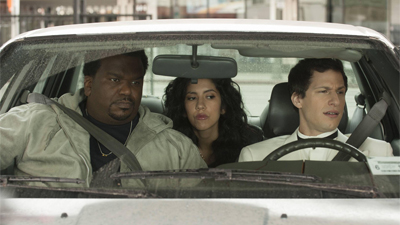 #21 - Pontiac Bandit 7.98
Season 1 - Episode 12
Jake is interested in one of Rosa's perps, Doug Judy who has information about the "Pontiac Bandit," a car thief whom Jake has been tracking for years. Meanwhile, the station tries to accommodate a scooter-bound Charles' every need when he returns to work, but he proves to be too much to handle. And Captain Holt struggles to find a home for two puppies.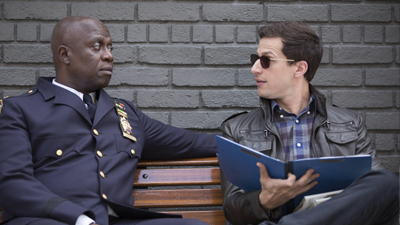 #22 - The Oolong Slayer 7.98
Season 3 - Episode 4
When investigating a serial killer, Jake enlists Holt's help in an attempt to solve the case off the radar. At the precinct, Rosa and Amy are forced to deal with demands from an old adversary and Terry discovers a new obsession.
#23 - The Mole 7.96
Season 2 - Episode 5
There's a mole in the precinct and Holt and Jake need to find out who it is before Deputy Chief Madeline Wuntch gets wind of it. Meanwhile, Terry and Rosa visit a "silent" disco to uncover new leads for their new drug task force.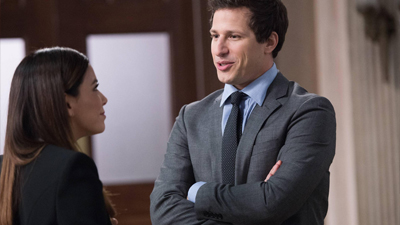 #24 - Jake and Sophia 7.96
Season 2 - Episode 6
Jake hits it off with Sophia, a woman whom he meets at a bar, only to find out she is the defense attorney for a perp he is trying to put in jail. Meanwhile, Gina and Charles work to put their relationship behind them.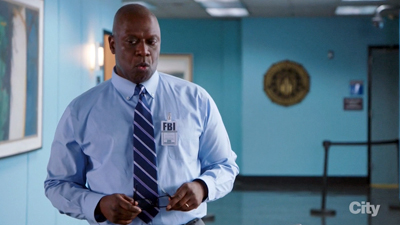 #25 - Bureau 7.96
Season 3 - Episode 22
With Pimento's life still in peril, Captain Holt calls on an old friend in the FBI to help with a seemingly impossible heist. Meanwhile Amy makes a breakthrough while undercover, and Terry and Gina discover an information leak in the Nine-Nine.