Seinfeld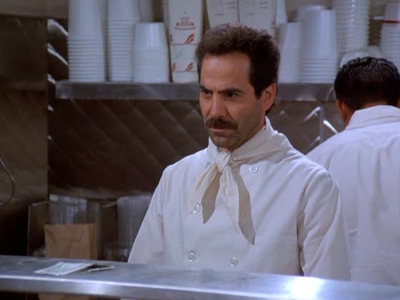 #1 - The Soup Nazi 8.64
Season 7 - Episode 6
While on their way to the "soup place" Elaine finds an antique armoire she wants. George makes a mistake while trying to get his soup from the "Soup Nazi." Elaine isn't allowed to move her armoire into her building, so Kramer offers to watch it for her, out on the street. George and Elaine discuss how annoyed they are by Jerry's sweet-talking with his current girlfriend, especially their calling each other "Schmoopie." Elaine makes an ordering error in front of the "Soup Nazi," gets on his bad side and is banned for a year. In broad daylight and in Kramer's presence, two "tough" guys come along and take Elaine's armoire. Kramer relates the story of the armoire to the "Soup Nazi," who says he has an armoire in the basement that Kramer can have. Jerry's girlfriend makes a faux pas in the "soup place" and Jerry disavows any knowledge of her. George confronts Jerry and reminds him about their pact. George and Susan see Jerry and his girlfriend at the diner and they begin to compete against each other. Susan appreciates that George is finally showing his feelings in public. Kramer gives Elaine the armoire and tells her where he got it. Elaine goes to thank the "Soup Nazi" but gets even further on his bad side. Jerry discovers the armoire contains the "Soup Nazi"'s recipes and Elaine takes them for her final confrontation with the "Soup Nazi."
#2 - The Contest 8.56
Season 4 - Episode 11
George's mother throws her back out when she falls down after catching him doing "you know." When George says he'll never do it again, Jerry challenges him to a contest of self-denial, when he accepts, Elaine and Kramer want in on the action, or rather the lack of it.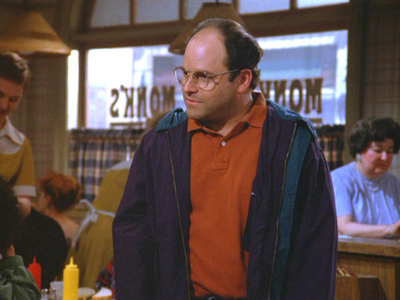 #3 - The Opposite 8.52
Season 5 - Episode 22
George comes to the realization that he should try to do the opposite of everything, so he does, his luck changes and everything begins to go his way including getting a girlfriend, a job with the Yankees and moving out of his parents' house. Things begin to be unlucky for Elaine after she buys a box of "Jujyfruits." Kramer appears on Regis & Kathie Lee to promote his coffee table book. Rachel wants to break up with Jerry and he readily agrees, because his luck has been "even Steven." Elaine's eating of "Jujyfruits" causes Pendant Publishing to go under, and later she realizes that she and George have traded places.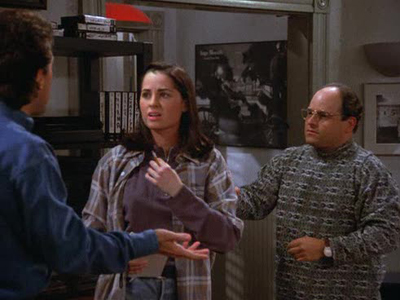 #4 - The Outing 8.52
Season 4 - Episode 17
No thanks to Elaine, Jerry must work hard to prove he is straight when a college reporter mistakenly reports that he and George are gay, "not that there is anything wrong with that." Things really get out of hand when the article is picked up by the New York Post.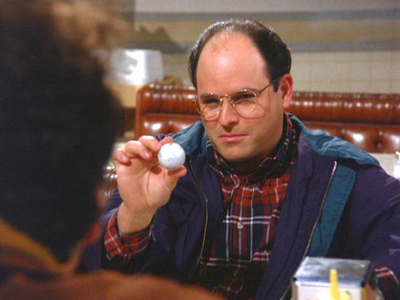 #5 - The Marine Biologist 8.37
Season 5 - Episode 14
Jerry meets an old college classmate who asked about George, whom Jerry says is now a "marine biologist." An infuriated Russian writer tosses an electronic organizer belonging to Elaine out of a limousine that hits a passerby on the head. Kramer struggles with his golf swing and sand. While walking along the beach, George is called on to use his marine biology skills to save a whale.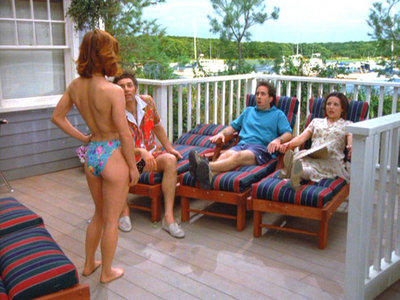 #6 - The Hamptons 8.30
Season 5 - Episode 21
Everyone makes a trip to the Hamptons to "see the baby" and enjoy the weekend. George's girlfriend goes topless and everyone sees her chest before he does. "The baby" is the most hideous thing they've ever seen. Elaine is confused when a handsome doctor refers to her as "breathtaking" - the same term he later uses to describe the baby. Kramer finds a filled lobster trap. Jerry's girlfriend sees George naked, after he's just gotten out of the pool, so something isn't as it should be.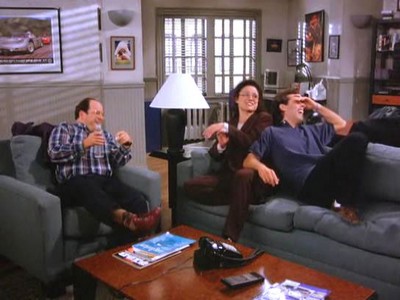 #7 - The Switch 8.29
Season 6 - Episode 11
Elaine lets a potential employer borrow Mr. Pitt's tennis racket, but the injury suffered may ruin her chances, especially when she must get his racket back. Jerry's girlfriend never laughs, but he meets her roommate who does, so Jerry decides he would like to make "the switch." George's model girlfriend may be bulimic. He needs proof, so he meets Kramer's mother, who's a bathroom matron. While there he finds out Kramer's first name, Cosmo. Kramer decides it is time to be himself and begins to use his first name. George has the perfect plan for "the switch," a menage a trois.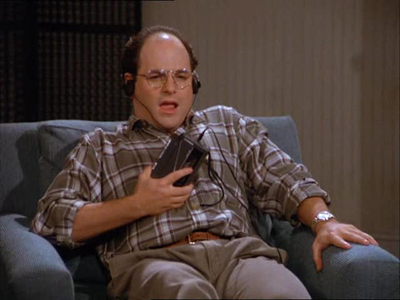 #8 - The Tape 8.28
Season 3 - Episode 8
George is excited about a new potential baldness cure that was discovered in China. While listening to a tape of his previous nights show, Jerry hears the voice of a mysterious woman who talks dirty into his tape recorder and everyone becomes excited by the voice. Elaine shines in an entirely new light for George when he is let in on the her secret, she's the voice. He is later driven crazy when she plays around with him while goofing around in front of Kramer's new video recorder. George tries the bald cure. Kramer searches for the jacket.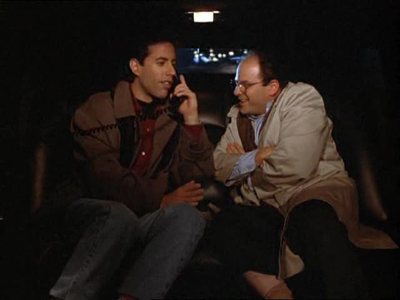 #9 - The Limo 8.27
Season 3 - Episode 19
On a whim, Jerry and George take a limo from a passenger that Jerry knows never made it on the plane. While taking the limo they call Elaine & Kramer to join them for an event at Madison Square Garden, but it isn't the type of event they were hoping for.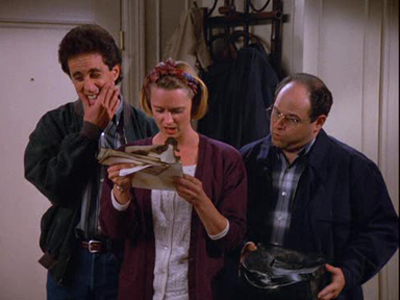 #10 - The Cheever Letters 8.26
Season 4 - Episode 8
Jerry and George begin to work on the pilot for the series they pitched to NBC. Jerry says the wrong thing while "messing" around with one of Elaine's co-workers. George & Susan tell her father about the cabin fire, he becomes distraught and letters saved from the fire soon explain why. Kramer goes to the Cuban Embassy in search of cigars and makes a deal.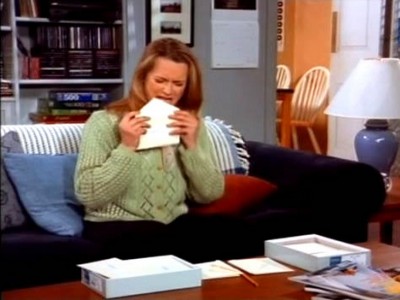 #11 - The Invitations 8.23
Season 7 - Episode 24
As the big day grows nearer, George and Susan order their invitations. Susan lets him choose the cheap ones. George tries to think of a way out. Elaine suggests smoking and Kramer suggests a pre-nuptial agreement. Jerry, thinking of a single future with Kramer, nearly gets hit by a car but is saved by his female equivalent, Jeannie. Jerry thinks he is in love with Jeannie. Kramer tries to cash in on a bank's offer of a $100 if one of their tellers doesn't say hello. Is "Hey," hello? George tries the suggestions and strikes out. Susan begins preparing the invitations. Jerry makes a decision. Susan passes out while licking envelopes. Jerry proposes marriage; later he has second thoughts. George finds Susan and the gang meets him over at the hospital, where George gets the news, he's out. Free at last, George makes another attempt at Marisa Tomei.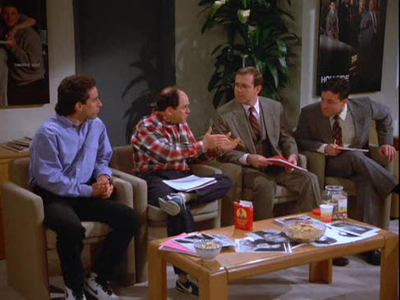 #12 - The Pilot (1) 8.22
Season 4 - Episode 23
Jerry and George get the green light to produce Jerry, the pilot for the series based on their "nothing" lives. Russell Dalrimple, the president at NBC behind the pilot, is obsessed with Elaine. George is obsessed with a white spot on his lip and a box of raisins taken by actor playing Kramer. The real Kramer has an internal plumbing problem and on his way to fix it, he gets delayed and is caused to "miss his chance." Jerry has an audition with the new "Elaine," a method actress interested in being Elaine in every way. The real Elaine has a problem with the coffee shop, they appear to be only hiring buxom waitresses, so she tries to get hired and files a report.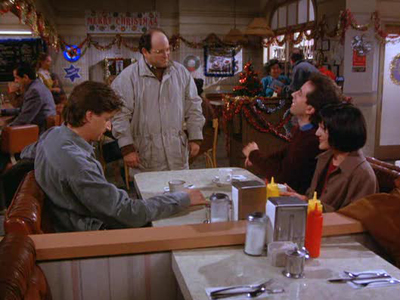 #13 - The Race 8.22
Season 6 - Episode 10
Through his current girlfriend, Lois, Jerry meets an old rival, who suspects that he cheated in a high school race and he wants a rematch with Jerry to prove he was faster. Elaine is put on a "blacklist" for Chinese food delivery and finds out her boyfriend is a Communist. George responds to a personal ad in a Communist newspaper while at work, when Steinbrenner hears about it, he wants to see George in his office. Through his friend Mickey, Kramer becomes a department store Santa, who later spouts out Communist propaganda.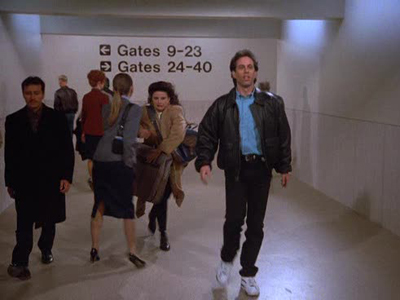 #14 - The Airport 8.21
Season 4 - Episode 12
When their flight home gets canceled, Jerry & Elaine gets on another flight, the latter gets cramped into coach and Jerry parties in 1st class with a model. George and Kramer go between JFK and La Guardia to pick them up. When they settle on an airport George meets a convict and Kramer sees a man who owes him $240 from years ago.
#15 - The Stall 8.21
Season 5 - Episode 12
While in a bathroom stall, Elaine needs some toilet paper, but the woman in the next stall refuses to give her a piece. The woman is Jerry's girlfriend whose voice Kramer recognizes from a telephone sex line. Elaine's boyfriend, whose face she just loves, takes George & Kramer rock climbing. After his accident, Elaine isn't sure his face will be the same.
#16 - The Boyfriend (1) 8.21
Season 3 - Episode 17
Jerry meets Keith Hernandez and wants to make a good impression. Meanwhile, George is out of time on his unemployment and he works harder than ever on his scheme to get a 13 week extension. He tells the unemployment office he was really close on Vandelay Industries, a company that makes latex products and whose main office is Jerry's apartment. Kramer and Newman hate Hernandez back to a time when they were allegedly spit on by him; however, Jerry supports the "second-spitter theory." Keith asks Jerry about Elaine's status. Keith makes a date with her and breaks a date with Jerry.
#17 - The Yada Yada 8.21
Season 8 - Episode 19
George's girlfriend is big on using the phrase "yada yada"; Jerry says at least she is succinct. Jerry's dentist just became Jewish and he is already making jokes that make Jerry uncomfortable. Kramer and Mickey double date but they can't decide which of the women is right for them. Elaine is a character reference for a couple who is trying to adopt; a story she tells during the interview destroys all hope of adoption. George drops by Jerry's dental appointment. Mickey and Kramer continue to fight over who gets Karen or Julie. George determines that his girlfriend might be leaving out some significant details with her overuse of the phrase "yada yada." He gets her to fill in the details and discovers more than he wants to know. Jerry confesses to a priest about what he thinks about Tim's conversion. George drops by Jerry's confession. Kramer decides on the right woman and Mickey also decides to make his a commitment. Tim hears about Jerry's dental joke. After hearing Jerry's complaints about Tim, Kramer accuses Jerry of being an "anti-dentite." Elaine lobbies on behalf of Beth and Arnie and makes a sacrifice to try getting them a child. Meanwhile, Beth comes to Jerry for help when her marriage is falling apart. It does and she accompanies Jerry to Mickey's wedding where she reveals an unknown side of her personality.
#18 - The Pothole 8.20
Season 8 - Episode 16
Elaine wants to have some Chinese food delivered, but lives just outside the delivery zone. In order to fool the delivery man, she pretends that the janitor closet in the building across the street is her apartment. The trouble is the landlady mistakes her for the janitor. Kramer joins the "adopt a highway" program, but his methods are a little unorthodox. Jerry's new girlfriend uses a toothbrush that had fallen into the toilet, which causes him more trouble than he could have imagined. George loses his keys, and by the time he finds them, they're buried at the bottom of recently filled pothole.
#19 - The Wig Master 8.18
Season 7 - Episode 19
Jerry uses Elaine to prove that a sales clerk is wrong about his looking at an expensive jacket. Elaine is picked up by the clerk. George has an unwanted house guest, a wig master for the touring company of "Joseph and the Amazing Technicolor Dreamcoat." He also has found a parking lot that charges $75 dollars a month; Kramer decides to put his car there. Unfortunately, he leaves his apartment key there. When he can't get his key, he is allowed to borrow a pink Cadillac. Jerry is convinced the clerk is working Elaine. George discovers why the lot is so cheap, he finds a used condom in his car and is asking a prostitute for information, just as Susan approaches. George discovers that he may have an out with Susan; she says she must be able to trust him and have no doubts. Kramer stays at Jerry's apartment. Elaine has a walking stick she lets Kramer have. Jerry tries to return his jacket, but discovers that "spite" isn't a viable reason. Kramer is allowed to borrow the back up "Electric Color Dreamcoat." Jerry is put out, when both sexes assume he isn't in a relationship with the person he is with (Elaine in one instance, the Wig Master in the other). Kramer finds a fuzzy white hat. With all the parts put together, his new ensemble is a sight to behold, just ask the NYPD after he is caught pulling a prostitute out of his borrowed car.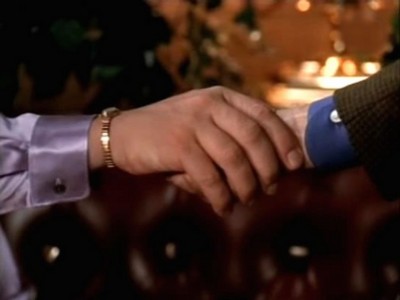 #20 - The Bizarro Jerry 8.18
Season 8 - Episode 3
Kramer uses a bathroom in an office building and just begins working there. He is "TCB." Elaine sets Jerry up with a friend who is very beautiful, but she has "man hands." George uses a picture of her and passes her off as his dead finance Susan; that gets him into the "Forbidden City" where high priced models hang out. Elaine meets Kevin and some of his friends; they are the exact opposite of Jerry, George and Kramer. With Kramer working, George inside the walls and Elaine hanging out with Kevin, Jerry begins to feel alone.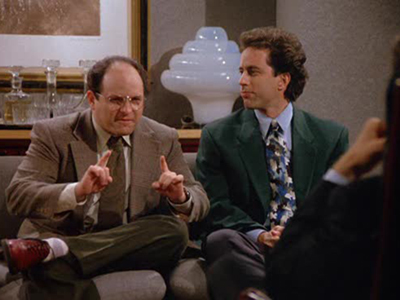 #21 - The Pitch 8.18
Season 4 - Episode 3
NBC executives ask Jerry to come up with an idea for a TV series. George decides he can be a sitcom writer and comes up with "nothing." Kramer trades a radar detector for a helmet, later Newman gets a speeding ticket. While waiting to meet the NBC executives, George and Jerry meet Joe Davola, a writer and "a total nut" who goes to the same shrink as Elaine. Jerry searching for conversation, mentions Kramer's party, whereto Joe wasn't invited. While discussing the disaster of the meeting with NBC, George focuses on starting a relationship with the female NBC executive. Kramer shows his approval by throwing up on her. The helmet saves Kramer from an attack by "Crazy" Joe Davola. While all this is going on Elaine is in Europe with her shrink.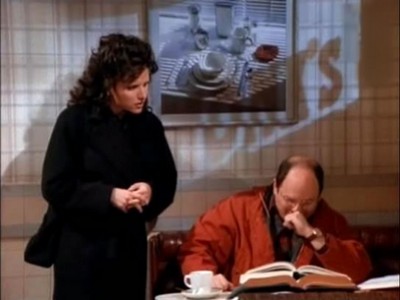 #22 - The Abstinence 8.18
Season 8 - Episode 9
George's girlfriend has mononucleosis and he can't have sex with her for six weeks. Elaine's met a doctor who's almost gotten his license to practice. Jerry agrees to appear at career day at his former junior high school, first he is bumped and then there is a fire drill. Kramer lights up a cigar in Monk's and is asked to leave. He meets others on the street who face his dilemma so he opens up his apartment as a smoking lounge. Jerry's agent gets him an assembly at the school. George's lack of sex makes his mind sharper. Elaine learns how much her doctor boyfriend doesn't know about medicine. She uses George's technique to help him study to get his license, but in the process she becomes an idiot. Jerry struggles to figure out how to fill two hours in front of a junior high crowd. George uses his new found intellect to give batting advice, speaks Portuguese and prepares a presentation for Jerry's assembly. Kramer sees his lawyer about a case against the tobacco company, smoking has destroyed his looks. He gets a settlement without Jackie's input. George calculates the odds of scoring with a Portuguese waitress. Elaine's boyfriend gets his license and leaves her sexless.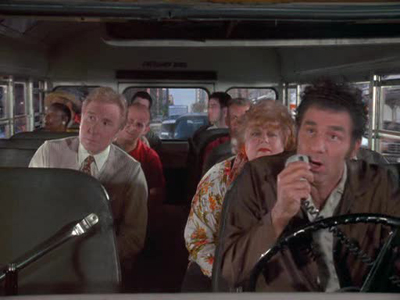 #23 - The Muffin Tops 8.18
Season 8 - Episode 21
George watches a bag for a tourist who never comes back, so he starts wearing some of the clothes. Elaine tells Kramer that the stories he sold to Peterman were put into the book. Kramer goes to the book signing, claiming he is the real "Peterman." George becomes a tourist from Arkansas when he meets a beautiful woman from the tourist bureau on the street. Jerry shaves his chest and worries about it until he discovers his girlfriend likes hairless dogs. Elaine eats only the tops of muffins and she says that it is a million dollar idea, Mr. Lippman, her former boss, decides to start a business. Kramer starts conducting "Peterman Reality Tours" for $37.50 a piece. When the muffin top business doesn't seem to be working, Lippman asks Elaine for advice. She tells him that he must make the whole muffin and remove the top from the stump, she also demands that he remove the exclamation point from his sign. The stumps can be given to the homeless. Only they don't want them. In fact nobody wants them. Jerry continues to shave his chest despite Kramer's warning about hair growth. George "moves" to New York and takes a job with the Yankees. Steinbrenner is led to believe that George is holding down two jobs and makes a deal to trade George for chicken. Elaine convinces Kramer to get rid of her stumps and he convinces Jerry and his girlfriend to take his tour. Jerry's chest begins itching from hair growth. Elaine hires "a cleaner" to make the muffin stump problem go away.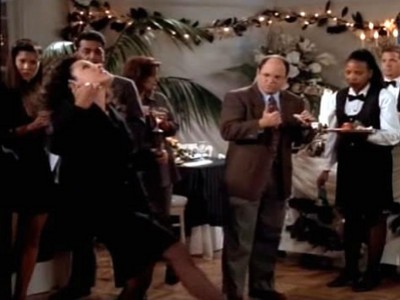 #24 - The Little Kicks 8.18
Season 8 - Episode 4
Elaine reluctantly lets George attend a party she is throwing at work. "Sweet fancy Moses" exclaims George when he sees Elaine dance at a party she's holding for her employees. She wonders why they've lost respect for her. Jerry gets 2 tickets to a premiere of a film. Kramer asks him to get an extra ticket for his friend Brody. Elaine thinks the loss of respect might be due to George's influence, so she makes him off limits to Anna, one of the women George talked to at the party. That "bad boy" image makes him all the more desirable. Jerry and Kramer attend the film with Brody, who begins to make a bootleg tape. Brody gets sick and has Kramer take him home, leaving Jerry to finish making the tape. Jerry worries about the implications when Brody likes him camera work and asks him to do another film. However, he complains about the quality of Kramer's work. Elaine finds out the truth about her dancing after she tapes herself. Elaine apologizes to Anna and George, which suddenly makes him undesirable. Brody won't meet Jerry's demands for equipment; George takes on the challenge, but gets arrested. Frank comes to bail him out and Elaine lets him know the truth about his son. Elaine's dance becomes a big hit on the streets of New York.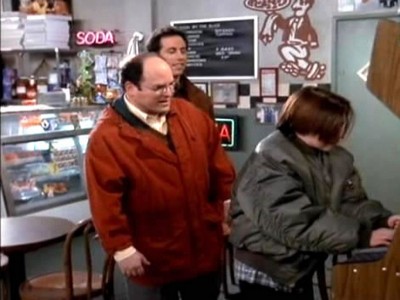 #25 - The Frogger 8.18
Season 9 - Episode 18
Elaine is confronted with cake from two separate birthday celebrations. She is tired of the forced socializing, so she calls in the sick the following day. Jerry & George are going to their old high-school hangout for one last slice of pizza. Kramer was at the police station where he obtained some caution tape used for crime scenes and also hears about a serial killer that is on the loose in the Riverside Park area. At the pizza parlor, George discovers he still has the high score on the old Frogger video game. Elaine's co-workers give her a cake to celebrate her return to work from being sick, she refuses to take part in any future celebrations. Jerry goes out with Elaine's friend Lisi, but she is a "sentence finisher, it's like dating Mad-Libs." George decides to by the Frogger machine, but Jerry asks him how he is going to move it and keep it plugged in to preserve the high score. Kramer discovers the last victim of the serial killer looked a lot like Jerry. George works to find a solution to his Frogger problem and Kramer volunteers the help of a man he knows named "Slippery Pete." Elaine misses the 4 o'clock sugar rush she had gotten used to from all the celebrations, so she decides to raid Peterman's refrigerator, where she finds a piece of cake. She finds out from Peterman that the piece of cake he has in his refrigerator is worth $29,000 because of its historical significance. The cake comes from the 1937 wedding of King Edward VIII. Jerry is looking to breakup with Lisi, but discovers that she lives in Riverside Park area. To avoid the serial killer, he takes Lisi back to his place where she finishes one of his thoughts that takes their relationship to the next level. Elaine tells Jerry and George about the cake and she also tells Jerry that Lisi is planning a weekend trip for them to Pennsylvania Dutch country. Jerry fears that Lisi received the wrong message as that kind of a trip is for a serious relationship. Elaine tries to even out Peterman's slice of cake, but gets swept up in the moment and finishes it off. George tries to coordinate the movement of Frogger machine. Elaine looks for a replacement for Peterman's cake, Kramer suggests an Entemann's cake. Jerry goes to Lisi's apartment, where he tries to break up with her. It goes on for ten hours, when he is ready to leave he discovers it is dark out. After exiting her apartment, he sees a man whom he fears is the serial killer and pleads to be let back in. Peterman has his piece of cake appraised at $2.19. When George finds "Slippery Pete" playing his Frogger game on battery power; it is discovered there only about three minutes of power remaining. The only available power source is across the busy street and Kramer has run out of caution tape. It's up to George to get the Frogger machine across the street; however there is no chance of a high score in this game. Later, Peterman shows Elaine surveillance videotape of her eating and "dancing" with the slice of cake; he is convinced that the age of the cake and its effect on her digestive system are all the punishment she needs.