The Big Bang Theory
#1 - The Date Night Variable
Season 6 - Episode 1
Raj faces his loneliness when his friends are out on dates; while in space, Wolowitz gets drawn into a fight between Bernadette and his mom.
#2 - The Gorilla Dissolution
Season 7 - Episode 23
A bad day compels Penny to re-evaluate her choices -- including Leonard; Bernadette and Howard must care for Mrs. Wolowitz; Sheldon gives Raj advice on relationships.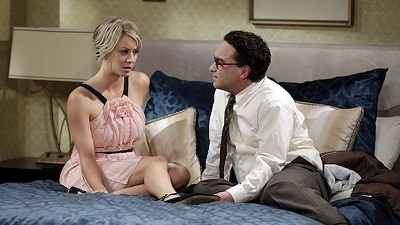 #3 - The Matrimonial Momentum
Season 9 - Episode 1
Sheldon is confronted by a mystery of the universe he cannot unravel: when a woman wants time apart to think, exactly how much time does that mean, and is there any way to hurry the process along? In Las Vegas, Penny and Leonard march closer to marching down the aisle, but has Penny gotten over Leonard's infidelity? And if so, will he do anything to un-get her over it?
#4 - The Jiminy Conjecture
Season 3 - Episode 2
Leonard and Penny struggle to recover from an awkward first hookup while Sheldon and Howard stake their best comic books on a bet to determine the species of a cricket.
#5 - The Bad Fish Paradigm
Season 2 - Episode 1
Penny's first date with Leonard goes awry; Penny finds Sheldon to be an unwilling confidant.
#6 - The Locomotion Interruption
Season 8 - Episode 1
Leonard and Amy make an unexpected trip to Arizona to fetch Sheldon; Penny interviews for a job at Bernadette's company; Stuart's relationship with Mrs. Wolowitz disturbs Howard.
#7 - The Robotic Manipulation
Season 4 - Episode 1
Penny tags along on Sheldon's first ever date; Wolowitz finds a new use for a robotic arm.
#8 - The Electric Can Opener Fluctuation
Season 3 - Episode 1
When Sheldon learns the guys tampered with his expedition data he got from the arctic, he leaves to Texas in disgrace. This results in the guys following him, which threatens Leonard's hope for some romantic time with Penny and the guys' friendship with Sheldon.
#9 - The Conjugal Conjecture
Season 10 - Episode 1
After Leonard's father, Alfred and Sheldon's mother, Mary share an evening together, everyone deals with an awkward morning the following day. Also, Penny's family arrives for the ceremony, including her anxiety-ridden mother, Susan, and her drug dealing brother, Randall.
#10 - The Skank Reflex Analysis
Season 5 - Episode 1
Penny is worried with how damaged her friendship with the guys will be in the aftermath of her sleeping with Raj while Sheldon becomes the leader of the paintball team.
#11 - The Codpiece Topology
Season 2 - Episode 2
A jealous Leonard reacts to Penny's new guy by rebounding with Leslie.
#12 - The Junior Professor Solution
Season 8 - Episode 2
When Sheldon must teach a class, Howard decides to take it; Amy takes advantage of the tension between Penny and Bernadette.
#13 - The Cruciferous Vegetable Amplification
Season 4 - Episode 2
Realizing he will not live long enough to download his consciousness into a robot body, Sheldon tries to extend his life span.
#14 - The Infestation Hypothesis
Season 5 - Episode 2
A fight between Sheldon and Penny leaves Amy caught in the middle, while Leonard tries to spice up his long-distance relationship with Priya.
#15 - The Decoupling Fluctuation
Season 6 - Episode 2
Sheldon tries to intervene when he learns that Penny is thinking about breaking up with Leonard; Howard is picked on.
#16 - The Big Bran Hypothesis
Season 1 - Episode 2
Leonard volunteers to sign for a package in an attempt to make a good impression on Penny, but when he enlists Sheldon for help, his attempt at chivalry goes terribly awry.
#17 - The Separation Oscillation
Season 9 - Episode 2
Leonard confronts the woman he kissed on the North Sea in an attempt to set Penny's mind at ease. Also, Sheldon films a special episode of "Fun with Flags" after his breakup with Amy, and Bernadette feels guilty about withholding a secret from Penny.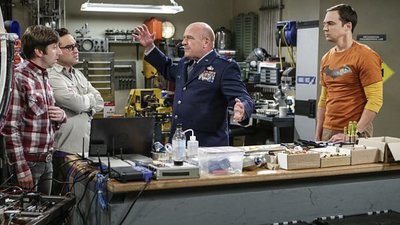 #18 - The Military Miniaturization
Season 10 - Episode 2
The Air Force shows interest in the guidance system and Penny lets it slip at work that Bernadette is expecting.
#19 - The Barbarian Sublimation
Season 2 - Episode 3
Sheldon creates a monster when he introduces Penny to online gaming.
#20 - The Zazzy Substitution
Season 4 - Episode 3
The guys are concerned as Sheldon searches for an alternative to human companionship.
#21 - The Pulled Groin Extrapolation
Season 5 - Episode 3
Leonard and Amy get to know each other better, while Howard and Bernadette spend the weekend with Mrs. Wolowitz.
#22 - The Gothowitz Deviation
Season 3 - Episode 3
Howard and Raj visit a Goth nightclub to pick up women while Sheldon attempts to build a better Penny using chocolate-based behavior modification.
#23 - The Pirate Solution
Season 3 - Episode 4
Raj must find a new job or be sent back to India, but Sheldon has a solution, which leaves Leonard and Penny dealing with Howard as a third wheel.
#24 - The Fuzzy Boots Corollary
Season 1 - Episode 3
Leonard asks a woman out after he finds out that Penny is seeing someone.
#25 - Pilot
Season 1 - Episode 1
Brilliant physicist roommates Leonard and Sheldon meet their new neighbor Penny, who begins showing them that as much as they know about science, they know little about actual living.