The BEST Episodes of The Phil Silvers Show
Every episode ever - ranked by fan votes!
Last Updated: Nov 8, 2019
Classic military comedy set on the fictional Army base of Fort Baxter in Kansas and starred Phil Silvers as Sgt. Ernest Bilko, a fast-talking sharpster who would do anything to make an extra buck. Paul Ford co-starred as Colonel Hall, Bilko's harried commanding officer who often found himself stuck in the middle of Bilko's schemes.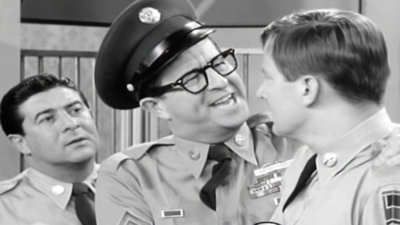 #1 - Sergeant Bilko Presents
Season 3 - Episode 7
Unable to raise the necessary funds to back Pt Hugo Lockman's play 'Sharecropper's Summer', Bilko persuades the army to run a playwriting competition.
1 votes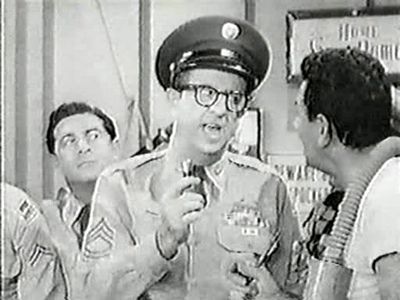 #2 - Bilko Buys a Club
Season 3 - Episode 11
When Bilko learns that a new member of the platoon is a merchant banker, he tries to get him to invest in a club that Bilko wants to set up.but he asks the wrong man of advice.
1 votes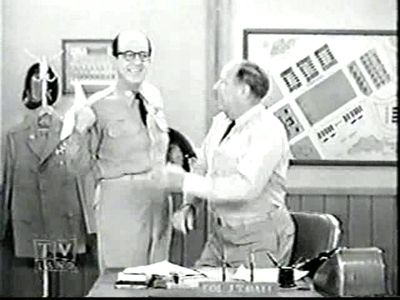 #3 - Bilko's School Days
Season 3 - Episode 36
Bilko learns that a new training camp is to be opened at Fort Baxter, Just when it looks like a new source of cash has presented itself, he finds that it is for M.P.'s not trainees.
1 votes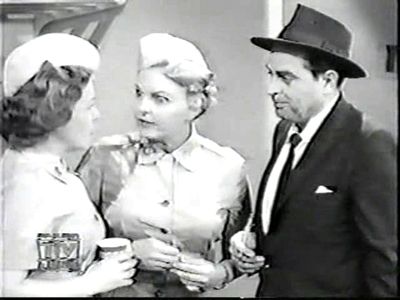 #4 - Joan's Big Romance
Season 3 - Episode 37
Joan Hogan is fed up waiting for Bilko, so she takes off for Chicago, and meets up with a wealthy playboy on the train. When her picture appears in the paper, she sees a way of making Bilko jealous.
1 votes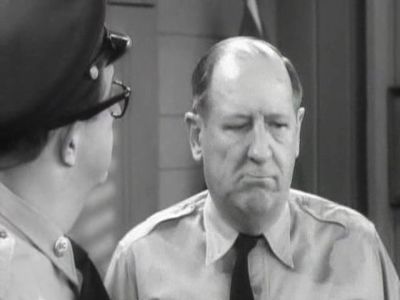 #5 - Bilko's Ape Man
Season 4 - Episode 23
Bilko hopes to launch Pvt Forbes in a film career, by entering him in a Mister Universe contest
1 votes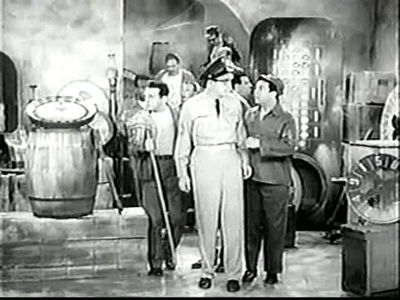 #6 - Bilko's Casino
Season 4 - Episode 31
Bilko discovers an old document saying that the Grove City USO is exempt from California's Gambling laws. So Bilko opens a gambling club, but the mob muscle in on him so Bilko reverts the club back to the USO
1 votes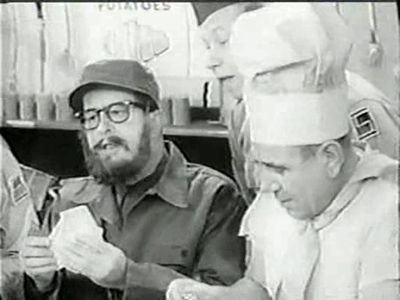 #7 - Bilko in Outer Space
Season 4 - Episode 33
Sgt's Ritzik and Grover win $600 but are terrified of losing it to Bilko, so they hide out in a space capsule mock up, but Bilko finds them
1 votes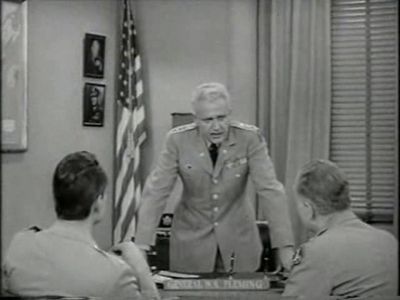 #8 - Bilko the Genius
Season 3 - Episode 25
In a mix up over test results, Bilko is told that he has a genius rating and he goes on a course with other test winners. They try and come up with a foolproof method of predicting the result of any horse race.
2 votes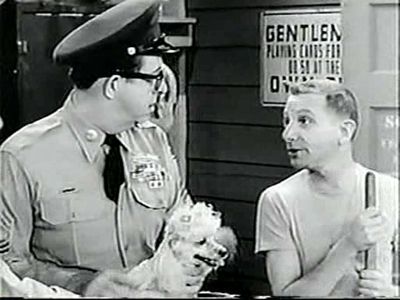 #9 - Bilko's Prize Poodle
Season 3 - Episode 35
Doberman gets attached to a poodle, and Bilko sees a chance of winning $10,000 in a dog show.
2 votes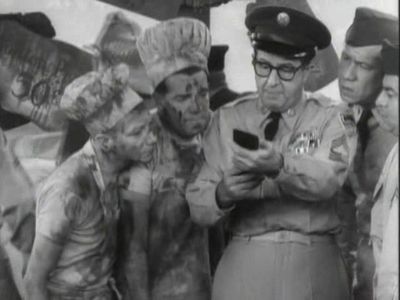 #10 - Bilko's Grand Hotel
Season 4 - Episode 17
Bilko opens a pizza stand,But it burns down with Paparelli and Zimmerman in charge. So he tries again with a cheap hotel but the same thing happens again.
2 votes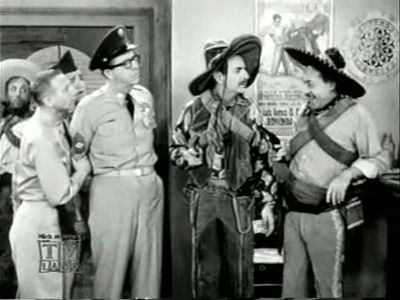 #11 - Viva Bilko
Season 4 - Episode 19
Bilko and three of the platoon are on holiday in Mexico, when they are robbed of their clothes by Mexican bandits, who use the clothes as a disguise to rob a bank. Later when Bilko gets their clothes back, they are arrested, until he can explain what happened.
2 votes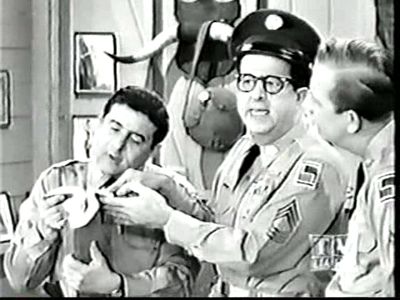 #12 - Bilko's Godson
Season 4 - Episode 25
When he is named as the godfather to the son of a G.I. friend, Bilko tries to get the boy enrolled at Stanford University.
2 votes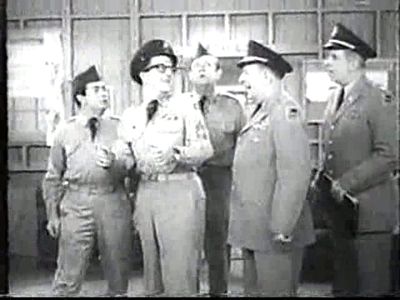 #13 - Guinea Pig Bilko
Season 4 - Episode 26
Bilko takes a tranquilliser and loses his love for gambling, but the Colonel can't stand the change and tries to shock him out of it.
2 votes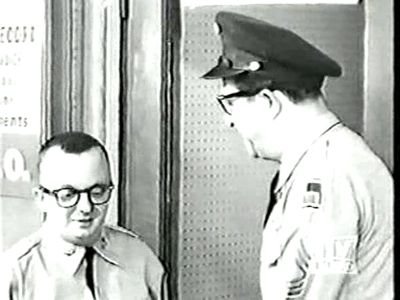 #14 - Bilko the Butler
Season 4 - Episode 27
While helping out as a waiter, Bilko overhears a stock tip so he phones Cpl Henshaw to invest their money, but before Henshaw can act the Stock falls and Bilko thinks that their money has been lost.
2 votes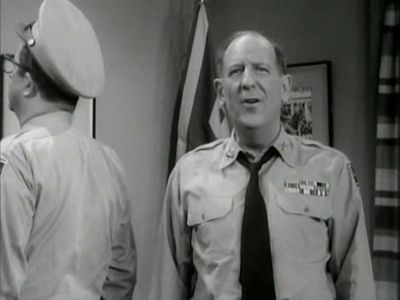 #15 - The Colonel's Second Honeymoon
Season 4 - Episode 32
With the Colonel away on a second honeymoon, Bilko and Zimmerman who has won a prize in a competition find that they are staying at the same hotel
2 votes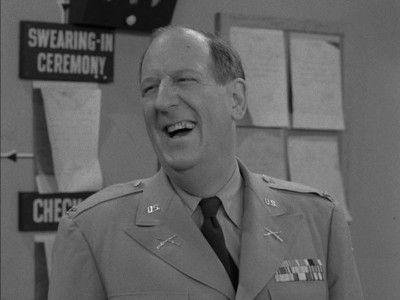 #16 - The Court Martial
Season 1 - Episode 25
When Zippo the ape is accidently inducted into the army the only way to get the army off the hook is to get Bilko as defense council and court martial the ape before anybody finds out
8 votes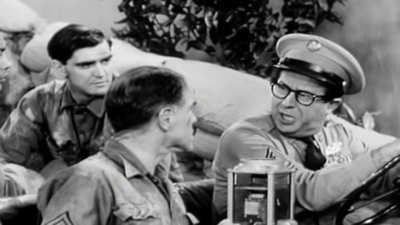 #17 - The Blue Blood of the Bilkos
Season 2 - Episode 16
A sergeant from Fort Baxter is to be excluded from his son's wedding to an heiress. They only want officers to attend so Bilko decides to change their minds
4 votes
#18 - The Son of Bilko
Season 2 - Episode 22
A young practical joker joins the platoon and drives everybody crazy until Bilko finds a way to give give him a taste of his own medicine.
3 votes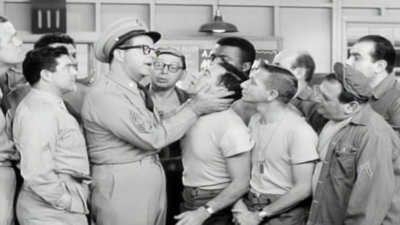 #19 - Rock 'n' Roll Rookie
Season 2 - Episode 23
When singer Elvin Pelvin joins the platoon, Bilko sees a way to make money but he can't get him to sing.
4 votes
#20 - Bilko Goes South
Season 2 - Episode 25
During a cold spell the platoon think that they are entering a singing contest which will be held in Florida, but instead they take part in a dangerous medical experiment.
4 votes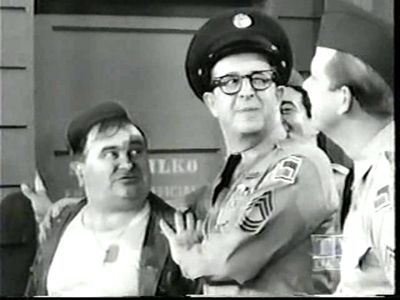 #21 - Doberman the Crooner
Season 3 - Episode 17
Bilko discovers that Doberman has a beautiful singing voice but only when he has a cold. So Bilko gets him to make a record, but by then the doctors have cured his cold and his real voice returns.
4 votes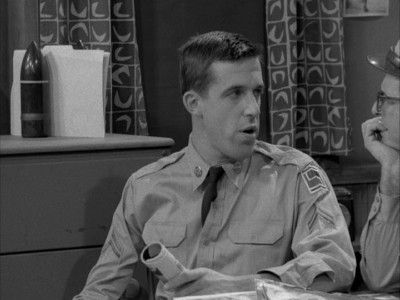 #22 - The Eating Contest
Season 1 - Episode 9
In an eating contest between the platoons Bilko puts his money on a new member of the platoon nicknamed 'The Stomach' only to find that he can only eat when he is depressed
9 votes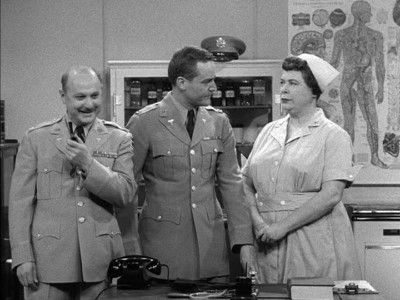 #23 - Bivouac
Season 1 - Episode 11
When maneuvers come round again the Colonel is interested in which illness Bilko has in order to miss out on the joys of marching through the countryside. In order to make him go the Colonel uses reverse psychology
9 votes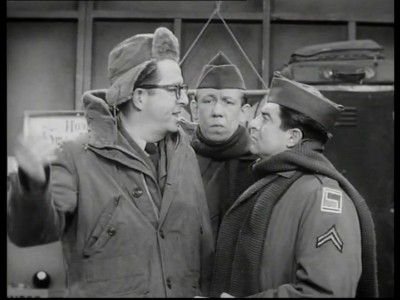 #24 - The Singing Contest
Season 1 - Episode 12
Bilko hears of a singing contest in Miami and to get away from the bitterly cold weather he enters the platoon but on hearing them sing he puts a bet on for them to lose. While he is putting on the bet a new platoon member is found to have a beautiful singing voice
7 votes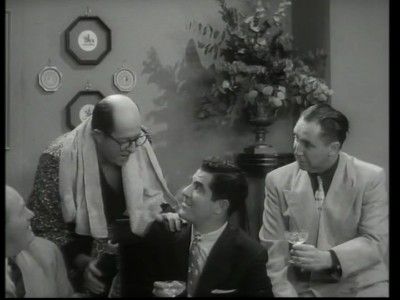 #25 - The Reunion
Season 1 - Episode 14
When Bilko meets up with his old army buddies, he thinks that they are going to be so short of money, that he is going to have to help them out , but it turns out that they have all been very successful.
6 votes