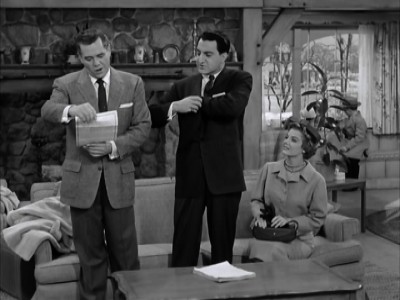 #1 - Lucy Makes Room for Danny 9.20
Season 8 - Episode 2
The Ricardos prepare to go out of town for two months and decided to rent their home out to Danny Williams and his family. But when their plans fall through, Lucy and Ricky are forced to move in with Fred and Ethel in their guest house! Lucy, however, drives Danny crazy with her constant visits, and things get a bit out of hand. Danny Thomas, Marjorie Lord and Gale Gordon guest star.
#2 - Home Movies 9.17
Season 3 - Episode 20
Ricky's home movies move the Mertzes to walk out, and prompt Lucy, Fred and Ethel to make a movie of their own, a ""Western musical drama"" shot in the Ricardo living room. But that's not to mixed up with a TV pilot Ricky's making, is it?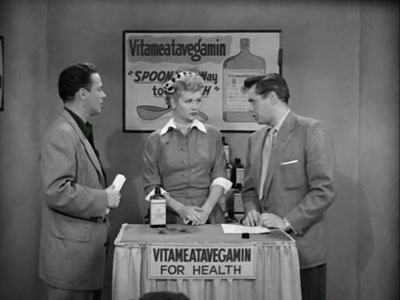 #3 - Lucy Does a TV Commercial 8.97
Season 1 - Episode 30
Desperate to be in Ricky's new television commercial, Lucy makes every attempt to get her way; which eventually pays off. But her one-and-only chance flops when she is forced to test the sponsor's product over-and-over, a vitamin syrup called Vitametavegimin, which is 25% alcohol.
Directors: Marc Daniels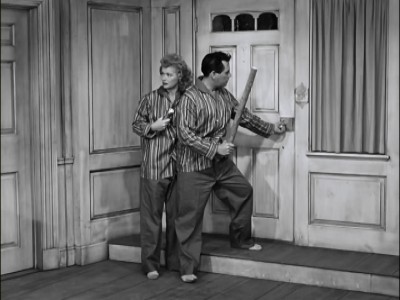 #4 - Lucy Misses the Mertzes 8.80
Season 6 - Episode 17
As the Ricardos get settled in their new country home, they immediately wind up in a mix-up with their old friends Fred and Ethel Mertz. Missing their old friends already, Lucy and Ricky decide to visit the Mertzes. At the same time, the Mertzes decide to trek to the country to visit the Ricardos, and what began simply becomes complicated.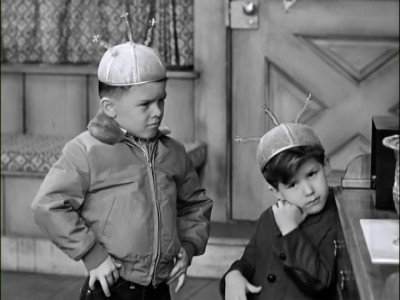 #5 - Housewarming 8.71
Season 6 - Episode 23
Fred Mertz installs an intercom system between the Mertz guest-house and the Ricardo main house. The intercom causes some confusion when Lucy and Ricky overhear what they believe to be plans for a housewarming party given for them.
Directors: William Asher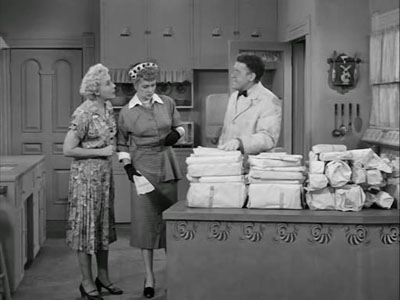 #6 - The Freezer 8.68
Season 1 - Episode 29
Where's the beef? It's in Lucy and Ethel's new walk-in freezer (according to Lucy, the ""human popsicle""). Of course, Ricky and Fred have a beef with their wives, because they paid $483 for it. The meat company won't take it back, and they can't sell it to customers waiting in the local butcher shop, so they're stuck with it. And speaking of stuck, Lucy gets herself locked in the freezer!
Directors: Marc Daniels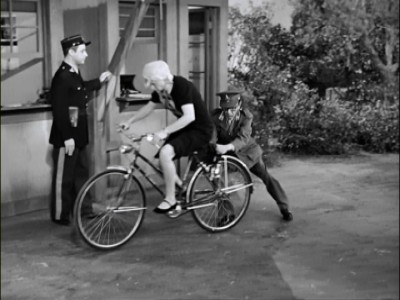 #7 - Lucy's Bicycle Trip 8.67
Season 5 - Episode 24
The Ricardos and Mertzes pedal their way from Italy to the French Riviera. It's a bumpy ride, thanks (of course) to Lucy, who left her passport in her purse, which she locked in a suitcase, which she sent ahead to their hotel in Nice. That presents problems when they get to the Italian-French border.
Directors: James V. Kern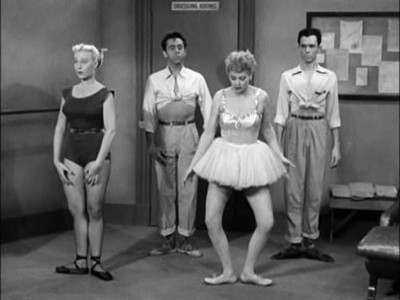 #8 - The Ballet 8.63
Season 1 - Episode 19
Even after all this time, Lucy still longs to get into one of Ricky's shows. When she learns that there is an opening in one of Ricky's acts for a ballet dancer,as well as a burlesque comedienne, Lucy decides to take a ballet class-which leads to some pretty disastrous results. Fed up, Lucy then hires a teacher to teach her the art of burlesque comedy. It is then that Lucy learns that Ricky still has one spot available in his act. Falsely assuming that it is the burlesque comedienne, not the ballet dancer, that Ricky needs for his act, Lucy goes to the club and mayhem ensues.
Directors: Marc Daniels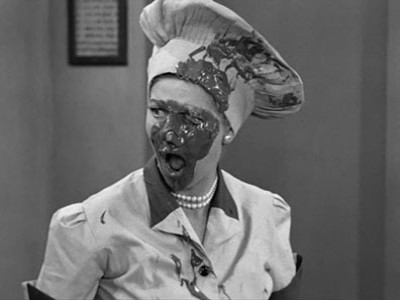 #9 - Job Switching 8.61
Season 2 - Episode 1
Ricky wants Lucy to try working for a week, so she and Ethel get jobs at a candy factory, where they are totally inept-especially at wrapping chocolates-due to a speeding conveyor belt that has them stuffing chocolates in their mouths, blouses, and hats.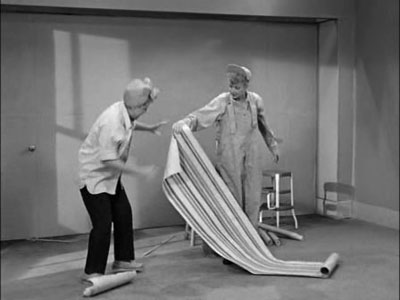 #10 - Redecorating 8.57
Season 2 - Episode 8
Waiting to find out if she has won a home furnishing contest, Lucy won't leave the house, much to Ricky's annoyance. He tells Fred to call her and say that she's won. In her joy, Lucy sells all the old furniture, leaving Ricky with the job of buying it back.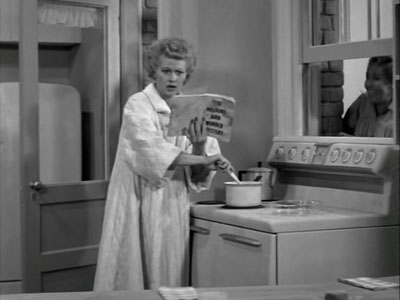 #11 - Lucy Thinks Ricky Is Trying to Murder Her 8.56
Season 1 - Episode 4
Lucy 's new whodunit and a misunderstood phone conversation work together to lead Lucy to think Ricky is trying to poison her. So with what she believes is her last burst of energy, Lucy hastens to the Tropicana to confront Ricky with a gun.
Directors: Marc Daniels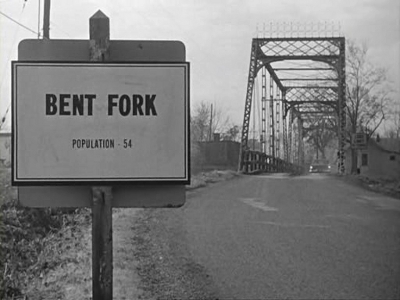 #12 - Tennessee Bound 8.56
Season 4 - Episode 15
The Ricardo-Mertz westward trek faces a delay — they're all thrown in jail for speeding — in Bent Fork, Tenn., home of Lucy's ""cousin"" Ernest, who'll do all he can to get them out of the pokey, even if it means marrying one of the sheriff's two daughters, Teensy and Weensy.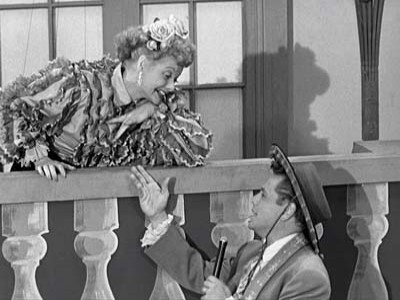 #13 - Ricky's 'Life' Story 8.53
Season 3 - Episode 1
Lucy is upset because a 'Life' magazine feature on Ricky's home life didn't include a picture of her.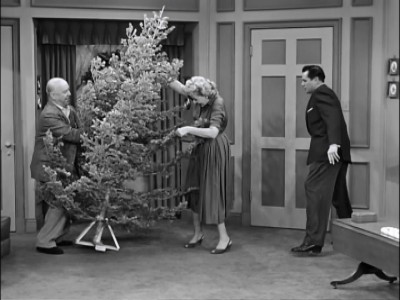 #14 - Christmas Show 8.50
Season 6 - Episode 11
It's Christmas Eve and Ricky warns his young son: "Santa won't bring the tree and the presents until you go to sleep." It takes some effort to cajole the boy, but after Lucy convinces him that Santa will have no trouble coming down the chimney ("he brings the North Pole with him and slides down it like a fireman."), he's off to bed. The coast clear, Fred and Ethel arrive with a Christmas tree. "It's a gift from me and Ebenezer," Ethel reveals about the five-dollar fir. The four friends begin to trim the tree until Lucy discovers "a branch on the right side that spoils the shape." Fred solves the symmetry problem with a pocket saw as Ricky says to Lucy, "Our lives have sure been different ever since you told me you were going to have a baby." We flash back to the sentimental moment at the Tropicana in 1952 when Lucy breaks the baby news to Ricky (from "Lucy is Enceinte"). This reminiscence over, we discover that Fred got carried away with his saw while listening to the baby tale - the tree is now a spindly stripling. While Fred goes off in search of a replacement, Ethel and Ricky start singing "Jingle Bells," but when Lucy joins in with her off-key rendition, they recall, once again in a flashback sequence, the barbershop quartet harmonizing of "Sweet Adeline" (from "Lucy's Show Biz Swan Song"). With the last note sung, we return to the Ricardo apartment just as Fred enters with a new tree - he got this "last minute" one for only fifty cents. The foursome starts decorating the tree and discussing Little Ricky's Christmas gifts, as Ethel realizes: "It seems like only yesterday he was born." This is the perfect lead-in to a flashback of Ricky, Fred, and Ethel rehearsing Lucy's trip to the hospital (from "Lucy Goes to the Hospital"). Finally, it's Christmas morning. The four principals are up early and wearing Santa outfits. When they hear Little Ricky approaching the living room, they hasten to the kitchen so the boy won't be disillusioned by seeing four Santas. Suddenly, however, there are five St. Nicks crowding the kitchen - who's the real one? The "real" one disappears optically as the Ricardos and Mertzes stare into the camera and say, hesitantly, "Merry Christmas, everybody."
Directors: James V. Kern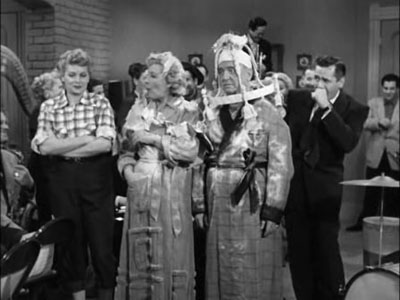 #15 - Breaking the Lease 8.50
Season 1 - Episode 18
The show opens with the Ricardos and the Mertzes sitting around the Ricardos' piano, singing songs together. After the Mertzes leave, Lucy and Ricky wind up in an argument: Lucy wants to leave the bedroom window open, while Ricky wants it closed. The Mertzes, who are trying to get some sleep, are most irritated by the noise. They angrily phone the Ricardos and demand that they cut down on the racket. This, as you can imagine, leads to a big quarrel between the Ricardos and the Mertzes. Lucy and Ricky decide that they can't take it anymore, and they want to move out. However, there is a slight problem--they've signed a lease. The Ricardos thus decide to become the most undesirable tenants ever so that they can break that lease. They succeed in doing so, but ultimately decide that they can't move away and that they must apologize to their friends.
Directors: Marc Daniels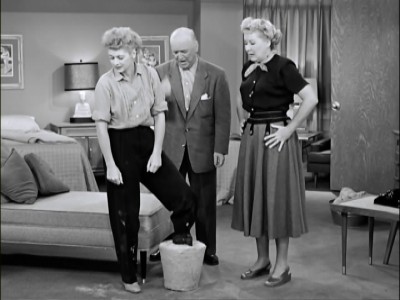 #16 - Lucy Visits Grauman's 8.50
Season 5 - Episode 1
With only a week left in Hollywood, Lucy weeps about her lack of souvenirs. Her collection already includes a tin can run over by Cary Grant's rear tire, a napkin boasting Lana Turner's lip-prints, and a few other goodies. But when Lucy discovers that John Wayne's concrete block at Grauman's Chinese Theatre is loose, she decides to take home a souvenir to end all souvenirs.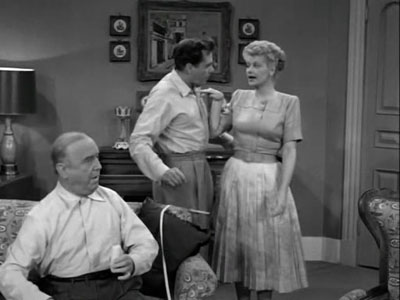 #17 - Men are Messy 8.47
Season 1 - Episode 8
""Men are nothing but a bunch of messcats,"" insists Lucy Ricardo, while Ricky insists that ""a man's home is his castle."" To make a point, Lucy divides the apartment in half, so that Ricky can be as messy as he likes on his side. But when Ricky's press agent, Kenny Morgan, lines up a publicity spread in Halfbeat Magazine, Lucy decides to teach her sloppy husband a lesson by turning the Ricardo apartment into a regular pig pen. Little does Lucy know that this photographer is not from the musician's journal, but is actually from Look magazine.
Directors: Marc Daniels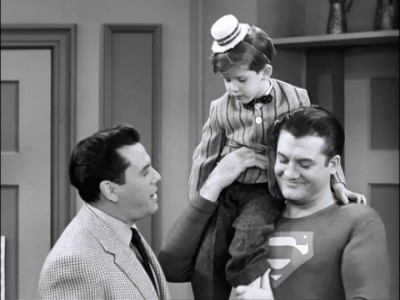 #18 - Lucy and Superman 8.44
Season 6 - Episode 13
When Stevie Appleby, Caroline's son, has a birthday party the same day as Little Ricky's, Lucy looks for unusual entertainment to lure the children. Ricky remembers that Superman is in town, and he invites him. But when Ricky is unable to corral Superman, Lucy is left with no choice but to dress as the Man of Steel herself. George Reeves makes a special guest-star appearance in this episode.
Directors: James V. Kern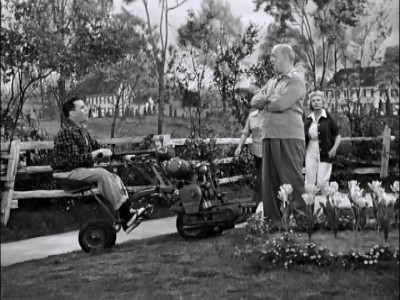 #19 - Lucy Raises Tulips 8.43
Season 6 - Episode 26
Suburban living gets Lucy into a flower-show competition, and she raises tulips with a vengeance as she tries to beat out her neighbor, Betty Ramsey, for first prize. Lucy asks Ricky to mow the lawn so that her garden will look just right. But he only mows half before taking off for a baseball game, leaving Lucy and Ethel to tiptoe through the tulips -- with the lawnmower.
Directors: William Asher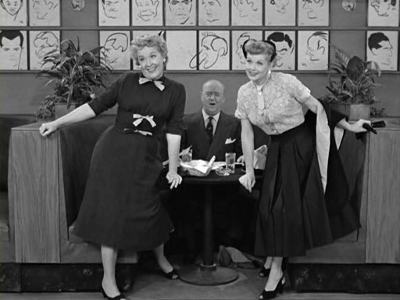 #20 - L.A. at Last 8.42
Season 4 - Episode 17
Lucy arrives in Hollywood with stars in her eyes. She heads for The Brown Derby, a celebrity hangout, where she encounters Eve Arden and William Holden -- and inadvertently presents Holden with a custard pie in the face. Hollywood legends William Holden and Eve Arden guest-star as themselves.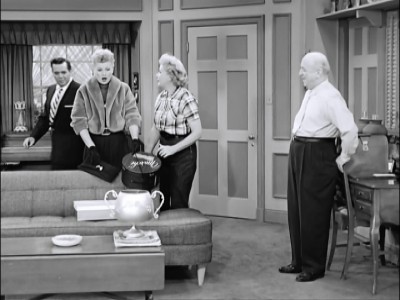 #21 - Lucy and the Loving Cup 8.36
Season 6 - Episode 12
Ricky's disapproval of Lucy's new hat leads to her trying on a loving cup which Ricky has planned to present to jockey Johnny Longden at a National Turf Association dinner. The problem is that Lucy can't get the trophy off her head.
Directors: James V. Kern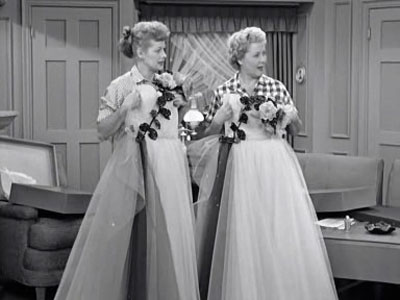 #22 - Lucy and Ethel Buy the Same Dress 8.36
Season 3 - Episode 3
Lucy and Ethel buy the same dress for the upcoming talent show for the Wednesday Afternoon Fine Arts League. True, they'll be doing a duet, and their number is Cole Porter's corny ""Friendship,"" but wearing the same dress isn't exactly what they had in mind. Meanwhile, Lucy needs to persuade Ricky to host the show, so she decides to use a little reverse psychology.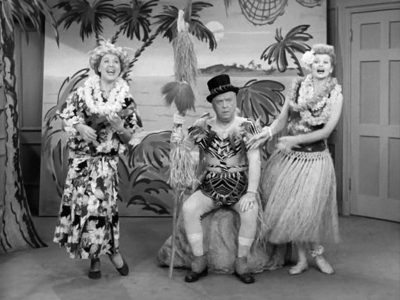 #23 - Ricky's Hawaiian Vacation 8.30
Season 3 - Episode 22
Ricky's band is to play in Hawaii-and guess who wants to go also? Lucy's plan: to go on a game show that gives away airline tickets. It calls for some trickery, and Lucy just *might* meet her match in the show's host, Freddie Fillmore, a prankster par excellence.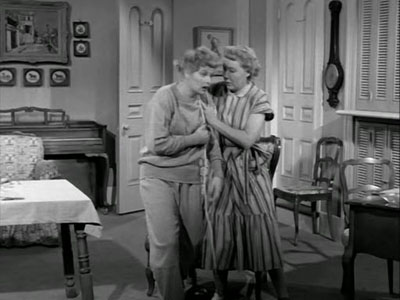 #24 - The Diet 8.29
Season 1 - Episode 3
To her dismay, Lucy finds out that she's put on 22 pounds since marrying Ricky. Complications arise when one of the girls in Ricky's new show quits, making a vacancy for a dancer who can wear a size twelve costume. At the auditions the next morning, Lucy tricks Ricky into saying that if she loses enough weight (12 pounds) in four days, then she can be in the show. Thus, she starves and exercises, with Ethel as her coach. In one funny scene, she tries to steal food from the Mertzes' dog Butch, because she is so hungry! She finally resorts to using a steam cabinet, and manages to get down to the required 120 pounds. At the end, Lucy and Ricky perform ""Cuban Pete/Sally Sweet."" She's a hit, but at the end she collapses, suffering from malnutrition.
Directors: Marc Daniels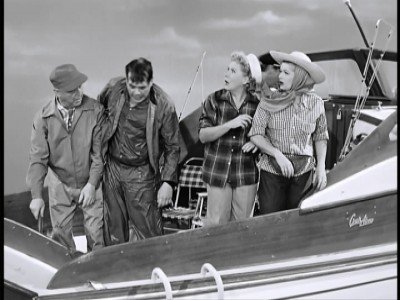 #25 - Deep-Sea Fishing 8.27
Season 6 - Episode 7
It's Lucy and Ethel vs. Ricky and Fred in a fishing contest while they're on a Florida vacation. The wager: $150 (about what Lucy and Ethel had spent in hotel boutiques), so both sides do a little cheating to ensure a victory.