The BEST Episodes of Keen Eddie
Every episode ever - ranked by fan votes!
Last Updated: Sep 20, 2021
Eddie Arlette is an NYPD detective. Disgraced and nearly dismissed after a spectacularly botched drug bust, Eddie was transfered to London's Scotland Yard to rebuild his career from the ground up.
Watch Now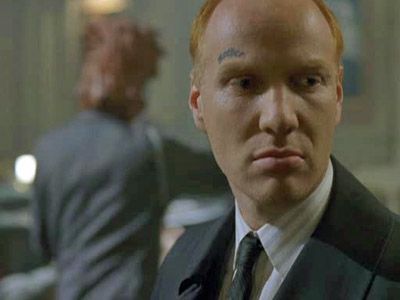 #1 - Citizen Cecil
Season 1 - Episode 10 - Aired Mar 2, 2004
Strange things are happening when a full moon appears. A group of robbers, with Duran Duran masks on, rob one of London's most popular gambling casinos. Elsewhere, Pippin is having certain "marital" issues with his false wife. Eddie and Fiona are actually being nice to each other.
6 votes
Writers:
David Jones

,
Jeff Vlaming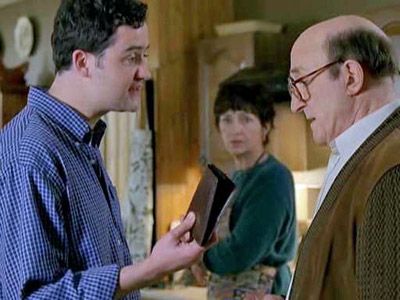 #2 - Sticky Fingers
Season 1 - Episode 8 - Aired Jan 27, 2004
Pippin's identity is stolen. Scotland Yard sees this as opportunity to capture a group of identity thieves. Eddie gets some unexpected help on the case from a famous pickpocket. Meanwhile, Pippin joins a sex-addict group called "Emotional Connections" where he meets The Lady of the Lift.
10 votes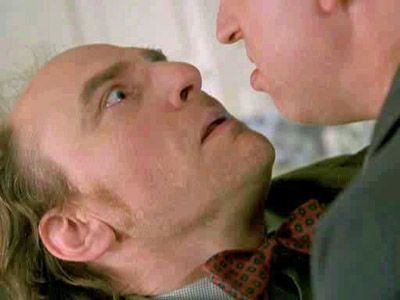 #3 - Inciting Incident
Season 1 - Episode 9 - Aired Feb 17, 2004
Mark Weatherhead has the perfect life. He has a beautiful wife and two kids. Everything is perfect, until a man from Mark's past comes back to haunt him. That man is Neil Baines AKA "The Claw." Mark says he has no idea who Neil Baines is, but Eddie Arlette discovers that the two men do have a musical past with each other. Pippin is upset when Eddie forgets to get him an expensive piece of technology. Fiona deals with a passive-aggressive co-worker.
8 votes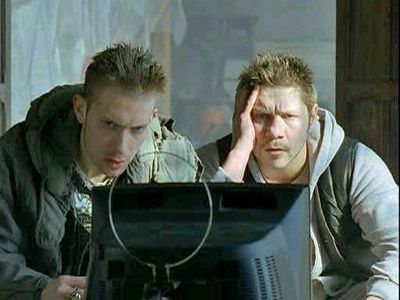 #4 - Eddie Loves Baseball
Season 1 - Episode 4 - Aired Jun 24, 2003
When a huge soccer star, Colin Kinney, is involved in a shooting, Eddie decides to hold him back until he comes clean. At this point, news breaks out, making Eddie the most hated person in the U.K. Colin's lawyer tells him not to talk, so Eddie and Pippin start to interview people who maybe could help with the case. They finally interview his wife, and they notice a lot of pictures of their daughter, who isn't around. They ask where she is, and his wife decides to come clean. Colin tells them about how he was involved in the shooting, how they were going to talk to the kidnappers, and accidentally shot his friend, Martin Moon, in the process. The kidnappers told him to lose in the world cup, or his daughter dies, but Eddie has another idea. Colin is free of charges, and starts to play in the world cup. He does not do what the kidnappers wishes, but he scores majority every point in the game. The kidnappers, who are watching the game, phones his wife, and Eddie and co, tracks them
10 votes
Writers:
J.H. Wyman

,
Steven Kane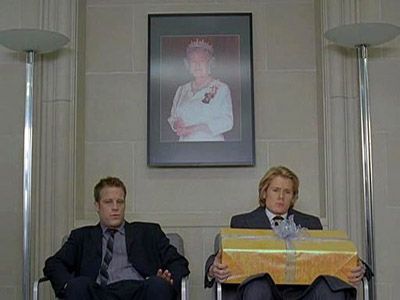 #5 - Black Like Me
Season 1 - Episode 7 - Aired Jul 24, 2003
After a jewel heist, Eddie and Pippin are very short on leads. After questioning a man who they think is sneaky about something, another man comes in (Georgie) and confesses. Eddie obviously doesn't think that this man had anything to do with the heist, so he doesn't book him. After a while of questioning him, he realizes his girlfriend is trying to set him up, so her and her boyfriend can get off free. Meanwhile, Fiona and Nigel have dinner and Fiona's fathers house. It seems to be going fine until her father ask Nigel what his intentions with Fiona are, and he simply replies that he has fun with her. After overhearing that, Fiona has doubts about them. After following the couple after they set Georgie up, they find the jewels and arrest them.
6 votes
Writers:
J.H. Wyman

,
Rick Dresser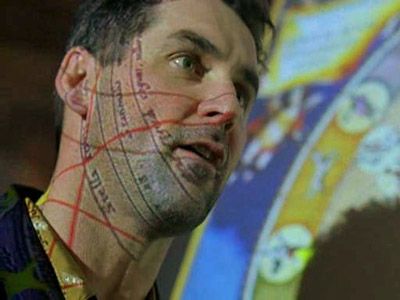 #6 - Liberté, Égalité, Fraternité
Season 1 - Episode 13 - Aired Apr 14, 2004
Help is needed for Dominique Deschamps, the lovely woman who lost her wallet after flirting with Scotland Yard "loan" detective Eddie Arlette. When Eddie Arlette discovers the wallet he ultimately finds Dominique Deschamps, but is ambushed by Paul and Jean Fortier. Eddie gets knocked out, but not after the lovely lady hands him a book of matches asking for help. Monty Pippin and Eddie Arlette start an investigation, which leads them to a man named Anton Levy. Dominique and Anton were passionate about each other, but Dominique turned Anton into the French police. Anton's would agree to going to prison, but first he wanted to go to London before prison, so he could tie up some loose ends. Eddie and Monty Pippin think he's come to London to kill Dominique. Eddie, Monty, and the Scotland Yard tactical team head into Anton's mansion, where he and a very much alive Dominique greet them. Nothing bad going on here. Eddie is left scratching his head...until Michel Hoffman. Michel is Dominique's true love, not Anton. Eddie heads to Anton's mansion to get Dominique, but Michel is already there, saving her. Anton says the two will expire if Anton's true love is not given to him. Eddie finds Dominique, who refuses to go back. The hit man Jacques Desmarais is already out for Dominique. Eddie goes back to Anton's house to reason with him, but there he realizes that the love of Anton's life is his young daughter Isabelle, who joins Anton for his last meal before his imprisonment.
4 votes
Writers:
J.H. Wyman

,
Rick Dresser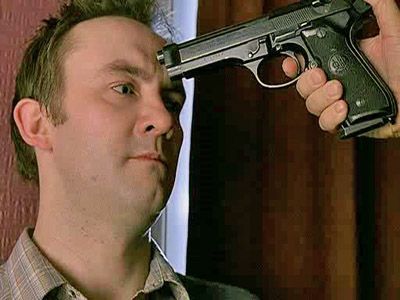 #7 - The Amazing Larry Dunn
Season 1 - Episode 6 - Aired Jul 8, 2003
Eddie and Pippin get help from a guy with a photographic memory, who used to be famous with his own t.v. show, until a little girl knew a quote that he froze on. He now works as a delivery boy and once again, for the second time in his life, gets the memory lapse and forgets what he did with the package, and gets the help of Eddie and Pippin for protection when the owners of the package threaten him. Meanwhile, the neighbor catches Fiona trying to tap into his dish so she could watch t.v. and not have to pay for it, when the old man catches her and threatens her that if she doesn't do all of his laundry, he will call the company and get her in trouble. Larry remembers where he put the package, and it turned out to be a book for a safe that was going to be used for a jewel heist. He wants fame again, so he memorizes the book, so the thieves have no other choice but to kidnap him, so they know how to bypass the safe.
9 votes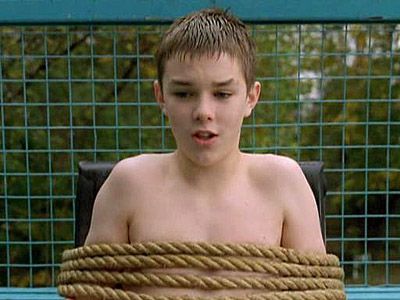 #8 - Who Wants to Be in a Club That Would Have Me as a Member?
Season 1 - Episode 11 - Aired Mar 24, 2004
Eddie tries to help a boy, Edward, with his school problems, and the kid tries to be just like Eddie. Marveling in the worship, he tries to become a mentor to the boy. Fiona is also trying to help an adolescent with his problems. He doesn't want to join the adult Jewish community, so she tries to help him patch things up in his life. Meanwhile, when Eddie does an official investigation into why Edward was being bullied, the bulliers let him switch sides so he won't rat on them, and in doing so, Eddie loses his new found respect from Superintendent Nathanial Jonhnson.
5 votes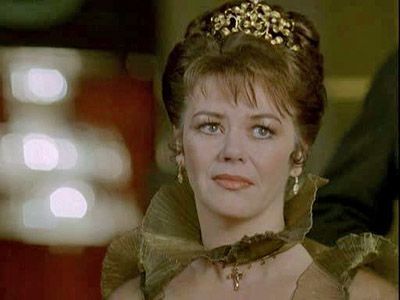 #9 - Achtung Baby
Season 1 - Episode 3 - Aired Jun 17, 2003
Eddie is assigned to protect a German opera singer from her stalker. Eddie doesn't seem to mind that she is attracted to him, but Fiona does mind.
11 votes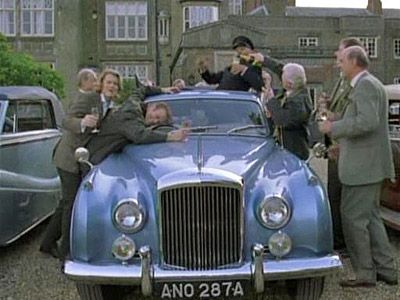 #10 - Keeping Up Appearances
Season 1 - Episode 12 - Aired Apr 7, 2004
Good News: Eddie has inherited Rosemary Hawskin's Bentley. Which would be good news, but one thing. What's a Bentley? Who's Rosemary Hawskins? Why is this indian guy watching porno on Fiona's couch? These are just some of the questions Eddie wants answered. Apparently, he met Rosemary and had a wonderful conversation....and he never saw her again. So, Eddie takes the Bentley and cruises around the streets of London in his new ride with his driver, Kahn. More good news arrives when Fiona tells Eddie she's been chosen to take part in a "covergirl" type shoot. Bad News: When Eddie awakes the next morning. The Bentley is gone! Peter Hawskins, Rosemary's son, stole the Bentley and tried to sell it to Russell the pig in exchange for not dying. More bad news comes, when Fiona's offer is given to an eighteen-year-old, whom was babysat by Fiona. In the End: The pig gets a Bentley and an indian. Peter runs away. Fiona and Eddie hate each other....everything is back to normal.
4 votes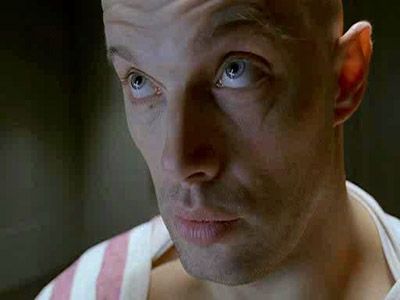 #11 - Sucker Punch
Season 1 - Episode 5 - Aired Jul 1, 2003
Eddie Arlette and Detective Monty Pippin investigate a new underground fight club where unsuspecting fools are thrust into mismatched brawls and forced to fight for their lives. Meanwhile, Fiona has decided to follow Nigel to New York, where a new job awaits him, and Eddie finds a new roommate who ends up being an exact carbon copy of himself.
13 votes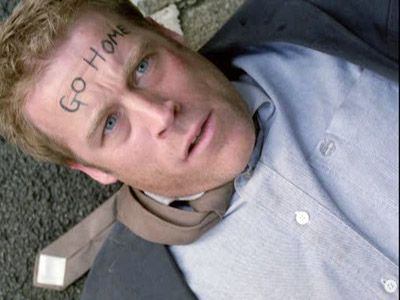 #12 - Pilot (a.k.a Eddie)
Season 1 - Episode 1 - Aired Jun 3, 2003
Eddie a New York City police detective, is down on his luck, just dumped by his girlfriend and responsible for a drug bust gone bad, Eddie and his dog Pete, leave New York to make things right
21 votes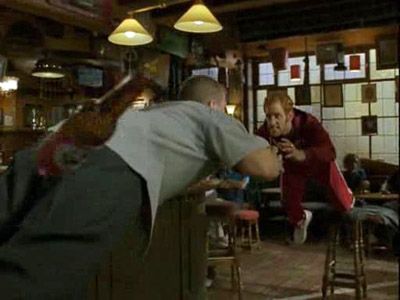 #13 - Horse Heir
Season 1 - Episode 2 - Aired Jun 10, 2003
When Eddie investigates the theft of a champion racehorse, he and Pippin learn that two brothers from an earlier case are involved in the theft
12 votes
Writers:
Andi Bushell

,
J.H. Wyman

,
Jim Praytor