The WORST Episodes of Doug
Every episode ever - ranked by fan votes!
Last Updated: Sep 18, 2021
Created by former Nickelodeon artist Jim Jinkins in 1990 and produced through Jinkins' production company, Jumbo Pictures Inc., Doug follows the life of an average kid named Doug Funnie. Doug and his family have just moved from their former residence in Bloatsburg, to the new town of Bluffington. There he meets Skeeter, Patti, Roger and Beebe, and his new life in a new town begins! Doug writes in his journal and sometimes even imagines himself as a superhero named Quailman to help him out with situations and decisions.
Watch Now
#1 - Doug's Secret Christmas
Season 5 - Episode 15 - Aired Dec 14, 1996
With a new baby on the way, Doug's family is too busy to have a traditional Christmas and Doug wants one. So Doug and Porkchop decide to have their own secret holiday celebration in his room. But when he later finds the house completely empty Phil phones with news, the baby is born on Christmas Day. Meanwhile, Fentruck tells all his friends how they spend Christmas in Yakestonia.
0 votes
#2 - Judy, Judy, Judy
Season 6 - Episode 5 - Aired Oct 11, 1997
Judy helps out with Gwen Gauntlet, her favorite actress and teen role model, while she is in town to shoot an entertainment show. Judy hopes she can get a recommendation from Gwen for Vole University. However, Gwen is so self-absorbed that it tests the limits of Judy's patience. Meanwhile, Doug and Skeeter think they've shot proof of the monster on Judy's video camera and Judy won't let them see the tape.
0 votes
#3 - Doug's Dougapalooza
Season 6 - Episode 6 - Aired Oct 18, 1997
Connie Benge becomes obsessed with winning a local radio-station contest to become a rock 'n' roll star. She brings Doug into it, and is so obsessed she thinks about quitting school just like Flounder from The Beets did. Soon she realizes Flounder may have not done the right thing. Meanwhile, Al, Moo and Skeeter try to contact the monster of the lake by creating a monster calling machine.
0 votes
#4 - Doug's Older Woman
Season 7 - Episode 2 - Aired Sep 19, 1998
Popular eight grader Cassandra Bleem asks Doug to be her date at the upcoming Bluffington Blowout Bar-Becue and Beach Bash beach party and he does everything to prepare to be cool in front of Cassandra. Meanwhile, the Sleech twins try different kind of ways to get dates for the beach party.
0 votes
#5 - Doug Gets Right Back On!
Season 7 - Episode 3 - Aired Sep 26, 1998
Doug is practicing for the Rudolph Bluff Memorial Bike Rally, where he is on Patti's team and they are determined to beat Roger's team. But after Doug has a bicycle accident, he breaks his leg and once it heals, he is afraid to get back on his bike. His fear won't let him practice or even ride in the rally, and if he doesn't overcome his fear, it would let Patti and the team down. Meanwhile, Doug learns about Mr. Dink's phobia of beans and how he has tried to overcome it.
0 votes
#6 - Quailman's Bad Hair Day
Season 7 - Episode 19 - Aired Apr 3, 1999
Doug always manages to have a bad hair day on school-picture day. So when school-picture day comes around again, Doug douses himself with hair-care products to prevent bad hair. Meanwhile, he daydreams how Quailman would handle a bad hair day, as an evil shampoo from the S.T.U.A.R.T. company is taking over the hair of all the citizens in Megalopolis.
0 votes
#7 - Doug: Beebe Goes Broke
Season 7 - Episode 20 - Aired Apr 10, 1999
Beebe Bluff's family is penniless due to heavy investments in the Yakestonian snoozegraffle crop, which gets completely destroyed due to a storm. Also because of the destroyed crop, Fentruck's family can't support their son overseas and will have to send him back home if he doesn't raise enough money. Doug, Patti and Skeeter try to save Fentruck from leaving and show Beebe that you don't need a lot of money to have a good time.
0 votes
#8 - Doug: Oh, Baby
Season 5 - Episode 23 - Aired Feb 15, 1997
Doug begins to worry that the new baby Cleopatra Dirtbike will end up being another Judy, and Judy is afraid she'll grow up to be like Doug. So the two set out to shape the baby's personality. When Phil and Theda go out for an evening, Judy and Doug are left to babysit and don't want the other to be left alone with Dirtbike. But when their fighting leaves Dirtbike alone in Mr. Dink's house, they realize they are going to have to co-operate to get her out.
4 votes
#9 - Doug: The Big Switch
Season 5 - Episode 13 - Aired Nov 30, 1996
Doug complains to Patti about how tough he has it at home. Doug thinks she must have it easy because she is home schooled. Soon, Beebe and Skeeter and Chalky and Roger debate over who has it hardest. So they all agree to switch places for a day. Also, Moo comes to Doug for advice on his brother who is dying his hair, changing his style of clothes and making friends, and Moo doesn't want his brother to change.
3 votes
#10 - Quailman vs. the Annoying S.T.U.A.R.T.
Season 7 - Episode 12 - Aired Dec 12, 1998
The S.T.U.A.R.T. corporation's faulty products are making citizens in Megalopolis uncharacteristically short-tempered. Quailman has had enough of the faulty products, so he and Silver Skeeter set out to find the leader.
3 votes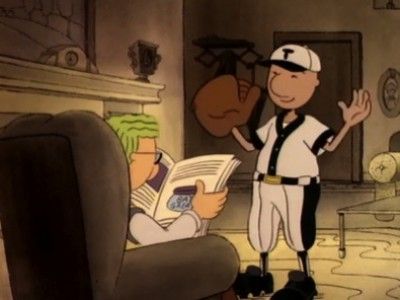 #11 - Doug's New Teacher
Season 3 - Episode 13 - Aired May 30, 1993
While Mrs. Wingo is away, a substitute named Ms. Newberry takes her place. But Doug makes a bad first impression which places him as the class troublemaker and Roger as the nice guy. So Doug tries everything to change Ms. Newberry's image of him.
5 votes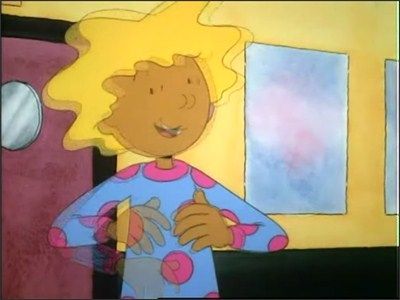 #12 - Doug's a Big Fat Liar
Season 2 - Episode 13 - Aired Oct 25, 1992
Doug wants to go to the Hoe-Down dance with Patti. But when Connie asks him, Doug lies and says he's staying home to take care of his sick cousin "Melvin." His lie gets him into big trouble when Patti and Connie come over to visit his cousin. Doug asks Judy to help him out and does such a good job because then, Melvin is invited to the Hoe-Down.
3 votes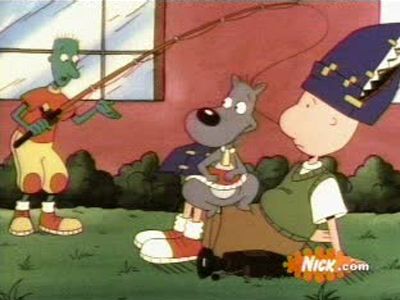 #13 - Doug's Monster Movie
Season 3 - Episode 16 - Aired Jun 6, 1993
Doug and Skeeter are having trouble finding a scary monster for their homemade video movie, until Mayor White creates a monster of his own with his "beautify Bluffington" campaign, which was inspired by Doug's Mom.
3 votes
#14 - Doug's Magic Act
Season 3 - Episode 26 - Aired Jul 11, 1993
Doug tries to impress Patti with a magic trick from his new magic set, but it backfires and they end up handcuffed together, without the key, for the entire afternoon. This does not sit well with Patti as it makes her miss planned activites. After many attempts to get the key, they realize the magic store owner may have a solution.
4 votes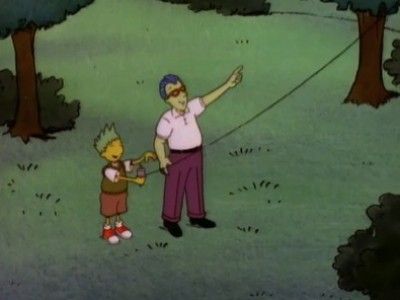 #15 - Doug's Huge Zit
Season 3 - Episode 9 - Aired May 16, 1993
Doug is invited to Beebe's party, but something shows up on his that face makes it impossible for him to go out in public.
5 votes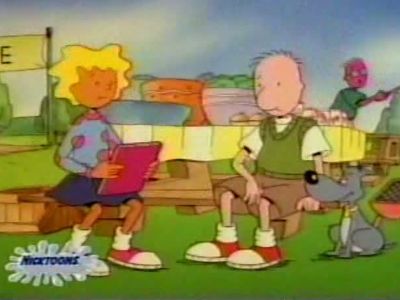 #16 - Doug and Patti P.I.
Season 3 - Episode 2 - Aired Apr 11, 1993
Someone has sabotaged the wheelbarrow race at the Bluffington picnic and now no one can be in the race. So, Doug and Patti team up to solve the mystery of who did it and why.
5 votes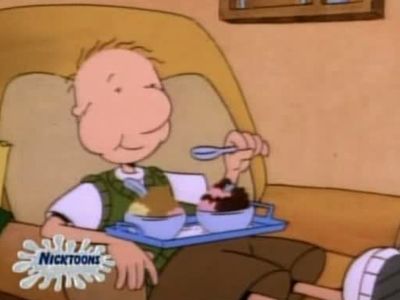 #17 - Doug Tips the Scales
Season 4 - Episode 6 - Aired Oct 10, 1993
Over the weekend, Doug puts on a few pounds at Grandma Funnie's house and has been invited to Beebe's pool party. Doug is so embarrassed to be seen in a swimsuit, so he decides to work the extra weight off before the party using Ronald "Prepare to Suffer" Weisenheimer's videos.
5 votes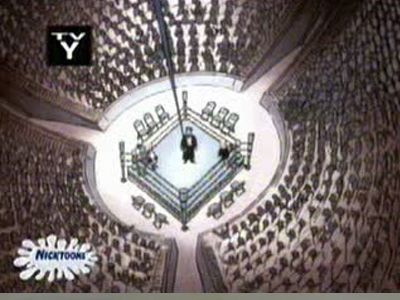 #18 - Doug Clobbers Patti
Season 4 - Episode 13 - Aired Nov 21, 1993
Doug beats Patti in a bowling match, and Skeeter tells everyone about it. Doug gains popularity, but feels bad about beating Patti everytime they play a game. It seems Patti is having a losing streak and is upset about it.
5 votes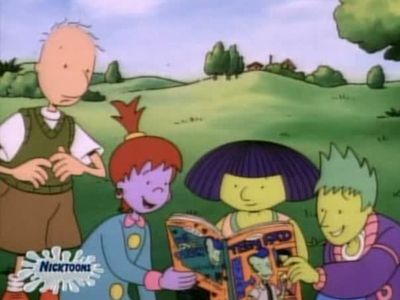 #19 - Doug En Vogue
Season 4 - Episode 8 - Aired Nov 7, 1993
Doug wishes he was more fashionable until his friends at school accuse him of dressing like Dylan Farnum from the TV show "Teen Heart Street." He's tired of being told he's copying someone else's style, so he decides to shop for a new look.
8 votes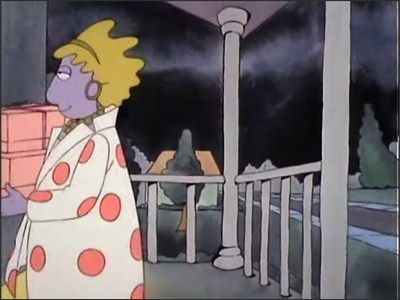 #20 - Doug's Derby Dilemma
Season 2 - Episode 15 - Aired Nov 1, 1992
Doug and his friends are all building soapbox racers for the Mt. St. Buster Downhill Speed Race, and they all want to win, and Doug and Skeeter are having trouble keeping their racer a secret. But once the race starts, there's a disaster on the track, and everyone finds out that helping a friend is more important than winning.
3 votes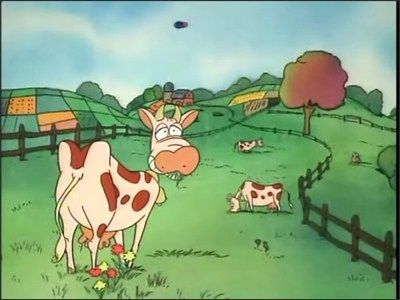 #21 - Doug's Lost Weekend
Season 2 - Episode 25 - Aired Dec 6, 1992
Doug wins a Super-Pretendo with the video game "Space Munks," but the more he plays, the more he can't put it down. Suddenly, he realizes the weekend is over and he hasn't even started his homework.
3 votes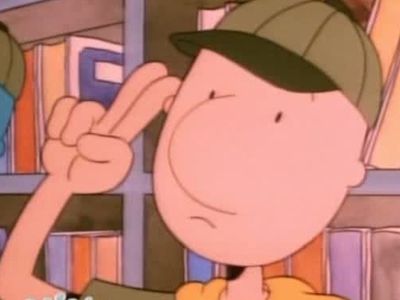 #22 - Doug Door to Door
Season 4 - Episode 5 - Aired Oct 10, 1993
Doug's Bluff Scout Troop #617 has to raise money for new canoes, so they sell "Bluff Scout Booster Bars" door to door. But after being rejected by everyone, Roger offers a new way to sell the bars, which Doug doesn't agree with. Then when Doug sells a bar to Mr. Swirly, he realizes the problem of why the bars taste so horrible.
6 votes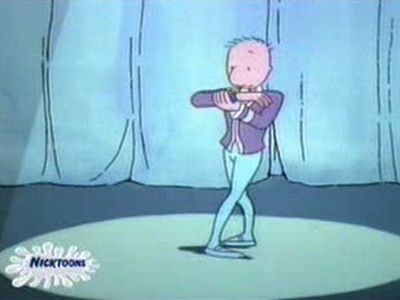 #23 - Doug Wears Tights
Season 2 - Episode 14 - Aired Oct 25, 1992
In front of the dance teacher, Miss. Mimi, Doug signs up to be the lead dancer in the school ballet so he can be dance partners with Patti. But Beebe's mom, Betty, is trying to get her daughter the female lead, so Doug considers "fixing" Beebe's tryout. But then he realizes that he doesn't really need to.
3 votes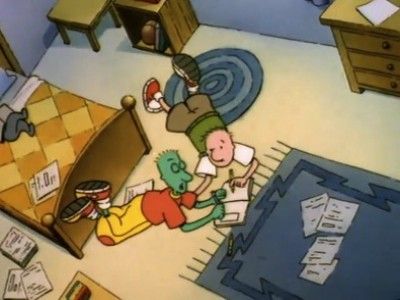 #24 - Doug's Comic Collaboration
Season 3 - Episode 5 - Aired Apr 25, 1993
Doug and Skeeter decide to work together to create their own comic book featuring Silver Skeeter and Quailman fighting the evil Wacky Weather Man.
7 votes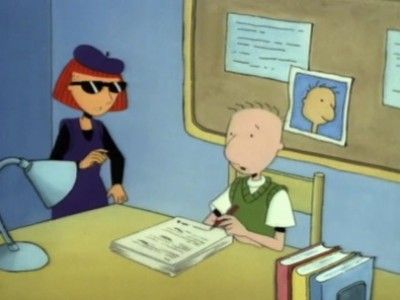 #25 - Doug is Slave for a Day
Season 3 - Episode 3 - Aired Apr 18, 1993
Judy catches Doug breaking a vase that belonged to their mom. To keep her quiet, Doug must agree to be her slave for a week. He suffers until he realizes that the only way out is to tell the truth.
8 votes