The Best Episodes of The Angry Beavers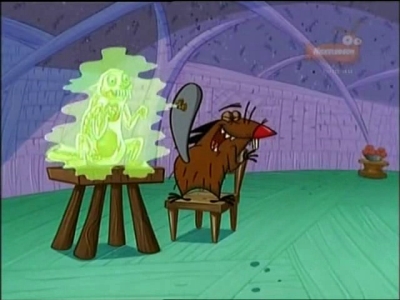 #1 - Another One Bites the Musk 8.88
Season 2 - Episode 10
Daggett and Norbert learn how to mark territory with their scent glands. Their fraternal jealousy kicks off a marathon of territory claiming across the dam, the forest, and the entire country. The boys finally learn their lesson at the hands of some rather smelly lumberjacks.
Directors: Patty Shinagawa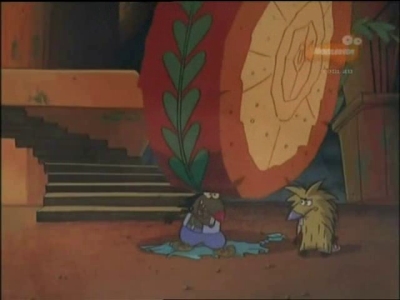 #2 - The Mighty Knothead 8.80
Season 2 - Episode 11
When Daggett stumbles onto a tribe of girl raccoons while out searching for knot holes, the tribe mistakes him for an ancient god. Norbert now has to snap Dag out of his delusions of grandeur, in order to save him from himself and the raccoons.
Directors: Robert Hughes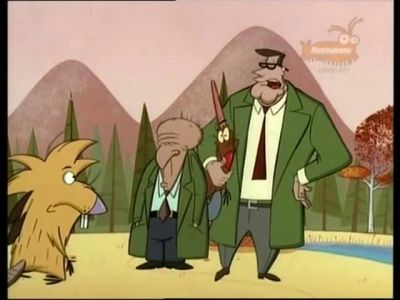 #3 - Endangered Species 8.75
Season 2 - Episode 18
Daggett is mistaken for the long-extinct Horned Beaver by two bumbling scientists. Their zeal to protect such a rare animal quickly becomes dangerous for everyone around Daggett.
Directors: Robert Hughes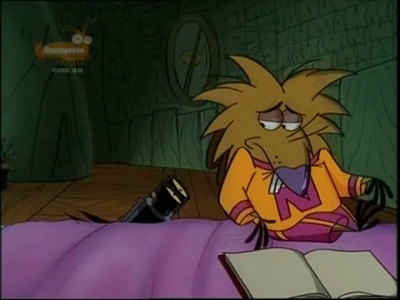 #4 - Gonna Getcha 8.67
Season 2 - Episode 23
After Daggett commits the ultimate offense against a brother--farting on his head--Norbert vows revenge. Dag goes mad with paranoia anticipating Norb's retribution. Meanwhile, Norb forgets he even made the threat--or does he?
Directors: Patty Shinagawa
#5 - Guess Who's Stumping to Dinner 8.67
Season 1 - Episode 26
Norb befriends Stump (an actual tree stump that the boys chewed down). Despite Dag's jealousy, Norb realizes he hasn't lost a brother but gained a friend.
#6 - Stinky Toe 8.54
Season 1 - Episode 17
NO! It can't be true. He was so young, struck down in his prime! When Norb comes down with dreaded beaver disease, Stinky Toe, Daggett will stop at nothing to find a cure.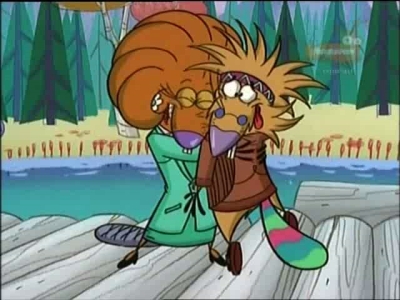 #7 - Tree of Hearts 8.50
Season 2 - Episode 7
When Treeflower re-enters Norbert's life, he expects their love to blossom once more. However, Norb didn't count on the lure that large trucks have for beaver women, and loses Treeflower to Dag's arch enemy: Truckee the truck driving shrew.
Directors: Patty Shinagawa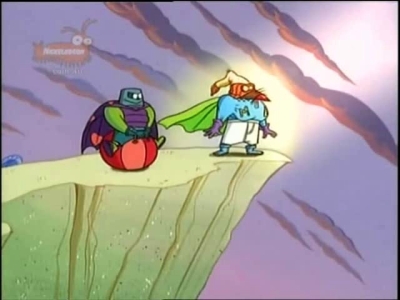 #8 - Muscular Beaver II 8.50
Season 2 - Episode 5
Daggett is blackmailed by the government into becoming Muscular Beaver once more in order to fight a hundred-foot-tall rampaging splinter. Norb is forced to come along as Muscular Beaver's new sidekick. Hilarity ensues.
Directors: Patty Shinagawa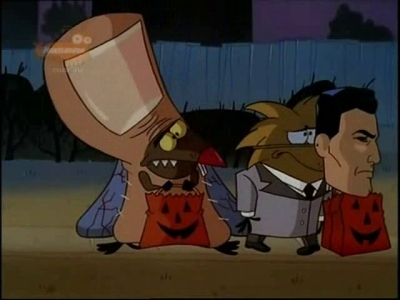 #9 - The Day the Earth Got Really Screwed Up 8.50
Season 2 - Episode 19
Out trick-or-treating, the Beavers fog up to that scary house on the hill. In an unbelievable stroke of luck, it turns out to be the home of their B-movie star hero, Oxnard Montalvo. Their happiness is short-lived, however, when they discover the place is being taken over by a glowing space object that thrusts them into a wild ""movie"" that combines bits of every bad B&W sci-fi film that Oxnard ever made. In true B-movie fashion, it's up to the Beavers to defeat the monsters and return everything to normal.
Directors: Patty Shinagawa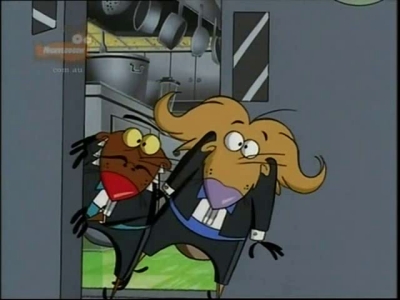 #10 - Dumbwaiters 8.50
Season 2 - Episode 21
Seeking to earn money for a set of cool rubber horror-movie masks, the Beavers become waiters at a fancy French restaurant. Disaster ensues as the boys misinterpret both the diners' and head waiter's requests. Fortunately for them, it's a French restaurant, so the patrons expect abuse from their waiters.
Directors: Robert Hughes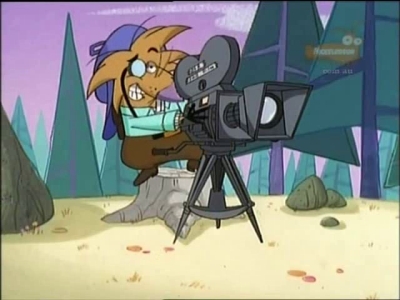 #11 - Dag for Night 8.43
Season 2 - Episode 8
The beavers discover an old trunk with 16mm film inside. They assume that they have discovered Oxnard Montalvo's unfinished horror film masterpiece, and set about to complete the film as an homage their hero. Once finished, the film is not exactly what they expected.
Directors: Robert Hughes
#12 - The Bing That Wouldn't Leave 8.43
Season 1 - Episode 21
Dagget and Norbert find themselves stuck with Bing, aa motor-mouthed, incredibly clingy little lizard who just won't shut up, and just won't go away! The Beavers do everything in their power to ditch Bing before his yammering drives them up the wall.
#13 - Fish and Dips 8.34
Season 1 - Episode 12
The ancient legend from the grey mists of earliest time tells of a scaly terror called 'Old Gramps', a fish so large he can swallow a Swede. When Dag runs smack into Old Gramps, the time has come to find out the truth.
#14 - Bugaboo 8.33
Season 1 - Episode 14
A cricket finds its way into the dam. Its constant chirping annoys Norb, but Dag turns out to have a cricket phobia. Norb must get rid of the elusive bug before Dag goes completely over the edge.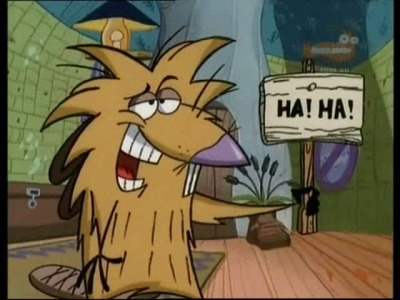 #15 - Utter Nonsense 8.33
Season 2 - Episode 17
When Norbert and Daggett say the same thing at the same time, they play a game: the first one to speak gets a moogy-pinch. The boys spend the rest of the day trying to trick one another into speaking.
Directors: Patty Shinagawa
#16 - House Broken 8.29
Season 1 - Episode 18
Tired of struggling to survive as wild animals, the beavers decide to become pets. They discover the easy life's not what It's cracked up to be when they get adopted by a family so wholesome and normal it drives then nuts
#17 - H-2 Whoa 8.29
Season 1 - Episode 20
This episode answers the question, 'What would happen if you put two beavers in a fully-automated, frontier-themed water park all by themselves?'
#18 - Enter the Daggett 8.27
Season 1 - Episode 13
Daggett's tired of being 'a creature whose only natural defence is to hide in his dam'. Despite his natural ineptness, and Norb's best efforts to dissuade him, Dag pursues the Martial Arts.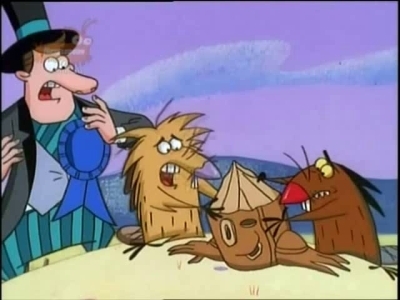 #19 - Stump Looks for His Roots 8.25
Season 2 - Episode 6
The Beavers squabble over who is best friends with Stump (their tree stump friend) and Norb reveals hurtfully that Stump was "transplanted." When a confused Stump goes off in search of his natural family, the boys follow after him with comedic results.
Directors: Robert Hughes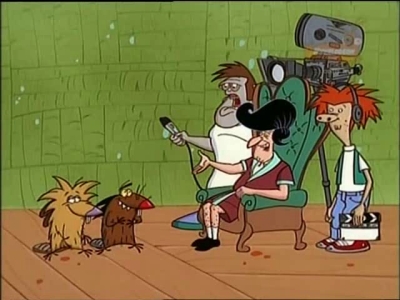 #20 - Kandid Kreatures 8.20
Season 2 - Episode 3
The boys learn the hard way that being on TV isn't all it's cracked up to be when they let a famous nature filmmaker film them and he broadcasts a "funniest videos" style film instead of the serious documentary they expected.
Directors: Patty Shinagawa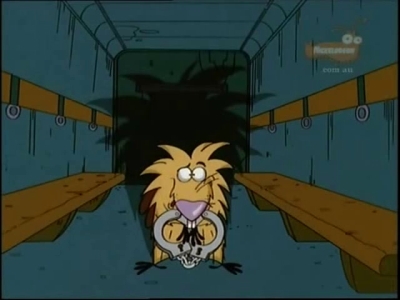 #21 - Zooing Time 8.20
Season 2 - Episode 16
When Norbert takes the rap for Daggett and gets sentenced to some "hard time" at the zoo, a guilt-ridden Dag vows to break him out. The zoo, however, turns out to be an idyllic, Club Med-style resort for animals. Dag's various harebrained rescue attempts eventually "succeed," totally destroying Norb's zoo paradise.
Directors: Robert Hughes
#22 - I Dare You 8.17
Season 1 - Episode 16
When Norb teases Dag because he's afraid to climb a tall tree, Daggett gets mad and dares Norb to do something more dangerous. Things get quickly out of hand, but neither brother can admit his fear and back down from the other's challenges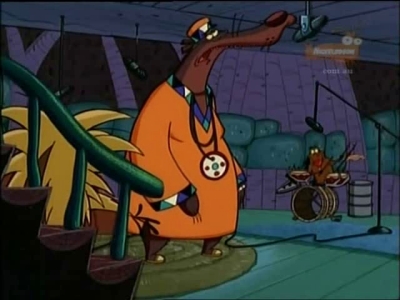 #23 - Un-Barry-ble 8.00
Season 2 - Episode 9
When Barry the Bear decides to revive his singing career, he embarks on a search for The Groove. Norbert attempts to help Barry in his quest, but feels embarrassed by Daggett's lame attempts to tag along.
Directors: Patty Shinagawa
#24 - Long in the Teeth 8.00
Season 1 - Episode 4
Beavers' teeth never stop growing and letting them grow long becomes the latest dangerous fashion fad . The boys soon discover there's a price to pay when you live in the fast lane of high fashion...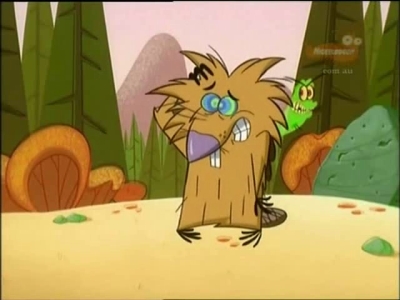 #25 - Pond Scum 8.00
Season 2 - Episode 12
Norbert falls under the influence of slimy pond scum and becomes possessed by the spirit of un-goodliness. The Evil Norb causes undue harm to his neighbors until Daggett comes to the rescue.
Directors: Robert Hughes