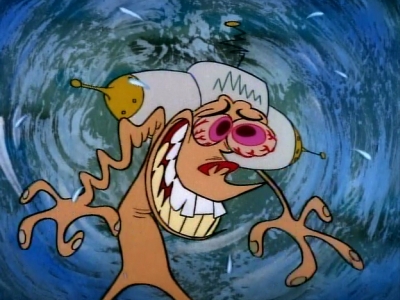 #1 - Stimpy's Invention 8.82
Season 1 - Episode 12
Stimpy invents a Happy Helmet so that his foaming friend Ren can be happy all the time. But it pushes Ren way past happiness and into utter insanity - and the nonstop "Happy, Happy, Joy, Joy" song doesn't help either!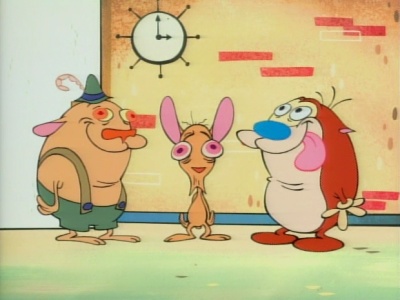 #2 - Svën Höek 8.57
Season 2 - Episode 7
Ren gets driven out of his mind yet again as his anxiously awaited cousin Svën forms a stupidity bond with Stimpy through magic Nose Goblins, Kitty Litter, and the "Don't Whiz on the Electric Fence" board game.
#3 - Jimminy Lummox 8.56
Season 3 - Episode 9
Stimpy walks in on Ren while he tortures an ant. After concluding that Ren has no conscience, Stimpy lets Ren borrow his concience, played by guitar player Jiminy Lummox.
#4 - Space Madness 8.47
Season 1 - Episode 5
During a 36-year mission to the Crab Nebula, Commander Höek succumbs to Space Madness and puts Cadet Stimpy in charge of the mysterious History Eraser Button!
#5 - Stimpy's Cartoon Show 8.33
Season 3 - Episode 7
Stimpy is making a cartoon when Ren appears and tries to persuade Stimpy that cartoons aren't good for the brain. When Stimpy discovers that Ren is bad for drawing he makes him producer of the cartoon. Ren takes over the credits of the cartoon and Stimpy works in a slavering way until the cartoon is finished and are invited to show the cartoon to Wilbur Cobb, "the godfather of animation".
#6 - Ren's Bitter Half 8.25
Season 3 - Episode 16
Stimpy creates a cloning liquid in his lab, and it falls into Ren's hands.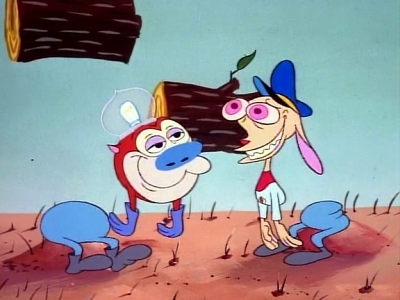 #7 - Black Hole 8.22
Season 1 - Episode 11
It's another warped day for Commander Höek and Cadet Stimpy as they fly into a mind-bending black hole, mutate continuously, and discover a mountain of missing left socks.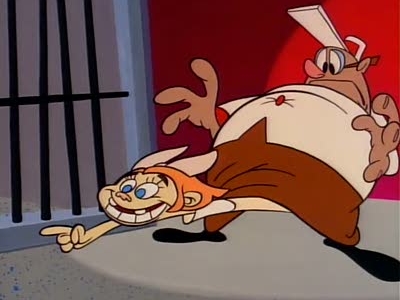 #8 - Big House Blues 8.16
Season 2 - Episode 4
Ren and Stimpy get tossed in the pound and find themselves next in line for... the Big Sleep! Will someone adopt them in time? Or will Ren lose his mind first?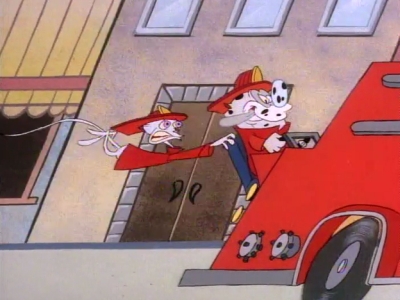 #9 - Fire Dogs 8.13
Season 1 - Episode 7
Ren and Stimpy need new jobs, so they disguise themselves as Dalmatians, go to work for a psychotic fire chief, and battle a 40-story building fire, saving Mr. Horse and others!
#10 - Road Apples 8.11
Season 3 - Episode 13
Ren & Stimpy pose as roadkill so they can get a ride to the desert.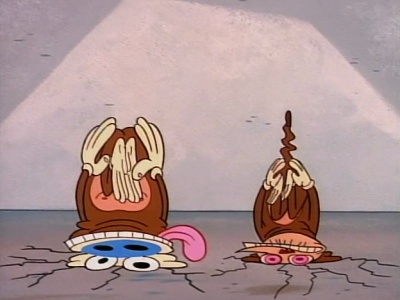 #11 - Monkey See...Monkey Don't 8.10
Season 2 - Episode 13
Ren and Stimpy want the easy life of living in a zoo. They disguise themselves as monkeys and try to hang in there.
Directors: Bob Camp
#12 - Space Dogged 8.09
Season 5 - Episode 3
A russian dog-and-cat team bearing resemblence to Ren & Stimpy are going to be the first dog & cat sent up to space in the Russian space program.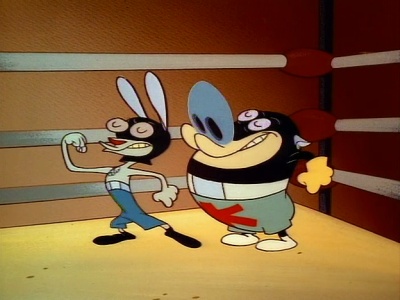 #13 - Mad Dog Höek 8.08
Season 2 - Episode 8
The fearsome Lout Brothers take on Mad Dog Höek (Ren) and Killer Kadoogan (Stimpy) in a no-holds-barred wrestling match that tests Ren's theory on how fake wrestling is.
#14 - Ol' Blue Nose 8.00
Season 5 - Episode 1
Ren hits Stimpy in the nose and he starts to sing with a crooner-like voice. Stimpy becames famous, until his nose leaves him because of being slapped many times.
#15 - Lair of the Lummox 8.00
Season 3 - Episode 8
As hosts of their favorite TV show, Untamed World, Ren & Stimpy become voyeurs in the wild.
#16 - Who's Stupid Now 8.00
Season 5 - Episode 12
When Ren and Stimpy find out they are about to be cancelled, Ren comments that they'll do anything to keep the show on going, so the producer makes "a twist in chemistry" by making Stimpy the skinny jerk and Ren as the fat idiot.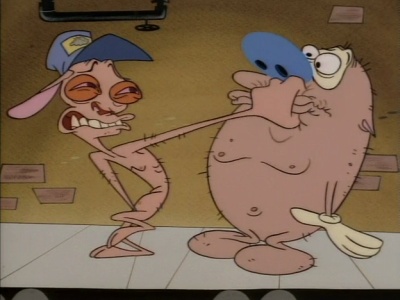 #17 - The Cat That Laid the Golden Hairball 8.00
Season 2 - Episode 16
Ren has a new way to strike it rich - sell Stimpy's hairballs! Stimpy starts hwarfing hairballs on a production line, but what will Ren do when the supply runs out?
Directors: Ron Hughart
#18 - Ren's Retirement 8.00
Season 3 - Episode 11
Ren wakes up feeling younger than ever. He chops enough wood to last Ren & Stimpy an entire year, and saves Mrs. Buttloaves (from the "Firedogs" short). Stimpy announces that it's Ren's birthday, and Ren is disappointed when Stimpy tells him that he is now 10 years old (70 in dog years). Ren ages rapidly, becoming a senile old fart. He decides to retire. During a game of golf, Ren decides to begin looking for a coffin. At his funeral, Stimpy decides to move in with Ren in his coffin.
#19 - Jerry the Bellybutton Elf 8.00
Season 3 - Episode 12
Stimpy's playing with his belly button until he gets inside of it and meets an elf named Jerry.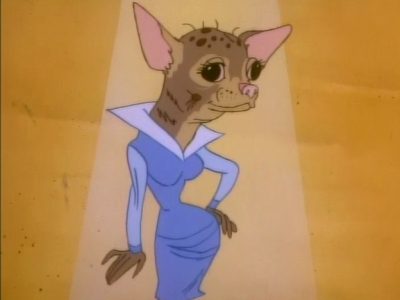 #20 - Marooned 7.95
Season 1 - Episode 9
In this space adventure, Commander Höek and Cadet Stimpy land on an eerie planet with only their Space Cadet Handbook to guide them! Can they avoid certain doom? Nope.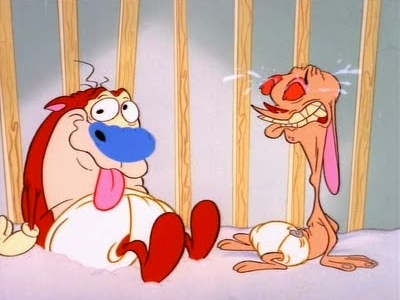 #21 - Big Baby Scam 7.94
Season 2 - Episode 10
It's Ren's greatest scheme ever: switch places with a couple of babies and enjoy the pampered life. But being babies turns out to be harder than Ren or Stimpy ever imagined.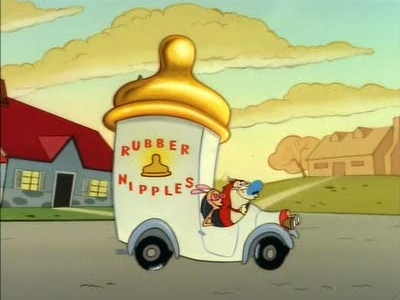 #22 - Rubber Nipple Salesmen 7.93
Season 2 - Episode 6
Ren and Stimpy hit the road as door-to-door Rubber Nipple Salesmen, peddling their wares to a bizarre clientele, including a psychotic Fire Chief, a paranoid Mr. Horse, and a family actually in need of new nipples!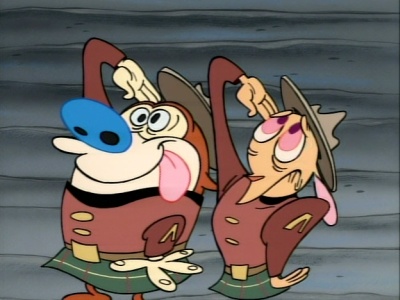 #23 - The Royal Canadian Kilted Yaksmen 7.92
Season 2 - Episode 19
Ren and Stimpy become Royal Canadian Kilted Yaksmen and brave the jungle, desert, and snow of Canada, facing hunger, poison dirt, a Kodiak Marmoset, and a catchy tune!
Directors: John Kricfalus

,

Chris Reccardi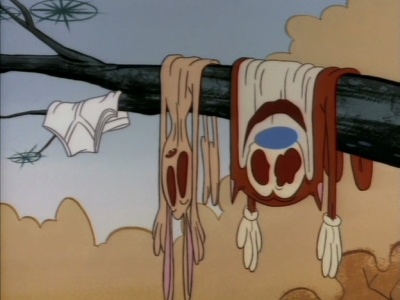 #24 - The Great Outdoors 7.92
Season 2 - Episode 15
Ren and Stimpy go camping and learn how to rough it in nature. And what could be rougher than skinny dipping with Stimpy? Ren's about to find out.
Directors: Vincent Waller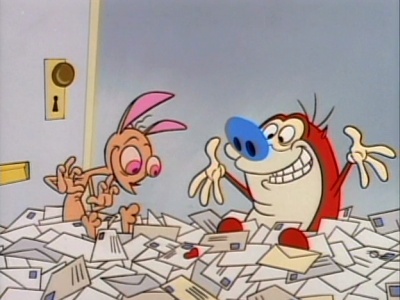 #25 - Stimpy's Fan Club 7.91
Season 2 - Episode 17
Ren is jealous of Stimpy's constant stream of fan mail, so Stimpy makes his pal the president of his Fan Club, causing Ren delusions of grandeur, and ultimately, insanity.
Directors: Peter Avanzino