The BEST Episodes of Dragon Ball Kai
Every episode ever - ranked by fan votes!
Last Updated: Dec 26, 2021
Rejoin Goku and his friends in a series of cosmic battles! Toei has redubbed, recut, and cleaned up the animation of the original 1989 animated series. The show's story arc has been refined to better follow the comic book series on which it is based. The show also features a new opening and ending. In the series, martial artist Goku, and his various friends, battle increasingly powerful enemies to defend the world against evil. Can Earth's defender defeat demons, aliens, and other villains?
Watch Now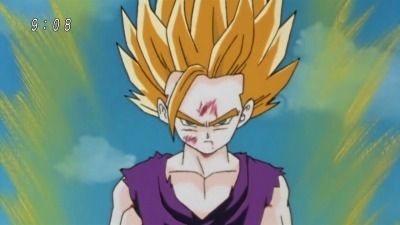 #1 - Fighting Spirit Free from Hesitation! Gohan, Pulverizes the Cell Juniors
Season 1 - Episode 93 - Aired Feb 13, 2011
After witnessing the death of Android 16 at the hands of Cell, Gohan's anger is ignited and causes him ascend to the level of Super Saiyan 2. Cell is excited that the fight will be more interesting, but Gohan is unamused and snatches the stolen Senzu beans from Cell. Gohan then proceeds to take on all of the Cell Juniors, proving himself impervious to their attacks and effortlessly destroying them. He then throws the Senzu beans to Trunks, who distributes them to his injured comrades. Gohan now focuses his attention on Cell, and from the onset of the battle, it is clear that Gohan holds the advantage.
155 votes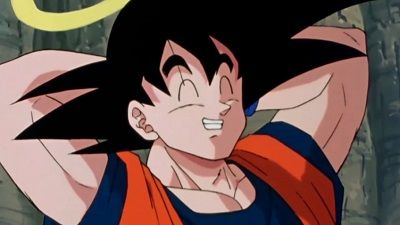 #2 - Peace in the Future! Goku's Soul in Eternity
Season 1 - Episode 98 - Aired Aug 2, 2011
Trunks returns to the future and is reunited with Bulma. As tranquility seems to return, the androids are attacking again. Trunks saves an elderly man from being killed by Androids #17 and #18. Thanks to his training in the Hyperbolic Time Chamber, Trunks easily destroys the two androids. Three years later, Trunks prepares to head back into the past to tell everyone of his victory. However, there is still one more android to stop: Cell, in his Imperfect Form. After a brief fight, Trunks launches Cell into the air and destroys him with ease as well. Peace is finally restored to the future timeline. Back in the present, Goku begins his "life" in the Other World.
82 votes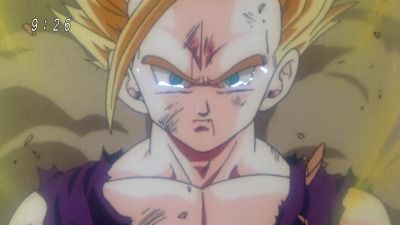 #3 - The Tears that Disappeared into the Sky! The Angry Super Awakening of Gohan
Season 1 - Episode 92 - Aired Feb 6, 2011
Gohan's reluctance reaches it's limit, and #16 asks Mr Satan to carry him over to Gohan to talk to him. #16 explains to Gohan what to fight for, and that it is okay to unleash his anger to save those that he loves. After hearing his words of encouragement, Cell takes his foot and crushes #16's head. Seeing this is ultimately the last straw for Gohan, who finally releases his rage and ascends to the Super Saiyan 2 level. Gohan then turns his attention to the Cell Jr.s, taking them out one-by-one.
162 votes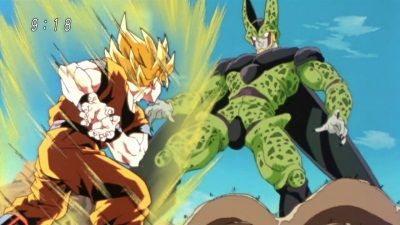 #4 - A Battle of the Highest Level! Defeat Cell, Son Goku
Season 1 - Episode 89 - Aired Jan 16, 2011
The battle between Goku and Cell continues, with the two fighters reaching a pace that is barely visible to most of the onlookers. Cell then decides to destroy the tournament ring, ensuring that their battle isn't ended by a ring out and can continue until one of them either dies or surrenders. The battle becomes even more intense, culminating with Goku flying high into the sky building up a powerful Kamehameha. Cell and everyone else states that Goku is bluffing, since from his position in the sky, such an attack would easily destroy the Earth. Goku then unexpectedly uses Instant Transmission to teleport in front of Cell and executes the attack point-blank. While the rest of the world celebrates what they believe to be Cell's ultimate defeat, Goku and company watch as Cell's remaining lower half rises and regenerates his missing parts. While the ki of both fighters has depleted considerably, the battle continues on.
205 votes
#5 - And So the Situation Takes a Turn for the Worst... Cell Attacks #18!
Season 1 - Episode 79 - Aired Oct 31, 2010
Cell convinces Vegeta to allow him to absorb Android 18 leaving Trunks to try to stop Cell. While fighting Trunks Cell finally finds Android 18 and results in asking for Vegeta's help. Vegeta attacks Trunks so that Cell may get to Android 18, this leaves Krillin and Android 16 helplessly trying to stop Cell. Will Cell get to Android 18?
113 votes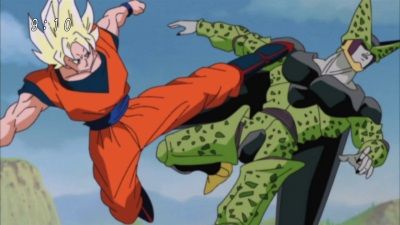 #6 - The Decisive Battle! Cell vs Son Goku
Season 1 - Episode 88 - Aired Jan 9, 2011
Goku and Cell begin to fight and, despite putting on an impressive performance, Gohan and Vegeta both realise that neither is using his full power yet. Both fighters then raise their ki to their maximum. After a brief battle, Cell begins to attack using techniques 'inherited' from other characters--first Tien's Multi-Form technique, then Piccolo's Makankosappo, and finally Frieza's homing Destructo Disc. When Goku overcomes each of these techniques, Cell prepares a full-power Kamehameha capable of destroying the Earth. Goku diverts the attack away from the planet by taking to the sky, and then uses Instant Transmission to return to escape back to the ring.
209 votes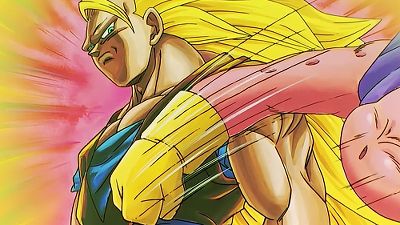 #7 - Delay Majin Buu, The Limit! Super Saiyan 3!!
Season 2 - Episode 28 - Aired Oct 19, 2014
Realizing that Majin Buu is headed for Capsule Corp., Trunks breaks off from his Fusion training, and heads home to retrieve the Dragon Radar. To buy him the time he needs, Goku engages Majin Buu, and showcases a new level of power. Far away from the fighting, Mr. Satan pledges to save the people of Earth from Majin Buu.
78 votes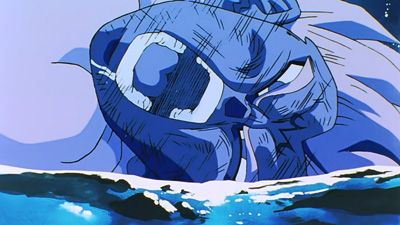 #8 - For Those Whom He Loves... The Last Moment of the Proud Warrior
Season 2 - Episode 22 - Aired Sep 7, 2014
As Vegeta is ensnared by Buu, Trunks and Goten can no longer stand by, and rush to the scene to rescue him, while Piccolo attacks the defenseless Babidi and rips him to pieces. Feeling he cannot defeat Buu with conventional means, Vegeta says his farewells to Trunks before knocking both children out, instructing Piccolo to take them far away. Once everyone is clear from the scene, Vegeta uses his last resort, overloading his Super Saiyan for and sacrificing himself in a massive self-destructive explosion in order to obliterate Buu.
89 votes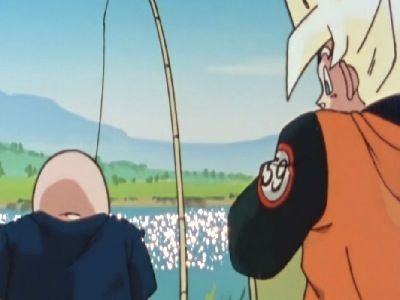 #9 - An Interrupted Rest! The Self-Defense Army, Launches a General Offensive Against Cell
Season 1 - Episode 85 - Aired Dec 12, 2010
As Piccolo completes his training in the Hyperbolic Time Chamber and Vegeta takes his place, Goku and Gohan are spending their days relaxing at home. Meanwhile, the Self-Defense Army attempt to launch an offensive strike against Cell, but they are completely wiped out. Hearing about this over the radio, Goku asks Picollo if it is possible to seperate with Kami, so he can use the Dragonballs to revive all the people Cell killed (as they disappeared since they fused together). Since Piccolo can't seperate, Goku theorises that he can convince another Namekian to stay on Earth and create a new set of Dragonballs, and goes to find King Kai so he can find the Namekians.
150 votes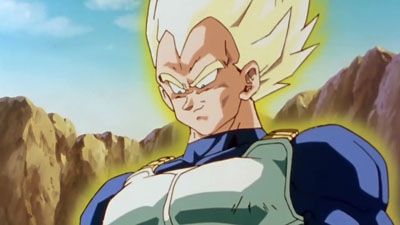 #10 - No Chance of Victory Against #19! Super Vegeta Arrives Late
Season 1 - Episode 61 - Aired Jun 13, 2010
Before Android #19 can finish draining Goku's energy, Vegeta finally arrives, saving Goku by kicking the android in the face. Yamcha then escorts Goku away from the battlefield. Vegeta then squares up to the androids, and much to everyone's surprise, transforms into a Super Saiyan. It is revealed that whereas Goku's transformation was triggered by the desire to protect his friends and family, Vegeta's was triggered purely by the desire to become stronger, as well as his anger at being surpassed by Goku. The battle then begins, and it's clear that Vegeta has the edge over Android #19. Even the android's energy absorption attack proves futile, as Vegeta tears off the android's arms, making the technique impossible to use. As the android runs in fear, Vegeta launches his 'Big Bang Attack' and finishes the battle, leaving nothing but the android's head intact. Android 20 then escapes into the nearby cliffs, planning to use the terrain to launch a surprise attack on the fighters.
191 votes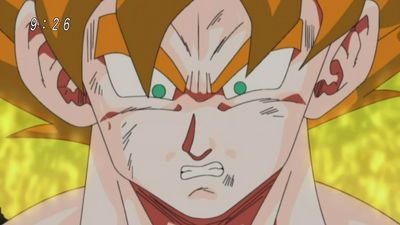 #11 - Awaken, Legendary Warrior... Son Goku, the Super Saiyan!
Season 1 - Episode 47 - Aired Mar 7, 2010
The death of a long-time comrade triggers a mysterious transformation in Goku.
176 votes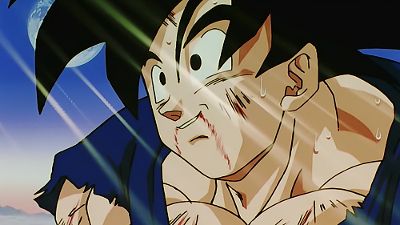 #12 - Son Goku is the Strongest After All!! Majin Buu is Annihilated
Season 2 - Episode 59 - Aired Jun 14, 2015
Goku fires the Spirit Bomb at Kid Buu, who attempts to fight it. Vegeta makes the final wish from Porunga to restore Goku to full power. At long last, Majin Buu is final defeated!
77 votes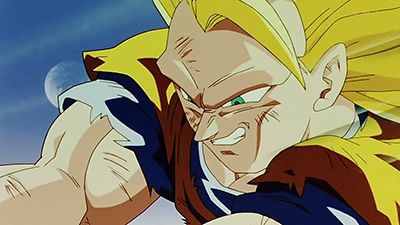 #13 - Do Your Best, Kakarot! You Are No. 1!!
Season 2 - Episode 54 - Aired May 10, 2015
Goku powers up to Super Saiyan 3 and continues to fight Kid Buu. As Vegeta observes the fights, he reminisces of his fights with Goku.
77 votes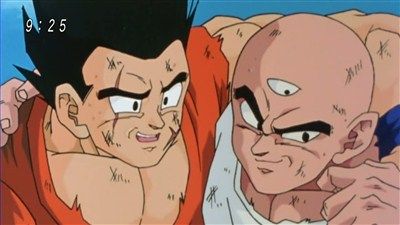 #14 - Combine Our Power! The Mightiest Final Kamehameha
Season 1 - Episode 96 - Aired Mar 20, 2011
Cell continues to charge his Kamehameha, and reveals that not only has he gathered enough energy to destroy the Earth, but he also now has the potential to destroy the entire solar system with this blast. Meanwhile, Vegeta apologises to Gohan for his recklessness. As Gohan and the others watch on in hopelessness, Goku contacts his son from the afterlife and tells him that even in his injured state he has the potential to defeat Cell. Reinvigorated, Gohan prepares a final, one-handed Kamehameha to repel Cell's blast. As the two warriors struggle to overpower each other, Piccolo, Tien, Yamcha and Krillin bombard Cell with ki blasts in a knowingly futile attempt to help, but are easily repelled. As Goku coaxes Gohan to release his full power against Cell, Vegeta returns to the battlefield and launches one final Big Bang Attack, which temporarily distracts Cell. Seeing the opportunity, Gohan finally releases his full strength and overpowers Cell's wave, obliterating Cell's body and and saving the Earth from destruction. Gohan has won and the Cell Games are finally over.
144 votes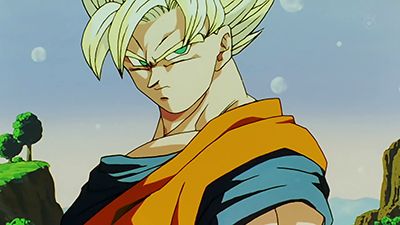 #15 - Final Decisive Battle! A Conclusion in the Realm of the Kais!!
Season 2 - Episode 53 - Aired May 3, 2015
Kid Buu follows the fighters to the world of the Kai's. He begins his destruction by attacking Grand Kai's planet. Kid Buu located Goku and Vegeta, who plays rock, paper, scissors to see who goes first. Goku is up
71 votes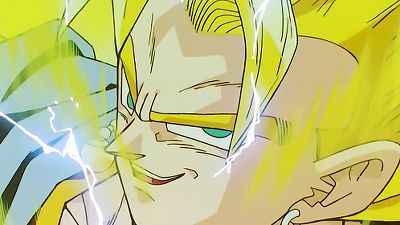 #16 - Invincible! Ultimate Warrior Vegito!
Season 2 - Episode 48 - Aired Mar 29, 2015
A reluctant Vegeta and Goku fuse, and a new super fighter is born! Vegito! Instantly holding the upper hand, Super Buu makes a desperate move – entering Vegito's body and attempting to control him from within.
77 votes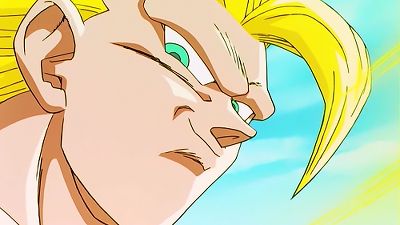 #17 - True Worth Beginning to Show The Treacherous Buu!
Season 2 - Episode 29 - Aired Oct 26, 2014
Trunks arrives at Capsule Corp., and hurries to find the Dragon Radar, although his grandparents seem unconcerned with the danger they are in. Meanwhile, Goku desperately tries to delay Majin Buu, and learns first-hand the terrifying power that Buu possesses. Enticed by the promise of an even greater opponent than Goku, Buu begins to question his subservience to Babidi.
71 votes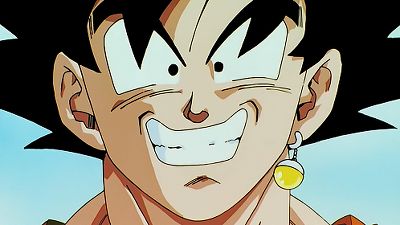 #18 - One Time Only Miracle… Will the Super Combination With That Guy Come About?
Season 2 - Episode 47 - Aired Mar 22, 2015
Armed with fusion earrings, Goku goes to the battle and attempts to fuse with Gohan. One of the earrings gets lost and Super Buu manages to absorb Gohan. With no one to fuse with, Vegeta arrives. Can Goku convince him to fuse?
74 votes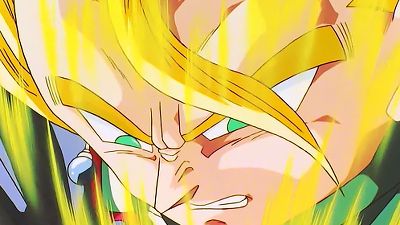 #19 - A Trying Time, Obtain the Strength of Legends!
Season 2 - Episode 27 - Aired Oct 12, 2014
Despite the protestations of others at Kami's Lookout, Videl continues to believe that Gohan survived his fight with Majin Buu. As it happens, Gohan, both alive and well, draws out the legendary Z-Sword, and, believing that it will be the key to victory, begins training with it. Babidi and Majin Buu continue their tour of destruction, and receive some important information.
67 votes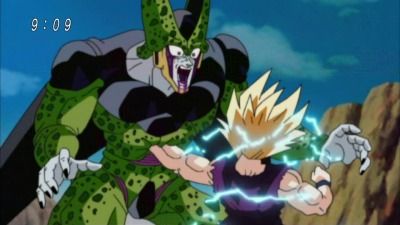 #20 - The Perfect Form Breaks Down! Explosion, the Super Iron Fist of Rage
Season 1 - Episode 94 - Aired Feb 20, 2011
Cell finally unleashes his full power against Gohan, but even at maximum strength his attacks have no effect on the Super Saiyan 2. After being easily bested in battle, Cell attempts to destroy Gohan and the Earth with a giant Kamehameha, but Gohan produces an even larger wave and deflects the attack with ease. As the rest of the fighters predict an easy victory, Goku recalls that even in the Room of Spirit and Time, Gohan displayed strength far beyond that of a normal Super Saiyan. He then tells Gohan to deliver the finishing blow to Cell, but Gohan insists that Cell must suffer first. Cell then utilises his bulked-up transformation, but the increase in muscle mass lowers his speed greatly and as a result none of his attacks connect with Gohan - who counters with a single blow to the stomach, causing Cell to regurgitate Android 18 and revert back to his semi-perfect form. As the fighters assume that this means victory for Gohan, Cell's body begins to expand to a gigantic size.
141 votes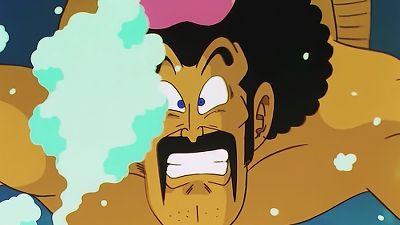 #21 - That Which is Brought Forth by Anger Another Majin!
Season 2 - Episode 36 - Aired Dec 14, 2014
Mr. Satan is able to calm Buu after telling him the dog is still alive. Mr. Satan gets shot and Buu loses it!
69 votes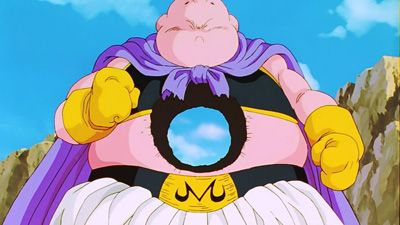 #22 - I'll Take Care of the Majin, Vegeta's Final Desperate Battle
Season 2 - Episode 21 - Aired Aug 31, 2014
Vegeta, willing to put his life on the line, begins his assault on Buu, managing to blast a hole through him. However, Buu manages to regenerate himself and builds up his anger to create a giant explosion, dealing heavy damage to Vegeta.
79 votes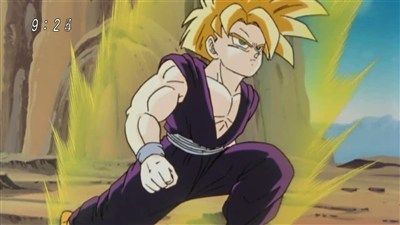 #23 - Conclusion to the Death Match! Time for Goku's Decision
Season 1 - Episode 90 - Aired Jan 23, 2011
With the battle going nowhere, Goku willfully conceeds. In his place he selects his son - Gohan. However Gohan does not seem too willing to participate.
142 votes
#24 - Buu Eats Buu - A New Majin Attacks!
Season 2 - Episode 37 - Aired Dec 21, 2014
Born from within, Buu is separated into good and evil. Evil Buu defeats and eats Good Buu, from which Super Buu is born! He goes off in search of Gotenks, who still isn't ready. Can Piccolo stall?
69 votes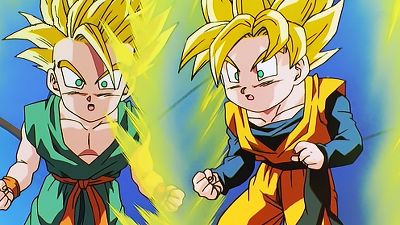 #25 - Find the Nuisance, Babidi's Revenge Plan Begins!!
Season 2 - Episode 26 - Aired Oct 5, 2014
Speaking to the people of Earth, Babidi threatens far-reaching destruction unless Piccolo, Goten, and Trunks reveal themselves. Despite this, Goku endeavours to teach Fusion to the boys. Meanwhile, Gohan is taken to the sacred domain of the Supreme Kais, and returned to fitness by Kibito, but can he draw the Z-Sword from its resting place?
73 votes