The BEST Episodes of One Piece
Every episode ever - ranked by fan votes!
Last Updated: Jun 30, 2019
It was a time when pirates ruled the seas. Several bands of pirates were battling over the great hidden treasure, One Piece, which was left by the now legendary pirate captain, Gold Roger. There was a young boy who admired the pirates, his name was Monkey D. Luffy. One day, he mistakenly eats the devil's fruit and turns himself into a rubber human being. Ten years have passed since that incident. Luffy sets out to sail all alone. He sets out to become a great pirate captain and that's when his great adventure begins. "I'm going to be the Pirate King! I'm going to get One Piece!".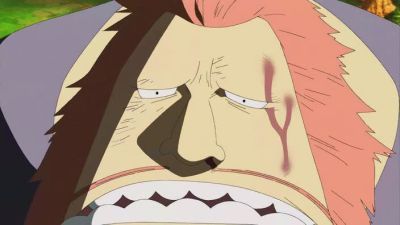 #1 - Say You Want to Live! We are Comrades!!!
Season 11 - Episode 52 - Aired Sep 24, 2006
Saulo fights the battleships, attempting to allow Robin to escape. She tries to board the evacuation ship, but per Spandaine's orders, she is denied access. Vize-Admiral Kuzan, later known as Admiral Aokiji, enters the scene to engage in battle with Saulo. While they fight, the evacuation ship is sunk by the fanatical Vice-Admiral Sakazuki, later known as Admiral Akainu. Saulo, on the verge of dying, instructs Robin to flee on his raft. Persuaded by Saulo's argument and Sakazuki's action, Kuzan helps Robin escape. From then on, Robin lives a life on the run, not being able to trust even the kindest of people, in a world that believes that her existence alone is a sin. In the present, Robin admits her greatest fear: to be seen as a burden by her crewmates and cast away, because being with her means having the world as their enemy. Finally knowing what kept her away, Sogeking, on Luffy's order, burns the government's flag, declaring war.
63 votes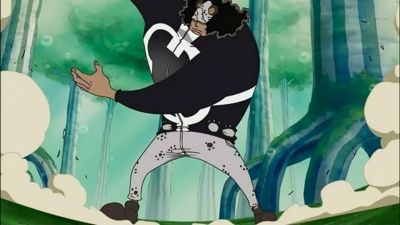 #2 - Disappearing Crewmates - The Final Day of the Straw Hat Crew
Season 13 - Episode 24 - Aired Jun 14, 2009
Sentomaru lets out that Kuma's powers send people flying through the air for days, and that Luffy should give up on ever seeing Zoro again. Kuma's motivations become questionable when he vanishes the Pacifista, gives Rayleigh some secret information, and refuses to explain himself to Kizaru. He then goes after each of the Straw Hats, vanishing them one-by-one before Luffy's helpless eyes. Brook falls trying to protect Usopp and Sanji, Usopp falls as he tries to get away, Sanji falls when he attacks in retaliation, Franky falls when he tries to get past Kuma, Nami falls as she pleads to Luffy for help, Chopper falls as he continues his mindless rampage, and Robin falls as she tries to flee. Luffy breaks down sobbing at the realization that he's alone and he failed his crew, as Kuma tells him that they will never meet again before vanishing him too. The Straw Hat Pirates have been completely annihilated.
80 votes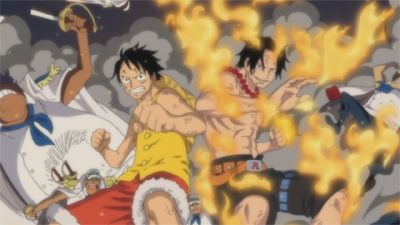 #3 - Ace is Rescued! Whitebeard's Final Captain's Orders!
Season 13 - Episode 100 - Aired Dec 26, 2010
Ace is freed at last, he and Luffy fight their way back to escape from Marineford. Everyone is glad for it, as Squardo and his crew break in the plaza with the paddle ship to give a chance for everyone to escape, but is stopped by Whitebeard, claiming it would be a shame for a son to die in front of his father. Whitebeard stands and orders his sons to escape, saying the New Era does need a person like him.
85 votes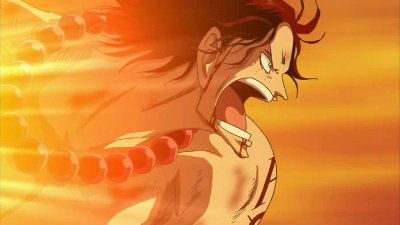 #4 - The Most Evil Ability! Blackbeard's Darkness Attacks Ace
Season 11 - Episode 99 - Aired Sep 23, 2007
Three days earlier and on an island close to Water 7, Blackbeard receives the news of the Straw Hats' devastation of Enies Lobby and decides to pursue them. However, his plans are interrupted by Ace, who has come to avenge Blackbeard's murder of a crewmate. Teach claims that he had no other choice, for the man he killed possessed the devil fruit he wanted, which he had been searching for his entire life. He then asks Ace to join him; however, Ace refuses. They start fighting and Blackbeard reveals his newfound power, the power of darkness. The island is devastated and Ace defeated.
68 votes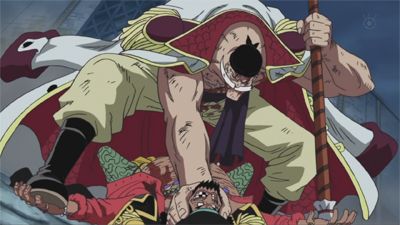 #5 - Settling the Score - Whitebeard vs. The Blackbeard Pirates
Season 14 - Episode 4 - Aired Jan 30, 2011
Blackbeard and his pirates arrive in Marineford, as they are taken down from the execution platform by Whitebeard. In order to avenge his two sons (Ace and Thatch), Whitebeard fights Blackbeard. Even with Blackbeard's powers to cancel Devil Fruit abilities, Whitebeard deals a critical blow with his bisento, and then proceeds to pin Blackbeard down, grabs him by the throat, and uses his devil fruit to crush him and throw him back.Teach still survives, and with his crew, all cowardly attack Whitebeard. In his final moments, Whitebeard remembers his last meeting with Roger and his path as a pirate in order to have his family. Whitebeard dies standing, right after telling Blackbeard that he is not the one Roger is waiting for, saying that the will of people liike Ace will not die and there will be one that will challenge the world in the future, and then teeling the world that One Piece is real.
78 votes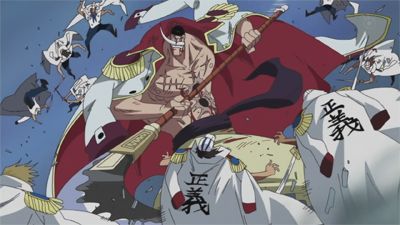 #6 - Marine Headquarters Crumbles! Whitebeard's Silent Rage!
Season 14 - Episode 3 - Aired Jan 23, 2011
Luffy's mind collapsed due the emotional trauma when Ace died, so Jinbe takes him away. The Whitebeard Pirates and their Allies then vow to protect him. An enraged Whitebeard fights Akainu, having his torso pierced through once again, but still defeats the Logia user whilst starting the destruction of Marineford; splitting the ground between him and his sons. Surprisingly, the Blackbeard Pirates appear in Marineford, with their new crew members. Everyone stares in shock at the supposed Impel Down's Level 6 prisoners, as Blackbeard exclaims he's happy to have arrived on time to see Whitebeard's death.
77 votes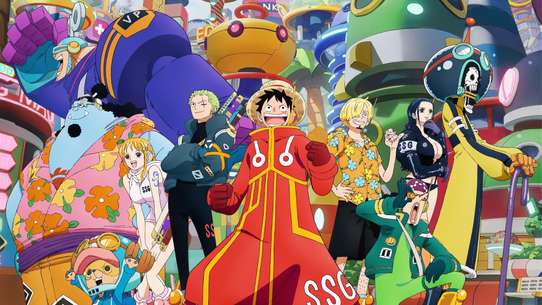 #7 - Fourth Gear! The Phenomenal Bounce-Man!
Season 17 - Episode 98 - Aired Jan 17, 2016
Luffy and Doflamingo duke it out while the Birdcage tightens its grip on Dressrosa! Zoro sets off with a plan to stop it from slicing apart the country, while Luffy's Fourth Gear proves quite potent against Doflamingo!
135 votes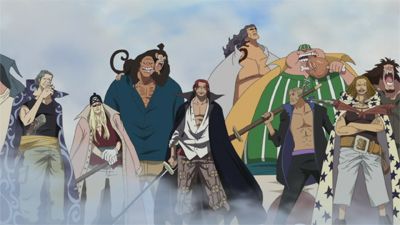 #8 - Enter Shanks! The Ultimate War Ends at Last
Season 14 - Episode 8 - Aired Mar 6, 2011
Law and his crew take Jinbe and Luffy inside their submarine. As they're both put on the operation table, Buggy yells at Shanks for lying about the treasure map. When Buggy is cooled down and praised by his followers, Shanks threatens Blackbeard. As both crews face down each other, Teach's side decides to leave. Shanks then declares that Ace's and Whitebeard's dead bodies should be given a proper burial by the pirates. Sengoku agrees and the war ends.
82 votes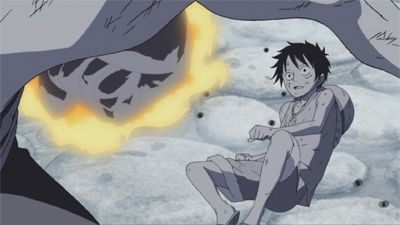 #9 - The Power that Burns Fire - Akainu's Final Move
Season 14 - Episode 1 - Aired Jan 9, 2011
Whitebeard aims to take down the whole of Marineford and orders his crew and the other pirates to flee. Ace gives his final, grateful farewell to his captain before trying to escape as well. However, Akainu tauntingly mocks Whitebeard, and Ace, feeling angry and insulted on Whitebeard's behalf tries, to take him on. But it is quickly apparent that Ace is outmatched, and when Akainu aims to land a fatal blow on the now exhausted Luffy, Ace takes the hit for his younger brother instead.
91 votes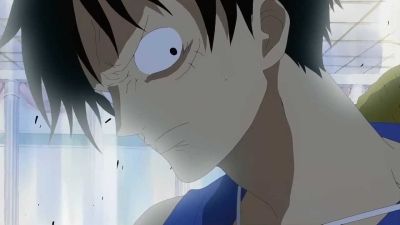 #10 - The Exploding Fist! Destroy the Auction
Season 13 - Episode 15 - Aired Apr 12, 2009
The auction continues, but Saint Charloss arrives and ruins the Straw Hats' plan to buy Keimi back by placing an exorbiant bid on her. The proceedings are then interupted when Luffy and his Flying Fish crash into the auction house, but he is restrained from rushing the stage by Hatchan, who accidentally reveals his Fishman nature in the process. While the nobility recoils in disgust, Charloss shoots him, gloating about obtaining a Fishman slave. Luffy snaps and punches the man in the face.
65 votes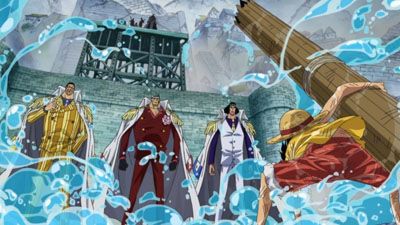 #11 - The Order to Perform the Execution is Given - Break Through the Encircling Wall!
Season 13 - Episode 93 - Aired Nov 7, 2010
Akainu uses his power to send magma punches to melt the ice and boil water. Sengoku orders for the immediate execution of Ace shocking everybody, much to Gekko Moriah's delight and the despair of the Pirates. Luffy decides to move forward and rescue Ace, in the plaza he is confronted by the three Admirals.
68 votes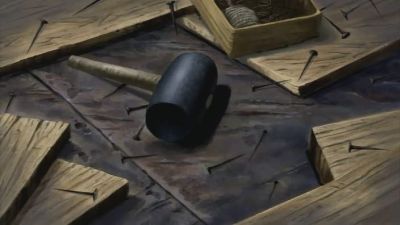 #12 - Thank You Merry! The Sea of Separation in the Snow
Season 11 - Episode 86 - Aired Jun 3, 2007
Enies Lobby and the Buster Call fleet are out of sight. The Straw Hats meet the Galley-La president Iceburg and his employees aboard their company ship. The Going Merry breaks apart and Luffy begs the shipwrights to repair the beloved ship, but they refuse. Iceburg then describes how he had found the ship lying at the shore and had done everything to fix it, convincing Luffy to let it go. Reminiscing about their adventures together, the Straw Hats burn their old ship and watch as it sinks to the bottom of the sea.
77 votes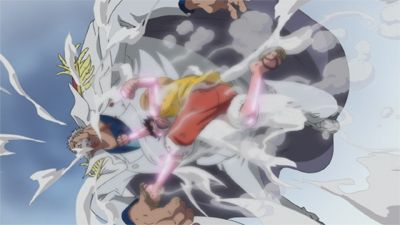 #13 - Each On Different Paths! Luffy vs. Garp!
Season 13 - Episode 99 - Aired Dec 19, 2010
Now fully backed by the Whitebeards, Luffy is on a straight path to Ace... but straight means trying to go straight through his grandfather... Garp The Hero.
75 votes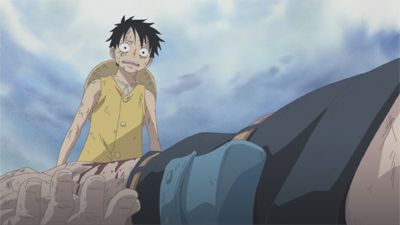 #14 - Searching for an Answer - Fire Fist Ace Dies on the Battlefield
Season 14 - Episode 2 - Aired Jan 16, 2011
Ace is punched by a magma fist through and through by Admiral Akainu, and falls into Luffy's arms. He then thinks about his past, and remembers his goal in life: To find out whether or not he had deserved to be born. Akainu proceeds to attack Luffy, but Jinbe stops his advance. Marco and Vista then rush to the aid of Luffy and strike Akainu with Haki imbued attacks, but realize they are ineffective against the Admiral. As everyone else stares in shock at Ace's wounds, they deduce that his organs were burned beyond help, and tell Luffy that Ace will not make it. Just as Ace dies, he thanks Luffy for everything and everyone for loving him. Luffy is then seen crying for the loss of his brother.
93 votes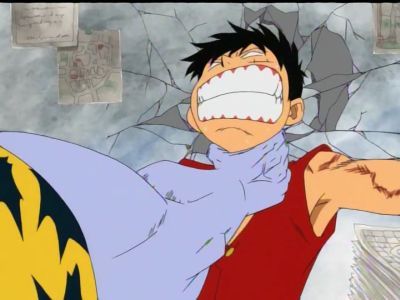 #15 - End of the Fishman Empire! Nami's My Friend!
Season 3 - Episode 13 - Aired Sep 27, 2000
The battle spreads into Arlong Park itself and Arlong is no longer holding back.
138 votes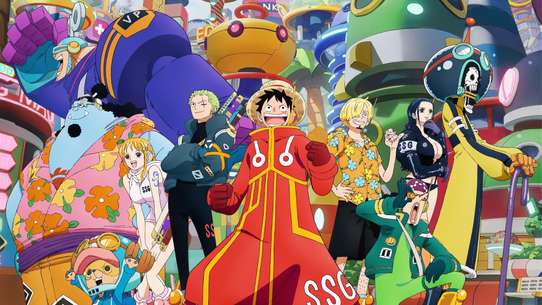 #16 - Attack on a Celestial! Luffy's King Kong Gun of Anger!
Season 17 - Episode 105 - Aired Mar 20, 2016
Luffy regains enough Haki to face off against Doflamingo, but his health is still poor. With the Birdcage closing in, is there a technique left in his repertoire that is strong enough to take down Doflamingo?
140 votes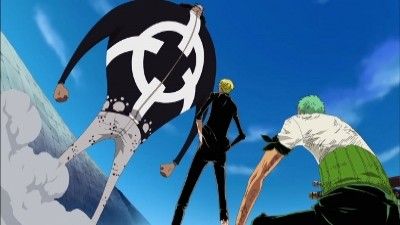 #17 - My Companions' Pain is My Pain - Zoro Prepares to Die
Season 12 - Episode 52 - Aired Nov 16, 2008
While almost everyone on the island is knocked out in the blast, Zoro slashes Kuma with Shishi Sonson, but sees that it is ineffective, as Kuma is a Pacifista, a cyborg whose body is harder than steel. Seeing that he can no longer fight, Zoro offers his life to save Luffy, saying that he cannot hope to become the world's best swordsman if he cannot protect his captain. Sanji attempts to take Zoro's place, but Zoro knocks him out. As part of his agreement with Kuma, Zoro takes in all of Luffy's pain and fatigue, which Kuma says would kill him if he suffered it on top of his already severe wounds. Zoro takes in the pain, and Kuma leaves, remarking on how Luffy has a loyal crew. Luffy regains consciousness, surprisingly energetic, while Zoro emerges from his sacrifice near death.
78 votes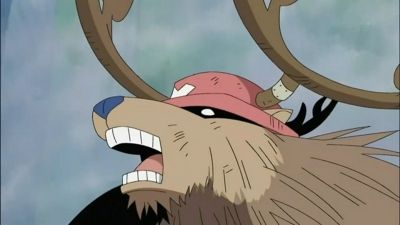 #18 - Admiral Kizaru's Fierce Attack. The Straw Hat Crew`s Desperate Situation!
Season 13 - Episode 23 - Aired Jun 7, 2009
Usopp and Brook's attempts to attack Kizaru fail, but Rayleigh arrives, managing to block Kizaru's attack and hold him off. Luffy orders his crew to retreat, declaring the enemies impossible for them to defeat at this time, but Sentomaru and the other Pacifista bar their escape and even Chopper's Monster Point form is unable to turn the situation to their advantage. The real Kuma arrives and uses his Devil Fruit powers to make Zoro disappear.
63 votes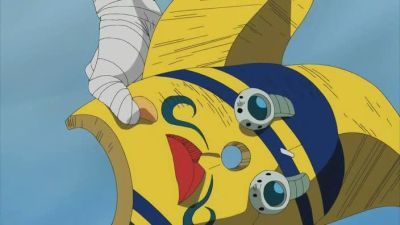 #19 - Feelings Put Into Fists! Luffy's Full-Power Gatling
Season 11 - Episode 83 - Aired May 13, 2007
While the rest of the Straw Hats struggle to hold their own against the Buster Call's fighting elite, Usopp, unmasked, cannot believe his eyes, seeing Luffy lying in the dust in front of Lucci. He cries out to him, telling him to hang in and stand up. However, Luffy cannot move. In his desperation he insults Lucci, dares him to cross the destroyed bridge and fight him. Presuming Luffy to be defeated, Lucci is about follow Usopp's suggestion. However, Luffy gets back on his feet and activates Gear Second in preparation for the final round. Lucci hits him one more time with his Six Kings Gun and is sure of victory. However, Luffy does not fall. He turns around and ends the fight with a barrage of blows.
67 votes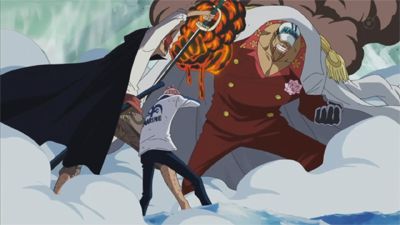 #20 - A Desperate Cry - Seconds of Valor that Change Destiny
Season 14 - Episode 7 - Aired Feb 20, 2011
The fight in Marineford still rages on, as Trafalgar Law arrives to rescue Luffy. Sengoku still fights Blackbeard, while Akainu fights the commanders of the Whitebeard Pirates. Even though the Marines clearly won the war, they still fight, and while many die around Coby, the "voices" continue to fade away from his mind. For a few moments he bravely stops the war, and as he's about to be killed by Akainu, Shanks arrives, claiming that those "seconds of courage have changed the fate of the world".
86 votes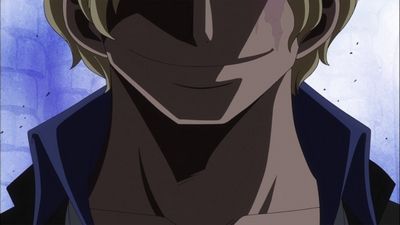 #21 - Luffy, Startled - The Man Who Will Inherit Ace's Will
Season 17 - Episode 35 - Aired Sep 28, 2014
Dellinger continues attacking Bellamy until Bartolomeo saves him, before Dellinger is called by Diamante to guard the Toy House. Thunder Soldier explains "Operation: SOP", and how there's an underground trading port where Sugar, the one who makes people into toys, is hiding. As Luffy is looking for the colosseum's exit, he runs into Bartolomeo and Bellamy, and are shortly approached by Sabo. Promising to retrieve the Mera Mera no Mi, Luffy gives Sabo his disguise so the latter may fight in the colosseum. Bellamy leads Luffy to an exit as Luffy, Kin'emon, and Zoro head to the Flower Field in disguises.
111 votes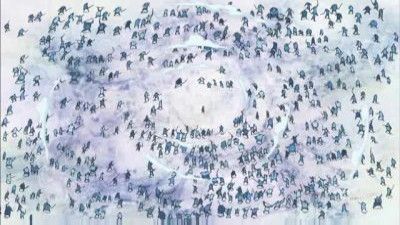 #22 - Big Clash! Straw Hat Group VS 100 000 Opponents
Season 15 - Episode 38 - Aired Jul 1, 2012
The citizens marvel and celebrate at the arrival of the Straw Hats. Jimbei reveals that he made an agreement with Luffy to become the hero of the island, as he does not want Luffy to be another brutal human. Brook, Zoro and Usopp reveal that they escaped from the palace with Pappagu. The rest of the New Fishman Pirates are not concerned with Hordy being hit by Luffy. Hordy seems to be not as harmed as he should have been. When Hordy mocks Luffy, claming that he will become the King of the Pirates, Luffy takes down half of Hordy's forces of 100,000 with his Haki technique and tells the fishman that he will become the King of the Pirates.
82 votes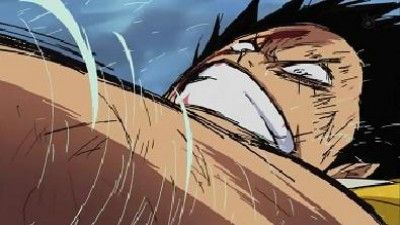 #23 - Even If It Means Death! Luffy Vs. The Navy - The Battle Starts!
Season 13 - Episode 86 - Aired Sep 19, 2010
With Luffy as their inspiration, the other pirates fight back with renewed vigor. Fullbody and Jango try to stop Luffy from progressing any further and fail miserably. Then Captain Hina uses her Devil's Fruit abilities to also try and catch him, however Luffy escapes quickly and easily, much to the three's chagrin. Luffy battles more admirals as they gang up on him along with zombies Gekko Moriah resurrects. Seeing Luffy in so much danger, Ace screams at Luffy not to come closer, as they've both lived their lives and adventures according to how they wanted to, so Luffy shouldn't get involved any longer. But, Luffy ignores all of this and will continue fighting for Ace, because they're brothers. Annoyed by the turn of the war's tide, Sengoku reveals to all that Luffy is the son of the great Revolutionary, Dragon; he must be stopped at all costs. Thoroughly impressed, Whitebeard orders Marco, that no harm should come to him.
66 votes
#24 - Luffy's Training Begins - Meet Up at the Promised Place in Two Years
Season 14 - Episode 35 - Aired Sep 25, 2011
On a deserted island north west of the Amazon Lily is Rusukaina, this will be Luffy's training spot for the next two years. Hancock, Luffy and Rayleigh discuss the merits of training on the island
71 votes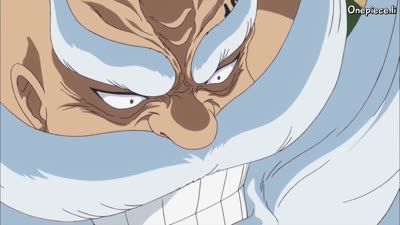 #25 - The Legendary Pirate - Boss Chinjao
Season 17 - Episode 18 - Aired May 25, 2014
The competition at Block C of the Corrida Colosseum is wining down as Lucy squares off against Jean the Bandit while others like Kelly Funk, Chinjao, and Ideo start to easily take out other competitors. Kelly Funk's power is revealed but is easily defeated by Sai who prepares to face off against Ideo. Outside of Dressrosa, the Straw Hat Pirates are still dealing with Jora and the Donquixote Pirates and back in the Colosseum, the final two of Block C is revealed to be Lucy and Chinjao who had just clashed with Haki.
117 votes