The BEST Episodes of
Every episode ever - ranked by fan votes!
Last Updated: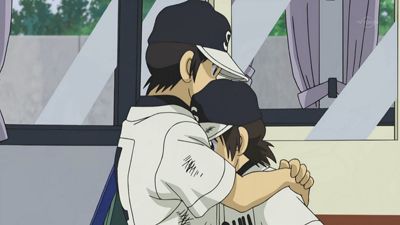 #1 - More Than Anyone in the World...
Season 1 - Episode 50
In the bottom of the 12th with Seishu leading 2 to 1, because Ko is tiring, Akaishi tells him to pitch all out to decide the game now. With two outs and a runner on first, Mishima comes to bat. Still pitching in the high 150s km/h, after reaching a full count, Ko walks Mishima with what Junpei calls the fastest pitch of the day. As Aoba watches Ko strike out the last batter, she remembers what he said before the game: that Seishu would go to Koshien, he would pitch 160 km/h, and he loves her more than anyone. After the game Ko hugs Aoba, who slaps him, saying she hates him more than anyone, then cries into his chest. The morning before traveling to Koshien, Akaishi visits Akane in the hospital, Nakanishi consoles Azuma for losing Aoba, and Aoba and Ko meet at a cafe near the train station, where they talk about Wakaba and Akane's influence, and then leave holding hands. During the closing credits, a newspaper headline says that Ko's final pitches reached 160 km/h.
11 votes
Writers:
Michihiro Tsuchiya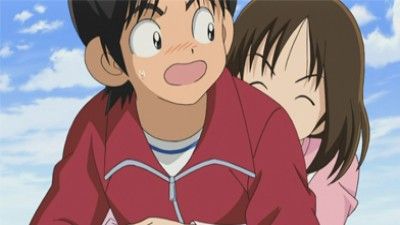 #2 - Four-Leaf Clover
Season 1 - Episode 1
Fifth-grader Ko Kitamura was born on the same day in the same hospital as his neighbor, Wakaba Tsukishima, who treats him as her boyfriend as a result. One day during summer vacation, she makes him take her to swimming lessons on his bicycle. On the way back, to avoid classmate Osamu Akaishi, who has a crush on Wakaba, Ko joins a sandlot baseball game organized by another classmate, Daiki Nakanishi. Because he has never played before, Ko fields badly, but because he has practiced in the Tsukishima family's batting cages he hits the game-winning home run. After their joint 11th birthday, Wakaba gives Ko a schedule of birthday presents for him to give her through age 20. Soon after this, Wakaba drowns while saving a younger girl at an overnight swimming camp. Ko does not know how to respond to this until, the evening after her funeral, he sees Akaishi weeping outside Wakaba's house and realizes he just needs to cry. The closing credits show time passing and by the end, Ko and Wakaba's younger sister Aoba Tsukishima are in junior high school.
17 votes
Writers:
Michihiro Tsuchiya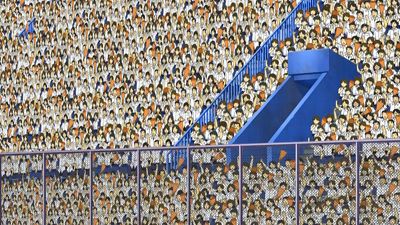 #3 - Are You Having Fun?
Season 1 - Episode 49
In the seventh inning, Ko strikes out Mishima with pitches reaching the high 150s km/h, though Ko is disappointed he did not show Aoba a 160 km/h fastball as he promised before the game. In the eighth inning, Oikawa tries to repeat the previous year's line drive to Ko, but Ko catches it. In the bottom of the ninth, Ryuo manages to score, sending the game into extra innings, tied 1 to 1. In the top of the 10th, Azuma hits a triple, after which Oikawa intentionally walks Akaishi and Ko, to load the bases with no outs. However, Seishu's last three batters are unable to hit, stranding the runners on base. As Seishu takes the field, Azuma warns Ko to not let Mishima get on base or Ryuo will keep the momentum. With Ko still pitching in the high 150 km/h, Mishima hits a hard line drive to first that Azuma barely catches. Aoba remembers seeing Ko cry while practicing pitching shortly after Wakaba died. In the top of the 12th with two outs, when Ko comes to bat he remembers hitting home runs in the Tsukishima batting cages, and as he does so hits a home run.
8 votes
Writers:
Michihiro Tsuchiya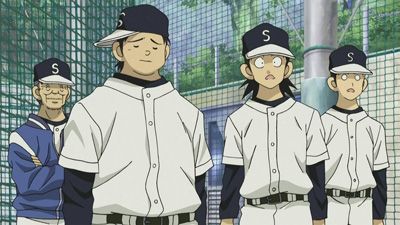 #4 - That's Tough
Season 1 - Episode 17
After the scrimmage, Shido and Daimon are fired and most of Daimon's varsity players follow him to another school. Yuhei Azuma stays and begins living with the Kitamuras because the baseball dorm is closed down. Because Ko's stamina flags during the fall prefectural tournament, Azuma makes Ko begin jogging to school instead of taking the train. A boy asks Ko for an introduction to Aoba, and Ko congratulates him as the 100th person to do so. When Azuma asks Ko about a photograph of Wakaba, Ko admits that he was in love with her, and Azuma responds that "you guys" have it tough. To get the five most persistent boys to stop asking her out, Aoba goes on a date with all five at once. When Junpei asks about his pitching form, Ko is surprised but says that he based it on Aoba's. Aoba explains to Ko that Junpei's promising career as a pitcher was ended by an injury before he could go to Koshien, and that Yuhei is trying to reach Koshien in his place. Ko tells Aoba he is also serious about going to Koshien, to make Wakaba's last dream come true.
7 votes
Writers:
Michihiro Tsuchiya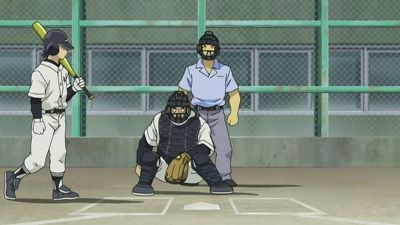 #5 - Wipe That Smirk Off Your Face
Season 1 - Episode 11
Knowing they will not be promoted, Maeno's third-year players stop playing hard, but after the portable team manager, Hiroko "Tubby" Ōkubo, tells Makihara that Daimon injured Maeno's head as the latter pleaded to give a third-year player a spot, Makihara plays with renewed effort. At the end of eight innings, Ko notices that if the score remains 5 to 3, he will win his bet with Aoba. In the top of the ninth, the portable team gets runners on first and second and Makihara advances them with a sacrifice bunt. Ko hits both runners in with a single to tie the game. While Ko is on base, Azuma criticizes his pitching, to which Ko says he did not expect Azuma could hit him. In the bottom of the ninth with a runner on first, Azuma comes to bat and deliberately fouls out twice before being struck out by Ko. On the bench, Azuma silently tells Ko to stop smirking, and the next batter hits in the runner to win the game. Afterward, Ko visits Wakaba's grave to tell her about his debut, only to find Aoba had been there first.
8 votes
Writers:
Michihiro Tsuchiya