The Best Episodes of Masha and the Bear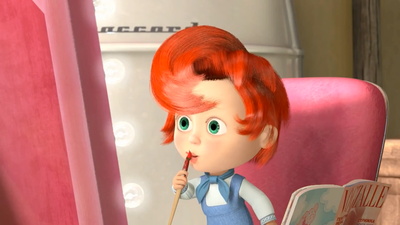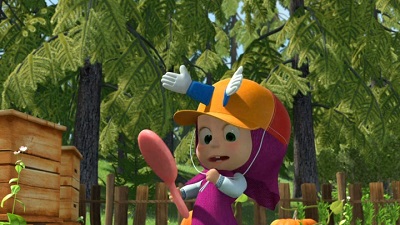 #2 - Hats Off 9.00
Season 2 - Episode 15
The Bear is desperately struggling against the greedy moth, which appeared in his house. Trying to save his magic box, he puts it on the porch, and Masha finds the magic hat that can make her invisible
Directors: О. Кузовков, О. Ужинов, Д. Червяцов, М. Нефедова, О. Баулина, Г. Орлов, Н.Мальгина, В. Байрамгулов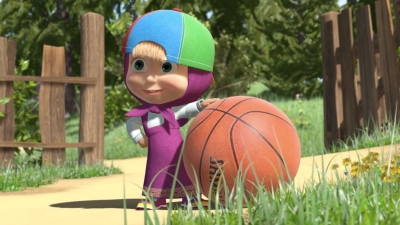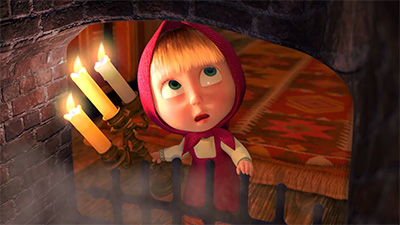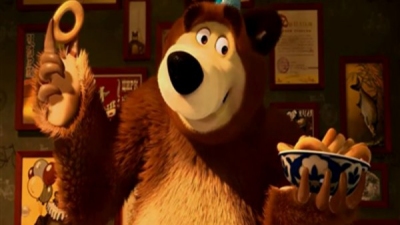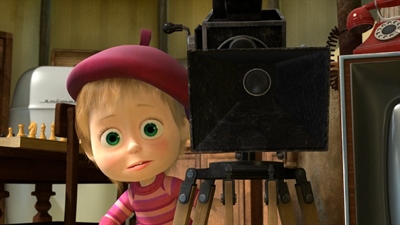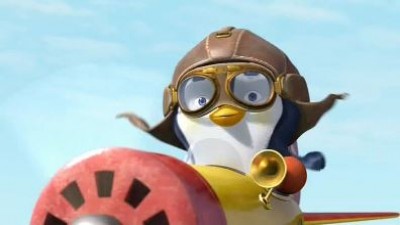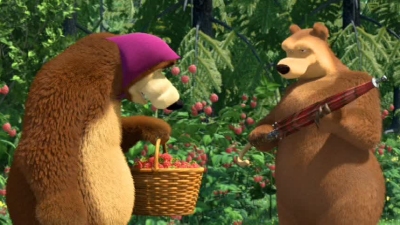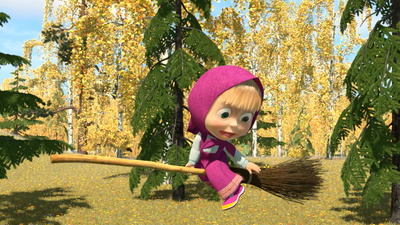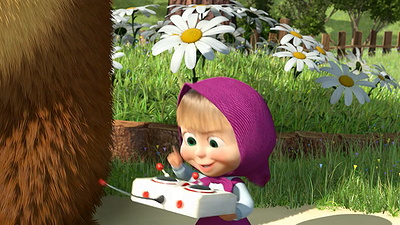 #10 - Kidding Around 8.00
Season 2 - Episode 9
On a fine day, when all the animals were busy with their daily activities, Masha decides to show some care and attention towards her favorite Pig. As always, her attempts turn out to be catastrophic for everyone around her. Trying to escape from Masha's assistance the animals gather in Bear's house and express their indignation about girl's behavior. But the Bear recalls his childhood and reminds everyone how hard it is- to be a kid.
Directors: О. Кузовков, О. Ужинов, Д. Червяцов, М. Нефедова, О. Баулина, Г. Орлов, Н.Мальгина, В. Байрамгулов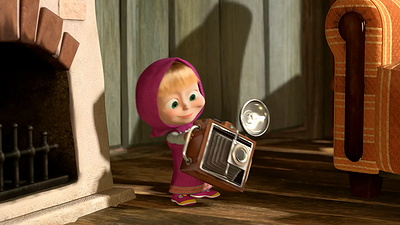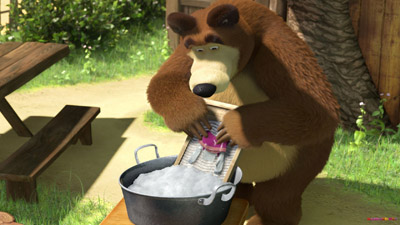 #12 - Laundry Day 7.92
Season 1 - Episode 18
The Bear decides to suit a big laundry in his yard, but yet he has no idea that soon he would have to pull Masha from a puddle and a jar of jam. But it's not all- now the Bear has to sew new dresses every time when Masha will get wet or dirty.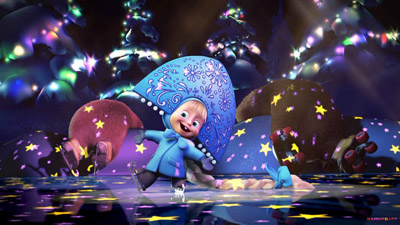 #13 - Holiday On Ice 7.88
Season 1 - Episode 10
Masha wants to learn ice skating. But there's nobody around to teach her because the Bear had fallen asleep. However this does not confuse Masha at all. She puts rolling skates on his feet and rolls him out towards the frozen pond where he eventually wakes up. Now he has no choice but to teach the impatient girl how to ice skate.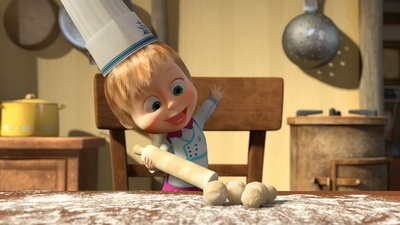 #14 - Bon Appétit 7.87
Season 1 - Episode 24
The Panda has come back, and decided to cook the vontons - Chinese pelmens. But there is Masha, and with her insects...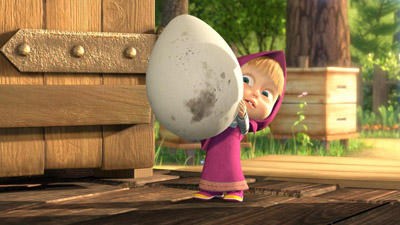 #15 - The Foundling 7.85
Season 1 - Episode 23
The Bear has got the egg. He is needed to sit on it.
Directors: Олег Кузовков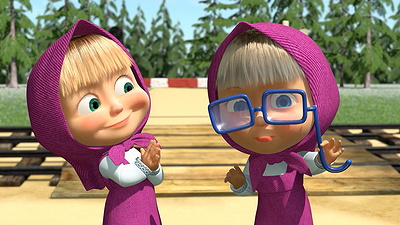 #16 - Two Much 7.83
Season 2 - Episode 10
Masha has a sister named Dasha. Once upon a time Dasha decides to visit her sister. Even though they look very much alike, they are so different! Unlike Masha, Dasha is a strict and responsible girl. Masha cannot wait to tell the Bear about the news and she takes Dasha with her to pay him a visit. That's where the story becomes even more interesting....
Directors: О. Кузовков, О. Ужинов, Д. Червяцов, М. Нефедова, О. Баулина, Г. Орлов, Н.Мальгина, В. Байрамгулов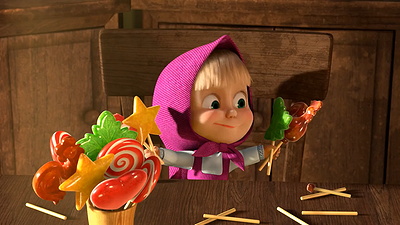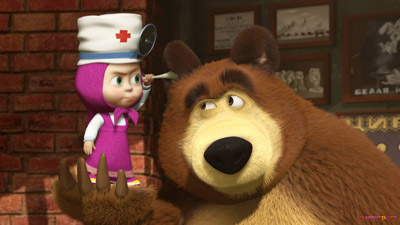 #18 - Get Well Soon 7.78
Season 1 - Episode 16
Masha want playing doctors, and the Bear is imaging he is ill.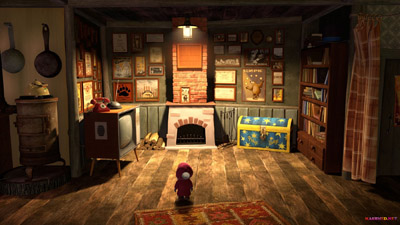 #19 - Home Alone 7.74
Season 1 - Episode 21
The miracles always happen on New Year's Eve. Masha finds a magical hat that grants gifts to all the forest dwellers. Masha runs happily around the forest in a clown outfit and brings joy to all the critters. The magical hat has a special gift for the Bear who has not been very lucky on such a dreamlike day.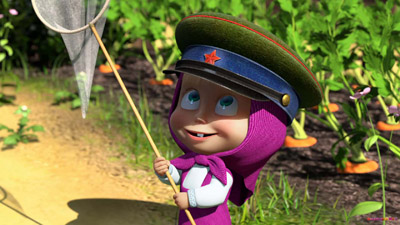 #20 - No Trespassing 7.74
Season 1 - Episode 12
The Bear want growing a giant carrot. But the Hare is eating alone. Who does help? Masha!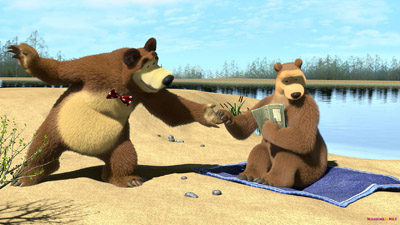 #21 - Springtime for Bear 7.70
Season 1 - Episode 4
The Bear wakes up with the arrival of spring. While running around the forest, he stumbles upon a beautiful female bear. He quickly falls in love. He grabs some flowers and chocolates and rushes to her hoping to invite her for a date. Of course, Masha ruins all of his plans. The Bear does his best to get rid of the girl disturbs their idyll. Finally the female Bear notices her and demands an explanation. He tries to explain but faces with a choice –Masha or the female Bear. The Bear can't make up his mind at once and the Female Bear goes away with another bear.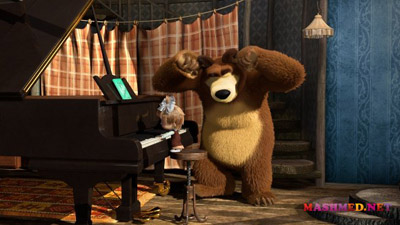 #22 - The Grand Piano Lesson 7.68
Season 1 - Episode 19
The Bear has found the piano. But he is needed to teach playing piano Masha.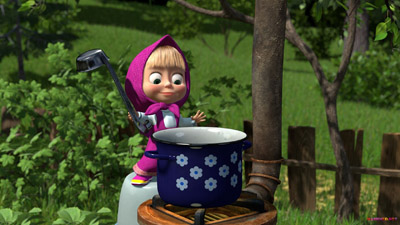 #23 - Jam Day 7.66
Season 1 - Episode 9
The Bear decides to harvest berries and to cook jam. This idea is literally up to Masha's taste. She tries everything. Afterwards she decides to play an astronaut by putting a glass jar on her head. The Bear tries to get her head out of the container and eventually he succeeds only to discover his own paw inside the same jar. He spends the remaining day in attempts to free his hand.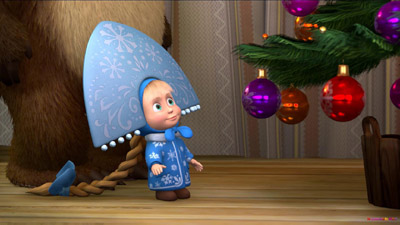 #24 - One, Two, Three! Light the Christmas Tree! 7.65
Season 1 - Episode 3
The Bear adores New Year's Eve so much that he wakes up just to celebrate this holiday. He cleans his house, decorates the Christmas tree and waits for the Father Frost to come. But Masha arrives instead and the holiday turns into a disaster: the tree burns down, the decorations break and Father Frost gets into a car accident. The forest inhabitants can be left without presents. But Masha and the Bear do their best to fix the situation and they celebrate New Year like never before.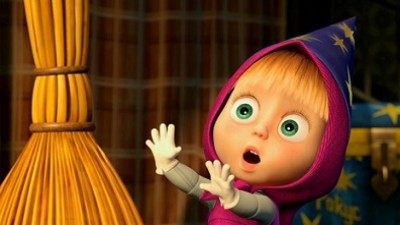 #25 - Hocus-Pocus 7.65
Season 1 - Episode 25
The Bear is sitting home where it's raining. And there's coming Masha! She is finding the box with focuses. And the Bear has come...to Greenland!