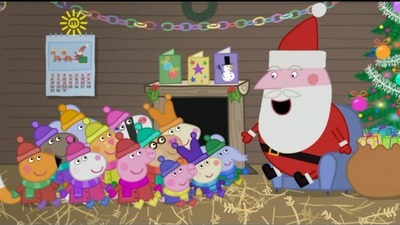 #1 - Santa's Grotto 7.98
Season 3 - Episode 51
It is Christmas and Peppa, George and the children all visit Santa's Grotto to tell him what they would like for Christmas. Peppa asks for a very special doll as a present, but will Santa be able to deliver it to her?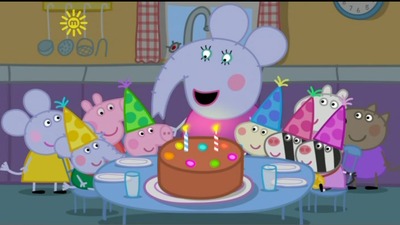 #2 - Edmond Elephant's Birthday 7.89
Season 3 - Episode 49
Peppa and her friends go to help at Edmond Elephant's birthday party, but the little children are harder to look after than they expected.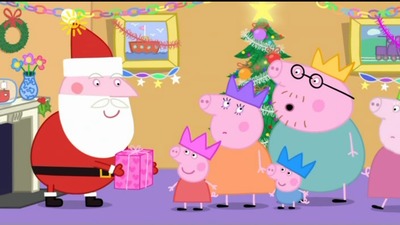 #3 - Santa's Visit 7.86
Season 3 - Episode 52
Peppa and George wake up very early on Christmas morning - has Santa delivered the presents they want? Peppa is worried when Santa brings everyone but her a present, but he soon returns to deliver her missing present in person.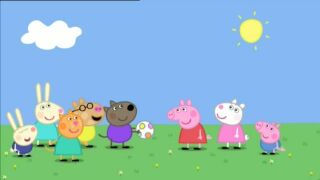 #4 - Bouncy Ball 7.83
Season 2 - Episode 48
Peppa and George are playing in the garden with their bouncy ball when Suzy Sheep turns up with two tennis rackets. Suzy uses the bouncy ball to play a game of tennis with Peppa, leaving George feeling a bit left out until he is given the job of "ball boy".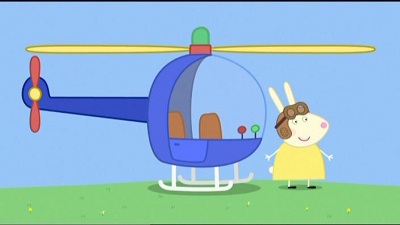 #5 - Miss Rabbit's Helicopter 7.79
Season 3 - Episode 34
Miss Rabbit takes Peppa and her family for a ride in her Rescue Helicopter!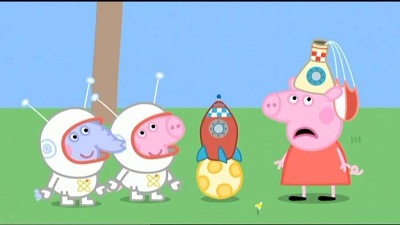 #6 - A Trip to the Moon 7.78
Season 3 - Episode 21
Peppa's family go to the museum's Moon Exhibition with George's friend Edmond Elephant.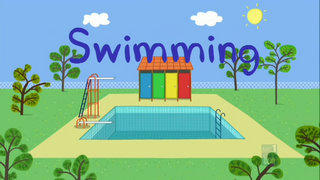 #7 - Swimming 7.76
Season 2 - Episode 20
Peppa and her family are at the swimming pool. George is a little worried at first but is soon splashing happily with his friend Richard Rabbit. Everyone is surprised to discover that Daddy is very good at swimming and diving.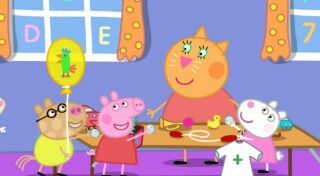 #8 - Jumble Sale 7.73
Season 2 - Episode 19
Peppa's playgroup is holding a jumble sale to raise money for a new roof and Madame Gazelle asks everyone to bring something to sell. Peppa, and each of her friends, bring in an old toy but they soon realise that favourite toys can be hard to let go of.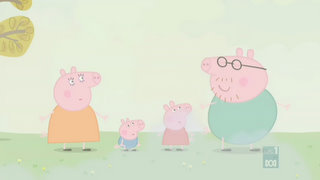 #9 - Foggy Day 7.72
Season 2 - Episode 18
Mummy Pig and Daddy Pig are taking Peppa and George to play in the playground. On the way it gets a bit foggy, and soon it is so foggy they can't see anything. They decide to go home. But which way is home?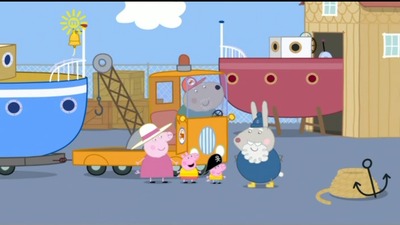 #10 - Grampy Rabbit's Boatyard 7.67
Season 3 - Episode 39
Grandpa Pig needs help when his boat sinks, so Granddad Dog gives them all a lift to Grampy Rabbit's Boatyard so that the boat can be fixed.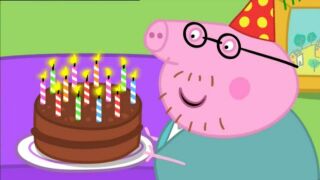 #11 - Daddy Pig's Birthday 7.65
Season 2 - Episode 50
Today is Daddy Pig's birthday, but he still has to go to work. While Daddy is away, Mummy Pig, Peppa and George make a chocolate birthday cake and prepare a "special birthday surprise". What can Daddy's "special surprise" be?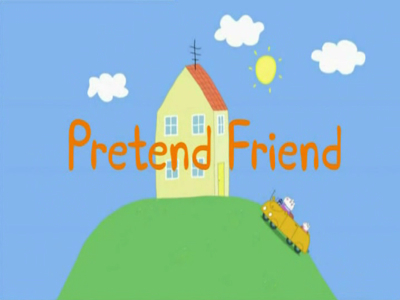 #12 - Pretend Friend 7.65
Season 2 - Episode 27
Suzy Sheep has come to play with Peppa, and has made up a pretend friend called 'Leo Lion'. Peppa cannot see Leo but Suzy announces that Leo likes roaring and he likes playing dressing up. Peppa decides that now she can see Leo. Even Mummy and Daddy Pig play along with the game. But Peppa's little brother George cannot see Leo and feels a bit left out.
#13 - Tiny Creatures 7.65
Season 2 - Episode 21
Peppa and George are playing in Grandpa Pig's garden. Peppa finds a little snail and Grandpa shows them his beehive. Peppa, George and their friends have fun pretending to be cheeky snails and busy bees.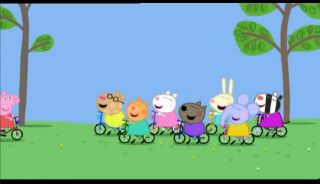 #14 - The Cycle Ride 7.63
Season 2 - Episode 31
Peppa and her family go for a day's cycle ride. Peppa rides her little bicycle, while Mummy and Daddy Pig ride their tandem with George on the back. Peppa loves cycling downhill but is not so keen on peddling uphill, so when they meet Peppa's friends and decide to have a race, Peppa insists it should be a downhill race.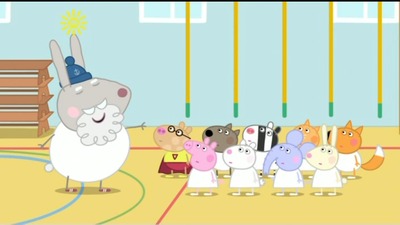 #15 - Gym Class 7.59
Season 3 - Episode 45
Madame Gazelle takes the children to Grampy Rabbit's gym class, where they learn how to be real explorers!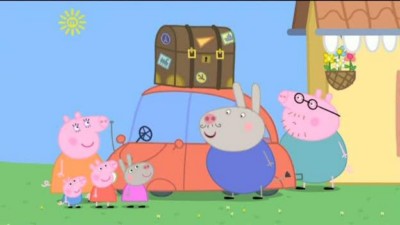 #16 - Delphine Donkey 7.59
Season 3 - Episode 12
Peppa's French friend Delphine Donkey comes to stay. Peppa takes Delphine to playgroup where they teach her the 'Bing Bong Song'.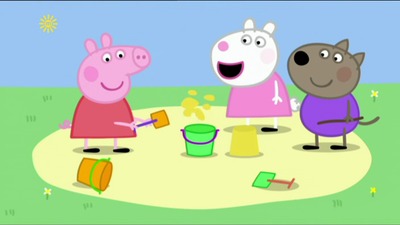 #17 - The Sandpit 7.59
Season 4 - Episode 34
Peppa and her friends are building a desert island, in the sandpit. They add a forest, a lake, houses, and shops. It's all going very well until George and Richard's dinosaurs turn up...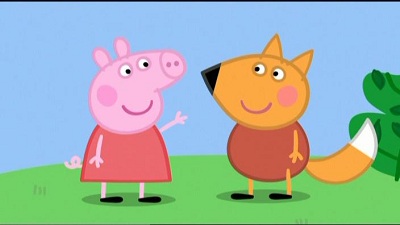 #18 - Freddy Fox 7.59
Season 3 - Episode 27
Peppa and her friends are playing hide and seek, but it is Freddy Fox with his super smelling nose who is the best at playing that game.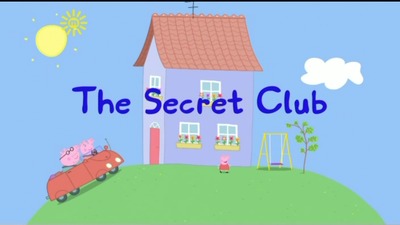 #19 - The Secret Club 7.59
Season 3 - Episode 38
Suzy and Peppa start a Secret Club - going on secret missions, and doing secret things. In secret. But soon everyone wants to join!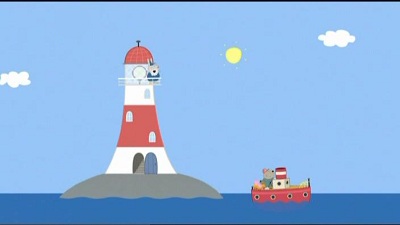 #20 - Grampy Rabbit's Lighthouse 7.59
Season 3 - Episode 36
Grandpa Pig takes Peppa, George and Danny Dog to visit Grampy Rabbit's lighthouse.
#21 - Ballet Lesson 7.57
Season 1 - Episode 31
Peppa is excited about her very first ballet lesson and decides to teach Mummy Pig, Daddy Pig and George how to dance. She is surprised to learn that Mummy Pig and Daddy Pig know a few ballet moves of their own.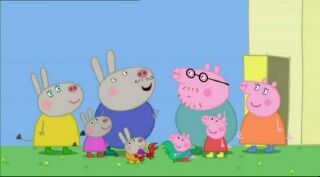 #22 - Pen Pal 7.57
Season 2 - Episode 41
Peppa has a new pen pal in France, a little donkey named Delphine. Peppa receives letters from Delphine Donkey and speaks to her on the telephone. Although Peppa speaks English and Delphine speaks French, they discover that they love lots of the same things, especially jumping up and down in muddy puddles.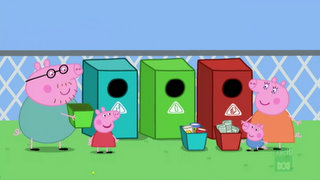 #23 - Recycling 7.57
Season 2 - Episode 11
Peppa and George help Mummy Pig tidy up the breakfast things. Mummy Pig tells Peppa and George that bottles don't go in the bin, they go into a special green box to be recycled. Old newspapers go in a red box and tins go in a blue box. Peppa and George have fun filling the boxes.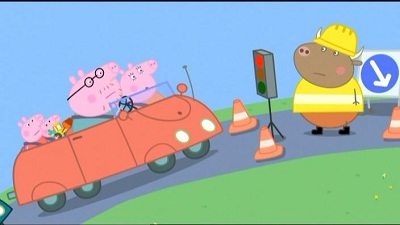 #24 - Digging Up the Road 7.56
Season 3 - Episode 26
Peppa and her family are trying to get to the playground, but Mr Bull and his roadworks team are in the way digging up the road.
#25 - Granddad Dog's Garage 7.55
Season 2 - Episode 17
Daddy Pig's car runs out of petrol but thankfully Grandad Dog's garage is not far away. With one phone call, Grandad Dog is on his way and tows Daddy Pig's car back to his garage.