The BEST Episodes of Bluey (2018)
Every episode ever - ranked by fan votes!
Last Updated: Apr 17, 2021
Bluey is an inexhaustible six year-old Blue Heeler dog, who loves to play and turns everyday family life into extraordinary adventures, developing her imagination as well as her mental, physical and emotional resilience.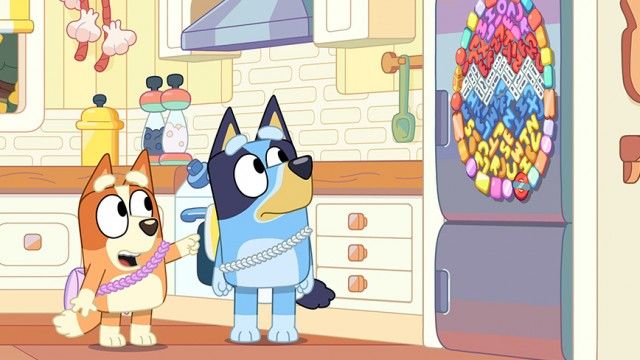 #1 - Easter
Season 2 - Episode 52 - Aired Apr 4, 2021
Bingo is convinced the Easter Bunny has forgotten them like last year, until Bluey finds a series of clues that leads them on an Easter egg treasure hunt.
5 votes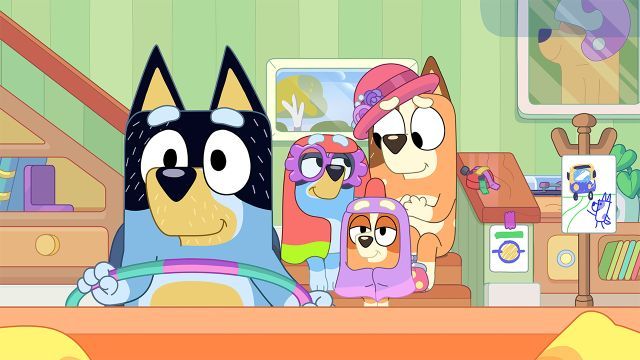 #2 - Bus
Season 2 - Episode 22 - Aired Apr 7, 2020
During a game of bus, passenger Mum is too scared to tell Bus Driver Dad that she secretly loves him, until she gets some help from the Grannies.
12 votes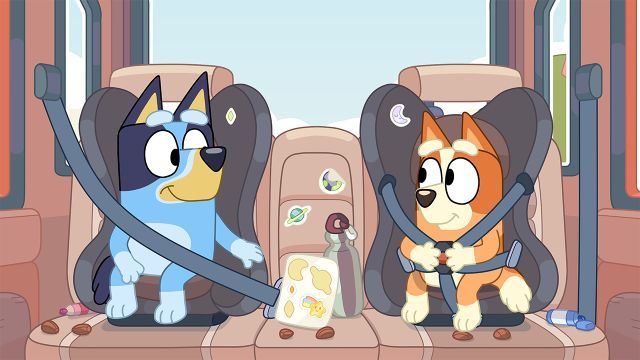 #3 - Escape
Season 2 - Episode 21 - Aired Apr 6, 2020
When Mum and Dad describe a made-up world where they can relax without the girls, Bluey and Bingo decide to burst into their fantasy and chase them down. How will Mum and Dad escape?
13 votes
#4 - Ice Cream
Season 2 - Episode 47 - Aired Nov 14, 2020
Bluey and Bingo want a lick of each other's ice cream. But they are so focused on making sure each lick is fair, they don't notice their ice creams are melting.
8 votes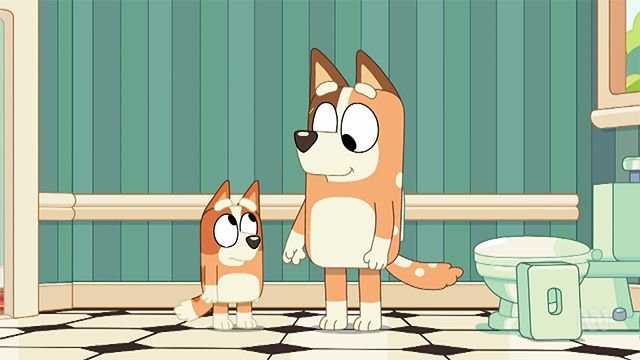 #5 - Bingo
Season 2 - Episode 9 - Aired Mar 25, 2020
When Bluey has a playdate at Chloe's, Bingo must learn how to play by herself. But all the games she knows need more than one person! Luckily Dad has a problem that needs solving.
18 votes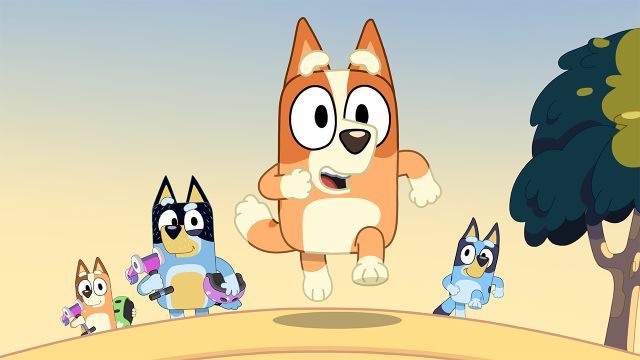 #6 - Piggyback
Season 2 - Episode 18 - Aired Apr 3, 2020
The Heelers take a long riverside walk but Bingo's legs are tired and she wants a piggyback. To distract her, Mum and Dad invent fun games and get her little legs moving again!
14 votes
#7 - Pirates
Season 1 - Episode 27 - Aired Apr 1, 2019
It's an adventure on the high seas as Bluey, Bingo and Missy play Pirates on the hammock swing, but they'll need to find their courage to withstand storms and whale attacks.
15 votes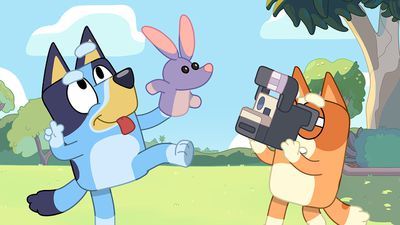 #8 - Bob Bilby
Season 1 - Episode 12 - Aired Oct 12, 2018
When it's Bingo's turn to bring her Kindy's Bob Bilby puppet home and record their weekend in the scrapbook, the family resolve to put down their screens and show him a good time
20 votes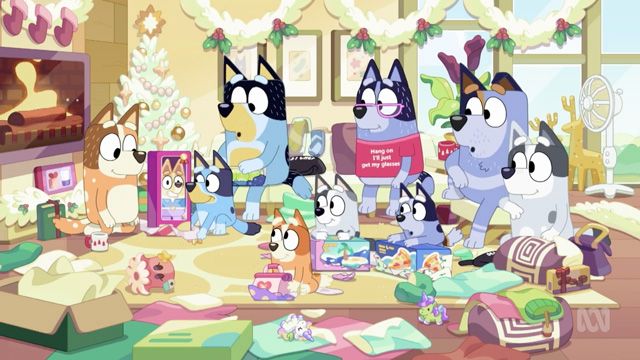 #9 - Christmas Swim
Season 2 - Episode 51 - Aired Dec 1, 2020
The Heelers gather for a classic Aussie Christmas, Bluey gets a new teddy and introduces him to the whole family. But the family play too rough with him and now he wants to go home. Until Frisky convinces him to stay.
11 votes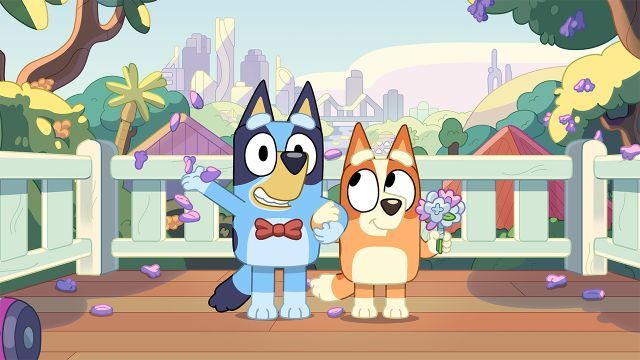 #10 - The Show
Season 2 - Episode 19 - Aired Apr 4, 2020
When Bingo drops Mum's breakfast-in-bed on the floor, she's convinced she's ruined her big day. But Bluey helps make amends by putting on a play of how Mum and Dad first met.
12 votes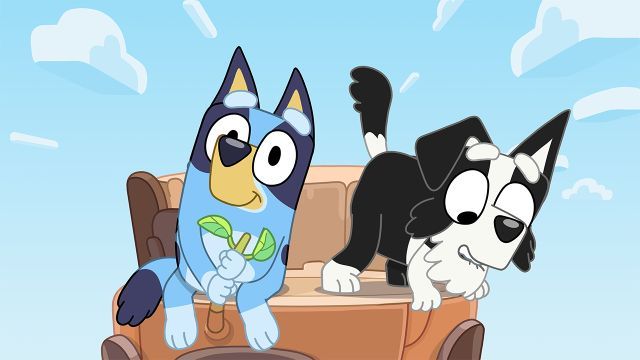 #11 - Helicopter
Season 2 - Episode 25 - Aired Apr 10, 2020
At school, Bluey and her friends turn a tree stump into a thrilling game of Helicopter. But as the pilot, Bluey has to learn to give up some control so they can all have fun.
14 votes
#12 - Takeaway
Season 1 - Episode 14 - Aired Oct 14, 2018
Forced to wait five minutes in front of a restaurant for their takeaway order, Bluey and Bingo become restless for entertainment, pushing the very limits of Dad's patience.
17 votes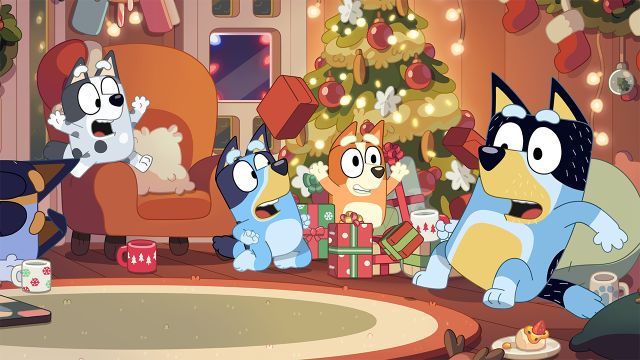 #13 - Verandah Santa
Season 1 - Episode 52 - Aired Dec 12, 2019
It's Christmas Eve and Dad and the kids are taking turns pretending to be Santa! But when Socks nips Bluey and Bluey refuses to leave her a present, they must all learn the true meaning of being good for Christmas.
9 votes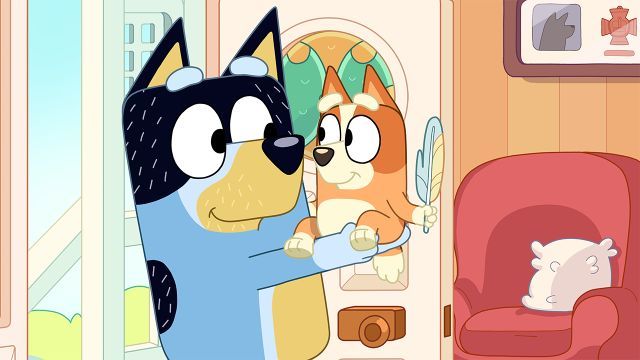 #14 - Featherwand
Season 2 - Episode 3 - Aired Mar 19, 2020
Bluey and Mum are off to Chloe's party and Bingo isn't invited. But armed with a magic featherwand that makes things incredibly heavy, Bingo can now stop them leaving the house.
18 votes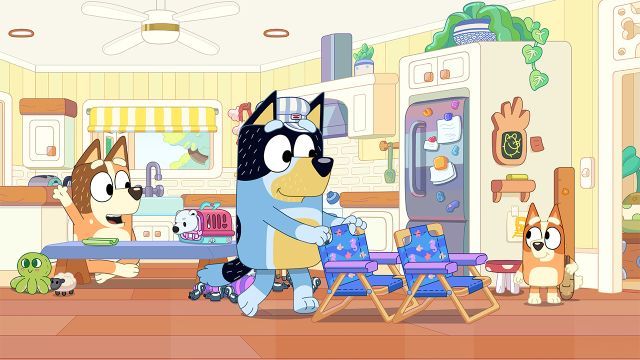 #15 - Trains
Season 2 - Episode 15 - Aired Mar 31, 2020
All aboard the Dad Train! Bingo goes from home to daycare to her job at the Vet every morning, but there's trouble on the line as a mischievous Bluey throws everyone off schedule.
11 votes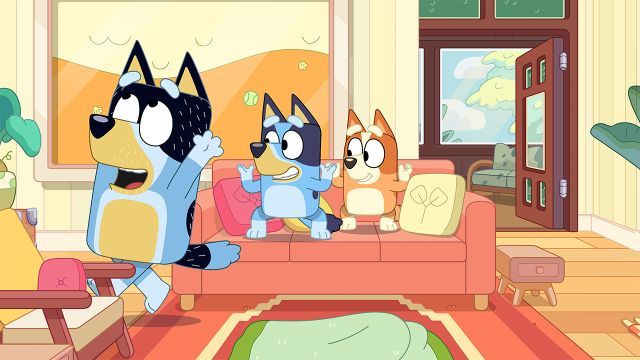 #16 - Tickle Crabs
Season 2 - Episode 20 - Aired Apr 5, 2020
When Dad brings a pair of tenacious tickle crabs home from the beach, nowhere in the house is safe! His only hope of escaping their tickles is with help from his true love.
16 votes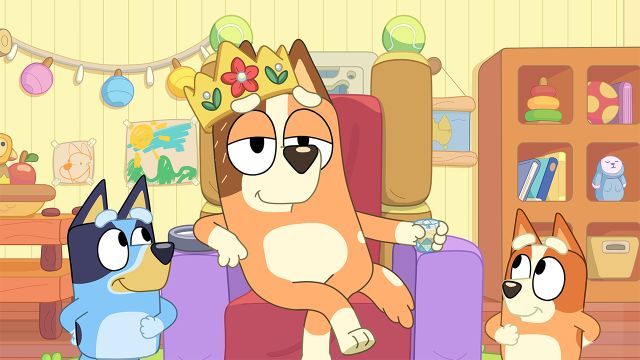 #17 - Queens
Season 2 - Episode 23 - Aired Apr 8, 2020
During a game of Queens, Bluey and Bingo find that playing the butler is much more fun. But someone must play the Queen, even if it means not being afraid of a bit of hard work.
13 votes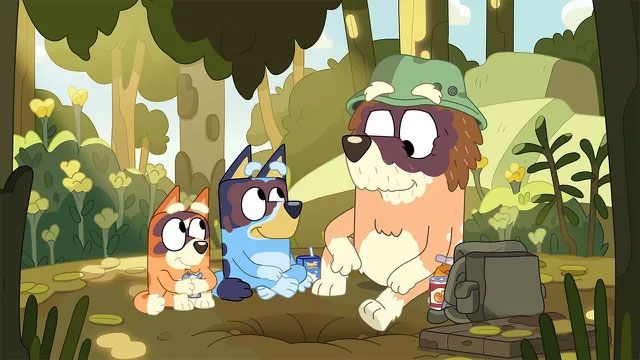 #18 - Grandad
Season 2 - Episode 27 - Aired Oct 25, 2020
Grandad is supposed to be resting, but when Bluey and Bingo go to visit him, he makes a run for it with the kids and takes them on a madcap adventure into the bush.
12 votes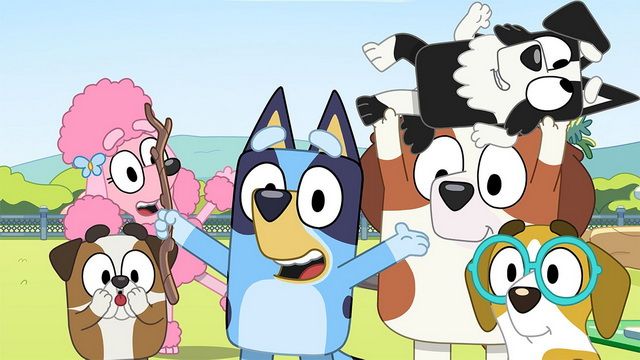 #19 - Circus
Season 2 - Episode 33 - Aired Oct 31, 2020
Bluey is the ringmaster in a game of circus with her friends, but Hercules wants to play his motorcycle game instead. Luckily Bluey has a solution to keep everyone happy.
14 votes
#20 - Octopus
Season 2 - Episode 41 - Aired Nov 8, 2020
When Chloe tries to teach her Dad to improvise and play Bluey's game of Octopus at home, he finds it hard to understand or enjoy, until they both realise, they can play it their own way.
11 votes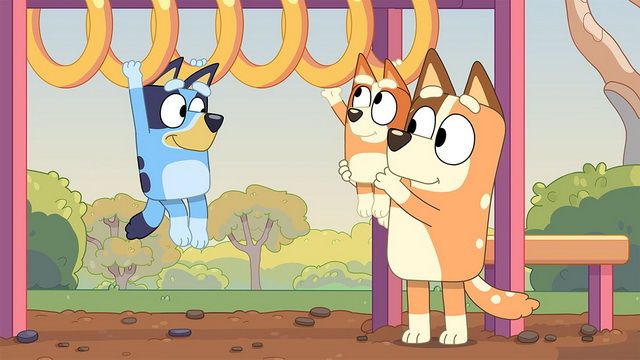 #21 - Baby Race
Season 2 - Episode 50 - Aired Nov 17, 2020
Mum reminisces about Bluey and Judo as babies. Bluey learnt to roll over first, but Judo was the first to crawl, so then it became a race to see who was going to walk first!
11 votes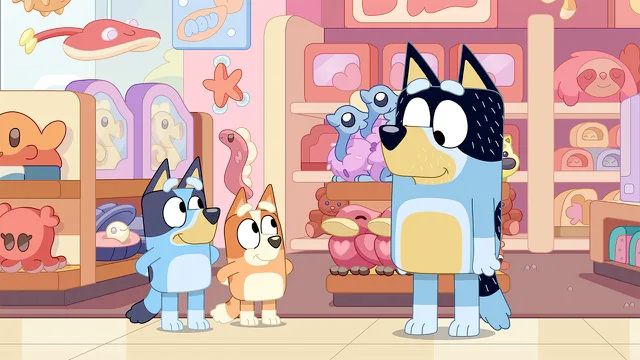 #22 - The Quiet Game
Season 2 - Episode 37 - Aired Nov 4, 2020
Bluey and Bingo are playing "The Quiet Game" and won't use words to tell Dad which toy to buy for Muffin. At his wits end, Dad recruits new store clerk Alfie to help interpret the girls miming.
13 votes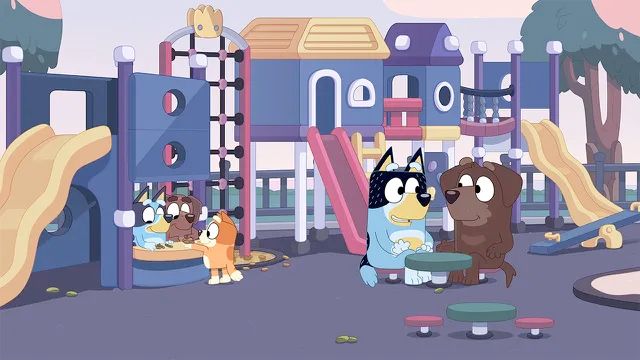 #23 - Café
Season 2 - Episode 35 - Aired Nov 2, 2020
In the park Bluey meets a new playmate Winnie, but when Bluey wants to invite her and her dad home for breakfast, she learns that adults take a little bit longer to make friends.
12 votes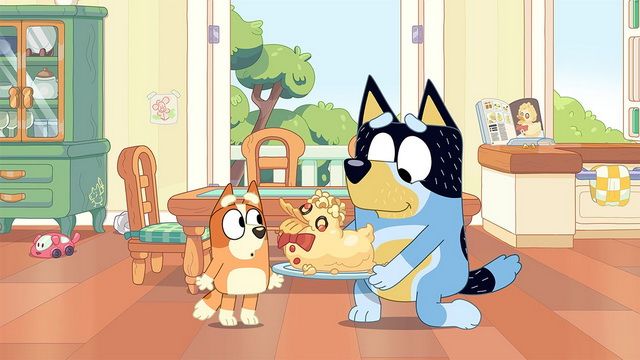 #24 - Duck Cake
Season 2 - Episode 44 - Aired Nov 11, 2020
Bluey wants to help Dad make Bingo's birthday cake, but first she must put away her toys. But nothing can tempt her to clean up, until Dad drops the cake.
17 votes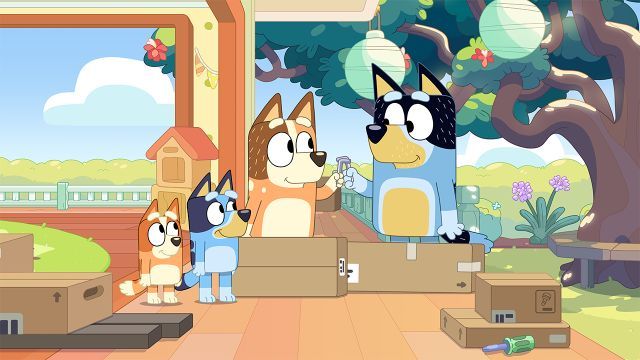 #25 - Flat Pack
Season 2 - Episode 24 - Aired Apr 9, 2020
While Mum and Dad struggle to build new flat-pack furniture, Bluey and Bingo transform the empty boxes into their own new world.
14 votes