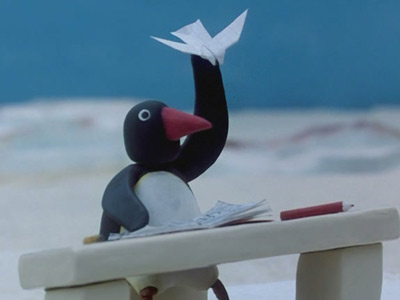 #1 - Pingu and the Paper Aeroplane 9.40
Season 3 - Episode 13
Pingu and Pingi are on their way to school on Pingu's sledge, when they hit a bump and fall off. Pingo comes past on his scooter, has a good laugh at their predicament and continues on his way. Later at school someone in the class throws a screwed up piece of paper into the air. It hits Pingu on the head and bounces off as Pingi notices. Pingu realizes who threw the paper when Pingo chortles, and throws a screwed up piece of paper from his own exercise book back at Pingo. Pingo picks up the piece of paper thrown by Pingu, straightens it out, makes a paper plane and throws it into the air. It hits the teacher on the back of the head. The teacher asks the class who it was, and Pingo says that it was Pingu. Pingu can't explain away why the paper the plane is made from is from his exercise book, and gets sent to stand in the corner. Pingu then spots Pingo's scooter and plans revenge. He sneaks over and unscrews the nut that secures the front wheel on the scooter. He throws the wheel-nut away and sneaks back into the corner. When school finishes, Pingu is just leaving when he sees Pingo offering Pingi a go on his scooter. She only gets a short distance before the front wheel comes off the scooter and she falls off. Pingu goes over to Pingi, while Pingo wonders what has happened to his scooter and how he's going to get home. Pingu is just about to leave with Pingi and although he feels amused at first, he feels some remorse, so the front of the scooter is propped on to the back of the sledge and, with Pingu and Pingi on the sledge and Pingo on the scooter, they ride off together.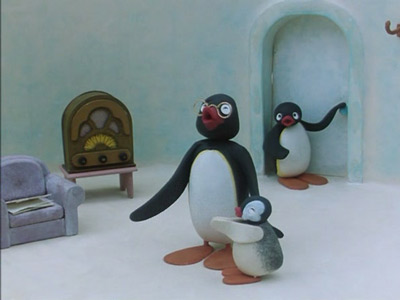 #2 - Pingu's Grandfather Comes to Visit 9.20
Season 3 - Episode 3
Father is cooking dinner, and Pingu and Pinga are laying the table – except that Pingu is juggling the beakers and Pinga is enjoying watching the act! Father then comes out of the kitchen, and tells them to hurry up and finish off laying the table. After Pingu finishes up he reads a book, while Pinga prepares the chairs. There is a knock on the door - Grandfather has arrived. After greeting the children Grandfather gives them each a lollipop to suck. Father comes and greets Grandfather, and then takes the lollipops away from the children and puts them away, much to their disgust. Grandfather and the children then sit down at the table, and while they are waiting for the food Grandfather amuses them with a trick, making a flower disappear and then finding it again behind Pinga's head. Father then appears with the fish part of the main course; Pingu grabs the biggest fish (his fish) much to Pinga's dismay. Father brings the vegetables, lectures Pinga that she should not have the biggest fish and gives her the little fish. They all finish off their fish, and they are forced to eat their greens, which they don't like. Grandfather tries to feed Pinga hers, but she refuses and shoves the bowl to Grandfather, who reluctantly finishes them off. Pingu then also shoves his bowl of greens to Grandfather, who eats those as well! Father then brings out a large chocolate cake for pudding and dishes out portions all round. The children tuck in but Grandfather is too full to eat his. Pingu and Pinga then each take a second slice, and so does Father. However, Grandfather doesn't want to eat his. Father wants to know why, and he finds out that Grandfather has ate all of Pingu and Pinga's greens. Father tells off the children for spoilng Grandfather's appetite by refusing to eat their greens and making him eat all of them. By then Pingu has finished his second slice of cake so he snaps at Father, and he takes Grandfather's unwanted slice and tucks it, finishing up the cake. While Father eats his angrily, Pingu and Pinga snuggle with Grandfather.
Directors: Otmar Gutmann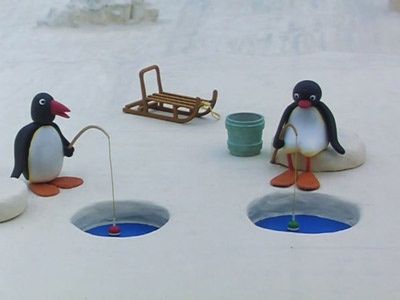 #3 - Pingu has a Fishing Competition 9.00
Season 3 - Episode 18
Pingu, Pingo and Pongi decide to have a fishing competition. When they arrive where they're gong to fish they first have to cut holes in the ice. Pingu and Pingo do theirs quickly and start fishing, Pongi struggles to get the saw into the ice. Robby then pops up out of Pingu's hole, and they all have a laugh at Pongi's efforts. Robby then helps by cutting out the hole from underneath. Pongi then breaks his rod and has to repair it. Once they've all managed to get fishing nothing very much happens for a while and they have difficult in staying awake. Then a fish jumps out of Pongi's hole and drops back into the water. Pingu tells Pongi that he wants to swap holes with him, which Pongi does reluctantly. After a while another fish jumps, this time from Pingu's original hole. Pingu swaps with Pongi again, and manages to catch a small fish that he shows off to the others. Then Pongi gets a bite, and it takes all three of them working together to drag the huge fish out of the water. On the way home Pingu and Pingo push the large fish, with Pongi on top, up an incline and pause for breath. They start thinking about the feast they're going to have on the huge fish. Pongi sees this and slides off down the slope on the other side, and away, much to Pingu and Pingo's consternation.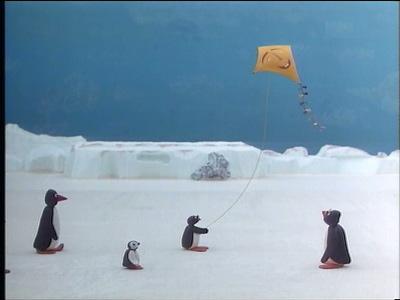 #4 - Pingu's Parents Have no Time 8.80
Season 2 - Episode 12
Pingu and Pinga are flying their kite when the wind goes light and it crashes onto the roof of the igloo. Pingu tries to pull it off with the string but the string breaks. Pinga goes inside to get help from Mother or Father, but they're busy and say that they have no time to help. Outside, Pingu is trying to dislodge the kite by throwing snowballs at it. The first one hits Pinga as she comes back out of the igloo. She cries, but is comforted by Pingu. The second hits the kite, which slides off the roof and lands on the ground in a broken heap. This time Pingu goes in to ask for help, but Mother and Father are still too busy. Pingu and Pingu then go off on the sledge to see Grandfather, who helps them make a new kite. Meanwhile, Mother and Father realise it is getting late and go outside to get Pingu and Pinga, but there's no sign of them. They get on Fathers motorised sledge and go looking, asking the post-office attendant, the fishmonger and a neighbour if they've seen them. They all say they haven't. Eventually they arrive at Grandfather's igloo, where they see a kite being flown behind the igloo; Pingu is flying the new kite, watched by Pingu and Grandfather. Mother and Father thank Grandfather for his help, and Mother, Father, Pingu and Pinga all go back home together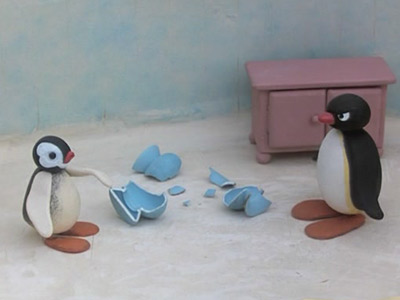 #5 - Pingu and the Broken Vase 8.75
Season 3 - Episode 12
Mother goes out, leaving Pingu and Pinga alone at home. They make themselves a makeshift house indoors, using the chairs as walls with a blanket on top as the roof. They take some toys and cushions into the makeshift house, but it collapses on them, much to Pingu's annoyance. They then have an argument, and Pinga throws a cushion at Pingu, hitting him on the head. Pingu chases Pinga around the room, and throws the cushion back at Pinga. He misses, but hits a vase on the sideboard. The vase falls off the sideboard and shatters on the floor. They then realise that their parents are due back shortly, and rush to tidy everything up. Pingu wraps the pieces of the vase in a cloth and puts it in the cupboard, and tells Pinga not to say anything. Father then arrives with a bunch of flowers for Mother, and is surprised when he can't find the vase. Pingu and Pinga deny any knowledge of the vase's whereabouts, but Father becomes worried after he finds a piece on the floor! To Pingu's dismay, Pinga tells Father what happened and shows him the bag where the pieces of the vase are hidden. Father looks furiously at Pingu, who bursts into tears. Father spots a jar on the dresser and puts it onto the table with the flowers in it, which cheers everyone up. Mother then arrives back and is rather pleased with the flowers, but Pingu is still dismayed when Pinga tells her everything that has happened.
Directors: Otmar Gutmann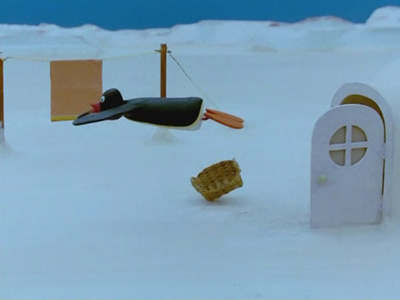 #6 - Pingu's Prank 8.67
Season 3 - Episode 7
Pingu's neighbour comes out of the igloo, puts out a piece of washing to dry and goes back inside. Pingu happens to walk past, and as he does so the washing falls off the line. This worries him, so he picks it up and rings the doorbell to tell the neighbour what has happened. The neighbour takes the washing, hangs it up again and rewards Pingu for his kindness by giving him some biscuits. Pingu then meets Pingo, who sees Pingu finishing a biscuit and asks if he can have one. Pingu gives him the bag, but it is empty! Pingu explains how he got the biscuits, and shows Pingo where. To Pingu's horror, Pingo pulls the washing off the line and rings the bell on the igloo. When the neighbour opens the door, Pingo tells the same tale, expecting the same reward. The neighbour realizes what is going on, and shuts the door in Pingo's face. Pingo and Pingu then play a couple of tricks on the neighbour, both involving ringing the doorbell and then running away, and the neighbour gets very annoyed. Another penguin then comes to deliver a parcel, rings the doorbell and, when the door is opened, is soaked by a bucket of water thrown by the neighbour! The neighbour apologizes, but the other penguin is very angry, then slams the parcel into the hands of the neighbour and stalks off angrily. The parcel then starts to leak (an indication that there was a liquid of sorts in the parcel), then the neighbour throws it to the ground, kicks the bucket away and goes back indoors, slamming the door. Then the washing drops to the ground again, so Pingu hangs it back up and both he and Pingo walk quietly away!
Directors: Otmar Gutmann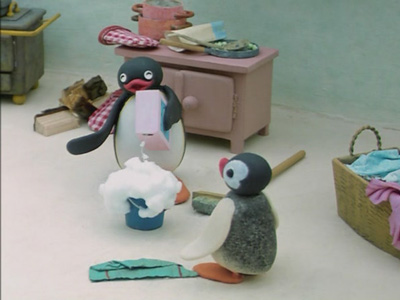 #7 - Pingu Helps Around the House 8.67
Season 2 - Episode 25
Mother is ironing and feeling a bit harassed, as she realises that there's a lot of clearing up and other jobs that need doing, and she asks Pingu if he could help. Pingu, who is reading, is not at all keen to help and suggests that Pinga should. Mother does not want Pinga to help because she's too small though, but she helps anyway. But Pinga drops some on the floor on the way to the cupboard and Mother tells her off. Pinga bursts into tears and Mother comforts her. Mother then tells Pingu to help and gives him some large cloths to put away. Pingu balances them on his head, to the amusement of Pinga and the consternation of Mother, carries them on his head to the cupboard, puts them away and then goes back to his book. Mother then enlists Pingu's help again, this time to wash the floor, and prepares a bucket of soapy water for Pingu to use. Pingu reluctantly comes over to do it, but then thinks it would be a good idea to make the water soapier, and does this when Mother is not looking. Pinga comes over to see what is going on, and Pingu covers her head with soapsuds from the bucket. Pinga goes over to Mother who wipes the suds off, and tells Pingu to get on with it. Mother then goes out with the washing. Pingu and Pinga play a game with the mop and washing cloth, then Mother comes to get Pingu to help her, leaving Pinga with the mopping to do. She accidentally knocks a blanket from the table into the bucket. When Mother and Pingu return, Pinga has finished mopping the floor and is busily playing with her toys. Later, Mother is cooking dinner when Father comes in. He greets them, and Mother goes to serve the dinner, but finds a nicely warmed blanket in the oven. Mother and Father blames Pingu and Pinga and they don't get any supper! Pingu knows how to use it though. When Pingu and Pinga go to bed they snuggle into the warm blanket.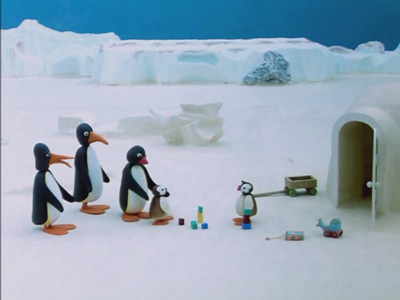 #8 - Pingu and the Stranger 8.67
Season 2 - Episode 24
Pingu has gone out to get some fish from the fish stall. While he's on the way, two strangers enter the village, and are shunned by everyone they meet. Pingu arrives at the fish stall, gets out his shopping list and is about to tell the stallholder what he wants when the stallholder sees the two strangers, who are just behind Pingu. The stallholder quickly closes the stall and walks away, leaving Pingu without any fish to take home. Pingu walks away, but hides behind a nearby igloo, and then surreptitiously follows the two strangers out of the village to a nearby ice pool. Another penguin is fishing. One of the strangers takes out a shell horn and blows it, getting a rasping squawk noise. The two strangers look up, and soon a fish drops from the sky into the hands of one of the strangers. Pingu is amazed. The stranger with the horn blows it again. Another fish drops from the sky and lands on the ice nearby, but this time the penguin fishing and Pingu are looking up, and they see that a seagull is dropping the fish. The strangers offer the fish to the penguin fishing, but he refuses and hurriedly walks off. Pingu comes out from where he's been hiding and walks up to the strangers, who give him the fish and let him try the horn. Pingu blows, but only gets a gentle squeak from the horn. The strangers urge him to try again, and he gets a raspberry sound. No fish is dropped either time. Then the seagull swoops to catch a fish from the pool, and as it flies overhead the strangers urge Pingu to blow again. This time he gets a better sound, and the seagull responds with a squawk, dropping the fish it has just caught! The fish is given to Pingu, and Pingu then soon fills the basket with fish. As they're waiting for the seagull again some of the villagers come to look at what is happening. The next fish dropped by the seagull lands on one of the villagers, and after initial amazement they all laugh. The horn is shown around and the villagers chat happily with the strangers.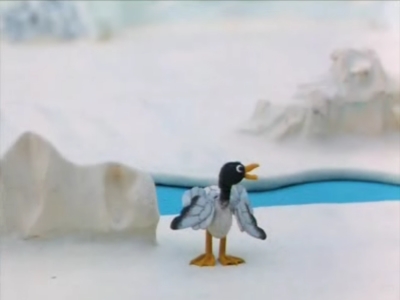 #9 - Pingu and the Seagull 8.63
Season 2 - Episode 3
It is a nice day and Pingu is out riding his brand new blue scooter. Circling overhead is a Seagull. It squawks, and Pingu hoots back and waves to it. The Seagull then poos on the scooter, rather annoying Pingu. Pingu goes indoors, cleans up the scooter and puts a cover over it. He then goes outside again. The Seagull is now sitting on top of the igloo, and squawks when it sees Pingu. Pingu makes a snowball and throws it at the Seagull. The snowball narrowly misses as the Seagull takes off. The Seagull retaliates by pooing on Pingu's right foot. Pingu cleans himself off, and then spots that the Seagull has landed on the ice nearby. He tries to grab it, but it takes off and flies out of reach. The Seagull lands again, and Pingu has another attempt at grabbing it, but this try also fails. The Seagull lands for a third time, but this time Pingu sneaks up on it from behind and succeeds in getting hold of its legs. The Seagull tries to fly away, and eventually Pingu has to let go. The Seagull circles around, and poos on Pingu again, this time on his right shoulder. The Seagull then lands to have a drink from a nearby ice hole and is grabbed on the beak by a lobster, which won't let go. After initially being amused, Pingu takes pity on the Seagull and tugs the lobster off. The lobster turns on Pingu and follows him into the igloo. Pingu eventually chases the lobster away and back into the pool by banging some pan lids. He pets the Seagull, and just when he thinks he's made friends with it, it flies away and poos on him yet again, right on the top of his head. He goes inside and tells Mother all about it, and she washes his head clean.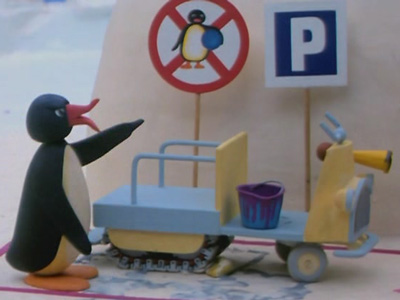 #10 - Pingu Dreams 8.57
Season 1 - Episode 26
It is time for Pingu's bedtime, and he falls asleep while Mother is reading him a story. As Pingu sleeps, the igloo jumps up and down before floating away. His bed then sprouts legs and moves around. Although being rattled at first, he has lots of fun riding the bed, but he is unaware that a giant non-tusked whiskered walrus (or a leopard seal) is stalking him. The walrus/leopard seal eventually shows himself to Pingu and puts the igloo on top of him and the bed. The walrus/leopard seal takes the igloo off, squishes and stretches Pingu as if he were a plaything, and as the bed tries to escape, the walrus/leopard seal takes the mattress from it and eats it like a chocolate bar. While the walrus/leopard seal is distracted, Pingu and the bed run off in fear, but Pingu trips over a ledge and falls down a steep mountain slope. The minute he lands at the bottom, Pingu wakes up, finds out that his "snowy mountain" is actually the bed, which isn't moving, and realizes it was all a dream. Pingu then sadly tells Mother all about it as she comforts him.
Directors: Otmar Gutmann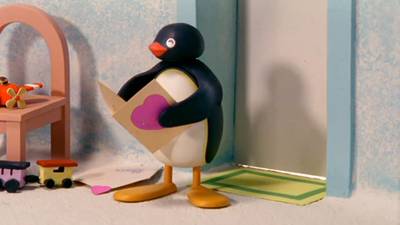 #11 - Pingi's Valentine Card 8.50
Season 5 - Episode 4
It is Valentine's day, and Pingu gets a valentine card from Pingi. He shows it to Pinga and Mother, and decides he'll make one for Pingi. Mother gets him the box of card making materials out of the cupboard and he settles down to making the card. He chooses the paper for the card, and then tries to put glue on it to attach a heart shape. Unfortunately the glue won't come out at first, and then comes out in a big blob. He attempts to stick a heart to a card, but each stays stuck to the hand he's holding it in. He eventually gets them stuck together, or so he thinks, but after a few seconds it falls off! He then tries to make a card using glitter as well as the heart. He gets the glitter and heart stuck to the card, but then can't put the card down as it keeps sticking to him - if it isn't stuck to one hand it's stuck to the other, or to his head. He eventually gets it off, but meanwhile Pinga has sat up to the table and is rude to Pingu. Pingu is rude back and mother intervenes, but the card then sticks to the newspaper she is reading. It comes off when she has to intervene again, and it ends up stuck to Pingu as before. After another struggle getting it off himself, Pingu stomps into the bedroom to sulk. There he discovers he's got another piece of card stuck to his bottom. Meanwhile Pinga is making something from some card without using glue and goes to show it to Pingu, who at first refuses to look. Eventually Pinga unveils her masterpiece – a set of linked figures cut out from folded paper. This gives Pingu an idea, and he goes back to the table and makes some cut out hearts. He takes them over to Pingi's home and gives them to her. She is delighted.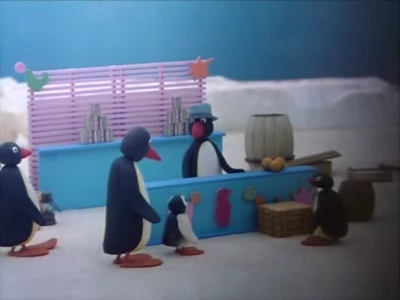 #12 - Pingu at the Fairground 8.50
Season 2 - Episode 16
Pingu, Pinga, Mother and Father go to the funfair. They pass some balloons but don't buy one. They come to a barrel organ, Pingu gives the player some money and he plays a tune. Pingu and Pinga rush on and stop at a candyfloss seller, and they both have some. At the "hit the tins" stall Pingu has a go, gets all the tins down in his three throws, and receives a lollipop as a prize. Pinga also has a go, but she throws before the stallholder has completely finished putting back the tins. The ball misses, bounces off the backboard onto the stallholders head, and then into the tins, knocking them all down. The stallholder is not very happy about this, talks angrily to her and doesn't give her a prize. They move quickly on. Both Pingu and Pinga then have an ice cream. At the sweet stall Father buys Mother a candy pendant that he puts round her neck, and Pingu and Pinga each have a twisty candy stick to eat. Pingu and Pinga have a ride on the roundabout. Pingu then rides on the swings, and Mother is concerned by how high he's going. When he gets off he feels a bit poorly. On the way home, Pinga has some more candyfloss, but Pingu doesn't want any. They each get a balloon, but Pingu misses the string when taking the balloon off the seller and the balloon floats away, so Pinga lets go of hers as well. Then they all go home.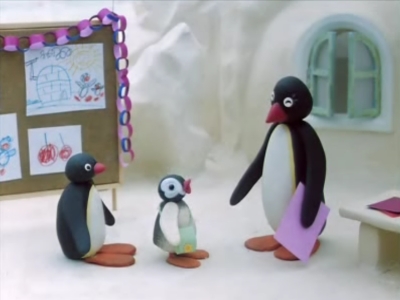 #13 - Pingu Visits the Kindergarten 8.50
Season 2 - Episode 23
Pinga is waiting impatiently to go to kindergarten, but Mother is busy and gets Pingu to take her. On the way they pass Pingo and Pingg on their sledges. They ask Pingu to join them but he refuses. When they get there Pinga is given a piece of paper, and she goes to sit down. On the way she trips and falls over, crumpling the piece of paper. Pingu helps her up. The teacher asks the class to make a hat with their pieces of paper, but Pinga is unhappy that her piece is crumpled, so Pingu asks if she can have a fresh piece. The teacher gives him two pieces of paper and he gives one to Pinga. Pinga tries to make a hat, but can't. Pingu takes the piece of paper and makes the hat for her. He then uses the other piece of paper he's got to make a hat for himself. Pingu then joins in the dancing, the session on the school slide, and listens to the story. On the way home they meet Pingo and Pingg by a pool in the ice, who laugh at the hat that Pingu is still wearing. Pingu takes off the hat, folds it into a boat and puts it on the water. He blows the boat into the middle of the pool, but Pingo and Pingg then try to hit it with snowballs. However, they don't manage to hit the boat as it keeps moving out of the way, They're puzzled by this until they see why; Robby is in the pool moving the boat from underneath. Robby then does some balancing tricks with the boat, ending up wearing it on his head like a hat, and they all applaud.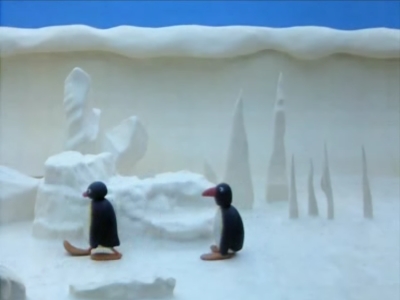 #14 - Pingu in the Ice Cave 8.43
Season 1 - Episode 17
Pingu and his parents are doing odd jobs when Pingo comes over and asks Pingu on a playdate. The two go off hysterically. They play with their ball and have fun at first, but get a bit carried away, and the ball goes off into an overhang in the ice. When they try to retrieve it, they fall through a sort of trapdoor in the ice and into an ice cave. The entrance collapses above them, and they must find another way out. After looking around in the dripping, echoing caverns, they see a slope to the surface - which happens to be on the other side of a deadly chasm. Pingu manages to cross by swinging on a rope, which comes off as he gets to the other side. He then lassoes the ropes onto a small stalagmite next to Pingo, and tells Pingo to hang onto it and shuffle across the chasm, with Pingu holding onto the rope on the other side. But Pingu begins to slip due to Pingo's weight on the rope and he nearly falls. Pingu quickly tugs on the rope, pulling Pingo back up unharmed and catches him just in time, and the two crawl out cheerfully to the surface.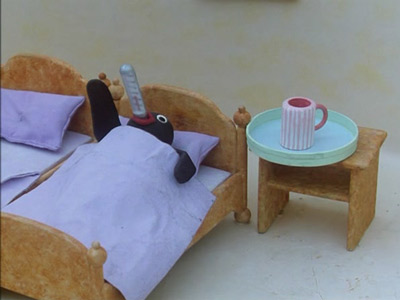 #15 - Pingu Pretends to be Ill 8.33
Season 3 - Episode 5
Pingu wakes, gets up sleepily, goes to the toilet, and is about to go back to bed when he notices that Pinga is already up, and realises he should be too. He decides that he'll go back to bed anyway, and snuggles down again. Mother calls to him to get up, but all he does is go completely under the blanket. Pinga leaves for the nursery with Father, and Mother calls again to Pingu to get up, as it's getting late. When nothing seems to be happening she goes to see what Pingu is doing. When Mother asks Pingu why he hasn't got up he says he's not feeling very well. Mother feels his forehead, and goes to get the thermometer. Pingu chortles to himself. Mother brings back the thermometer and a hot drink, puts the thermometer into Pingu's mouth, and goes away again. Pingu takes the thermometer out, puts it into the hot drink to get the temperature up and then puts it back into his mouth. Mother comes back, sees that Pingu apparently has a temperature and calls the doctor. The doctor rushes over, Mother shows him the thermometer and he examines Pingu. The doctor ponders for a moment, and then calls Mother out of the room to consult. Mother is worried, but the Doctor reassures her that there's nothing much wrong! Pingu goes over to the door and looks through the keyhole to find out what is going on, and sees the doctor pull a large syringe out of his bag. Pingu is rather worried by what this might mean, and when Mother and the Doctor return to the bedroom Pingu is nowhere to be seen as he has hidden under the bed. Mother and the Doctor go to the bathroom to see if Pingu is there, and Pingu takes the opportunity to sneak out of the bedroom. Mother spots him, and the doctor explains that the syringe was just a way of getting him to admit that he's fine, so they both let Pingu go. He grabs his satchel and rushes off to school, getting there just as the bell rings for the first lesson.
Directors: Otmar Gutmann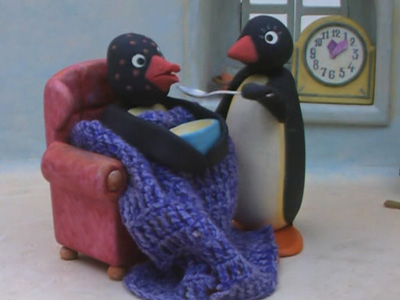 #16 - Pingu's Grandfather Is Sick 8.33
Season 1 - Episode 21
Pingu is painting a painting while his mom is ironing clothes, but then the telephone rings and Pinga answers the phone, Pingu's mom rushes Pinga off the phone - it is Grandpa who's suffering measles. Pingu tells Pinga not to mess up his painting but Pinga throws red on it. Pingu gets really angry at Pinga and she runs away from Pingu. They go to Grandpa's house, but Pinga blocks the door so Pingu can't get out. Pingu backs up and rushes the door, but Pinga has moved away and he falls flat on the ground. They all go to Grandpa's house and while Mother tries treatments, Pingu and Pinga run around babbling and dancing, possibly to entertain Grandpa, but end up annoying him. Mother lectures them and tells them to be quiet, but they pretend to cook something in a pot and the lid falls off. Mom tells them to stop messing about and again tells them to be quiet, but they play dress-up while Pingu is on a sled and they crash into the drawer. Pingu's mom, exasperated, makes them go outside, where Pingu finds a board and puts it above a giant wad of snow to play seesaw. Mother, exasperated again, tells them to stop. Pingu then kicks snowballs into the door and kicks one into Mother. She finally has had enough of their behavior and tells them to go home. They then use markers to make fake spots and then call Mother. She comes home, lifts the bed sheets and finds them all spotty, like the measles. When Mother rubs their heads she finds out they have used crayon and they try it on Mother. When she jumps on the bed in the ending, she breaks it (much to Pingu's surprise). They then laugh.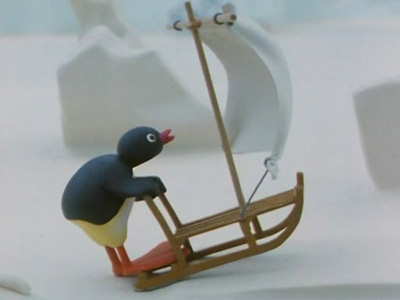 #17 - Pingu Surfing on the Ice 8.29
Season 2 - Episode 4
Mother has hung out some washing, with help from Pingu. Mother has just gone back inside the igloo when the wind suddenly gets up, so Pingu decides to have some fun on an ice-surfer. He builds this himself, making the platform and mast from some stuff he finds in the shed, and for a sail using one of Mother's clean sheets that she has just hung out to dry. After some fun zooming around, while going up a hill the wind suddenly stops and Pingu and his ice-surfer go crashing back down. The sheet he's used for the sail is now filthy. Pingu mournfully goes back home, is told off by his mother for dirtying the sheet, and has to clean it. As he is doing this, with not very much success, Robby comes along. By swish-swashing his tail, Robby very quickly gets the sheet spotless. Mother is very pleased by the result, and Pingu and Robby share a fish given to them by Mother as a reward.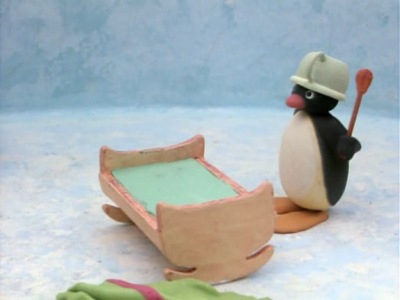 #18 - Pingu Is Jealous 8.26
Season 1 - Episode 6
Pingu, Pinga and mum are spending the day inside. Pingu is building towers with blocks, but to his dismay they keep falling down. Despite mother's efforts, Pinga does not want to go to bed - until mother rocks her to sleep. Pingu goes to his mum for help with his blocks, but she is too busy knitting clothing for Pinga. Pingu looks at Pinga, who notices that she is in bed. She starts to cry and is comforted and given attention by mother, who continues to apparently ignore Pingu. Pingu desperately tries to get attention by behaving like a baby, kicking a chamberpot around, and pretending to be a ghost, but he gives up and hides in the toy box. Mother soon puts Pinga back in bed, which Pinga still doesn't want to do. Realising that Pingu feels neglected, mother apologizes and hugs him, and he goes to sleep with Pinga.
Directors: Otmar Gutmann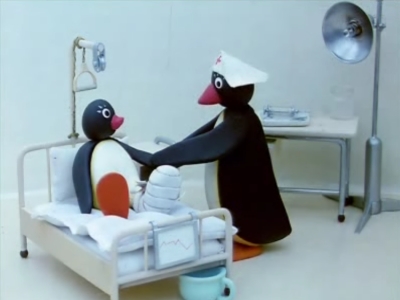 #19 - Pingu's Hospital Visit 8.25
Season 2 - Episode 21
Pingu and Mother visit the injured Pinga in hospital. When they enter the hospital, a doctor is pulling a badly injured penguin who got hurt in a bad post truck accident. When they find Pinga, Pinga is pleased to see them, and Pingu shows her a picture he's drawn of her accident. The nurse comes in to treat Pingi, who is in the bed next to Pinga, and puts a screen between the beds. Mother gives Pinga some flowers, and both Pinga and Pingu have an apple. Pingu's getting a bit bored, so he rides around on a stool with wheels. He then sees the shadows that are being made on the screen by the nurse and Pingi by a light the nurse turned on. The nurse turns off the light and goes out. Pingu pulls the screen round in front of Pinga and Pingi, puts a mobile table behind the screen, a pillow into the table, and the light behind. He turns on the light and gives a shadow performance to Pinga, Mother and Pingi, pretending to be a surgeon operating. Mother, Pinga and Pingi find Pingu's performance very amusing and laugh out loud. The noise attracts the attention of the nurse and a surgeon, who come in to find out what's causing all the laughter. They see the end of Pingu's performance, and applaud with the others when Pingu finishes. Pingu is given his own surgeons outfit as a prize for his performance.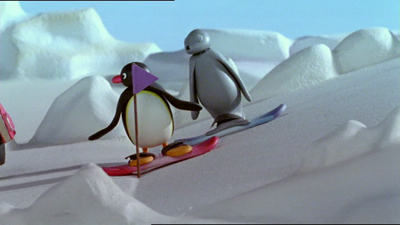 #20 - Robby the Snowboarder 8.20
Season 5 - Episode 10
Pingu goes snowboarding with Robby. At the snowboarding slope they start on a gentle run, passing Pingi on the way, and all get down safely. They go on to the next slope, which is steeper and which has a jump at the bottom. Pingi goes first, does a somersault off the jump, and lands safely. Pingu goes next and makes a hash of the jump, landing painfully on his rear end. Robby goes last and plays safe, going round the jump. Pingi sticks plasters on Pingu's rear end, and gives him a safety cushion for protection. On the next jump Pingu crashes again, but this time doesn't get hurt because he's wearing the cushion. With some tuition from Pingi, and after being knocked off the ski tow by Pingg, who is skiing nearby, and sliding back to the bottom on his stomach, Pingu eventually manages a successful run without crashing. They then all go up on the tow and try the "big one". Pingi and Pingu get down safely, but this time, despite previous successful jumps, Robby crashes onto his bottom. We then see Pingu, Robby and Pingi snowboarding again, but this time they're all wearing safety cushions!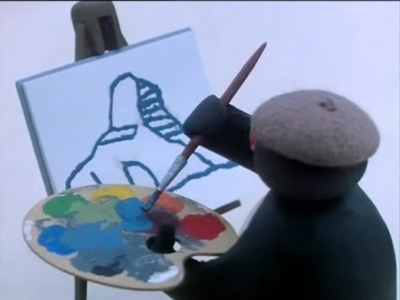 #21 - Pingu the Painter 8.20
Season 3 - Episode 6
Pingu has a pad of paper, and goes over to the shed to look around. In an old wooden container he finds a box of paints, brushes, etc. which is just what he's looking for. He loads them onto his sledge, finds an easel and artist's cap in an old barrel, loads the easel on to the sledge, puts the cap on his head and sets off out. After a while he comes across an interesting ice formation but, after examining it carefully from an artists perspective, decides it's not quite right and continues on his way. He finds a block of ice that will do, sets up his easel, measures up and starts painting. He has completed a painting when Robby appears from behind the ice, pulls up a convenient block and strikes a pose! Pingu paints Robby, and has just about finished when Robby starts messing about and not holding the pose. Robby then strikes a new pose and Pingu starts afresh, but it is not long before Robby starts messing about again, which gets Pingu rather annoyed. Robby poses yet again. Pingu paints a "sad" Robby, but as he admires his third Robby painting a blob of red paint lands on the paper, which makes the face on the picture move, and change from "sad" to "surprised", to Pingu's astonishment; Robby has abandoned posing and has found the tubes of paint! Pingu then has a paint-fight with Robby, which ends with both of them laughing and a lot of paint on the ice. Pingu then packs up and they leave together. What they don't realise is that the mess of paint left behind on the ice is a work of art in itself!
Directors: Otmar Gutmann
#22 - Pingu's Family Celebrate Christmas 8.12
Season 2 - Episode 7
Pingu and Pinga are getting ready for Christmas. They help Mother make some biscuits, and then they go with Father to help choose a Christmas tree. While Father puts up the tree, Mother gets the wrapped presents to put under it. Pingu and Pinga want theirs now, but Mother says wait. Mother then trips over a rope on her way to the tree, and drops the presents. Fortunately not breaking them. She blames Father, and they have an argument about it. Pingu and Pinga go out to see what the fuss is about, and when Mother and Father see them, Pingu and Pinga tell them to stop and make up, which they do. Mother then tells Pingu and Pinga to go into the igloo, and to make sure they stay there and can't see out she locks the door and blocks up the keyhole. Mother and Father then decorate the tree, while inside the igloo Pingu and Pinga wrap up Mother and Father's presents. When Mother lets them out, they take their presents to put under the tree, and are amazed when they see it all decorated. They give their presents to Mother and Father; Mother gets some hand warmers and Father gets a spotted bow tie. Pingu and Pinga then open their presents. Pingu gets a book, a ball and some earmuffs; Pinga gets a teddy bear, a dummy and a scarf. As night falls, the tree lights up and together they all sing Silent Night.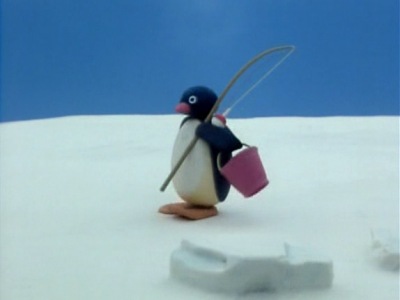 #23 - Pingu Goes Fishing 8.09
Season 1 - Episode 4
Pingu is going fishing; he climbs down a series of cliffs into a craggy, secluded area and finds an ice-fishing hole. He catches a fish, but he is unaware that Robby the seal, behind him, is emerging from another hole that the one Pingu is fishing at connects to, eating the bait, and snatching and attaching the same fish to the line each time. Pingu finds out and foxes Robby by luring him away from the ice holes and closing them off with large slabs of ice. A high-speed acrobatic chase ensues and Robby tries desperately to escape the young penguin by forcing his way under the ice-slab which stands between him and freedom. When Pingu tries to stop him by shouting at him, Robby's right flipper briefly gets trapped, and the weeping seal seems severely hurt. Pingu is struck with remorse and sympathy, consoling Robby before his flipper is 'miraculously' healed. Robby recognizes the goodness in Pingu's soul and rewards his sensitivity with a much larger fish.
Directors: Otmar Gutmann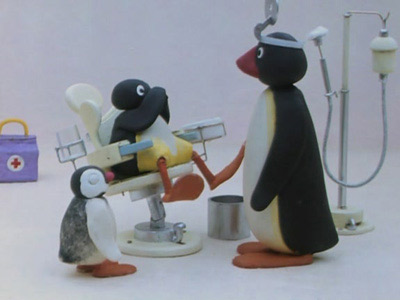 #24 - Pingu at the Doctor's 8.09
Season 2 - Episode 1
Mother goes out and leaves Pingu and Pinga at home. They decide to play dentist, but Pinga does not want to play when Pingu threatens to use a hammer and chisel on her. Pingu chases her, and during the chase a table gets knocked over by Pinga and Pingu bangs his beak on it. His beak is broken and bleeding. Pinga is sympathetic and bandages it up and takes Pingu to the doctor. Pingu is terrified when he sees the tool the doctor is going to use and runs off. Pinga and the doctor chase him round the outside of the igloo, but Pingu comes back inside and locks the doctor and Pinga out. Inside, all the other patients laugh at the whole fiasco. Pingu then rings Mother, who comes to the doctor and comforts him while his beak is being treated. While Pingu ends up with a brace on his beak, Pinga wants a lollipop, the doctor gives her one. Asking for the other one too, she kindly cleans the lollipop for Pingu and gives it to him. Mother then takes them both home.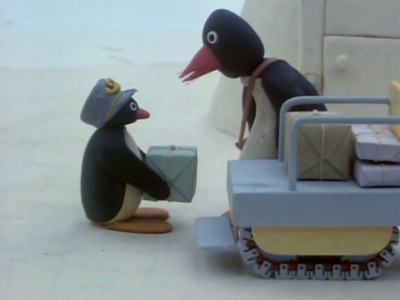 #25 - Pingu Helps to Deliver the Mail 8.00
Season 1 - Episode 5
Pingu is helping his dad deliver the mail. His dad lets him wear his postman's hat, and they go to the post office to pick up the mail and then deliver it to the town's various eccentric residents; including an old, kid-hating granny penguin, a tall, loud-beaked (bird style for loud-mouthed) penguin, a short, zippy and strange penguin in suspenders (this is Punki, who also slams the door right in Pingu's face as he opens it!), Pingu's friend Pingo, a sad penguin with bad news, a woman with three children, and others, before returning home again to his mum's arms.
Directors: Otmar Gutmann