The BEST Episodes of Grand Designs New Zealand
Every episode ever - ranked by fan votes!
Last Updated: Oct 20, 2021
Hosted by Kiwi Architect Chris Moller, Grand Designs New Zealand will share the stories of creative and enterprising Kiwis who are taking on the challenge of building their own unique and inspirational homes. No design is too ambitious, and no obstacle too large in their quest for the perfect house.
Watch Now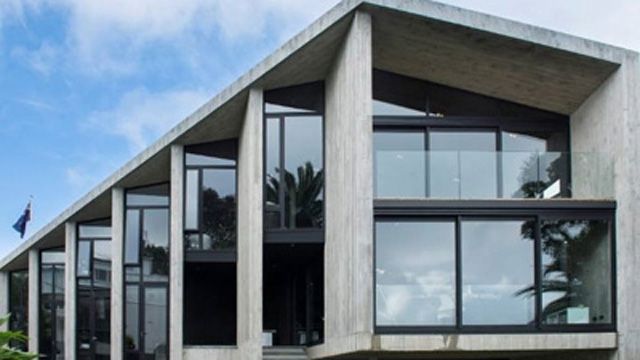 #1 - The Concreteologist - Revisited
Season 5 - Episode 9 - Aired Nov 6, 2019
One of Grand Designs' most compelling builds, in which concretologist Ross risks life and limb to create a towering home for his family on the cliffs of Pt Chevalier.
5 votes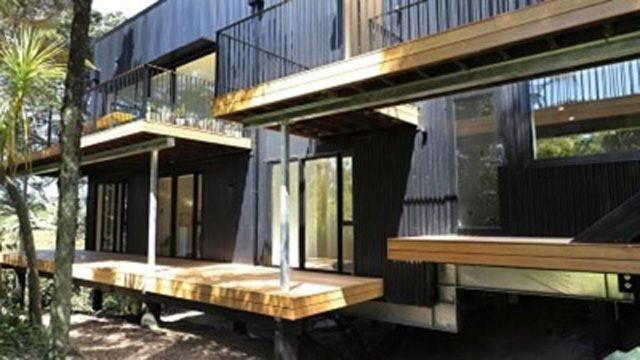 #2 - Back To The Music Box
Season 5 - Episode 8 - Aired Oct 30, 2019
Mahuia and Mindy are preparing to be the first-time parents and want to build a family home that will double as a recording studio and a rooftop performance space. In this episode we take you back to the home doubling as a recording studio as Mahuia and Mindy try to find harmony between an inspirational music space and a place to raise their family.
7 votes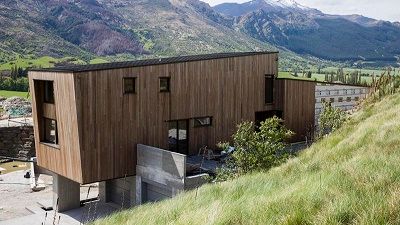 #3 - Queenstown: Modern Day Castle
Season 2 - Episode 6 - Aired Oct 30, 2016
Christchurch earthquake refugees Andy Macbeth and Jo Denton build a modern-day fortress against the elements in alpine Queenstown.
67 votes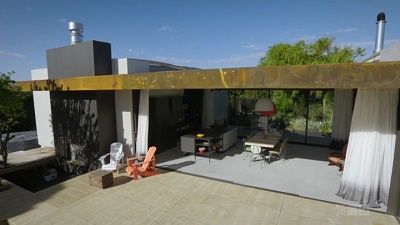 #4 - South Brighton: Earthquake Rebuild
Season 2 - Episode 8 - Aired Nov 13, 2016
A terminally ill Christchurch man and his family are determined to stay in South Brighton despite on-going earthquakes, and the fact their house is being built on a sand dune.
65 votes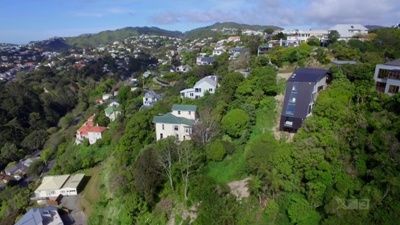 #5 - 45° House
Season 1 - Episode 5 - Aired Nov 1, 2015
Chris meets architect Nic Ballara, who's planning to build a house on a steep 45-degree slope overlooking Wellington. Nic Ballara clearly has a head for heights as he starts to build a family home for him and his wife Callie and their 12-year-old daughter. Nic's site in the earthquake prone city of Wellington is so steep that it looks virtually impossible to build on, however Nic is convinced he has a solution and is determined to build his first home there. A logistical nightmare lies ahead as this Grand Design looks to be an uphill battle throughout.
69 votes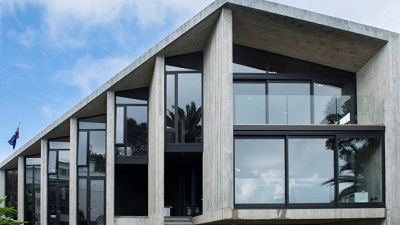 #6 - Point Chevalier: The Concreteologist
Season 2 - Episode 1 - Aired Sep 25, 2016
Ross plans to create a towering home for his family on the cliffs of Point Chevalier. But after living on site for nearly 10 years, his family is now wondering if he'll ever get their home finished.
108 votes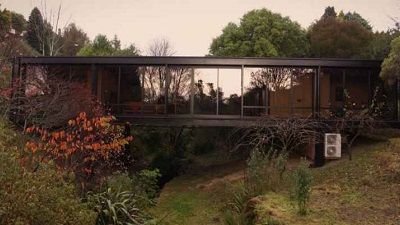 #7 - Suspended Glass House
Season 5 - Episode 2 - Aired Sep 18, 2019
A site with a river running through it would put most people off. But not Harlem and Nicola who attempt to build a glass-house on a bridge over the water.
38 votes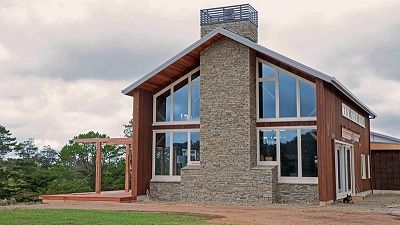 #8 - American Barns
Season 1 - Episode 8 - Aired Nov 22, 2015
The series finale sees Marty import two old American barns from New York valley, which are raised by heritage builders and merged with a design for a modern home. Timber merchant Marty Verry and his Venezuelan wife Morella have imported two historic New York barn frames that could be considered the oldest buildings in New Zealand. With plans to assemble the barn on the couples' rural site on the outskirts of Auckland, they intend them to become part of a modernist mansion acting as a tribute to the different timber Marty loves. But will the new homes honour the history they are built on or is this Grand Design set to take on a life of its own?
68 votes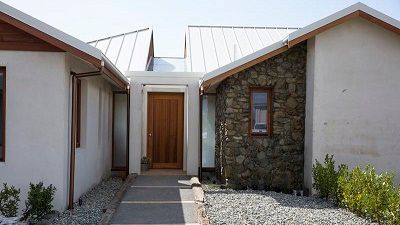 #9 - New Plymouth: Hemp Home
Season 2 - Episode 2 - Aired Oct 2, 2016
New Plymouth couple Greg and Gayle build one of the first hemp homes in NZ, and spend thousands shielding themselves against what they believe are the ill effects of electromagnetic radiation.
95 votes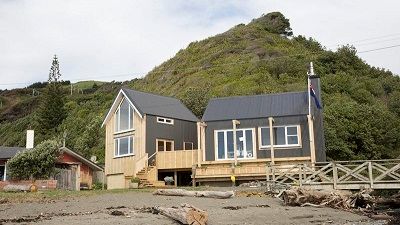 #10 - Kapiti Coast: Stilt House
Season 2 - Episode 4 - Aired Oct 16, 2016
Predicted sea level rises are not stopping architect Guy Marriage and his extended family from building a DIY Bach, only metres from the high tide mark on Wellington's Kapiti Coast.
64 votes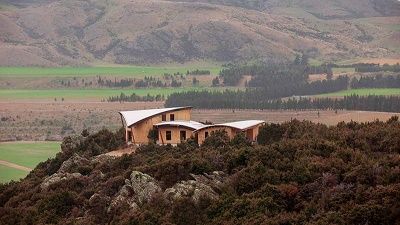 #11 - Straw Bale House
Season 1 - Episode 7 - Aired Nov 15, 2015
After years of living apart with their separate children, Mike and Catherine are finally building an extraordinary straw bale together on top of a rocky outcrop in central Otego. Between them, Mike and Cathy have seven children from their previous marriages. With the last child finally moved out of home, the couple are going to build a Grand Design in which they will live alone together for the first time. They will be calling on Catherine's skills as one of the few female joiners in the country and Mike's talents as an inventor to build a unique straw bale and hemp house on an exposed rocky outcrop near Wanaka.
63 votes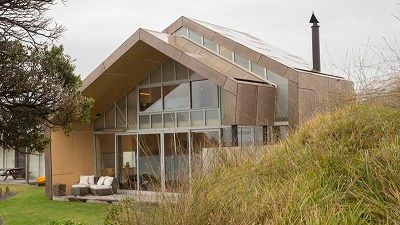 #12 - Northland: Rusty House
Season 2 - Episode 3 - Aired Oct 9, 2016
Steve Wilson and Wendy Grell move from Auckland to the Northland beachside where they plan to build an architectural marvel of corten steel in an unassuming seaside community.
76 votes
#13 - Ponsonby: French House
Season 2 - Episode 5 - Aired Oct 23, 2016
Philippe and Sarah Lods hope to create a modernist home based on Parisian apartments on a rare empty site in the heart of Auckland's historic Ponsonby.
98 votes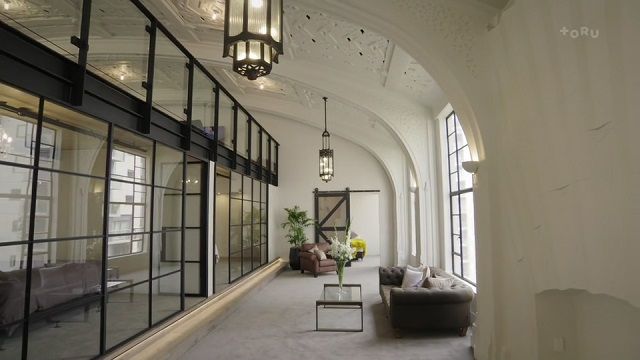 #14 - Grand Tearooms Penthouse
Season 6 - Episode 1 - Aired Sep 14, 2020
Auckland couple Bridget and Steve Varney take on the challenge of converting Farmers' grand tea rooms built in 1930 into a New York style loft.
24 votes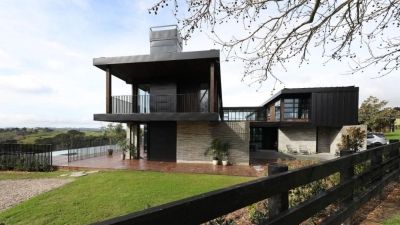 #15 - Burnt Timber Pavilion
Season 5 - Episode 1 - Aired Sep 11, 2019
Shane and Tina Nicholls design a unique family home using Japanese burnt timber and Scandinavian brick, a special memorial garden, views over the gulf, a wine cellar, a pool, and much more – it's a truly international affair.
35 votes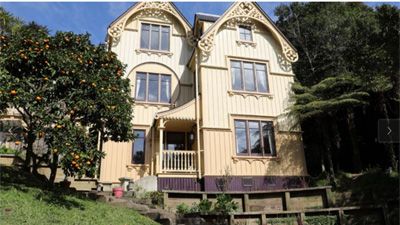 #16 - Grand Designs Revisited
Season 5 - Episode 7 - Aired Oct 23, 2019
Chris Moller takes a tour of three exceptional Grand Designs homes from the last four seasons to see how they've developed and to ask the big question - was it all worth it?
19 votes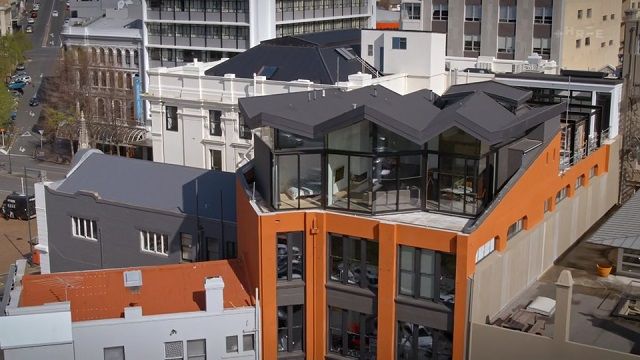 #17 - Ultramodern Rooftop Home
Season 6 - Episode 8 - Aired Nov 2, 2020
Heritage building enthusiasts Ted and Ita Daniels create an ultra-modern rooftop apartment on top of one of the city's most beautiful renovations.
20 votes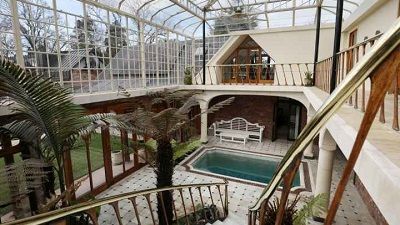 #18 - Christchurch: Britten Stables
Season 4 - Episode 1 - Aired Oct 3, 2018
The daughter of world famous motorbike inventor, John Britten, takes on the multi-million dollar task of restoring the eclectic earthquake damaged family home.
37 votes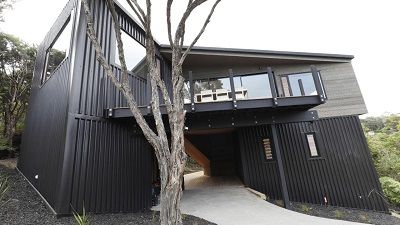 #19 - Waiheke: Canopy House
Season 3 - Episode 7 - Aired Oct 31, 2017
Wedding dress designer Robyn and husband David have a dream to build a home that looks across a native canopy. But will getting materials to their Waiheke site make the build impossible?
34 votes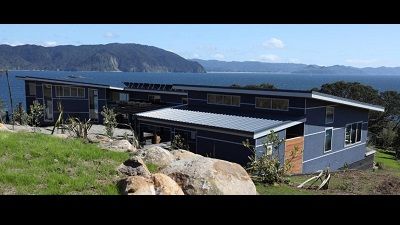 #20 - Slipper Island: Island Hideaway
Season 3 - Episode 3 - Aired Oct 3, 2017
Sky wants to build a remote, off-grid island sanctuary, where he and his family can escape the demands of mainland life.
37 votes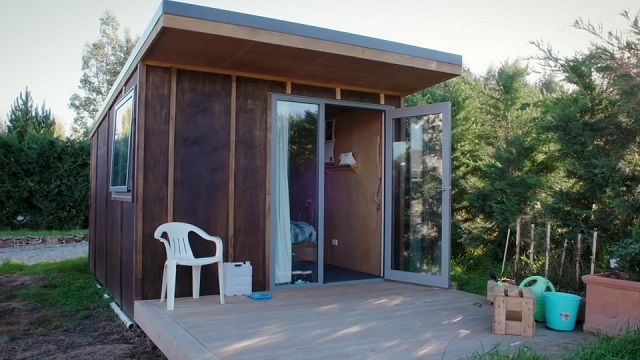 #21 - Schist Vineyard
Season 6 - Episode 5 - Aired Oct 12, 2020
Roland and Lucienne Vanderwal join forces with their son Michiel to build a home out of local schist, in the middle of their central Otago vineyard.
20 votes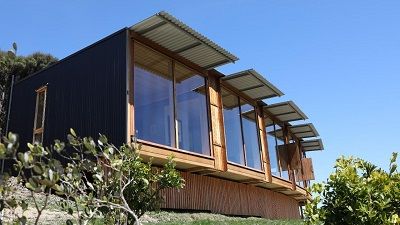 #22 - Kenepuru Sound: Pod House
Season 4 - Episode 8 - Aired Nov 21, 2018
Kate and Ian want to live in the remote Kenepuru Sound, but it's a place tradies won't go to. Instead, the pair build off site and truck the home along a dangerous road.
18 votes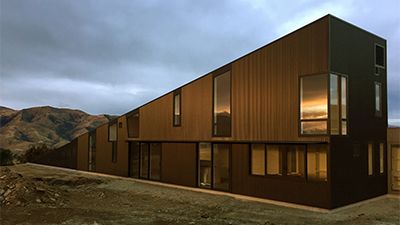 #23 - Wanaka Wedge
Season 5 - Episode 3 - Aired Sep 25, 2019
Musicians Justine Cormack and Marc Taddei swap their Auckland home for the mountains of Central Otago. They risk all by adapting an American design for the Southern Hemisphere.
37 votes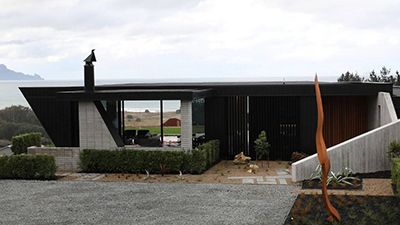 #24 - Beach Escape
Season 5 - Episode 4 - Aired Oct 2, 2019
David and Tracey share a passion for architecture, but with diverging taste. Their joint home in Waipu Cove results in a clash of wills and an epic battle over the budget and infinity pool.
35 votes
#25 - Clifftop House
Season 1 - Episode 6 - Aired Nov 8, 2015
Chris meets Hamish and Diane Divett, who are rebuilding their house on the most unlikely spot - on the edge of a crumbling cliff top that plummets 40 metres to the sea below. Surfing Pastor Hamish Divett and his psychologist wife Diane have lived by the ocean for years, but in a dark, south-facing house that failed to take full advantage of the beautiful vista. To get the view they desperately desire, the couple have decided to push structural and logical planning to the limits. By building on a crumbling cliff with a sheer drop to the sea below, the Divetts will push their team to the edge to see this Grand Design though to completion.
68 votes