The BEST Episodes of George Clarke's Amazing Spaces
Every episode ever - ranked by fan votes!
Last Updated: Dec 1, 2020
For many the dream of having a bolt hole or a place to escape from their hectic lives can seem unobtainable. Architect George Clarke shows how such big dreams can be achieved in small and affordable places. George delves into the extraordinary world of small builds to meet the highly creative people who are taking tiny, unpromising spaces and creating the most incredible places to live and work and play. There are homes made out of shipping containers, horseboxes, and old buses. Others are building tiny huts or incredible treehouses in the middle of the woods.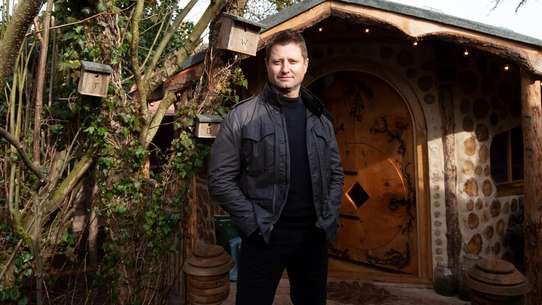 #1 - Glass Lodge and a Doggie Campervan
Season 6 - Episode 7 - Aired Nov 3, 2016
George meets a Dorset couple building a room with great views over Chesil Beach. There's also a doggie campervan, and a remote lodge made almost entirely of glass in New Zealand.
3 votes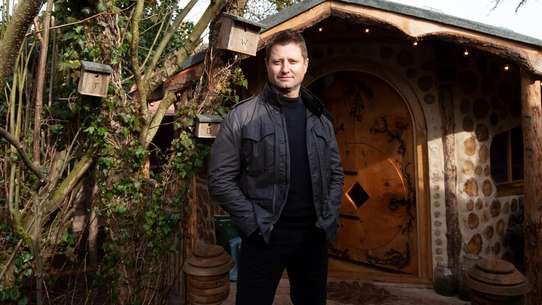 #2 - Floating Homes
Season 5 - Episode 9 - Aired Nov 12, 2015
In a special edition of George Clarke's Amazing Spaces, the architect follows his friend, eco-designer Max McMurdo, as he works on his own project. Having sold his house, he plans to use the £50,000 profit to build a custom-designed floating home in a 40ft shipping container, mooring it in a local marina and beginning a new life on the water. As well as following Max's progress, George gets a taste for the lifestyle, visiting a cutting-edge wraparound glass house near Canary Wharf in London's Docklands and travelling to Denmark, a nation responsible for some of the most ingenious floating homes in Europe.
7 votes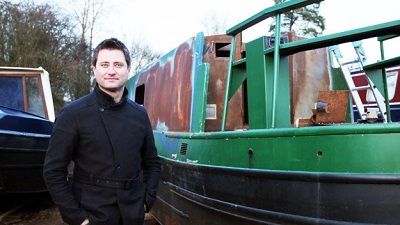 #3 - Narrow Boat, Cream Tea Campervan and 50s Trailer
Season 3 - Episode 6 - Aired Jul 10, 2014
George meets two brothers who can't afford to get on the property ladder and plan to transform a fire-damaged narrow boat into a luxury bachelor pad. George also meets a police officer from Somerset who wants to convert an old campervan and caravan into a mobile cream-tea business. And in Texas, George and Will discover an extraordinary 1950s trailer on the edge of the desert.
46 votes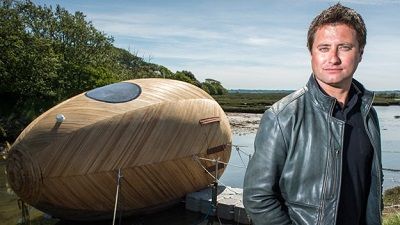 #4 - Campervan, Aquarium and Floating Egg
Season 2 - Episode 1 - Aired Oct 24, 2013
In the first episode of the new series, George meets a couple planning to transform a tiny 60s ambulance into a campervan where the family of six can cook, eat and sleep. He also meets an artist who has commissioned an incredible giant wooden floating egg to use as a work/ living space. George also discovers a novel way of turning a suburban basement in Nottingham into a 4800-gallon aquarium. And George and William find the perfect location for an incredible country retreat.
22 votes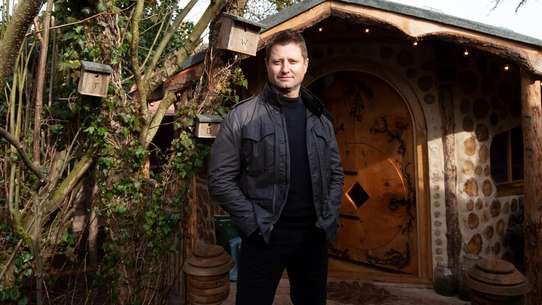 #5 - Helicopter and Rare Campervan
Season 6 - Episode 6 - Aired Oct 27, 2016
In Lincolnshire, a couple are adding a dance floor to a rare campervan, while a small Stirlingshire business converts a Sea King helicopter into luxury overnight accommodation
4 votes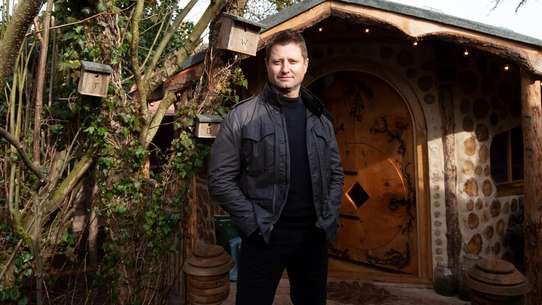 #6 - Rare Caravan and a Dog House Conversion
Season 6 - Episode 4 - Aired Oct 13, 2016
George meets Ali and Rich, who hope to salvage one of the rarest caravans made. And in Devon, Nick wants to build a garden studio for his mother-in-law out of a dog house.
6 votes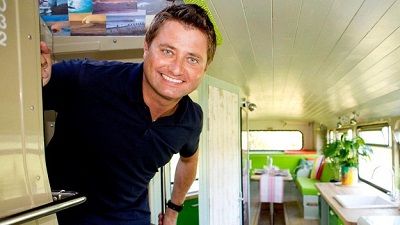 #7 - Double Decker Retreat and Boat Hotel
Season 2 - Episode 3 - Aired Nov 7, 2013
George meets a carpenter hoping to turn a double-decker bus into a holiday retreat, a couple who have quit their jobs and thrown their life savings into designing a boat hotel, and a house in Oxford made of mud and straw. And George and William's tree house dream now includes an alfresco camping deck made out of a giant motorway drainage pipe.
45 votes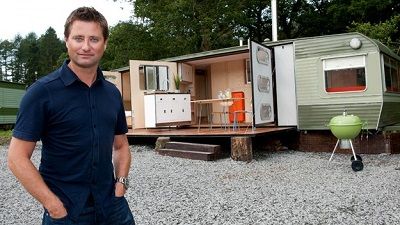 #8 - Barge, Container and Caravan
Season 1 - Episode 6 - Aired Nov 27, 2012
George visits a canal boat that's been revamped as the ultimate bachelor pad as he prepares to unveil his deluxe family caravan. Having bought a 1970s caravan for just £300, George and his team have spent months turning it into an extraordinary holiday home for him and his family, including a bespoke kitchen, a wood burning stove, innovative bedrooms as well as a beautiful deck that will enable him and his family to take in the most breathtaking views. And George meets a man whose simple plan of converting a shipping container into a garden office proved anything but.
58 votes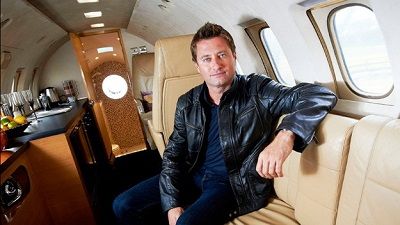 #9 - Old Railway Carriage and Private Jet
Season 4 - Episode 1 - Aired Oct 23, 2014
George meets a man who bought the wreck of a £20 million private jet for just £4000 and plans to transform it into the ultimate crash pad. There's a gypsy tattoo artist who swapped his truck for an old railway carriage, which he hopes to turn into a home for only £7000. George plans a woodland retreat for less than the price of a family holiday and visits a breathtaking property in Italy.
78 votes
Writers: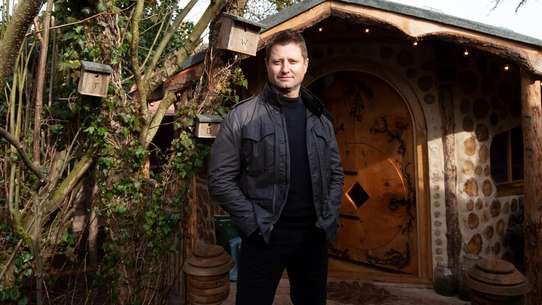 #10 - The Garden Tailor and a Cabin in the Sky
Season 7 - Episode 8 - Aired Mar 1, 2018
A London tailor hopes to fashion a work studio in his garden - creating a space where he'll be proud to welcome his clients, while in Bristol, an enterprising team are building a cabin in a crane 150 feet off the ground, to raise money for Friends of the Earth. In Japan, George visits a capsule hotel in central Tokyo and a sleep pod measuring only two metres deep and one metre wide. Last in the series.
21 votes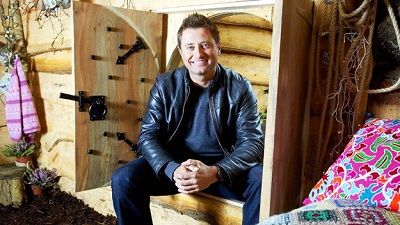 #11 - Basement Casino, Shop and East End Conversion
Season 3 - Episode 4 - Aired Jun 26, 2014
George meets a Manchester couple who discovered a hidden basement in their new home and decided to spend their nest egg turning it into an underground casino. He also meets a woman building her own shop for £5000. In Texas, George visits a tiny home made entirely from salvaged materials and a caravan buried deep underground in case the apocalypse arrives. And an East End garden conversion leaves George green with envy.
42 votes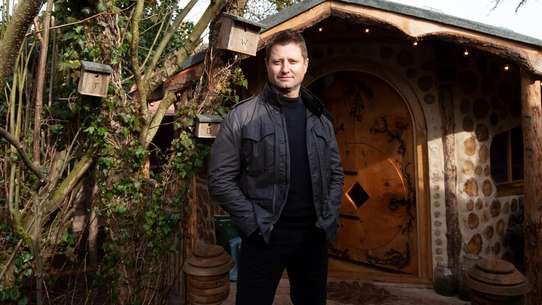 #12 - A Home Made of Scrap
Season 5 - Episode 7 - Aired Oct 29, 2015
George meets a couple so desperate to get onto the housing ladder that they're making their own home out of scrap. And there's drama in the workshop with the beach hut project.
47 votes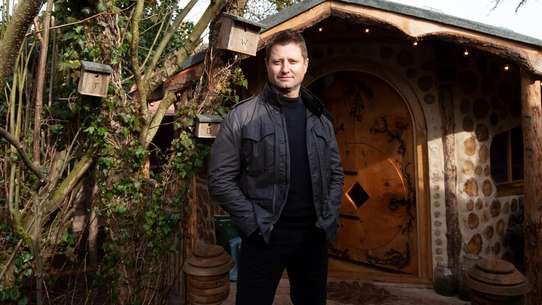 #13 - Fire Engine and Pony Trailer
Season 4 - Episode 8 - Aired Dec 11, 2014
A 70s fire engine is transformed into a mobile shop. Can a dilapidated pony trailer be made into a holiday retreat? And George and Will reveal their wilderness cabin in all its glory.
15 votes
Writers: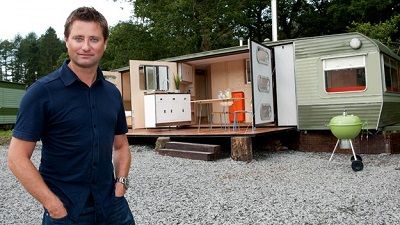 #14 - Beach Hut, Showman's Carriage and War Vehicle
Season 1 - Episode 5 - Aired Nov 20, 2012
George meets a man who drunkenly bought a 1920s showman's carriage on eBay, but quickly sobered up when he saw the poor condition it was in. He visits a holiday home built from an old World War II vehicle and follows the build of Britain's most landlocked beach hut, based in Birmingham. And George faces a major setback with his own project to create an ultra-modern holiday home out of a 1970s caravan, when he discovers the windows he's ordered are actually meant for a boat.
50 votes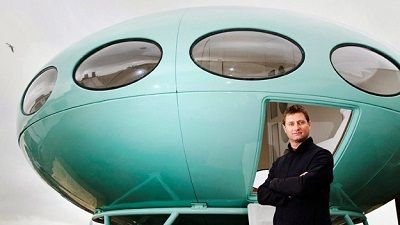 #15 - UFO House and Floating Pool
Season 4 - Episode 2 - Aired Oct 30, 2014
George meets a man trying to build a UFO-styled house; a woman making a garden room using material including earth, straw and human hair; and visits a floating swimming pool in Italy
49 votes
Writers: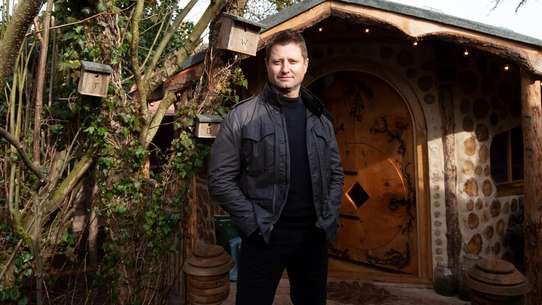 #16 - Festival Campervan and Floating Beach Hut
Season 5 - Episode 8 - Aired Nov 5, 2015
George and Will's floating beach hut goes to sea. There's also a festival campervan made from an American school bus and a family home in Germany built in an old grain silo.
49 votes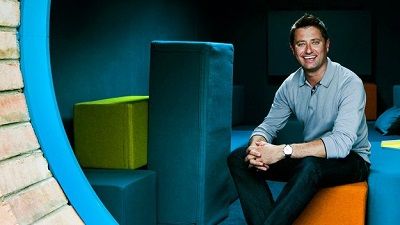 #17 - George's Garden Build Unveiled
Season 3 - Episode 7 - Aired Jul 17, 2014
In the last episode of the series George's garden build is finally revealed and it's time to see if he's transformed his unloved narrow strip of back garden into a magical and creative family space. In Cambridgeshire, he meets a DIY perfectionist, who's hoping to create the smallest ever campervan for him and his two boys. And in Somerset, he meets a man with a plan for a cheese van.
42 votes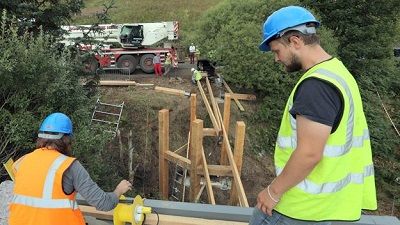 #18 - Mobile Cinema, Caravan and Shipping Container
Season 2 - Episode 7 - Aired Dec 5, 2013
George catches up with designer Max McMurdo, who is making a classroom out of two rusting shipping containers. George visits a prototype for a mini home that includes a living area, bathroom with shower, kitchen, double bed and storage space, and is so small it can be driven on the back of the truck. In Somerset, George meets a couple who have turned a vintage vehicle into a mobile cinema business. And there's also a garden office and a beauty emporium run from a rare 1947 caravan.
21 votes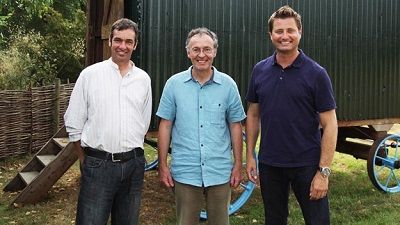 #19 - George's Tree House and Garden Shed Pub
Season 2 - Episode 8 - Aired Dec 12, 2013
George prepares to unveil his own small-space project, an ambitious, accessible, multi-functional tree house within the Calvert Trust, an outward bound activities centre for families with disabilities, set against the backdrop of the beautiful Kielder Water & Forest park. George meets a couple with big plans to build a theatre in a 1970s caravan. A 19th century shepherd's hut undergoes restoration using super-sized Victorian steam powered machinery. And George meets the man who doesn't have to go far for a pint, as he's built an entire pub in his garden shed.
44 votes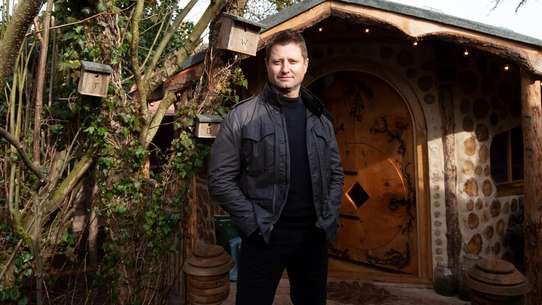 #20 - Silver Streak & Writing Den
Season 8 - Episode 2 - Aired Jan 13, 2019
In Cornwall, Rebecca and Damian are trading in their house for an American trailer known as a Silver Streak. And in Torquay, George meets inspirational ex-cabbie Caroline.
4 votes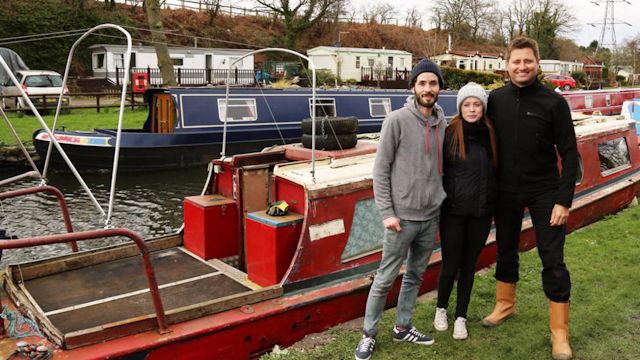 #21 - Japan, Dudley & Yorkshire Camper
Season 7 - Episode 1 - Aired Jan 11, 2018
The first episode visits a canal boat conversion in Dudley and a cattle trailer in Yorkshire being turned into a luxury holiday camper. There's also a dynamic, multi-coloured open plan space in Japan. And the idea of building a nostalgic toy treehouse is hatched.
30 votes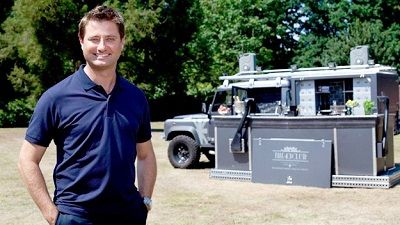 #22 - Beehive, Cocktail Bar and Tree Hotel
Season 2 - Episode 2 - Aired Oct 31, 2013
George meets a couple who have remortgaged their house to build a sensational prototype apartment inspired by a beehive. There's also a barman who has bought a dilapidated Land Rover he plans to convert into a cocktail bar. George finds himself in a real life UFO, suspended in the trees at a tree hotel in a Swedish forest. And in Bordeaux, he meets an architect who has created a unique 41-metre-square one-bed apartment behind the façade of a garage.
48 votes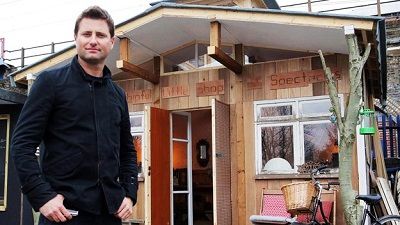 #23 - Pod Hotel, Glamping and Garden Home
Season 3 - Episode 3 - Aired Jun 19, 2014
George meets motorbike racer Ollie, who's fed up with sleeping in the back of a transit van when away at competitions and wants to transform a double decker coach into a Japanese-style pod hotel. George and Will's road trip across Texas takes in a building entirely made of rubbish. And George's own garden build takes shape as he and Will attempt to erect the entire studio structure in 15 minutes. George meets the man who helped his daughter onto the property ladder by building her a home in his back garden for just £12,000. There's also James, who designed a truly accessible glamping pod after being left bedridden for eight months following a car crash. George also meets Barny and Katus who, inspired by an old family photo, are building a horse drawn caravan that will be home to their family as they make a tour across the UK and France at the end of the summer.
45 votes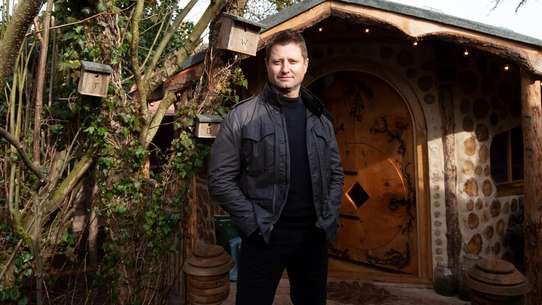 #24 - Glass Lodge, Treehouse and Doctor Who Shed
Season 4 - Episode 7 - Aired Dec 4, 2014
George visits a spectacular treehouse in Scotland. A Doctor Who-inspired shed in Macclesfield. And a glass lodge in Italy's Dolomite mountains.
44 votes
Writers: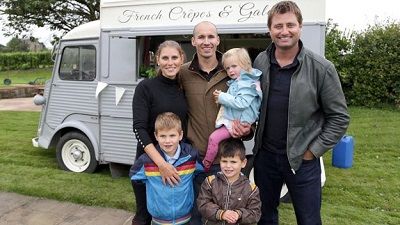 #25 - Citroen Van, Railway Station and Double Decker
Season 2 - Episode 6 - Aired Nov 28, 2013
George is invited onboard a blinged-up double-decker bus that's been converted into a posh restaurant and bar. He meets a couple living in an old railway station and sees their amazing plans for the waiting room. He gets to see the next generation of beach huts. George also meets the French couple who have converted an 1974 Citroen van to bring a bit of haute cuisine to West Yorkshire. And on his own build, George has a radical idea that he hopes will open his tree house to the elements.
42 votes