The BEST Episodes of Escape to the Chateau
Every episode ever - ranked by fan votes!
Last Updated: Oct 19, 2021
Dick Strawbridge and his partner Angel Adoree swap their two-bed flat in Essex for an abandoned French chateau. Can they bring its 45 rooms and acres of land back to life?
Watch Now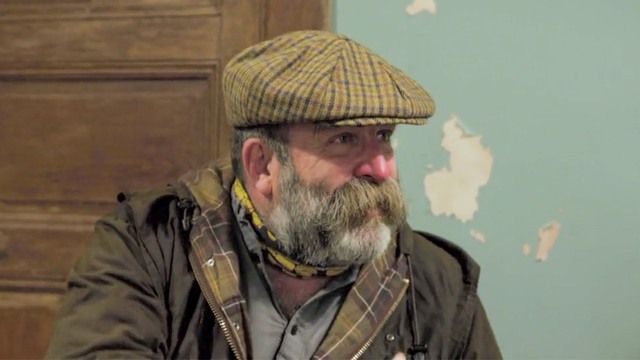 #1 - Pop-Up Restaurant, Orangery, Celebration
Season 7 - Episode 5 - Aired Dec 13, 2020
The whole family help to build an open kitchen and create a pop-up restaurant in the orangery to celebrate Dick and Angel's fifth wedding anniversary. Plus: a special fairy-tale carriage delivery.
20 votes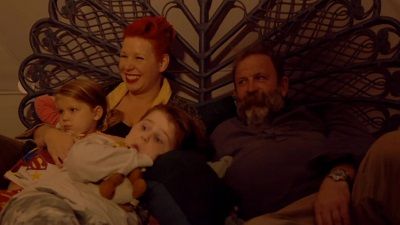 #2 - A Floating Dome
Season 4 - Episode 3 - Aired Apr 1, 2018
As Dick and Angel prepare for winter, they attend a food festival in Rouen, where they hope to find inspiration over what to do with their fresh fruit and vegetables. Angel adds the finishing touches to the floating geodesic dome in time for a family sleepover, while Dick gets to work fixing the crumbling stucco.
24 votes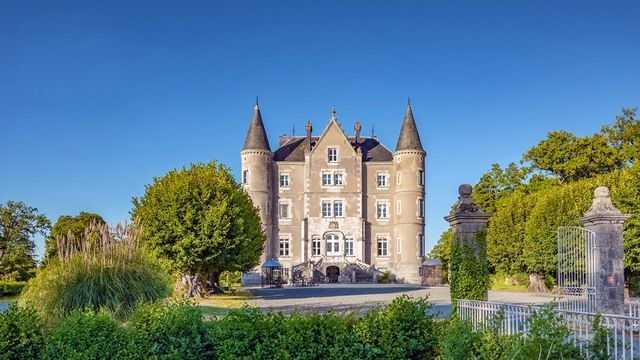 #3 - Orangery, Daybeds & Unexpected History
Season 7 - Episode 4 - Aired Dec 6, 2020
Dick and Angel Strawbridge attempt to renovate the orangery with the help of a roofing expert and some pre-loved slate, all the way from Wales, They also discover some unexpected history beneath their feet, and Angel finds two old daybeds in need of upcycling.
16 votes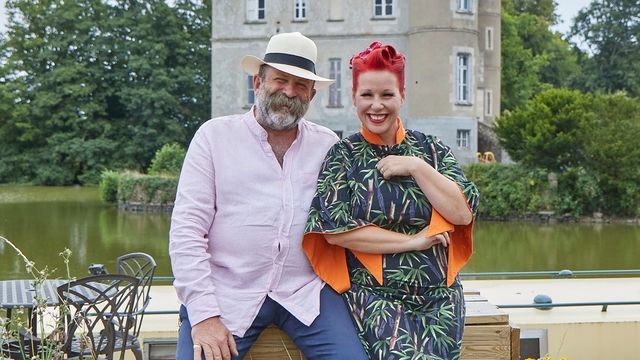 #4 - Supersized Workshop
Season 7 - Episode 1 - Aired Nov 15, 2020
Dick Strawbridge and Angel Adoree's to-do list is as long as ever, and with no guests, weddings or events at the chateau this year, they use their engineering and design skills to tackle some major projects. First on the list is transforming one of the old outbuildings into a supersized workshop for chateau-sized jobs.
27 votes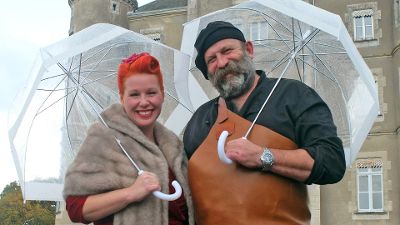 #5 - Weddings, Stables & Staircases
Season 4 - Episode 1 - Aired Mar 18, 2018
Dick and Angel continue their adventures in a dilapidated French chateau, facing a busy summer of weddings and foodie events, while finally fixing the garden and stables.
48 votes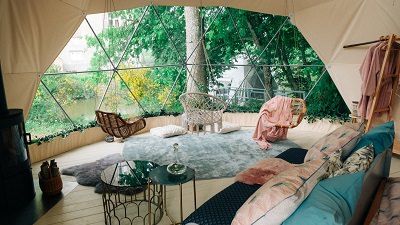 #6 - Glamping
Season 5 - Episode 1 - Aired Nov 11, 2018
Dick and Angel expand the project by setting up a luxury campsite on the chateau grounds, but they only have six weeks to complete it before the first guests arrive - and the weather is not on their side, with constant rain turning the planned site into a muddy field. They also have to contend with a visit from Dick's family at Easter.
37 votes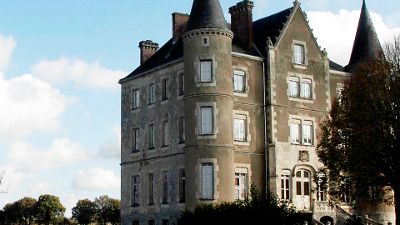 #7 - Pig Roaster, Versailles Loo and First Day at School
Season 2 - Episode 1 - Aired Nov 27, 2016
It's the first ever paid event at the chateau and Dick tries to make a pig-roaster out of an oil-tank. Angel creates a Versailles-inspired downstairs loo. And it's their son's first day at school.
56 votes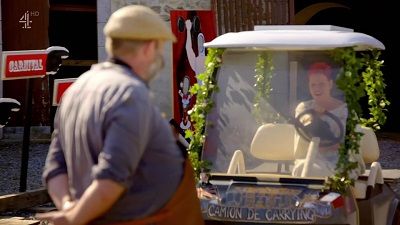 #8 - Peak Summer
Season 5 - Episode 4 - Aired Dec 2, 2018
The temperatures soar as Dick and Angel face the busiest period of the year, as the school holidays coincide with peak wedding season. Dick comes up with an ingenious solution to stop wedding cakes from melting in the heat, but it involves piercing the chateau's walls. The moat is transformed into a boating lake, giving visitors a chance to cool down, and the family takes to the water in a home-made punt.
41 votes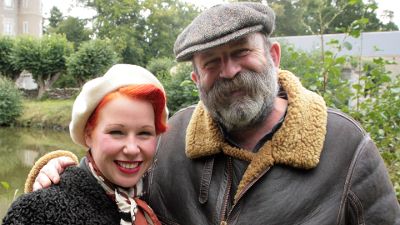 #9 - Harvest and Birthday
Season 4 - Episode 2 - Aired Mar 25, 2018
It's harvest time and Dick wants to make jam and turn pears into booze. Angel has big plans for a floating geodesic dome over the moat. Plus - a special birthday treat for Dick.
45 votes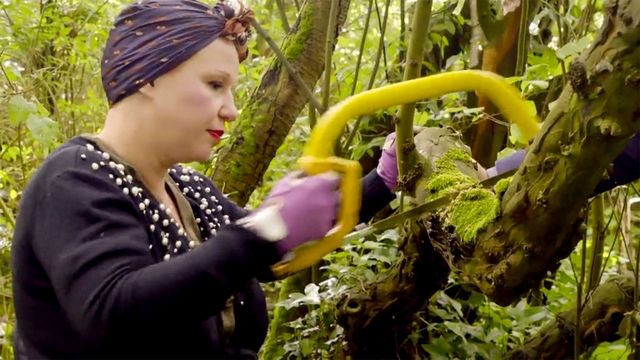 #10 - Weddings & Aviaries
Season 6 - Episode 3 - Aired Nov 17, 2019
The start of the wedding season sees Dick Strawbridge and Angel Adoree at their busiest, with events booked all through the summer, but there is still time to make improvements. Angel has her sights set on transforming the gravelled area at the front of the chateau into a thing of beauty and the whole family take a trip to Monet's stunning house and garden, where a plan for the chateau's very own water lily patch is hatched.
38 votes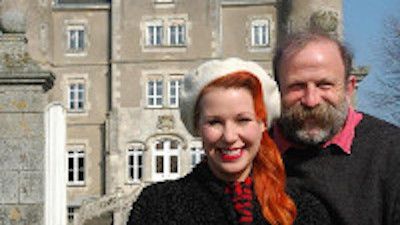 #11 - Finding the Chateau
Season 1 - Episode 1 - Aired Jun 5, 2016
Dick and Angel find their fairytale French castle. Dick launches into fitting a monumental heating system while Angel discovers the chateau's vintage secrets.
95 votes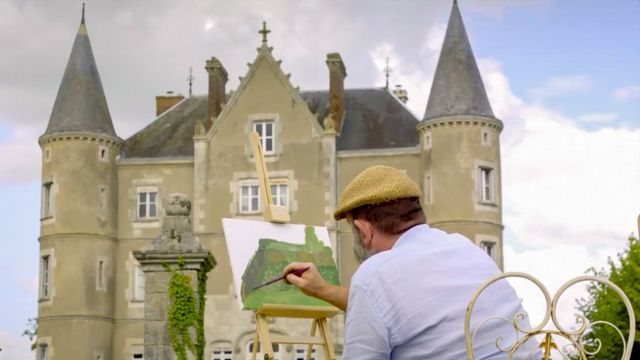 #12 - The Party of a Lifetime
Season 6 - Episode 4 - Aired Nov 24, 2019
Dick and Angel are warming up for one of the year's biggest events - Angel's parents' 50th wedding anniversary, which involves inviting more than 100 people to a huge party. There's a bespoke menu to plan and prepare, so Dick has called in the cavalry, with his son James arriving from Cornwall. Together with some help from Arthur, the Strawbridge boys have their work cut out as they create dishes they hope will strike a chord with everyone.
34 votes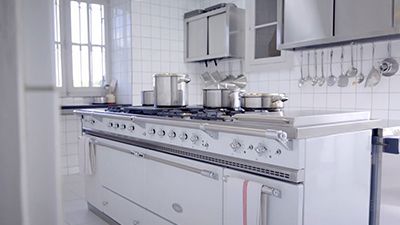 #13 - Winter Returns
Season 6 - Episode 1 - Aired Nov 3, 2019
Dick Strawbridge and Angel Adoree enter their fifth year of living in France. With more weddings and events booked in than ever, the couple prepare for their busiest year yet. In order to feed a total of 1,500 guests, Dick and Angel begin renovating the back of the basement, creating a brand new, state-of-the-art events kitchen with a half-ton oven. Engineer Dick faces a complicated plumbing issue. Angel has a kitchen design challenge. And there's a magical birthday party for young Dorothy.
42 votes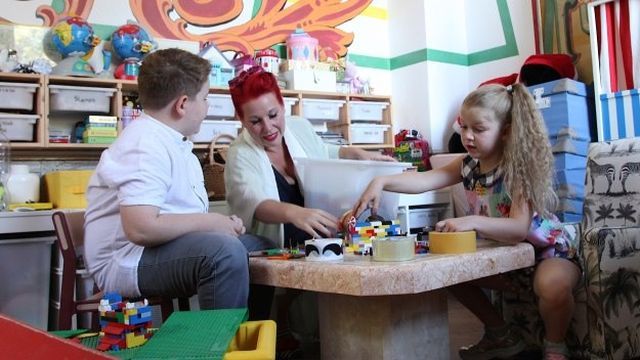 #14 - Wash House, Trench & Vintage Bike
Season 7 - Episode 3 - Aired Nov 29, 2020
Dick and Angel start work on turning the old wash house into a bathroom for their boat on the moat. Angel's imagination runs wild when they discover a huge trench. And a vintage bike gets a refurb.
22 votes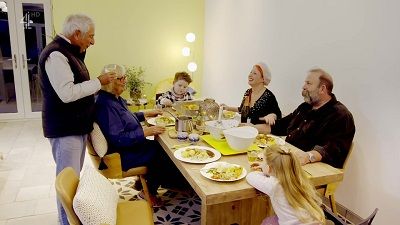 #15 - Café Grandma
Season 5 - Episode 5 - Aired Dec 9, 2018
Before winter sets in, Dick ploughs the wild flower meadow and joins with Angel in bringing the dilapidated coach house back to life, in a bid to create "Café Grandma".
37 votes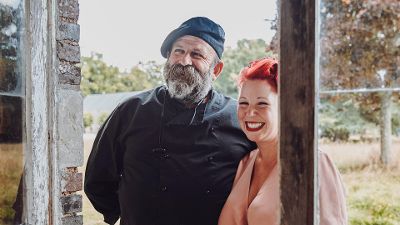 #16 - Only 20 Rooms to Go
Season 3 - Episode 1 - Aired Sep 24, 2017
The couple get cracking on the 20 rooms that still need fixing. Angel buys a clapped-out van. And what have the tree surgeons done to the lime trees?
63 votes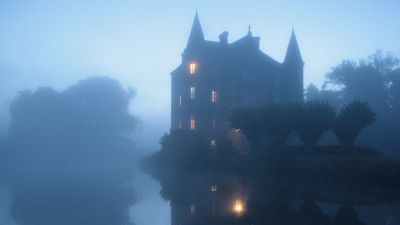 #17 - The Wedding Season
Season 3 - Episode 3 - Aired Oct 8, 2017
As the wedding season comes to the chateau, Dick and Angel's lives are about to get a whole lot busier. Then there's the barn, the van and the lime trees, as tensions start to rise.
19 votes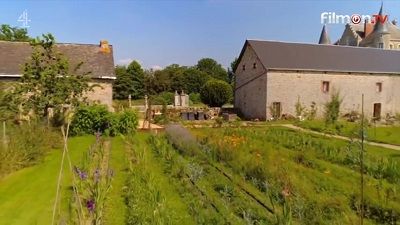 #18 - Parkour & Turret
Season 5 - Episode 3 - Aired Nov 25, 2018
Angel redesigns the rooms in one of the chateau's turrets with a fruits and flowers motif - but an unexpected surprise lurks behind her creations. Outside, Dick is putting together a parkour fitness trail in the 12 acres of grounds, but hits upon an unexpected obstacle buried deep underground.
36 votes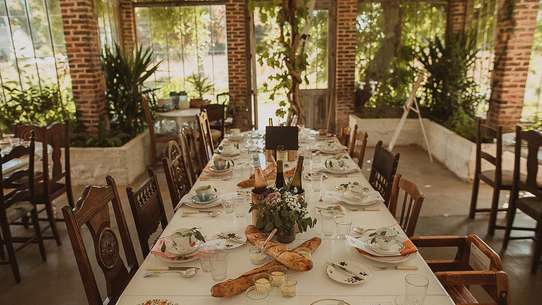 #19 - Harvest Time
Season 5 - Episode 6 - Aired Dec 16, 2018
It's harvest time at the chateau. But there's still time for family wheelbarrow races, to give the basement a swish makeover, and to convert the old piggery into a chicken coop.
40 votes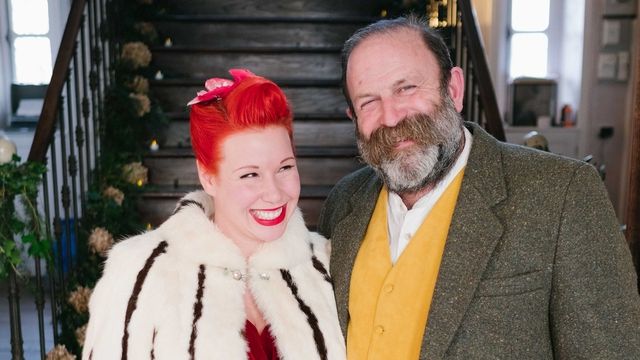 #20 - Escape to the Chateau at Christmas
Season 7 - Episode 6 - Aired Dec 25, 2020
In this festive special, the Strawbridges take inspiration from Christmases past in a 19th-century ledger they find in the attic, and create a winter wonderland complete with an ice rink.
6 votes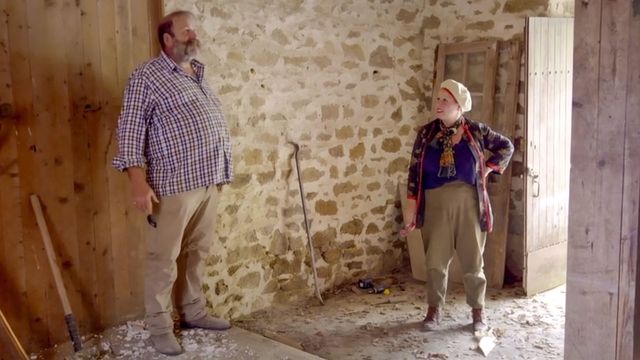 #21 - Autumn Renovation
Season 6 - Episode 6 - Aired Dec 8, 2019
As the beginning of autumn arrives, Dick Strawbridge passes on his conker skills to the family, before the serious business resumes and the next phase of the renovation begins. Dick and his wife Angel Adoree get to work converting the old tack room into a grand entrance way. Angel knocks down walls and upcycles an old glass door, while Dick lays a new concrete floor.
31 votes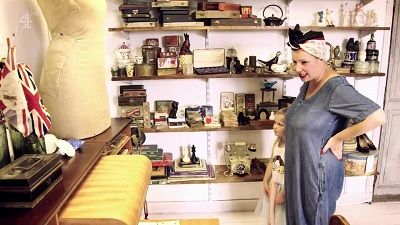 #22 - In the Attic
Season 5 - Episode 2 - Aired Nov 18, 2018
Angel transforms the attic into a studio and storage space for her vintage treasures and takes Dorothy on a trip to Paris, while Dick has his own plans for repurposing some ancient tools he finds in the outbuildings. The couple throws a surprise birthday celebration for Angel's mother, where Dick's purpose-built open-fire popcorn maker is put to the test.
40 votes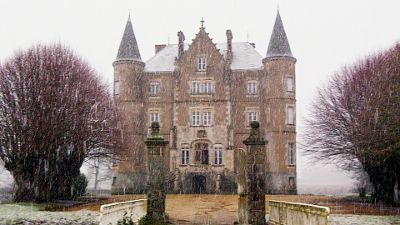 #23 - Christmas at the Chateau
Season 2 - Episode 3 - Aired Dec 11, 2016
As winter descends on the chateau and Christmas looms, Dick and Angel Strawbridge rush to complete a huge to-do list before the arrival of the family from England.
66 votes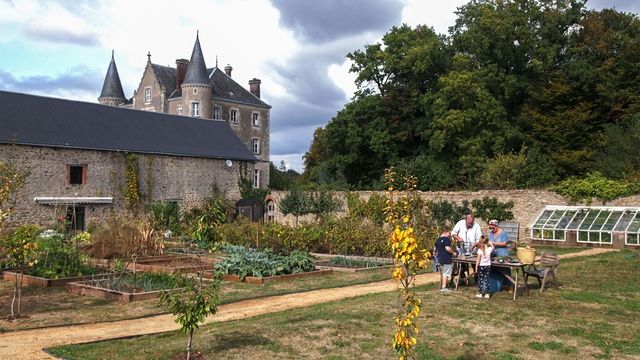 #24 - Sloe Gin, Library & Ceiling Rose
Season 7 - Episode 2 - Aired Nov 22, 2020
With autumn just around the corner, it's a chance for the Strawbridge family to make the most of the wild larder on their doorstep. Dick is determined to make sloe gin, while Angel presses on with her plan to create a library in the pepper pot tower.
26 votes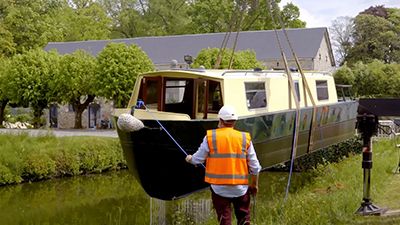 #25 - A Boat in the Moat
Season 6 - Episode 2 - Aired Nov 10, 2019
It's springtime at the chateau, and with the wedding season just a few weeks away, completing phase two of the basement project is becoming an urgent priority for Dick Strawbridge and Angel Adoree. To cater for all their summer guests, a much-needed utility and laundry room is about to be plumbed in. Angel comes up with a unique way of preserving the 150-year-old wallpaper, while Dick wrestles with a rake while working on the meadow.
39 votes