The BEST Episodes of Grand Designs
Every episode ever - ranked by fan votes!
Last Updated: Jan 15, 2022
Kevin McCloud follows people as they build their dream house, often focusing on modern design, energy efficiency, maximizing space and views.
Watch Now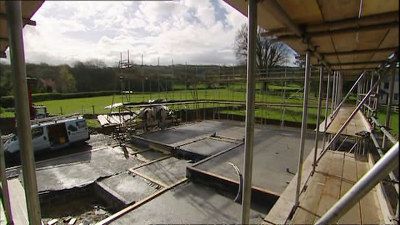 #1 - The Eco-House
Season 5 - Episode 11 - Aired Nov 16, 2005
Andrew and Lowri Davies embark on a project to build an environmentally friendly farmhouse in rural Wales. Encouraged by their architect, they opt for some state-of-the-art experimental building materials; but do their builders know how to use them? As the budget spirals out of control, they find it increasingly difficult to balance the budget with their desire for a sustainable home.
4 votes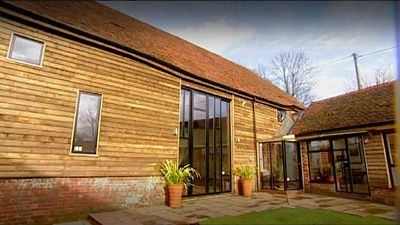 #2 - The Victorian Threshing Barn: Revisited
Season 8 - Episode 10 - Aired Mar 19, 2008
Kevin McCloud revisits Philip Trail and his wife Angela who moved to stress-free Surrey and renovated a 150-year-old threshing barn after Philip was diagnosed with a brain tumour.
61 votes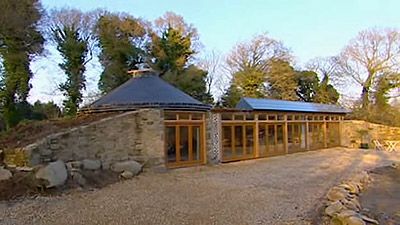 #3 - The Brittany Groundhouse: Revisited
Season 10 - Episode 9 - Aired Nov 10, 2010
Kevin returns to see how Daren Howarth and Adi Nortje's project has fared four years after they decided to build an earth-sheltered home in Brittany.
92 votes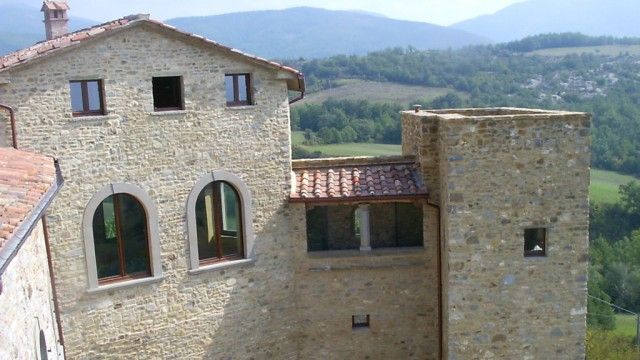 #4 - The Tuscan Castle: Revisited
Season 7 - Episode 11 - Aired May 9, 2007
Kevin McCloud meets a couple who bought a ruin and moved to Italy in 1999, hoping to start work building their dream home in Tuscany. Since then they've spent all their time trying to get planning permission, but finally, after four years, they are about to start work. And it's an epic project: they have bought a derelict 1,000-year-old castle in the Tuscan hills. Now, the couple face their biggest battle of all: rebuilding this massive ruin into a comfortable and luxurious five-bedroom home.
21 votes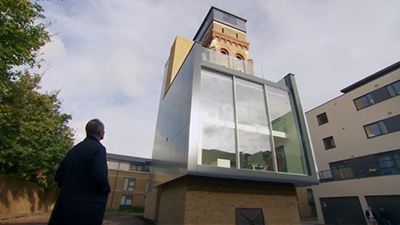 #5 - The Derelict Water Tower
Season 12 - Episode 5 - Aired Oct 17, 2012
Kevin McCloud marks the 100th episode with one of the programme's most ambitious projects to date. Leigh Osborne and Graham Voce want to convert and extend a landmark 150-year-old water tower in central London into a luxury home. Grade II-listed, derelict and with 6ft-thick walls, it's a huge challenge for the pair, who also plan to build two structures at the base - a lift shaft connected by a series of glass tunnels, and a modern living space. The result will be a four-bedroom property over nine floors, complete with a room at the top offering spectacular 360 degree views across the capital. The tower, which is located directly above London Underground's Northern Line, was originally built for Lambeth Workhouse in 1877 and became a Grade II listed building in 2008.
261 votes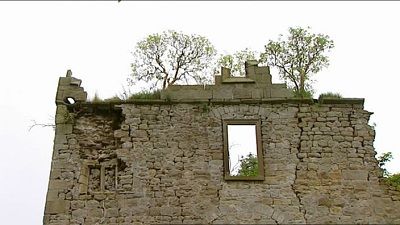 #6 - The 14th Century Castle
Season 7 - Episode 1 - Aired Feb 28, 2007
Every Englishman's home is his castle but for Francis Shaw this is quite literally true. He and his wife, Karen, and their two young daughters, bought the ruins of a 14th Century castle in Yorkshire and took on the remarkable challenge of turning a pile of stones into a beautiful home. Surrounded by rolling green fields, the location is idyllic; however, the castle itself was little more than four crumbling walls.
236 votes
#7 - The Eco Arch: Revisited
Season 11 - Episode 9 - Aired Nov 9, 2011
Kevin returns to the Weald of Kent and one of the most innovative houses ever featured on Grand Designs: a highly experimental arch-shaped home built from clay tiles.
171 votes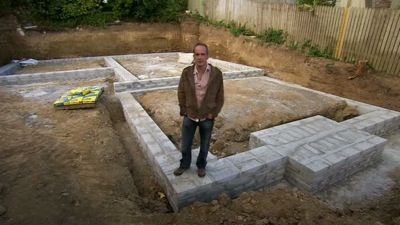 #8 - The Scandinavian House
Season 10 - Episode 6 - Aired Oct 20, 2010
Kevin meets interior designer Kathryn Tyler, who has decided the best way onto the property ladder is to design and build her own house in her parents' back garden in Falmouth.
247 votes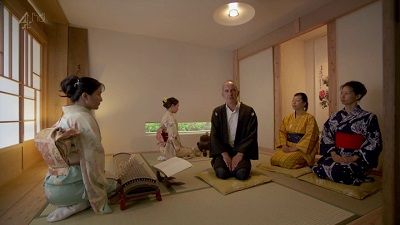 #9 - The Japanese House: Revisited
Season 14 - Episode 9 - Aired Oct 29, 2014
Kevin McCloud returns to a unique Japanese-Welsh fusion home in the Wye Valley to see how the improvised building weathered one of the wettest winters on record. Tamayo Hussey has missed Japan ever since she moved to the UK 15 years ago with her husband Nigel. To stave off the homesickness they decided to transform their home into a one-of-a-kind Japanese house - complete with Japanese roof bath, tatami room and paper sliding walls. Kevin finds out if it has brought the calm and tranquillity Tamayo remembers from her childhood in Japan.
160 votes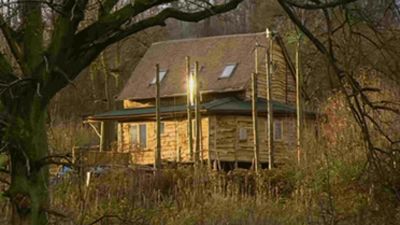 #10 - The Woodsmans Cottage
Season 3 - Episode 3 - Aired Feb 26, 2003
For 10 years, Ben lived in tents and caravans in a wood in West Sussex. As a woodsman, he needed and wanted to live among the trees. But after a battle with planning he finally got permission to build himself a house with more creature comforts. He invited volunteers to help him build one by hand, from the materials growing around him.
153 votes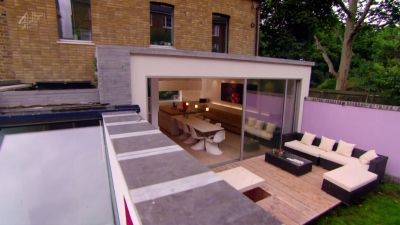 #11 - The Disco Home: Revisited
Season 12 - Episode 10 - Aired Nov 21, 2012
Kevin catches up with Claire Farrow and Ian Hogarth who began a wild journey in 2010 to create d the ultimate fun family home, right in the heart of London, including a dance floor, dj booth and sauna.
42 votes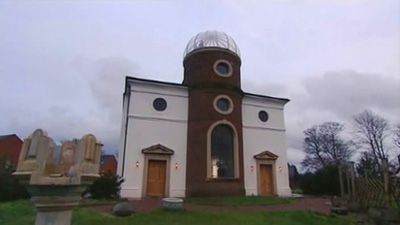 #12 - The Birmingham Church
Season 7 - Episode 6 - Aired Apr 4, 2007
Dean Marks has dreamt of living in a church for as long as he can remember. After searching for the right building for years, he came across St Martin's near Birmingham, a huge 18th century grade II listed church which looks more like a mausoleum. The church wanted £25,000 for it but Dean knocked them down to £12,500. Now, after fighting for planning permission for four years, Dean and his wife, Hilary, are about to transform this derelict monstrosity into a family home.
57 votes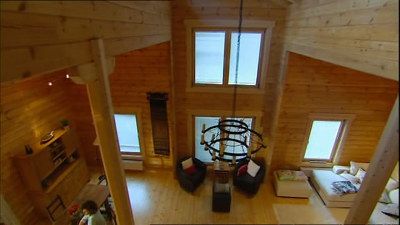 #13 - Finnish Log Cabin
Season 5 - Episode 4 - Aired Apr 27, 2005
John Cadney and Marnie Moon have never had a permanent home. For 16 years they've camped on land owned by Marnie's parents because they could never afford to buy a house in the area where they live. So John, a carpenter, rolled his sleeves up and decided to build a house for his family with his bare hands. After much searching for the right kind of house they settled on an environmentally friendly four-bedroom log cabin. The whole thing was imported from Finland as hundreds of pre-cut bits of wood. All John had to do is figure out how it all fits together!
148 votes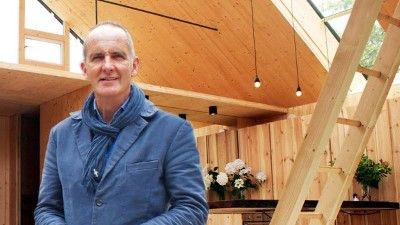 #14 - The Shipping Containers House
Season 14 - Episode 4 - Aired Sep 24, 2014
A young farmer and architect in Northern Ireland hopes to make a home out of four large shipping containers welded together to form a giant cross. Patrick Bradley has come up with a £100k house design to be built out of four 45-foot shipping containers, welded together to form a giant cross and cantilevered over the top of a stream at a beautiful secluded spot on the family farm. His mum is hoping his new home will get Patrick a girlfriend. But his tiny budget is soon under threat.
278 votes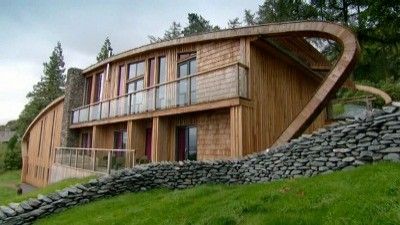 #15 - The Dome House: Revisited
Season 11 - Episode 8 - Aired Nov 2, 2011
Kevin revisits Robert and Milla a year after their ambitious Lake District eco home seemed on the verge of running out of money. Have the couple completed their visionary timber home?
151 votes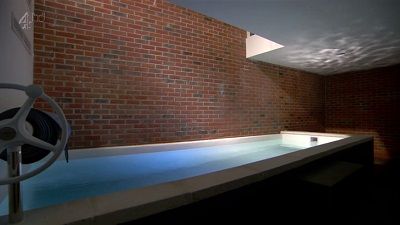 #16 - The Crooked Chocolate Box Cottage
Season 13 - Episode 4 - Aired Sep 25, 2013
When he lost three limbs in Afghanistan, Jon's life changed forever. Now he wants to build a house that allows him to live independently. The design is cutting edge, but the budget spirals. Marine captain Jon's life changed forever when he stepped on a land mine. Before his injuries, home for Jon had meant a crooked chocolate box Devon cottage. After countless viewings of uninspiring specialist dwellings and awkward conversions, they realised that the only way to get a house that would enable Jon to live independently was to build it themselves. The design boasts sleek glass walls, open plan spaces and a dramatic wing-like roof. Crucially the design concept is for there to be no noticeable adaptations due to Jon's disabilities. Despite his lack of experience, Jon decides to project manage and calls on the support of a number of military charities for this hugely ambitious project. The pressure to finish on time increases when Becky discovers she is pregnant.
229 votes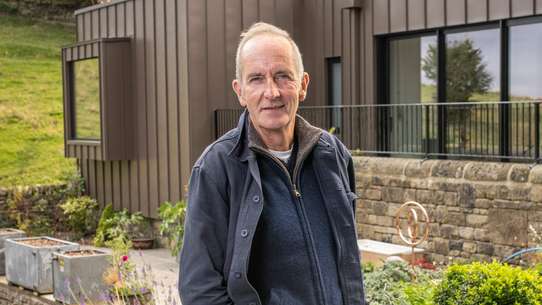 #17 - Living in the Country
Season 15 - Episode 4 - Aired Jul 30, 2015
Kevin McCloud looks at the challenges of self-building in the countryside, where design must embrace and enhance tradition, yet often overcome stringent planning constraints. Drawing on footage from the show's 15-year history, as well as new visits to extraordinary homes, he finds out how pioneers at the forefront of architecture are transforming agricultural and historic buildings, and bringing cutting-edge contemporary design to rural parts.
91 votes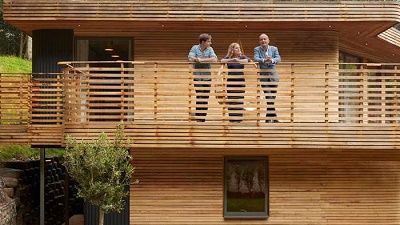 #18 - Steam Bending House
Season 17 - Episode 3 - Aired Oct 5, 2016
Kevin McCloud meets Tom and Danielle Raffield, whose lifelong passion has been steam-bending wood. They've used the technique to create extraordinary furniture and lighting, but now plan to use it on a larger scale. In an attempt to escape the confines of their tiny gamekeeper's lodge, they have decided to build a wavy wooden house in South Cornwall, completed with curved cladding, twisted furniture and interior walls covered with weathered timber. With a £100,000 budget, the pair have decided to do a lot of the building themselves, and Kevin is on hand to discover whether they're up to the challenge.
294 votes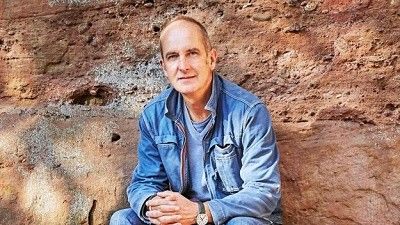 #19 - The Cave House
Season 16 - Episode 4 - Aired Sep 30, 2015
Kevin McCloud follows the progress of 37-year-old Angelo Mastropietro, as he transforms a damp, dark and abandoned cave in Worcestershire. Having recently been diagnosed with multiple sclerosis, Angelo wants to create a retreat to help him cope with the news and become a 21st century caveman. He has a budget of £100,000 and plans to almost single-handedly carve, cut and drill into the hillside to make the cave comfortable for contemporary living. However, there is no manual for a project of this kind, and the unique challenge soon becomes an obsession.
227 votes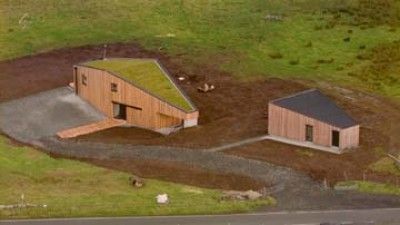 #20 - The Larch-Clad House
Season 12 - Episode 7 - Aired Oct 31, 2012
Kevin McCloud meets artists Indi and Rebecca, who are planning to build a modern, larch-clad home on the Isle of Skye, with a second hand-crafted building alongside to use as their studio, all on a tight budget of £150,000. They have been saving for years, but making it happen will mean taking on the savage weather, not to mention the sceptical locals - and as if that weren't enough, most of the work is being done by one man, local builder Donald.
298 votes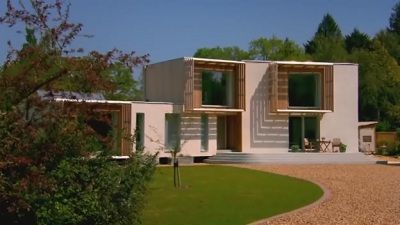 #21 - The Computer-cut House
Season 12 - Episode 2 - Aired Sep 19, 2012
Kevin McCloud meets a pair of civil partnered university professors who have decided to build their first home from scratch. In addition to all the complications this usually entails, they have also enlisted the services of industrial designers who have developed a new computer-assisted method for cutting precision-engineered building blocks from scratch. However, though the technique may be clever, its creators have never created a building before - meaning everyone involved with the project is taking a giant leap into the unknown.
266 votes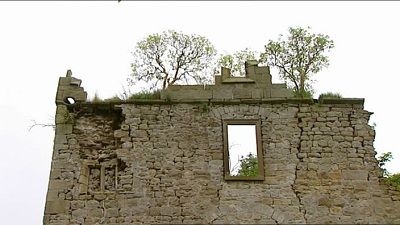 #22 - The 14th Century Castle: Revisited
Season 9 - Episode 8 - Aired Mar 18, 2009
Not everyone gets to live out their childhood dreams, but in 2004 Francis Shaw did exactly that when he bought a crumbling castle on English Heritage's Buildings at Risk register, to restore. Little did he know what he was letting himself and his family in for by taking on this project. Set in the heart of the Yorkshire Dales, the peel tower dates back to the 15th century and was protected as a Scheduled Ancient Monument. It took months of red tape wrangling before Francis finally got permission to start working on the building, but with the rubble barely cleared, one of the enormous 700-year-old walls collapsed showing just how much of a labour of love this project was going to be. Two and a half years after Francis and his wife Karen moved in, Kevin McCloud returns to find out that the spiralling costs of restoring the castle has meant the fairytale life is nothing like Francis's dream.
66 votes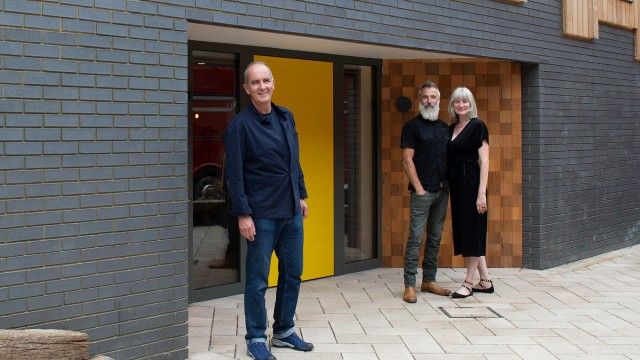 #23 - Billingshurst, Sussex: Triangular House
Season 22 - Episode 2 - Aired Sep 8, 2021
Kevin McCloud meets master carpenter Olaf, who is facing the biggest challenge of his career - creating an oasis for himself and partner Fritha on a small slice of land in West Sussex, which happens to be surrounded by a mainline railway and a busy A-road. Not only that, but half of the plot can't even be built on due an underground mains sewer. All they're left with is a very small triangle on which to build their future life together. With £190,000 in the bank, Olaf and Fritha must use all the ingenuity they can muster to make their triangular three-bedroom house come to life.
52 votes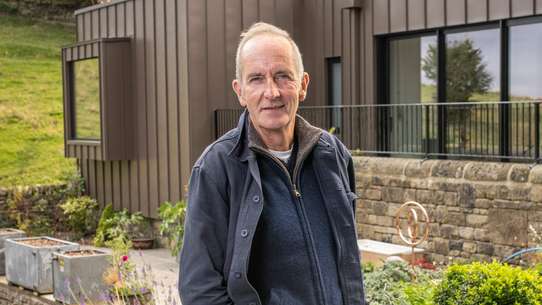 #24 - Living in the Wild
Season 15 - Episode 2 - Aired Jul 16, 2015
In the second of four special programmes, Kevin McCloud looks at the challenges of self-building in the UK's most remote places, where beautiful landscapes often meet savage weather. Drawing on footage from 15 years of the programme, as well as new visits to extraordinary and incredible homes, Kevin reveals which designs work best, and why. Along the way, he interviews pioneers at the forefront of architecture in the wilderness and sees the astonishing lengths people go to live on the edges of society.
118 votes
#25 - 300 Year Old Chalet: Revisited
Season 6 - Episode 6 - Aired May 10, 2006
Kevin McCloud revisits Nicky and James Dobree. Nicky was raised in France, James in Beirut – both have fond memories of the mountains as children. So it was natural for them to one day look to buy a place amongst France's tallest peaks, the Alps. The journey moving the family, including their two young sons, Fabian and Felix, from South London to a renovated 300-year-old farmhouse in Les Gets was to have its ups and downs. It was never meant to be a permanent move. The original plan was to develop the top two floors of the chalet so the family could spend the summer there, overseeing the completion of the bottom floors. They would then be able to rent our the whole chalet in the winter months. The family were only planning to use their new home for the summer seasons.
18 votes