The BEST Episodes of Food Unwrapped
Every episode ever - ranked by fan votes!
Last Updated: Sep 27, 2021
The food and science series that travels the world to explore the industry secrets behind our favourite produce, industry secrets, and how foods are really made.
Watch Now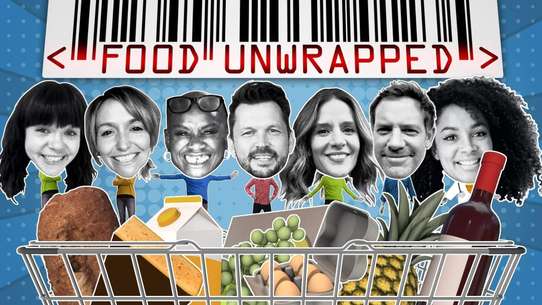 #1 - Revisited: Pinenuts, Pies and Beef
Season 6 - Episode 11 - Aired Nov 23, 2015
The team present some favourite investigations. Does what our meat eats make a difference? Why are pine nuts so expensive? And why don't shop-bought pies spill their gravy?
8 votes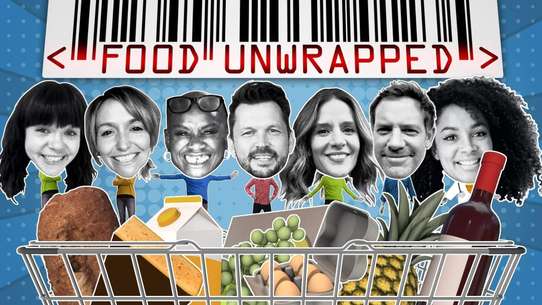 #2 - Bananas, Plant Meat, Crisps
Season 7 - Episode 3 - Aired Apr 8, 2016
Jimmy visits Ecuador, the largest banana exporter in the world, to investigate remarkable claims that the banana could one day be used in the fight against a number of viruses including HIV and influenza. Kate goes in search of the food industry's Holy Grail: a meat substitute that actually tastes of meat. Scientists in the Netherlands have developed a product called 'plant meat', but does it taste like the real thing? Can these vegetarian steaks, chicken pieces and sausage rolls fool the taste buds of three meat-loving barbecue chefs? What are those green bits you find on some crisps, and are they safe to eat? To find out, Matt visits one of Britain's largest crisp manufacturers, where he sees the high-tech machinery employed to weed out the green ones before they hit our crisp packets.
42 votes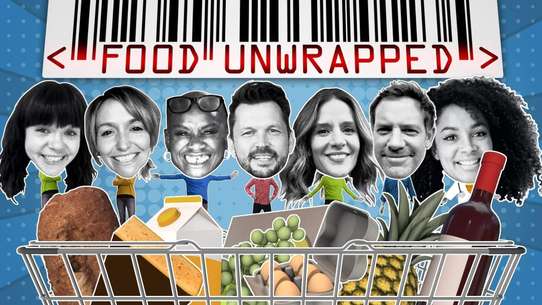 #3 - Pineapples, Chocolate, Mussels
Season 6 - Episode 7 - Aired Oct 12, 2015
Kate discovers how scientists are using pineapple enzymes to help burns victims. How do the bubbles get into chocolate bars? And should we never eat mussels when there's an 'r' in the month?
45 votes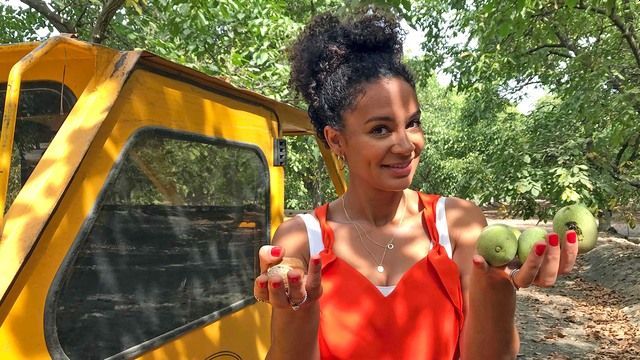 #4 - Walnuts, Sour Sweets, Hazy Beers
Season 18 - Episode 2 - Aired Mar 2, 2020
Helen Lawal searches for the secret to perfectly shelled walnuts in California, while Matt Tebbutt hopes to discover what makes sweets sour. Andi Oliver investigates how the cloud gets into the hazy beers that are so trendy currently.
5 votes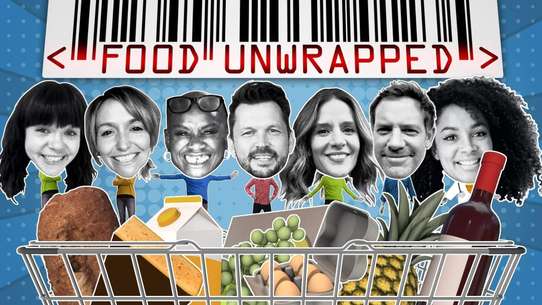 #5 - Tofu, Ready Meals, Milk
Season 7 - Episode 2 - Aired Apr 1, 2016
Kate Quilton heads to Japan on the trail of tofu, wondering how green soy beans are turned into something so white and creamy. Jimmy Doherty investigates reports that supermarket ready meals have nearly doubled in size since the 1950s. He tracks down the ready meals of his childhood and discovers whether bigger plate sizes could also be causing people to eat more. Plus, in Wales, Matt Tebbutt looks into a new kind of milk, which it is claimed is easier to digest.
51 votes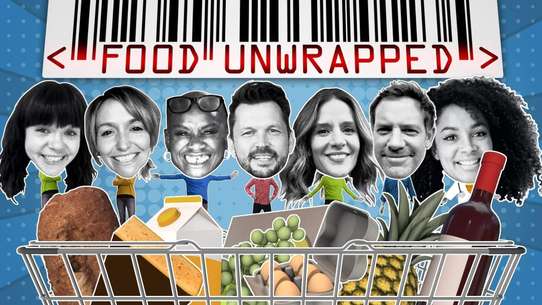 #6 - Vitamin D, Wagu Beef, Swiss Cheese
Season 6 - Episode 2 - Aired Sep 7, 2015
Jimmy investigates the effects of vitamin D deficiency. Kate wants to know how supermarkets can sell wagyu beef, cheaply. And Matt heads to Switzerland to ask why there are holes in Swiss cheese.
49 votes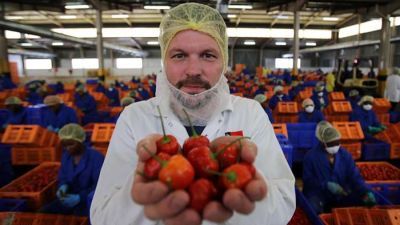 #7 - Sweet Piquante Peppers, The Plastic Crisis, Yoghurt
Season 14 - Episode 1 - Aired Jun 11, 2018
Jimmy Doherty, Kate Quilton and Matt Tebbutt unveil more secrets about the world of mass-produced food. Jimmy heads to South Africa on the trail of sweet piquante peppers and discovers a curious case that allow companies to effectively own a fruit or vegetable, while Kate looks into Britain's plastic crisis and discovers one type of very common food packaging that can't be recycled. Matt is in Germany to investigate a new type of yoghurt that claims to be full of fibre, but doesn't have any bits in it.
7 votes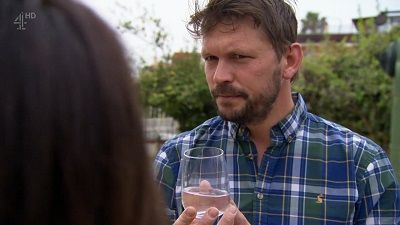 #8 - Coconut Oil, Artichokes, Absinthe
Season 8 - Episode 5 - Aired Jun 6, 2016
Kate Quilton learns how coconut oil is extracted in Vietnam before heading to the English seaside, where she commandeers a mobile chip van to find out which oil is the healthiest. Jimmy Doherty is in Italy to find out what goes into a supermarket jar of artichoke hearts, while Matt Tebbutt discovers whether absinthe can really lead to hallucinations and madness.
53 votes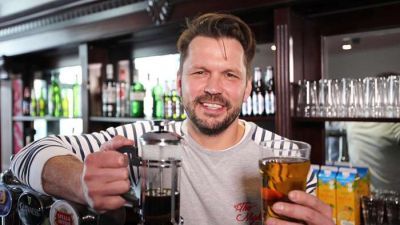 #9 - Drinking Coffee, Kombucha, Beef Steak
Season 14 - Episode 6 - Aired Jul 16, 2018
Jimmy Doherty investigates the popular belief that coffee can sober people up and also looks into new research linking consumption of the beverage and a reduced risk of liver disease. In San Francisco, Kate Quilton investigates trendy new drink kombucha, while Matt Tebbutt examines why supermarket labels don't say which cut of beef thin-cut steaks come from.
8 votes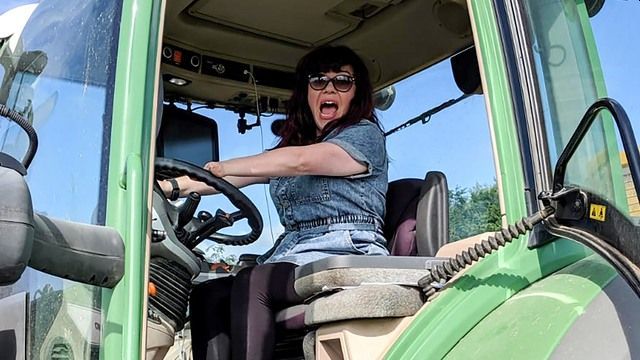 #10 - Baguettes, Mozzarella, Mushy Peas
Season 18 - Episode 1 - Aired Feb 24, 2020
Jimmy heads to Paris to find out why baguettes go stale so fast. Matt checks out buffalo mozzarella in Italy. And Briony May Williams discovers the surprising secret to how mushy peas get mushed.
4 votes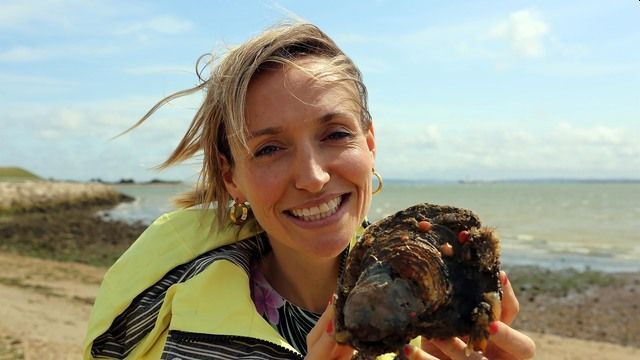 #11 - Oysters, Ketchup, Eggs
Season 18 - Episode 3 - Aired Mar 9, 2020
Matt Tebbutt investigates an intriguing claim about tomato ketchup bottles, Kate Quilton discovers how oysters turned from a Victorian bar snack to a wallet-busting luxury, and Amanda Byram uncovers the difference between medium and large eggs.
4 votes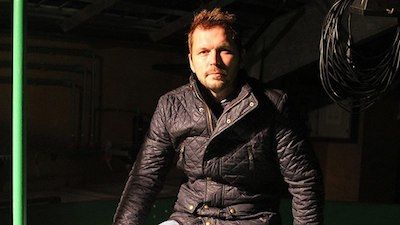 #12 - Cheesy Creatures
Season 3 - Episode 1 - Aired Jan 20, 2014
Jimmy discovers that there's more to traditionally-matured cheese than meets the eye, thanks to a microorganism that helps give the likes of pecorino their distinctive hard rinds. Matt meets a team of researchers to examine why re-heating rice can make you ill, and discovers what makes the pre-cooked rice stocked in supermarkets safe to eat. Meanwhile, Kate heads to Malaysia to find out how vanilla is grown and how vanilla extract is produced.
20 votes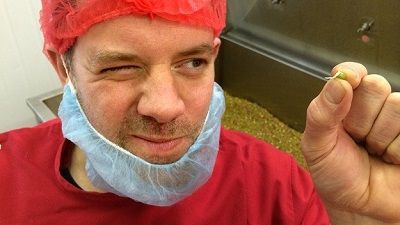 #13 - Liquorice, Mushrooms, Beansprouts
Season 4 - Episode 2 - Aired Jul 21, 2014
Kate wants to know where liquorice comes from. She's not a fan, but will she be converted once she's seen the experts in Calabria, Italy turn bitter-tasting liquorice roots into sweet treats?
19 votes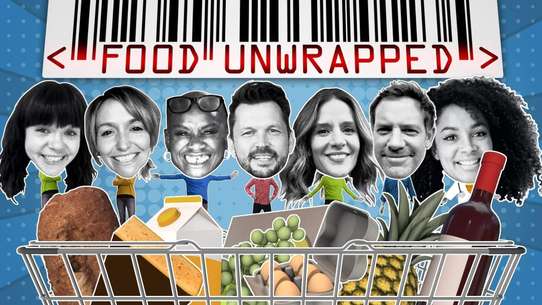 #14 - Ice Cream, Olive Oil, Airline Food
Season 13 - Episode 1 - Aired Feb 12, 2018
Jimmy jets off to the USA to find out how those big chunks in American ice cream stay so crispy. Kate investigates a rise in olive oil prices, and discovers a disease wiping out olive trees in southern Italy. And Matt finds out why Bloody Marys are so popular on planes - and why airline food tastes very different at ground level.
16 votes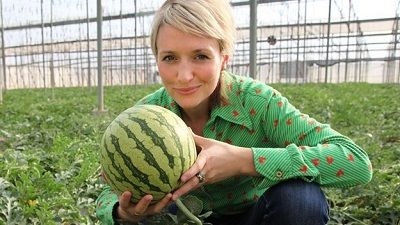 #15 - Black Pudding, Watermelons, Rock Candy
Season 4 - Episode 3 - Aired Jul 28, 2014
Jimmy finds himself being inspired by one of an old favourite, black pudding, to learn about the properties of blood, and how it is being increasingly used in gastronomy. Kate finds out more about a city of greenhouses in the Andalusian desert where millions of watermelons are grown every year.
18 votes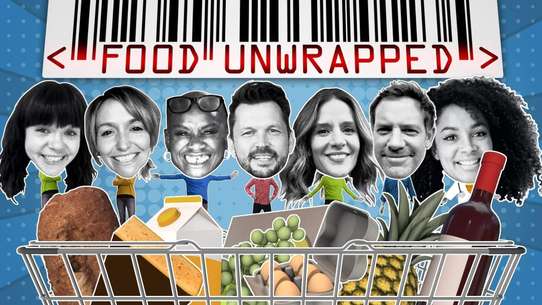 #16 - Crabs, Greens, Gummy Sweets
Season 6 - Episode 9 - Aired Oct 26, 2015
Jimmy explores new ways to get crabs to come out of their shell. Kate finds out how to get children to eat their greens. And how are gummy sweets made? Matt investigates.
18 votes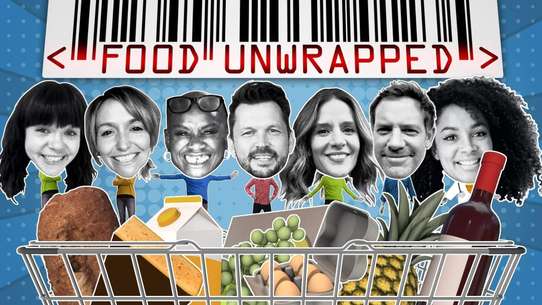 #17 - Revisited: Greek Yoghurt, Red Leicester, Ostrich
Season 6 - Episode 12 - Aired Feb 19, 2016
Jimmy, Kate and Matt present some of their favourite investigations, including Greek yoghurt's potentially devastating by-product, as well as red Leicester cheese and ostrich meat
4 votes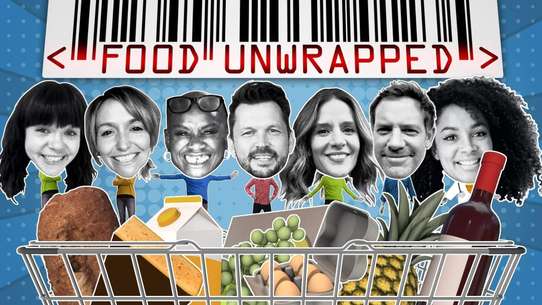 #18 - Revisited: Sourdough, Rose Oil, Beetroot
Season 6 - Episode 13 - Aired Feb 26, 2016
The team present some of their favourite investigations. What gives sourdough bread its twang? Why is rose oil considered liquid gold in Bulgaria? And Kate explores the power of beetroot.
6 votes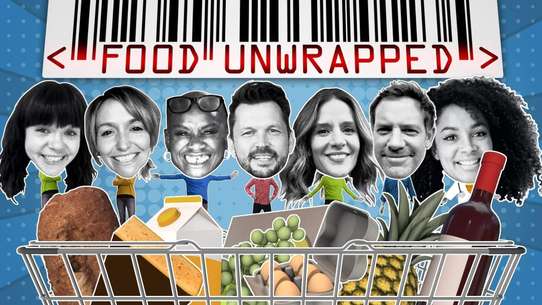 #19 - Chocolate, Bedtime Teas, Edam Cheese
Season 13 - Episode 6 - Aired Mar 19, 2018
Jimmy Doherty tries to find out what the white powdery residue that can form on chocolate is with the aid of the world's biggest X-ray machine, which is 2.3km in circumference. In Belgium, Kate Quilton asks if any of the ingredients in bedtime teas can really help people to sleep, while Matt Tebbutt is in the Netherlands to discover if balls of Edam really were once used as emergency cannonballs. Last in the series.
7 votes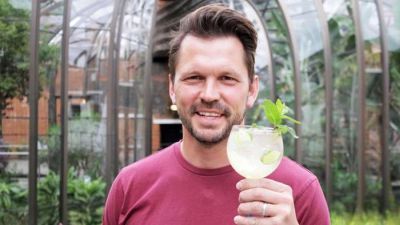 #20 - London Dry Gin, Macadamia Nuts, Double Dipping
Season 14 - Episode 2 - Aired Jun 18, 2018
Jimmy Doherty asks what makes a London dry gin a London dry gin. He also finds out about a threat to British juniper berries that could spell the end of gin's recent resurgence. Kate Quilton heads to tropical Hawaii to find out why macadamia nuts aren't sold in their shells. She ropes in some Hawaiian muscle in the Big Island shipyards to help crack the case. At a Food Unwrapped party, Matt Tebbutt grosses out the crew with his notorious habit of double dipping: going back for a second dip in a communal salsa with a tortilla chip that's already been in his mouth. In a laboratory, Matt investigates what germs he may be transferring to the dips, and whether he needs to change his mucky ways.
8 votes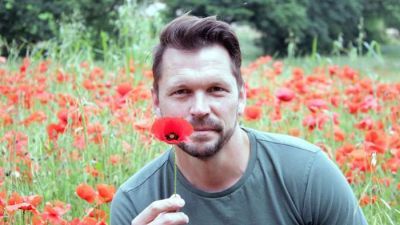 #21 - Poppy Seeds, Cooking Oil, Ancient Grain Bread
Season 15 - Episode 1 - Aired Oct 8, 2018
Jimmy Doherty finds out if eating too many poppy seeds could make him fail a drugs test. Kate Quilton learns the consequences of tipping your waste cooking oil down the drain. And Matt Tebbutt has a Sicilian bake-off with increasingly popular ancient grain bread.
6 votes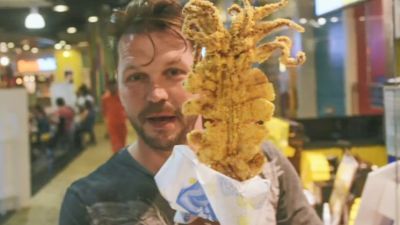 #22 - Favourites: Squid and Chips, Kangaroo Meat, Pesto
Season 17 - Episode 3 - Aired Sep 23, 2019
Some favourite investigations as Jimmy Doherty looks at how our national dish could become squid and chips, Kate Quilton reports on kangaroo meat, and Matt Tebbutt looks at pesto.
6 votes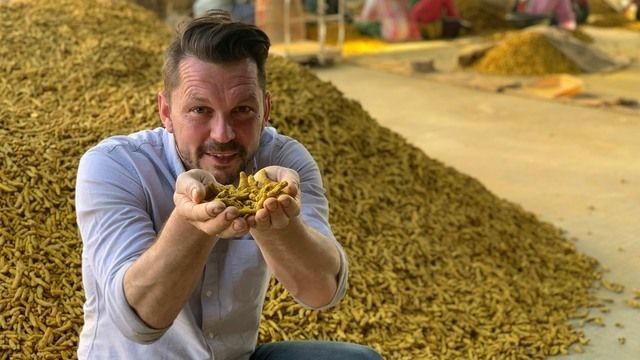 #23 - Turmeric, Milk Chocolate, Asparagus
Season 19 - Episode 3 - Aired Apr 23, 2021
Jimmy investigates turmeric in India and Kate finds out how much milk is in chocolate, while Andi draws the short straw and investigates asparagus and pungent pee problems
2 votes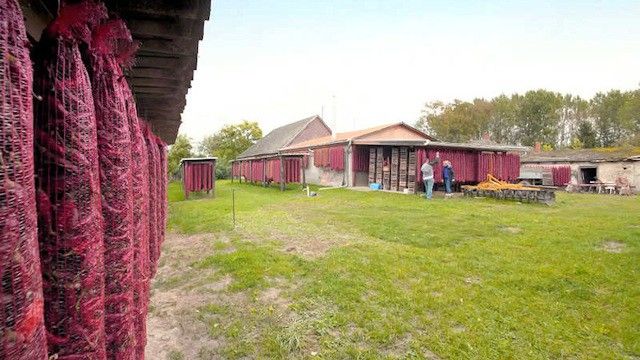 #24 - Parmesan, Paprika, Hard-Boiled Eggs
Season 9 - Episode 7 - Aired Nov 11, 2016
In Italy, Jimmy looks into why Parmesan costs up to twice as much as supermarket Cheddar. Kate's been puzzling over paprika and travels to Hungary and Spain to find out exactly where it comes from. And Matt looks at hard-boiled eggs - it can be fiddly enough getting the shell off in the comfort of your own kitchen, so how do the big players manage it now that hard-boiled eggs are popping up everywhere in supermarkets?
24 votes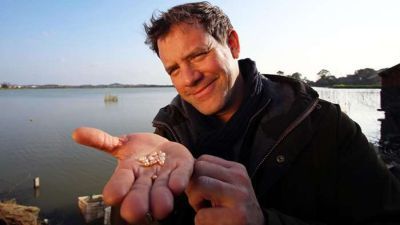 #25 - Pearls, Rainbow Ham, Butterflies
Season 14 - Episode 3 - Aired Jun 25, 2018
Matt Tebbutt visits China to find out how they maximise the chances of finding pearls, and helps to cultivate them from a surprising creature that is definitely not an oyster! Meanwhile, Kate Quilton investigates whether it is safe to eat sliced ham that has developed a weird rainbow pattern, and discovers a bizarre connection between the meat and butterflies.
8 votes