The BEST Episodes of Ugly Delicious
Every episode ever - ranked by fan votes!
Last Updated: Mar 30, 2020
All the flavor. None of the BS. Star chef David Chang leads friends on a mouthwatering, cross-cultural hunt for the world's most satisfying grub.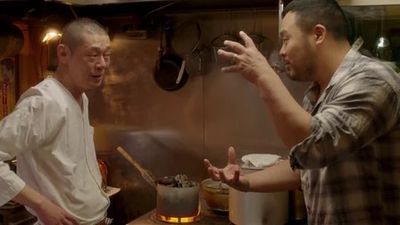 #1 - BBQ
Season 1 - Episode 5 - Aired Feb 23, 2018
Who can lay claim to inventing "real" BBQ? Is BBQ uniquely American, or a food of the world? Dave Chang tries to fuse his Korean and American roots as he considers this meaty landscape along with pitmaster Adam Perry Lang, artist Dave Choe, and guest star Jimmy Kimmel.
50 votes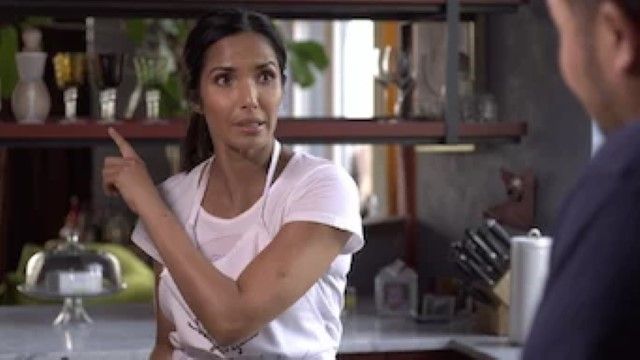 #2 - Don't Call It Curry
Season 2 - Episode 2 - Aired Mar 6, 2020
Admitting he's clueless about Indian cuisine, Dave turns to Aziz Ansari and Padma Lakshmi for help and embarks on an eye-opening trip to Mumbai.
15 votes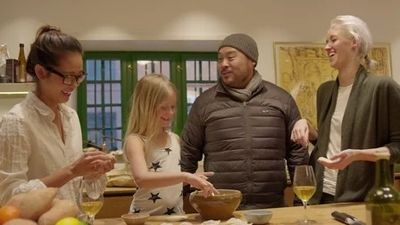 #3 - Homecooking
Season 1 - Episode 3 - Aired Feb 23, 2018
It's the Great Changsgiving as Dave welcomes collaborator Peter Meehan home for the holidays, and explores the intimate meaning of a family meal in Copenhagen with chef Rene Redzepi and wife Nadine. Guest stars include Mrs. Chang and Jean-Georges.
58 votes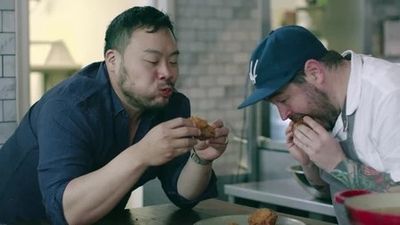 #4 - Fried Chicken
Season 1 - Episode 6 - Aired Feb 23, 2018
Every culture has a version of fried chicken, but after considering Japan, China and his own Korean roots, Dave must venture to the American South to explore our tasty yet complicated history with the dish. Can you enjoy a food without knowing its history? Guest stars Aziz Ansari, Eric Wareheim, Lolis Eric Elie, David Simon.
52 votes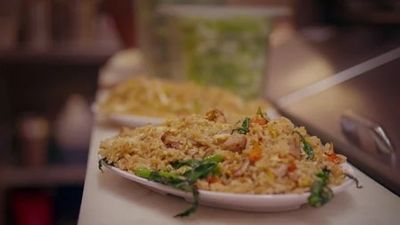 #5 - Fried Rice
Season 1 - Episode 7 - Aired Feb 23, 2018
What is Chinese-American food? Can it be considered fine dining? How different is it from Chinese food in China? Dave and pals including Alan Yang (Master of None) and food writer Serena Dai (Eater) probe these questions as Dave travels all the way to Beijing with expert Fuchsia Dunlop to consider both palates and prejudices. Guest stars Ruth Riechl.
46 votes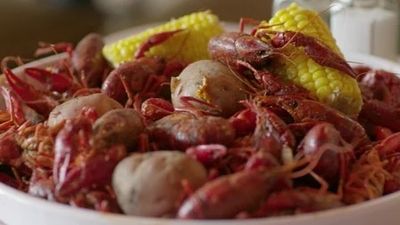 #6 - Shrimp and Crawfish
Season 1 - Episode 4 - Aired Feb 23, 2018
When cultures collide, deliciousness ensues. Dave compares and contrasts the food and orthodoxy of Houston and New Orleans via two delicious denizens of the ocean. It's a trek through Vietnamese and Cajun cuisines that eventually suggests a merger of the two - but only after traversing the seas of racism.
54 votes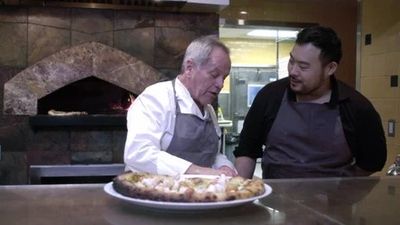 #7 - Pizza
Season 1 - Episode 1 - Aired Feb 23, 2018
What is authenticity? Is pizza Italian, American, or Italian-American? Dave Chang and pals Peter Meehan and Mark Iacono argue the merits of sauce, dough, cheese and nationalism as we journey from Naples to New Jersey and everywhere in-between. Guest stars include Aziz Ansari, Wolfgang Puck.
109 votes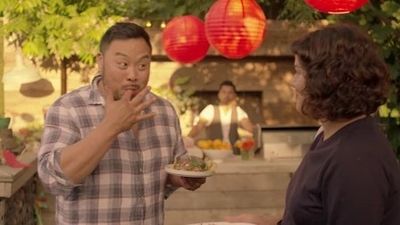 #8 - Tacos
Season 1 - Episode 2 - Aired Feb 23, 2018
There's more to Mexican food (and Mexico) than meets the eye - and a taco is the gateway drug. Dave Chang joins Jonathan Gold and others on an all-night taco crawl through LA, which launches Dave and buddy Peter Meehan into parallel explorations of Mexican food, in unsuspecting places (Copenhagen; Philadelphia) and the colorful homeland itself. It's a timely look at immigration, assimilation, and globalism...wrapped in a delicious tortilla.
64 votes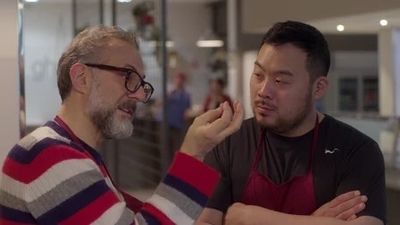 #9 - Stuffed
Season 1 - Episode 8 - Aired Feb 23, 2018
It's East vs West as Dave and chef Mario Carbone tackle the age-old debate between Italian and Asian dumplings, which brings them from grandstanding podiums to rolling dough with rural grandmas. Ultimately, is good food about technique, history, or heart? Guest stars Ali Wong, Nick Kroll, and Massimo Bottura.
37 votes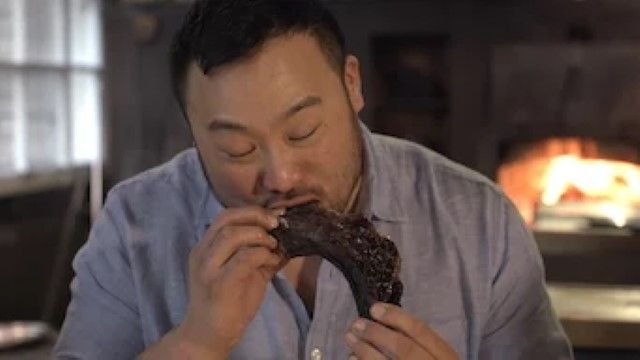 #10 - Steak
Season 2 - Episode 3 - Aired Mar 6, 2020
Dave and friends visit cattle ranches, upscale restaurants and an Outback Steakhouse to unpack the complicated social dynamics of sliced beef.
15 votes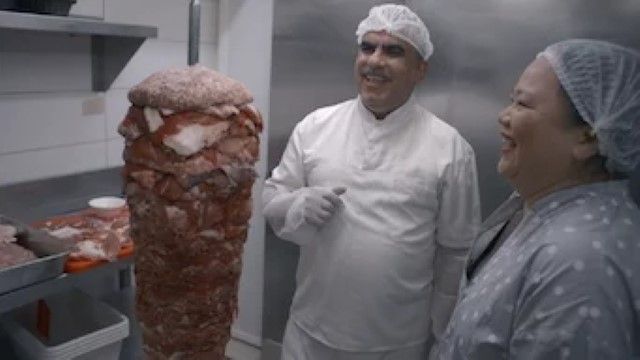 #11 - As the Meat Turns
Season 2 - Episode 4 - Aired Mar 6, 2020
An obsession with cooking meat on a spit inspires Dave to drop by a food science lab and explore how displaced people have shaped culinary history.
14 votes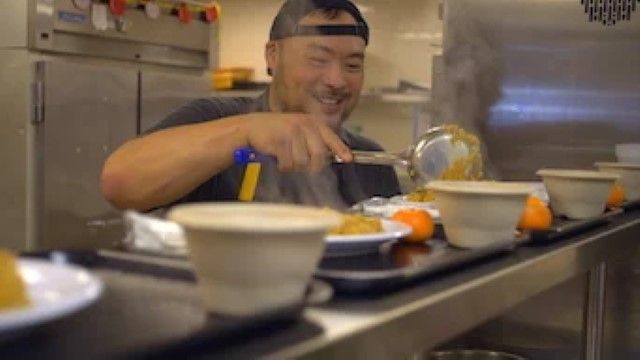 #12 - Kids Menu
Season 2 - Episode 1 - Aired Mar 6, 2020
Nervous dad-to-be Dave seeks advice from fellow chefs on how to juggle work and parenting, then tries his hand at making kid-friendly food.
22 votes