The BEST Episodes of Dr. Stone
Every episode ever - ranked by fan votes!
Last Updated: Nov 24, 2019
One fateful day, all of humanity was petrified by a blinding flash of light. After several millennia, high schooler Taiju awakens and finds himself lost in a world of statues. However, he's not alone! His science-loving friend Senku's been up and running for a few months and he's got a grand plan in mind, to kickstart civilization with the power of science!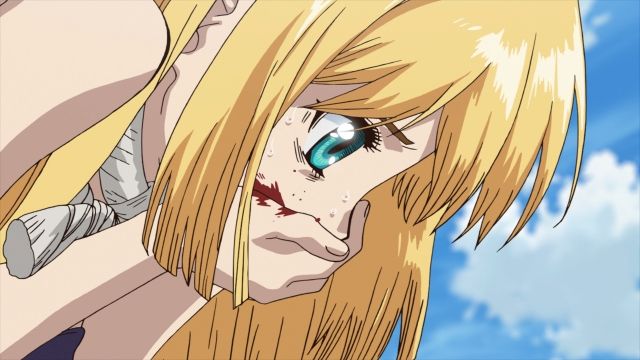 #1 - The Culmination of Two Million Years
Season 1 - Episode 15
After Senku's unlikely victory, quick marriage, and even hastier divorce, the kingdom of science is back to work to finally finish Ruri's medicine!
143 votes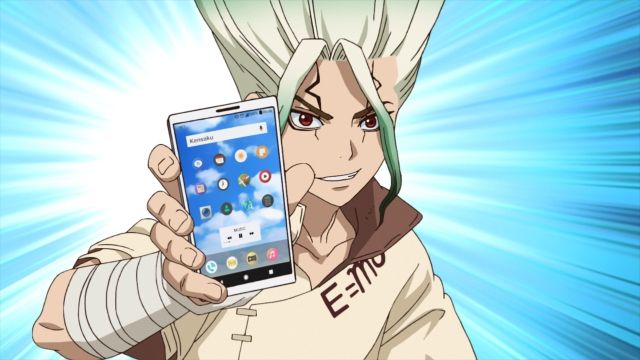 #2 - The Age of Energy
Season 1 - Episode 20
95 votes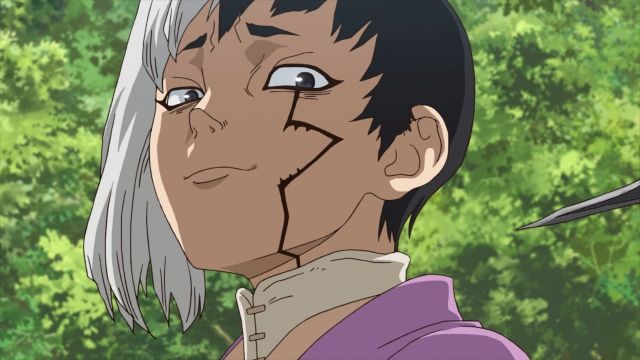 #3 - Let There Be the Light of Science
Season 1 - Episode 9
Senku starts a ramen stand in hopes of winning over support for his kingdom of science, but some people are too principled to take such a bribe. Mentalist Asagiri Gen is not one of them.
170 votes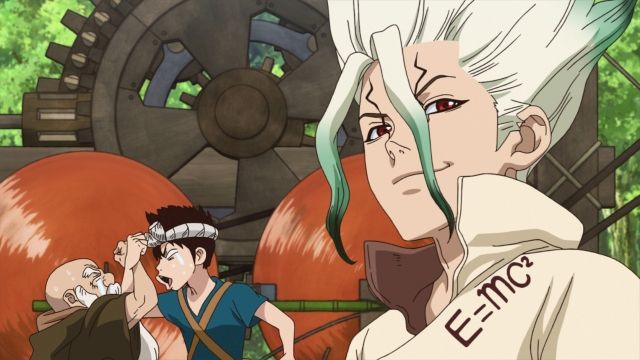 #4 - Spartan Crafts Club
Season 1 - Episode 21
57 votes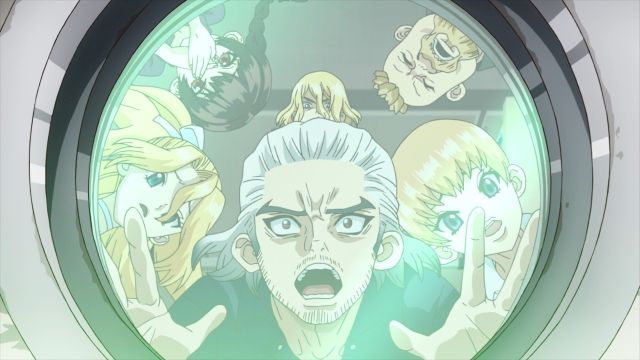 #5 - A Hundred Nights and a Thousand Skies
Season 1 - Episode 17
Byakuya and the astronauts' story continues, and Senku's connection to Ishigami Village and the Hundred Tales is finally revealed.
137 votes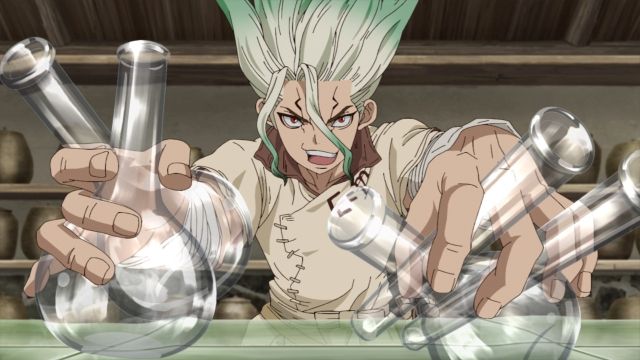 #6 - Masked Warrior
Season 1 - Episode 13
All that's needed to make antibiotics is alcohol. The best way to get some is to win the Grand Bout, which the Senku and his kingdom will also need to do in order to keep Magma away from Ruri and give her the drug.
148 votes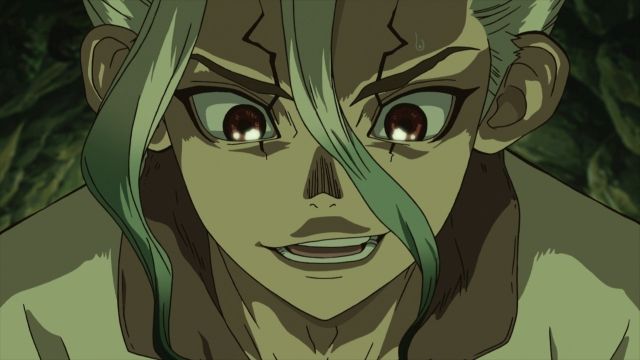 #7 - Two Nations of the Stone World
Season 1 - Episode 6
Taiju and Yuzuriha figure out Senku's secret to reviving him. But now that he's back, they need to deal with Tsukasa.
174 votes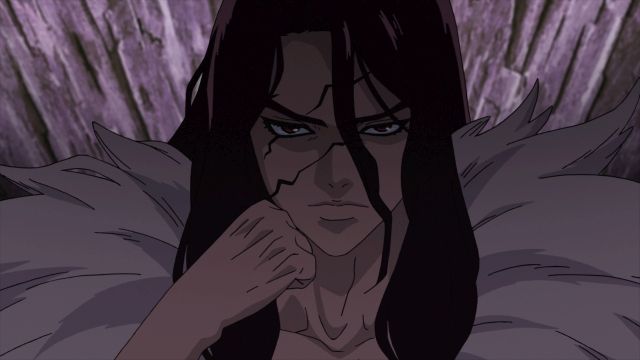 #8 - Stone Wars
Season 1 - Episode 18
Tsukasa's army is coming! Kinro struggles to hold the bridge against the deadly spearman Hyoga and his shock troops, but Senku and the villagers are ready with deadly new weapons of science!
118 votes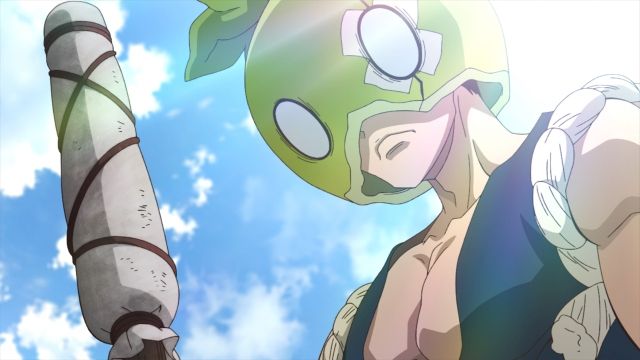 #9 - Master of Flame
Season 1 - Episode 14
After Magma's series of tricks to reach the final match, Chrome reveals a trick of his own! With a little extra help from Gen, Chrome just may be able to pull this one off!
141 votes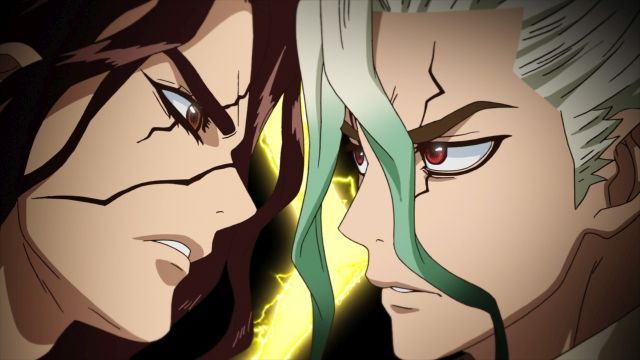 #10 - Fire the Smoke Signal
Season 1 - Episode 4
Senku, Taiju and Yuzuriha head to Hakone to collect sulfur for gunpowder, which they'll need to fight Tsukasa. They accidentally set off an explosion, which attracts some unexpected attention.
190 votes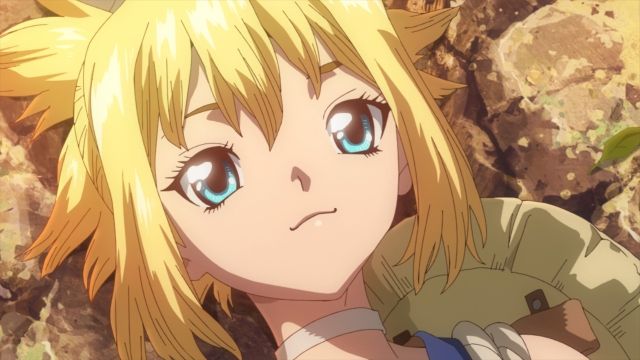 #11 - Where Two Million Years Have Gone
Season 1 - Episode 7
Kohaku shows Senku to her village, but it's going to take some convincing before they let him in. In the meantime, he makes friends with a like-minded, promising "sorcerer."
166 votes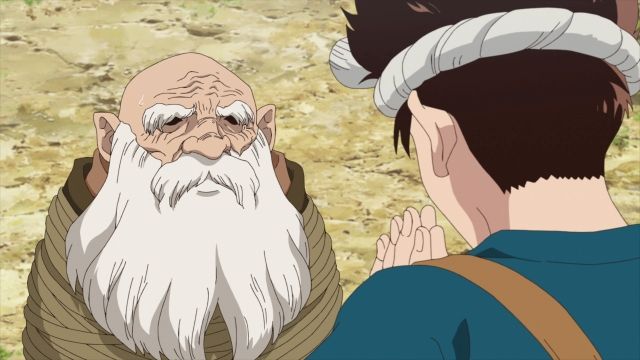 #12 - Clear World
Season 1 - Episode 11
The development of glassworks, an important step for making sulfa drugs and for chemistry as a whole, turns out to have a surprising benefit for Suika.
158 votes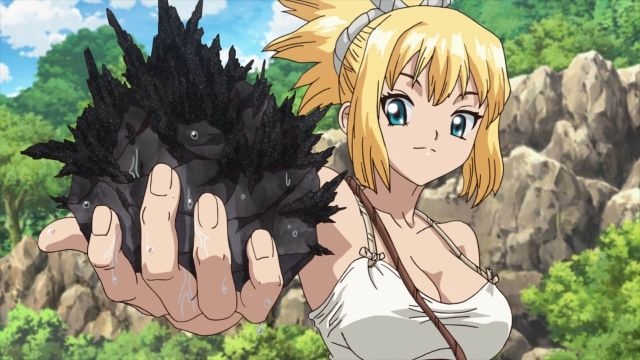 #13 - Stone Road
Season 1 - Episode 8
Kohaku's sister, village priestess Ruri, is gravely ill. Senku, Chrome and Kohaku begin their quest to make antibiotics to save her life.
171 votes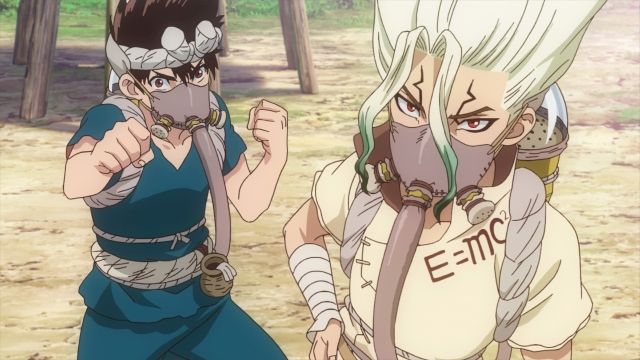 #14 - Buddies Back to Back
Season 1 - Episode 12
To make antibiotics, Senku and his kingdom need to obtain sulfuric acid from a fountain of the stuff. The team goes prepared, but there's no guarantee that they'll make it back alive
151 votes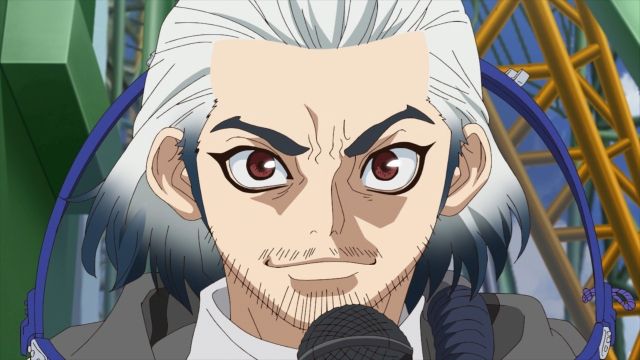 #15 - A Tale for the Ages
Season 1 - Episode 16
Ruri reveals the origin of the village's name and Senku learns of his father's fate!
145 votes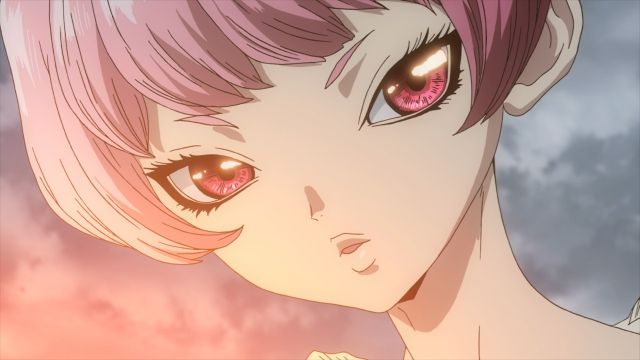 #16 - To Modernity
Season 1 - Episode 19
Hyoga is disarmed, but the kingdom of science is still in danger - Ishigami village is in flames! And Tsukasa will soon know that Senku is still alive... How will the villagers fight off the coming invasion?
112 votes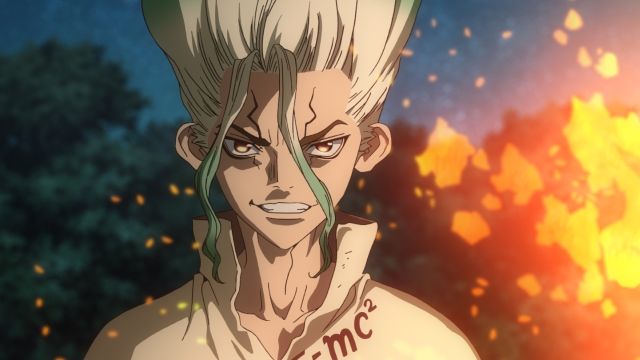 #17 - Stone World
Season 1 - Episode 1
Senku and Taiju emerge from their petrification several thousand years after everyone in the world had turned to stone. It's up to them to rescue everyone else and restore civilization.
246 votes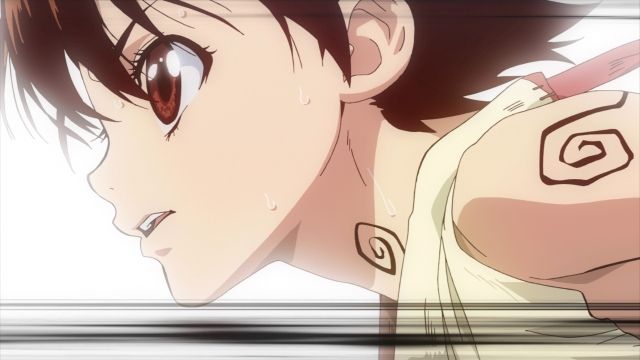 #18 - Stone World the Beginning
Season 1 - Episode 5
Tsukasa demands that Senku abandons science, but there's no way he can do that. Tsukasa is left with no choice but to kill him.
174 votes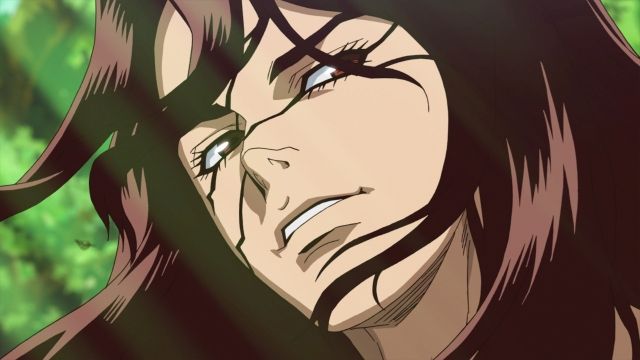 #19 - King of the Stone World
Season 1 - Episode 2
Taiju and Senku are about to revive Yuzuriha, when they get attacked by lions.
210 votes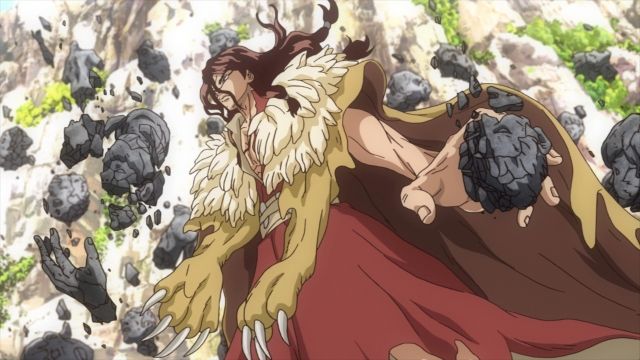 #20 - Weapons of Science
Season 1 - Episode 3
Tsukasa has learned about the cave where the nitric acid is collected. The race is on between Senku and Tsukasa to restore humanity in their respective visions.
198 votes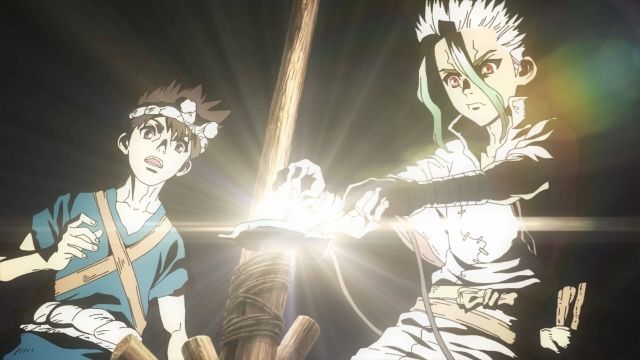 #21 - A Flimsy Alliance
Season 1 - Episode 10
Senku and his kingdom of science successfully test the first lightbulb since the collapse. Meanwhile, Asagiri Gen, a spy from Tsukasa's empire, is killed by an unknown attacker.
159 votes