The BEST Episodes of The Disastrous Life of Saiki K.
Every episode ever - ranked by fan votes!
Last Updated: Oct 25, 2019
Saiki Kusuo has a wide array of superpowers at his command, including telepathy and telekinesis. This might sound awesome, but, in Kusuo's experience, superpowers are not all they're cracked up to be. He tries to live a normal life despite his annoying abilities.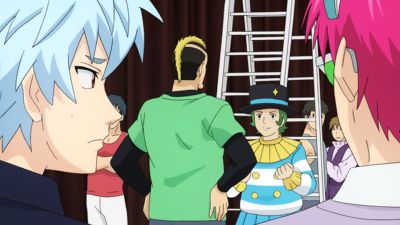 #1 - Psychics Should Exercise Extreme Caution + The Psychic Circus of Dreams + Hope You Get Well Soon!
Season 2 - Episode 9
Saiki's managed to escape identification by Aiura by hiding his aura, but she's not about to give up on her search for the mysterious "S. K."
22 votes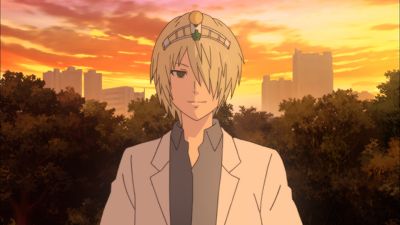 #2 - He's Back! The Brother's Five Directives + Let's Go to the Zoo! + The Disastrous Work of a New Manga Author + The Disastrous Lives of the Kaidou Brothers + A Girl's Makeover
Season 2 - Episode 17
Saiki receives an explosive surprise from his brother Kusuke, who has a challenge for him. If Saiki fails, Kusuke will expose him as a psychic to the world via firework.
20 votes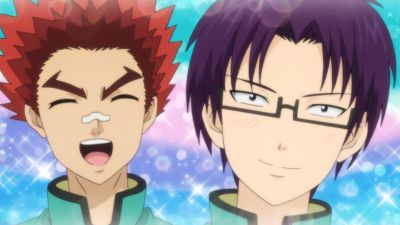 #3 - An Ugly Bolt Out of the Blue + Conceal Your Hidden Power! + A Fight Between the Two Worst People + A Miraculously Average Guy Appears! + Disaster in the Library Room
Season 2 - Episode 11
Nendo gets a love letter from a freshman coed and Saiki figures it's a prank, but he soon realizes she's serious. Nendo, being Nendo, wants to say no.
20 votes
#4 - Touma Akechi, the Transfer Student Who Never Shuts Up + The Transfer Student's Still Talking! + Sweet Potato Digging Disaster + Putting the Mascot Characters in Order + Metori Saiko's Listless Days
Season 2 - Episode 18
New student Toma Akechi joins the class but there's something about him that's different from the other transfers, besides his extreme verbosity. Just as they get him to shut up, he starts talking non-stop about Saiki...being a physic!
22 votes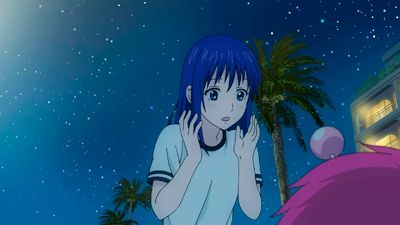 #5 - Okinawa School Trip (Part 1)
Season 1 - Episode 12
Saiki's class goes on a school trip to Okinawa. The rest of the class is excited to go on the trip, but for Saiki, it's just one problem after another.
32 votes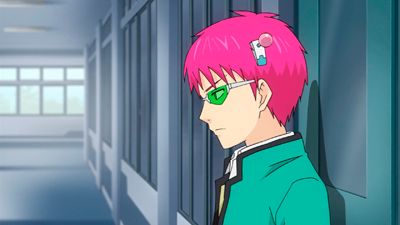 #6 - Talent Blossoms?! Melancholy of a Popular Magician + An Exercise in Runaway Delusion + Break-time Disaster + Crushed! Surprise Party
Season 1 - Episode 24
The "amazing" magician Uryoku Chouno has become popular and sends Saiki an invitation to his solo magic show. On a different occasion, the usual gang is planning to hold a surprise birthday party for Saiki.
27 votes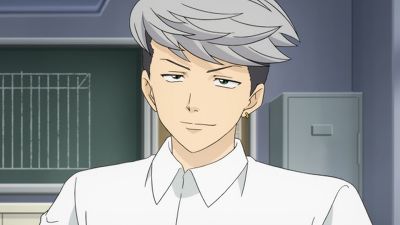 #7 - The Saiko Conglomerate's Luxurious Cruise + The Shipwreck of Saiki K. (Part 1)
Season 2 - Episode 6
Saiko plans a luxurious weekend cruise to his private island, but the yacht taking everyone there has some unforeseen (Saiki) issues leaving them stranded on a deserted island.
18 votes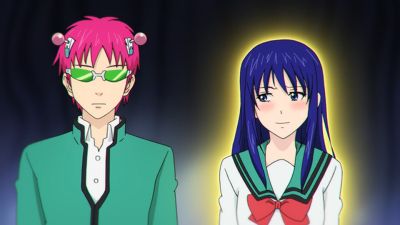 #8 - The Saiko Family's Greatest Trial + Psychic Sidekicks + The Occult Club's Final Scream Scheme + Love Score Showdown + The Master Artist's Classroom
Season 2 - Episode 14
Forced to survive for 24 hours without relying on his rich family, Metori Saiko enlists the help of Nendo and the others.
19 votes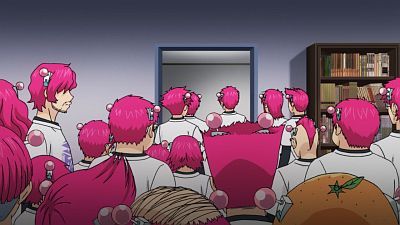 #9 - Choosing the Best Person to Walk Home With + Details Wanted! The Super Idol's Secret + Division of Labor + Facing the Unexpected
Season 2 - Episode 22
After getting blamed alongside his friends when they cause trouble, Saiki vows to go home alone the next day. But then Hairo insists on joining him.
20 votes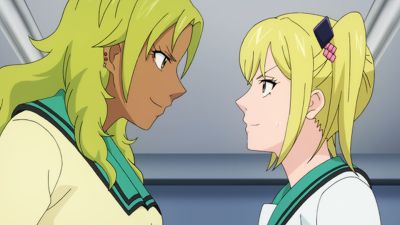 #10 - A Strong Declaration of Friendship + The Best Wing Girl!? + The Adventures of Riki Jr. No. 2, Small and Smart + The Disastrous Life of Hiroshi Satou + Trim a Bit off the Sides
Season 2 - Episode 12
The Sky Barracuda ship is finally complete. The team is ready to take off but soon realize they are lacking something very important and necessary.
20 votes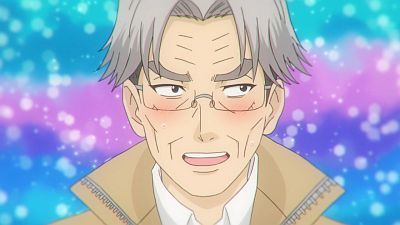 #11 - Chronicles of the Grandparents' Travels + Returning the Favor, Toritsuka's Ascetic Fasting + A Misunderstanding Between Opposite Sex Friends + A Big Scoop!
Season 2 - Episode 21
Saiki's grandparents come to visit, but get lost and separated along the way. Each of them running into one of Saiki's classmates. Yumehara attempts to confess to Kaido on Valentine's Day. The press club is once again up to no good.
20 votes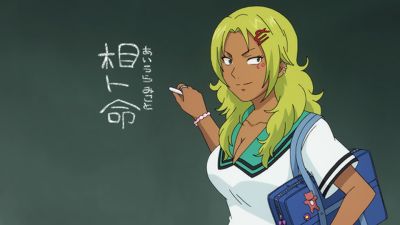 #12 - A Totally Bad News Transfer Student Appears! + Escape the Aural Sight! + The Circumstances of Delicate Children + Another Time Leap Challenge! + The Disastrous Life of Kokomi Teruhashi
Season 2 - Episode 8
Sexy student Mikoto Aiura transfers in and impresses everyone with her fortunetelling. Saiki realizes she may be the real deal and thus his rival.
18 votes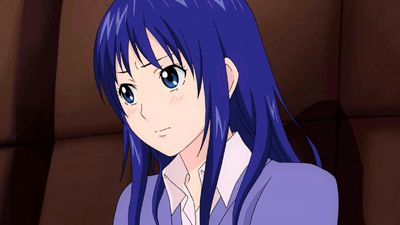 #13 - The Scariest! Mr. Matsuzaki + Chocolate Festival + Absolutely the Worst! Nendou's Father + Totally Trusting! Kurumi Saiki + Telepathy Silencer
Season 1 - Episode 8
Many students at Saiki's school can't stand Mr. Matsuzaki, their PE teacher. When he confiscates some of their things, a group of students decides to get back at him. It's Valentine's Day, and the guys are all anxious to see how many chocolates they'll get. Toritsuka, who's trying to be nice to girls for this day, asks Saiki to foresee if he'll get any chocolates. Nendou comes by Saiki's house to ask him to come check out a big hole he dug. Saiki evades this bad situation by pretending to be out. However, his problem isn't quite over yet. Saiki's mom Kurumi is so trusting that she gets easily taken in by salesmen. Today, she purchases bottled water that she's told has mysterious powers. After coming across a ring that cancels his telepathy, Saiki decides to go someplace where he's always wanted to go if he lost his telepathy: a movie theater.
37 votes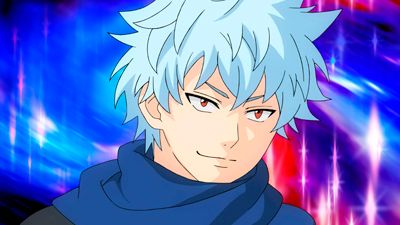 #14 - Reign of the Small King + Frolic! Silent Night + Noisy New Year's
Season 1 - Episode 7
Are you a cat person? Or a dog person? As for Saiki, he couldn't care less. So what will he do when he encounters a cat in trouble? It's the Christmas season. Saiki's family is having a Christmas party at home. When he gets home, he finds a surprise guest waiting for him. It's New Year's Day. The Saiki family is visiting a shrine to say prayers. Saiki's wish is to spend a quiet time at home during the New Year's holidays. Will it be answered? Kurumi and Kuniharu get excited to see that Kusuo has so many friends, and end up inviting them over to their house for New Year's. It seems that Kuniharu's efforts to undo the damage of his wife's mistake of spilling the beans about Kusuo having psychic powers didn't work after all. Now Kusuo has to do something to rectify this situation.
40 votes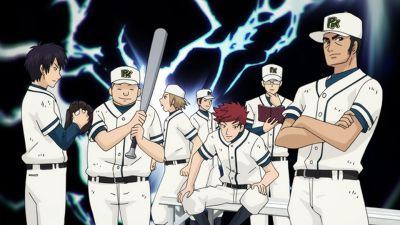 #15 - Rebuilding the Baseball Team! + Eat Your Vegetables Too! The Yakiniku Epilogue + Dad's New Job!? + Birthday Present Demands
Season 2 - Episode 15
Saiki and his friends decide to follow Nendo after hearing that he is going to go help the Baseball Club, which results in one cliché after another.
20 votes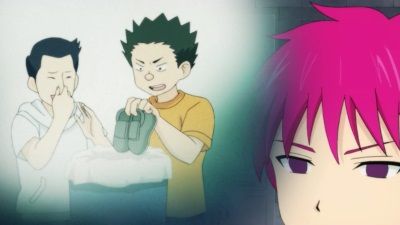 #16 - Facing an Unusual Past
Season 2 - Episode 23
With Akechi Touma about to find out his secret, Saiki goes back in time to elementary school to keep Akechi from even suspecting that Saiki has psychic powers.
21 votes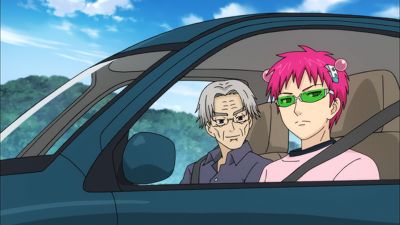 #17 - Preventing a Scam! + The Saiki Family Reunion! + The Rural Mad Scientist + PK Academy Psykickers Assemble!
Season 2 - Episode 10
Saiki's grandfather Kumagoro gets a suspicious call asking for money and quickly realizes it's a scam. He asks Saiki for help with revenge.
22 votes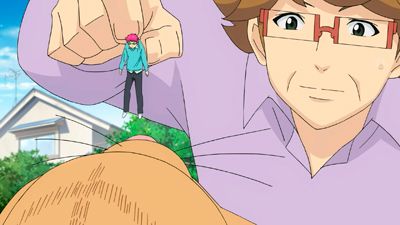 #18 - Teruhashi's Second Visit to the Saiki Residence + It's a Piece of Cake! The Straw Millionaire + Transformation! Super Size + He Should Repeat the Grade + Max Excitement! Karaoke Party
Season 1 - Episode 18
On the pretense of taking cooking lessons from Saiki's mother, Teruhashi visits Saiki's house only to find herself in a difficult situation. On a different occasion, Saiki's class holds a karaoke party in order to make good memories together.
30 votes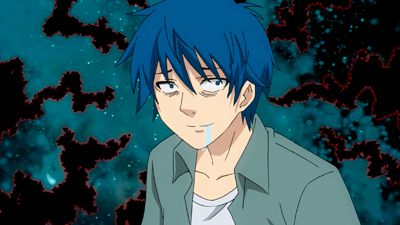 #19 - Okinawa School Trip (Part 2)
Season 1 - Episode 13
Kaidou comes to the rescue when Teruhashi is being hit on by two guys. Can he drive them away? Also, on the last day of the school trip, Saiki's only focus is to get to the shop that sells the rare Coffee Red Bean Anmitsu.
32 votes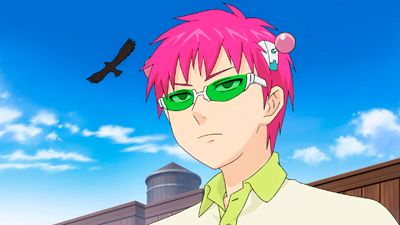 #20 - Please Make Me Your Apprentice! + Psychic Medium in the Class Next Door + Kineshi Hairo, in Search of Lumber + Home Alone Disaster + Crisis in Three-Month Relationship
Season 1 - Episode 4
Saiki receives a letter from someone claiming to know that he's a psychic and wishing to be his apprentice. This person also claims to have special abilities of their own. Saiki hears his classmates talking about a new student in the class next to theirs. Of course, that student turns out to be Reita Toritsuka, the psychic medium that wishes to be his apprentice. After school, Hairo asks Saiki to help him finish up making the entry gate for the school's Sports Day. However, they discover that the arch and pedestal are broken and Hairo won't rest until it has been fixed. Saiki's parents leave for a wedding, and now Saiki's got the house all to himself. Noticing how messy the house is, he starts to clean up, only to discover something truly terrifying. Saiki gets worried when he notices that Chiyo Yumehara has been eyeing him again. When he learns that things aren't going well between her and her boyfriend Takeru, he decides to help mend their relationship.
41 votes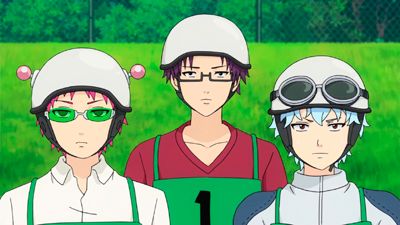 #21 - Summer Break! The Occult Club Training Camp + The Tennis Club Training Camp + Clinical Testing Job + License Training Camp + A Date with Teruhashi
Season 1 - Episode 22
Summer break is around the corner. Saiki is looking forward to having some peace and quiet away from his classmates; however, as usual, his classmates have other plans. Will Saiki be able to avoid them all and have his peaceful break?
30 votes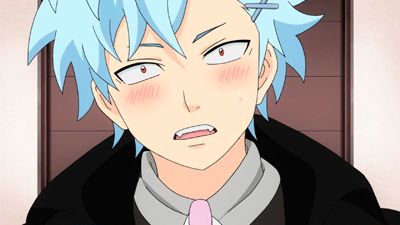 #22 - The Heir to a Conglomerate Makes His Appearance + Tsundere Grandpa Returns! + Holding a Halloween Party + The Saiko Family's Unbeatable Financial Power
Season 1 - Episode 23
The new school term has started and Saiki's homeroom teacher introduces a new student to the class. It turns out that he has an agenda at PK Academy. On a different occasion, Saiki's grandparents come and visit.
27 votes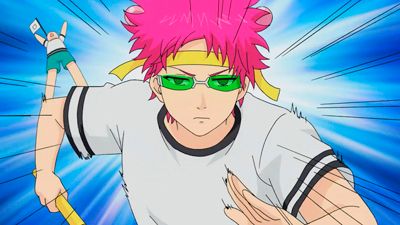 #23 - Escape Using an Invincible Suit of Camouflage! + Get Fired Up! PK Academy Sports Day + Don't Catch Fire! Safety Drill!
Season 1 - Episode 5
It's four o'clock. Saiki wants to leave school right away so that he can catch a TV show. As he tries to leave school, though, he realizes that people are looking for him and now he needs to figure out how to get out of school without being noticed. Today is PK Academy's Sports Day and of course Hairo is fired up to win it! After a failed attempt at trying to get out of attending, Saiki must now try to once again perform perfectly mediocre in order not to call attention to his abilities. After Nendou pulls out one of Saiki's "hairclips," Saiki suddenly collapses and falls unconscious. At that moment, around the world, strange events begin occurring. After the tug of war event, Class 3 is still behind the other classes. In order to win first place, they'll have to earn a lot of points in the remaining two events, the beanbag toss and interclass relay. Saiki's school is having an evacuation drill today. Students are expected to follow the instructions and evacuate the building; however, they seem more preoccupied with the mnemonic they learned instead.
43 votes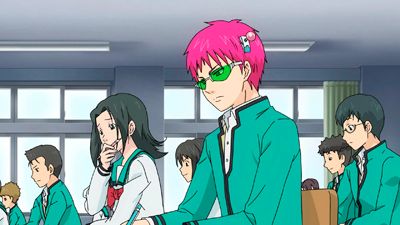 #24 - The Superstar Returns! + Cast the Die! An Upset in the Finals + Second Encounter (for Real This Time)! Uryoku Chouno + Mera's Money Situation
Season 1 - Episode 9
Toru Mugami, the movie star Teruhashi was with at the theater, comes to see Saiki. He says that he wants to discuss something concerning Teruhashi. Students at PK Academy are taking final exams. Nendou is told that he'll have to repeat Year 2 if he flunks three or more subjects, but he says he's got a secret plan for passing his tests. After taking off the germanium ring, Saiki immediately begins hearing depressing thoughts from a familiar voice... Saiki somehow ends up being Chouno's assistant in his magic show. The time finally comes to perform the body-cutting trick, but can Saiki make it a success? PK Academy forbids their students from working. However, one of Saiki's classmates, Chisato Mera, works at a café he likes to visit, and asks him not to tell anyone about it.
39 votes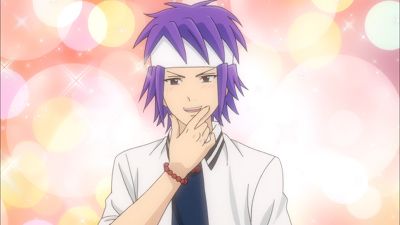 #25 - If You're Looking for a Boyfriend... + The Best Present for a Beloved Sister + The Spirit Medium Debuts Again + The High Tech Soldier, 100 Yen Man! + Inside the Secret Base
Season 2 - Episode 16
Rifuta begs Saiki to help her find a suitable boy before she goes absolutely crazy over Teruhashi. Self-professed "love-master" Chiyo steps in to help.
19 votes