#1 - Totally Fried
Season 2 - Episode 1
Falafel's Drive-In (San Jose, CA), Ramona Cafe (Ramona, CA), Silk City Diner (Philadelphia, PA) Guy stops into a Philly diner for some fried spring rolls, a diner in Cali for deep-fried falafel, and a small town diner for fried chicken cordon bleu.
#2 - Classics
Season 1 - Episode 1
Mac & Ernie's (Tarpley, TX), Brint's Diner (Wichita, KS), Mad Greek's Diner (Baker, CA) Guy Fieri sets out this week to find a secret burger recipe in Tarpley, Texas; making a perfect over-easy egg in a Kansas diner; and a Mediterranean cuisine hot spot in the middle of nowhere between Los Angeles and Las Vegas.
#3 - Upper Crust
Season 7 - Episode 1
Bunk Sandwiches (Portland, OR), Sonny's Famous Steak Hogies (Hollywood, FL), The Depot Diner (Chicago, IL) Guy Fieri rolls in for serious sandwiches; In Hollywood, FL, a hoagie shop with home made rolls; Portland, OR, a cafe serving house-cured pork belly; And in Chicago, a diner doing Sunday pot roast on a bun.
#4 - Brain Freeze
Season 4 - Episode 1
Doumar's (Norfolk, VA), Auny Lena's Creamery (Now Closed), The Creole Creamery (New Orleans, LA) Guy Fieri rolls out for ice cream, Triple D style: With visits to a Norfolk, Va. drive-in for an original waffle cone, an Arizona creamery making Italian gelato in all flavors and a New Orleans favorite doing huge sundaes with 400 flavors.
#5 - From Pork to Tofu
Season 11 - Episode 1
Memphis Taproom (Philadelphia, PA), The Golden Bear (Sacramento, CA), Tortilla Cafe (Washington DC) This trip Guy's pulling in for pork and a little tofu, too. In Sacramento, California, a pub where the chef's doing a pork sausage pizza his way - hold the cheese, hold the sauce. In Washington, DC, a Mexican-Salvadoran joint where the big seller is a Salvadoran papusa - scratch made dough stuffed with shredded pork and cheese. And in Philadelphia, a local favorite serving a vegan club sandwich with deep fried tofu and smoked coconut.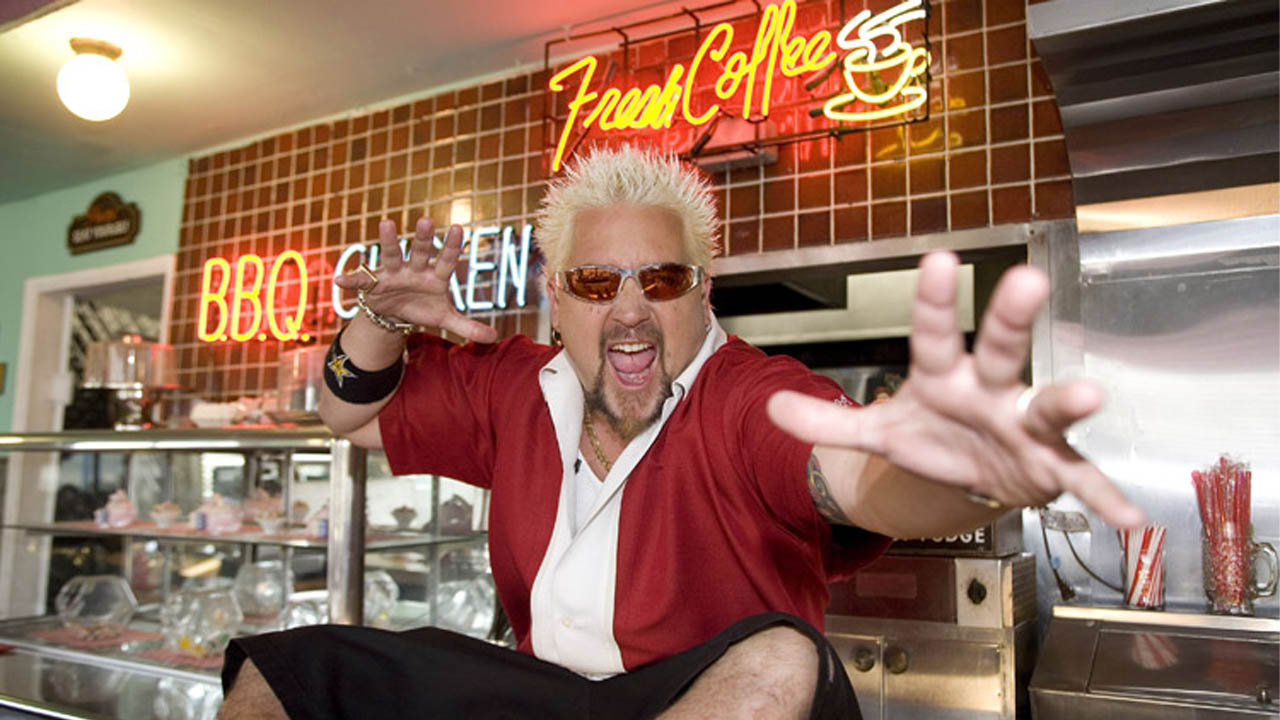 #6 - Triple D All Stars
Season 14 - Episode 1
This trip, Guy's hittin' the road with a couple of his A-list friends. In Georgetown, Texas, Guy hooks up with Matthew McConaughey at a massive diner serving up righteous ham and waffles. And in Minneapolis, Guy's trying all sorts of new things at a neighborhood pizza joint that's a favorite of his fellow foodie Andrew Zimmern.
#7 - Bar Food and Bon Bons
Season 12 - Episode 1
This trip Guy's rolling coast to coast for flavor. In Astoria, New York, a dive bar cranking out slow roasted lamb ribs with fresh tzatziki. In Geyserville, California, a third-generation Italian restaurant serving up the family meatball recipe in a slider. And in Indianapolis, a catering kitchen turned restaurant where something called tomato bon bons have become a local favorite.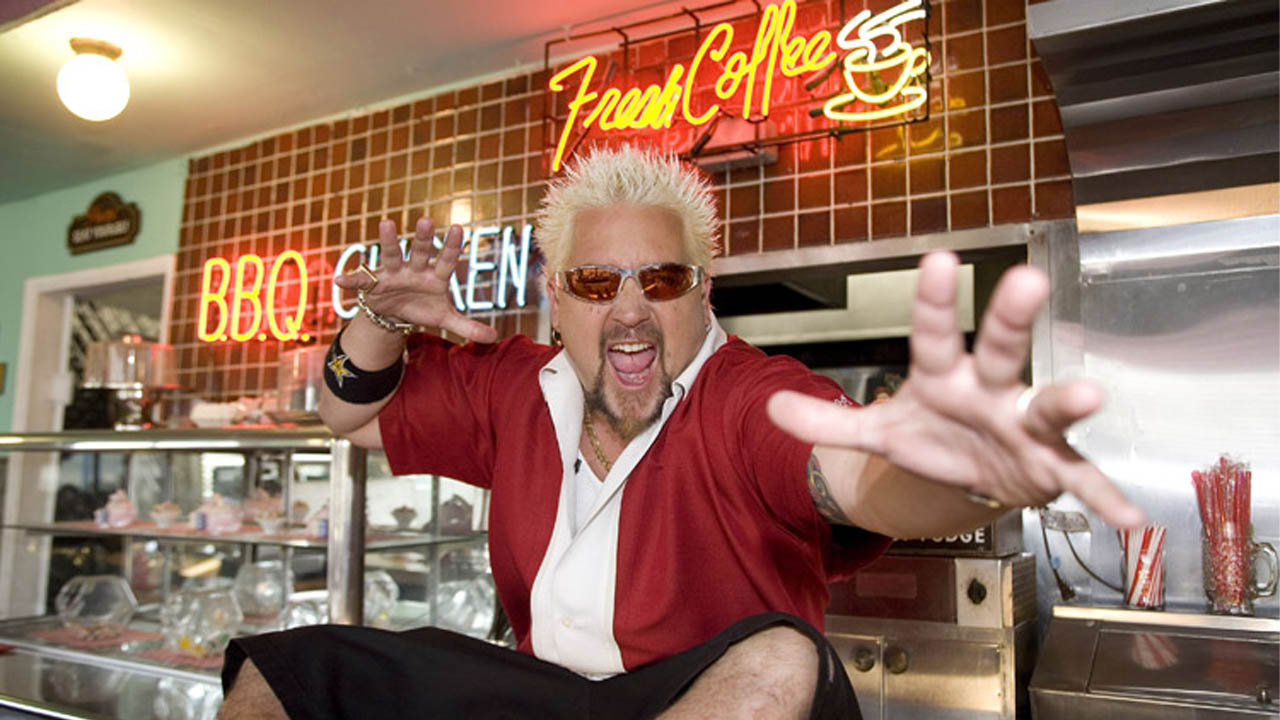 #8 - Seafood & Sammies
Season 13 - Episode 1
This trip, Guy's going for surf and turf between the slices. In Vancouver, British Columbia, a food truck shuckin' and frying oysters for a po boy and topping crispy fries with a mean seafood chowder. In Detroit, Michigan, the 18,000 foot joint giving savory brisket a beer batter bath and a place on a fresh panini. And in Chicago, Illinois, the Italian market scratch making meats for the meatball hero and the crispy porchetta sandwich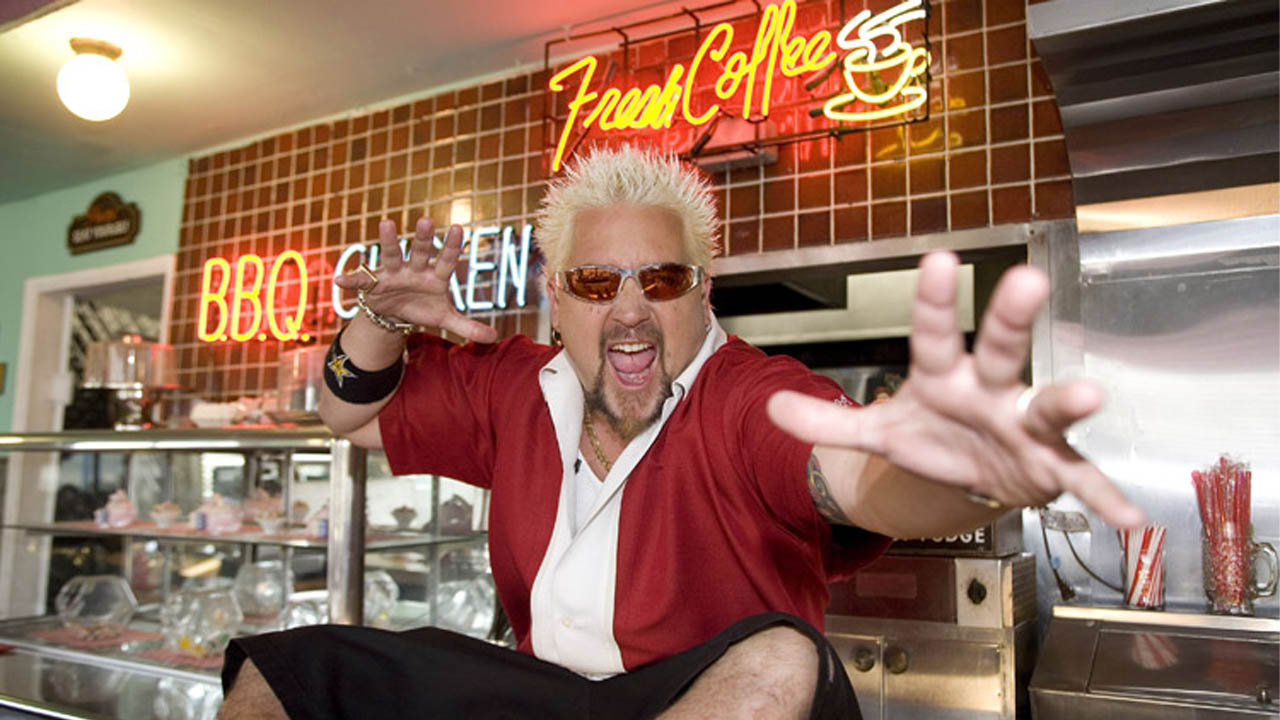 #9 - Unconventional Comforts
Season 15 - Episode 1
This trip, Guy's food radar is all over the map. On the east coast of Oahu, Hawaii, the general store crankin' out traditional Hawaiian dishes like lau lau stew. In Chicago, the real deal Italian family serving up totally scratch-made Sicilian sandwiches like the schiacciata. And in Hernando, Miss., the underground cafe going bananas with their twist on French toast.
#10 - Burgers, Tacos and Dogs
Season 7 - Episode 2
Lankford Grocery (Houston, TX), Fab Hot Dogs (Reseda, CA), Cempazuchi (Milwaukee, WI) Guy Fieri samples fast food done right; In Houston, TX a joint in an old grocery store for wild burger toppings; In Milwaukee, a corner café putting a twist on classic; And in Reseda, CA, hot dogs deep fried, wrapped in bacon and even in burritos.
#11 - Route 66
Season 2 - Episode 2
Emma Jean's Holland Burger Cafe (Victorville, CA), The Rock Cafe (Stroud, OK), Cafe on the Route (Baxter Springs, KS) Hop in for a ride down historic Route 66. Enjoy some homemade biscuits, German spaetzle, and pecan-crusted catfish.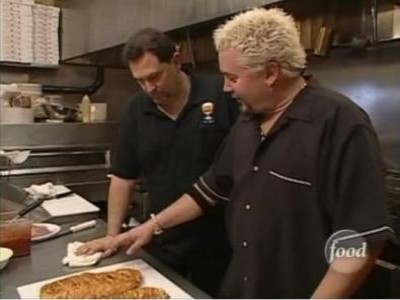 #12 - That's Italian
Season 1 - Episode 2
Four Kegs Sports Pub (Las Vegas, NV), Hullabaloo Diner (Wellborn, TX), Pizza Palace (Knoxville, TN) This week Guy sets out to find great Italian food in places that you would never expect: Pasta and meat sauce at a Tennessee drive-in; Italian sausage and peppers in a diner in Texas; and a Las Vegas bar that serves the best Stromboli that Guy has ever had.
#13 - Like Mamma Made
Season 3 - Episode 2
Sweetie Pie's (St. Louis, MO), Smokey Valley Truck Stop (Olive Hill, KY), Roberto's Mexican Food (Phoenix, AZ) Guy Fieri goes where the recipes really do come from mama: A St. Louis landmark where a former backup singer is dishing up real deal soul food; the Phoenix gas station where everything's Mexican authentic and the Kentucky truck stop with real country cookin'.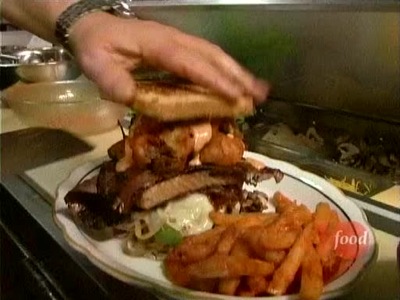 #14 - Tried and True
Season 10 - Episode 2
Bob's Clam Hut (Kittery, ME), Mama Cozza's (Anaheim, CA), Tune Inn Restaurant & Bar (Washington DC) This trip Guy's pulling up for favorites the way they've always been done. In Kittery, Maine, a roadside shack serving the same fried clam recipe since 1956. In Washington, DC, a self-proclaimed dive that's been a go to burger spot on Capitol Hill since '47. And in Anaheim, California, a 45-year-old, third-generation, Italian joint doing sauces, pizzas and parmesans ... all from scratch.
#15 - From Kraut to Cous Cous
Season 12 - Episode 2
Global eats are sampled in Brighton, Colo., San Antonio and Tampa. Included: homemade German kraut; Moroccan couscous; Baja fish tacos.
#16 - Globetrottin'
Season 9 - Episode 3
13 Gypsies (Jacksonville, FL), Gloria's Cafe (Los Angeles, CA), Louis' Basque Corner (Reno, NV) This trip Guy pulls in for a world of taste. In Los Angeles, California, an El Salvadoran place making traditional stuffed tortillas and a pork stew called Adobada. In Reno, Nevada, a Basque joint serving oxtail bourguignon family style. And in Jacksonville, FL, a tapas café doing scratch made Spanish chorizo with honey sautéed pears.
#17 - Blue Plate Special
Season 1 - Episode 3
The Penguin (Charlotte, NC), Patrick's Roadhouse (Santa Monica, CA), Frosted Mug (Alsip, IL) Guy goes coast to coast this week in search of some amazing specials: Fried pickles and homemade corn dogs in North Carolina; The secret to great Italian beef at a Chicago drive-in, and "The Governator's special" in an old hangout in LA.
#18 - One of a Kind
Season 2 - Episode 3
JT Farnham's Seafood & Grill (South Essex, MA), Joe's Gizzard City (Potterville, MI), Grubstake Diner (San Francisco, CA), Los Tapatios (San Jose, CA) Belly clams in Massachusetts, chicken gizzards in Michigan, Mexican food from a lunch truck, and Portuguese food in San Francisco. Guy travels to these locations this week for some one of a kind specialties.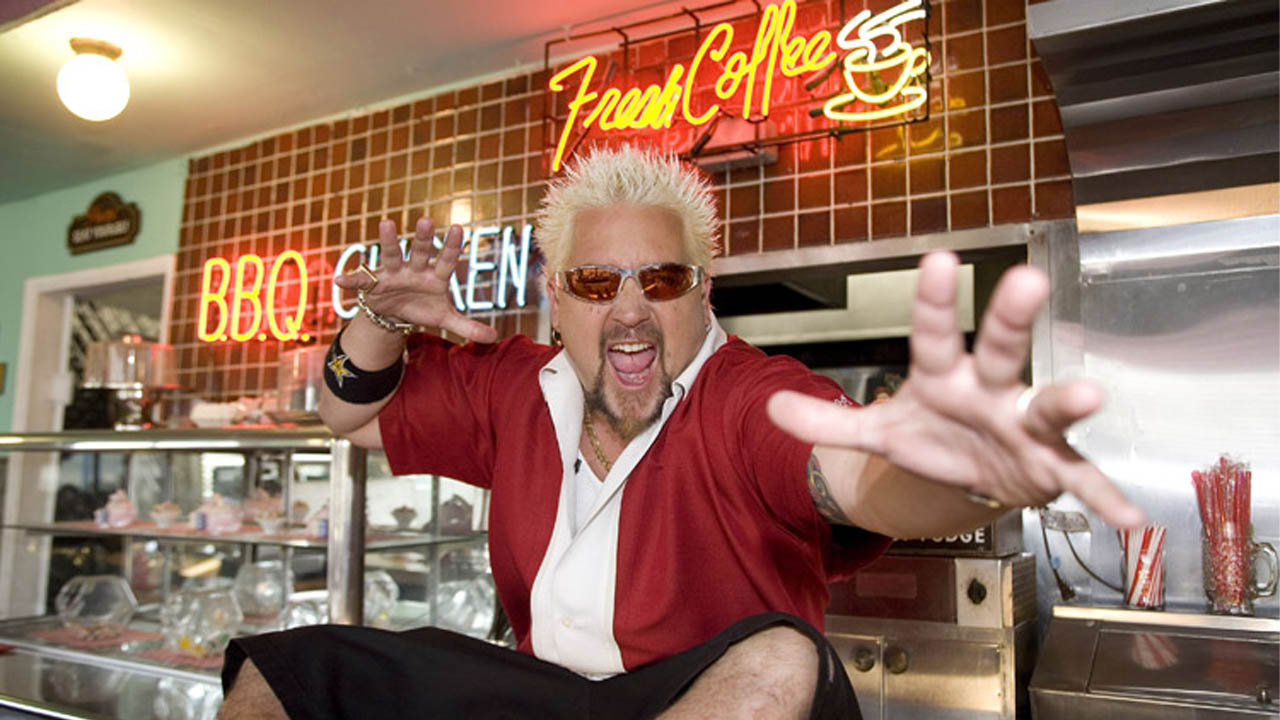 #19 - Streamlined Sammies
Season 14 - Episode 2
This trip, Guy's pullin' right up to the window and digging in. In Austin, Texas, there's a tiny trailer serving up scratch-made sammies to customers on the street and in the bar next door. In Minneapolis, a food truck cranks out fresh lobster rolls that do double duty in a dive bar. And in Dallas, a side-of-the-road joint focuses on one thing only: burgers.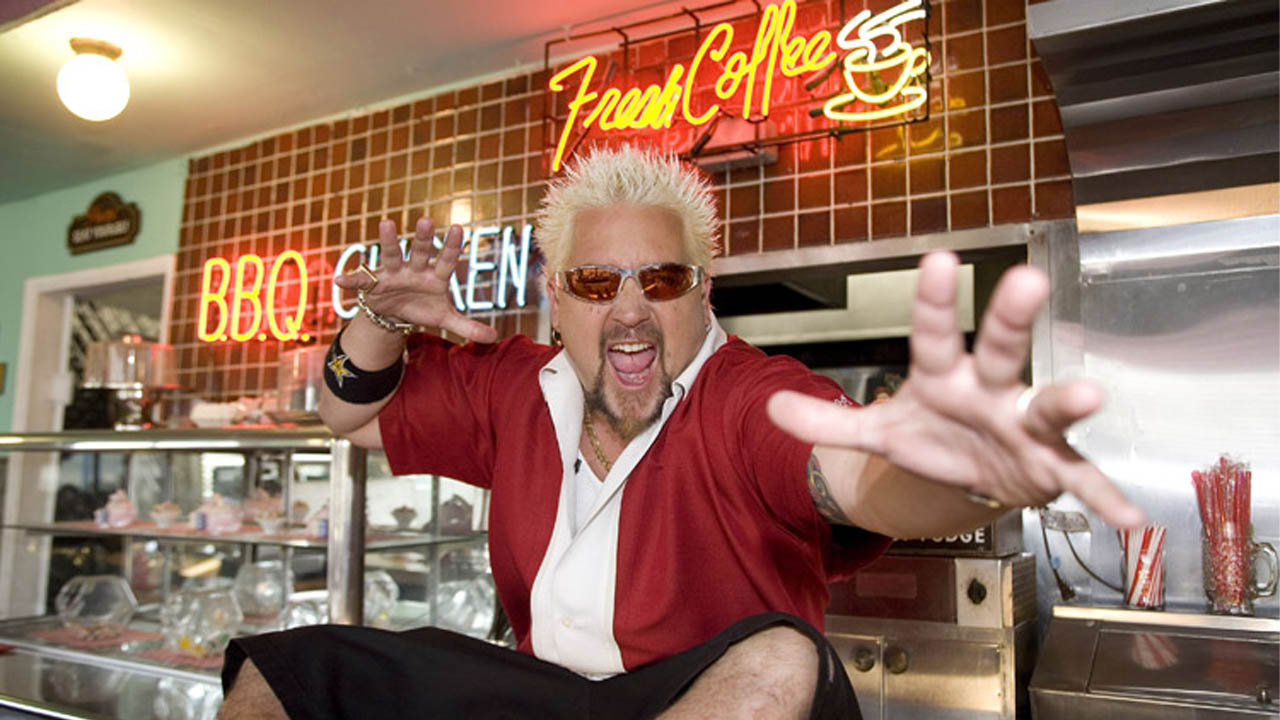 #20 - Crankin' Up the Classics
Season 14 - Episode 3
This trip, Guy's checkin' out some joints that are kickin' the staples up a notch. In Minneapolis, there's a family-run Italian deli crankin' out what the locals love - pizza and totally fresh pasta. And in Dallas, Guy's all-time favorite football player, Earl Campbell, joins Guy for real deal gumbo and burgers with brisket.
#21 - Funky Finds
Season 11 - Episode 3
Quahog's Seafood Shack (Stone Harbor, NJ), Sage General Store (Long Island City, NY), Worth Our Weight (Santa Rosa, CA) This trip Guy discovers some hidden gems. In Stone Harbor, New Jersey, a fish shack flying in Paco Paco fish from the Amazon for a Brazilian specialty. In Long Island City, New York, a 14-seat joint doing everything from wood oven pizza to a lunch counter with all kinds of sides. And in Santa Rosa, California, a volunteer-run brunch spot where kids are cooking up huevos rancheros with roasted pork.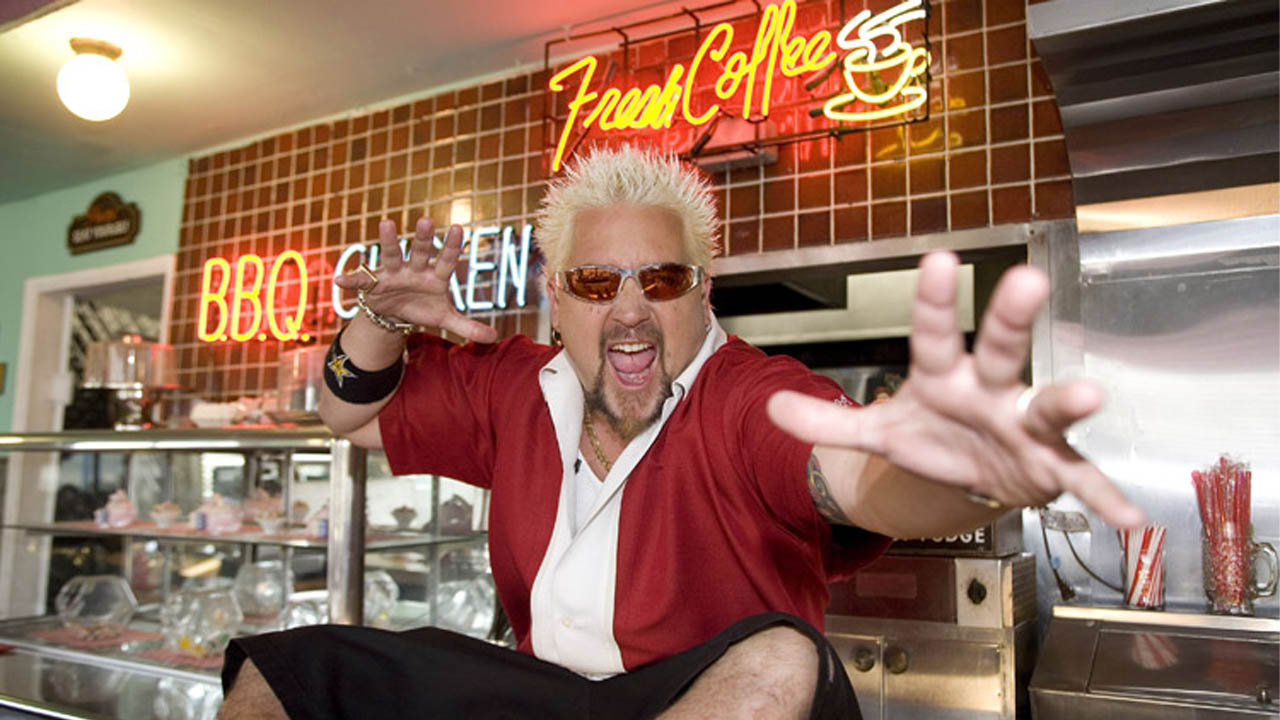 #22 - Kid Rock's Detroit Tour
Season 13 - Episode 3
This trip, Guy's taking Kid Rock's lead on a tour through D-town. Just outside of Detroit in Clarkston, Michigan, Guy tries one of Kid Rock's favorites, the mackinest mac 'n cheese, in a renovated church. On the same block, Guy and Kid Rock check out a neighborhood favorite scratch making bacon and hot links for one mammoth sandwich. And in Webberville, Michigan, Kid Rock shows Guy the secret behind his own unique brew.
#23 - You Can Only Get it Here
Season 12 - Episode 3
Guy Fieri visits a fusion eatery in San Francisco that serves Korean spicy-pork burritos with homemade kimchee. Other stops include a Mexican joint in Indianapolis; and a Belizean restaurant in Chicago.
#24 - Local Flavor
Season 2 - Episode 4
Clanton's Cafe (Vinita, OK), Mike's Chili Parlor (Seattle, WA), Duarte's Tavern (Pescadero, CA) Local favorites are sampled in this episode. Visits include a seafood stop in Massachusetts, and a California diner that's more than 100 years old.
#25 - Quirky Classics
Season 11 - Episode 4
Honey's Sit-N-Eat (Philadelphia, PA), Louie & the Red Head Lady (Mandeville, LA), Picabu Neighborhood Bistro (Spokane, WA) This trip Guy's pulling up for some one-of-a-kind meals. In Spokane, Washington, a joint in a shopping center slathering burgers with a remoulade they call "Goo." In Philadelphia, Pennsylvania, a Southern/Jewish fusion restaurant serving Bubby's brisket with beans and rice. And in Mandeville, Louisiana, a family-style favorite putting a Cajun spin on Oysters Rockefeller.