The BEST Episodes of Long Way Round
Every episode ever - ranked by fan votes!
Last Updated: Jul 13, 2021
Setting off from London, Ewan and Charley travel through some of the most beautiful, but often dangerous, terrain the world has to offer. Crossing over into mainland Europe, they travel through France, Belgium, Germany, Czech Republic, Slovakia, Ukraine, Russia, Kazakhstan, Mongolia, Siberia, Alaska, Canada and three months later arrive at their final destination, New York City USA!
Watch Now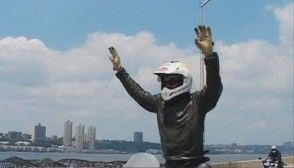 #1 - Anchorage to New York
Season 1 - Episode 7 - Aired Nov 29, 2004
Ewan and Charley take in the wildlife in Alaska then head across the border into Canada and ride into the Yukon region. They meet the Firefighters tackling forest fires and a Welshman who takes them up in his aeroplane to view a glacier. After a visit to Calgary Funfair, Ewan is almost injured when a reckless driver causes a near fatal accident The duo reach America and stop at a Harley-Davidson factory in Illinois. They drop in to meet the guys from OCC, and spend the night reflecting in a hotel before the final day. They are greeted with a triumphant arrival in NYC leading a convey of bikers.
278 votes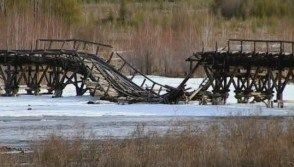 #2 - Yakutsk to Magadan (the Road of Bones)
Season 1 - Episode 6 - Aired Nov 22, 2004
The boys are battling against the remote, hostile and marshy Siberian conditions, and lack of food plus impenetrable rivers and collapsed bridges. Their fighting spirit takes over and Ewan and Charley determine to make up for the lost time.
241 votes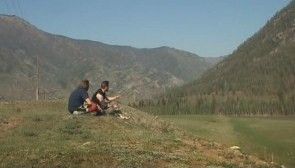 #3 - Barnaul to Western Mongolia
Season 1 - Episode 4 - Aired Nov 8, 2004
Before Ewan and Charley enter Mongolia, they have a small portion of Russia they must travel through first. They are thrilled to be on decent roads again, and make good time driving to Barnaul, a rather large Westernized city. Ewan and Charley are taken by surprise by the stunning gorgeous Altai region they find themselves in. There are literally no roads in Mongolia as we know them. Instead, the guys must follow tracks marked in the earth by trucks.
228 votes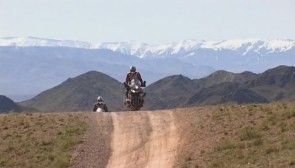 #4 - Kazakhstan
Season 1 - Episode 3 - Aired Nov 1, 2004
Ewan and Charley are on the road to Kazakhstan. They notice how both the terrain and people have changed. At the border they are met by a welcoming committee. Almost immediately they encounter the horrible roads they've been dreading. Claudio (the cameraman) falls first. Later Ewan admits to being scared about falling off and nervous about the bad roads. The second greatest problem for Ewan and Charley are the constant police escorts: the last thing they want, they are quickly growing very tired of them. Another welcoming committee which although the guys appreciate, they want to be unfettered in their journey. A light moment filming a herd of giant woolly camels quickly turns heavy. A very rattled looking Ewan and Charley tell how a man in a car just pointed a gun at them. Another police escort takes the guys to a roadside turnout filled with more police cars and television cameras. Ewan is confused and upset. A policeman offers his house as a rest spot. Ewan is exhausted and happy to sleep on anything. Ewan and Charley see themselves on the local TV news and realise it's impossible to fully blend in. A light-hearted moment before bed ends a long and arduous day. Another police escort delivers them into a full-blown media event. Charley voices how bad he feels for Ewan. They state they don't need any more police escorts. Free for the first time, Ewan and Charley drive to their first night camp. Ewan is giddy at the prospect while Charley is a reluctant camper. They wonder what else is to come. In great spirits, Ewan and Charley have a great visit to a UNICEF project: a school with an indoor-climbing wall for kids. More terrible roads: Ewan talks about wobbling all over and Charley, the experienced off-roader says they are the worst roads he's ever seen. On cue we see the guys struggling with their bikes in the sand. At their second camp Ewan reveals a bug bite on his forehead and explains how being scared of failing on the bike has
238 votes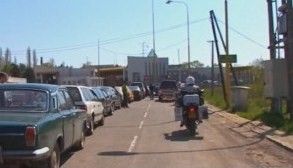 #5 - London to Volgograd
Season 1 - Episode 2 - Aired Oct 25, 2004
Ewan and Charley are finally on the road, all happy and excited to be there. First stop Prague. Ewan and Charley enjoy playing the tourist: having a caricature done, seeing the sights and visiting the Church of Bones at Kutna Hora (both in disbelief as to what it's made of). After stopping in a fairy-tale town, Ewan and Charley head for the border into Slovakia and their rendezvous with the support team. Trouble arises in the form of forgetting to get the carnet signed at the last border. The difficulty causes tempers to flare and Charley and Russ have their first tiff. 'Negotiations' with the border guards finally grants them passage. Once in Slovakia, Charley and Ewan admire the landscape and stop to visit a castle in Bojnice which they end up getting thrown out of. Just before the border out of Slovakia and into Ukraine, the guys are warned by a local about 'grossa mafia' in Ukraine. Arrival at the border yields problems as according to the officials originals of the vehicle ownership documents are essential (their photocopies won't do). The situation becomes a nightmare as Ewan, Charley and the crew are forced to wait for more than 12 hours at the side of the road with only the use of the filthiest and smelliest bathroom in the world. At around 2am they are eventually let through. Exhausted, they accept the invitation of a hotelier they met during the crossing delay. Deep in the woods they arrive at the expensive and gaudy-looking Kamelot hotel, and are immediately suspicious but uncertain as to whether they should be alarmed. Next morning they realise that the hotelier was really just a nice guy who wanted to help them. On their bikes again, Ewan and Charley comment on how different culturally and yet so close geographically Ukraine is; like 'stepping back in time'. Unexpectedly they find themselves at in internal border (checkpoint) where Ewan kills the time by connecting with an old woman. Later in his video diary we learn how profound an effec
261 votes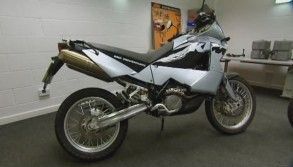 #6 - Preparation
Season 1 - Episode 1 - Aired Oct 18, 2004
Meet Charley Boorman and Ewan McGregor. The pair met on the set of 'The Serpent's Kiss' and have since forged a firm and lasting friendship. Now meet their dream: to ride their motorbikes around the world. Ewan and Charley start mapping out their route, talking through the countries that will make up their 'Long Way Round' the world.
372 votes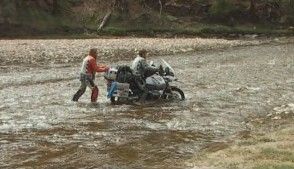 #7 - Western Mongolia to Yakutsk
Season 1 - Episode 5 - Aired Nov 15, 2004
Pushing on despite many setbacks, Ewan and Charley immerse themselves in the rich culture and their spirits are lifted by the beauty and kindness of the people of Mongolia. They know that the Road of Bones in Siberia (built by Stalin's prisoners) lies ahead and will surely test them further.
314 votes