The Best Episodes of Long Way Down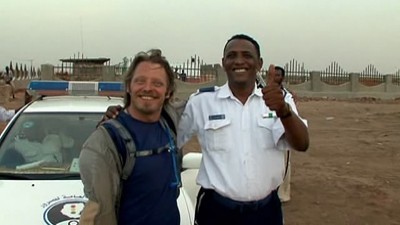 #1 - Italy to Libya 8.23
Season 1 - Episode 3
Continuing their adventure across the English channel Ewan and Charley feel the real journey is just about to begin. Riding through France into Italy, reality hits that the schedule is too tight, causing animosity in camp. Meanwhile, news arrives that the Americans will not get visas for Libya and will have to skip this part of the trip. With two men down, the team have to cross the Tunisia/Libya border which they have been told could be problematic. This border crossing needs to go smoothly and quickly as time is against them. The team are racing to make it in time to get to Aswan, Egypt to catch the weekly ferry that will take them down the Nile into Sudan. Taking in the beautiful landscapes and ruins of Leptis Magna, the boys really begin to settle into their journey. Riding across the coastal roads of Libya, a sudden change in weather slows their progress to a halt. Putting up camp for the evening the winds pick up and trouble looms as a sand storm approaches.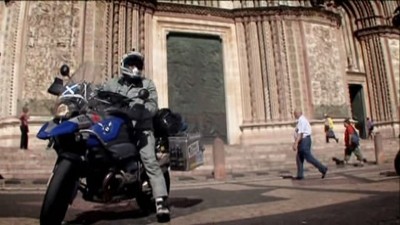 #2 - Scotland to Italy 8.16
Season 1 - Episode 2
Ewan McGregor and Charley Boorman set off on a 15,000 mile trip from John O'Groats to Cape Town. After finding a suitable base, Ewan and Charley spend several months in London prior to departure, planning a route that will not only be challenging but will also be inspirational and visually arresting. Eve, Ewan's wife, decides she would like to join part of the trip. Ewan is over the moon but Charley's not so sure as she's never ridden a bike before. Meanwhile, as part of their training, the team attend a hostile environment course where they are faced with the kind of difficulties and dangers they may encounter in Africa. Then, two months before departure, Ewan has an accident and breaks his leg, jeopardising the future of the trip. But that's not the only problem - departure date looms but worryingly the team still dont have their visas for Libya. Six have been promised, but for the two Americans on board things are not looking promising, and tensions arise as a split between the crew looks unavoidable. With the visa situation still unresolved for the Americans, the team take their vehicles and make their way up to John OGroats to start this epic adventure and what will be a journey of a life time.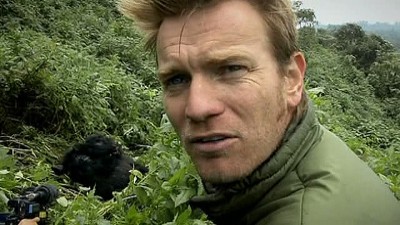 #3 - Sudan to Ethiopia 8.12
Season 1 - Episode 5
After several hours of struggling, the bikes and cars finally cross the muddy river. Ewan sees his first wild zebra, and in Northern Uganda, Ewan and Charley have an emotional day. Visiting their second UNICEF site, they hear the harrowing stories of former child soldiers. The team then race to cross the Rwanda border before it shuts, but Ewan's mind is elsewhere: once they pass through Tanzania he can see his wife, Eve, who is waiting at the next border.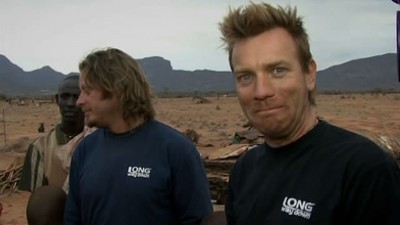 #4 - Libya to Sudan 8.09
Season 1 - Episode 4
Ewan picks him self back up after a number of falls. Making it to Addis Ababa for their well earned break, the boys are looking forward to recuperating with a couple of days off. With the mood reaching an all time low the boys do some soul searching and decide this trip of a life time is well worth continuing. Now over the border and in Kenya the team find themselves stuck in bandit country when Claudio's shock goes yet again and there is nowhere for them to go. They set up camp for the night, everyone well aware of the dangers that surround them. With tummies rumbling and the thought of eating another packet dinner frightening, the team make a unanimous decision to sacrifice a goat for their supper. The soft sand makes the journey unbearable to stay up right. When the terrain finally changes it causes more problems. Instead of a nice smooth tarmac road, the team are faced with a nightmare of a huge muddy river. If they can't get across they will have to turn back.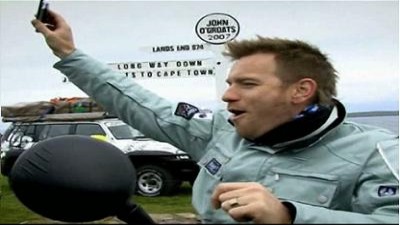 #5 - Gentlemen, Start Your Engines 8.08
Season 1 - Episode 1
Three years after circumnavigating the globe together, Ewan McGregor and Charley Boorman undertake another overland motorcycle adventure, this time from John O'Groats to South Africa. After spending months planning their route, Ewan breaks his leg only weeks before the departure date. To make matters worse, it begins to look doubtful that the team will be granted visas for Libya. Nevertheless, they make their way up to John O'Groats to start their epic adventure.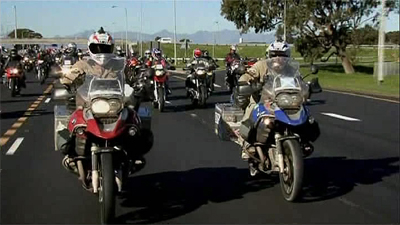 #6 - Ethiopia to Kenya 8.00
Season 1 - Episode 6
Epic motorcycle trip. Reaching Malawi, Ewan is ecstatic to finally meet up with his wife, Eve. They travel to their last UNICEF site, meeting families affected by AIDS. That night they camp in a small village in Zambia, sharing their packet dinners and stories around the campfire. On to Victoria Falls, where Charley bungee-jumps off the bridge. Charley and Claudio collide on the motorway in South Africa, but against the odds they arrive safely in Cape Town. After 85 days and 15,000 miles, the trip is complete.