The Best Episodes of Courage the Cowardly Dog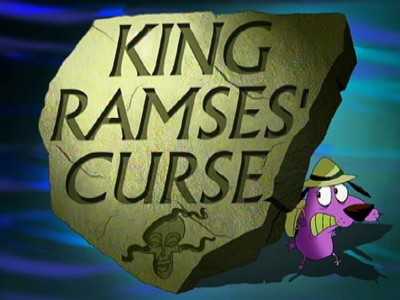 #1 - King Ramses' Curse 8.95
Season 1 - Episode 13
Courage finds a slab that belonged to a dead guy named King Ramses. A guy named Professor Flith comes and says the slab belongs in the museum. However, Eustace (knowing it's worth a lot) won't give it to him. So, the ghost of King Ramses comes and causes plagues to happen that won't stop until Eustace returns the slab to the museum. The first is a flood, the second is loud music, and the third is locusts. The slab is finally returned, but Eustace is now possessed by King Ramses, as punishment for his greediness.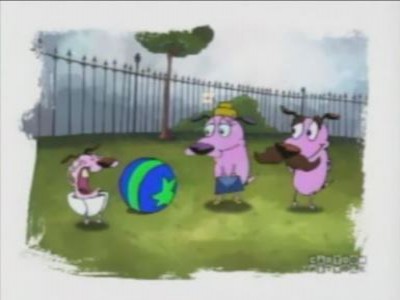 #2 - Remembrance of Courage Past 8.64
Season 4 - Episode 24
Courage remembers the time when his parents were sent to outer space by an evil vet.
Directors: John Dilworth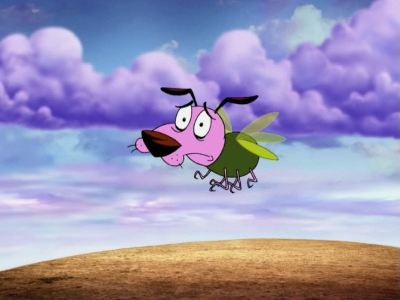 #3 - Courage the Fly 8.54
Season 2 - Episode 11
Courage gets turned into a fly by Di Lung outside his house .Eustace trys to smack him, because he hates flys. He trys three times to get the fly but keeps hiting Muriel instead.Courage then must stop a salalite from hitting the house. It crashes in there yard.Muriel and Eustace then find out Courage turned into a fly. Eustace walks into the house and wants to get rid of the dog-fly.Muriel says how can you think of getting Courage at a time like this, the satalite almost hit the house. Eustace replies ""It didn't even come close"".Suddenly the satalite raises out of the ground and picks Eustace up with it as it shoots up toward space.Muriel and Courage then just sit in their rocking chair.
Directors: John Dilworth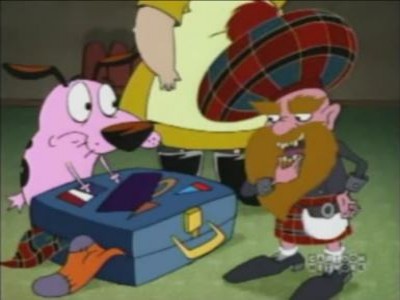 #4 - Rumpledkiltskin 8.53
Season 4 - Episode 3
Muriel gets a telegram, from her uncle Agnes,saying that all of her relatives died that knew a kilt pattern. Muriel is the only family member left who knows how to make it. He wants her to come to Scotland and make a kilt for him.Eustace refuses to go to Scotland, because he hates Scotland. Muriel and Courage go over to Scotland to help him. He takes them to a castle and tells Muriel to make a couple thousand kilts for his factory. She says no. Uncle Agnes suddenly admits he is not her uncle, then warns her he'll make her into a pie if she doesn't listen. Courage overhears a conversation of ""Agnes"" and his mother.He kicked her out for saying his real name to many times.Courage then plays a game of charades with Muriel in front of him so she will say his name. She figures it out and Rumplekiltskin (his real name) doesn't force her to make a couple thousand kilts.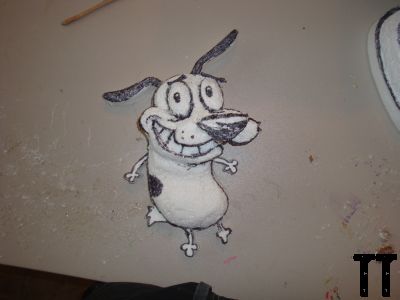 #5 - Courage Meets the Mummy 8.25
Season 2 - Episode 7
A baker back in eygptian times was killed by the queen because she thinks he stole the cookies he baked for her and sold them.He was mummified. One day the mummy awakes and sets out to find the queen, he comes to Muriel's house and thinks Muriel is the queen (she looks very much like her) and Courage hypnotises Muriel into being a queen and Eustace into the royal pumba. Actually the royal pumba back in ancient times was the real criminal not the baker.Eustace is to be mummified (not really, just to get the mummy satisfied by saying this). The Queen (Muriel) says the baker is innocent, and is sorry for him and says how can she make it up to him? She gives the mummy one of Eustace's favorite sheets to sleep in and he gives her a cookie recipe.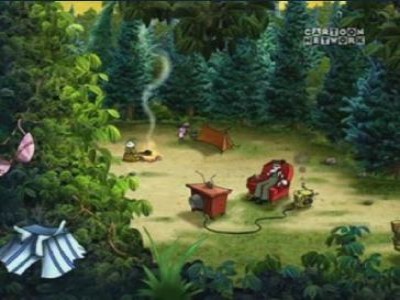 #6 - Campsite of Terror 8.14
Season 3 - Episode 3
Courage,Muriel,and Eustace are camping and two raccoons kidnap Muriel because they want a mother.Eustace is trying to capture the raccoons for a reward.The raccons end up capturing him, to have for company and watch televison with him. Courage and Muriel return home.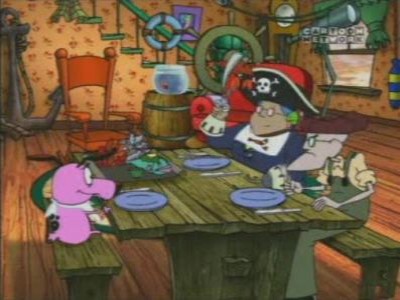 #7 - Food of the Dragon 8.11
Season 4 - Episode 17
Muriel and Courage make the house look like a pirate theme, Eustace isn't too thrilled about it. Muriel and Courage are dressed up in pirate clothes. The three of them eat seafood, then all of the sudden comes a dragon. He eats Eustace, and chases after Muriel and Courage. The dragon tells them he wishes he could fly, and if Courage could teach him how to fly, he would not eat them. Courage, after many attempts, tries to make him fly, but fails. The dragon doesn't want to eat them, but has no choice, so he continues to chase them through the town of Nowhere, and into the jungle. Once Courage and Muriel get to a body of water in the jungle, another dragon appears, who is friendly because he is a water dragon who just eats seafood. The other dragon finds out this water dragon is his long lost brother, and he wasn't meant to fly since he is also a water dragon. Courage, Muriel, and the two water dragons eat some seafood together. The one dragon spits out Eustace, but a bad flying dragon flies overhead and eats him again.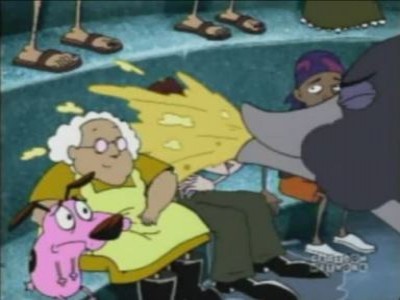 #8 - Aqua-Farmer 8.00
Season 4 - Episode 16
Eustace,Muriel, and Courage go to Nowhere Wet World in which they watch the famous Jojo the dolphin preform some stunts and tricks.The dolphin is mean to Eustace and spits popcorn in his face.Eustace complains about how he can swim better than Jojo.Eustace loses the first challange. Eustace and Jojo then make out an agreement for the next day. If Eustace would lose, Jojo could keep Muriel, in which she would have to live as a mermaid with him. Courage and Muriel give him some training at their house to get him ready. Courage eventually succeeds in making Eustace a good swimer. Eustace ends up winning the race against Jojo, because Courage hypnotised Jojo.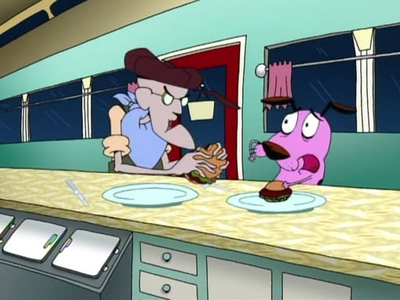 #9 - Heads of Beef 7.88
Season 1 - Episode 21
Muriel is sick, so she sends Courage and Eustace to go to the bakery for her. Eustace gets in his truck and decides to go to eat first. He goes to a place called ""Burgers: Really Cheap!"". The owner is a pig named Jonn Bonne. He gives Eustace and Courage burgers. When Courage sees a guy come into a room and not come back, he thinks he was made into a burger because the burger looks just like him. He goes down and sees Jonn Bonne and his wife talking over a silhoutte of a person's head on a table! The Bonnes go after Courage, but he escapes through the mail slot and runs all the way home. Muriel has gotten better. It turns out the heads were really sculptures made of hamburger meat that Jonn Bonne makes. He, his wife, Eustace and that guy eat one of Eustace.
Directors: John Dilworth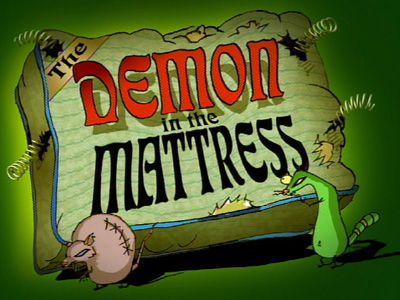 #10 - The Demon in the Mattress 7.85
Season 1 - Episode 7
Muriel orders a new mattress and when she lays on it, a demon inside the mattress enters her body and takes over. Courage gets rid of the demon by finding a chant on The Computer. It exits Muriel's body and the mattress is sent back.
Directors: John Dilworth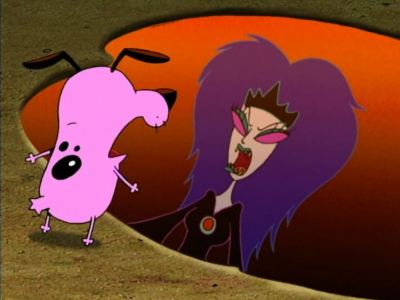 #11 - Queen of the Black Puddle 7.80
Season 1 - Episode 17
A Queen who lives in a puddle in the yard of the farm rises up out of the puddle. Eustace sees this Queen and decides to follow the hot chick. Little does he know that she is bad and plans to eat him. She drags him into the puddle, and Courage follows to save Eustace. She lives in a castle, which is where she plans to eat him. Courage saves him and gets out of the puddle as they just miss being captured.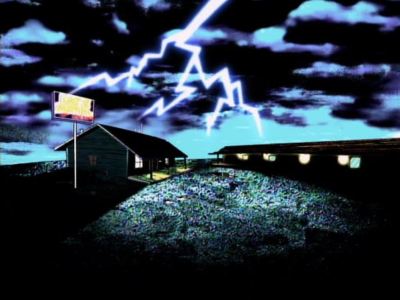 #12 - A Night at the Katz Motel 7.78
Season 1 - Episode 1
Courage, Muriel, and Eustace stay at a motel and get freaked out by spiders and a crazy cat called Katz, who hunts them down. Muriel comes to the rescue and saves Courage from Katz, then takes everyone home.
Directors: John Dilworth

,

John Dilworth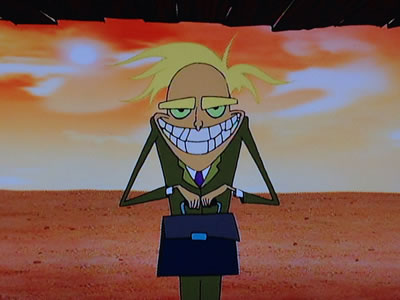 #13 - Freaky Fred 7.65
Season 1 - Episode 8
Muriel invites her deranged relative, Fred, to their home. He has a problem, though. He can't stop giving haircuts. He shaves all of Courage's hair off, and he gets caught by the police, who send him back to an insane asylum.
#14 - The Record Deal 7.62
Season 3 - Episode 4
While Eustace is driving home,Shirley the Medium throws out a Velvet Vic record when doing some spring cleaning and Eustace plays the record Velvet Vic comes out and then Muriel becomes trapped in the record and Courage has to get her out.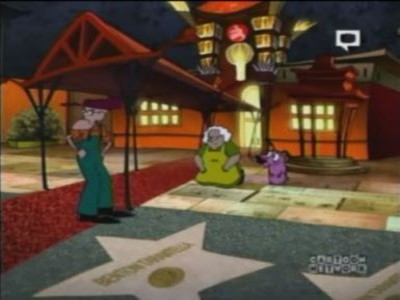 #15 - Cabaret Courage 7.57
Season 4 - Episode 22
Eustace and Muriel never returned a book named 'The pixie and the Prickle Pirate' so they become characters in the book until Courage pays the fine.
#16 - Cajun Granny Stew 7.25
Season 1 - Episode 2
Muriel and Courage are feeding birds at the park. A cajun fox walks by and decides to capture Muriel, so he can make a cajun granny stew. Courage and the fox fight over her on land and on an airplane. Finally, Courage saves her at the last minute.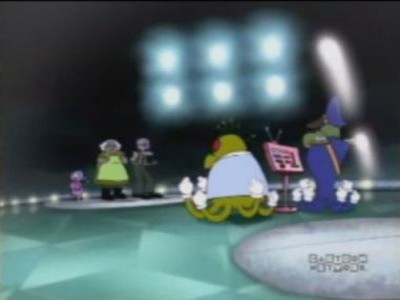 #17 - Courageous Cure 6.87
Season 4 - Episode 20
Two multi-armed aliens come to Earth to find an antidote for a disease that makes everyone on their planet beat each other up with their arms. They expriment on Eustace and Muriel, only to find they don't have the antibodies to get the cure. Courage had the cure in him the whole time, and the aliens get it.
Directors: John Dilworth