The Best Episodes of Bizarre Foods
#1 - Namibia 9.00
Season 6 - Episode 6
The host visits Namibia, where he meets members of a semi-nomadic tribe whose way of life hasn't changed in hundreds of years. During his stay, he samples traditional tribal foods, including dried mopane worms and wildebeest eyeballs.
#2 - Jamaica 8.89
Season 6 - Episode 23
An exploration of Jamaican cuisine, which blends island flavors with African traditions.
#3 - Fez, Morocco 8.67
Season 6 - Episode 20
A culinary tour of Morocco. Featured eats include lamb's head and pigeon pie.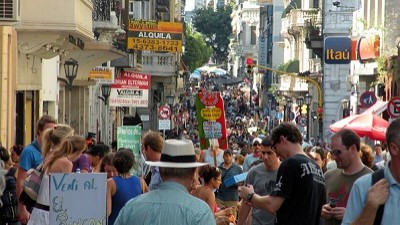 #4 - Buenos Aires 8.67
Season 5 - Episode 9
Follow Andrew as he heads to Buenos Aires and explores the meat culture of one of the world's great towns and tangos away the night with a stunning young starlet.
#5 - Kalahari 8.63
Season 6 - Episode 14
In South Africa's Kalahari Desert, the host dines on giant porcupine and scavenged jewel beetles. Later, he's served zebra near Johannesburg.
#6 - Chengdu 8.60
Season 6 - Episode 11
The host tours Chengdu, capital of China's Sichuan province, known for its spicy cuisine. Featured eats include boiling chili and volcano-rabbit head.
#7 - Taste of the Tropics 8.60
Season 6 - Episode 13
Andrew explores tropical locations closest to home: The Caribbean and the Americas. The region is melting pot of European, West African and Amerindian cultures. The rich bend is visible in the architecture, music, and especially the food.
#8 - Greece 8.55
Season 6 - Episode 8
Andrew meets Greeks passionate about food in Athens and on the remote island of Kalymnos. He travels the country, tasting food rich in Greek history and culture. Andrew eats at the finest eateries and samples the best home-cooked meals.
#9 - Venice 8.43
Season 6 - Episode 3
Andrew visits the mystical city of Venice. He enjoys the food in the historic city while catching critters in the Lagoon, blowing Murano glass, and indulging in the best cicchetti in the world.
#10 - Maine 8.37
Season 3 - Episode 10
Andrew travels to Maine where samples foods which are only found growing in his lawn and learns about recipes which are only found in the state.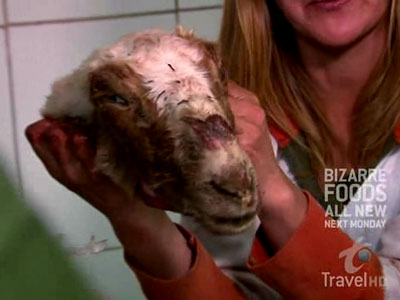 #11 - Mongolia 8.33
Season 5 - Episode 3
Andrew visits a meat market and the central market in Ulaanbaatar, a nomadic family living in Gers in the Steppe on the edge of the Gobi Desert, rides a horse with help from an amateur child racer, takes an archery lesson, a throat singing lesson, and meets some contortionists.
#12 - Hungary 8.33
Season 6 - Episode 10
Andrew explores old and new food traditions in Hungary. He attends an outdoor feast with a Romani family and meets an acclaimed chef who puts a modern twist on traditional Hungarian favorites.
#13 - Syria 8.31
Season 6 - Episode 1
Andrew retraces some of the old routes between Asia and Europe, searching for food and experiences echoing back to biblical times.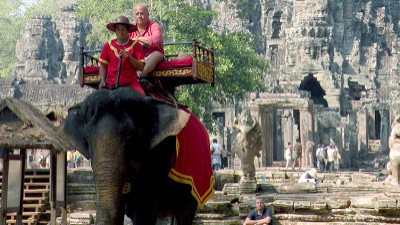 #14 - Cambodia 8.30
Season 5 - Episode 2
Andrew visits Cambodia, a developing nation where the food traditions are a source of national pride. From the bustling markets of Phnom Penh to a quaint floating village on the Tonle Sap River, Andrew samples some of the most extreme food on the planet.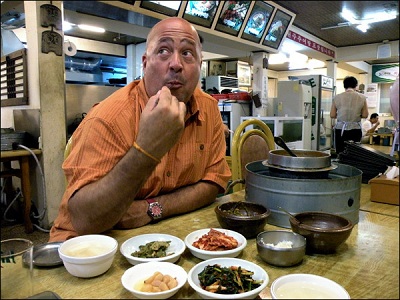 #15 - Seoul, South Korea 8.25
Season 4 - Episode 2
Andrew travels to Seoul, South Korea, where he feasts on the country's most authentic soups, barbecues and fermented foods. Andrew's Asian adventure goes beyond eating when makes his first batch of fresh kimchi.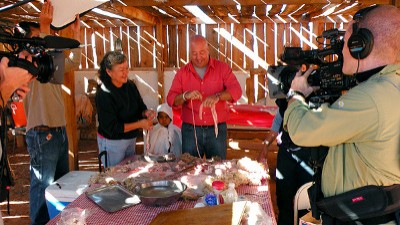 #16 - Arizona 8.20
Season 5 - Episode 4
Andrew uncovers unique food traditions in the great state of Arizona, where the spirit of the Wild West still lives strong today. From native traditions of the Navajo to the New Agers' approach to food, this state offers an abundance of bizarre foods.
#17 - Japan 8.20
Season 3 - Episode 13
Andrew heads over to Japan to sample some octopus eggs, fermented sushi and an unusually flavored milkshake.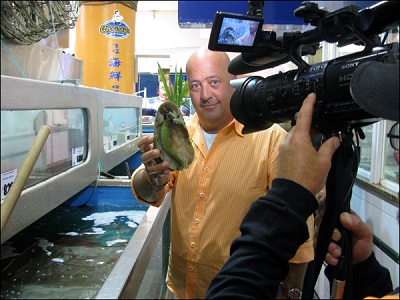 #18 - Eastern Australia 8.18
Season 4 - Episode 5
Andrew goes snorkeling, spear fishing and visits a farm where they "pamper" their cattle. He makes a stop at the Sydney Fish Market where he samples bizarre food he's never tasted before, including Morton Bay, Balamain Bugs, Flathead Fish and Spanner Crabs.
#19 - Pennsylvania 8.08
Season 6 - Episode 2
Andrew samples Pennsylvania's staple foods that most people never hear about. Andrew meet interesting people, including a Japanese superstar chef who cooks poisonous sex organs and a family that boils up every part of the pig,
#20 - Texas 8.00
Season 4 - Episode 7
Andrew Zimmern samples some of the most outrageous food creations at the Texas State Fair, including nitrogen frozen dessert, chocolate bacon and fried alligator. Andrew also gets a behind-the-scenes tour of the kitchens at NASA to taste space food.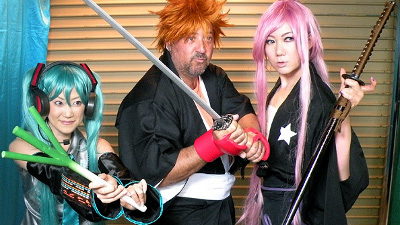 #21 - Tokyo 8.00
Season 5 - Episode 6
Join Andrew as he returns to the vibrant and trend-setting city of Tokyo for more unforgettable adventures in food from legendary seafood markets to becoming a horumon chef for a day serving up intestines from cows and pigs.
#22 - Brooklyn: Schmaltz & Sea Robins 8.00
Season 7 - Episode 5
Andrew Zimmern uncovers what's cookin' in Brooklyn, NY. During his visit, Andrew samples grilled sea robin in Sheepshead Bay, tries kombucha bacteria pancakes in a defunct pharmaceutical warehouse, and eats a spleen sandwich in an Italian focacceria.
#23 - Madagascar 8.00
Season 6 - Episode 4
Andrew gets an intimate look at the food and the people that live in Madagascar. Most people still live the way they did 100s of years ago -- hunting and gathering for food.
#24 - Gulf Coast 8.00
Season 1 - Episode 5
Andrew stays in America and visits four states. His destinations include: Louisiana, Alabama, Mississippi, and Florida. Some of the regional cuisine that Andrew tries: nutria (giant rat), squirrel, turducken, head cheese, pig's brains, fried pickles, mullet roe, and alligator.
#25 - Phillipines 7.91
Season 1 - Episode 1
Andrew Zimmern is off to the island nation of the Philippines. There he chows down on local favorites like 'balut,' crickets, stuffed frogs and even live worms!