The Best Episodes of Baywatch
Last Updated: Nov 14, 2018
This long-running series follows the adventures of a team of lifeguards on the crowded beaches of Los Angeles County. Veteran lifeguard Mitch Buchannon watches over the younger lifeguards that come and go with each passing season as they keep the beaches safe for vacationers. Frequently he must take action to save them from the raging seas and from the raging tempers that sometimes flare up between the young guards in this stressful job.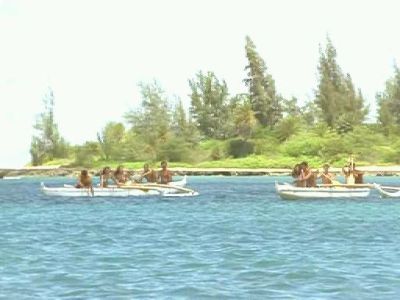 #1 - Black Widow
Season 11 - Episode 11
At the same time, Sean is stuck in traffic in front of the Hilton Hawaiian Village. He sees something that makes him catch his breath: a woman that resembles his ex-wife, Maggie. Just as they see each other, his Nextel starts chirping. Crazy Bob has found the body of the husband and dragged it to shore. Sean immediately rushes to the scene. Leigh tries her best to perform artificial respiration, but it's too late. The man is dead. Strangely, his windpipe has been crushed. Leigh runs off to find Sasha, and catches her in the midst of a torrid embrace with Sergio, a ""friend of the family."" Leigh is immediately suspicious of what she has just seen, but Sean reminds her that they are lifeguards, not policemen, and to leave the detective work to the pros. Arriving at the scene of the crime is Maggie. She tries to talk to Sean, but because of the investigation, he can't talk to her at that moment. Instead, they agree to meet at a bar later. Once again, Sean's work has taken precedence over h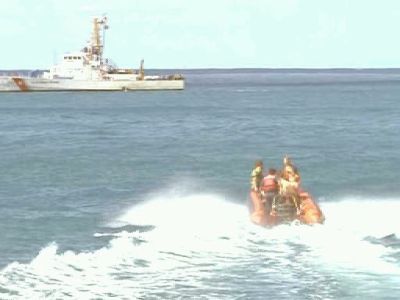 #2 - Big Island Heat
Season 10 - Episode 18
As his trust in Jenna deepens, Sean decides to take a huge risk by sharing his most dark and emotional secret with her. He can only hope that Jenna will not betray his trust. Meanwhile, Allie struggles to keep up with a challenging day of rescues.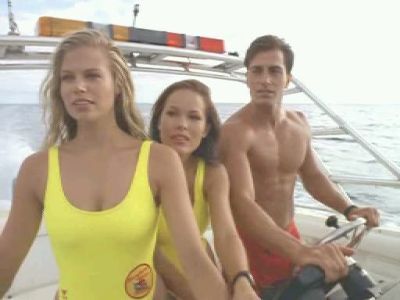 #3 - Risk to Death
Season 10 - Episode 7
Sean considers dismissing Jason from Baywatch unless he changes his attitude. A man and his pregnant wife need to be rescued from the ocean after falling overboard from their yacht.
Writers: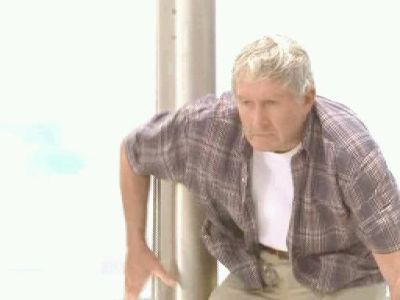 #4 - Last Rescue
Season 10 - Episode 21
When Sean learns that a young man Jamal has dreams of becoming an Olympic swimmer, he decides to do whatever he can to help Jamal realize his goals. Meanwhile, Mitch has his hands full as he aids Jessie in overcoming a family crisis.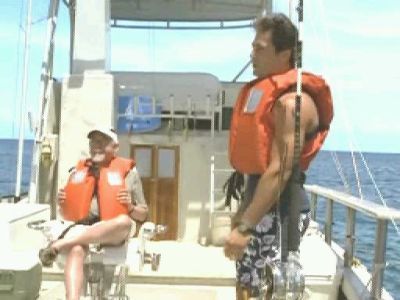 #5 - The Ex-Files
Season 11 - Episode 12
Jenna is marching around the Training Center with Phil Price, a photographer getting publicity shots of her in action. Meanwhile, Zack is showing around Peggy, one of the trainees. They get a frantic call: a scuba tour group has lost some of its members near a reef. Seeing an opportunity for some photos in action, Jenna grabs Phil and directs Sean to bring him with them so he can get the shots. Zack will ride shotgun with Jenna. As they near the area the call came from, Sean notices that the channel marker is missing. He warns Jenna and Zack, but they are too intent on the rescue. The jet ski hits a reef and flips, tossing Jenna and Zack into the water. Zack breaks his ear drum, but suffers through the pain in order to get Jenna, who is trapped under the water. He and Sean rescue her. It turns out that there never was a group of scuba divers: it was just another in an increasing series of pranks that have been played on the lifeguards. McKenna attempts to use what happened to Zack and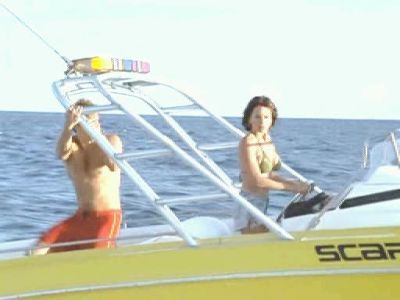 #6 - My Father the Hero
Season 11 - Episode 16
Sean and Jenna are on their way back from the other side of the island, where they have met some mucky mucks who might be helpful to her reelection campaign when suddenly, they hear shouting from out in the water. They meet Lyle Garrett, a young, good looking man whose friend has been injured in a surfing accident. Sean dives into the water and, even though it will ruin her dress, Jenna does as well. After the friend is taken to the hospital, Jenna has a chance to talk with Lyle. He's an investment banker who handles some very wealthy clients. Jenna's eyes immediately light up: not only does she need to learn to invest her own money better, but a contact with wealthy friends could be very helpful indeed. She feels that Lyle could benefit from her coterie of political contacts as well. Sean, though, is not quite so easily impressed by him: there's something about his behavior that bothers Sean. Jenna poo poos him, especially when Lyle, ""as a favor,"" is able to turn her $5,000 into $10,0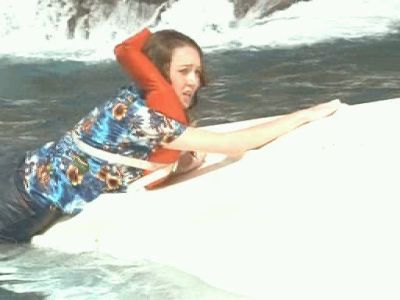 #7 - Ties That Bind
Season 11 - Episode 10
The training period is coming to an end, and all of the trainees are anxious to see who will get the valued A-1 classification. During this final ""heat,"" everyone pushes themselves to the limit, including Zack and Carrie. Meanwhile, Barney Poe and his daughter Liv are on the beach. A thief sees her taking out a wad of bills and tries to steal them. Zack immediately jumps into action and chases the thief through the crowds in the water via jet ski. He collars the thief, but knows he is in trouble with Sean for acting so rashly. He wonders if it will impact his ability to get his qualifying certification. Zack and Liv are attracted to one another. As they look around the training center, Barney explains to Sean that he's been a widower for eight years. Sean, thinking of Ben, understands Barney's predicament and is sympathetic. True to his worst fears, Zack does not get his certification. Zack, of course, is completely devastated-particularly when Carrie consoles him on washing out in fro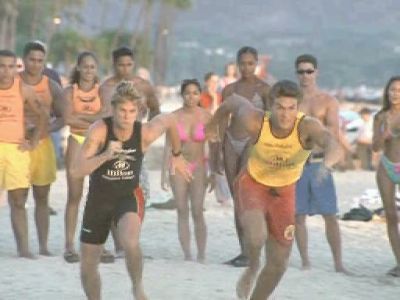 #8 - Ben
Season 11 - Episode 9
The days starts out beautifully, with Sean surfing with his good friend Mike, a seventeen year old who hopes to turn pro one day. Sean goes into shore to open the tower. When he looks out at the ocean again, Mike has disappeared. After a frantic search, Mike is found with his head lodged in a coral reef. Despite the best efforts of the team, Mike dies. His father, Peter, has known Sean for years and blames him for the death of his son. Sean blows up: he can't hang on to all the guilt and is tired of trying to orchestrate things like the Ocean Fest. He storms off. This gives Jenna a chance to take over the plans for the Ocean Fest. This is somewhat good news for Zack, who was going to be a bench warmer for most of the Fest owing to his position as a newbie. Jenna, however, keeps him an alternate. Carrie tries to warn Zack that he is not behaving very well politically, but he's too consumed with his own frustrations to hear her. Sean goes out on his canoe to be alone. He is not aware tha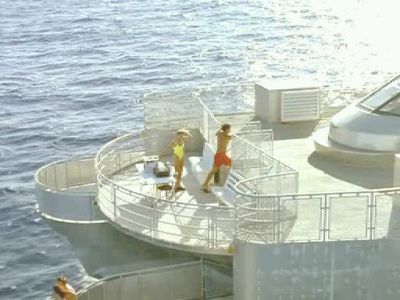 #9 - Gold From the Deep
Season 10 - Episode 10
The news of a lost treasure's location excites most of the Baywatch lifeguards but the excitement quickly threatens to tear the team apart in the rush to find it.
Writers: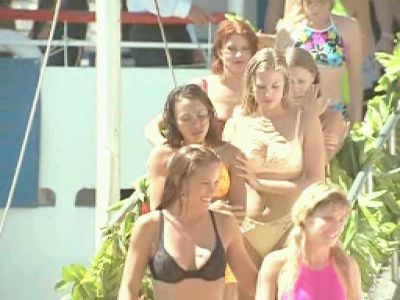 #10 - Liquid Visions
Season 10 - Episode 13
The amazing recovery of a man rescued after being submerged for a very long time inspires Dawn. Kekoa debates getting involved in another relationship as she thinks she dooms her chances for happiness with self doubt.
Writers: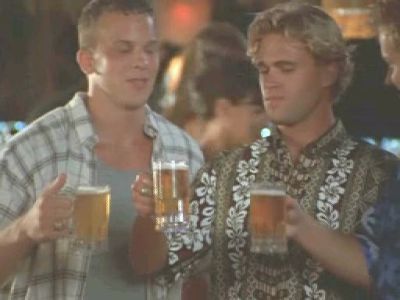 #11 - Dangerous Games
Season 11 - Episode 4
Sean and Leigh are giving a lecture to a bunch of blue haired old ladies in hopes of getting some funding for the training center. A man on fire runs screaming past them. Sam Parks, a good looking daredevil pilot, chases after the man and knocks him to the ground, saving him from a firey death. Sean and Leigh are impressed by his bravery even as they are a little wary of his methods. The next day, Sam comes by to invite Leigh and Sean Sean out for drinks. They accept. Sean starts to feel a little hesitant about Sam when, after stopping a drunk from making a pass at Leigh, Sam nearly pum-mels him. Sean realizes that Sam is an adrenaline junkie who is dangerous for her to be around. Leigh, though, is caught up in Sam's glamorous façade and mistakes Sean's concern for jealousy-which might not be too far from the truth as a hurt Sean watches Leigh and Sam walk off into the sunset for a romantic evening together. The next day, Sean presents Leigh with the fact that Sam's license has nearly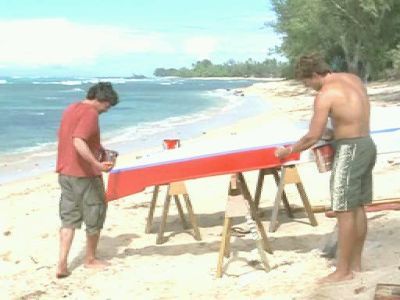 #12 - Makapu'u Lighthouse
Season 11 - Episode 21
Sean rescues a local TV celebrity who is in trouble with his kayak. This brings the team a lot of media attention, and because Sean turns down the offer of a TV interview, he is offered a week at the Hilton, comp'd, because of what he did. Sean, though, does not like to take freebies either so he declines. But he has a different issue: he is about to go on his required annual leave for a week. Being the dedicated and at times obsessive guy that he is, Sean is having a difficult time letting go. Zack tries to interest Sean in joining a canoe race that he and Jason are doing for a competition. But Sean is not interested at this time. Brian has a solution: one of his friends, Jimmy Confair, a Hawaiian, is having difficulty with his boat-and also with getting over the death of his wife. He needs help repairing it and making it whole again. Brian suggests that Sean go to visit Jimmy and help. Sean reluctantly agrees. When he arrives at Jimmy's house, he is surprised to see that the boat tha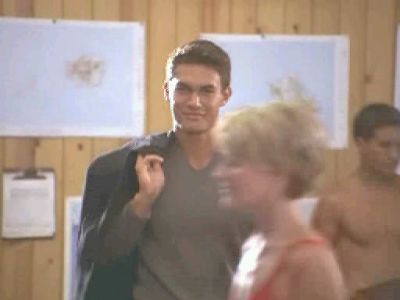 #13 - The Hero
Season 10 - Episode 15
Sean finds himself having to deal with romantic overtures from unexpected sources. Jason gets caught up in a whirlwind romance with a woman visiting Hawaii.
Writers: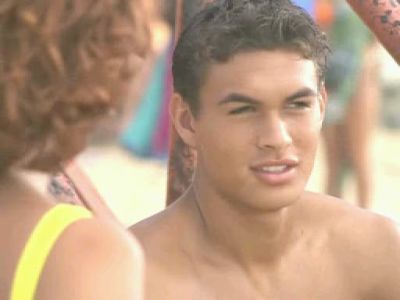 #14 - Thunder Tide
Season 10 - Episode 16
Jessie and her Baywatch counterparts struggle to save a woman trapped in an underwater coral reef with a dwindling air pocket keeping her alive.
Writers: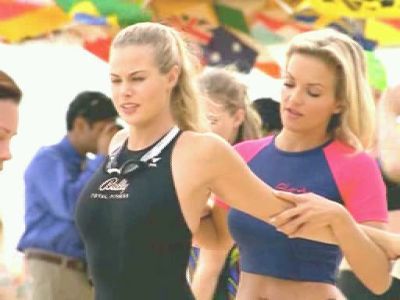 #15 - Maui Xterra
Season 10 - Episode 19
Jessie accepts an offer from her sister Dawn, who claims that she wants to help Jessie regain confidence by competing in a challenging triathlon. Sean and Allie worry about Jessie's health and wonder if Dawn might have darker motives behind her offer.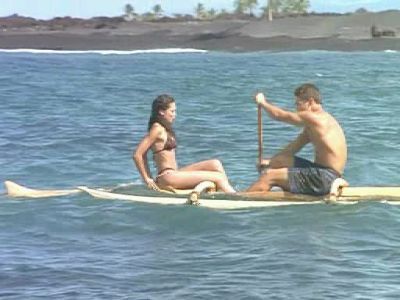 #16 - Breath of Life
Season 10 - Episode 17
Jason, at the request of a young woman, goes to visit her father and reluctantly learns a craft from him. Sean's feelings about Jenna change abruptly when he finds out her plans for the future and how they will impact him directly.
Writers:
Tanquil Lisa Collins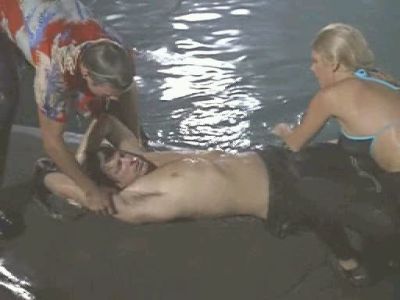 #17 - Trapped
Season 11 - Episode 19
Sean and Leigh are in the scarab off of Maui investigating a new man-made reef that is being put in to lure additional tourists. Neither of them is happy with this new development because it has caused a shift in the rip patterns. Nick, a surfer, is also concerned and, for some reason, isn't feeling quite well. His brother Joe is surfing and tombstones. Sean and Leigh quickly jump into action and bring Joe to the beach. He is unconscious and Nick is nearly hysterical. Sean and Leigh try to get him to wait for the ambulance, but he's too caught up in trying to save his brother. The ambulance arrives and Nick hops in to go to the hospital. In the hospital, Joe is fine but Nick turns out to have pneumonia. Sean and Leigh begin to suspect that there is something wrong with the materials that are being used to create the new reef. To complicate matters, Sam Parks has come back. Sean definitely does not trust Sam, and Leigh is loathe to tell him the truth about Sam's status as a Navy Intell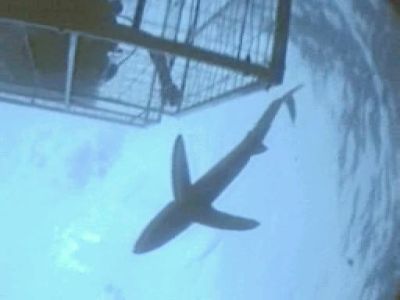 #18 - The Cage
Season 11 - Episode 8
While watching over the Ironman Triathlon, J.D. and Sean must perform a rescue of two divers who have come face to face with a tiger shark. The reason the shark is so close in land is that Blake, a nefarious ""shark tour"" provider, had been dumping chum in the water. Sean, of course, is livid and becomes even more so when locals tell him not to interfere. Sean confronts Blake face to face, but Blake is not intimidated by Sean and even threatens him back. Unbeknownst to Sean, Kekoa and J.D. have continued their affair. They have, in fact, ramped it up to the next level, even though both know that what they are doing is dangerous and not in the best interests of the team. Meanwhile, Jason is having problems with tourist Al Raymond. Raymond is a good enough guy, but he wants so desperately to impress his son Noah that he keeps getting in Jason's way. To make things worse for Al, all of his attempts end in embarrassing failure. Al at first irritates Jason, but Max tells him how he misses hi
Writers:
Andre Jacquemetton

,
Maria Jacquemetton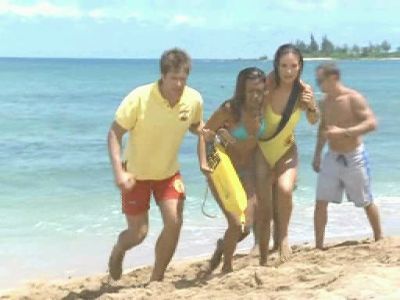 #19 - The Stalker
Season 11 - Episode 13
Two young and good looking spear fishermen, Ronnie and Eric, get into trouble when Eric accidentally shoots while Ronnie is in front of him. Ronnie's hand is pinned to the coral reef. Meanwhile, Sam (the adrenaline rushing pilot from Dangerous Games) has come back into Leigh's life. He has been sending her post cards and calling her. Carrie thinks Leigh's crazy for not going for him. Suddenly, Sam shows up behind them. He wants Leigh to date him again. Their reverie is interrupted by Eric's cries for help. The trio immediately spring into action. Eric has now been caught in the fishing line and is also in trouble. Using their best efforts and ingenuity, the trio is able to save Eric and Ronnie. Ronnie is taken to the hospital. Eric is very grateful to both Carrie and Leigh, but he seems to take an especial interest in Carrie. The two of them go out on a date. Carrie really likes him, and finds herself opening up to him in a way she hasn't before. The next day, he is on her front door s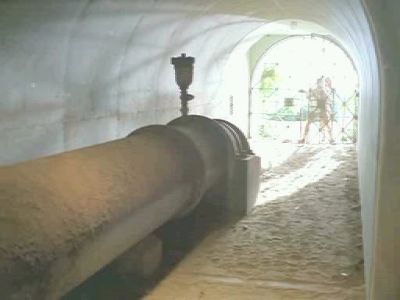 #20 - Baywatch O'Hana
Season 10 - Episode 20
Sean and Jenna continue to develop feelings for each other, but Sean is afraid to go public with their romance. When he has a chance to lecture on lifeguard techniques, Sean welcomes the distraction. However, when Jenna ends up in grave danger, Sean's true feelings come to light in front of his team.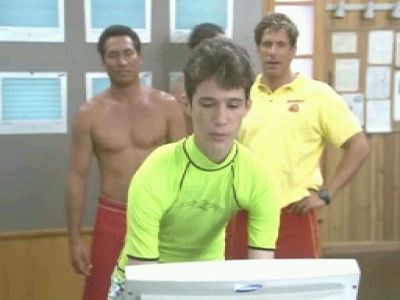 #21 - Boiling Point
Season 11 - Episode 17
Sean and Brian have just completed the daring rescue of Matt, a twelve year old boy who had gotten a little too excited with his birthday present: a wind surfboard. The boy is impressed that he was rescued by ""the"" Brian Keaulana. Brian and Sean, meanwhile, are looking over the new computer system, designed by Zack and paid for by Harold Schuster, the center's biggest donor. Brian asks Sean how to use the banner ads at top. He tries to click on one. The system suddenly crashes. With Schuster coming later that afternoon, this is a major disaster. Zack, meanwhile, is with Jason, JD and Kekoa. They are with Schuster's spoiled daughter, Brit, taking her on a hiking trip to the Waimea Valley on Kauai. Both Zack and Jason are hot for Brit, and she makes sure she plays with the two of them. She is also extremely well equipped, carrying with her a handheld GPS (global positioning satellite) system. They decide to hike to the top of a local peak. JD and Kekoa will stay behind. As the day wears
Writers:
Frederick Rappaport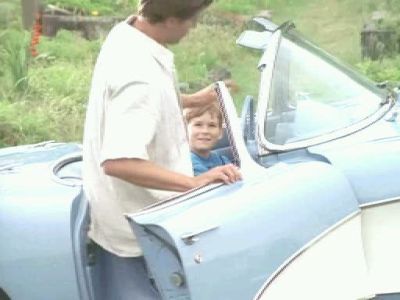 #22 - Baywatch Down Under (Part 2)
Season 9 - Episode 17
Terry leaves the house in the morning and leaves a note for Jake. He goes to the dock where Clare's sailboat is. He takes his dog Spencer with him and sails away. Jake finds the note and tells Allie and Jessie that he needs some clues about where Terry is hiding. Allie tells Jake that he can go through Clare's old stuff and maybe find a clue there. Jake is surprised to find his old 1963 Corvette in Clare's garage. He didn't think she had kept it all this time. While looking through her stuff, he finds a letter Clare was supposed to send him. In the letter, Clare has written that she had to leave him because he could never settle down at one place. He then realizes that Terry is a lot like his mother. And he knows that Clare always went sailing when she faced a big decision. He tells Allie and Jessie about it and they go up in the air to search for him. Meanwhile, Mitch and Jake go out in a rubber ducky. Allie and Jessie finds Terry just when he is about to hit some rocks with the sailb
#23 - Killing Machine
Season 10 - Episode 22
Mitch faces off against an eco-terrorist, and as the dust settles, Baywatchs' finest will never be the same.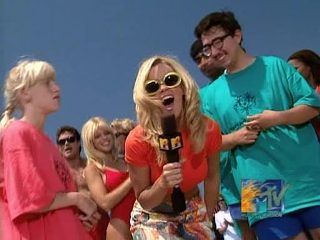 #24 - Beachblast
Season 7 - Episode 6
Mitch and the Baywatch gang compete against Jenny McCarthy and MTV VJ's in a charity games to raise money for the Special Olympics.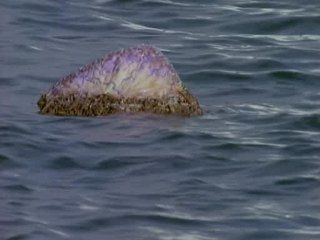 #25 - Bachelor of the Month
Season 7 - Episode 12
Stephanie and Tom are planning a small and simple wedding. However, Caroline is convinced that a big wedding is the best thing to have. Tom tells Stephanie to tell Caroline how they feel, but Stephanie is afraid to hurt Caroline's feelings. She is still vulnerable after breaking off her engagement to Logan. In order to keep the wedding small, Stephanie and Tom decide to get married on the beach the same day. They have a small wedding on the beach and afterwards Stephanie throws her wedding bouquet, with Caroline catching it. Logan still loves Caroline, but they decide just to be friends. Meanwhile, a young editor from the Flash Magazine named Molly McCoy, approaches Mitch and tells him that he has been nominated to be the Flash Bachelor of the Month. It turns out that C.J. has nominated him. Meanwhile, a great Portuguese-Man-of-War is terrorizing the beach. When Molly doesn't get the video she wants for the Internet, she fakes a drowning. But then the Portuguese-Man-of-War comes and Mi