The WORST Episodes of Bakuman
Every episode ever - ranked by fan votes!
Last Updated: Nov 8, 2019
The series follows talented artist Moritaka Mashiro and aspiring writer Akito Takagi, two ninth grade boys who wish to become mangaka.
#1 - Examination and Provocation
Season 3 - Episode 10
The serialization committee decides to serialize Aoki's What God Gave Me and Nanamine's What You Need for a Meaningful School Life. As Kosugi begins to be bothered by Nanamine's method, Hattori senses his discomfort and visits Mashiro and Takagi to gain some insight on Kosugi's attitude, which they reveal is due to Nanamine's unorthodox method, enraging Hattori. At the same time, Nanamine calls Akito to gloat about his serialization, but Ashirogi Muto states they will crush his methods using all the hard work they have put into PCP. Unperturbed, Nanamine says that they will let the rankings decide who is superior. Eventually, Hattori confronts Kosugi and is able to lift his spirits by reminding him of his value as an editor. As Nanamine collaborates with his internet acquaintances, some drop out after becoming fearful of his intention to challenge Ashirogi Muto. While Mashiro and Takagi decide how best to contest Nanamine, they realize, that they can best counterattack, by pitting the climax of PCP's current arc against Nanamine's second chapter. Eventually, as Kosugi reviews Nanamine's work and points out the weakness in his background drawings, Nanamine reveals his secret weapon: a returning Takuro Nakai.
20 votes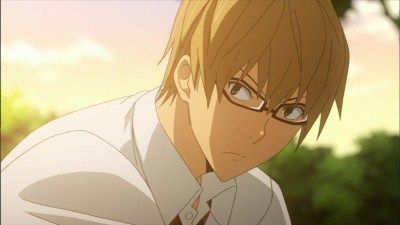 #2 - Time and Keys
Season 1 - Episode 4
Mashiro shows Takagi all that he has drawn and points out all the mistakes he has made, as well as the finer points of using tools for drawing manga. When Takagi questions him, Mashiro tells him about G-Pens and Kabura pens, making manuscripts, and Taro Kawaguchi's three rules to a successful manga: conceit, doing your best, and luck. When they go to a convenience store, Takagi notices that the latest issue of Jack has a semi-finalist named Eiji Nizuma, a fifteen year old manga creator. The two discuss their high schools, manga, and editors, thus coming to the conclusion that they would finish the manuscript for a manga by summer's end and show it to an editor of Jack. While walking home with Takagi, Mashiro encounters Azuki by chance; while the two are unable to look at each other as they pass, they both turn back to look.
24 votes
Writers: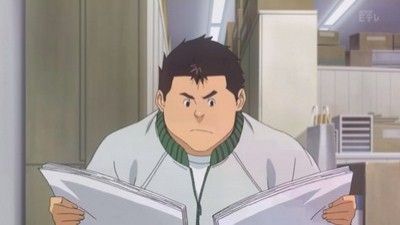 #3 - Gags and Serious
Season 2 - Episode 10
The team must decide which genre to choose for their new manga. Miura urges them to draw a gag manga, but Mashiro and Takagi prefer something serious.
17 votes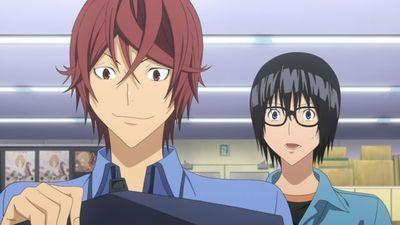 #4 - Aims and Evaluation
Season 3 - Episode 8
Mashiro and Takagi begin reading The Classroom of Truth and decide that it is an excellent manga despite the fact that it is unorthodox in nature. The serialization committee however, in the end, decide that the manga itself is not suited for Shonen Jack and have it remain a finalist in the competition. Its author, Nanamine Tooru turns out to be a long time fan of Ashirogi Muto and is brought to Yueisha to discuss changing the material of The Classroom of Truth. However, Nanamine releases the manga on the internet which upsets Yueisha's policy but in return he brings them a new manga which the Chief reads and approves as a one-shot immediately, while everyone begins to think highly of him. Later, when Nanamine meets Takagi and Mashiro, he reveals a devious plan where he deliberately collaborates with fellow mangaka on the internet and incorporates their ideas into his work, which he then passes off as his own. He states that he will do what is necessary to rise to the top of Shonen Jack. This new revelation leaves both Mashiro and Takagi angered.
21 votes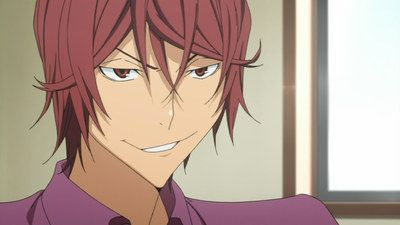 #5 - Confidence and Resolve
Season 3 - Episode 9
As Nanamine's meeting with Mashiro and Takagi continues, he equates them to amateaurs with no self confidence. Realizing that their words are falling on deaf ears, Mashiro adamantly states that sooner or later Nanamine's scheme will be exposed. Nanamine continues to refine the storyboard for his one-shot with help from his internet community, should it get serialized and completely neglects input from his editor, Kosugi. A flashback shows Nanamine being a loner as a child, until he read Ashirogi Muto's Money & Intelligence, spawning his myopic philosophy that anything can be achieved through money alone. As Nanamine's rating gets even higher, Mashiro and Takagi analyze his progress and begin to discuss their successor to PCP. The editorial department continue to marvel at Nanamine's work albeit minor skepticism from Hattori and Kosugi. Eventually Kosugi goes to Nanamine's house for a meeting where Nanamine reveals his method; paying artists to draw his manga after merging their ideas, to a shocked Kosugi and virtually blackmails him into keeping it quiet. Eventually the serialization committee makes their selections.
18 votes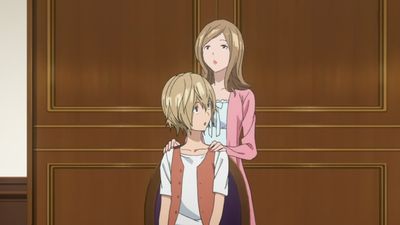 #6 - Step and Watch
Season 3 - Episode 5
Takagi and Shiratori's manga Rabuta & Peace is entered into the serialization committee and it is published in the November issue of Shonen Jack placing 5th in the voting charts. Mashiro decides to use his free time to improve his drawing skill, aiming to reach a level where he can draw two manga simultaneously and be on par with Niizuma. Shiratori's mother disapproves of him drawing manga because of their family's high class reputation causing him to run away from home. His family then comes to the studio looking for him where Shiratori's mother insults everyone there by looking down on their manga artists' abilities. This leads to a heated exchange of words by both parties. Hiramaru and Aoki's serializations are both canceled due to low ratings and enter into an upcoming competition, Super Leaders Fest. Upon learning of this and Niizuma's participation (meaning that he will now be working on three manga) Mashiro decides to enter on his own with a new manga, since he doesn't want to affect Takagi's quality on PCP and Rabuta & Peace. However Takagi states that they will enter together.
20 votes
#7 - Zeal and Utter Defeat
Season 3 - Episode 12
Kosugi explains the competition to Nanamine and tells him that if he loose, he has to form a proper author-editor relationship with him. Meanwhile, Takagi explains the obvious flaw in Nanamine's method: controlling such a large group of people and choosing/blending the best ideas from them is simply impossible. Nakai also realizes this and tells the internet community that Nanamine had been hiding the true ratings from them to prevent their departure, which they do upon learnin of this. With his ranking dropped to 19th and PCP in 3rd place, Nanamine decides to give up but Kosugi doesn't let him walk away and demonstrates he wouldn't leave him, prompting Nanamine to start anew by doing the work himself. Eventually, at Yueisha's Annual New Years Day party (2016), Nanamine deems Ashirogi Muto his rival and vows to beat them eventually. Soon an elementary school reunion takes place which Mashiro attends and is hailed as a celebrity by his former classmates. Afterwards, he explains to Takagi how their profession made them miss out on enjoying life with their friends but are both content that they are pursuing their dream. Finally, news of a bank robbery airs. A volume of PCP was left, showing the thieves mimicked the manga.
19 votes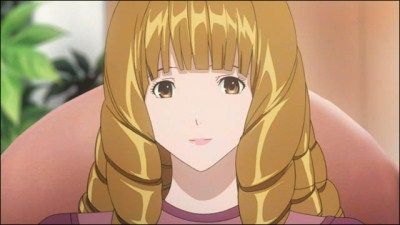 #8 - Parents and Children
Season 1 - Episode 3
Mashiro and Takagi arrive at Mashiro's uncle's apartment, where they look around and Mashiro shows Takagi the manuscripts and storyboards, that the author of a manga series produces before drawing it. Mashiro realizes that his uncle was working extremely hard until his death and vows to approach it with the same resolve. Mashiro and Takagi find letters between his uncle and his friend from childhood, which stop before his hit manga was serialized, and looking at a yearbook photo of her, realized that he had been in love with Azuki's mother. They go to visit Azuki's mother the next day, and learn that she was also in love with him, but never could admit it and fell in love with someone else. Mashiro asks Azuki's mother not to tell her about the relationship between her and her uncle, and he then sets out to make a manga.
27 votes
Writers: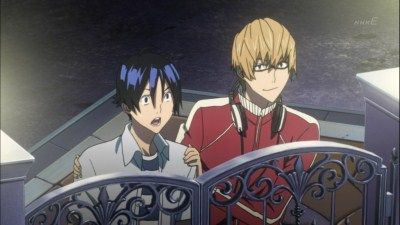 #9 - Dreams and Reality
Season 1 - Episode 1
Moritaka Mashiro, an average student with a talent for drawing, forgets his notebook at school, where his classmate Akito Takagi finds and looks through it. Takagi likes his drawings and asks Mashiro to team up with him to create a best-selling manga. Mashiro refuses because his uncle was a manga artist until he died from overworking, while deeply in debt, which derails his dream. Takagi soon invites him to visit Miho Azuki, the girl Mashiro has an unrequited crush on, and Takagi tells her of his plan to create a manga that will become an anime, in which she will play the heroine. Mashiro also proposes to marry Azuki when both their dreams come true, and she agrees that they will, but shall not see each other until then. With this motivation, Mashiro decides to become a manga artist.
39 votes
Writers:
#10 - Tuesday and Friday
Season 1 - Episode 23
Mashiro and Takagi both decide to rewrite their manga. Fukuda, Aoki and Nakai also rewrite their manga. Later Fukuda's manga is shown first with positive reviews. Next Mashiro and Takagi's manga is also shown with good reviews. Nakai panics and thinks that when Nizuma said that the winners were tied and there was a third place, he meant his manga. Then Aoki and Nakai's manga is shown with also positive reviews. All three series are okayed to begin work on names for serialization. Azuki said that she liked Mashiro and Takagi's manga, which gives Mashiro hope.
22 votes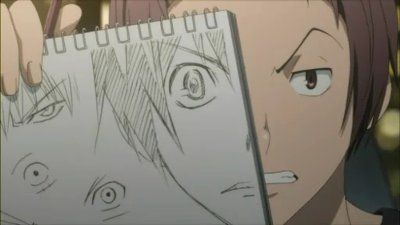 #11 - Debut and Hectic
Season 1 - Episode 15
Hattori goes over the weaknesses of Mashiro and Takagi's storyboard, and tells them that they need good characters, simple yet exciting battles, cute heroines, and tragedy and humor to make a good storyboard. Nizuma admits that he wrote the name on the spot, rather than having it in his head, and Mashiro and Takagi realize that he is a "genius" who can draw what he wants. Nizuma tells his editor that he likes the passion in Mashiro and Takagi's eyes, and sees them as his rivals. Meanwhile, Azuki auditions for Saint Visual Girls' Academy, a midnight anime, and gets a bit part. Mashiro, seeing her progressing toward her dream, becomes somewhat impatient and asks her to continue waiting for him, and she promises to do so while telling him to stop sending emails like that.
19 votes
#12 - Braggart and Kindness
Season 1 - Episode 17
Mashiro starts work as an assistant for Nizuma, and meets the other two assistants; Shinta Fukuda, who had placed lower than he did in NEXT, and Takurō Nakai, who won an award 10 years ago, but has been unable to accomplish anything noteworthy since then. Despite Fukuda and Nizuma questioning why he is working as an assistant instead of trying to get published, Mashiro is determined to learn what he can to help Takagi. Fukuda realizes that "Crow" will eventually get canceled after the novelty wears off if Nizuma does not make it more substantial and interesting. Nizuma adjusts the story accordingly, while also deciding to meet with his editor.
19 votes
#13 - Zombies and Demons
Season 3 - Episode 17
As +Natural's ratings plummet to 15th place in the rankings, and being informed by Miura that her story is not on par with the battle archetype, Iwase loses confidence in her abilities and decides to stop writing altogether. Upon learning of this from Aoki through Takagi, Mashiro pays her a visit and reminds her that she is Takagi's driving force and should stay as a fellow rival, although she is free do do what she pleases. Eventually everyone from Team Fukuda shows up and witnessing how much they care, Iwase is able to restore her resolve. Later, Sasaki is transferred to another magazine, but before he leaves, pays Nizuma and Ashirogi Muto and visit. He expresses his desire to see them both do well and acknowledges the fact that he had favoritism towards Mashiro and Takagi due to a promise he kept to Mashiro's late uncle, Nobuhiro. Nizuma shows Yujirou his storyboard for his next manga with a zombie theme, with Yujirou remarking that it is already better than CROW. Mashiro and Takagi also finalize plans for PCP's successor and decide on the standard battle archetype. Their new manga would involve two demonic protagonists with differing ideals battling it out for the sake of Justice. As the archetype fits perfectly as a Shonen Manga, and using all the experience they have gained so far, Ashirogi Muto decide to challenge Nizuma's next Zombie Manga with their Demonic Manga
19 votes
#14 - Complaint and Roar
Season 2 - Episode 18
The results of the serialization meetings are announced and everyone finds out Niizuma is the one who did the art on +Natural.
18 votes
#15 - Idiots and Geniuses
Season 1 - Episode 2
Mashiro chats with Takagi, who tells him that he chose Mashiro because he is smarter than many of his peers in matters outside of scholarship, and that he believes Azuki has a similar kind of intelligence, with the ability to be appealling to others. Mashiro tells Takagi that he believes his uncle committed suicide, and thus suspects that his parents will oppose him becoming a manga artist. Mashiro's mother says his uncle did not commit suicide, but still opposes his decision until his father and grandfather show support for his dream. Mashiro's grandfather gives him his deceased uncle's studio apartment, and Mashiro brings Takagi to see it.
26 votes
Writers: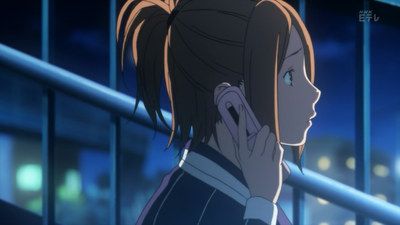 #16 - Unfaithfulness and Trust
Season 2 - Episode 14
The boy's new gag manga is published in NEXT, however both have serious problems in their love lives.
18 votes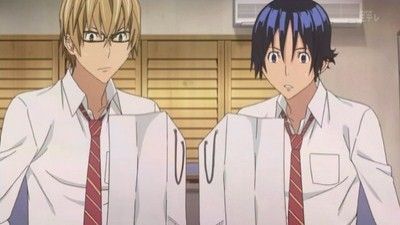 #17 - Resumption and Low Rank
Season 2 - Episode 9
Trap resumes publication, but is cancelled due to low rankings.
18 votes
#18 - Jealousy and Love
Season 1 - Episode 18
While reworking Chapter 5, Fukuda reveals that he is dissatisfied with many aspects of Jack, particularly how series are ordered by their popularity, but Yujiro tells him to get serialized before he talks about changing Jack. Nizuma tells Mashiro that he has been drawing since he was young, when his family had no money for video games, and Mashiro remembers how he also was drawing all the time before his uncle died. Mashiro, remembering his passion for manga, resigns as Nizuma's assistant and goes home, where he looks through his old manga, and decides to write a mystery next. Meanwhile, Takagi is writing cell phone novels for Miyoshi to publish, causing Mashiro to wonder if he is working on the name at all. Mashiro notices the contrast between Takagi's relationship with Miyoshi and his own relationship with Azuki, and wondering if the distance between them is increasing, asks why she is willing to accept not seeing him. After some thought, Azuki responds that she believes her love will be greater once they fulfill their promise, and Mashiro resolves to create a manga for her, by himself if necessary.
17 votes
#19 - Punch and Independence
Season 3 - Episode 6
Mashiro convinces Takagi to let him work on their entry for the Super Leaders Fest so he can concentrate on Rabuta & Peace. After overcoming a bit of writer's block, Mashiro decides on entering with a love story. At Yueisha's Annual New Years Day party (2015) it is discovered that everyone intends on entering the Super Leaders Fest with love stories. Mashiro asks Azuki for her input in his manga which would be based on their feelings for each other. Mashiro and Takagi end up having a fight over whether or not it is right for them to drift apart and work on separate manga. Shiratori decides to quit being an assistant and focus on getting Rabuta & Peace serialized while Takagi stops coming to the studio altogether, even going as far as to discuss PCP with Hattori separately. Later on Takagi comes back and explains that he had been away teaching Shiratori to become independent because Rabuta & Peace is his manga. Ashirogi Muto end up entering together and in the end they place 4th in the competition but reflect that it was worth it because they both had grown from their experiences.
22 votes
#20 - Impatience and Comeback
Season 3 - Episode 11
As Nanamine's battle with Ashirogi Muto continues, he hires Nakai and is able to increase the level of his art albeit Nakai inadvertently discovers his method. As the weeks progress, Aoki's What God Gave Me rises to the top of the rankings followed by a sharp decline, while Ashirogi Muto's PCP remain steady at 4th place. Nanamine's What You Need for a Meaningful School Life initially comes in 2nd place but soon plummets to 15th and is on the verge of cancellation since he keeps adding too many ideas from his internet community. Nanamine then tries to bait Ashirogi Muto into competing with the same type of story, which they reject outright due to Yueisha's policy. While he continues to argue with his internet community and rejecting Kosugi's input, a large part of Nanamine's community abandons him for rejecting their ideas and exposes his method to deputy chief editor Aida. Kosugi decides to take full responsibility and visits Nanamine, who asks him to steal Ashirogi Muto's next storyboard out of desperation. Afterwards, Kosugi visits Mashiro and Takagi and explains the situation to them. He asks that they compete with the same story as Nanamine (with permission from the Chief and Hattori) and teach him what it really means to be a mangaka, which they accept.
22 votes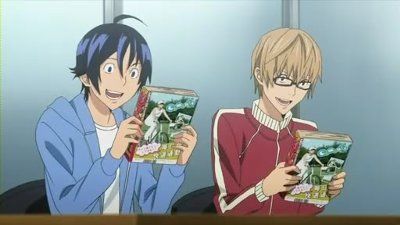 #21 - Early Results and the Real Deal
Season 1 - Episode 13
Mashiro, at Miyoshi's suggestion, sends an email to Azuki to begin correspondence with her. During the first day of high school, Mashiro and Takagi submit their new pseudonym, "Muto Ashirogi". Hattori is impressed with their work, but Mashiro notices that he is not expecting Money and Intelligence to be serialized, wondering if it is because of his desire that they wait until after high school to get serialized. Money And Intelligence gets first place in the early results of the NEXT polls, but drops to third place in the actual results, with Nizuma's work getting half the votes. This development convinces Mashiro and Takagi that they must make a mainstream work to go for first place, and resolve to make one better than their previous efforts.
20 votes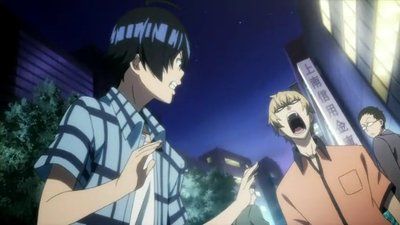 #22 - Wall and Kiss
Season 1 - Episode 16
Mashiro and Takagi, incorporating Hattori's suggestions, comes up with a concept for a story about an angel fighting other angels who kill humans to advance themselves, but are frustrated at their lack of progress. The name is rejected, but the feedback notes that they have promise. Around this time, Takagi is struggling to think of another idea, and begins seeing Miyoshi more often, prompting Mashiro to wonder if he is working on it at all. Hattori learns that Nizuma needs an assistant and that Takagi would not stop Mashiro from going to work for him. Mashiro hears of the offer, and is hesitant to accept it until he happens upon Takagi kissing Miyoshi.
19 votes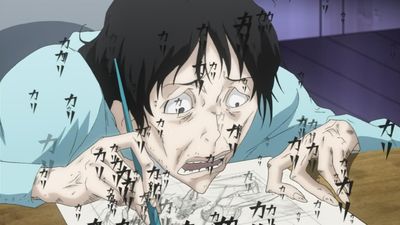 #23 - Drawn Out and All at Once
Season 3 - Episode 19
As Ashirogi Muto struggle to meet deadlines for the Shonen Jack and Hisshou Jump magazines, a backlog of work starts piling up. As Mashiro and his three assistants, along with help from Takagi and Miyoshi push themselves to their limits to complete the storyboards, returning professional assistant, Ogawa, steps in with two new assistants and is able to complete the storyboards. As the competition between Nizuma's Zombie Gun and Ashirogi Muto's Reversi takes off, Reversi manages to take 1st place in the rankings for three consecutive weeks. This results in Nizuma changing one of his antagonists for Zombie Gun and rises to the top once again, showing up the weakness in Reversi for having two protagonists. As Takagi realizes this, he slows the pace of his story to match the standard battle archetype which further results in their ratings dropping to 5th place. Eventually, after a discussion with Hattori, Takagi calls Mashiro and they both agree that Reversi may not be a long running manga, even managing 50 chapters. However they discuss being content with resolving the conflict between the protagonists in the most interesting way possible, rather than prolonging it. Nevertheless, for the sake of himself, Mashiro and Azuki, Takagi promises to go all out and turn Reversi into a masterpiece they can all be proud of.
21 votes
#24 - Monkeys and Marriage
Season 2 - Episode 15
Azuki and Mashiro continue to fight with each other over trust. Takagi and Miyoshi both feel extremely guilty, and blame themselves for them fighting. Takagi finally decides to explain what happened to Miyoshi, considering Mashiro and Azuki are too stubborn to apologize to each other. After planning to meet at the zoo, Takagi is met by a crying Aoki, who hugs him, causing Miyoshi to run off. When Takagi finally reaches her, he proposes to her. After a talk with Aoki, they decide to get married after he gets serialized. They invite Azuki to tea, and Azuki forgives Mashiro, much to his confusion.
21 votes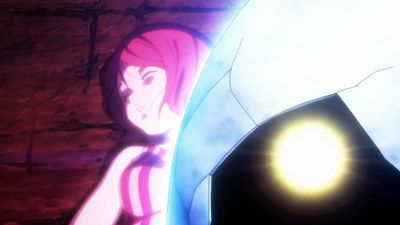 #25 - Every Night and Unite
Season 3 - Episode 2
Competition heats up between Perfect Crime Party and Niizuma and Akina's +Natural causing Mashiro and Niizuma to change their art styles. Akina becomes infatuated with Niizuma after he acknowledges her talent. Takahama and Fukada begin new serializations.
19 votes