The BEST Episodes of Bakuman
Every episode ever - ranked by fan votes!
Last Updated: Sep 19, 2021
The series follows talented artist Moritaka Mashiro and aspiring writer Akito Takagi, two ninth grade boys who wish to become mangaka.
Watch Now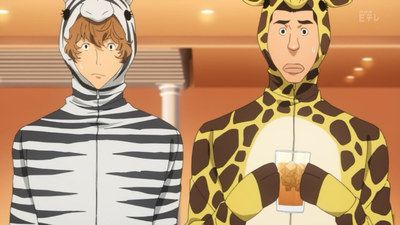 #1 - Votes and Charts
Season 2 - Episode 25 - Aired Mar 24, 2012
After working hard to make last minute changes to their manuscript, Muto Ashirogi leave "Perfect Crime Party's" fate in the hands of the readers.
83 votes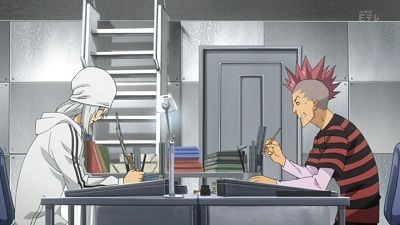 #2 - Comedy and News
Season 2 - Episode 5 - Aired Oct 29, 2011
Trap begins to move in the rankings, but the competition is fierce. Overwork takes its toll on Mashiro.
45 votes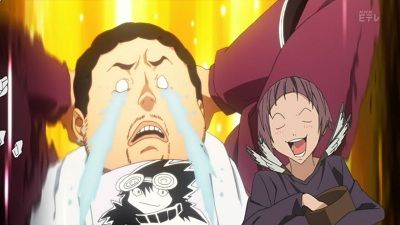 #3 - Support and Patience
Season 2 - Episode 4 - Aired Oct 22, 2011
As Trap's ranking continues dropping, Mashiro and Takagi consider major changes.
47 votes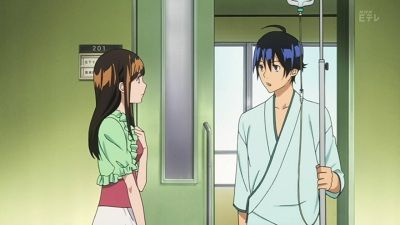 #4 - Disease and Drive
Season 2 - Episode 6 - Aired Nov 5, 2011
Mashiro is hospitalized, but refuses to stop drawing. Trap is put on hiatus.
47 votes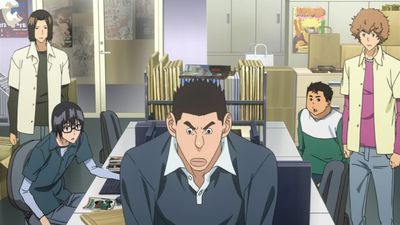 #5 - How It Should Be and How It Ends
Season 3 - Episode 24 - Aired Mar 16, 2013
Following Azuki securing the role of the lead female character, Hattori, Mashiro and Takagi begin discussing their intention to end the Reversi manga in July. Later, Mashiro calls Azuki to congratulate her and they make plans to meet once the first episode of Reversi finishes airing. Hattori tells Heishi about Ashirogi Muto's plan, which he rejects and orders Hattori to convince them to continue the manga. Hattori explains this to Mashiro and Takagi and they decide to think about their final decision. However, Takagi has a separate meeting with Hattori. He states that he will end Reversi in 8 chapters and surpass Nizuma in both rankings as well as volume sales, making Mashiro the best mangaka in Shonen Jack, wanting this to be his wedding present. Hattori decides to take responsibility reflect the words of Director Torishima: 'when the company and authors are at odds, a good editor should stand by the author'. Heishi, having heard the same words before, sides with Ashirogi Muto and informs the animation studio of their decision, which they accept. When the final chapter is published everyone is awestruck at the spectacular climatic battle between the two protaganists. It is such a smashing success that the manga volumes sell out within a day, surpassing the sales of Zombie Gun by selling 1.22 million copies per volume. Finally, at Reversi's end, Heishi, summons Ashiro Muto to Yueisha where they meet Nizuma and their motivational rivalry continues.
56 votes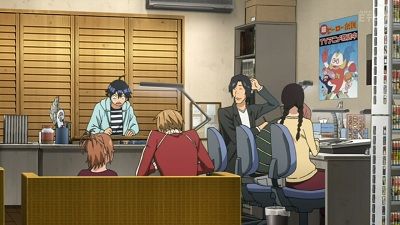 #6 - Anthology and Photobook
Season 2 - Episode 2 - Aired Oct 8, 2011
Mashiro and Takagi get to know their new assistants, while Azuki struggles with her decision to do an ecchi photo shoot.
47 votes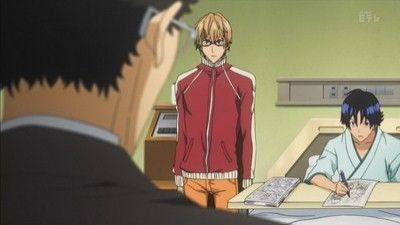 #7 - Life-and-Death and Standstill
Season 2 - Episode 7 - Aired Nov 12, 2011
Trap is put on hiatus unless Muto Ashirogi's rivals boycott can stop it.
48 votes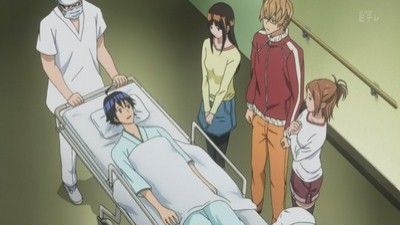 #8 - Recall and Call
Season 2 - Episode 8 - Aired Nov 19, 2011
The boycott is in full effect. Miura makes one last desperate plea to sway the chief into resuming Trap.
48 votes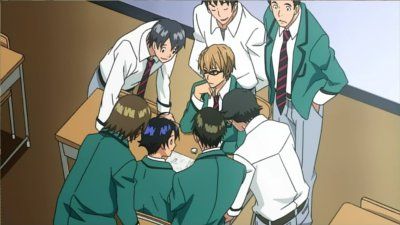 #9 - Chocolate and NEXT!
Season 1 - Episode 11 - Aired Dec 11, 2010
Mashiro and Takagi work on Money and Intelligence while applying to the relatively easy North High School. Miyoshi questions why Mashiro and Azuki are not seeing each other, and Takagi concludes that Azuki wants to remain focused on her dream. Mashiro and Takagi get accepted into North High School along with Miyoshi and learn that their work will run in the seasonal magazine NEXT. Hattori tells them that the editors are planning to use them to make Nizuma look good by comparison, but he tells them this is their chance to impress them and win against Nizuma.
56 votes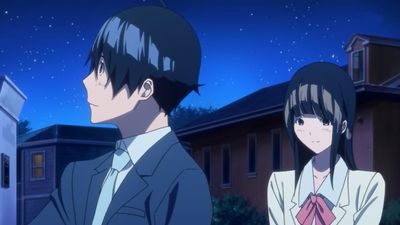 #10 - Dreams and Reality
Season 3 - Episode 25 - Aired Mar 30, 2013
Hattori meets with the production staff and cast of Reversi's anime as production gets underway. At the studio, Mashiro reveals to Miyoshi of his intention to propose to Azuki after Reversi's premiere and thanks her for creating their pen name: "Ashirogi Muto". As Miyoshi leaves, Mashiro and Takagi reflect on their journey thus far. Elsewhere, Azuki reveals her and Mashiro's plans to meet after the anime to her mother, while Mashiro reads his uncle's diary. Later, after the anime premieres, Mashiro picks up Azuki in an fashion, honoring one of his late uncle's dreams and they talk about the times they had been together. Soon, Mashiro takes Azuki to visit her former home where they recreate the scene of the first time Mashiro approached her at her house, before proposing. Azuki answers by kissing him and promises that they will be together forever. Eventually everyone attends Hiramaru and Aoki's wedding where Azuki catches the bride's bouquet of flowers. Finally, Azuki and Mashiro move into Azuki's old house together with the intention to officially have a wedding ceremony if Ashirogi Muto's newest work gets a serialization. With their dreams finally achieved, Mashiro ends the series with a monologue, stating that dreams are not achieved by someone telling you so, you have to make them a reality yourself.
56 votes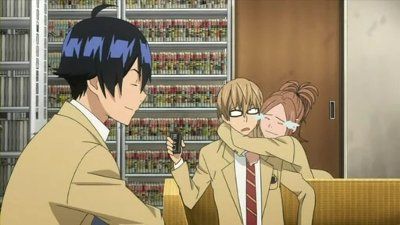 #11 - Cooperation and Conditions
Season 1 - Episode 20 - Aired Feb 19, 2011
Mashiro and Takagi discuss how to improve the concept behind the story, now known as Detective Trap, and Takagi begins looking over many detective stories that Hattori sent him. The two meet with Hattori, insisting on proceeding with Detective Trap while still in high school, and Hattori tells them that in order to get serialized, Detective Trap must do well in the Golden Cup, and they must bring him a 19-page story every two weeks to show that they can do so every week with assistants. They succeed in keeping up in spite of the difficulty involved in doing so, and are officially entered into the contest.
54 votes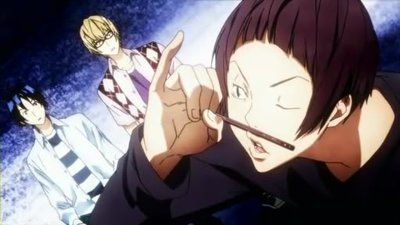 #12 - Battles and Copying
Season 1 - Episode 14 - Aired Jan 8, 2011
Mashiro has come to the conclusion that doing mainstream battle manga is the way forward, and draws characters from other battle manga to polish his skills at drawing this type of manga, Meanwhile Nizuma's manga "Yellow Hit" is on the verge of being serialized, but Nizuma's editor learns that he is planning on submitting "Crow" instead, and brings him down to the editorial offices. At the same time, Mashiro and Takagi are meeting with Hattori, who tells them that they are not suited to mainstream manga and that the mainstream authors who are popular are considerably more talented. Nizuma meets Mashiro and Takagi, telling them that he liked Money And Intelligence and wants to be friends with them, before drawing a name in front of them. Hattori hopes that demonstration will convince them that they're not able to compete with him in mainstream manga, but they remain determined to do so, and he gives them six months to submit a good mainstream work before he steps down as their editor.
52 votes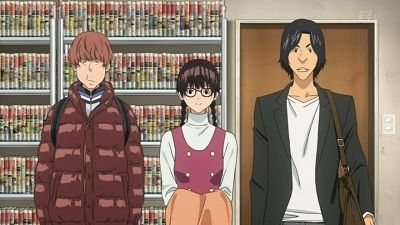 #13 - Silence and Party
Season 2 - Episode 1 - Aired Oct 1, 2011
The story picks up directly where the Season 1 finale left, introducing Miura as Moritaka and Takagi's new editor and introduces Hiramaru at the New Year's Party
49 votes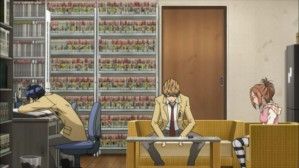 #14 - Yes and No
Season 1 - Episode 25 - Aired Apr 2, 2011
Thirteen series are submitted for the serialization meeting and are discussed by the team captains, editor in chief and deputy editor. Of all 13, Detective Trap and Otter 11, a manga by newcomer Kazuya Hiramaru, are chosen for serialization. Mashiro receives congratulations from his rivals, who promise to get serialized themselves to compete with him. Mashiro then reflects on how far he has come and how far he has yet to go, before he receives a call from Azuki, who congratulates him and tells him that their dream will come true. Hattori stops by with a man called Miura, who will be their new editor.
60 votes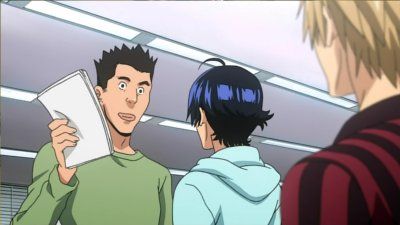 #15 - 10 and 2
Season 1 - Episode 10 - Aired Dec 4, 2010
Mashiro and Takagi meet with Hattori, who says the manga artists liked their work, but the editors judging it thought it would never be published. Mashiro, wanting to progress faster than he is now, wonders if he could submit a work for serialization, and Hattori is doubtful. The editor in chief says that work needs to be good to be serialized, but Mashiro and Takagi are not good enough yet, and need a good main character to do so. Their early attempts are unimpressive, but Hattori suggests that a cult hit that only 20 percent of the reader base would read, but consider their favorite, might be a way for Mashiro and Takagi to get first place. Takagi mentions an idea he has called Money and Intelligence, in which people sell the contents of their minds to others, and Hattori suggests that they work on it.
51 votes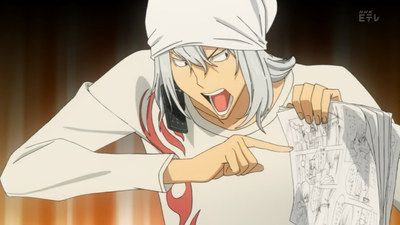 #16 - King and Savior
Season 2 - Episode 16 - Aired Jan 21, 2012
Aoki asks Nakai to draw the art for her new manga but he states he only will on the condition she will go out with him, angering her to the point she slaps him. Afterwards she continues her in search for someone to help her draw sufficient panty shots in order for her manga to have a more "shōnen" feel to it, but isn't able to find anyone suitable. After many events, Fukuda ends up offering his help, since his manga Kiyoshi Knight is doing so well due to his own well-drawn panty shots. Aoki is a hesistant to accept his help but under the circumstances she has little choice but to accept it in the end.
46 votes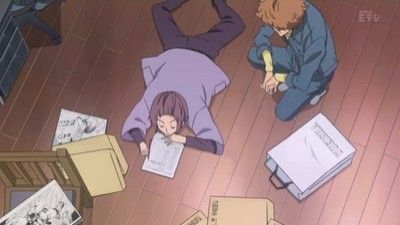 #17 - Manga and Youth
Season 2 - Episode 11 - Aired Dec 10, 2011
Both Muto Ashirogi's "Future Watch" and "Hitman 10" are well received by the editorial staff. The chief decides to run both as one-shots, before making a decision on serialization.
46 votes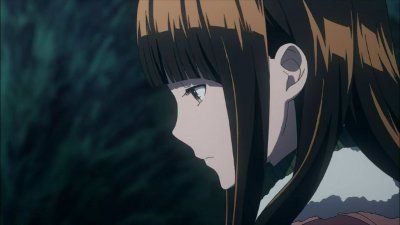 #18 - Call and Eve
Season 1 - Episode 24 - Aired Mar 26, 2011
Koogy's manga does poorly in the Golden Future Cup, leaving Mashiro and Takagi, Fukuda, and Nakai and Aoki as the top contenders. An unprecedented two-way tie happens, with Fukuda and Ashirogi Muto both getting first place. Azuki calls Takagi to thank him for supporting Mashiro and encouraging him to pursue becoming a manga artist, but is too embarrassed to congratulate Mashiro directly herself. Having won the Golden Future Cup, Mashiro and Takagi prepare to submit their story for serialization.
53 votes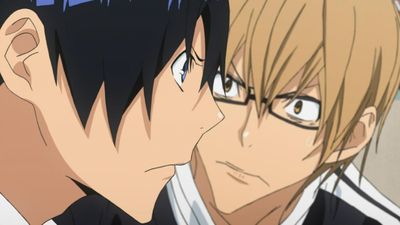 #19 - Imitation and Unconsciousness
Season 3 - Episode 13 - Aired Dec 29, 2012
As Mashiro and Azuki ponder the effects that the robbery would have on PCP and Takagi, the Chief and Hattori decide to support Ashirogi Muto as much as possible. However, Takagi's mental state has already been greatly affected. This causes him to write lower quality stories and eventually he reuses old ideas he once rejected. This results in PCP's ranking dropping from the top five to the 12th place. As PCP enters a slump, Yujirou confides in Hattori of Nizuma's deal to cancel one manga should he get the top spot in the rankings, which may happen soon. This leads Hattori to become fearful of PCP's serialization. As another bank robbery occurs, the thieves leave a card, claiming they are PCP, which enrages Takagi but he finally finds a way to resolve this.PCP's next chapter is about a copycat crime intended to make it seem like the PCP protagonists had done it, but is foiled by their rival who realized the real PCP wouldn't commit criminal acts, much less claim it was their doing. As the results of the rankings come in, PCP jumps back to 3rd place with Mashiro and Takagi expressing that their manga does not condone crime.
53 votes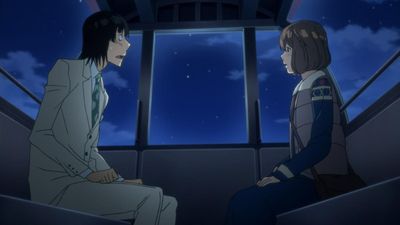 #20 - Breather and Party
Season 3 - Episode 20 - Aired Feb 16, 2013
Mashiro and Takagi discuss their intention of covering the final confrontation of the main characters of Reversi in one go with a shocked Hattori, but they decide to cross that bridge when they get there. Meanwhile, Hiramaru's Never Reaching You is selected for an anime while Aoki's What God Gave Me is cancelled. In order to cheer her up Hiramaru invites Aoki to an amusement park with the intention of proposing to her. On learning of this, Yoshida is initially intent on stopping Hiramaru, since he will be distraught if he is turned down, but upon remembering his very first meeting with Hiramaru, decides to help him. At the amusement park, Hiarmaru takes Aoki to the ferris wheel, but isn't able to propose since he loses the engagement ring. Aoki realizes what Hiramaru is doing and gives him another chance, where he proposes in an unorthodox manner and she accepts, much to Hiramaru and Yoshida's joy. Later, Reversi continues to dominate over Zombie Gun in the rankings however demand for the printed volumes of Zombie Gun skyrockets. As Ashirogi Muto and Hattori analyze what this means they realize that the content of Reversi isn't easily comprehensible to children or the female demographic alike. Towards the end of the year, Mashiro, Takagi, Miyoshi and their assistants attend the annual, Tezuka-Akatsuka (2017) Prize Party. Here, Kato's friend, a voice actress called Ririki Kitami tries to hit on Mashiro, but gives up when she learns Azuki is his girlfriend. Eventually Ashirogi Muto meet Nizuma who commends them on dominating over Zombie Gun in the rankings but promises that sales of the manga volumes won't lose to them, words that they take as motivation. Finally Mashiro and Takagi are approached by Futoshi Tanabe, a producer for the Japanese Animation Company.
51 votes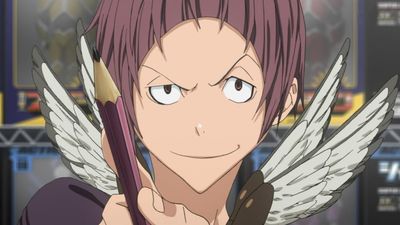 #21 - Last Chapter and Comments
Season 3 - Episode 16 - Aired Jan 19, 2013
Yujirou acknowledges Nizuma's determination and states that he will support him in ending CROW. As Ashirogi Muto's next chapter of PCP is published, everyone marvels at their brilliance in using the colored page the way the did. The page itself is an invitation for the protagonists of PCP to meet the mysterious "Sigma". The page shows the portrait of PCP's leader, Matoko, which is altered by "Sigma" to detail the date, time and place of their meeting. The idea is that the readers are able to engage themselves in the puzzle by using the colored page. As the results come in, Ashirogi Muto ties in second place with Road Racer Giri while CROW takes first place yet again. As Takagi and Mashiro think about their defeat, they realize it was their rivalry with Nizuma that brought them as far as they have come, and express this in the comments section for CROW's final chapter. As Yujirou congratulates Nizuma on ending CROW, he is shocked to discover Nizuma already has many other manga's drawn. Eventually Nizuma visits Takagi and Mashiro and they both express their admiration for being each other's rivals as well as Nizuma's joy of making friends based on their shared passion for manga. Finally, Nizuma tells Takagi and Mashiro that his next work will be the greatest manga ever written.
55 votes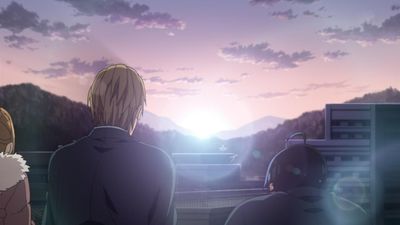 #22 - Hot Spring and Confirmation
Season 3 - Episode 21 - Aired Feb 23, 2013
Mashiro, Takagi and Miyoshi go to a hot spring for the short new year holiday. Mashiro and Takagi contemplate how far they have come since middle school. As the year begins, the editors at Shonen Jack have a tough time deciding which series, Zombie Gun or Reversi should get an anime adaptation since both have compelling circumstances. Yujirou explains this to Nizuma who turns down the offer, but when he learns that Reversi will take its place he changes his mind. Aida asks for Hattori's approval in selecting Reversi but he is torn. He knows Ashirogi Muto might end the manga before the anime even starts and feels obliged to tell this, but then the offer might be pulled. Hattori discusses this with Mashiro and Takagi who both immediately agree on the anime, but they realize they may have to prolong Reversi for a year and thus sacrifice its quality. Takagi promises that he will not let Reversi's quality waver and Mashiro finally tells Hattori why Takagi would go so far for him: because of the promise he made to Azuki. Hattori realizes that he was wrong to worry too much about it and wants to support them. Afterwards Yujirou and Hattori try to make convince Heishi their manga should get an anime and become the flagship series. Later, Hattori hurriedly bursts into Mashiro's studio with news of the outcome.
52 votes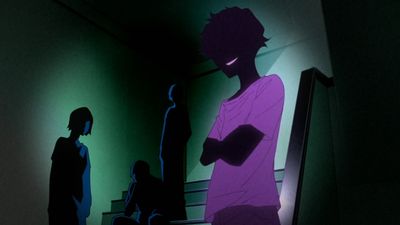 #23 - Last and Cipher
Season 3 - Episode 3 - Aired Oct 20, 2012
Mashiro and Takagi decide that Perfect Crime Party won't be able to beat Crow and +Natural at their current pace. Takagi decides that writing a five-week long story arc will increase PCP's rating for week 25, but feels the story he comes up with is lacking something. After seeing Iwase again, he realizes that PCP needs a rival character.
48 votes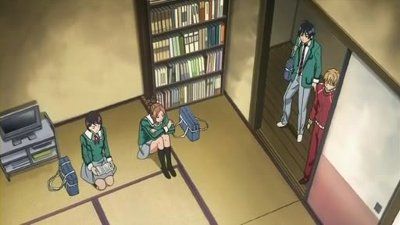 #24 - Regrets and Understandings
Season 1 - Episode 9 - Aired Nov 27, 2010
Takagi is suspended for a week after punching Ishizawa, causing Mashiro to worry about him. He goes over to visit Takagi and learns that the story ideas he submitted to him were only a few of the ones he came up with. Mashiro then learns that Miyoshi and Aiko Iwase, the second best student in his grade, both have feelings for Takagi. Takagi tells them that he likes them both, but cannot be in a relationship with either due to his manga career. Iwase tells him to quit writing manga and leaves, while Miyoshi promises to support him. Miyoshi gets angry after Takagi admits that he only spoke to her to get information about Azuki for Mashiro, and Mashiro leaves with his determination restored.
54 votes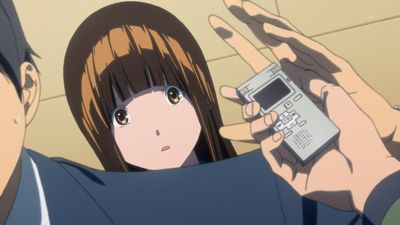 #25 - Correction and Declaration
Season 3 - Episode 22 - Aired Mar 2, 2013
Hattori announces that the Reversi anime will begin airing in October and Mashiro breaks into tears as their dream is at last within reach. Heishi calls Nizuma and explains why he rejected Zombie Gun, since it will help Ashirogi Muto to rise to his level and secure the future of Shonen Jack. Azuki calls Mashiro to congratulate him and recites lines from Reversi. Later Ririki Kitami blogs about her meeting with Mashiro and his involvement with Azuki, which goes viral across the internet. As rumors begin spreading, everyone worries the public will accuse Ashirogi Muto of favoritism to Azuki, something that could damage her career. This is confirmed when Mashiro, Takagi and Hattori meet the animation committee for Reversi. Mashiro tells Azuki that she should deny any relationship with him on her weekly radio broadcast to preserve her image. However, instead she goes public with her relationshiptells everyone about their promise. This has a mixed effect on the public. In the end, Mashiro calls the show and tells the public to believe in Azuki as they always have and adamantly states that she will get the part of the lead female role in Reversi by her skills alone.
54 votes