The BEST Episodes of Shirobako
Every episode ever - ranked by fan votes!
Last Updated: Mar 12, 2020
It all started in Kaminoyama High School, when five best friends—Aoi Miyamori, Ema Yasuhara, Midori Imai, Shizuka Sakaki, and Misa Toudou—discovered their collective love for all things anime and formed the animation club. After making their first amateur anime together and showcasing it at the culture festival, the group vow to pursue careers in the industry, aiming to one day work together and create their own mainstream show. Two and a half years later, Aoi and Ema have managed to land jobs at the illustrious Musashino Animation production company. The others, however, are finding it difficult to get their dream jobs. Shizuka is feeling the weight of not being recognized as a capable voice actor, Misa has a secure yet unsatisfying career designing 3D models for a car company, and Midori is a university student intent on pursuing her dream as a story writer. These five girls will learn that the path to success is one with many diversions, but dreams can still be achieved through perseverance and a touch of eccentric creativity.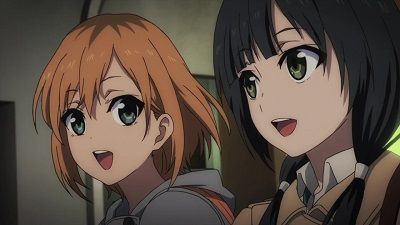 #1 - Exodus Christmas
Season 1 - Episode 12 - Aired Dec 25, 2014
Watanabe, Onoue, Katsuragi, and their playmates discuss about letting Aoi go to Kanno before talking about Musashino's plans to begin work on the anime adaptation for The Third Girls Aerial Squad. Elsewhere, Aoi meets up with Kanno, who, after reading the storyboards, points out the ridiculous nature of animating horses for the final scene and that there are barely any animators left capable of accomplishing such a task. However, he goes on to mention that there is one person at Musashino Animation who is capable of handling the scene. The next night, the staff holds an all-hands meeting, during which Watanabe suggests altering the scene considerably to lessen the amount of work for the key animators. However, Seiichi and Honda protest this, stating that the alterations suggested would ruin the intended tension of the scene. Aoi then relays Kanno's message that Sugie, who everyone had assumed was not suitable for handling scenes for Exodus! and therefore had assigned him to another anime, is more than capable to animating the horse scenes. With the others' approval, Aoi goes to Sugie's house and asks him to take the job, to which he gladly accepts. He talks with the rest of the staff and works out a method that will get the cuts done quickly with help from Ema, Yumi, Rinko, and the other key animators. With the key animation almost complete, Ema tells Aoi that the work has allowed Sugie to still have something to do, then voices that she is now inspired to draw scenes just like he does. Sometime later, Erika returns to work, her family dilemma having been resolved. Sugie approaches Aoi and announces his intention to begin a workshop for key animation at Musashino before thanking her for her work. The delivery day soon arrives, and after everyone works up to the last minute to get the episode delivered on time, it finally airs without a hitch. Aoi, Ema, Tarō, Erika, Seiichi, Honda, Yumi, Ryōsuke, Yūichirō, Rinko, and several other staff members go out to celebrat
57 votes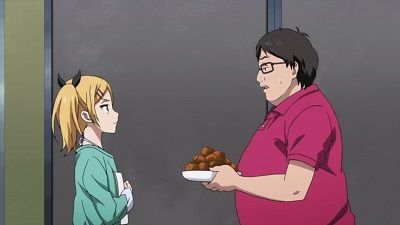 #2 - Did You Catch Any?
Season 1 - Episode 19 - Aired Feb 19, 2015
On the rooftop of Musashino Animation's studio, Aoi pleads with Erika to take her job as production desk and then blames herself for the problems happening lately. Erika then advises Aoi to go home for the night and get some rest so she can get rid of her stress by the next morning. The next day, as Aoi, Watanabe, and the entire production desk discuss how to handle the issues with Studio Taitanic, Erika goes with Hiraoka, who is actually a former acquaintance of hers, over to Taitanic's office so they could help out with the fifth episode. Eventually, she selects Hiroshi Iketani as Yakushiji's replacement. Meanwhile, Marukawa takes Aoi to the offices of the bankrupt Musashino Pictures studio, which produced Aoi's favorite anime Andes Chucky, much to her own surprise. As Marukawa explains to her how anime used to be made, Aoi asks if people are actually able to make interesting anime today. Then, Marukawa recounts how both he and Ōkura worked on Andes Chucky alongside Sugie and shows her that even animation production back then was stressful, but also rewarding and fun. In a flashback, a younger Marukawa and Ōkura introduce their own background for a blizzard scene, which is nearly rejected by Musashino Pictures' higher staff since they are still rookies, but eventually accepted. Aoi then watches a leftover scene from Andes Chucky, which inspires her to keep having fun while she makes an even better anime. Later, as Musashino gets Iketani up to speed with the episode production, Aoi pays a visit to Ōkura and becomes amazed by his finished background.
61 votes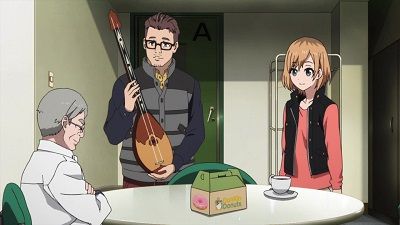 #3 - Just One More
Season 1 - Episode 10 - Aired Dec 11, 2014
During the morning assembly, Honda announces that Seiichi will be finished with the storyboards tomorrow, which would still leave the studio with five weeks to deliver the final episode, an unusually short amount of time for such a task to be completed. Later on, Aoi receives an email containing some research about diesel trains from Midori, who had been hoping to help her out on her workload. During a phone call between them, Midori informs Aoi about Misa's situation at work. While delivering a dombra over to the sound department at Sawara Studio for Marukawa, Aoi is forced to help sound effects engineer Toshiyasu Kawano in creating some sound effects for another anime, a process that earns her intrigue. Later, she gets together with the other girls for dinner at her apartment. When Misa contemplates quitting her job, Aoi gives her some advice based on what she learned from Kawano, asking her to figure out where she wants to go before worrying about how to get there. The next morning, Misa hands in her letter of resignation to Tateishi, wanting to pursue the kind of story-based animation that got her into CG production. Meanwhile, Seiichi manages to finish the storyboards for the final episode, much to Honda's delight. While delivering copies of the storyboards to Yūichirō, Aoi asks him about any other CG companies Misa could work for. Meanwhile, Honda announces his intention to quit to become a pâtissier, and Segawa congratulates Ema for her work on her cuts. Work soon begins on the final episode, although Aoi grows concerned when Seiichi goes a little overboard with consuming alcohol during a party following the after-recording.
57 votes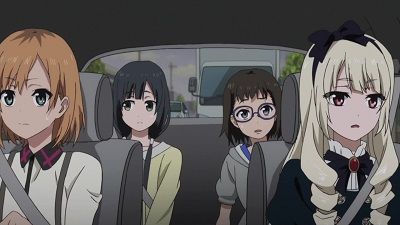 #4 - Table Flip
Season 1 - Episode 16 - Aired Jan 29, 2015
Aoi informs everyone to stop production on the characters, despite there being only three months until the first episode airs. Yumi begins revising the character designs based on the author's feedback emails. However, she struggles after Nogame voices his disapproval of the redesigns and gives out vague feedback. With an actual meeting with Nogame impossible, Watanabe advises they should start from the beginning again without anything to go on. After Aoi speaks with Yumi at her secret spot in the local park, she and Seiichi focus on the unaffected material outside of the characters, such as the 3D and backgrounds. Seiichi stresses to Yūichirō and Yuuji the importance of emotions over realism, later telling Aoi his advice was inspired by his experiences after the release of Jiggly Jiggly Heaven. As Yumi continues to struggle with the character design revisions, Rinko tells Seiichi and Watanabe that they aren't giving her enough support before taking Yumi, Aoi, and Ema to a batting center to let out their stress. She then tells them about her own struggles at getting a character design approved, her current "goth-loli" persona being the result of trying to understand her character. With Rinko's help, Yumi dons her own "armor" and comes out with an improved character design. Meanwhile, Watanabe and Katsuragi manage to track down Chazawa and force him to get Nogame's approval, allowing production to resume.
58 votes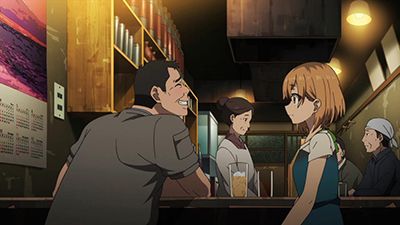 #5 - You Set Me Up!
Season 1 - Episode 18 - Aired Feb 12, 2015
Aoi, Seiichi, and Katsuragi join Inanami as they meet up with the voice cast of The Third Girls Aerial Squad for a recording. During the recording session, the staff notices the protagonist's voice actress, newcomer Kyōko Suzuki, is struggling with maintaining the quality of her voice as they expected her to do. They later help her give a more natural performance. Afterwards, Aoi meets up with Ōkura at a bar to ask for his help with a particular background; exhausted and drunk, he hastily agrees to do it. Aoi then contacts Studio Taitanic about the layouts of the fifth episode, only to learn they are halfway done despite having not been sent over to Musashino. Later on, when Aoi and Yuuji visit Ōkura the next day, he initially turns down the offer, having forgotten about his meeting with Aoi and being disillusioned with the use of 3D animation over 2D animation. He only changes his mind when Aoi relays a message to him from Marukawa, about his pleasure of working with him. Later on, Musashino receives the layouts for the fifth episode, but the staff is forced to have an urgent meeting with Studio Taitanic's Zaruyoshi Yakushiji, the episode director, over several errors on the layouts that he let slip by. He begrudgingly agrees to check the errors, but insults Seiichi while leaving. Aoi later learns that Yakushiji suddenly quit the job. Needing to find a replacement director, she begins to stress out until Erika makes a surprise return to the studio.
57 votes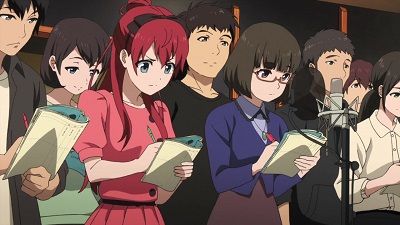 #6 - What Do You Think I Was Trying to Say?
Season 1 - Episode 9 - Aired Dec 4, 2014
With production of the other episodes running on schedule, Aoi is put under pressure as Seiichi has yet to finish the storyboards for the final episode. In addition to this problem, there is only one month for the episode's material to be delivered, even if Seiichi finishes early. Also, Musashino Animation president Masato Marukawa, line producer Shun Watanabe, and record producer Gōtarō Katsuragi decide to have the company work on an anime adaptation of a popular book called The Third Aerial Girls Squad. Meanwhile, Misa becomes slightly downhearted at the fact that all she gets to do at her company, Super Media Creations, is model CG wheels. Shizuka manages to land a walla role in a popular anime, but ends up having to hold back her enthusiasm during the recording, much to her dissatisfaction. While having dinner with Misa and Midori, Misa tells them about her own dissatisfaction with work. Watanabe and Katsuragi convince editor-in-chief Tatsuya Hantō to approve of their adaptation, but he adds that he must consult with his superiors. The next day, Misa asks her company's president, Kouichi Tateishi, about if she will be able to work on something other than cars in the future, telling him about her promise to her friends. He advises her to imagine herself in the future first, so she will have an idea on how to reach that goal. Meanwhile, Seiichi feels that he wants to change the ending, so he and Honda meet up with the writer, Shimeji Maitake, who helps Seiichi to reignite his imagination and come up with a new ending that he is satisfied with. However, news of the changed ending puts additional pressure on Aoi, who has to put Seiichi's extravagant ideas into motion.
58 votes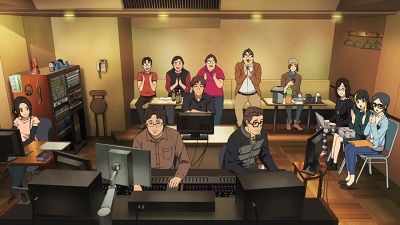 #7 - The Delivery That Was Too Far Off
Season 1 - Episode 24 - Aired Mar 26, 2015
With three weeks left until the delivery of the final episode, the entire Musashino staff reinforces their efforts to get the episode done with the time they have left. The work is particularly focused on the scene featuring Shizuka's character, which is assigned to Ema at her own request after she was touched by Shizuka's performance. Meanwhile, Shizuka finds enjoyment in being able to land minor voicing roles, while Misa stays up the entire night at her workplace creating a CG model for a fighter jet. On the day of the delivery, after the episode is finally completed, the production staff is tasked with delivering the final tapes to the various TV stations across the country in time for the airing by any means necessary. As the others reach their assigned destinations in time, Aoi is held up by several transport delays and is forced to complete the remainder of her trip by running to her destination on foot. While reaching the TV station, she reflects on everything she learned from her friends in the past few years, which strengthens her resolve to keep making anime. At the celebratory party for the final episode's airing, Aoi is praised for the support she provided to the rest of the Musashino staff and is brought onstage to give a toast to everyone involved in the anime's production. She delivers a speech praising everyone's pooled efforts for making The Third Aerial Girls Squad and reminding them to continue this teamwork and bring further inspiration to anime viewers worldwide. Afterwards, Watanabe and Katsuragi decide to have Musashino Animation work on two anime simultaneously as their next projects. Aoi, Ema, Shizuka, Misa, and Midori meet up at a balcony and reaffirm their resolve to one day remake the anime they made back in high school, also promising each other to continue making great anime along the way.
33 votes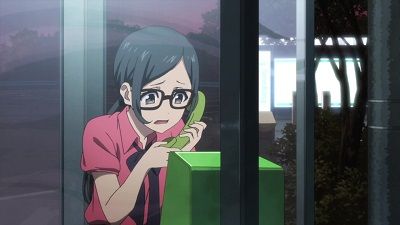 #8 - Where Am I?
Season 1 - Episode 17 - Aired Feb 5, 2015
The anime adaptation for The Third Girls Aerial Squad is announced to the public, but it is met with skepticism from the otaku community. Honda decides to pay a visit to the studio to share some cakes and catch up with everyone, surprising the staff with his drastic weight loss. Later on, Aoi and Seiichi hold an art meeting with Yūji and decide to hire another art director named Masahiro Ōkura to handle the background scenes. Meanwhile, the studio is suddenly pushed by Chazawa to create a promotional video in two weeks for a Manga Festival event, meaning certain cuts need to be fully animated quickly. Tsubaki and Sara handle their workloads with varied results, while Sugie notes to Ema her close relationship with Ai. While Misa finds out her specialty in creating CG wheels, Shizuka fills in at a children's stage play when the costume actor goes missing, managing to handle both movement and voice acting at the same time. Later on, Aoi, Ema, Shizuka, Misa, and Midori meet up at Midori's place, where Shizuka and Misa share their experiences and what they learned from them. As production on the promotional video continues, Aoi scolds Hiraoka for his frequent tardiness, especially during the morning assemblies. Then, she is forced to aid Tsubaki and Sara after both get lost on their way back from collecting key frames. After guiding them back to Musashino, Aoi comforts them by sharing her own experiences as a new production assistant. By the end of the week, the studio manages to get the promotional video finished on time and screen it at a party.
58 votes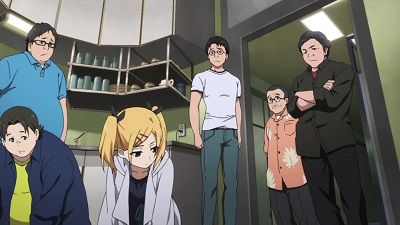 #9 - The Little Keyframe Girl
Season 1 - Episode 11 - Aired Dec 18, 2014
With a total of thirty cuts to work on, Aoi starts assigning scenes for the final episode to the company's key animators, including Ema at the request of Yumi. However, with dozens of cuts still remaining and not enough animators at Musashino, Aoi struggles to find willing animators working outside the company who would work on the cuts, as other studios are busy with their own anime. She begins contemplating on hiring self-proclaimed amateur animators, but Erika warns her that by doing so, the overall quality of the episode's animation will fluctuate and the schedule will be further delayed due to the director and the animation supervisor having to fix the cuts. While scheduling a meeting with Onodera, a potential candidate, Aoi goes to The Born, an animation company she had previously applied for but was rejected as she did not have a clear idea of what she wanted to do at the time. There, she meets up with Onodera, only to learn that he moved on to become an episode director. The next day, Aoi and Tarō are brought on to help interview candidates applying to Musashino Animation. Meanwhile, Erika learns that her father has been hospitalized and ends up overworking herself to try and take her mind away from the situation. Eventually, Tarō drives her back home. Pushed further to find animators with Erika out of action, Aoi approaches Watanabe for any recommendations as he plays mahjong with Katsuragi and other industry members. One of Watanbe's playmates, Masato Onoue, jokingly suggests finding a high-profile animator, Mitsuaki Kanno, only for Aoi to take him seriously and go off in search of him.
55 votes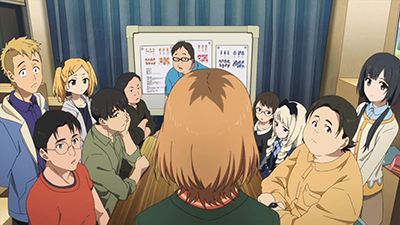 #10 - Arupin's Here!
Season 1 - Episode 2 - Aired Oct 16, 2014
After tending to Segawa, who had collapsed due to severe dizziness from a fever, Aoi manages to get Ryōsuke to handle the key frames for episode four. As the production process continues, Ema calls Shizuka, who is now a restaurant employee and also a beginning voice actress, and the two make plans for the group's monthly get-together event. Ema then notes to Shizuka that she and Aoi are interacting less at work, and Aoi seems to have an overwhelming workload, being responsible for the production of two episodes. Later on, during the sound design process of a later episode of Exodus!, the director, Seiichi Kinoshita, becomes dissatisfied with the design of one of the characters. He then suggests making changes to the character's design based on his vision of her, which involves completely new ideas that were not incorporated during production. As a result, this is met with resistance from Hironori as it would require the staff to redo the key-frame animation for the scene entirely. It is then revealed that a previous anime directed by Seiichi, Jiggly Jiggly Heaven, had become the subject of widespread ridicule because of these same actions. Unsure of which side to take, Aoi suggests that they hold a meeting with the rest of the staff to properly determine the personalities and back-stories of the main characters. After some discussion and debate, the group eventually comes to a consensus and agrees to make the changes.
99 votes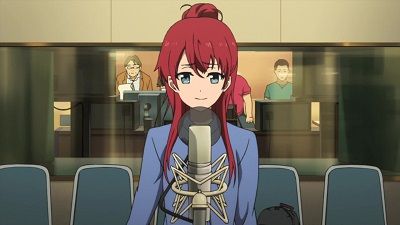 #11 - The Ruthless Audition Meeting
Season 1 - Episode 14 - Aired Jan 15, 2015
Shizuka shows up for the auditions for The Third Aerial Girls Squad. After reading for one part, she is asked to read for the role of another character. Meanwhile, Aoi and Seiichi once again meet up with Yūji, who agrees to help out with the project after deliberating a question Aoi gave him during their last meeting. Later, a new production assistant, Daisuke Hiraoka, joins the production team. Seiichi participates in a meeting deciding on the cast, with a few members arguing over aspects outside of voice acting and trying to push their own personal choices regarding who should voice the main character. Eventually, the matter is settled by sound producer Yoshikazu Inanami, while Chazawa arrives late and quickly approves of the most popular vote. When it comes to deciding the final character, the one that Shizuka was asked to audition for, Shizuka is considered as a possibility by Seiichi, but in the end, the staff decides to select someone with more experience. The next day, the team is impressed by Midori's research, and Marukawa and Watanabe ask her to join the staff as a setting instructor, which she gladly accepts. It is also revealed that Misa is helping out with the CG animation for the series through the company she now works at. Upon hearing the news, Shizuka is left feeling ostracized when she learns everyone else in the group is working on the same project. Later, Aoi is sent to negotiate with a secondary animation studio, Studio Taitanic, to help out with the project, with some help from Daisuke and Honda.
55 votes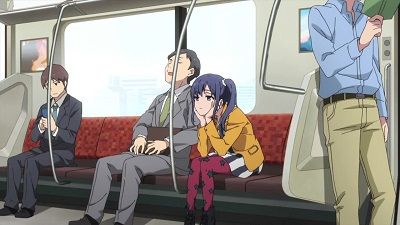 #12 - I'll Do My Best, Mustang!
Season 1 - Episode 20 - Aired Feb 26, 2015
As the head staff tries to discuss what to do for the plot of the thirteenth episode, they start to liken the protagonist's reason for flying to their own reasons for getting into the anime industry. They become interested by their motives for making anime and ask the rest of the staff for their own opinions, receiving various responses. Meanwhile, Midori, who has been given writing assignments by Maitake to improve her writing skills in lieu of directly teaching her, feels downhearted when an increasingly irritable Hiraoka implies that she can get her way just because she is a girl. She talks about it with Maitake, who assures her that his reasons for giving her the assignments were work-related. Later, after the production staff comes up with a scenario for Maitake to work on, Hiraoka gets into a heated argument with episode director Hironori Madoka, who feels the key animators provided by Hiraoka from Studio Taitanic have been of poor quality. After talking with Marukawa and calming down, Hiraoka apologizes for his actions to Madoka, who also apologizes. Afterwards, Hiraoka secretly expresses his dissatisfaction with current anime such as The Third Aerial Girls Squad, citing that no one would truly notice it as long as there are characters to observe and that the quality of key animation is no longer important. Ai overhears him and, feeling different from his perspective, pays a visit to a sick Ema, who advises her to remain confident in herself. The next day, Aoi assigns both Hiraoka and Tarō to oversee production on the twelfth episode. Meanwhile, Seiichi and Maitake use the previous day's fight as inspiration for how to improve a scenario for the thirteenth episode, asking Midori to write natural-sounding dialogue for a fight between two of the characters. While printing out a draft for the scenario, Midori confronts Hiraoka about his previous words to her.
59 votes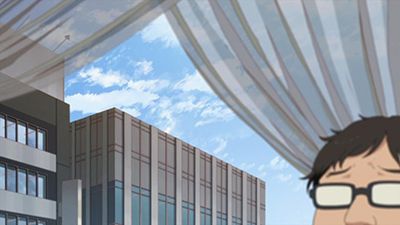 #13 - What Kind of Cloud Do You Like?
Season 1 - Episode 13 - Aired Jan 8, 2015
At the start of the new year, it is announced that Musashino Animation's next project will be an adaptation of the manga series The Third Aerial Girls Squad. With Honda having just left Musashino and Erika still checking on her hospitalized father, Watanabe assigns Aoi to production manager and Tarō to chief production assistant. Faced with numerous responsibilities and a tough schedule ahead of her, Aoi first starts making sure Seiichi has a clear idea of what he wants to do with the project without making any last-minute changes as he did in Exodus!. When the two ask Rinko to be the series' character designer, she declines the offer as she wants to improve her basic animating skills following her experiences animating the cuts of Exodus!‍ '​s final episode. She then recommends Yumi to take her place, and after some reluctance, Yumi agrees to take the job. Next, Aoi and Seiichi talk with art director Yūji Atsumi, who goes into a serious conversation about what kind of clouds should go into the backgrounds in order to fit the scenes. Later, while trying to research on fighter jets for inspiration, Aoi meets up with Midori, who offers to do the research for her and write up an overview of the information. Meanwhile, Shizuka learns that she will be auditioning for The Third Girls Aerial Squad anime, while Yumi and Ema learn some advice from Rinko about the ethics of character design. Elsewhere, Seiichi, Watanabe, Katsuragi, and Shimeji meet with the publisher, but their meeting is finished very quickly when the editor Shinsuke Chazawa approves everything without the author present. Later, as Aoi, Seiichi, and Shimeji do some research, they ask Aoi to have Midori commit to her research on fighter jets while discussing how to go about the ending.
55 votes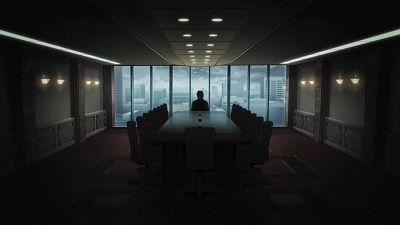 #14 - Table Flip Continued
Season 1 - Episode 23 - Aired Mar 19, 2015
After Watanabe and Katsuragi fail to convince Chazawa and his boss to let them contact Nogame and negotiate with him, the Musashino staff is left with no choice but to follow his wishes and keep the episode's plot accurate to the story's original timeline, which would end the anime on an unhappy note with the death of one of the main characters. However, Seiichi is unsatisfied with the prospect, feeling that the ending needed to be positive. Hiraoka reveals that he worked on an adaptation of another of Nogame's works, which ignored the original story and sparked significant backlash from the fanbase. Encouraged by Marukawa and Honda, Seiichi finds Nogame's email address and manages to arrange a meeting with him in person. After getting past the editorial department with the help of Watanabe and Katsuragi, Seiichi hears directly from Nogame about how he sees the characters, and together, they use this information to come up with a compromise for the anime's ending that would respect the original work, but also end it on a hopeful note. As the meeting is concluded, it is revealed that Chazawa kept Nogame in the dark about Musashino's attempts to meet him, having hoped to lighten Nogame's workload. As a result, Chazawa is fired for his irresponsibility. As Musashino Animation begins working on the revisions, which includes the addition of a younger sister character, Seiichi, impressed by her earlier auditions, calls in Shizuka to provide her voice. While hearing Shizuka and Kyōko's recording, Aoi is brought to tears of joy as she realizes all five members of the Kaminoyama High School animation club have finally fulfilled their promise to work on a single anime production together.
34 votes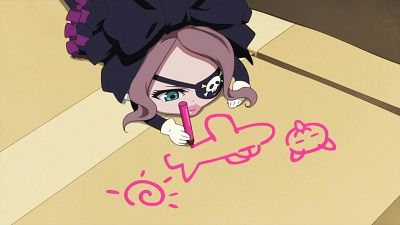 #15 - Will These Drawings Work?
Season 1 - Episode 15 - Aired Jan 22, 2015
A welcoming party is held for two new production assistants, Tsubaki Andō and Sara Satō, while Marukawa announces that Musashino Animation's reputation depends on the execution of The Third Aerial Girls Squad. Afterwards, Tsubaki and Sara join the rest of the staff as they engage in a meeting discussing the ending of The Third Aerial Girls Squad, then a location hunting trip. Later, Seiichi finishes the storyboards for the first episode, albeit with some dubious drawing quality. Production begins on the episode, with shy key animator Ai Kunogi participating in her first production meeting, where she is assigned by Seiichi to animate a scene.
59 votes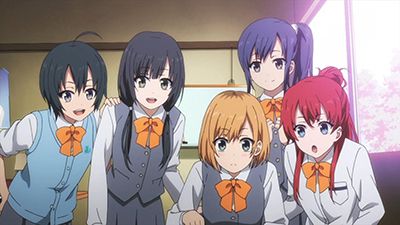 #16 - Exodus to Tomorrow!
Season 1 - Episode 1 - Aired Oct 9, 2014
In Kaminoyama High School, animation club members and good friends Aoi Miyamori, Ema Yasuhara, Shizuka Sakaki, Misa Tōdō, and Midori Imai promise to each other that they will make an animated feature together one day. Two and a half years later, Aoi is working as a production assistant at Musashino Animation, an animation studio that is currently working on an upcoming anime for the fall season, called Exodus!. She visits Misato Segawa, the animation supervisor for the anime's fourth episode, to retrieve the checked animation. Then, she drives to the studio, where she attends a meeting as the entire crew (including Ema, who is a key animator) watches the premiere of Exodus!. When the anime premieres, it is met with a lukewarm public response, to everyone's relief. Later on, while previewing the third episode, the crew finds that Tarō Takanashi, another production assistant, was unable to finish the key frames in time, thus leaving the quality of the episode's animation erratic. Since there are no other key animators available to finish the frames, the crew turns to Segawa, who reluctantly decides to take the extra job at the request of the third episode's animation supervisor Ryōsuke Endō, who is her rival. Once the frames are finished, Aoi retrieves them before taking the animation director, Hironori Madoka, to a dubbing session. She then stops by Segawa's house and finds her lying on the floor unconscious.
110 votes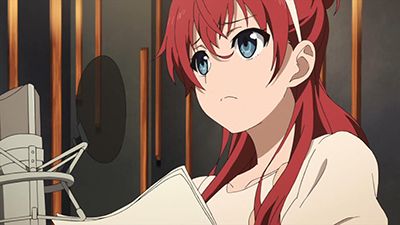 #17 - I Totally Messed Up
Season 1 - Episode 4 - Aired Oct 30, 2014
As Shizuka goes in for her first audition at Prussia Studio, she becomes nervous about going up against popular voice actress Rina Sōma. When she is the next one to audition, her nervousness gets the better of her, although the director is impressed. Meanwhile, Aoi receives a call from her mother, who congratulates her on her work on Exodus! despite her confusion about the story, and informs her that her father was also impressed. The scene then flashes back to the time Aoi, Ema, Shizuka, Misa, and Midori presented their club's anime back in high school; although the students were unimpressed by it, the five of them still found pride in their work. The next day, Aoi, Ema, and Shizuka meet up with Misa, now a 3D computer graphics operator, and Midori, a college student who is aspiring to be a scriptwriter. Together, they watch a movie, visit the park, go shopping, and get some drinks. While at Shizuka's workplace, Aoi, Ema, and Misa tell each other about the hardships they are experiencing at work, while Shizuka laments that she has not done anything significant in her work and that she did not do too well on her audition. Later on, Aoi receives a call from Tarō, who asks for her help, but when he goes off-topic, she hangs up on him. When the get-together ends and Aoi and Ema ride the train home, the former remarks that she does not have a concrete anime-related goal in mind. While walking home, Aoi receives a call from Tarō, who again tries asking for help, but she hangs up on him. The next day, things become hectic at the office with Seiichi being behind on storyboards and Ryōsuke deciding to drop out of directing the eighth episode following an argument with Tarō.
62 votes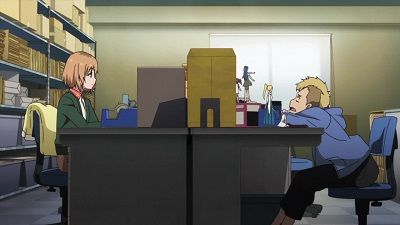 #18 - Idepon Miyamori: On the Move
Season 1 - Episode 6 - Aired Nov 13, 2014
Despite seeing the 3D-rendered explosion scene, Ryōsuke refuses to return to work, citing that things had already gone far enough. Becoming agitated by Tarō's attitude, Aoi finally informs Honda of his failure to handle the situation between Ryōsuke and Yūichirō. Honda decides to tell Seiichi about the situation as well, but discovers that he had somehow managed to escape his confinement so he could sneak off to the after-recording session. Meanwhile, production assistant Tatsuya Ochiai is given an offer by his friend, line producer Houjou Hiroaki, to work at Studio Canaan, another anime studio, but Tatsuya turns down the offer. Later, Aoi and Erika discuss the possibility of hand-drawn animation being phased out by 3D animation completely. Aoi then hears from Misa about how, even as a 3D creator, she needed to study up a lot of hand-drawn animation to get an artistic sense. Meanwhile, Shizuka is visited by her old mentor, Mari Tateo, who invites her to a play recital, where she teaches her to make use of the time between auditions. Afterwards, Shizuka calls Aoi, who tells her about the difficulties she is experiencing at work, and she comforts her. Seiichi decides to return and finish his work. Hearing from Segawa about how Ryōsuke was inspired by an Idepon anime to become an animator, Aoi invites him to an exhibit on the show. There, they run into Tarō and Yūichirō. The exhibition helps Ryōsuke and Yūichirō get over their feud and encourages Ryōsuke to return to work and get the cuts done. Afterwards, Ryōsuke praises Yūichirō on his CG explosion and asks to dabble in 3D himself, while Yūichirō asks Ryōsuke to take a look at some of his 3D motions and give a key animator's opinion. Aoi celebrates the finishing of the cuts, and Tarō, Erika, and Tatsuya credit the success to her and her ability to effectively handle situations.
59 votes
#19 - Retake With the Cat
Season 1 - Episode 7 - Aired Nov 20, 2014
While preparing to leave for Musashino Animation, Aoi learns from her sister, Kaori, that she is coming over to stay, and she subsequently entrusts her house key to Midori. During the Musashino Animation morning assembly, Tatsuya announces that he is leaving at the end of the week, citing personal reasons, which shocks Aoi and Tarō. After the assembly, Honda reassigns Erika to continue Tatsuya's work on the eleventh episode, which leaves Tarō to continue her work on the twelfth episode. As a result, Aoi is put in charge of work on the final episode, which Tatsuya recommends as a good advancement for her experience. Aoi later learns from Masashi Yamada, the animation director for the fourth episode, that Tatsuya had eventually accepted the offer to join Studio Canaan and work on their latest anime. He then advises her to be on Seiichi's case, since the storyboards for the final episode are not done. Meanwhile, Ema is troubled by a series of cuts involving a cat, being worried about balancing speed and quality. Senior key animator Shigeru Sugie tries giving her advice, but she winds up being more conflicted about her balancing. As a result, she chooses to work late instead of joining up with Aoi, Kaori, and Midori at Aoi's house, where Kaori warns Aoi and Midori that there are advantages and disadvantages at being diligent. The next day, Aoi learns that the four cuts Ema handed in the previous day need to be redone as they were too rushed. The news comes as a shock to Ema, who feels that doing them with her usual carefulness would take too long and starts espousing that she will never become a great animator. Aoi tries to cheer her up, but when Ema asks her what she herself wants to do in her future, she replies that she does not know. In response, Ema leaves and resumes work, heartbroken.
59 votes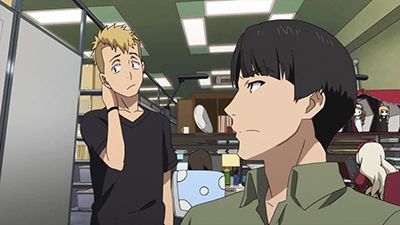 #20 - Those Who Blame Others Should Just Quit!
Season 1 - Episode 5 - Aired Nov 6, 2014
Tarō tries to reason with Ryōsuke and his decision, but he refuses to listen. Tarō then vents his anger to Aoi and blames her for the situation, explaining that the argument was the reason behind the phone calls. With the storyboards for the final episode way behind schedule, being a month late, chief production assistant Yutaka Honda, desperate for progress, goes to extreme lengths and locks Seiichi inside a cage in the storage room in order to get him to finish them, despite his protests. Tarō explains to Aoi that he got caught up as the middle man between Ryōsuke, who wanted to do the key frames for an explosion scene, and the 3D director Yūichirō Shimoyanagi, who had already prepared a CGI explosion, the result of which led Ryōsuke to believe people were favoring 3D over 2D and drop out of directing the eighth episode. An unsatisfied Aoi accuses Tarō of not handling the situation better and tries to tell Honda about it, but he talks her out of it. Caving under the pressure of his new work environment, Seiichi recounts how his once successful career as an anime director took a downfall after the release of Jiggly Jiggly Heaven, and it is revealed Exodus! is his first official anime in six years. Whilst having a drink with his coworker Hotta Hikari, Ryōsuke learns from animator Saburou Kitano about how he is teaching 3D animators himself, stating that it is not about whether 3D is better or not, but rather how it can be used to improve the quality of anime. Aoi and Ema meet up and eat at the latter's house, where they talk about how 3D is continuing to influence the production of anime, which is what led Misa to choosing her career path. The next day, while showing Ryōsuke the 3D-rendered scene of the explosion, Aoi learns that the beginning of episode nine, which follows on from the explosion in the eighth episode, had been finished using key animation.
60 votes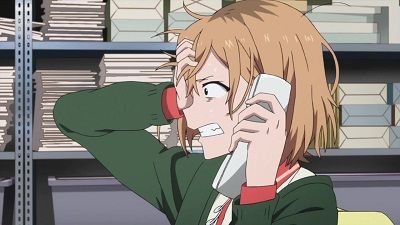 #21 - No More Recap Episodes
Season 1 - Episode 3 - Aired Oct 23, 2014
General animation supervisory assistant Yumi Iguchi is impressed by the new iteration of the fourth episode and decides to begin work on the retakes. Later on, Aoi is faced with a heavy workload regarding the fourth and ninth episodes. After checking the finished cuts, she delivers the key frames she has for the ninth episode to director Masashi Yamada for checking, and he instructs her to wake him up early so he could check the key frames that have not been delivered yet. Doing so, Aoi is then instructed to give the key frames to the general animation supervisor, Rinko Ogasawara. After Rinko checks the key frames, Aoi sends them to in-between inspector Chiemi Dōmoto, then realizes she mistakenly sent one of the cuts to the camera department and retrieves it. Later on, she finds that one of the key frames she requested has not been delivered to her and calls lazy freelance key animator Mitsuhide Kisa to finish the cuts. Although he begins work, the process is delayed due to his laziness. As he finishes, the missing key frame is delivered late due to the truck being held back in roadworks. On the day before episode four is due to air, a problem with the studio's FTP server results in the delivery of an external studio's color shots getting delayed. Aoi panics, but she is comforted by fellow production assistant Erika Yano. Eventually, the staff manages to pull together and get episode four delivered on time, with the retakes being well-received.
65 votes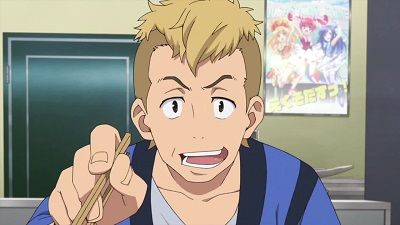 #22 - I'm Not Criticizing You or Anything
Season 1 - Episode 8 - Aired Nov 27, 2014
Following her conversation with Aoi, Ema had encountered Yumi while returning to work; Yumi noticed something wrong with Ema and advised her, "Ask, and be a fool for a minute. Ask not, and be a fool for life." In the present day, Midori and Kaori go on a tour across Tokyo. Midori notices Kaori's quick fascination with the city and learns about her dull office life back in the country. Meanwhile, Ema continues to struggle with her cuts, and Sugie continues to try and motivate her, although she does not feel capable of following his suggestions. Elsewhere, the entire production desk discusses what their goals are for the future. While driving over to Kisa's house, Aoi laments about how she seems to be the only one without a dream in mind, then imagines a conversation between her dolls Mimuji and Roro, who have opposing views of the situation. While delivering Kisa's cuts to Segawa, Aoi talks with her about Tatsuya's transfer to Studio Canaan, before Segawa expresses her concerns about Ema's work. When Ema begins to stress out over her cuts, Yumi decides to take her on a walk. While eating at a café, Midori tells Kaori about her ambition to write a story. Elsewhere, Yumi brings Ema to a secret spot in the local park to clear her head, and reveals that Sugie and Rinko also use the location for similar purposes. There, Yumi encourages Ema to learn from copying previous works in order to eventually develop her own style, while a cat they encounter gives Ema some better ideas of how to animate cat movement. With Ema once again motivated with her work, Aoi rejoins Midori, Shizuka, and Kaori for a drink at Shizuka's workplace, where Midori reminds Aoi of the promise all five girls made together to collaborate on an anime some day. The next day, Kaori returns home, determined to do her best too.
91 votes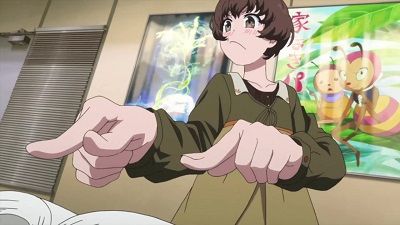 #23 - Noa's in Her Underwear
Season 1 - Episode 22 - Aired Mar 12, 2015
After being assigned as the animation supervisor for the thirteenth episode, Yumi, pressed by her large workload, nominates Ema to join Rinko as an assistant general animation supervisor to help her handle some of the cuts, having been impressed by the progress she displayed since Exodus!. However, when Aoi asks her about it, Ema responds that she lacks confidence in herself to take up the job and has to think it over. As a backup plan, Aoi approaches Segawa with the request. Though she declines, Segawa becomes impressed be her sincerity and regains some of the motivation she lost following her incident with Hiraoka, returning to work on the twelfth episode. Meanwhile, Ema checks on Midori and finds that she is enjoying her job in script ordering. Later that evening, as Nao Shinkawa drinks over her troubles alongside in-between animation inspector Chiemi Dōmoto, Hiraoka shares with Tarō about how his horrible experiences during previous jobs left him with a cold attitude towards the anime industry. Meanwhile, Misa comes over to the studio to get some advice from Ema on how to improve her CG animation. She eventually manages to improve it greatly by incorporating 2D animation techniques into the mix. The next day, Ema receives encouragement from Sugie and decides to take up the assistant supervisor position. Afterwards, she relays her confidence to her mother, which in turn gives Ai the confidence to attend a meeting by herself. Meanwhile, just as recording wraps up on the final episode, Katsuragi is shocked to learn that Nogame has rejected all of the last episode's storyboards.
27 votes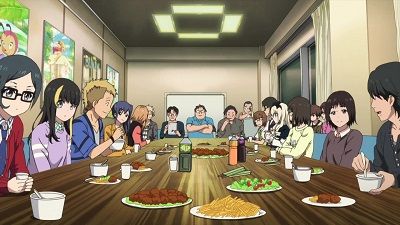 #24 - Don't Hold the Quality Hostage
Season 1 - Episode 21 - Aired Mar 5, 2015
During a delivery by the president of A.C Tsuchinoko, Hisamitsu Isokawa, he reunites with Hiraoka and Erika, who were his classmates in technical school. Meanwhile, Misa gets the chance to do some character CG animation for a certain scene in The Third Aerial Girls Squad, inviting Ema and Shizuka to an amusement park to observe their reactions on a rollercoaster for inspiration. Following the successful premiere of The Third Aerial Girls Squad‍ '​s first episode, which is met with widespread public acclaim, Aoi receives complaints from Segawa, who requests that Hiraoka be taken off the episodes she is working on due to the lack of quality in both his key animators and his attitude. When Aoi relays this to Hiraoka, he becomes angry, stating that fussing over quality just makes his job harder. While trying to understand Hiraoka, Aoi hears from Erika about how his love and dedication for the anime industry caused him more pain when faced with the realities of the job, leading to his current attitude. Afterwards, Aoi speaks with Isokawa, who states that an important factor in balancing quality and schedules is for the production team to communicate with the creators about the best way to proceed. Hearing this, Aoi decides to have Hiraoka continue working on the twelfth episode on the condition that he communicates more clearly with the other animators. Later that night, Aoi is invited by Watanabe to meet Masahiko Inami and Keiji Takekura, the president and chief production assistant of The Born, respectively, who had conducted Aoi's failed interview there. They both note that she has changed a lot since then, leading her to realize her own goal to do her best and make great anime. With the thirteenth episode's storyboards finished by Seiichi in record timing, Aoi assigns herself, Tsubaki, and Sara as the episode's production team.
30 votes