The Best Episodes of Sound! Euphonium
This is the story of the Kitauji Music club and its members. With the introduction of a new club adviser, the story depicts the students' daily lives as they face challenges and obstacles.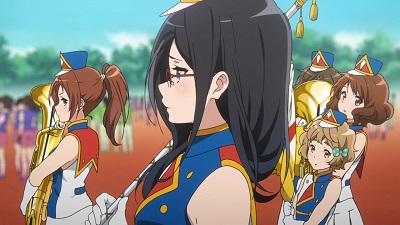 #1 - Now the Festival
Season 1 - Episode 5
The band prepares for its upcoming performance at SunFes as uniforms are handed out and the students are drilled on how to march in unison. Natsuki Nakagawa, a second-year in the bass section, reveals to Kumiko and Hazuki that Haruka is only president because Asuka, despite her more outgoing personality, had passed up on it. The band now has confidence in Mr. Taki, even agreeing to extra practice time after school. Aoi leaves early however, telling Kumiko that she has cram school. On the way home, Kumiko is surprised to run into Reina. While trying to make small talk, Kumiko unintentionally expresses her doubt at their chances of making Nationals, quickly taking it back. Afraid of offending Reina again, she is surprised to see her smile in response. On the day of the festival, Kumiko runs into an old friend from junior high who reveals that Reina actually turned down an invitation from Rikka, a prestigious school, to go to Kitauji. Despite having to go after Rikka, the band's performance earns them notice from the crowd.
30 votes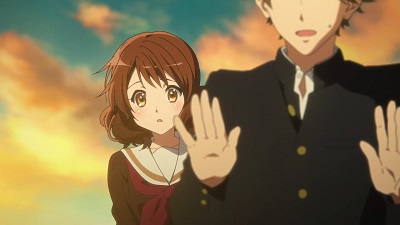 #2 - Sing Solfeggio
Season 1 - Episode 4
Despite still having reservations about Mr. Taki, the club decides to practice for their second ensemble. Mr. Taki engages the club in a variety of drills: having them run around the school and play their instruments, engaging the students in breathing exercises, and finally working with each section individually. Kumiko and Hazuki overhear his strict treatment of the flute section, but is later surprised by his gentle demeanor while working with him in the bass section. On the way home, Kumiko again runs into Shuichi, who tells her that it is Mr. Taki's first time advising a concert band. Reina, overhearing them, adamantly defends Mr. Taki, much to the surprise of Kumiko and Shuichi. At school the next day, Kumiko awkwardly apologizes to Reina while also thanking her for having inspired her; she leaves in a hurry but expresses relief at finally being able to talk to Reina. On the day of the ensemble, the band's performance meets Mr. Taki's standards; he responds by affirming his commitment to the band's goals of performing in SunFes and making Nationals.
35 votes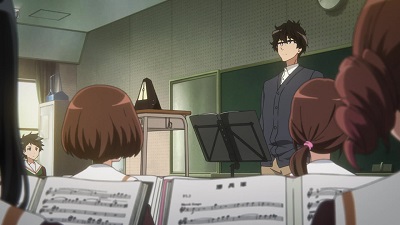 #3 - First Ensemble
Season 1 - Episode 3
The band begins sectional practice as the new members select their instruments and are taught the basics. Hazuki decides to name her new tuba "Tubacabura" after seeing Midori name her bass "George". Mr. Taki instructs the band to let him know once they are good enough to perform in an ensemble; however, many sections neglect to take their practice seriously, preferring instead to focus on the upcoming Sunrise Festival, an important event that the concert band has traditionally performed at. Midori's question regarding the lack of second-year students is met with uncomfortable silences from the other upperclassmen in the section. The club's first performance as an ensemble goes poorly; Mr. Taki warns the club that unless they improve in a week, they should not even think about performing at SunFes, much less Nationals. As dissent towards Mr. Taki grows in the club, practice is cancelled while the section leaders discuss what to do. Reina, frustrated at the turn of events, yells out at the top of her lungs after playing a trumpet solo outside school, much to Kumiko's surprise.
35 votes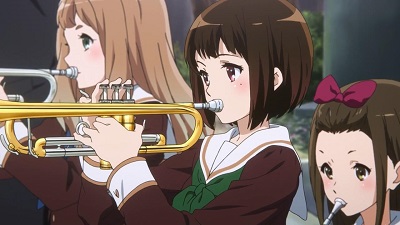 #4 - Welcome to High School
Season 1 - Episode 1
Euphonium player Kumiko Oumae inadvertently creates a rift with trumpeter and fellow band member Reina Kousaka upon losing their final concert band competition in junior high. On the first day of high school, she befriends classmates Hazuki Katou and Sapphire "Midori" Kawashima. Midori, who used to play the double bass, suggests that the three go check out the Kitauji concert band club. As they are being greeted by club president Haruka Ogasawara and vice president Asuka Tanaka, Kumiko is shocked to meet Reina again as the latter goes to join the band. While struggling to come to terms with her earlier surprise meeting with Reina, Kumiko runs into childhood friend Shuichi Tsukamoto on the way home, who also tells her of his intentions to join. Though initially unsure, with encouragement from Midori and Hazuki (who has just bought a mouthpiece), Kumiko decides to finally join the band the next day.
47 votes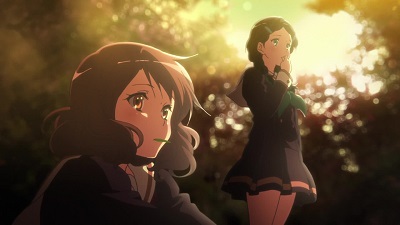 #5 - Hello Euphonium
Season 1 - Episode 2
Despite several attempts to break the ice, Kumiko remains unable to talk to Reina. After school, Haruka announces that it is time to assign instruments to the new club members. Due to the lack of contrabass players, Midori is automatically assigned the double bass given her previous experience playing at a prestigious school; similarly, Reina joins the trumpet section after an impressive performance to section leader Kaori Nakaseko. Hazuki selects the tuba after successfully fitting her mouthpiece to one. Kumiko, who wants to try a different instrument in high school, initially avoids the bass section; unfortunately, she is scouted by section leader Asuka after Aoi Saitou, an old friend of Kumiko, reveals that she has been playing euphonium since elementary school. The next day, the club meets their new advisor Noboru Taki, who asks the members to decide on their goal for the year. Though Kumiko is unsure of what she wants, the club overwhelmingly votes to work towards winning nationals in the upcoming concert band competition.
39 votes