The BEST Episodes of Servant x Service
Every episode ever - ranked by fan votes!
Last Updated: Mar 17, 2020
Newcomers Hasebe Yutaka, Yamagami, Miyoshi Saya, and their supervisor Ichimiya Taishi go through the everyday quirks of working at their office.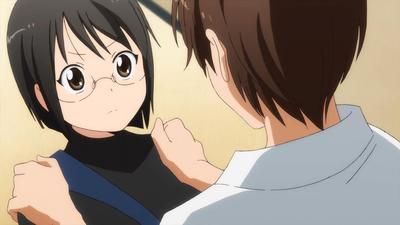 #1 - Now We're Set, a Fun Workplace Leading to Tomorrow
Season 1 - Episode 13 - Aired Sep 26, 2013
We finally find out who approved Lucy's name, but Hasebe is too scared to tell Lucy, fearing that she will hate him. Meanwhile, Lucy is concerned about the fact that Hasebe seems distant ever since their date. Miyoshi can't stand seeing the two like this and tries to push Hasebe to tell Lucy the truth, but...
44 votes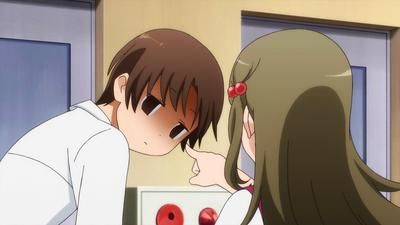 #2 - Do You Have It? Mental Capacity and the Accumulation of Feelings
Season 1 - Episode 9 - Aired Aug 29, 2013
Chihaya goes berserk as she starts to think about Ichimiya, Toko and a lot of other things in her life. Meanwhile, Lucy and Miyoshi go out to dinner with Kaoru, who tells them about Hasebe and Jyoji when they were kids. The next day, Hasebe finds out a shocking truth...
43 votes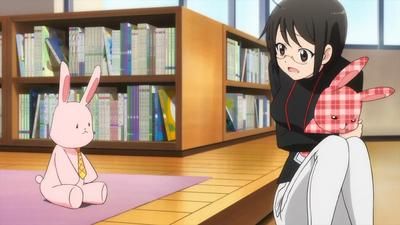 #3 - Beware: the Sweet Trap That Tries to Lure You In
Season 1 - Episode 11 - Aired Sep 12, 2013
Lately, Lucy hasn't been able to talk to Hasebe outside of work. While looking for where he might be, somehow the section manager gets kidnapped?! Meanwhile, Miyoshi reluctantly goes out to dinner with Jyoji. He ends up talking about only Hasebe, so she comes up with an idea.
44 votes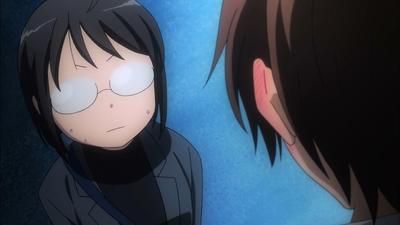 #4 - A Dangerous Sprout, Beware Tanaka's Grandson
Season 1 - Episode 8 - Aired Aug 22, 2013
One day, Jyoji is waiting outside the ward office and forcefully takes Lucy out to dinner. He explains his past with Hasebe to her, which causes even more trouble for Lucy. A day after that incident... Lucy is suddenly faced with the hardest choice of her life.
47 votes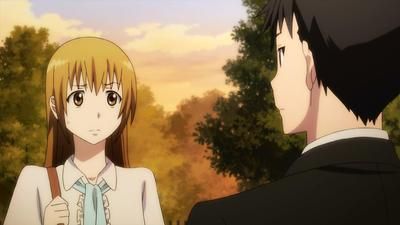 #5 - It'll Be Good Later, At the Same Time Good Things Can Cause Huge Regrets
Season 1 - Episode 10 - Aired Sep 5, 2013
Chihaya has finally decided to tell Toko that she's going out with Ichimiya... but apparently that doesn't go as planned... The next day, Miyoshi tells Chihaya to make sure she doesn't regret anything, but then Miyoshi is faced with a bunch of regrets herself..
43 votes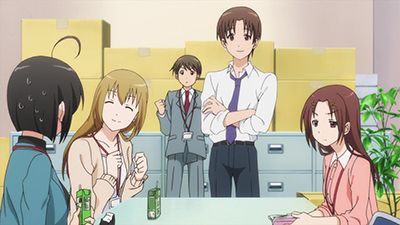 #6 - Don't Neglect the Safety of You or Your Workplace
Season 1 - Episode 3 - Aired Jul 18, 2013
Ichimiya confidence as a senpai has not grown much since supervising the 3 newcomers. His chance to prove himself arrives with Lucy needing help with a "sensitive" subject.
46 votes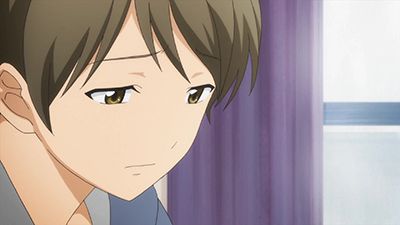 #7 - Everyone Has Close Calls. Learn from Them and Keep the Workplace Healthy.
Season 1 - Episode 5 - Aired Aug 1, 2013
Lucy gets drunk at the company party and was taken home by Hasebe. The morning after, she finds a strange woman lying next to her when she woke up. Because of this, she finds out the other side of Hasebe. The next day, people are talking about work love affairs and find out that Ichimiya has a girlfriend. That woman ends up being a complete surprise.
47 votes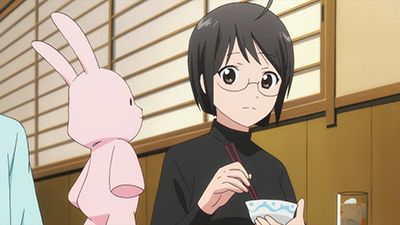 #8 - Beware of Next Week's Unseen Danger
Season 1 - Episode 4 - Aired Jul 25, 2013
Chihaya announces to Hasebe that she was his rival with regards to Lucy. With the group gathered around the Section Manger desk, an incredible thing happens.
48 votes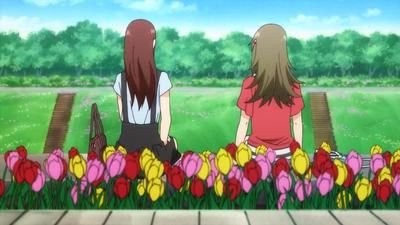 #9 - Wait a Moment, Being Accustomed and being Unprepared Are Life Threatening
Season 1 - Episode 12 - Aired Sep 19, 2013
Megumi took three days off to finish all of her costume projects, including the dress Lucy is to wear during her date with Yutaka. Megumi warned Taishi not to text her, call her, or come to her apartment, but he goes to her apartment on the third day to check her out anyway, and as a result he weaseled out of that shopping trip he promised Toko, much to her disdain. He finds the door to her apartment unlocked, and, as he entered, sees her on the floor, flat, but all work completed. He later helped clean her apartment, make food, and become her pillow for the rest of the night. The next day, before her date, Megumi instructs Lucy to watch Yutaka and find out what kind of person he really is, to see if he is a decent guy or not. Lucy was shocked to find out that the dress she is to wear was too short, but Megumi insists it's okay. But she is so embarrassed with the dress that she even thinks of postponing it. In fact, on the day of her date with Yutaka, Lucy did arrive around two hours late. During the date Lucy did observe that he paid attention to her, even being protective of her. She even got freaked out by Yutaka's in-date behavior that she ran like mad and tripped. As Yutaka tended to the scratch on her knee, she confronted Lucy about her problem that is her long, ridiculous name. He also asked her as to how she thinks of him. Lucy, nervous, is unable to give an answer, until Yutaka got a call about his sister Kaoru's marriage meeting, and he was requested to come, ending the date early; but Lucy says they can do it again some time. Megumi is lurking in the shadows ready to intervene if something goes wrong, while trying to tell Toko, who is with her, about her relationship with her brother. There she finds out that Toko doesn't mind if her brother has a girlfriend. The next day Yutaka does his work without slacking off, though with some mistakes. Taishi, Saya, and Megumi notices this and finds it worrisome, and, asking him, they find out the (shocking) reason:
47 votes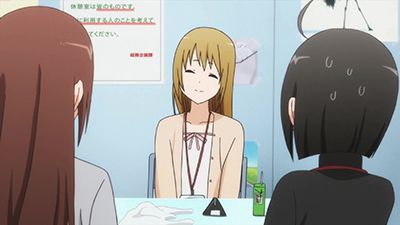 #10 - Examine Unexpected Problems and Hide-and-Seek
Season 1 - Episode 6 - Aired Aug 8, 2013
As the Section Manager is watching over the three new employees, he feels like there is an invisible wall between the three of them and himself and tries to find out what he's lacking. Then suddenly, another high school girl shows up to the ward office... Meanwhile, Miyoshi starts to get tired with her daily routine at work and then Tanaka-san suddenly asks her to marry her grandson...
45 votes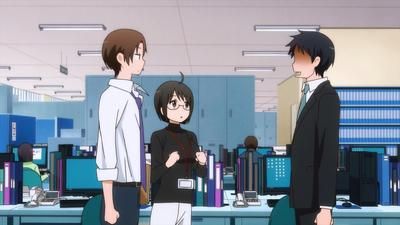 #11 - Self Prevention There Are People Where You Can't See
Season 1 - Episode 7 - Aired Aug 15, 2013
Chihaya drops by Toko's apartment unannounce to spend time together when a surprised Ichimiya returns home to see his girlfriend and sister playing games.
47 votes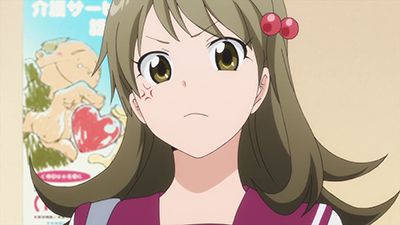 #12 - Don't Panic, Make a Scene, or Throw Away Your Job
Season 1 - Episode 2 - Aired Jul 11, 2013
Miyoshi is constantly stopped by the elderly who find comfort in sharing their stories with her. Toko, a high school student who is obsessed with welfare matters, gets involved and the situation worsens. Chihaya suggests tough love for Miyoshi…
50 votes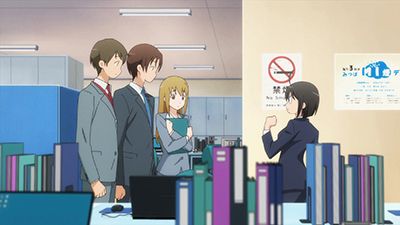 #13 - Be Careful About How You Refer to Someone and Why
Season 1 - Episode 1 - Aired Jul 4, 2013
Yamagami, Hasebe, and Saya are introduced to the Ward Office as new civil servants and are placed under the care of their upperclassman Ichimiya, who is rather unreliable. Hasebe is very relaxed to the point of slacking off every chance he gets, while Saya is very nervous because this is her first job. Yamagami is introduced to Chihaya, who is a very low-key and emotionless person. After the first few hours or so, the three newbies meet up again and share their disappointments. Saya was caught up in a long story with Mrs. Tanaka, unable to escape; Yamagami was scolded by a customer for taking too long in directing her to the right window; Hasebe was disheartened to discover that he couldn't slack off as frequently as he would've liked. Later however, Yamagami is shown making great progress, much to Saya's admiration. Afterwards, Hasebe, Ichimiya, and Saya find out that she's a modern day Jugemu (a great source of embarrassment for her), due to her parents not being able to decide on one first name. Yamagami reveals that the real reason she joined the civil service was to get revenge on the civil servant who carelessly allowed her birth certificate to pass without raising a single question about her name. Hasebe begins calling her "Lucy" (the first part of her name), to Lucy's great displeasure. After rescuing Lucy twice from some customers, her opinion of him changes, until he begins to make fun of her name again. Ichimiya and Saya later comment that although Lucy holds a grudge against the civil service, she's actually suited for the job.
56 votes