The BEST Episodes of American Chopper: Senior vs Junior
Every episode ever - ranked by fan votes!
Last Updated: Aug 7, 2019
"American Chopper" is back ... sort of. After that popular motorcycle-building reality series crashed after six seasons amidst a Teutul family feud, Paul Sr. and son Paul Jr. return as competitors. Senior and his staff continue their work at Orange County Choppers, while Junior launches Paul Jr. Designs across the street from OCC's original site. Not only that, but Paulie twists the knife even more by hiring former OCC employees, including his brother Mikey, Vinnie DiMartino, Robert "Nub" Colard and Joe Puliafico. With the battle lines drawn, who will survive by designing and building the most innovative choppers?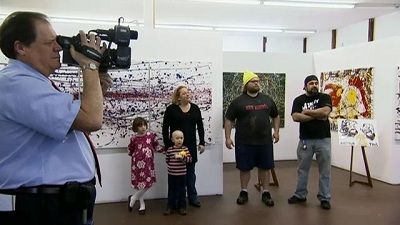 #1 - Operation Reconciliation
Season 3 - Episode 3
OCC builds a bike for Veterans Airlift Command and PJD finishes a bike for One Call Concepts. After his mother's death, Senior is more determined than ever to reconcile with Mikey and Junior, inviting Mikey to join him at a painting class.
9 votes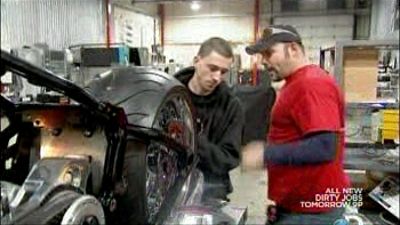 #2 - Foreclosure
Season 1 - Episode 15
A bike for St. Jude Hospital is unveiled; foreclosure rumors about OCC spread; an employee may lose his job at PJD.
16 votes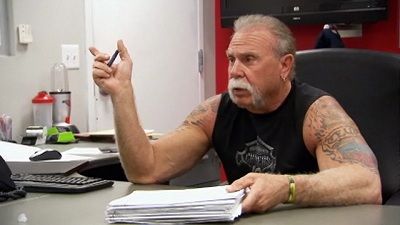 #3 - Downsizing
Season 2 - Episode 10
PJD works on a build for Gears of War 3, while the OCC crew builds a bike for Feather Free Zone. Meanwhile, with the OCC headquarters in foreclosure, Senior considers building a new shop at the front of his property or moving to the old OCC.
17 votes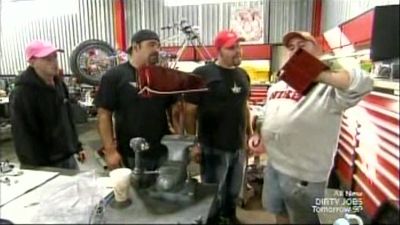 #4 - Hair Club for Men, Part 1; Carolina Carports, Part 2
Season 1 - Episode 12
Senior sees a therapist, but his sons don't think he's making enough of an effort. Meanwhile, work continues on the Carolina Carports build at PJD; and Junior unveils his bike in North Carolina to a crowd of 400,000 people.
12 votes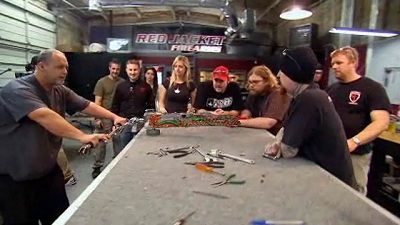 #5 - Big Guns
Season 2 - Episode 2
OCC builds a money-themed bike for longtime client Alan Brownfeld, while Junior and Mikey head to Louisiana to consult on a custom gun design with Will Hayden of Red Jacket Firearms and Sons of Guns. Then Senior announces his reconciliation with estranged son Dan, and Junior and PJD unveil their Jared Allen charity bike to a roaring crowd.
22 votes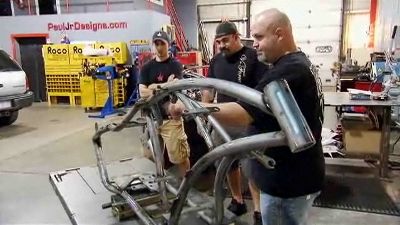 #6 - Gears of War
Season 2 - Episode 11
OCC starts a build for WyoTech, a school for budding mechanics, while PJD continues work on their Gears of War 3 trike. Then, WyoTech students visit OCC to help out, while the understaffed PJD crew wonders how to find talented mechanics.
16 votes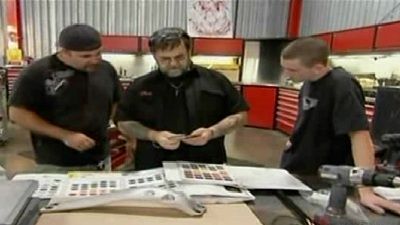 #7 - Fallen Heroes Bike and Bling Star Bike, Part 1
Season 1 - Episode 9
It's wedding bell bliss as Paul Jr. prepares to head down the aisle while PJD becomes swamped with e-mails from people interested in his bikes. But will Junior regret inviting his dad to the festivities?
14 votes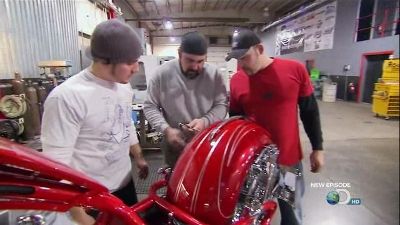 #8 - Fired
Season 1 - Episode 16
Tensions are high at PJD as Odie back talks Junior. Junior fires Odie who then turns to Senior for counsel, and hopefully, a job. PJD pulls off a double-unveil for Universal Property Insurance while OCC unveils a bike to an enthusiastic crowd at Bic.
7 votes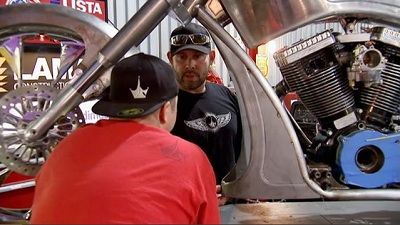 #9 - The Call
Season 3 - Episode 5
After weeks of silence, Junior calls Senior to give his condolences on Helen's passing. Then PJD starts a charity build for the March of Dimes while OCC finishes a two-bike build for John Christner Trucking.
10 votes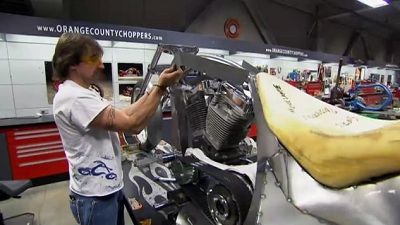 #10 - Change of Heart Part 2
Season 3 - Episode 14
OCC finishes the Italian sports car bike and PJD unveils the Skil Bike. Then, Mikey leaves the show once and for all, and Junior goes to OCC to confront Senior face to face.
13 votes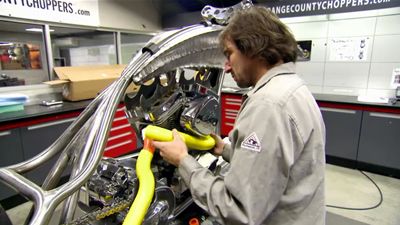 #11 - The Apprentice Bike
Season 3 - Episode 2
Senior deals with the death of his mother and is hurt then he does not hear from Junior or Mikey. Then, while PJD starts a build for One Call Concepts, OCC unveils a gold bike for Donald Trump.
11 votes
#12 - Troubled Waters
Season 4 - Episode 12
When hurricane Sandy hits, the PJD crew rushes off to rescue the 9/11 Memorial bike. Progress on the production bike stalls out when Sr. and Jr. disagree on a plan of action. Sr. and Vinnie finally face off about their past differences after five years.
16 votes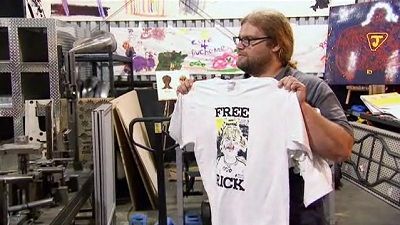 #13 - Free Rick
Season 2 - Episode 16
Junior lands the biggest job of his career when he is asked to build a bike inspired by the restoration of Ground Zero in NYC. Senior secures a build for a wealthy foreigner and rumors fly at both shops over Rick's assumed discontent at OCC.
16 votes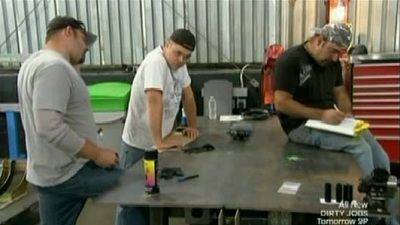 #14 - Chicago Blackhawks Bike, Part 2; Carolina Carports Bike, Part 1
Season 1 - Episode 11
The OCC crew continues building the Blackhawks bike while Junior meets with representatives from Carolina Carports who want PJD to build a bike for their company. Later, Senior makes an important decision agreeing to meet with a therapist for Mikey.
13 votes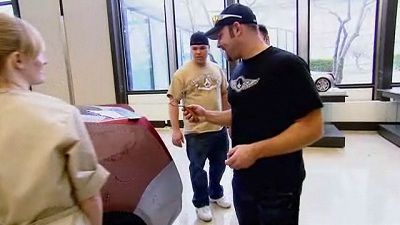 #15 - Cadillac Build-Off Part 1
Season 2 - Episode 6
Cadillac enlists both OCC and PJD to build a bike in a father-son build-off. But even as the competition heats up, Senior reaches out to Junior with a second settlement offer ... and this time, without lawyers.
20 votes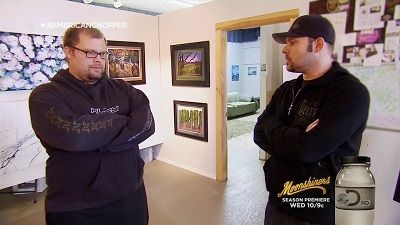 #16 - Junior Frustration
Season 4 - Episode 10
With the Teutul's new company seemingly at a standstill, Senior takes steps to initiate progress, sans Junior's approval. Mikey provides much needed help to his busy brother, and PJD and OCC both stage unprecedented unveils.
12 votes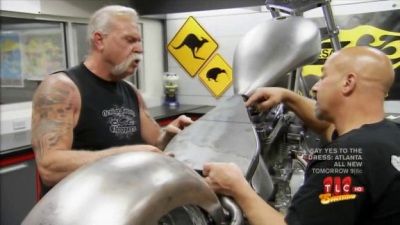 #17 - ESAB Bike
Season 1 - Episode 3
Sr. and Jr. find themselves in front of a judge because Sr. is suing Jr. for his 20% ownership of OCC. Meanwhile, the team at OCC is hard at work on a chopper for ESAB, one of the oldest welding equipment companies in the country.
24 votes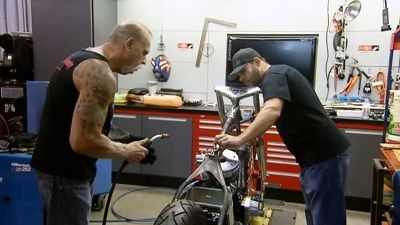 #18 - Common Ground
Season 4 - Episode 3
Senior and Junior get to work on their bike build, which reaps surprising results as the two bond over old memories. Meanwhile, PJD starts a trike for Loopster while OCC builds a bike to benefit Senior's favorite charity.
15 votes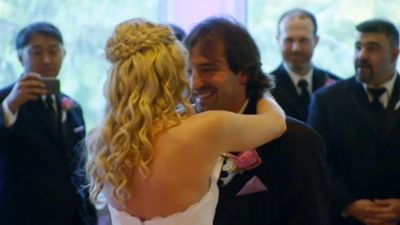 #19 - The Build is On
Season 4 - Episode 1
Senior proposes that he and Junior combine forces to build a bike for charity, but Junior is unsure how to respond. But when Rick's wedding brings the two together, Junior gets the reassurance he needs to make a decision once and for all.
18 votes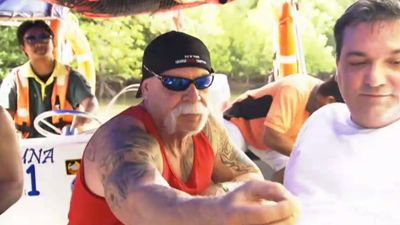 #20 - Malaysian Adventure
Season 3 - Episode 12
Senior, Jason, Jim and Steve travel to Malaysia, where they not only unveil their latest bike, but also encounter wildlife, swim under waterfalls and barter at the central market.
12 votes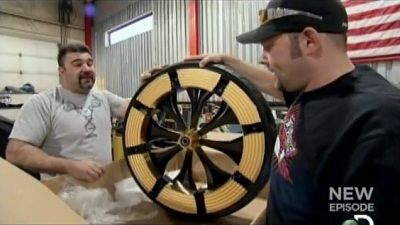 #21 - A Meeting is Set
Season 3 - Episode 9
OCC starts a 1970's themed build for MyPillow while PJD puts the finishing touches on a bike for Newmont Mining. Then, there is promise that all the family drama could finally end as Senior and Junior agree to meet in person.
11 votes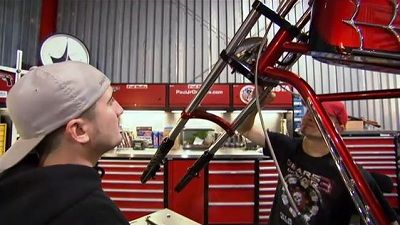 #22 - Rick's News
Season 3 - Episode 4
Rick's news? He's ENGAGED! Meanwhile, Junior decides to revamp the Black Widow Bike he recently reclaimed from Senior, and OCC works on a two-bike build for John Christner Trucking.
10 votes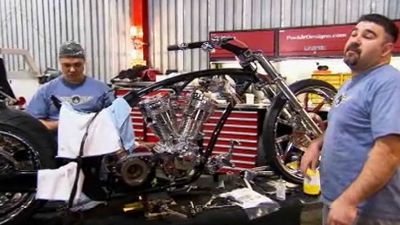 #23 - Cadillac Build-Off Part 2
Season 2 - Episode 7
OCC and PJD rush to finish their Cadillac bikes for the build-off, then race CTS-Vs at the Monticello Raceway. And at long last, Junior and Senior face each other when they unveil their bikes at General Motors.
8 votes
#24 - Full Circle
Season 4 - Episode 8
Junior and Senior discuss potential future business collaborations; PJD finishes a bike for RoadLoK, and OCC begins a super-bike build.
15 votes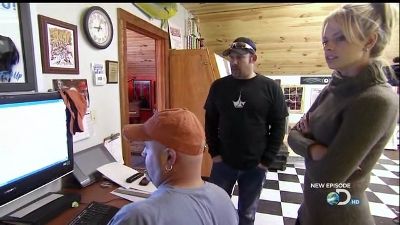 #25 - Lee Returns
Season 1 - Episode 14
Lee resurfaces, and talks to Senior about his relationships with his sons; Senior files a second lawsuit against PJD; OCC unveils a bike in New York City while PJD unleashes a top-secret bike in Florida.
13 votes