Trollied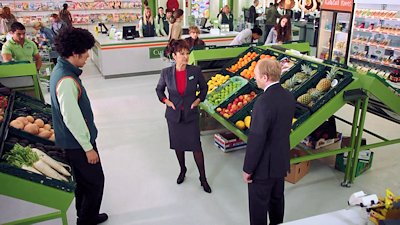 #1 - An Unlikely Pairing 8.39
Season 2 - Episode 8
Gavin and Lorraine are as unlikely a pairing as Spam and ice cream but, with Julie on "sick leave", they're forced to work together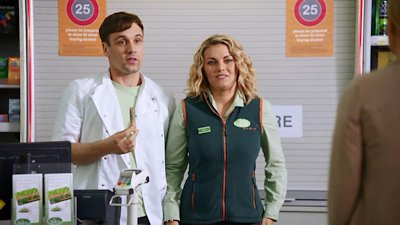 #2 - Lorraine's Replacement 8.29
Season 2 - Episode 12
Gavin assures Julie that he won't make another Lorraine-shaped mistake as the search for her replacement gets under way.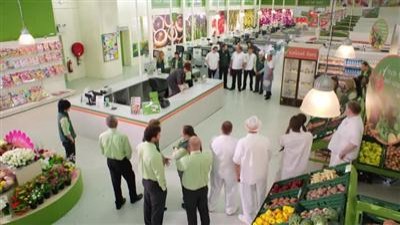 #3 - Katie Returns to Work 8.29
Season 2 - Episode 2
Lorraine announces her big plans for Valco and Julie is distinctly unimpressed. Plus, Kieran's day is likely to be brightened by the return of a familiar face.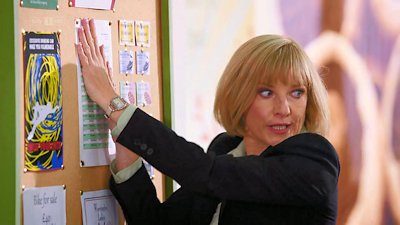 #4 - The Staff Wages 8.23
Season 2 - Episode 11
Gavin is hit hard by the death of his dog Chester and, understandably distracted, accidentally leaves out a document detailing staff wages, which Leighton promptly pins up on the noticeboard.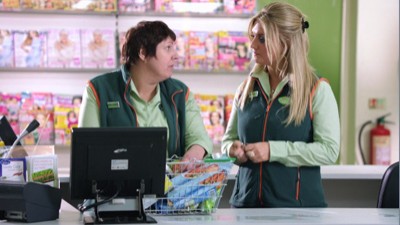 #5 - Leighton Gets Sacked 8.07
Season 2 - Episode 5
After one mishap too many, Lorraine tells Julie to give Leighton some bad news. Margaret, meanwhile, roots around her family tree and makes a big discovery.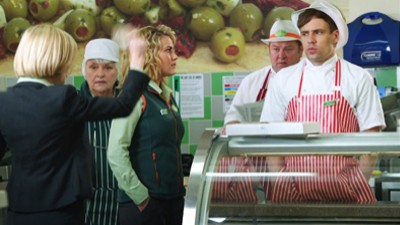 #6 - Julie's Backlash 8.00
Season 2 - Episode 6
News of Leighton's sacking doesn't go down well, and it's Julie who receives the brunt of the backlash. The No Nonsense range comes in handy for a pregnant Sue.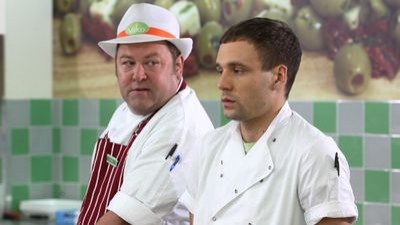 #7 - Julie's Interview 8.00
Season 1 - Episode 8
Julie awaits her interview, and Katie has some bad news for Kieran.
#8 - The New Manager 7.96
Season 2 - Episode 1
The hit supermarket sitcom reopens for a second series. Julie is a bag of nerves when she meets Gavin's replacement, Lorraine Chain.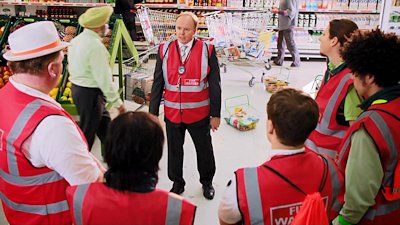 #9 - The Fire Drill 7.96
Season 2 - Episode 9
It's the day of the scheduled fire drill and Julie's still off, so Gavin steps in to brief the troops.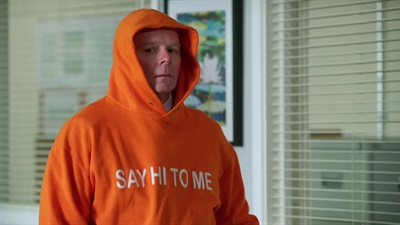 #10 - Episode Seven 7.90
Season 3 - Episode 7
Richard France sets out to make Gavin more approachable, a two-hit strategy involving a hoodie and the removal of the manager's office door. Is this the last straw for Gavin?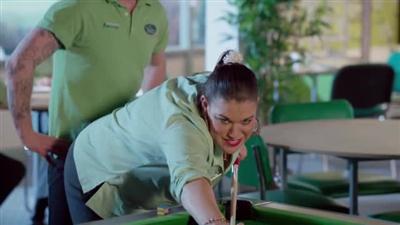 #11 - Gavin's Visit 7.90
Season 2 - Episode 3
Gavin doesn't feel missed when he returns for his first visit as area manager, not even by Julie. Plus, checkout girl Katie 'enjoys' her first day back at Valco.
#12 - Episode Two 7.89
Season 3 - Episode 2
Gavin finds himself at odds with the forward-thinking Richard during a brainstorm for the new Valco Better store. Valco could soon be down a staff member as well when a visit from Emma's dad prompts Kieran to consider moving out of Warrington.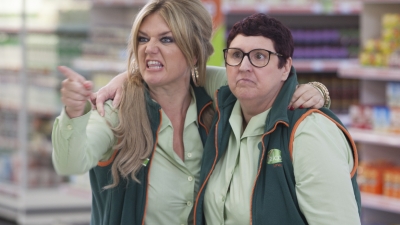 #13 - Episode 2 7.84
Season 6 - Episode 2
New area manager Cheryl struggles to keep a lid on her private life, while Neville is brimming with confidence when he helps new shelf-stacker Shai.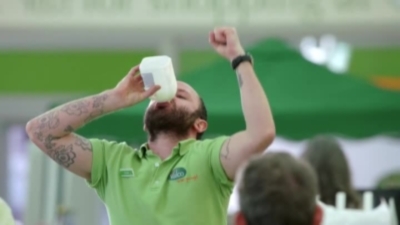 #14 - Episode Three 7.73
Season 3 - Episode 3
Richard France's latest brainwave is given the greenlight - a 'suggestion fort' to find out what customers want from the Valco Better store.
#15 - Episode Ten 7.71
Season 3 - Episode 10
The fallout between Gavin and France is the talk of the store, even more so when Julie is temporarily promoted to manager. Plus, Katie makes a discovery.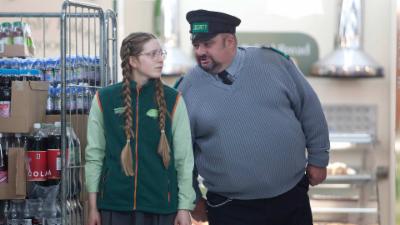 #16 - Episode 7 7.70
Season 5 - Episode 7
While Gavin frets about his relationship, Katie is tasked with the tough challenge of training the staff to recognise which fruits are which.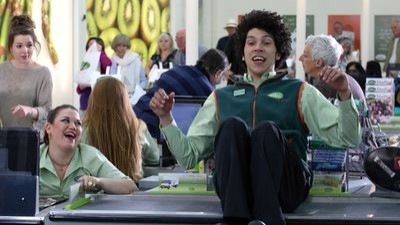 #17 - Kieran's Beard 7.70
Season 1 - Episode 6
Julie is in a right pickle when the new area manager and an old friend calls in a favour. Elsewhere, Kieran gets some stick for his 'beard'.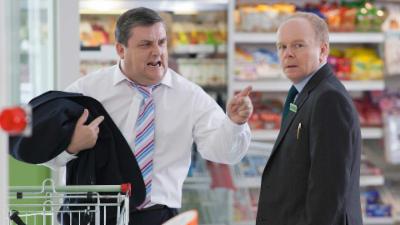 #18 - Episode 3 7.65
Season 5 - Episode 3
Everyone is on high alert as big Valco boss Brendan O'Connor descends on the store.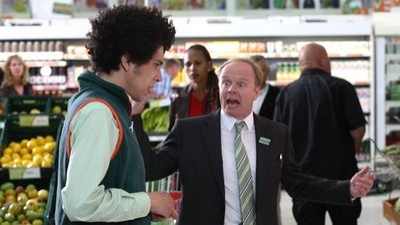 #19 - Katie's Flirting 7.52
Season 1 - Episode 5
Kieran isn't his usual cheeky chappy self after spotting Katie flirting with a shop fitter. Plus, Julie tries to help Gavin move on.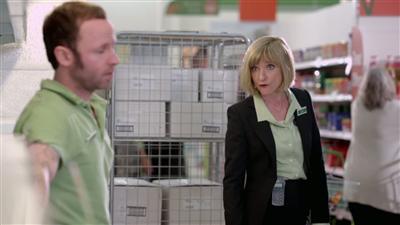 #20 - Gavin's Night Out 7.50
Season 1 - Episode 7
Kieran's girlfriend has a big question to ask him, and Gavin isn't his usual self after getting, ahem, trollied the night before.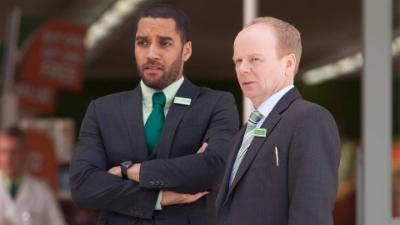 #21 - Episode 1 7.49
Season 5 - Episode 1
Gavin relays the shocking news that rival chain Lauda is due to open on Valco's patch. While the news worries the rest of the staff, Gavin remains unconcerned. That is until he learns that the store will be run by notorious manager Cheryl Fairweather.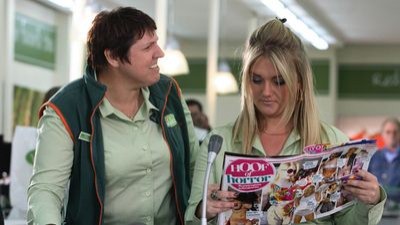 #22 - Andy's Marathon 7.48
Season 1 - Episode 3
Julie finds her spirits being a bit too lifted after Gavin gives her the Valco manager's handbook. Andy wishes he had never signed up to run the marathon.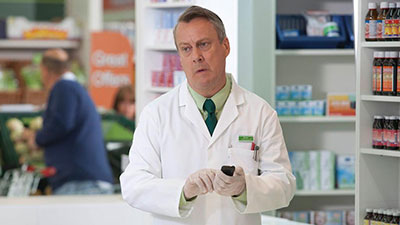 #23 - Episode 2 7.44
Season 4 - Episode 2
Gavin happily welcomes assistant manager Daniel into the Valco family. Stress levels rise, however, when new till girl Charlie is also added to the mix.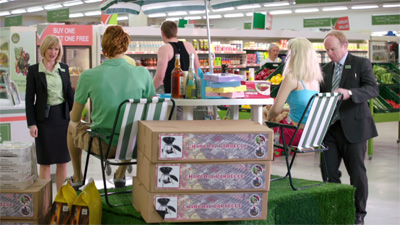 #24 - Episode One 7.42
Season 3 - Episode 1
Changes abound as the supermarket sitcom begins its third series. Gavin and Julie meet the new head of strategy, a flashy upstart with big plans for Valco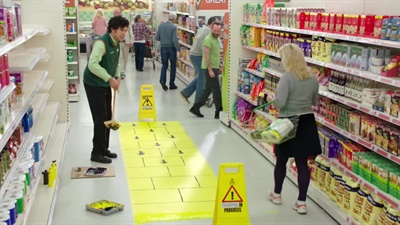 #25 - Episode Four 7.40
Season 3 - Episode 4
Andy the butcher is smitten by his ex, Sarah and can't wipe the grin off of his face, divulging a few too many details about their date the night before.