The Simpsons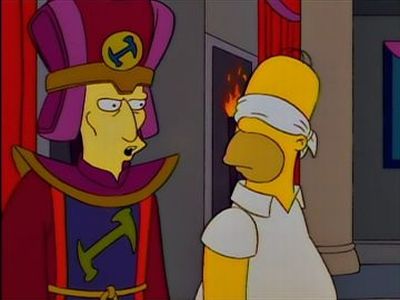 #1 - Homer the Great 8.34
Season 6 - Episode 12
Homer joins the secret society of the Stonecutters and is suddenly exalted when the brethren discover his birthmark. The ancient order is shaken to the core by the ineptitude of its new Chosen One.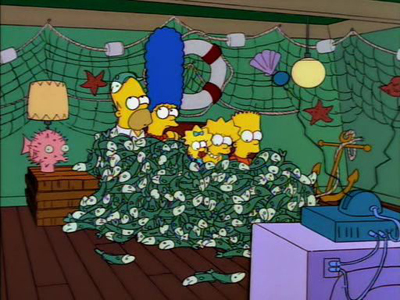 #2 - Cape Feare 8.29
Season 5 - Episode 2
When Bart receives death threats from newly paroled Sideshow Bob, the family goes into the Witness Relocation Program and starts a new life on a houseboat on Terror Lake.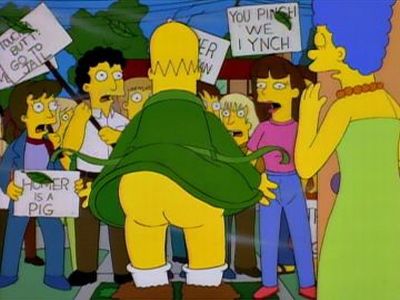 #3 - Homer Badman 8.29
Season 6 - Episode 9
When Homer gropes for a gummy candy stuck to the babysitter's pants, she mistakes his intentions and turns the town against him.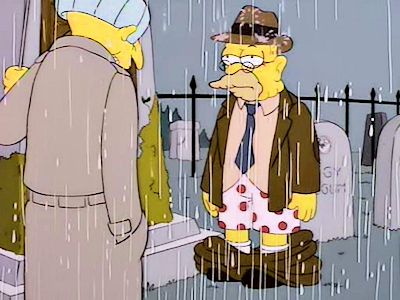 #4 - Raging Abe Simpson and his Grumbling Grandson in: 'The Curse of the Flying Hellfish' 8.28
Season 7 - Episode 22
When a fellow veteran dies, Grandpa Simpson and Mr. Burns fight for buried WWII treasure as the only surviving members of their battalion.
#5 - Who Shot Mr. Burns? (1) 8.27
Season 6 - Episode 25
In Part I of this two-part suspense story, Mr. Burns' evil schemes go too far. When Burns winds up shot, everyone is a suspect.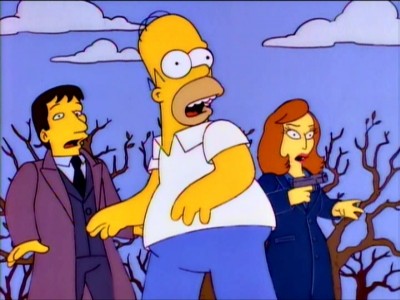 #6 - The Springfield Files 8.27
Season 8 - Episode 10
Homer witnesses something out of this world in Springfield woods, but no one believes him -- not even FBI agents Fox Mulder and Dana Scully, who come to investigate the incident.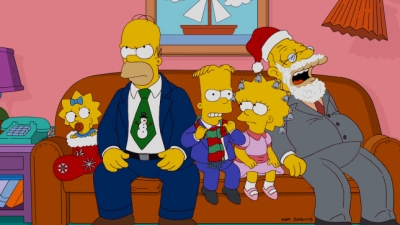 #7 - Holidays of Future Passed 8.27
Season 23 - Episode 9
In this futuristic holiday episode, Bart is a deadbeat dad living in Springfield Elementary (which is now an apartment complex instead of a school) with Principal Skinner as his landlord. Meanwhile, a pregnant Maggie goes into labor during a family dinner.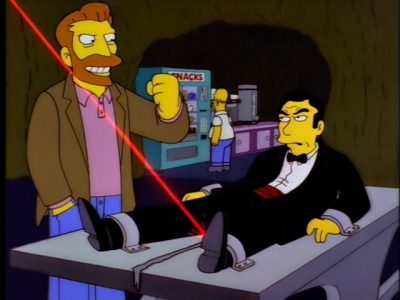 #8 - You Only Move Twice 8.26
Season 8 - Episode 2
When Homer accepts a job offer, the Simpsons move to Cypress Creek, where everything seems too good to be true. Finally happy at his job, Homer fails to notice that his new boss is an evil megalomaniac bent on world domination.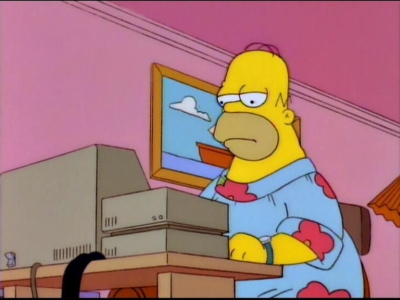 #9 - King-Size Homer 8.25
Season 7 - Episode 7
Homer tries to gain sixty pounds so he can stay home on disability. When he nearly causes a catastrophe at the plant, Homer reconsiders his plan.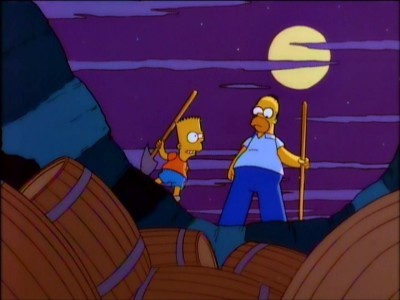 #10 - Homer vs. the 18th Amendment 8.25
Season 8 - Episode 18
When Prohibition is revived in Springfield, Homer and Bart supply the town with alcohol.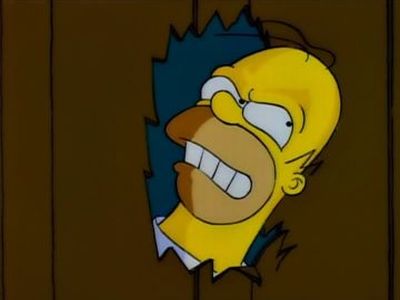 #11 - Treehouse of Horror V 8.25
Season 6 - Episode 6
In "The Shinning," Homer becomes groundskeeper of Mr. Burns' isolated mountain mansion. Next, in "Time and Punishment," Homer tries to fix the toaster and winds up traveling through time. In "Nightmare Cafeteria," Principal Skinner finds an ingenious way to reduce overcrowding in the detention room and deal with cafeteria budget cuts.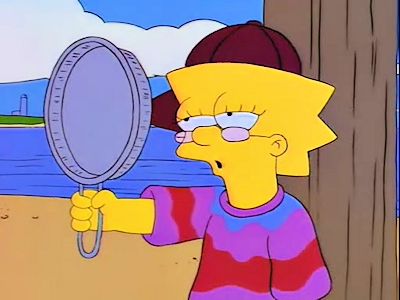 #12 - Summer of 4 Ft. 2 8.22
Season 7 - Episode 25
On a family vacation, Lisa tries on a new identity to fit in with the other kids at the beach. Jealous, Bart reveals her true nerdiness to the group.
#13 - Mr. Plow 8.22
Season 4 - Episode 9
Homer starts a thriving snow-plowing business, but cutthroat competition arrives when Barney sets up shop as the "Plow King." When an avalanche buries Barney, Homer realizes the rivalry has gone too far.
#14 - Marge vs. the Monorail 8.21
Season 4 - Episode 12
When Springfield gets a sudden windfall, a charismatic traveling salesman convinces the town to build a monorail.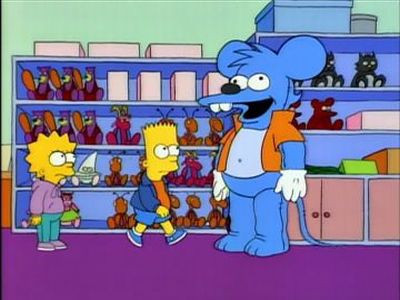 #15 - Itchy & Scratchy Land 8.19
Season 6 - Episode 4
The family's trip to Itchy & Scratchy Land takes an unexpected turn when high-tech robots malfunction and become violent.
#16 - The Boy Who Knew Too Much 8.19
Season 5 - Episode 20
Playing hooky, Bart sneaks onto the Quimby Compound and is the only witness when Mayor Quimby's ne'er-do-well nephew Freddy allegedly assaults a snooty French butler. But if he comes forward, he will be punished for truancy.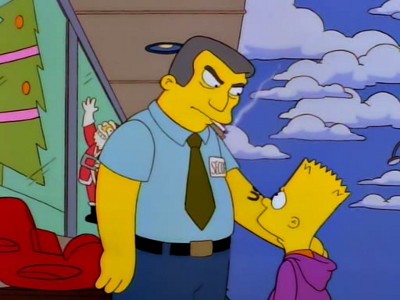 #17 - Marge Be Not Proud 8.18
Season 7 - Episode 11
Nabbed for shoplifting, Bart manages to keep it a secret from the family... until it's time to have the family Christmas photo taken at the Try-N-Save.
#18 - Lemon of Troy 8.18
Season 6 - Episode 24
The simmering rivalry between Springfield and a neighboring town heats up when Shelbyville kids steal Springfield's prized lemon tree.
#19 - Trilogy of Error 8.17
Season 12 - Episode 18
Homer's thumb is cut off following breakfast and the episode follows three different paths. Homer's day: as he and Marge race to get his thumb reattached. Lisa's day: as she misses the bus and tries to get to school so that she can win the science fair, but finds herself at one point at West Springfield Elementary. Bart's day: as he and Milhouse make use of a stash of fireworks that Fat Tony has illegally smuggled into the country. In the end their respective paths come together.
#20 - Homer the Heretic 8.17
Season 4 - Episode 3
After skipping church one Sunday morning, Homer decides to quit church altogether and spend Sundays worshiping in his own way -- with cigars and beer.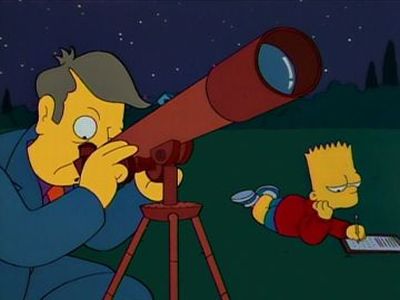 #21 - Bart's Comet 8.16
Season 6 - Episode 14
When Bart is forced to assist Principal Skinner in early-morning astronomy observations, he discovers a giant comet heading towards Springfield. Facing impending doom, the entire town shows up at the Flanders family bomb shelter.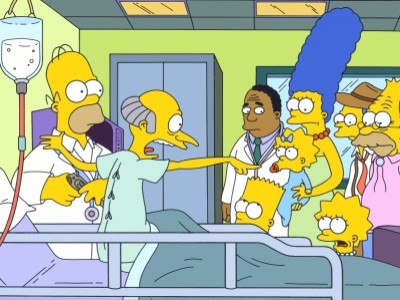 #22 - Who Shot Mr. Burns? (2) 8.16
Season 7 - Episode 1
With Mr. Burns shot, Chief Wiggum investigates the crime, and nearly everyone in town has a motive. At the end, it all comes down to the Simpson DNA.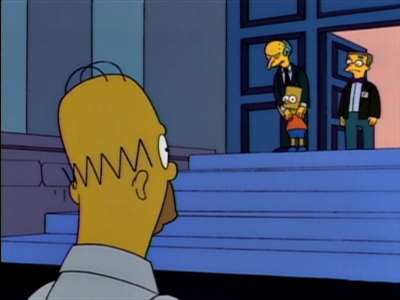 #23 - Burns' Heir 8.14
Season 5 - Episode 18
The childless Mr. Burns selects Bart as his heir and begins grooming him for his new role. As a test of loyalty, Mr. Burns orders Bart to fire Homer.
#24 - Brother, Can You Spare Two Dimes? 8.13
Season 3 - Episode 24
Homer's half-brother Herb Powell returns, his finances in ruin from his last encounter with Homer. With a little help from the family, he invents a product that's sure to turn his life around.
#25 - Flaming Moe's 8.12
Season 3 - Episode 10
Moe steals the drink recipe Homer invented, and the rechristened "Flaming Moe" turns his tavern into a hotspot. When a national franchise wants to buy the recipe, Homer wants revenge.