Orange Is the New Black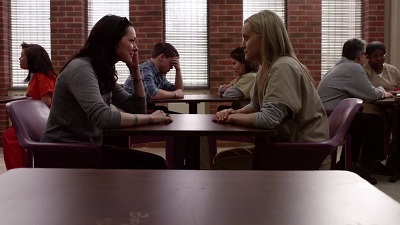 #1 - We Have Manners. We're Polite. 8.66
Season 2 - Episode 13
Several futures hang in the balance as the inmates face and confront their worst nightmares: Life will never be the same again.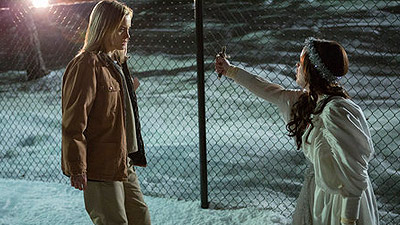 #2 - Can't Fix Crazy 8.45
Season 1 - Episode 13
Red's scheme to reclaim her kitchen backfires; the inmates stage a Christmas pageant; Piper's plans unravel even as she realizes her life is in jeopardy.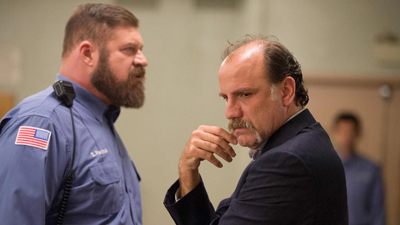 #3 - Toast Can't Never Be Bread Again 8.42
Season 4 - Episode 13
Corporate bureaucracy and simmering anger work against Caputo's efforts to keep a sensitive situation under control.
#4 - Trust No Bitch 8.17
Season 3 - Episode 13
Miracles and conversions occur, but Piper and Caputo know that some situations can't be dealt with through spiritual means.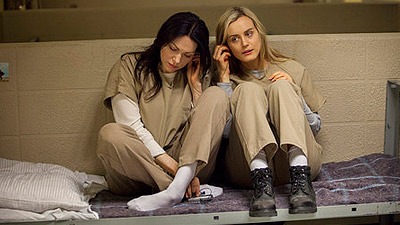 #5 - Tall Men with Feelings 8.15
Season 1 - Episode 11
The prisoners mourn one of their own and even a drunken Pornstache reveals surprising emotions; Larry gives a revealing radio interview.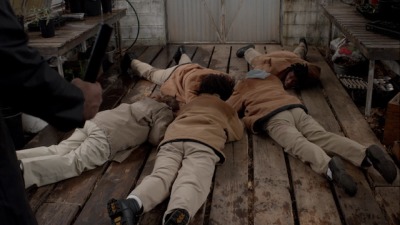 #6 - It Was the Change 8.15
Season 2 - Episode 12
Tensions run high as a prison power outage forces several issues to come to light. Piper finds herself compromised and is forced to think on her feet.
#7 - Bora Bora Bora 8.14
Season 1 - Episode 10
Pennsatucky discovers a new skill; the inmates try to scare delinquent teenagers straight; Pornstache's side business suffers a tragic setback.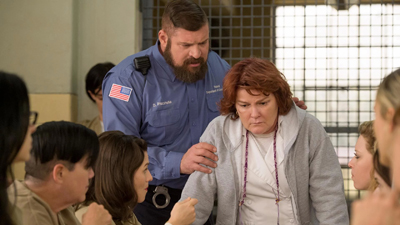 #8 - The Animals 8.12
Season 4 - Episode 12
Alliances shift among the prison "families" as Piscatella and his guards crack down. Poussey, Judy and Alex prefer to look ahead to the future.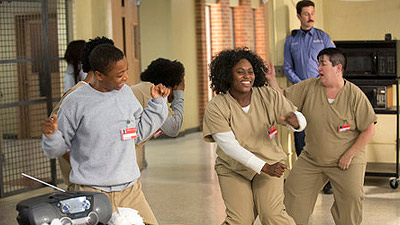 #9 - Fucksgiving 8.07
Season 1 - Episode 9
Thanksgiving arrives with the promise of a visit by Larry, but Piper's raunchy dance moves land her in solitary with a holiday feast of moldy bologna.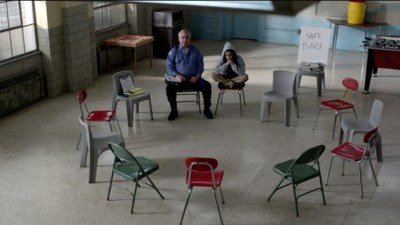 #10 - Little Mustachioed Shit 8.06
Season 2 - Episode 10
The guards get tougher in a bid to turn up prison contraband; a big, lingering secret is finally revealed.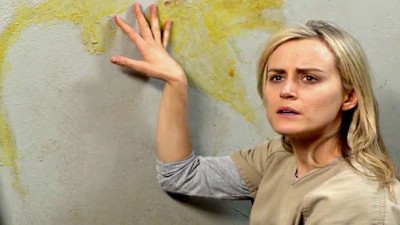 #11 - Thirsty Bird 8.04
Season 2 - Episode 1
Piper's world is turned upside down when she is forced to confront the consequences of her actions and face new challenges.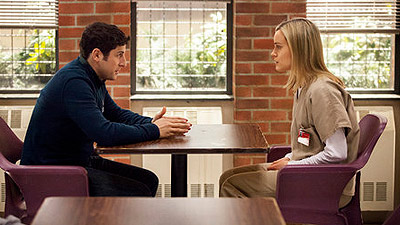 #12 - Fool Me Once 8.03
Season 1 - Episode 12
Painful truths reorient several relationships and careers; Pennsatucky feels disrespected by Piper, which is not good; Larry delivers an ultimatum.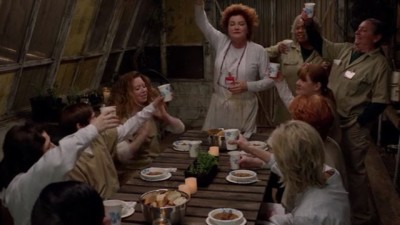 #13 - 40 Oz. of Furlough 8.00
Season 2 - Episode 9
Piper's relationship with Larry faces a real-world test; Red's effort to redeem herself is finally rewarded. A familiar figure returns to Litchfield.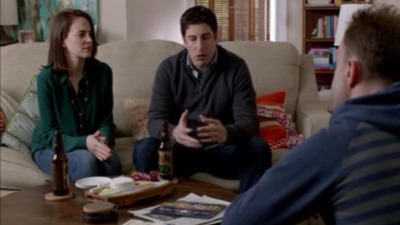 #14 - Take a Break from Your Values 7.98
Season 2 - Episode 11
Piper is shocked at an unexpected change in her status; Soso's hunger strike attracts new support that takes on a religious fervor.
#15 - People Persons 7.95
Season 4 - Episode 11
Caputo's leadership is challenged and the inmates are in for a long night of lockdown after workers make an unsettling discovery.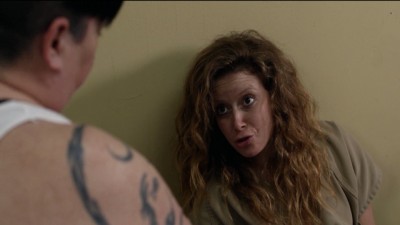 #16 - A Whole Other Hole 7.92
Season 2 - Episode 4
Sophia gives the women a much-needed lesson in female anatomy; Morello takes a detour; Larry makes some life changes.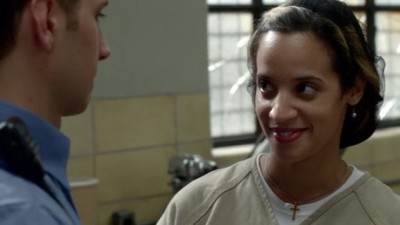 #17 - You Also Have a Pizza 7.92
Season 2 - Episode 6
Love is in the air as the inmates prepare for a Valentine's Day party; Red makes an intriguing new discovery. Larry asks Piper to be his prison mole.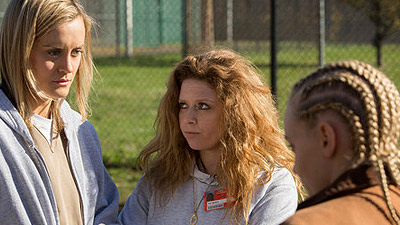 #18 - Imaginary Enemies 7.91
Season 1 - Episode 4
Piper gets to know her stern new roommate; the prisoners prepare a farewell party for one of their own; a misplaced screwdriver has dire consequences.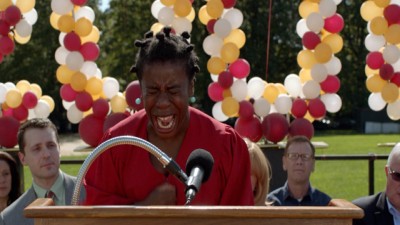 #19 - Hugs Can Be Deceiving 7.91
Season 2 - Episode 3
Piper is challenged by her Soso experience; Morello gets her heart broken; a figure from Taystee's past arrives to disturb the status quo.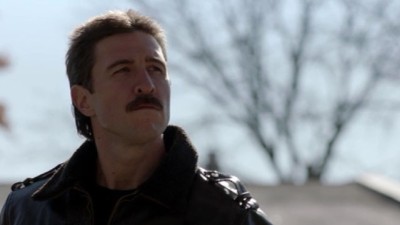 #20 - Appropriately Sized Pots 7.91
Season 2 - Episode 8
Piper faces a new backlash over special privileges; Caputo feels pressure to toughen up, resulting in administrative changes.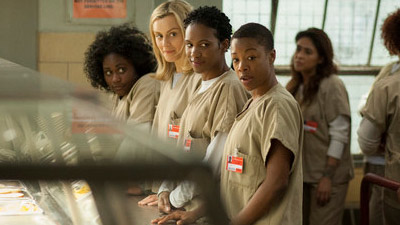 #21 - Lesbian Request Denied 7.89
Season 1 - Episode 3
Targeted for romance by a fellow prisoner, Piper finds that subtlety is an ineffective approach to letting her suitor down.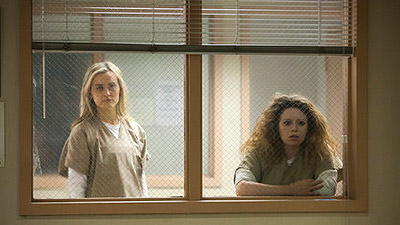 #22 - WAC Pack 7.87
Season 1 - Episode 6
The inmates campaign along racial lines for positions on a prisoners council, but Piper tries to stay above the increasingly raucous competition.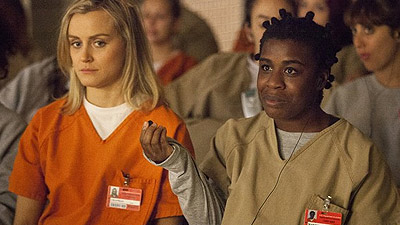 #23 - Tit Punch 7.85
Season 1 - Episode 2
After insulting the food in front of the prison chef, Piper is starved out by the kitchen staff and struggles to offer up an acceptable apology.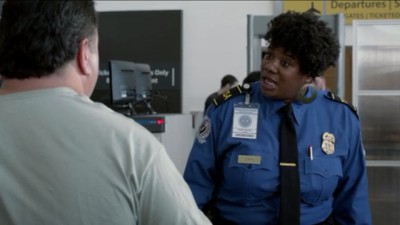 #24 - Comic Sans 7.82
Season 2 - Episode 7
Piper starts a prison newsletter with the help of Healy and a few other inmates; Vee launches an entrepreneurial enterprise.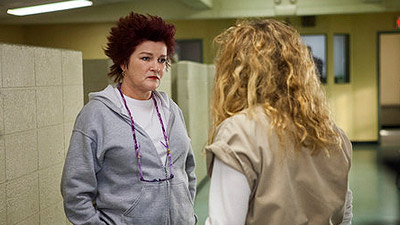 #25 - Moscow Mule 7.82
Season 1 - Episode 8
Red gets pressured to smuggle drugs through her kitchen; Larry publishes an article about Piper in the "New York Times;" two babies come into the world.