Roseanne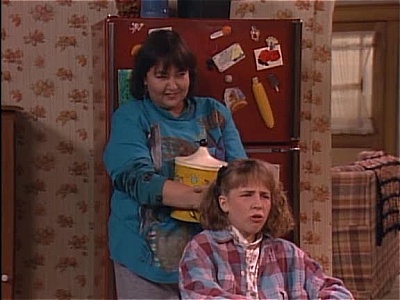 #1 - BOO! 8.40
Season 2 - Episode 7
The Conner family terrify each other out of their wits on Halloween night.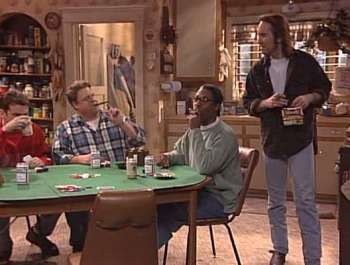 #2 - Crime and Punishment (1) 8.37
Season 5 - Episode 13
Dan disciplines D.J. for taking offensive reading material to school-- Darlene's comic book. Dan reacts strongly when Roseanne discovers that Fisher has beaten Jackie.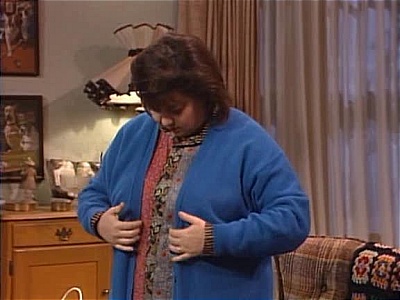 #3 - One for the Road 8.22
Season 2 - Episode 14
When the parents are away, Becky and her friend Dana play – with a little help from the liquor cabinet.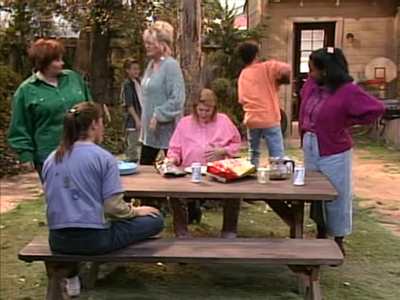 #4 - Scenes from a Barbecue 8.19
Season 3 - Episode 24
The Connors celebrate Mother's Day with a barbecue with Roseanne's feisty grandmother.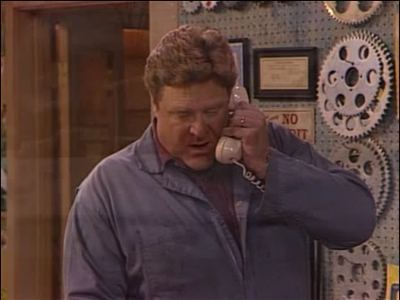 #5 - The Back Story 8.12
Season 4 - Episode 15
After Roseanne throws her back out, Bev arrives to help out -- and to spoil her grandchildren.
#6 - Less is More 8.11
Season 4 - Episode 16
A doctor recommends that Roseanne undergo breast reduction surgery for her back problems.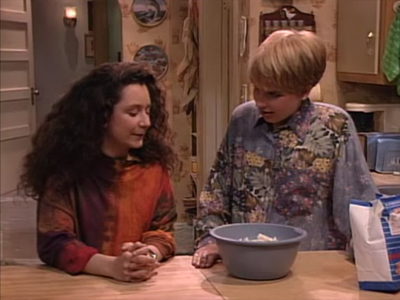 #7 - The Pied Piper of Lanford 8.11
Season 3 - Episode 25
Dan and Roseanne commit to opening a motorcycle shop with a free-spirited old friend who gets cold feet at the last minute.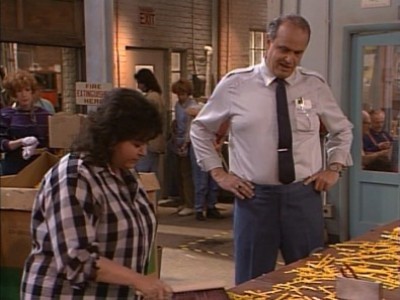 #8 - Let's Call It Quits 8.10
Season 1 - Episode 23
Roseanne has difficulty accepting new rules from a tough new supervisor at the factory.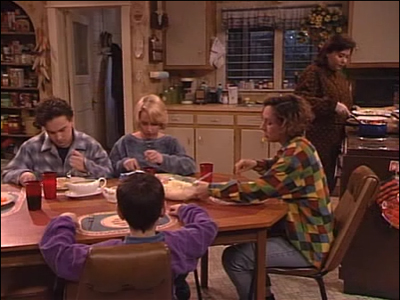 #9 - Deliverance 8.09
Season 4 - Episode 22
A pregnant Crystal snaps at everyone in sight, then goes into labour with Dan coaching her in the delivery room; Roseanne and Bonnie feud over who should replace Leon as the new manager of the coffee shop; and Darlene delivers a message to David to quit crowding her.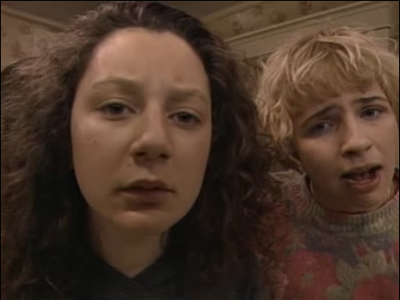 #10 - Bingo 8.08
Season 4 - Episode 13
It is Crystal's choice to choose where the gals' night out will be. Crystal chooses bingo and they all hate it. After Roseanne wins $50 playing bingo, she gets hooked on it. Becky and Darlene baby-sit Little Ed, but when Dan comes home its D.J. and Dan that end up taking care of the baby. Roseanne and Crystal get into i fight, but at the end they make up and Roseanne learn that Crystal is pregnant again.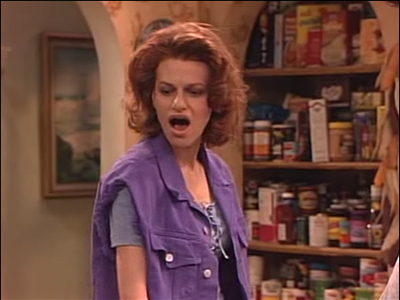 #11 - Terms of Estrangement (2) 8.08
Season 5 - Episode 2
Becky and Mark return to say goodbye before moving away.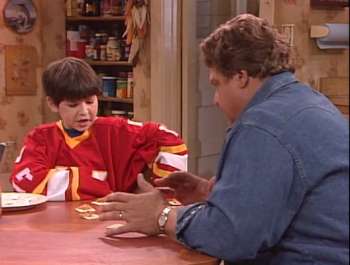 #12 - Of Ice and Men 8.07
Season 5 - Episode 11
D.J. decides to take up hockey and becomes the terror of the rink; Roseanne meddles to reunite Jackie and Fisher.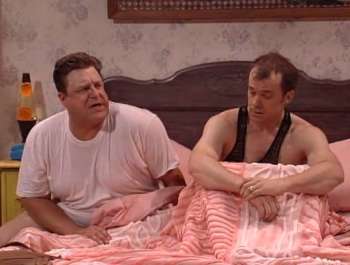 #13 - Skeleton in the Closet 8.07
Season 7 - Episode 6
Leon outdoes himself hosting a Halloween soirée with the Lunch Box clan and a bevy of his gay friends, many of whom seem to know Fred – intimately. Meanwhile, Jackie and Roseanne visit Bev's hairdresser and become convinced that she wears a wig.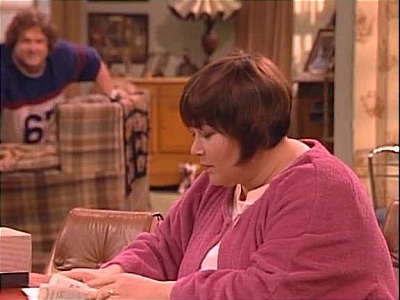 #14 - April Fool's Day 8.06
Season 2 - Episode 22
On April 15th, Dan and Roseanne offer the kids a frantic lesson in family accounting; and in despair finally visit the local IRS office.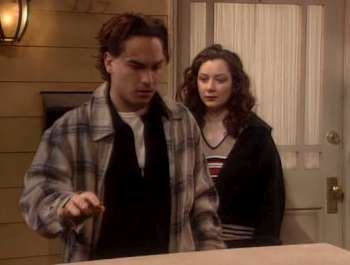 #15 - Another Mouth to Shut Up 8.05
Season 8 - Episode 20
Just weeks after their hot night in Disney World, Darlene drops a proposal -- and a surprise announcement: she's pregnant -- on David, whose major life changes seem to be happening all in one day.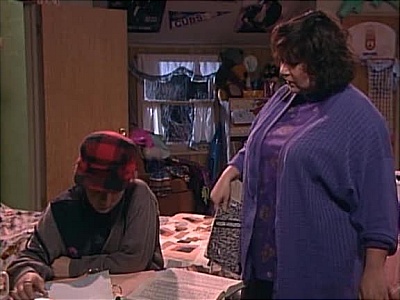 #16 - Brain-Dead Poets Society 8.04
Season 2 - Episode 10
Darlene refuses to read her prize-winning poem on Culture Night at her school, preferring to stay home to watch a ballgame with Dan, until Roseanne lays down the law.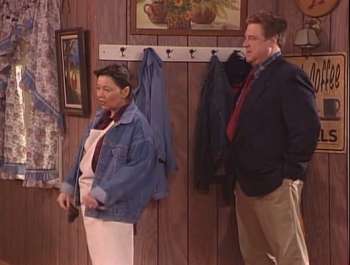 #17 - Tooth or Consequences 8.04
Season 5 - Episode 24
Dan realizes that he needs a steady job to take care of his family when he accidentally knocks out one of Roseanne's teeth on the day she is to meet with a health inspector (who turns out to be Leon); Darlene is accepted to art school – but David is rejected.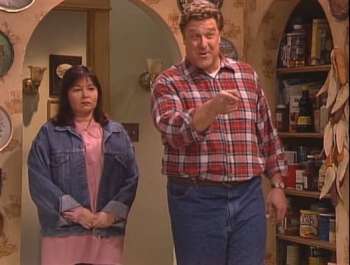 #18 - It's a Boy! 8.04
Season 5 - Episode 19
Roseanne wants Darlene's boyfriend David to move in with them, but Dan refuses to allow it.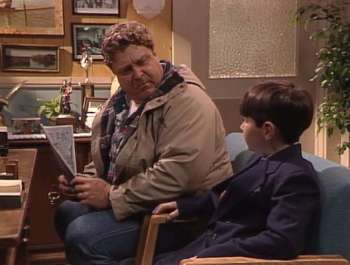 #19 - War and Peace (2) 8.03
Season 5 - Episode 14
Dan returns home to rampart rumors about his behavior, while Roseanne urges a dazed Jackie to leave her abusive boyfriend.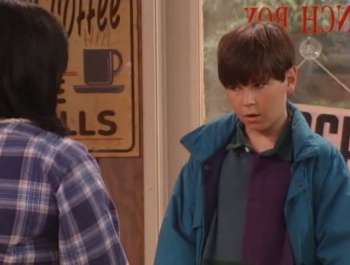 #20 - Follow the Son 8.00
Season 7 - Episode 7
D.J. wants out of his busboy job at the Lunch Box, and David wants to put the kibosh on Darlene's moving in with her new squeeze Jimmy -- who misinterprets David's obsessive interest in him.
#21 - Santa Claus 8.00
Season 4 - Episode 12
Roseanne talks Leon into letting her play Santa Claus at the mall -- and hears something she wishes she hadn't from one of the kids' mothers, who turns out to be Darlene's new friend and confidante.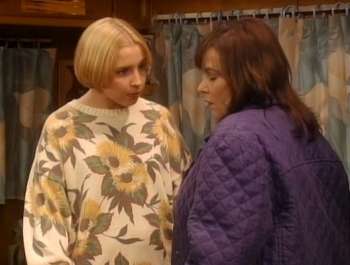 #22 - Becky Howser, M.D. 8.00
Season 8 - Episode 14
Roseanne advises an unhappy Becky to change her life -- not realizing that Mark doesn't share his wife's eagerness for change, so Becky intends to change her marriage.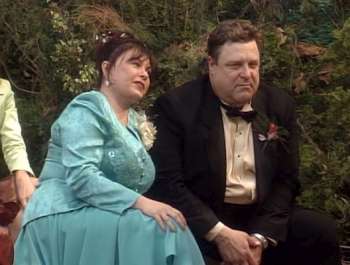 #23 - The Wedding 8.00
Season 8 - Episode 23
Darlene's wedding day brings unexpected tears, joy and tenderness as Dan is finally able to express his love to Darlene and the young couple's wedding vows bring Roseanne to tears.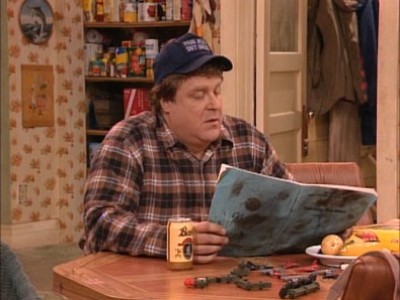 #24 - Father's Day 7.98
Season 1 - Episode 14
Roseanne steps in to referee when Dan's visiting father pontificates about Dan wasting time working as a contractor.
#25 - Home-Ec 7.97
Season 3 - Episode 16
Darlene is embarassed when Roseanne gives Darlene's home economics class a supermarket lesson in real-life family budgeting; D.J. has to deal with a bully.