The WORST Episodes of The New Yankee Workshop
Every episode ever - ranked by fan votes!
Last Updated: Oct 18, 2019
In this PBS series, craftsman Norm Abram demonstrates how to build quality furniture in one's own workshop using traditional carpentry techniques. Abram also gives pointers on restoring and caring for antique furniture, along with short history lessons regarding famous craftsmen of America's past.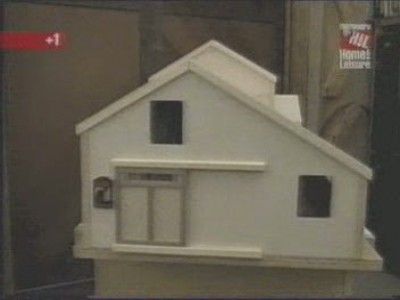 #1 - Doll House
Season 6 - Episode 2
Adult viewers may be as excited about this doll house as the children it is intended for when Norm creates a true-to-scale replica of his now-famous workshop. Norm gets some ideas from a late-Victorian example located in the Barrett House in New Hampshire, but his final design is less gender-specific, with the familiar great room that is the home of The New Yankee Workshop as well as two stories of smaller rooms and a garage - all features never before seen on camera. With some custom accessorizing, this doll house can easily be rendered appropriate for boys or girls or both. The project involves extensive work with the table saw and router.
3 votes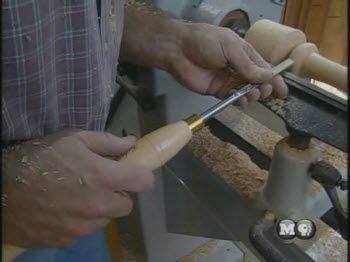 #2 - Lathe 101
Season 17 - Episode 6
Norm starts, as usual, with explaining the tools that will be used in this episode. Which, as you guessed it, is his Lathe? But, unlike most shows where he uses the lathe, he goes into depth as to what all the pieces are, and how they are used. He then goes through the basics on a scrap piece of firewood, showing us how to get down-to-round. A quick sharpening demo is given, and then let's get into some real turning. He does a bit of turning on a rail spindle, showing several intermediate techniques. Finally, he finishes out the show with the complete turning of a standard baseball bat. His newly created bat is then brought down to Fenway Park, and used in batting practice by infielder Kevin Millar.
3 votes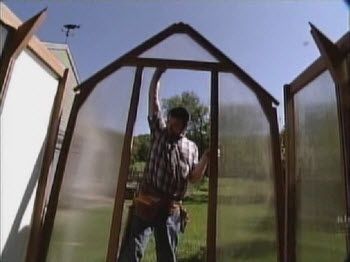 #3 - Greenhouse (1)
Season 21 - Episode 11
He may be America's favorite master carpenter, but Norm readily admits that he's a "brown thumb," when it comes to gardening. This greenhouse is the perfect project for the serious backyard gardener (or someone who knows one) who is "workshop bound" for the winter. Norm fabricates this design out of redwood and polycarbonate panels. Built to withstand even the toughest weather conditions, this greenhouse provides enough insulation and light to sustain plants during the long winter months.
3 votes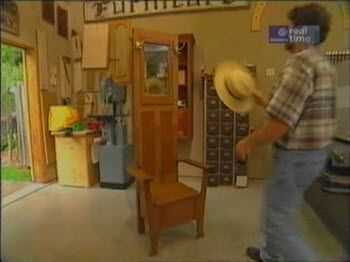 #4 - Hall Seat
Season 13 - Episode 3
A visit to the historic Grove Park Inn in North Carolina's Blue Ridge Mountains provides the inspiration for this project when Norm spies a handsome Arts and Crafts-style hall seat among its stunning collection of antique furniture. Back in The New Yankee Workshop, he crafts his rendition out of quartersawn white oak. Nicely sized to fit in even the narrowest hallway, its tall back features a mirror and period brass hat hooks, while its hinged seat offers ample storage for boots and other accessories.
1 votes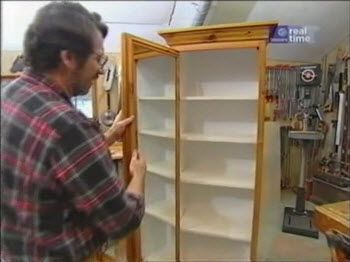 #5 - Bath Cupboard
Season 13 - Episode 11
Like the term "coffee table" there is no such thing as a "bath cupboard" in furniture history, nevertheless Norm finds one at a favorite antique store in Cambridge, Massachusetts. There he discovers how a clever craftsman took a charming antique cabinet door and built a cupboard around it using beautifully aged timbers and period hardware. Back in The New Yankee Workshop, Norm takes the concept one step further when he lines the cabinet with painted plywood shelves, adds a full length dressing mirror to the interior of the door, and crowns it with some custom molding.
1 votes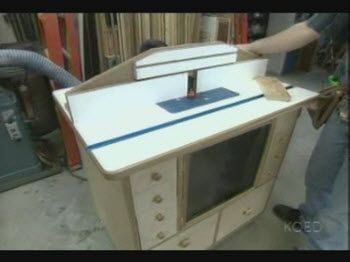 #6 - Deluxe Router Station
Season 15 - Episode 1
Norm's original router station is the most popular shop project he's ever done. So why change it? Well, in the years since he built the first one, he's been thinking up ways to improve it. Now comes the deluxe edition of Norm's router station with an improved storage system, a more stable and easier-to-use fence, an improved top, and updated electrical hookups. These small changes add up to a more useful and versatile upgrade on the original.
1 votes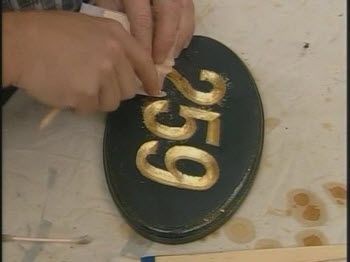 #7 - Carved Wooden Signs
Season 17 - Episode 12
Way back in 1988, when we needed to make a sign for "The New Yankee Workshp," we turned to a small company in Lincoln New Hampshire whose signs we admired and asked them to create ours. We have always wanted to pay them a visit and to find out how professionals create these masterpieces. In this program Norm does just that and finds out how a router, a sand blaster, a hand chisel, and a sophisticated computerized machine can be used to carve modern signs. Then he learns how the professionals design, hand letter, paint, and gild these beauties. He returns to the New Yankee Workshop and applies the lessons he's learned to his own collection of shop-made signs.
1 votes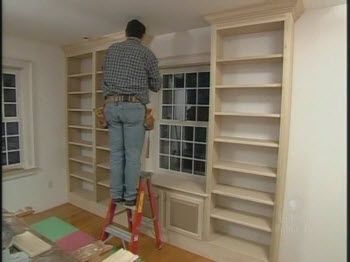 #8 - The Library System
Season 17 - Episode 13
Is there a homeowner out there who doesn't yearn for more shelf space for his books and display items, says Norm at the beginning of The Library System program, which concludes the 17th season of New Yankee Workshop projects. Recognizing the need for a good bookcase design that can be used in any suitable room and added to as needed to fill out a wall of books leads Norm to design a modular system that can be adjusted to go around existing windows or doors. It looks like expensive "custom" built-ins, yet the elements are actually built in the shop where cutting and routing large pieces of plywood and dealing with the resulting dust is easy. Norm is betting that when wood workers learn some of his tips on this project, lots of Library Systems will be built.
1 votes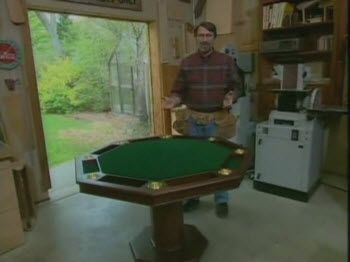 #9 - Poker Table
Season 18 - Episode 4
Poker is the game to be playing right now and Norm has a special project in mind for its legions of fans when he sets out to find and build the ideal table. He starts with the Internet and finds plenty of commercial variations and lots of information and inspiration that will help him create his table. To find out what the locals are using, Norm interrupts a neighborhood poker game for a look at their table and comes away unimpressed. Although the one he finds supports eight players, their chips, their drinks, and the cards, it is profoundly ugly and shaky. Norm decides to build an improved version. Norm creates his eight-sided table of mahogany and mahogany veneer plywood and places it on a sturdy pedestal. Rethinking the traditional felt covering typically used on these tables, Norm chooses a state-of-the-art synthetic fabric that offers a much-improved covering. He even finds brass cup holders, which are recessed into the top for holding beverages. The finished table is a winner.
1 votes
#10 - Corner Table
Season 18 - Episode 8
This project involves some considerable effort. At the suggestion of a friend who, with his colleagues, is trying to restore a historic river, Norm agrees to paddle a canoe over some rapids in search of some unusual white oak that's been submerged there for nearly 150 years. The oak Norm wants was used as a dam on Virginia's mighty Rappahannock River. Today it sits as a pile of salvage on the river's edge just hoping a woodworker floats by to rescue some of it for furniture projects. Norm engages Bill Jewell, a local sawyer of historical trees, to prepare this timber for the purpose of making a drop-leaved corner table, which Norm finds at nearby Kenmore House, a noted Fredericksburg mansion that was once owned by George Washington's sister. After Norm gets the wood to his shop, he spends considerable effort turning it into suitable pieces to make a copy of the original table – including the challenging turned legs that add so much style to this particular piece.
1 votes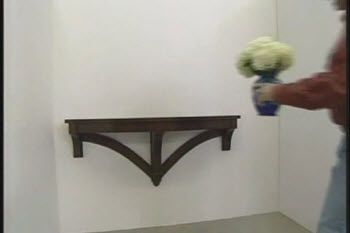 #11 - Wall Hung Console
Season 18 - Episode 11
We first found this item in a decorator show house and were impressed with its functionality and beauty. No more than a shelf really, it is fastened to the wall with massive decorative brackets. It is a perfect solution for displaying vases, candles, lamps, and other objects in a narrow space. Norm builds his out of mahogany.
1 votes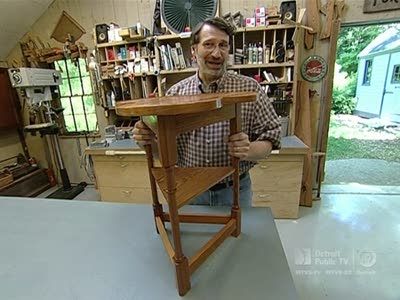 #12 - Turkey Table
Season 21 - Episode 2
While touring Savannah, Norm found the inspiration for this unique piece in Marty Johnson's antique collection. Though its name remains a mystery, there's no question that its graceful three-leaf-clover design makes it an attractive and practical accent table. Norm brings a little bit of Georgia back to the New Yankee Workshop when he creates the table out of Southern heart pine.
1 votes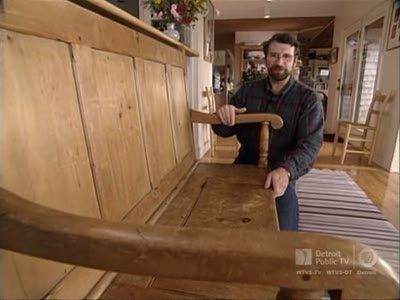 #13 - Nantucket Settle
Season 21 - Episode 3
On a sojourn to the quaint New England island of Nantucket, Norm found a wonderful lidded settle that can double as extra storage space and a hallway showpiece. Norm crafts a rendition out of beautiful cherry wood and, in the process, demonstrates a variety of intermediate woodworking techniques including spindle-turning and how to make framed panels.
1 votes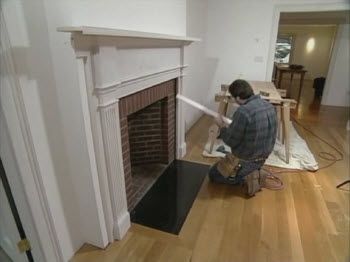 #14 - Fireplace Mantel
Season 21 - Episode 13
Between shooting The New Yankee Workshop and This Old House, Norm rarely has time to build anything for himself. And, like the rest of us, he readily admits his own home is "a work in progress." So, Norm is taking this woodworking project home. With his own Rumford fireplace awaiting adornment, Norm takes the opportunity to design this classic Colonial fireplace mantle and builds it using a variety of woods and moldings readily available at home centers nationwide.
1 votes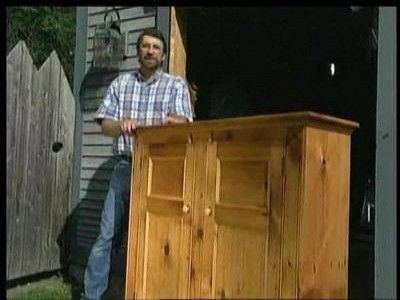 #15 - Old Pine Bar
Season 21 - Episode 18
Norm builds his version of an antique Irish bar out of recycled pine and gives it a high gloss finish so indestructible that he dares any woodworker who builds it to "leave a frosty mug on it."
1 votes
#16 - Chop Saw Station
Season 21 - Episode 22
For any woodworker who aspires to have a home version of the New Yankee Workshop, Norm builds a portable chop saw station, an accessory that he promises will "make your power mitre box much more versatile." This station can be used in the workshop or can be carted out to a job site to trim a house or to the backyard to build a deck.
1 votes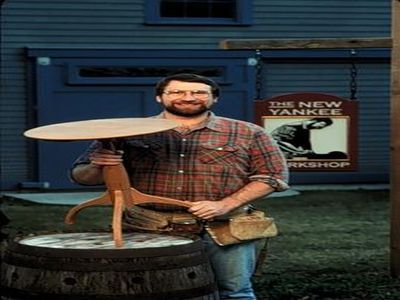 #17 - Candle Stand
Season 1 - Episode 10
Norm travels to the Hancock Shaker Village in western Massachusetts to gather ideas for his own design for a candle stand. Returning to his workshop, Norm shows home woodworkers how to build an exact replica using power tools, including a lathe, router and band saw.
2 votes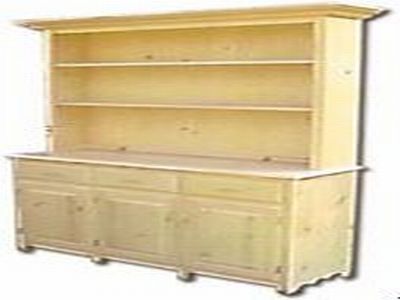 #18 - Hutch
Season 1 - Episode 11
Norm demonstrates how to build a hutch using knotty pine. The hutch consists of a base cabinet that has raised panel doors and an open shelf section. It measures 81 1/2" high x 56" wide x 18" deep. In the kitchen of the Fitch house at Old Stourbridge, Norm shows us an early American `hutch' then builds his own pine version back at the workshop.
2 votes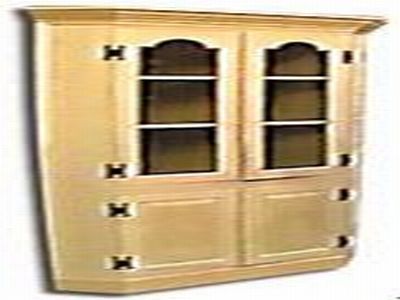 #19 - Corner Cupboard
Season 1 - Episode 13
Norm constructs a corner cupboard of pine and plywood. His design employees a top section that is enclosed by glass paned doors and a base cabinet with raised panel doors. The cupboard dimensions are 86 1/2" high x 42" wide x 30" deep. Norm makes his own corner cupboard from pine and plywood, incorporating a top section with glass doors and a base cabinet with raised panel doors.
2 votes
#20 - Butler's Table
Season 2 - Episode 3
Norm visits Kingscote, an elegant Gothic Revival house in Newport, Rhode Island, for a look at a mahogany butler's table with four leaves that fold down on solid brass hinges. For his version of this stylish antique, Norm demonstrates the technique of biscuit joinery to glue together the boards for the tray, crafts mortise-and-tenon joints to connect the rails of the base, uses a molding head cutter on his table saw to add a decorative bead to the rails, and shows how to mount the tray's special hinges.
2 votes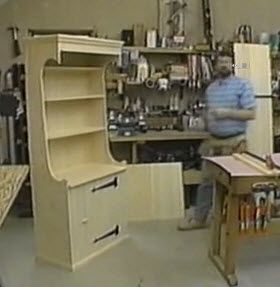 #21 - Kitchen Dresser
Season 2 - Episode 4
After a look at an early 18th-century kitchen cupboard at Old Sturbridge Village, a "living history" museum in Sturbridge, Massachusetts, Norm constructs his own version from pine featuring open shelves above a base cabinet whose door sports an antique-style hinge. He shows a pattern to draw the curved outline of the side pieces, then uses a hand-held saber saw to make the cut, saving the cut-out portions to make shelves. Using a molding head cutter on his table saw, Norm demonstrates how to add a decorative bead to the shelves.
2 votes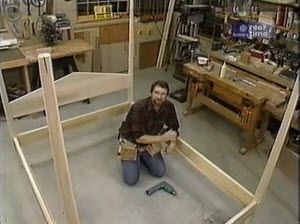 #22 - Pencil-Post Bed
Season 2 - Episode 6
Norm visits the Shelbourne Museum in Burlington, Vermont to examine an antique pencil-post bed with a rope support system and a hay-filled mattress. Norm then adapts this design to accommodate a standard full-size mattress and box spring, and builds his pencil-post bed of poplar featuring mortise and tenon joints in the construction. The bedposts are tapered on the two inner sides, then beveled on all four corners to produce eight-sided, asymmetrically tapered posts.
3 votes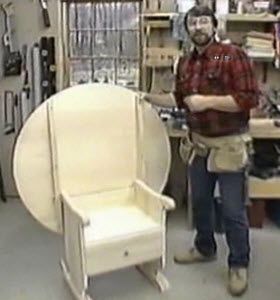 #23 - Chair Table
Season 2 - Episode 7
Norm drops in on the Fitch House in Old Sturbridge Village, central Massachusetts' "living history" museum, to look at a chair table, with a tabletop that pivots back to form a back rest and a seat with a drawer underneath. Norm's version of this unusual but comfortable and serviceable piece features hardwood (maple) where needed - on the tabletop, arms and feet - and poplar for the sides, seat and drawer front. Norm cuts the shaped side pieces and curved arms and feet on the band saw, shows how to create a sliding dovetail joint to attach the seat and drawer support to the sides, and demonstrates a trick for cutting the large circular tabletop by mounting a specially made jig on the band saw.
2 votes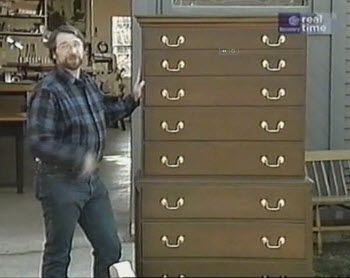 #24 - Chest on Chest
Season 2 - Episode 11
With this eight-drawer, cherry chest-on-chest Norm simplifies a complicated project that may, at first glance, seem daunting to the home woodworker. Norm demonstrates techniques of biscuit joinery on the side panels and dovetail joinery on the drawers and cross-rails, then shows how to craft sculpted, contoured feet for the base using a band saw, table saw, template and router.
2 votes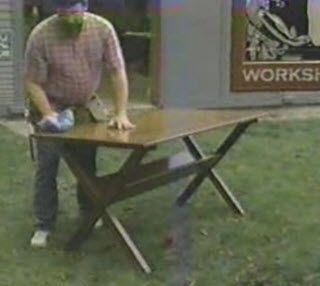 #25 - X-Brace Trestle Table
Season 7 - Episode 1
Norm Abram visits a museum in Massachussetts to investigate colonial life and furnishings. He returns with a design for a trestle table.
1 votes