The Best Episodes of The New Yankee Workshop
In this PBS series, craftsman Norm Abram demonstrates how to build quality furniture in one's own workshop using traditional carpentry techniques. Abram also gives pointers on restoring and caring for antique furniture, along with short history lessons regarding famous craftsmen of America's past.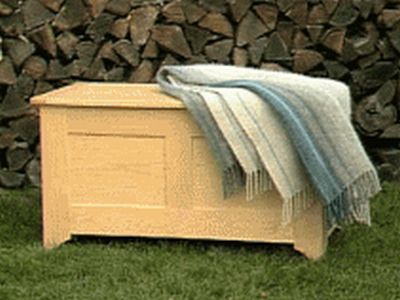 #1 - Blanket Chest
Season 1 - Episode 4
Norm demonstrates how to built a blanket chest using pine lined with aromatic cedar. The chest dimensions are 22" high x 44" wide x 19" deep.
6 votes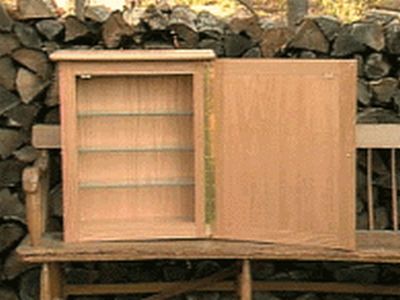 #2 - Medicine Cabinet
Season 1 - Episode 1
Norm leads a tour of The New Yankee Workshop to preview the furniture he will build in the first season. He demonstrates how to build a medicine cabinet that is based on one seen in the Hancock Shaker Village in Massachusetts. Norm uses red oak and oak plywood with box-joint joinery to construct his version. The cabinet dimensions are 26" high x 22" wide x 7" deep.
13 votes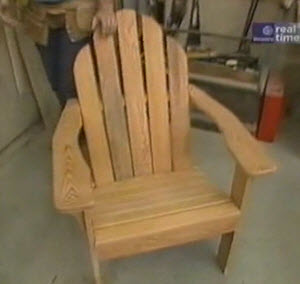 #3 - Adirondack Chair
Season 2 - Episode 2
Norm designs his own version of the rustic Adirondack chair out of cypress, an excellent wood that needs no preservatives or treatment.
2 votes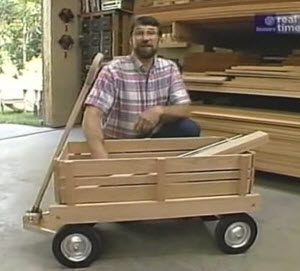 #4 - Child's Wagon
Season 4 - Episode 3
Norm builds a child's wagon with threaded rod axles with aluminum braces. He uses non toxic fire-engine red enamel paint for the finish and steel wheels with rubber tires. The wagon measures 19" high x 16" wide x 42" long.
2 votes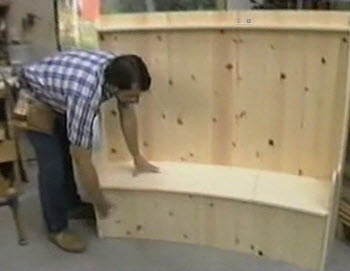 #5 - Hearthside Settle
Season 2 - Episode 5
Norm travels to the Massachusetts harbor of Gloucester to look at a high-backed, curved hearthside settle at Beauport, the home of tarry 20th-century interior decorator and antiquarian Henry Sleeper. The house is now a museum run by the Society for the Preservation of New England Antiquities. Norm's version of this pine piece closes in the area beneath the seat to create a storage space and adds an access hatch in the seat. Norm shows how to cut the settle's curved cross-members and shaped side pieces, how to join the back boards with tongue-and-groove joints, and how to bend the back base board along the bottom of the frame.
2 votes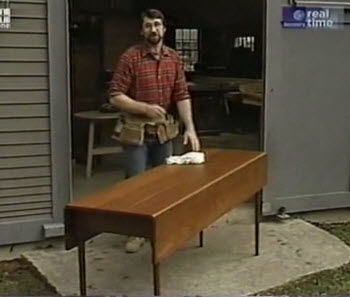 #6 - Harvest Table
Season 3 - Episode 7
Norm builds a harvest table from Cherry. It has turned legs and a hand-rubbed Danish oil finish. The drop leaves allow chairs to be pushed under the table when they are in the down position. The table dimensions are 30" high x 39" wide x 71 3/4" long.
2 votes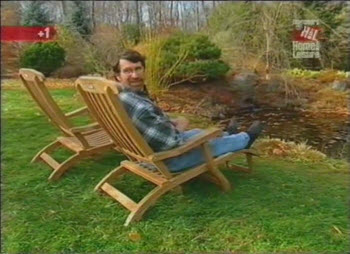 #7 - Deck Chair
Season 14 - Episode 12
It used to be when you cruised the ocean on a liner you would be offered a comfortable place to read and relax on a sun deck. A deckhand would show you to your wooden lounge chair, often made of teak, fitted with brass and combined with a footrest. Today you can enjoy the same comfort with Norm's version, made of plantation grown teak and specialized brass hardware designed to withstand the elements.
2 votes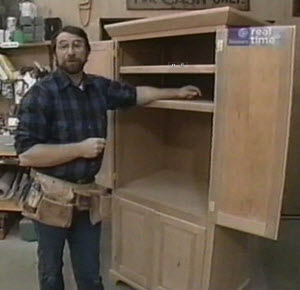 #8 - Armoire (Entertainment Center)
Season 2 - Episode 13
Norm winds up The New Yankee Workshop's second season with an armoire based on classic designs but adapted to contemporary use: it can double as a home entertainment center. Norm's version is constructed largely of veneer plywood and features raised panel doors. In building the project, Norm demonstrates many of the joinery techniques he's employed throughout the season, including dado, dovetail and mortise-and-tenon joints - and shows how to use a shaper to create moldings for the piece.
2 votes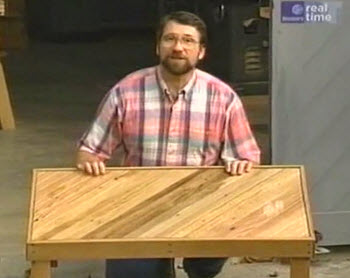 #9 - Coffee Table
Season 4 - Episode 4
Norm uses recycled pallet wood to build a unique and rustic coffee table. He demonstrates how to prepare the slats by planing them. The table dimensions are 16 1/4" high x 19" wide x 40" long.
3 votes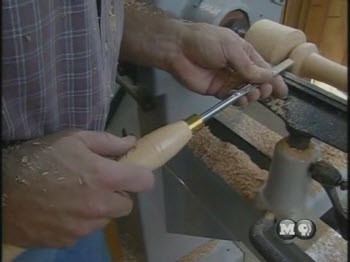 #10 - Lathe 101
Season 17 - Episode 6
Norm starts, as usual, with explaining the tools that will be used in this episode. Which, as you guessed it, is his Lathe? But, unlike most shows where he uses the lathe, he goes into depth as to what all the pieces are, and how they are used. He then goes through the basics on a scrap piece of firewood, showing us how to get down-to-round. A quick sharpening demo is given, and then let's get into some real turning. He does a bit of turning on a rail spindle, showing several intermediate techniques. Finally, he finishes out the show with the complete turning of a standard baseball bat. His newly created bat is then brought down to Fenway Park, and used in batting practice by infielder Kevin Millar.
2 votes