The Best Episodes of The New Yankee Workshop
Last Updated: Dec 6, 2018
In this PBS series, craftsman Norm Abram demonstrates how to build quality furniture in one's own workshop using traditional carpentry techniques. Abram also gives pointers on restoring and caring for antique furniture, along with short history lessons regarding famous craftsmen of America's past.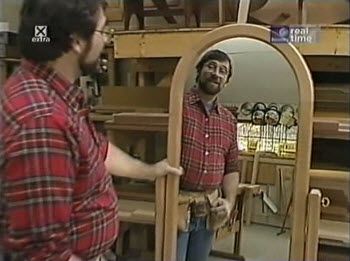 #1 - Standing Mirror
Season 3 - Episode 13
Norm uses a band saw to aid his in constructing a Mahogany frame for a full-length standing mirror. He uses a router to give the piece a softer edge. The frame measures 68 1/4" high x 27 1/4" wide x 20" deep.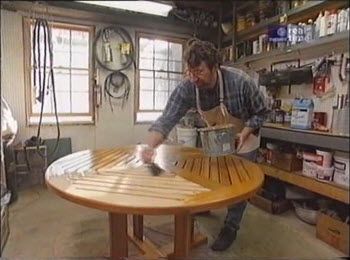 #2 - The Patio Table
Season 12 - Episode 9
Norm adds to his growing collection of outdoor furniture projects when he builds this round, teak patio table that is big enough to for six to enjoy a summer lunch. Measuring 51-inches across, the table seems like a big project but it can easily be built in any home workshop.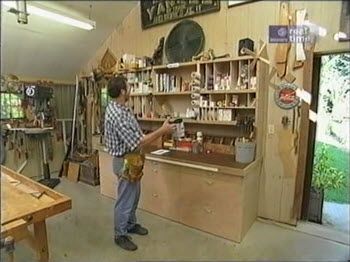 #3 - Workshop Hutch
Season 13 - Episode 6
When Norm felt it time to remodel The New Yankee Workshop, he seized the opportunity to build an ingenuous workshop hutch that promises to be a must-have for every home woodworker. It features a backbench with a system of adjustable shelves that offers endless options for organizing the tools and materials every woodworker needs to have at his fingertips. The hutch also has a renewable bench top complete with electrical outlets, and roomy pullout drawers to store and keep a serious collection of power tools dust-free.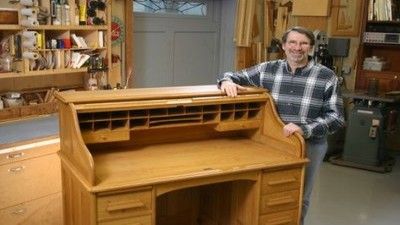 #4 - Roll Top Desk (2)
Season 21 - Episode 26
Norm visits the Old Schwamb Mill in Arlington, Massachusetts. Built in 1860, the mill was purchased in 1864 by German immigrant woodworkers, Charles and Frederick Schwamb. The brothers did a brisk business crafting the oval picture frames which, at the time, were in demand to display photographs of Civil War soldiers. In the Schwamb Brother's old office, Norm spies a handsome, quarter sawn oak roll top desk, which inspires him to build his version of this American classic.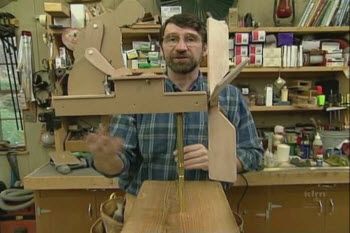 #5 - Whirligig
Season 21 - Episode 23
On a sojourn to Nantucket, Norm is invited to view a local antique dealer's private collection of children's toys and whimsical whirligigs. Inspired by their endearing humor, Norm decides to build his own mechanized version of The New Yankee Workshop's logo, featuring Norm, himself, working at the table saw.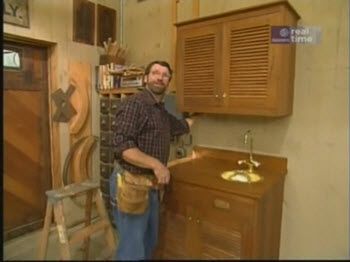 #6 - Teak Bar
Season 11 - Episode 5
Woodworkers who entertain are going to love making Norm's attractive, custom designed teak bar. Featuring great-looking, nautical-inspired brass hardware and stunning louver doors, it promises to hold everything a party needs. The interior of the wall-mo
#7 - Serving Trays
Season 21 - Episode 7
Norm takes viewers in to his favorite antique haunt on the quaint New England island of Nantucket where he discovers two distinctive wooden trays. Deeming them "the perfect weekend woodworking projects," Norm crafts the more primitive fruit tray out of recycled pine, and, for the first time on The New Yankee Workshop, introduces the craft of metalsmithing when he fashions the cherry tray's hardware out of brass.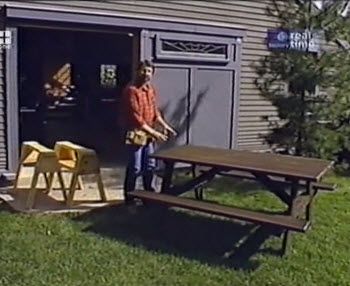 #8 - Picnic Table and Saw Horses
Season 3 - Episode 2
Norm builds a basic sawhorse crafted Spruce and Plywood and a one-piece picnic table. The sawhorse dimensions are 26" high x 20 1/2" wide x 36" long and the picnic table dimensions are 29 3/4" high x 68" wide x 71" long.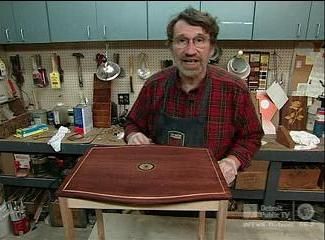 #9 - Nest of Tables
Season 19 - Episode 12
Norm builds a set of nested tables for his own living room using Mahogany and Walnut in a Chippendale style. The dimensions of the largest table are 18" long x 14 1/2" wide x 21 1/4" tall.
#10 - Kitchen Project - The Kitchen Office (6)
Season 20 - Episode 6
Norm builds a desk with a file storage area, a wall hanging cabinet with shelves, a concealed area for lighting, a computer and phone area, a series of pigeon holes, and a cork board. He uses a pair of wing walls to separate the office from the main area of the kitchen. (Part 6 of 9)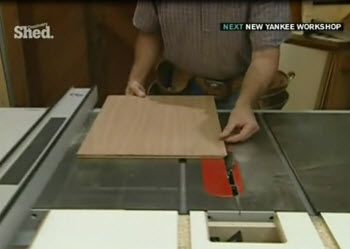 #11 - Table Saw 101 (2)
Season 19 - Episode 9
In the second part of the table saw tutorial, Norm begins with dadoing techniques, rabbeting, and building a fence. He evaluates miter gauges and uses them to make precision miters. He uses a factory built jig to make accurate tenons. (Part 2 of 2)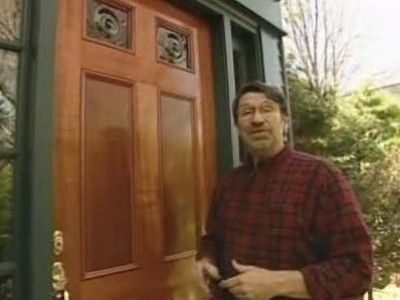 #12 - Entrance Door
Season 19 - Episode 2
Norm creates a custom made entry door from Mahogany with bulls eye glass inserts. The dimensions are 36" wide x 84" in height.
#13 - Wine Storage Unit
Season 8 - Episode 8
In keeping with the wine-country theme, this project is much more than just a wine rack. It is the perfect system for people who take wine collecting seriously. Made of redwood and designed as a four-sided display, this storage unit holds 10 cases of wine while providing additional storage for glasses, corkscrews and oversized bottles, plus a platform for serving. No wine aficionado will want to return from a tasting tour of Napa Valley to anything less.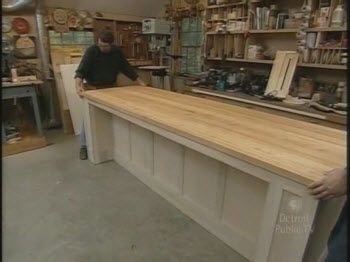 #14 - Kitchen Island
Season 17 - Episode 11
Largely unknown in grandmother's time, kitchen islands have become indispensable in today's modern home. Used to house sinks, cook tops, storage for pots and pans, recyclables, and barstools, they often become the most valuable work surface in a busy kitchen. Norm builds this one out of poplar and birch plywood for a painted finish and lines it with hard wearing factory-applied finishes intended to give this island a long career of heavy use. Along with the high-tech plywood, Norm uses state of the art drawer slides and period pulls to complete this useful project.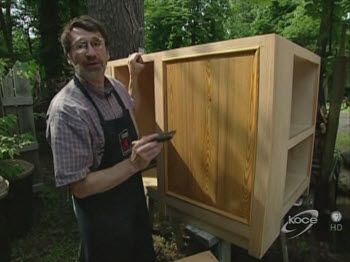 #15 - Kitchen Project - The Island (7)
Season 20 - Episode 7
Norm builds an island using reclaimed heart pine and old pine for the turned legs. It has a butcher block top, a drawer-mounted microwave, an area for tray storage, and a pull-out drawer for trash or recyclables. (Part 7 of 9)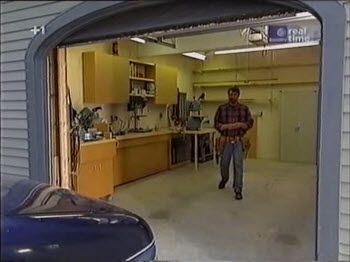 #16 - Garage Workshop (2)
Season 12 - Episode 2
If only I had a workshop like Norm's, I could build anything. Norm puts an end to this common viewer lament when he shows how to turn an average garage bay into a great home workshop. Using common building materials and hardware, he builds all the elements needed to make a workshop functional cabinetry, storage units, and a portable chop station. The genius of Norm's original design, however is that each element can be put away to make room for the family car when not in use or easily transported to any space a woodworker decides to set up shop. At the conclusion of this ambitious two-part project, Norm gives his list of must-have bench top power tools to ensure that every home craftsman will be able to utilize the workshop to its fullest.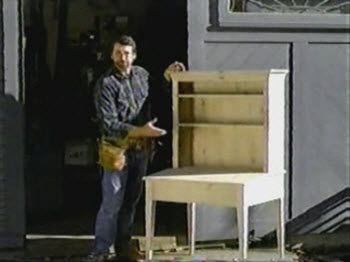 #17 - Planter's Desk
Season 9 - Episode 1
Norm begins his search for low-country furniture projects in Savannah's famed Monterey Square at the home of antique map and print dealers, Virginia and John Duncan. On their veranda, Norm discovers a quintessential piece of the Old South, a planter's desk. Once used by cotton and tobacco farmers for bookkeeping, the desk can function quite well today as a compact, home office. Featuring nicely tapered legs, a hinged desktop, and plenty of shelves, it also has enough room to accommodate a small computer. Back East in the New Yankee Workshop, Norm builds this piece out of recycled pine and finishes it with a new pastel stain to give it a "pickled" look.
#18 - Table Saw 101 (1)
Season 19 - Episode 8
Norm begins this two part tutorial by discussing various table saws and how to use them. He focuses on ripping concentrating on how to work with large panels and narrow stock. He builds and out feed table designed to enhance the woodworker's efficiency and safety. (Part 1 of 2)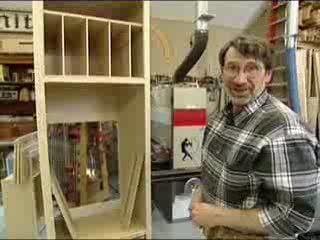 #19 - Kitchen Project - The Hot Wall (3)
Season 20 - Episode 3
The first section Norm builds consists of the cabinets that surround the double oven, range, and range hood. He shows how the existing kitchen will be upgraded and adds a storage organizer. Using a prototype inset door and drawer, he demonstrates how these items will be incorporated into the kitchen. Norm completes the episode by finishing a dovetailed drawer box with a plain front that will be used throughout the kitchen. (Part 3 of 9)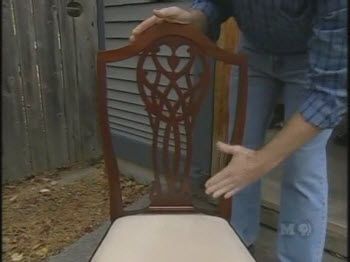 #20 - Side Chair
Season 17 - Episode 7
Norm has said many times that chairs are the most challenging projects a woodworker can attempt. Not only do they have to be strong enough to support the heavy twisting action of a human body, they also have to be attractive enough to take their place at the table. Norm visits historic Deerfield in central Massachusetts where he discovers, amid the vast collection of antique furniture, a comfortable, handsome, American-built side chair of the early 1800's. Norm makes a faithful reproduction back in the workshop and upholsters it in a modern fabric that should stand up well to the rigors of time.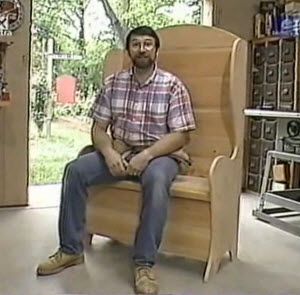 #21 - Outdoor Lidded Bench
Season 4 - Episode 2
Norm fashions an outdoor lidded bench from Cypress. The bench measurements are 55 1/4" high x 36" wide x 18 1/4" deep.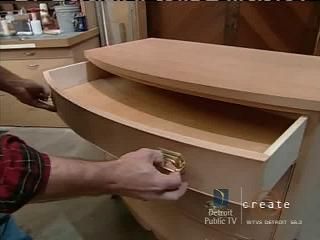 #22 - Bowfront Chest
Season 19 - Episode 11
Norm builds a Bowfront chest out of Mahogany that poses challenges. The most difficult part of the process are forming the French feet and the dovetailed Bowfront drawers. The chest dimensions are 40" long x 22" wide x 36" tall.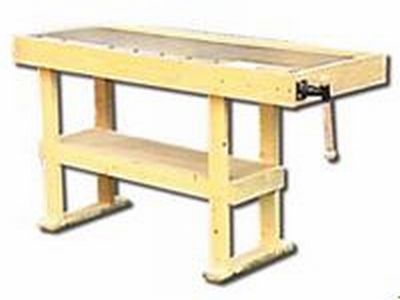 #23 - Workbench
Season 1 - Episode 2
A good workshop starts with a well-equipped workbench. Norm uses one from his shop as a model for the affordable bench he builds during this episode. Norm builds a workshop workbench which features an oak edged hardwood top, a vice, a recessed tool storage space on the top, and a shelf below. The bench dimensions are 34" high x 64" wide x 25" deep.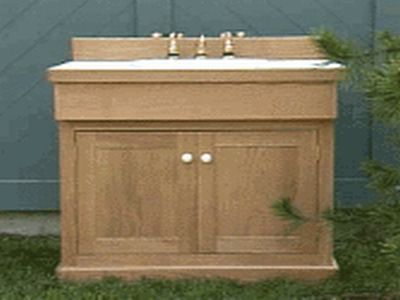 #24 - Oak Bathroom Vanity
Season 1 - Episode 6
Norm demonstrates how to build a bathroom vanity with dovetailed joints. He uses oak and a laminate top with double doors and a flat panel outside and raised panel inside mimicking the Shaker style. The vanity dimensions are 34" high x 38" wide x 23" deep. Inspired by a dry sink he found at a 1790 Shaker house in Harvard, Norm's oak unit features dovetailed joints and a high-pressure laminate top.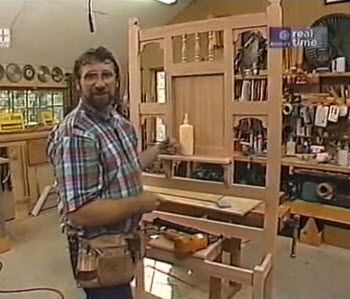 #25 - Umbrella Stand
Season 4 - Episode 10
Norm's umbrella stand is built from light Oak and features a mirror and clay pot holders to catch the water from umbrellas. He achieves the "burnt" effect by fuming the piece in an airtight chamber he fashioned for this purpose. The stand measures 80 1/2" high x 35" wide x 11 1/8" deep.