The Best Episodes of The New Yankee Workshop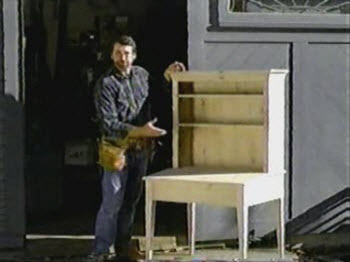 #1 - Planter's Desk
Season 9 - Episode 1
Norm begins his search for low-country furniture projects in Savannah's famed Monterey Square at the home of antique map and print dealers, Virginia and John Duncan. On their veranda, Norm discovers a quintessential piece of the Old South, a planter's desk. Once used by cotton and tobacco farmers for bookkeeping, the desk can function quite well today as a compact, home office. Featuring nicely tapered legs, a hinged desktop, and plenty of shelves, it also has enough room to accommodate a small computer. Back East in the New Yankee Workshop, Norm builds this piece out of recycled pine and finishes it with a new pastel stain to give it a "pickled" look.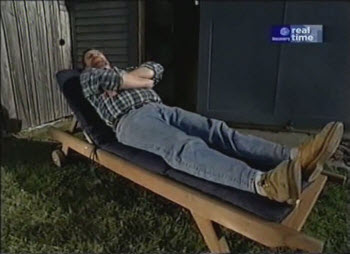 #2 - Chaise Lounge
Season 10 - Episode 11
Norm takes viewers on an adventure to Utah to witness the dismantling of a twelve-mile long railway trestle which was built at the turn of the century. Eventually progress and better engineering in the 1950s replaced this causeway, and the massive trestlewood pilings which once provided the means by which Southern Pacific was able to cross the Great Salt Lake were all but abandoned. Over years of disuse, the trestlewood, which is comprised of Douglas fir and redwood, eventually became so pickled by lake brine that its grain began to develop an unusual array of colors. Norm acquires some of this trestlewood to build his own outdoor chaise lounge design and in the process, learns quite a bit about current initiatives to harvest this unusual building material.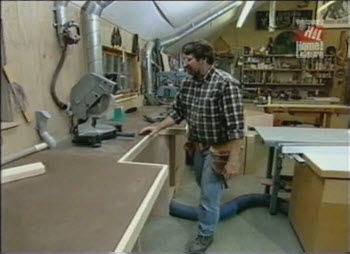 #3 - Miter Bench and Storage (1)
Season 14 - Episode 1
A well-equipped workshop will need a bench for a miter saw. In this two part project, Norm builds a useful model with extensions on both sides of the saw, an adjustable stop block, an auxiliary guide for use with an adjacent radial saw table, and much more. The bench base is fully equipped with pull-out drawers sized to house Norm's most-used power tools and accessories. One of those, the "dedicated" mortiser, has its own pull-out shelf with a bench-top fixture that secures the tool and provides extension to support and stabilize longer stock. This will be a popular project to anyone who wants to build useful organized storage in the workshop.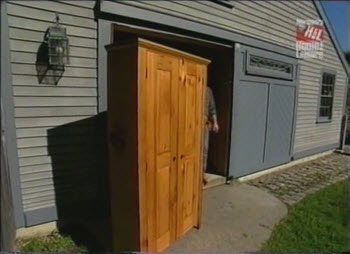 #4 - Linen Press
Season 10 - Episode 2
Norm asks, "Have you ever noticed that most armoires and linen presses are too big to fit in today's rooms and look just right?" However, in a private collection in Savannah, Georgia, he finds a beautiful antique linen press whose three-foot by six-foot size make it versatile enough to fit in almost any room. Featuring streamlined, raised-panel double doors with detail beading, its simple design seems almost modern. Back in The New Yankee Workshop, Norm recreates this piece out of recycled pine to give it a vintage look.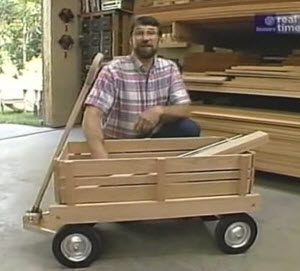 #5 - Child's Wagon
Season 4 - Episode 3
Norm builds a child's wagon with threaded rod axles with aluminum braces. He uses non toxic fire-engine red enamel paint for the finish and steel wheels with rubber tires. The wagon measures 19" high x 16" wide x 42" long.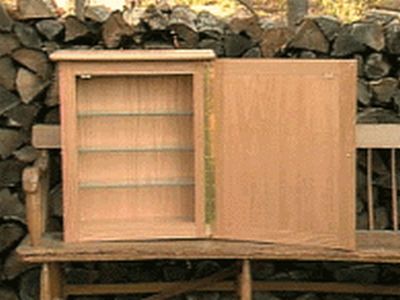 #6 - Medicine Cabinet
Season 1 - Episode 1
Norm leads a tour of The New Yankee Workshop to preview the furniture he will build in the first season. He demonstrates how to build a medicine cabinet that is based on one seen in the Hancock Shaker Village in Massachusetts. Norm uses red oak and oak plywood with box-joint joinery to construct his version. The cabinet dimensions are 26" high x 22" wide x 7" deep.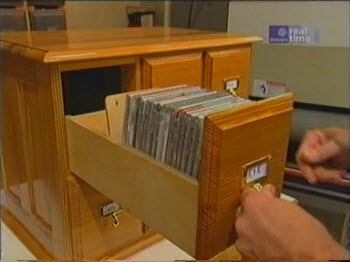 #7 - CD Storage Case
Season 13 - Episode 4
Norm's CD storage case promises to fool the casual observer with its handsome looks, and capacity to store and display over 200 titles. Resembling an old-fashioned library card catalogue, it features six drawers with antique brass drawer pulls and labels to identify the contents. Crafted out of recycled "heart" pine, the drawers come with full extension slides, making it possible to find the right CD easily. This well-proportioned, modular piece can fit easily on a desktop or bookcase and can be added to-to house a growing collection of CD titles.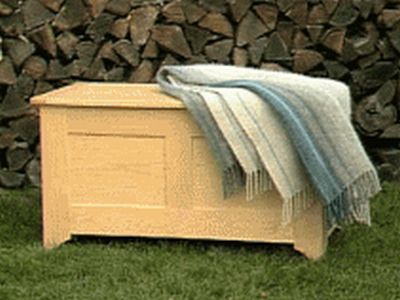 #8 - Blanket Chest
Season 1 - Episode 4
Norm demonstrates how to built a blanket chest using pine lined with aromatic cedar. The chest dimensions are 22" high x 44" wide x 19" deep.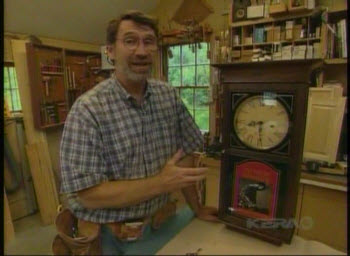 #9 - New Yankee Shop Clock
Season 18 - Episode 5
Over the years, Norm has created several clocks for The New Yankee Workshop, most notably the tall case oak clock with an imported eight day movement (Item #0405) he built a couple of years ago. Now his interest turns to a shorter cased clock with a key wind spring movement that is housed in a walnut case. But the big difference is the painted glass panel that adorns the clock face and the clockworks below. Norm asks his project partner, the Klockit Company of Lake Geneva, Wisconsin, to come up with a facsimile of the famous New Yankee logo, which will be painted on the glass and through which the clock pendulum can be seen. The results are stunning and just the finishing touch for a workshop or any room in the house. Everybody who has seen it wants one.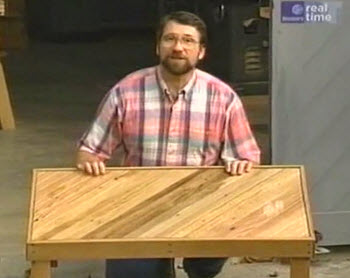 #10 - Coffee Table
Season 4 - Episode 4
Norm uses recycled pallet wood to build a unique and rustic coffee table. He demonstrates how to prepare the slats by planing them. The table dimensions are 16 1/4" high x 19" wide x 40" long.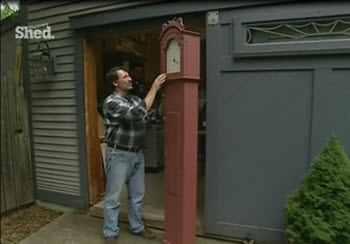 #11 - Dominy Clock
Season 19 - Episode 5
Norm uses a Dominy clock built circa 1821 as the inspiration for this piece. He uses poplar and paints it to resemble the original. The clock dimensions are 86" high x 13" wide x 7" deep.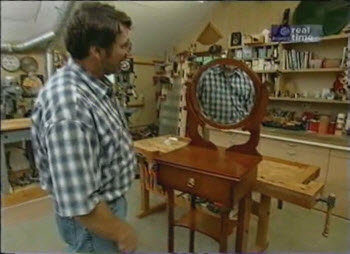 #12 - Shaving Stand
Season 14 - Episode 6
While visiting Palm Beach, Florida, Norm discovers an attractive maple shaving stand in the Flagler Museum. Norm recreates this unique piece of Americana using cherry to form the mirror surround, the drawer, and to form the gracefully cut legs. At first glance, you might wonder why Norm (with his full beard) would ever need a piece of furniture like this, but he will be ready in case fashions change.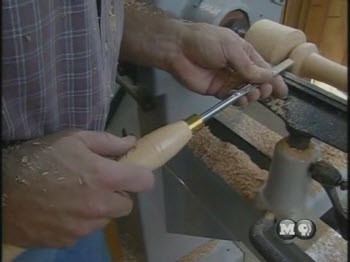 #13 - Lathe 101
Season 17 - Episode 6
Norm starts, as usual, with explaining the tools that will be used in this episode. Which, as you guessed it, is his Lathe? But, unlike most shows where he uses the lathe, he goes into depth as to what all the pieces are, and how they are used. He then goes through the basics on a scrap piece of firewood, showing us how to get down-to-round. A quick sharpening demo is given, and then let's get into some real turning. He does a bit of turning on a rail spindle, showing several intermediate techniques. Finally, he finishes out the show with the complete turning of a standard baseball bat. His newly created bat is then brought down to Fenway Park, and used in batting practice by infielder Kevin Millar.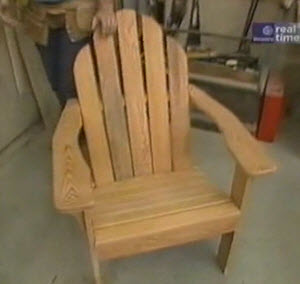 #14 - Adirondack Chair
Season 2 - Episode 2
Norm designs his own version of the rustic Adirondack chair out of cypress, an excellent wood that needs no preservatives or treatment.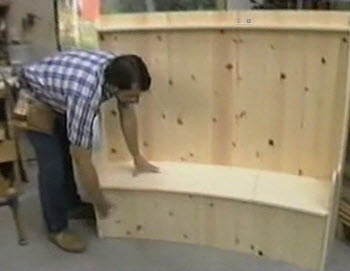 #15 - Hearthside Settle
Season 2 - Episode 5
Norm travels to the Massachusetts harbor of Gloucester to look at a high-backed, curved hearthside settle at Beauport, the home of tarry 20th-century interior decorator and antiquarian Henry Sleeper. The house is now a museum run by the Society for the Preservation of New England Antiquities. Norm's version of this pine piece closes in the area beneath the seat to create a storage space and adds an access hatch in the seat. Norm shows how to cut the settle's curved cross-members and shaped side pieces, how to join the back boards with tongue-and-groove joints, and how to bend the back base board along the bottom of the frame.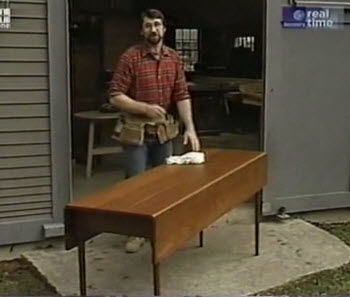 #16 - Harvest Table
Season 3 - Episode 7
Norm builds a harvest table from Cherry. It has turned legs and a hand-rubbed Danish oil finish. The drop leaves allow chairs to be pushed under the table when they are in the down position. The table dimensions are 30" high x 39" wide x 71 3/4" long.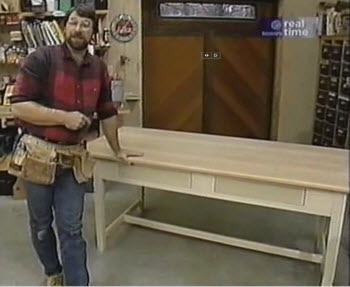 #17 - Kitchen Worktable
Season 2 - Episode 8
Norm constructs a kitchen table that functions equally well as a dining table or a worktable. Built of pine, the table features tapered legs and storage drawers, with a center rail joining the pairs of legs. Norm employs a specially made tapering jig to fashion the legs and uses mortise-and-tenon joints to put the table together.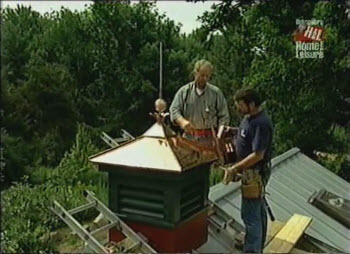 #18 - Cupola
Season 10 - Episode 7
In a surprise twist, Norm opens this New Yankee Workshop from This Old House's recent job site in Milton, Massachusetts. While building a new "dream workshop" on the footprint of the old barn's demolished shell, Norm decides to replicate a version of the antique cupola that once adorned its roof back in The New Yankee Workshop. With help from coppersmith Larry Stearn, Norm recreates a copper-roofed version of the original design. Calling it a "true carpentry project which entails every mitre box application," Norm expertly crafts the cupola's louvers and hip roof.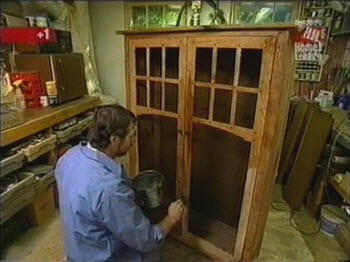 #19 - Mesquite Bookcase
Season 10 - Episode 8
Norm's expedition to Arizona in search of Arts and Crafts-style furniture projects to build in The New Yankee Workshop leads him to Arroyo Design, a small custom furniture company in Tucson, where he spies a beautiful, glass-front bookcase inspired by the famous Greene Brothers. Featuring divided pane windows and the Greene Brothers' trademark square-peg detailing, its true artisan qualities make it one of the most sophisticated pieces in this season's collection. To ensure its heirloom value, Norm crafts this project out of mesquite and in the process educates viewers on how to work with this native Sonoran desert hardwood.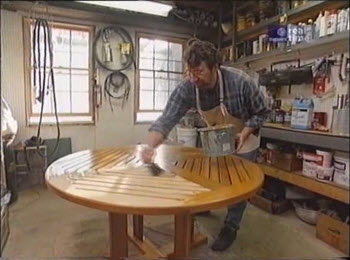 #20 - The Patio Table
Season 12 - Episode 9
Norm adds to his growing collection of outdoor furniture projects when he builds this round, teak patio table that is big enough to for six to enjoy a summer lunch. Measuring 51-inches across, the table seems like a big project but it can easily be built in any home workshop.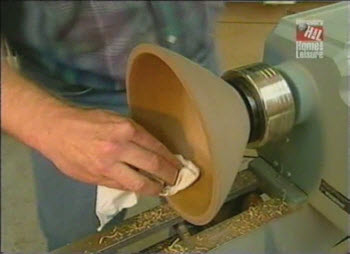 #21 - Wooden Bowls
Season 14 - Episode 10
Friday Harbor, Washington, about as far north and west as you can get in the continental United States, is home to Walt Koertje, an artisan whose specialty is making glorious wooden bowls. Norm pays a visit to Walt, sees his industrial strength lathe, and is determined to return to The New Yankee Workshop and try one himself. Back home, Norm has to find a piece of wood suitable for his own bowl. He pays a visit to Matt Foti, a local arboriculturist, who supplies him with the walnut, maple and ash woods to turn three beautiful bowls.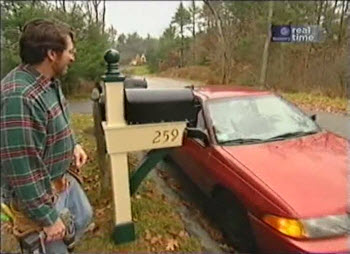 #22 - Mail Box
Season 13 - Episode 10
Like most of us, Norm has a mailbox he purchased from a local home center that now shows all the wear and tear of harsh New England winters. Determined to do something about its sorry state, he designs and builds a beautiful replacement complete with ornamental finial, chamfered post, and even a newspaper slot. It promises to signal to passersby, "a craftsman lives here."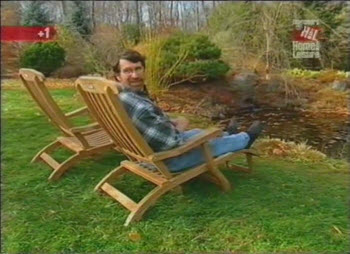 #23 - Deck Chair
Season 14 - Episode 12
It used to be when you cruised the ocean on a liner you would be offered a comfortable place to read and relax on a sun deck. A deckhand would show you to your wooden lounge chair, often made of teak, fitted with brass and combined with a footrest. Today you can enjoy the same comfort with Norm's version, made of plantation grown teak and specialized brass hardware designed to withstand the elements.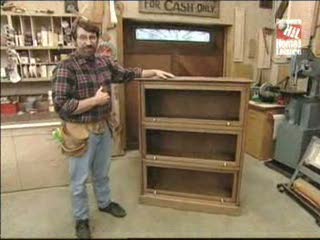 #24 - Barrister Bookcase
Season 13 - Episode 13
Among Norm's personal collection of furniture, is an old oak barrister's bookcase that safely showcases his collection of handcrafted glasses, pottery, and books. Comprised of three separate units that nest on top of each other, each features a glass-front door with hinged sliders that allows it to "disappear" out of site. Believing it to be a versatile piece that everyone would want for their own collections, Norm shows viewers how to build one back in The New Yankee Workshop. While he keeps true to most of the details of the original, he does refine its overall design by combining the three modular units into one singular unit.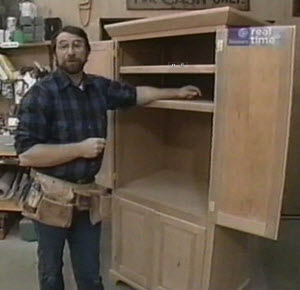 #25 - Armoire (Entertainment Center)
Season 2 - Episode 13
Norm winds up The New Yankee Workshop's second season with an armoire based on classic designs but adapted to contemporary use: it can double as a home entertainment center. Norm's version is constructed largely of veneer plywood and features raised panel doors. In building the project, Norm demonstrates many of the joinery techniques he's employed throughout the season, including dado, dovetail and mortise-and-tenon joints - and shows how to use a shaper to create moldings for the piece.