The BEST Episodes of Ren and Stimpy Adult Party Cartoon
Every episode ever - ranked by fan votes!
Last Updated: Oct 17, 2020
In 2002, John K. received a phone call from a cable channel called TNN (now Spike TV). TNN was struggling against other channels and decided to give the creator a new chance. In June of 2003, Ren and Stimpy returned with 3 all-new episodes (which used plots developed for the original Nick show), plus the classic episodes the way they were meant to be seen. The show continues the adventures of the duo from the cult classic cartoon series, placing them in a completely No-Nickelodeon-Censorship universe. Originally 6 episodes were due to appear during the summer of 2003 but were delayed for a year along with the rest of Spike's "Strip" (mainly because of the extremely risque "Naked Beach Frenzy" episode). Spike TV planned to bring the show back with the final remaining episodes on August 20th, 2004, but instead delayed the series once again and canceled the series in early December.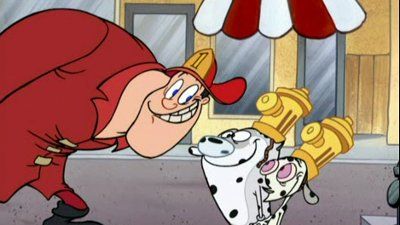 #1 - Firedogs 2: Part 1
Season 1 - Episode 3 - Aired Jul 17, 2003
Ralph Bakshi Sitcom 1: An animator is drawing Ren and Stimpy on a drawing board when Ralph breaks in and starts bothering his wife. Fire Dogs: See Fire Dogs. Ralph Bakshi Sitcom 2: Ralph continues acting annoying in the house. Fire Dogs 2: A short clip from the end of Fire Dogs 1 is shortly followed by a mutation of the fire chief into a caricature of Ralph Bakshi. He then invites R&S into his house to help him go to the bathroom, shave, and clean the toilet. Ralph Bakshi Sitcom 3: Ralph announces that there will be another Fire Dogs episode in the near future.
5 votes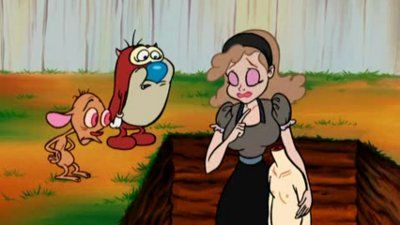 #2 - Altruists
Season 1 - Episode 6 - Aired Aug 7, 2003
Ren Höek, renowned lover of humanity, and his pal Stimpy decide that they must do everything in their power to help a couple of misfortunates, a widow and her headless child.
5 votes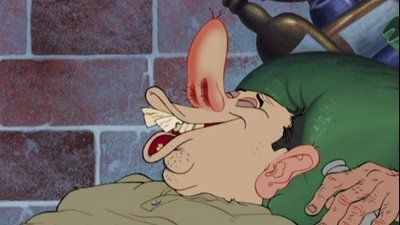 #3 - Onward and Upward
Season 1 - Episode 1 - Aired Jul 3, 2003
Tired of living inside a homeless man's mouth, Ren and Stimpy move to classy new digs, the inside of a spittoon.
5 votes
Writers:
#4 - Naked Beach Frenzy
Season 1 - Episode 5 - Aired Jul 31, 2003
Ren and Stimpy enjoy a day at the beach. Ren shows his respect to the superiority of the female form, forcing Stimpy to find succor in the bosom of a large foreign huckster. Featuring: Shampoo Master, making his long-awaited debut. And don't blink or you might miss a special guest appearance by Jiminy Man.
3 votes
Writers: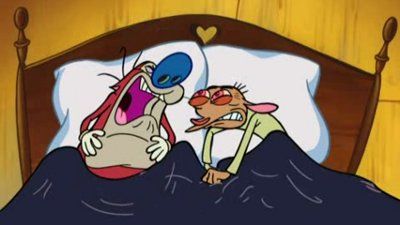 #5 - Stimpy's Pregnant
Season 1 - Episode 7 - Aired Aug 14, 2003
This just might be the greatest moment in television history. Stimpy delivers the long-awaited full-onscreen birth of Ren's child. Probably Ren's child. Full of trauma, love and sincere disregard for the FCC.
3 votes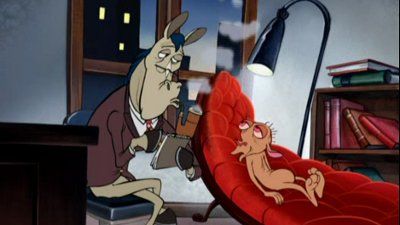 #6 - Ren Seeks Help
Season 1 - Episode 2 - Aired Jul 10, 2003
During a huge argument with his housemate, Stimpy, Ren realizes how cruel he can be to his beloved pal. He seeks psychiatric help from Dr. Mr. Horse.
8 votes
Writers: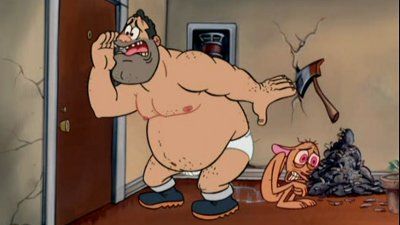 #7 - Firedogs 2: Part 2
Season 1 - Episode 4 - Aired Jul 24, 2003
Stinky Wizzleteats gives a brief description of what happened in part one of FIREDOGS 2. We continue with the story, showing the bachelor life with the fire chief. The chief asks Ren and Stimpy to be roommates with him. They agree. Back at his apartment, the fire chief makes Ren and Stimpy promise that when he gets old, they'll take care of him until he dies. They promise.
1 votes
Writers: