The Best Episodes of La Femme Nikita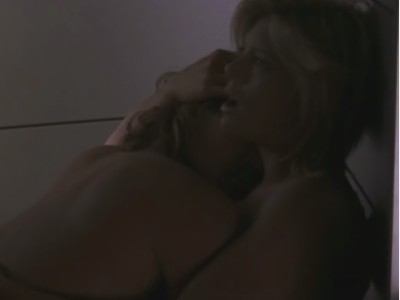 #1 - Let No Man Put Asunder 8.18
Season 5 - Episode 7
The situation is dire as The Collective, still led by Graff and Haled, is cleaning Section's clock. But, just in time, Michael asks Nikita to help him return to Section, where his re-emergence is viewed with suspicion by both Mr. Jones and Operations. While new missions continue against The Collective with Michael's return, Nikita admits that she lied to him in "Four Light Years Further," and that she does indeed love him. Operations discovers that The Collective has infiltrated Section's mainframe to try to locate and kidnap Michael's son Adam, in attempt to re-assert control over him. Can Operations foil The Collective's plans?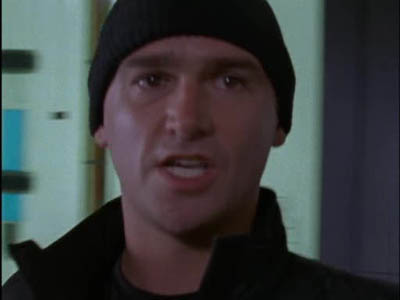 #2 - Four Light Years Farther 8.11
Season 4 - Episode 22
Michael and Nikita have been traveling from place to place, keeping one step ahead of Section One's attempts to find them. When George is eliminated from the picture after leaking intel to Red Cell in order to discredit Section One, the newly-empowered Operations and Madeline finally track down Michael and Nikita. They bring them back to Section. Just as Michael and Nikita are about to be cancelled, all of Section's systems suddenly stop. Mr. Jones, the mysterious head of Center, is on his way to Section One in order to conduct an evaluation, and has put Section in stasis. When Jones arrives, he is really Nick Shtoppel Nikita's neighbor and Section informant. He reveals that Nikita has been secretly working for Center for the last three years. Nikita assists Jones with his evaluation, and things change radically. Operations is forced to remain at Section One for the next seven years. Madeline takes her own life rather than be cancelled. Walter is transferred to the Farm, where he will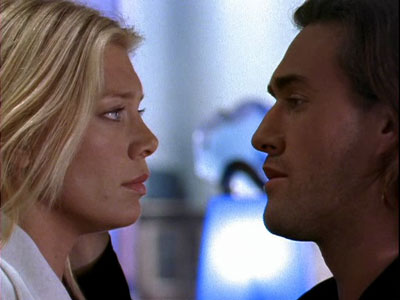 #3 - End Game (2) 8.07
Season 2 - Episode 22
With Adrian's help, Nikita manages to breach the most sensitive area of Section and secure a file, code named Gemstone, which contains evidence which will bring down Operations and destroy Section One. Meanwhile, Operations forces Michael to identify the Section operative most likely to work with Adrian to undermine Section, Nikita. Michael confronts Nikita in order to try to find a way to protect her, but she denies any association with Adrian. Now Michael is forced to kidnap both Nikita and Adrian and bring them back to Section, knowing that Nikita and Adrian will be cancelled and that the incriminating Gemstone file will be permanently erased.
Directors: Joseph Scanlan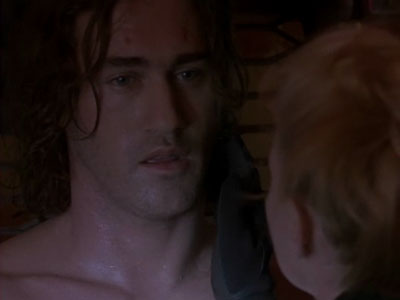 #4 - Not Was 8.00
Season 2 - Episode 13
Michael is captured and interrogated by terrorists, then loses his memory and does not know who he is.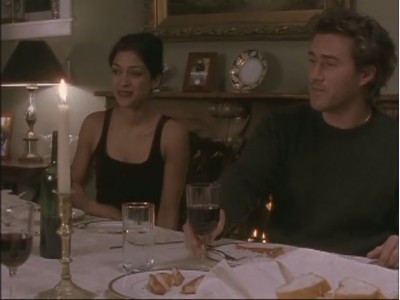 #5 - Opening Night Jitters 7.93
Season 3 - Episode 3
To flush out Vacek, Operations and Madeline order Michael to poison Elena, but Michael can't bring himself to do it. So Section poisons Elena anyway, while Michael is out on a mission, and her survival will depend on whether Vacek has enough conscience to visit his daughter in her time of need. Meanwhile, Section moves sleazy informant Mick Shtoppel in as Nikita's neighbor.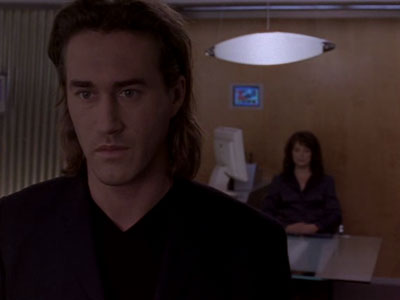 #6 - Approaching Zero 7.91
Season 2 - Episode 4
Section believes that terrorists are after the nuclear power source of a downed satellite. They later discover the terrorists are actually after it because it is a military satellite and it will give them access to the Pentagon if they are able to salvage it and crack the codes. Nikita grows closer to Jurgen and Section uses it to their advantage.
Directors: René Bonnière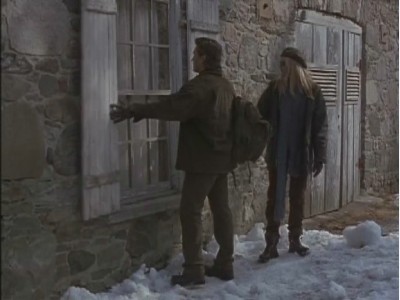 #7 - Beyond the Pale 7.86
Season 3 - Episode 13
Operations passes over Michael for Chief Strategist in favor of a smarmy Section operative by the name of Zalman, and Michael is so furious that he plots with Nikita to escape from Section One. Indeed, after stealing a Section One "Field Router" Michael and Nikita successfully disrupt a mission against new Red Cell leader Vincent Tomas, and make their escape. Zalman is going to take the fall for Michael's and Nikita's escape, and he will stop at nothing to find them.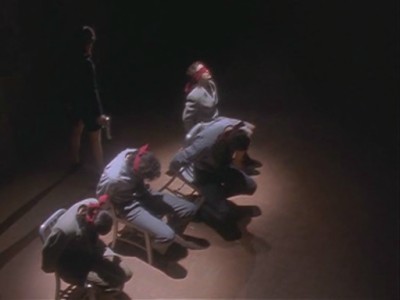 #8 - Gambit 7.85
Season 1 - Episode 14
Section was informed that the water of the city would be polluted if the United Coalitions needs weren't met. Gregor Kessler, the one with many aliases and disguises, steals the Cobalt 60. Kessler was offered money to get the Cobalt 60, reported by a spy of Section. Gregor dresses up as an aged lady to get through South American Customs. Kessler manages to capture the Cobalt 60, but Madeline confronts him. Some how, he knows about her past and starts intimidating her. Section takes Kessler's daughter in hope to retreive the Cobalt 60. This doesn't work for him because he kills her, so Section can't hurt her. Meanwhile, Nikita finds out more about Madeline's past & what she did to her sister. Madeline never wanted anyone to know about it. Kessler now wants Madeline, Section doesn't want her to go by herself, so they stand by in a nearby distance. Madeline falls into a hole where Gregor is. He grips her up by the neck, but she breaks free. It wasn't really her, it was Michael dressed up
Directors: Jon Cassar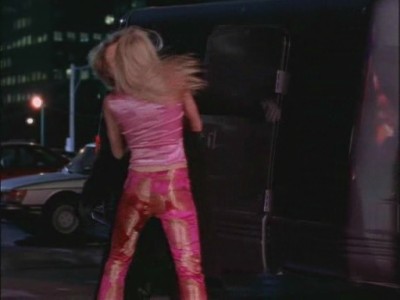 #9 - Noise 7.80
Season 1 - Episode 16
While on a mission to tag a stockpile of Stinger missiles, the Section van is breached, and Birkoff is forced to defend himself for the very first time. Now, his fear of being killed on future missions is interfering with his ability to protect Section operatives, unless Nikita can help him overcome this fear, Birkoff is in danger of being cancelled.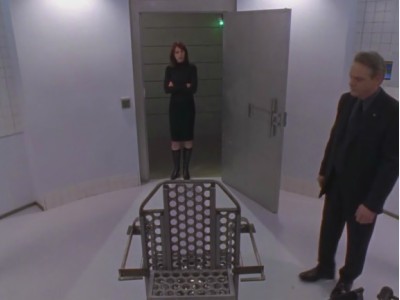 #10 - The Evil That Men Do 7.80
Season 5 - Episode 6
Nikita and Mr. Jones have The Collective's "mole" narrowed down to four suspects: Operations, Quinn, Walter and the late Marco O'Brien, but Mr. Jones has a fifth possibility that Michael Samuelle is still alive, and that he is the "mole." While granting to Mr. Jones the theoretical possibility that Michael may be alive, Nikita denies that he would never be the "mole" for The Collective, Graff and Haled. Meanwhile, Operations sets out personally to see to it that an anti-Collective mission goes according to plan, but it's The Collective that is poised to blow Operations' plane out of the sky! Can and will Nikita save Operations' butt, one last time or should she even bother?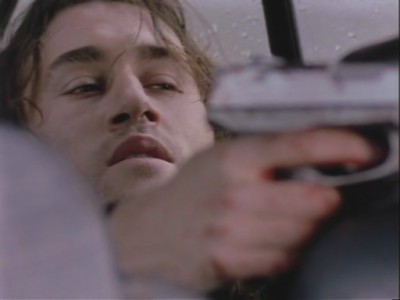 #11 - Rescue 7.79
Season 1 - Episode 11
During a mission to destroy a Russian chemical plant, Michael is injured and is left behind. Section determines that it is too risky to save Michael, but eventually does go to find him by sending Nikita and Madeline in as travelling cosmetic saleswomen. Meanwhile, Michael kidnaps a nurse, Angie Georgiev and convinces her to help him before the head of the secret police, Egran Petrosian, is able to find him. Madeline and Nikita are able to determine where Michael could possibly be and arrive at Angie's apartment shortly after Petrosian does and extract Michael and Angie with Petrosian in pursuit. The four arrive at an abandoned airstrip to await air transport from Section when Petrosian's forces arrive, killing Angie in the fighting that ensued. It is later revealed that Petrosian is really a Section operative that has been in deep cover for the past 17 years. The ""rescue mission"" was really means to extract Petrosian from deep cover and bring him back into Section's fold.
Directors: Ken Girotti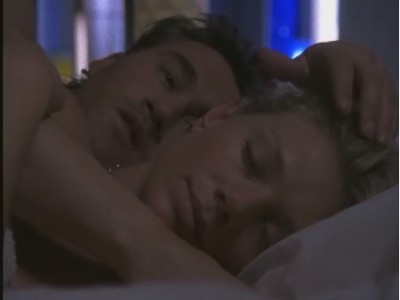 #12 - Third Party Ripoff 7.77
Season 3 - Episode 18
Madeline has decided that Michael's romantic involvement with Nikita is affecting his performance, and so she sets about putting pressure on Michael to halt the relationship. Soon enough, Michael is no longer in charge of Tactical Oversight, so he loses his office, and is no longer running missions. He's replaced by Davenport, a decent guy who's now in charge of field operations. Can Michael give up all the power he's earned in Section One for Nikita? And will Nikita let him give it all up, even if he wants to? Meanwhile, a sultry operative by the name of Valerie is putting heavy moves on both Walter and Birkoff, which soon enough puts a strain on their friendship.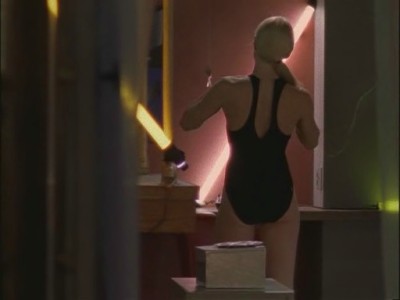 #13 - War 7.73
Season 1 - Episode 17
The stolen Directory has ended up in the hands of Red Cell, and operatives are being hit around the world. Section is being forced to evacuate. In order to learn Red Cell's next move, Nikita and Michael attempt to capture Red Cell's next move, Nikita and Michael attempt to capture Red Cell's counterpart to Birkoff, but instead, they themselves are captured and tortured. Neither of them are willing to divulge Section's current location, but when Michael admits his love for Nikita, she breaks, because she can not stand to see Michael tortured any further. Far from destroying Section One, Nikita quickly discovers that this was the intended plan all along, and Section has a big surprise for Red Cell.
Directors: René Bonnière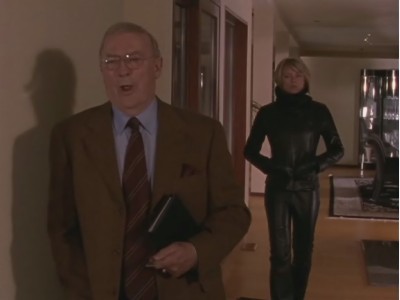 #14 - The Man Behind the Curtain 7.72
Season 5 - Episode 5
Nikita finally comes face to face with her father, the real Mr. Jones, but rather than being an "emotional" reunion, Mr. Jones is all business, and immediately sets Nikita out on a new mission; finding The Collective's "mole" in Section One! Mr. Jones' two candidates: Operations or Marco O'Brien. Mr. Jones thinks it's the latter, but Nikita suspects the former. So Nikita sets out to find the "mole." Meanwhile, the two co-heads of The Collective, Graff and Haled clash over tactics, and whether to trust their "mole's" intel about Section One. Michael finally turns up, but not until the last scene!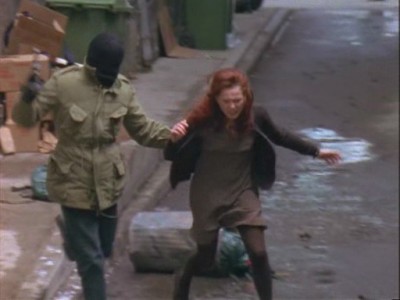 #15 - Friend 7.71
Season 1 - Episode 2
Section One is assigned to protect Jovan Mijovich, a politician attempting to negotiate peace among opposing forces in his section of the world. When Nikita meets with a contact to find out who has attempted to assassinate Mijovich, Nikita is recognized by Julie, a childhood friend. Nikita attempts to protect Julie's life by creating a new identity for her, but Julie is actually an operative for the organization attempting to assassinate Mijovich.
Directors: Guy Magar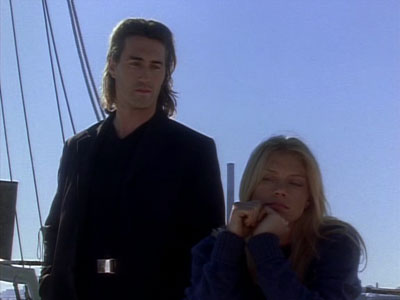 #16 - Hard Landing 7.71
Season 2 - Episode 1
With Michael's help, Nikita survived the destruction of a Freedom League hideout in the first season's final episode. Since then, she has been on the run from Section One. While working as a waitress, Nikita is captured by the Freedom League and used as bait to lure Section One into a trap. During a raid by a Section team led by Michael, Nikita saves Michael's life and they manage to escape together. Later, on an abandoned ship, Nikita and Michael share a night of passion. However, Michael's lies about Nikita's whereabouts are in danger of being exposed.
Directors: Jon Cassar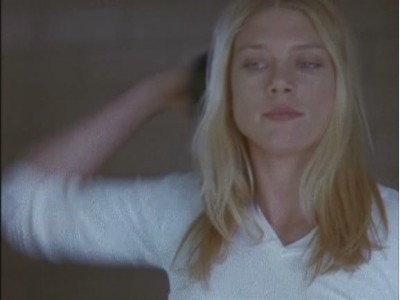 #17 - Cat and Mouse 7.71
Season 3 - Episode 7
Nikita is acting out of character. Michael observes she is pre-occupied, and when mission tapes of a disastrous mission show, the enemy was avoiding shooting her, he believes she is working for Red Cell.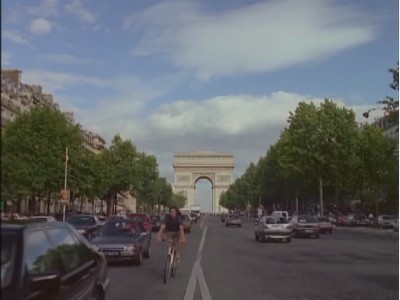 #18 - Three Eyed Turtle 7.70
Season 3 - Episode 20
During an operation, Hillinger's goofing off costs an operative his life, and Hillinger pleads with Birkoff to cover for him, which Birkoff inexplicably does. Hillinger doesn't return the favor, however, when Birkoff is sent out to direct a mission from the field, and Hillinger deliberately tries to get his rival Birkoff killed off once and for all. The jokes on Hillinger when Birkoff exposes what Hillinger did. Sure enough, Operations puts him in abeyance and Hillinger's days seem to be numbered. At the same time, Operations is acting more and more viciously toward Madeline. Operations' timing is terrible, as George from Oversight is turning up the pressure on Operations, just as he's acting out with Madeline. Will Madeline get even with Operations by betraying him to George?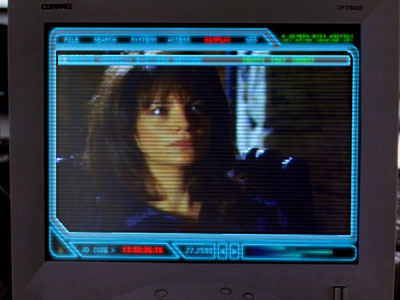 #19 - Mandatory Refusal 7.69
Season 2 - Episode 6
During a mission, Michael is forced into a stage where he must cut communication with Section and complete the mission at any cost, but the target of Michael captures Madeline, and Operations is willing to kill Michael in order to protect her.
#20 - New Regime 7.69
Season 2 - Episode 5
Egram Petrosian, the former Section deep cover agent rescued by Section One, takes over and promotes Nikita to second in command when Operations is seriously wounded by an insane operative.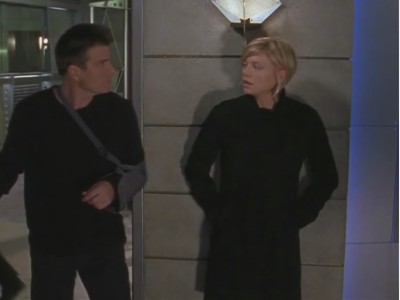 #21 - In Through the Out Door 7.67
Season 5 - Episode 3
After the explosion at the house of Nikita's father, Nikita enlists Walter, and then Jason Crawford, to decript its contents. The result; the location of the convelecence home where Michael took Adrian after the "Gelman Process" mess. And this just happens to coincide with Nikita's physical deterioration because of her experience with the "Gelman Process." Has Michael or Nikita's real father given her the information she needs to beat these after effects? Or is Nikita inevitably heading to the same place Adrian ended up, namely the grave? Meanwhile, O'Brien betrays Nikita, by revealing her deteriorating health to Operations, but unsure that O'Brien will be able to resist Nikita's "charms" any more than Michael did. Operations 'shadows' O'Brien with his very own 'pit bull' operative, Golliak. And Section One continues to try and crack "The Collective."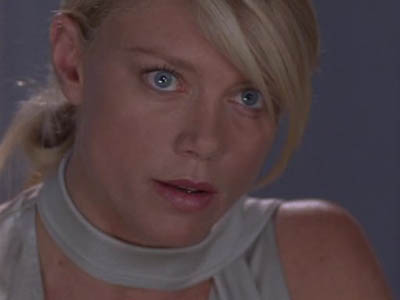 #22 - Up the Rabbit Hole (2) 7.67
Season 4 - Episode 21
Michael escapes Red Cell and is assigned to meet Nikita and kill her, however she doesn't show up and an Alpha Team is assigned to track her down. Michael leads the team with Kate Quinn. Before the mission, Michael discovers Quinn is Nikita and that he could leave Section. The Alpha Team is wiped out and Michael escapes with Nikita.
Directors: Terry Ingram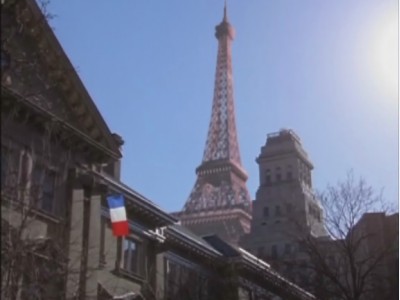 #23 - I Remember Paris 7.67
Season 3 - Episode 16
After an operation against a terrorist group, Michael brings one of the terrorists back to the Section for questioning. The "capture" is a plant, and he knocks Madeline out during interrogation and runs amuck in Section One's HQ. Before Michael finds and eliminates the man, he successfully uploads many of Section One's crucial files, including the Registry (which is at least encrypted, and will take the terrorists several days to decipher) and the exact location (un-encrypted) of Section's HQ (located in Paris). Operations orders the evacuation and destruction of Section One's HQ. With Section in temporary quarters, Operations takes over the counter-operation personally, and goes out on a mission with a less than thrilled Nikita. Will Operations be able to find the terrorist base before the terrorists decode The Registry?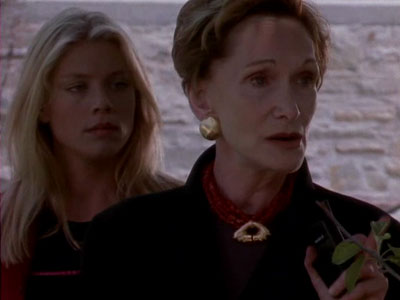 #24 - Adrian's Garden (1) 7.67
Season 2 - Episode 21
When the founder of Section One comes back to destroy her own creation, Nikita must make a choice between the life of Michael or the existence of Section.
Directors: Brad Turner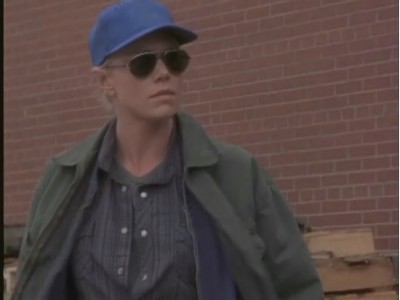 #25 - All Good Things 7.64
Season 3 - Episode 17
With the "situation in the Balkans" again reaching critical, Operations is called off on a consulting job in the field by "The Center," and he turns over temporary full control of Section One to Michael. Operations leaves Michael with one warning, George from Oversight wants a full-scale campaign waged against terrorist financier Luigi Bergomi, but Michael must resist this as Bergomi is too strong and would overwhelm Section forces. After meeting with George, Michael has a change of heart, and decides to launch an operation against Bergomi, despite Madeline's and later Nikita's strong objections. Has the absolute power of running Section One gone to Michael's head? Meanwhile, now that they are "officially" lovers, Michael promotes Nikita as his lieutenant over another agent named Wallace, and when Wallace turns up dead after an operation against Bergomi, Nikita wonders if Michael is playing favorites, and trying to protect her.