The Best Episodes of Black Dynamite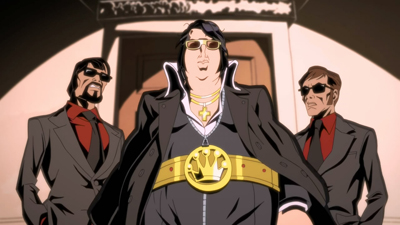 #1 - The Sh*t That Killed the King! or Weekend at Presley's 8.69
Season 1 - Episode 6
President Nixon plans to destroy Black Dynamite by flooding the black community with drugs. However the plan backfires when the blacks begin selling them to whites instead of using them, ridding the community of drugs and using the money to drastically improve things. His original plan a failure, Nixon devises an even more sinister plan, and sends Elvis Presley to stop the flow of drugs from the black community.
Directors: Carl Jones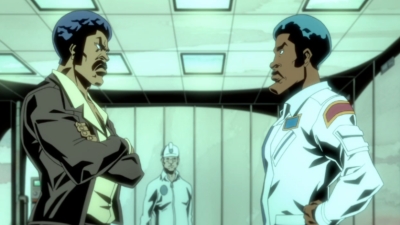 #2 - A Crisis For Christmas or The Dark Side of The Dark Side of The Moon 8.53
Season 1 - Episode 4
In an effort to be more likeable to the orphans, Black Dynamite agrees to go with O.J. Simpson to the moon to get moon rocks on Christmas. However, O.J. bails and leaves Dynamite on a doomed space rocket, leaving everyone to believe that Black Dynamite is dead. O.J. takes over the whorephanage and now Black Dynamite must find a way to get the moon rocks and return to Earth to stop O.J. Simpson.
Directors: Carl Jones

,

Nate Clesowich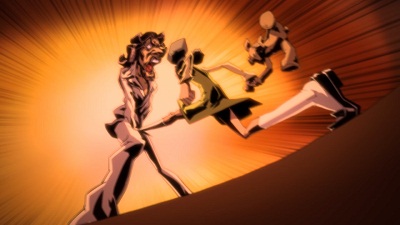 #3 - Apocalypse, This! or For the Pity of Fools (AKA Flashbacks Are Forever) 8.53
Season 1 - Episode 7
Black Dynamite returns to Vietnam with his crew to find his friend Mr.T who was left for dead.
Directors: Jong-Sik Nam

,

Carl Jones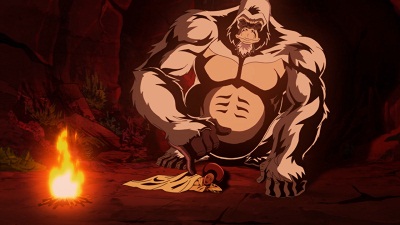 #4 - Honky Kong or White Apes Can't Hump 8.43
Season 1 - Episode 8
A circus ape falls for Honeybee and kidnaps her. Black Dynamite launches a rescue attempt but encounters his own problems during the mission.
Directors: Jong-Sik Nam

,

Carl Jones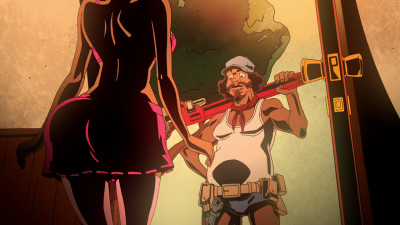 #5 - Bullhorn Nights or Murder She Throats 8.35
Season 1 - Episode 2
Bullhorn falls into the world of adult films while working on a case. Soon he adopts the stage name "Sweet Throat" and gives up crime fighting altogether. Now it's up to Black Dynamite to rescue his sidekick from the pleasures of the porn industry!
Directors: Carl Jones

,

Nate Clesowich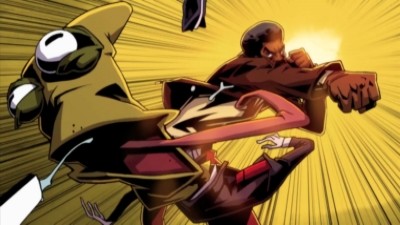 #6 - That Seed of Kurtis AKA Father is Just Another Word for Motherfucker! 8.23
Season 1 - Episode 10
Weeks after the events of "Trouble on Puppet Street", the son of That Frog Kurtis, That Bastard Kurtis, enacts his revenge plan on Black Dynamite for killing his daddy on national television. Meanwhile, Black Dynamite finally finds his long-lost father.
Directors: Kalvin Lee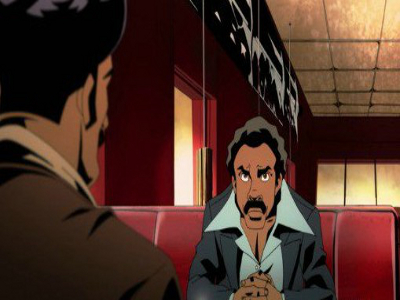 #7 - Taxes and Death or Get Him to The Sunset Strip 8.19
Season 1 - Episode 3
Black Dynamite and his crew face their most challenging mission to date as they try and raise $60K before tax day. This situation has forced them into escorting drug-addled comedy icon Richard Pryor to the most important performance of his career.
Directors: Carl Jones

,

Justin Ridge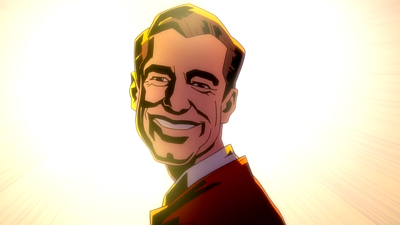 #8 - Mister Rogers' Revenge or Please Don't You Be His Neighbor 8.07
Season 2 - Episode 6
Black Dynamite takes the Orphans to a recording of 'Mister Rogers' Neighborhood'.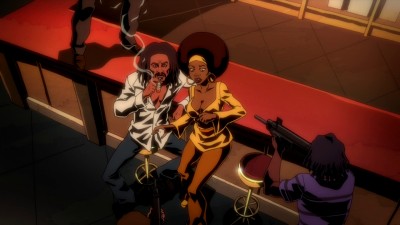 #9 - How Honeybee Got Her Groove Back or Sexodus or Night of the Living Dickheads 8.00
Season 2 - Episode 4
Honey Bee takes the harem to Jamaica for a vacation, where the women party and Honey meets Bob Marley.
Directors: Carl Jones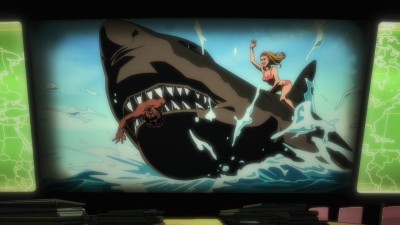 #10 - Black Jaws! or Finger Lickin' Chicken of The Sea 8.00
Season 2 - Episode 2
A soul-food-eating contest ends up being interrupted by a man-eating shark.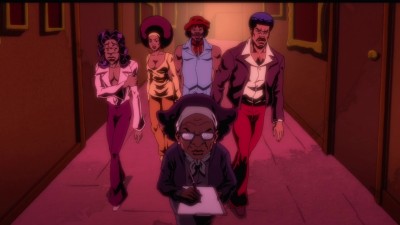 #11 - Diff'rent Folks, Same Strokes or The Hunger Pang Games 7.91
Season 2 - Episode 8
The Whorephanage is shut down, leaving the orphans to be adopted by a group of rich white friends.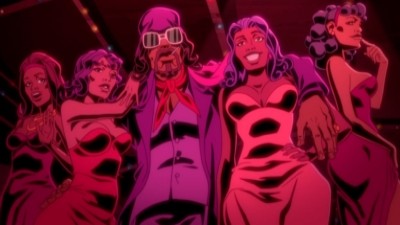 #12 - Panic on the Player's Ball Express or That's Influenza Sucka! 7.90
Season 1 - Episode 5
While Black Dynamite is down with the flu, the rest of the crew handles an investigation at the Players Ball, only to end up caught in a hijacking. It's up to Black Dynamite to handle his sinuses and the villains of the day.
Directors: Justin Ridge

,

Carl Jones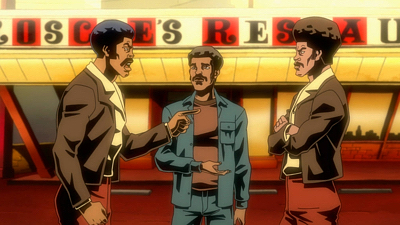 #13 - Sweet Bill's Badass Singalong Song or Bill Cosby Ain't Himself 7.88
Season 2 - Episode 5
Bill Cosby unwittingly helps Melvin, when he doesn't understand the concept of his film.
Directors: Carl Jones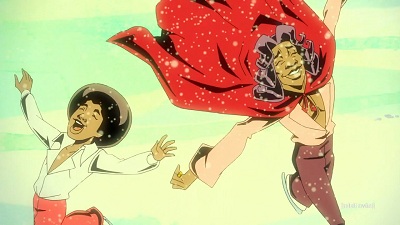 #14 - Just Beat It or Jackson Five Across Yo' Eyes 7.84
Season 1 - Episode 1
Pint-sized pop star Michael Jackson finds a best friend in Cream Corn after he is saved from an assassination attempt. But Black Dynamite is soon to discover that the teen idol is actually a vicious alien force who has been torturing his own family. Cream Corn and Dynamite team up to take down the evil star together!
Directors: Carol Jones

,

Justin Ridge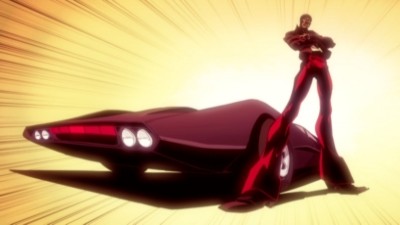 #15 - The Race War! or Big Black Cannon Balls Run! 7.83
Season 1 - Episode 9
Dynamite enters a car race but realizes he's being used to transport a mind-controlling substance to tobacco companies.
Directors: Carl Jones

,

Nate Clesowich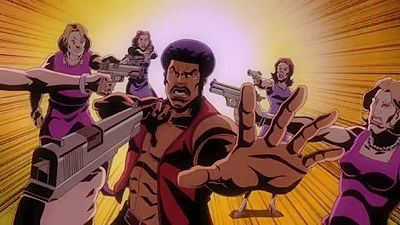 #16 - Roots: The White Album or The Blacker the Community the Deeper the Roots! or Those Cotton Pickin' Crackers 7.54
Season 2 - Episode 1
When ROOTS hits the air and the Community finally sees just how bad slavery was, Al Sharpton whips everyone into a reparation frenzy and they storm Beverly Hills, enslaving every white honky cracker they can find! But BD sees that since you can't even keep white slaves alive without caviar and arugula, being slave masters is actually bringing the Community down. Is Black Dynamite actually going to fight for the White Man's freedom?
Directors: Carl Jones

,

ByungSan Park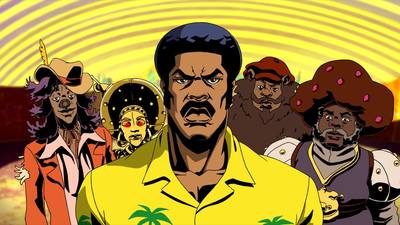 #17 - The Wizard of Watts or Oz Ain't Got S&@# On The Wiz 7.38
Season 2 - Episode 9
Black Dynamite, during a riot in the neighborhood, gets hit in the head with a brick and goes to the land of Oz-Watts, where everybody is needing his help. But between getting Scarecorn some game, Lionhorn a muzzle and Tin Bee a set of balls, he has to bring down the Pig Chief, The Wicked Bitch of the West Side and reach the Great and Powerful Motherf@$%er's palace, or he'll never get home.
Directors: Carl Jones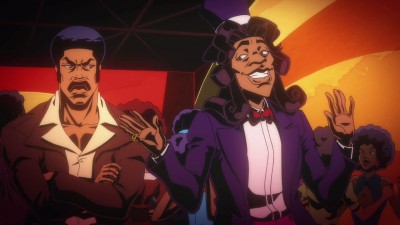 #18 - American Band Standoff or The Godfather of Soooul Train or Get On Your Goodfellas 7.33
Season 2 - Episode 7
Cream Corn is excited for the chance to dance on "Soul Train," but BD knows the show is a battle between Don Cornelius and Dick Clark.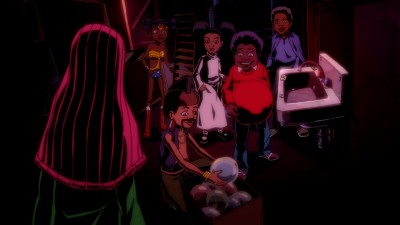 #19 - Warriors Come Out or Mean Queens of Halloween 7.13
Season 2 - Episode 3
It's Halloween in LA and Cream Corn convinces BD and the Crew to go to a street party where, let's just say, ain't nobody in the closet. Everything's gay (as in happy) and gay (as in gay) until the Emcee is assassinated in front of everyone! The unseen shooter frames BD and the Crew, and now they're on a run for their lives, trying to clear their name, pursued by every gay gang south of West Hollywood!