The BEST Episodes of Barney and Friends
Every episode ever - ranked by fan votes!
Last Updated: Sep 17, 2021
Barney & Friends is an American children's television series aimed at children from ages 1 to 8. The series, features the title character Barney, a purple anthropomorphic Tyrannosaurus rex who conveys educational messages through songs and small dance routines with a friendly, optimistic attitude.
Watch Now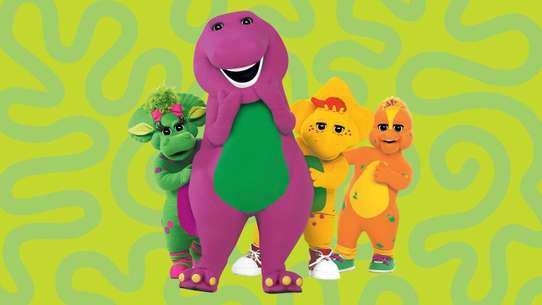 #1 - Caring Means Sharing
Season 1 - Episode 9 - Aired Apr 16, 1992
Barney is a very large dinosaur--but there may not be enough of him to go around when Min and Kathy quarrel over whose turn it is to play with their big purple pal. Coming from a big family, Min is tired of sharing--but joins her friends in an exploration of ways to share fun and work. Baby Bop learns a lesson about being greedy; a puppet show of ""The Little Red Hen"" teaches that rewards and responsibilities are linked. And Barney has a magic gift for Min to help change her mind about sharing!
1 votes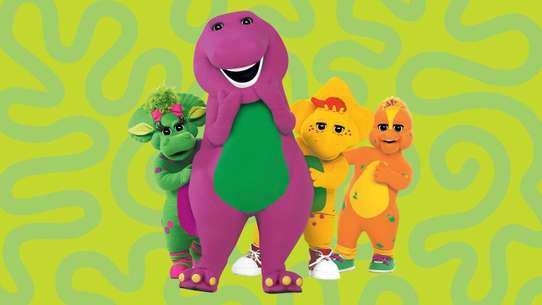 #2 - Down on Barney's Farm
Season 1 - Episode 10 - Aired Apr 17, 1992
The kid's learn and draw pictures of farm animals, but Shawn is unhappy with his drawing when no one knows what it is. Barney pops in to cheer him up and show the children an imaginary farm firsthand. Barney's friend, Farmer Henderson, shows the kids all types of farm animals and Barney teaches Shawn that the beauty of classroom art is in the eye of the beholder!
1 votes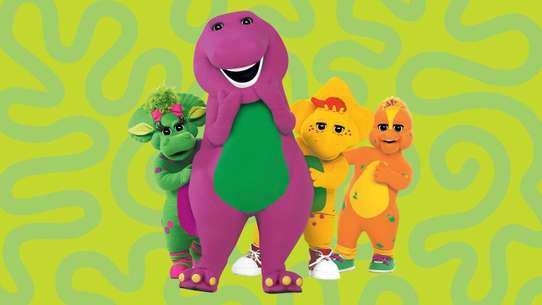 #3 - What's That Shadow?
Season 1 - Episode 11 - Aired Apr 20, 1992
A sudden thunderstorm chases the kids into the classroom, where they are frightened by the rain, thunder and lightning. Barney arrives and tells them how to use positive thoughts to change their fears into fun. The kids make silly monster artwork, and then pretend they are funny, friendly monsters. Barney also helps Shawn overcome his fear of dogs when he meets Min's canine friend, Molly.
1 votes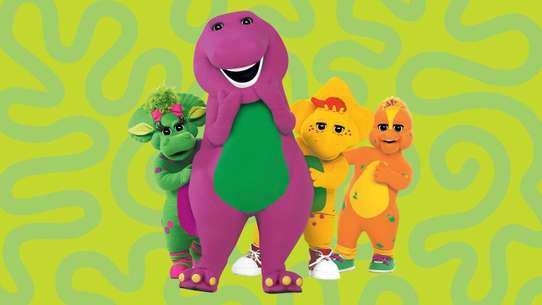 #4 - Happy Birthday, Barney!
Season 1 - Episode 12 - Aired Apr 21, 1992
It's Barney birthday and everyone is excited about throwing him the best party ever, using classroom materials and their imagination! Barney teaches his friends about birthday customs around the world and that receiving gifts is not the most important part of birthdays.
1 votes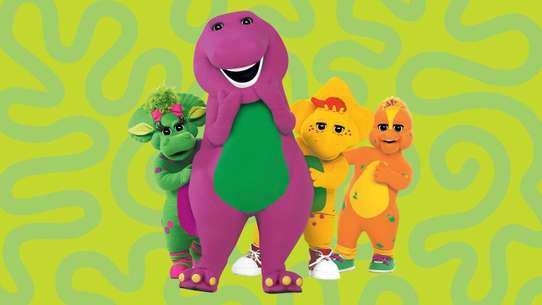 #5 - Alphabet Soup!
Season 1 - Episode 13 - Aired Apr 22, 1992
When Barney arrives to play with his friends, Derek, plays ""alphabet fun"" by spelling a ""mystery word"" a letter at a time. The group plays games and sings songs related to each letter of the mystery word. Rhyming words, making alphabet soup, walking through the alphabet, and seeing how, many letters they can make with their bodies, gives the children many chances to play with letters and words. Children learn that having fun with letters and words and learning the alphabet are the first steps to reading.
1 votes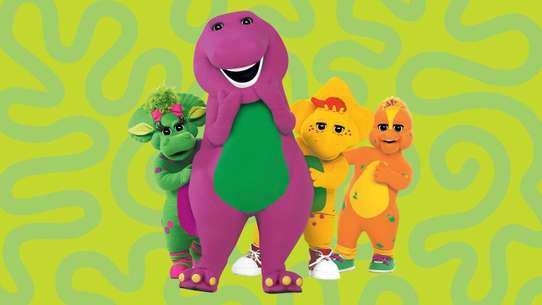 #6 - Our Earth, Our Home
Season 1 - Episode 14 - Aired Apr 23, 1992
The school's ""Earth Week"" has Barney and his friends all abuzz about things they can do to protect the earth. Through fun-filled songs, the children learn the importance of recycling... how to make new things out of old...how to conserve water, air and land clean. The children form a ""trashcan"" band performing a silly symphony song and do a skit about Johny Appleseed. Sharing and caring for the earth become a ""fun thing"" to do.
2 votes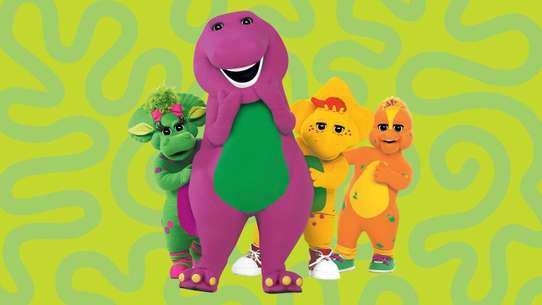 #7 - Practice Makes Music
Season 1 - Episode 20 - Aired May 1, 1992
Michael is scheduled to play a cello solo at the school concert in a few days and he is nervous about playing in front of all those people. Barney invites his friend Greg Murray to teach the kids about music and help Michael learn that ""practice makes perfect."" Barney and his friends learn to identify musical instruments and their sounds and appreciate all the different varieties of music.
1 votes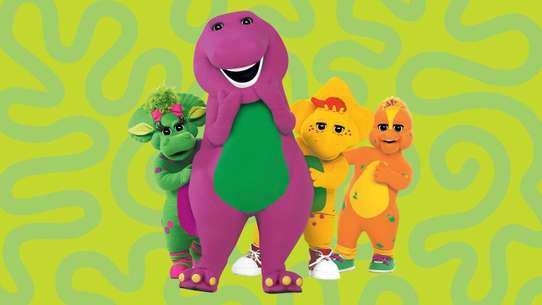 #8 - May I Help You?
Season 2 - Episode 3 - Aired Sep 29, 1993
The kids take Barney and Baby Bop through a pretend day at school.
1 votes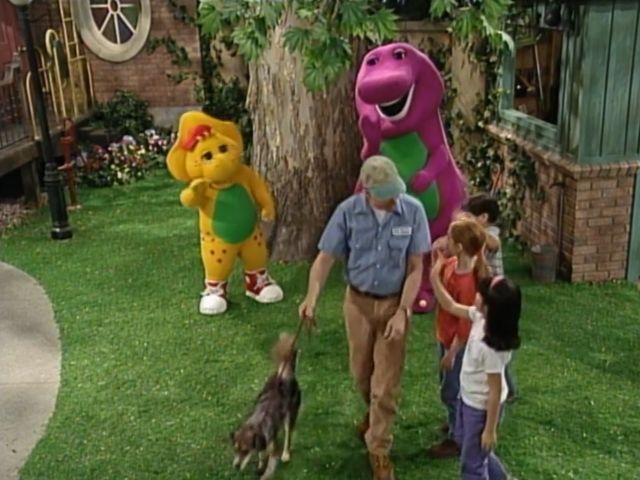 #9 - Puppy Love
Season 7 - Episode 4 - Aired Sep 5, 2002
Barney and his friends help Mr. Boyd prepare his dog Bingo for a trip to the veterinarian for a check-up, but he's hiding in the tool shed. Everyone learns lessons about caring for dogs as they help Mr. Boyd search for Bingo. Meanwhile, BJ is searching for his missing baseball, which he suspects was buried by Bingo. Other visitors to the park include Miss Duffy, a sight-impaired friend of Barney's who introduces the children to her guide dog, Kellie. A visit from Mr. Steele and his multitude of Chihuahuas prompts Barney to show the kids about a wide variety of dogs.
1 votes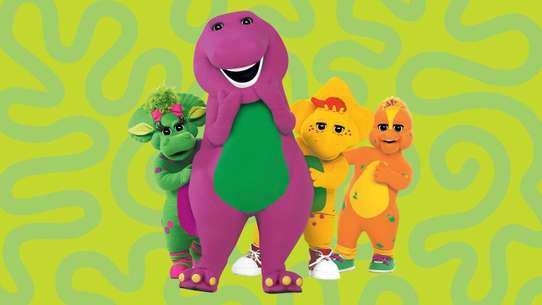 #11 - On Again, Off Again
Season 8 - Episode 2 - Aired Sep 16, 2003
Barney, Baby Bop and the children learn about on and off.
1 votes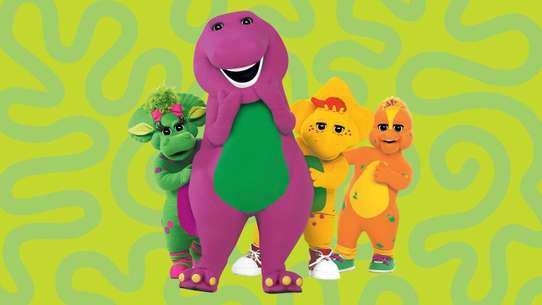 #15 - My Family's Just Right for Me
Season 1 - Episode 2 - Aired Apr 7, 1992
It's the eve of ""Family Night"" at school. A super time for Barney & Friends to celebrate all those wonderful folks (and even pets!) at home. With paintings, books, songs, and dances. There's just one glitch to the gala; Kathy's not sure her ""small"" family measures up. It's just her Mom, her grandmother and herself. But after Barney gets through with his fun and games, the children realize that a family is defined by love, not by size.
3 votes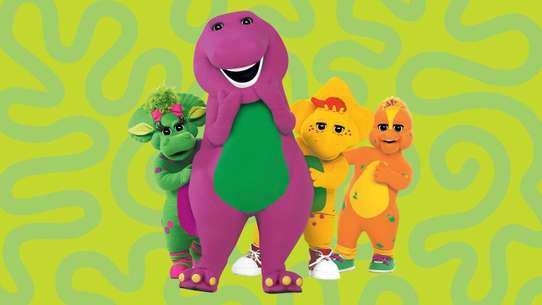 #16 - Hop to It!
Season 1 - Episode 4 - Aired Apr 9, 1992
When Tina and Luci are playing basketball, Tina is disappointed when she can't play as well as her older sister or the other big kids. Barney stops by to show Tina all the great things she can do with exercise. Barney and the kids play games and sing songs about exercise and find out how fun it is to learn about their bodies. With new found energy and confidence, Tina ends up playing basketball as well as the others.
4 votes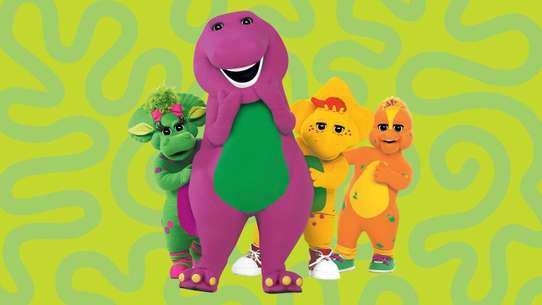 #17 - Four Seasons Day
Season 1 - Episode 6 - Aired Apr 13, 1992
Talk about the weather! The kids do much more than that as Barney squeezes all four seasons into one rollicking make-believe holiday. You won't believe how much fun you can have celebrating the wind, rain, and the snow. There's a barrel-full of songs about Spring's showers, Summer's warmth, Fall's leaves, and Winter's chill.
2 votes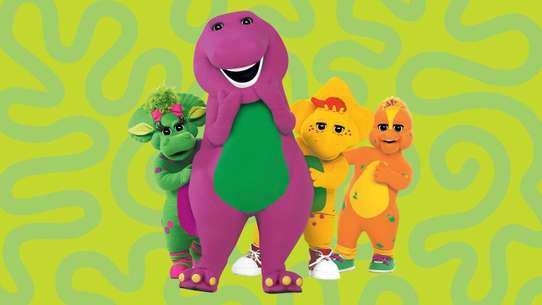 #18 - Gift of the Dinos and Winter
Season 14 - Episode 1 - Aired Oct 4, 2010
Gift of the Dinos: At Christmastime, BJ dreams of getting a brand new baseball glove, while Riff hopes for brand new drumsticks. Barney reminds them both that Christmas is about more than just getting gifts. Winter: Baby Bop waits for the first snowfall of the year!
2 votes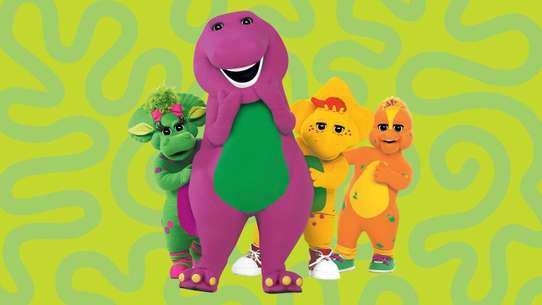 #19 - The New Kid and The Princess and the Frog
Season 14 - Episode 20 - Aired Nov 2, 2010
The New Kid: After Riff makes friends with new kid Noah, BJ becomes jealous and thinks he is not Riff's friend anymore. Barney teaches him that you can always keep your old friendships and make new ones too. The Princess and the Frog: After Baby Bop promises Ryan to watch his pet frog, Barney tells her the story of "The Princess and the Frog" to remind her to always keep her promises.
1 votes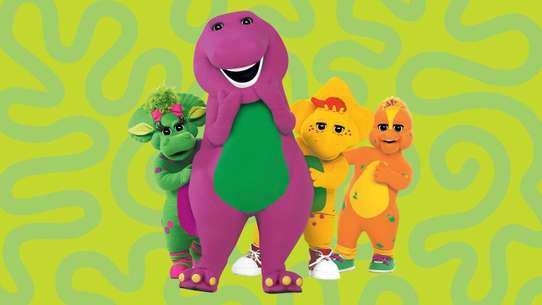 #20 - The Queen of Make-Believe
Season 1 - Episode 1 - Aired Apr 6, 1992
It looks like rain. But Min has decided to become the Queen Of Make-Believe. Suddenly, it looks like lots of fun! With Barney leading his Friends on a romp of games, songs and activities. They put on a pretend tea-party, build a robot with boxes, they even create some special ""stretching exercises"" for the imagination. Pretending, make-believing or imagining- children learn it's always called fun.
6 votes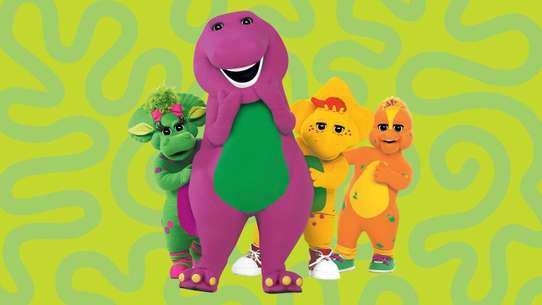 #21 - Playing It Safe
Season 1 - Episode 3 - Aired Apr 8, 1992
Barney and his friends learn some fun lessons about ""playing it safe."" The kids create cardboard-box cars to teach the rules about seatbelt use and crossing the street safely. To teach Baby Bop about strangers, a classroom version of Little Red Riding Hood is performed. Great music and special lyrics help reinforce the safety lessons. When Barney stumbles on a toy, the children learn that safety begins at home!
2 votes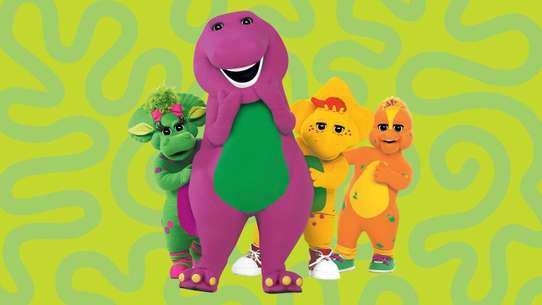 #22 - Riff to the Rescue!: A Wild West Adventure
Season 12 - Episode 4 - Aired Sep 18, 2008
Ready Set Play
1 votes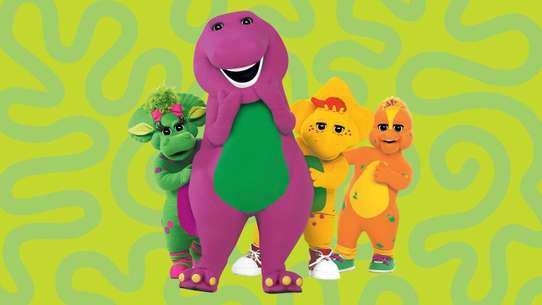 #23 - Riff's Musical Zoo and Boats
Season 14 - Episode 2 - Aired Oct 5, 2010
Riff's Musical Zoo: After Tracy's Mom can't take the kids to the zoo, Riff uses stuffed animals and musical instruments to mimic animals sounds to create a "musical zoo"! Boats BJ and Riff build a make-believe boat for Baby Bop to ride.
4 votes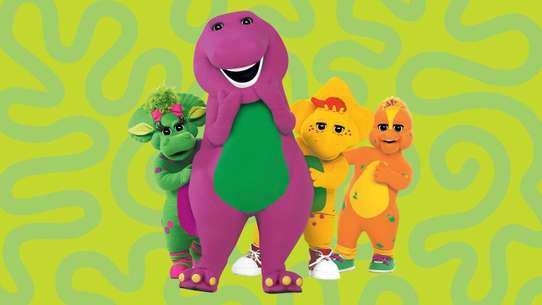 #24 - Eat, Drink and Be Healthy!
Season 1 - Episode 5 - Aired Apr 10, 1992
Barney and his friends discover they have plenty of ""food for thought"" as they learn about nutrition. Discovering the four food groups and the importance of eating healthy snacks allows Barney, Baby Bop and their friends to have fun together. An imaginative rhyming story tells about the perils of being a picky eater. A friend of Barney's sings a humorous song about meals that would ""bug"" most diners. Special songs and lyrics reinforce the lesson that eating healthy foods is the right thing to do.
1 votes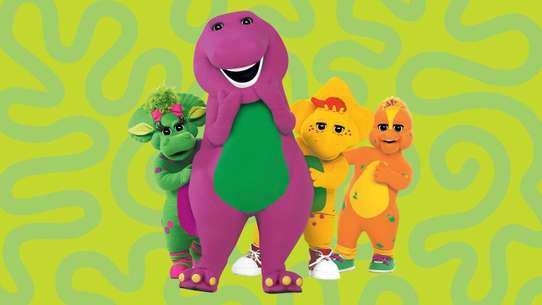 #25 - Grandparents Are Grand!
Season 2 - Episode 2 - Aired Sep 28, 1993
When Derek's granddad and Kathy's nana visit the school, Barney and the kids learn how grandparents are special people.
1 votes