The WORST Episodes of Pawn Stars
Every episode ever - ranked by fan votes!
Last Updated: Oct 18, 2021
Long before banks, ATMS and check-cashing services, there were pawn shops. Pawning was the leading form of consumer credit in the United States until the 1950s, and pawn shops are still helping everyday people make ends meet. PAWN STARS takes you inside the colorful world of the pawn business. At the Gold & Silver Pawn Shop on the outskirts of Las Vegas, three generations of the Harrison family--grandfather Richard, son Rick and grandson Corey--jointly run the family business, and there's clashing and camaraderie every step of the way. The three men use their sharp eyes and skills to assess the value of items from the commonplace to the truly historic, including a 16th-century samurai sword, a Super Bowl ring, a Picasso painting and a 17th-century stay of execution. It's up to them to determine what's real and what's fake, as they reveal the often surprising answer to the questions on everyone's mind, "What's the story behind it"? and "What's it worth?"
Watch Now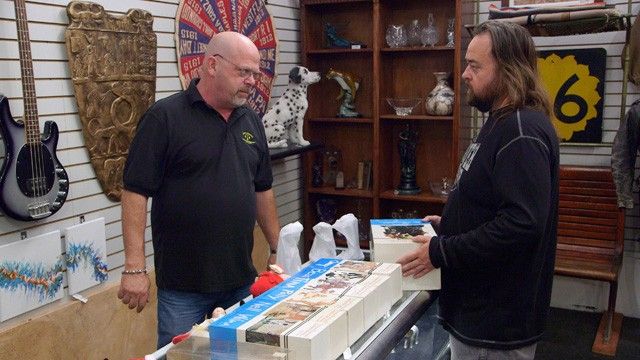 #1 - Pawn Shop Rock
Season 2021 - Episode 4 - Aired Mar 29, 2021
A blade rumored to belong to a Japanese World War II admiral commands Rick's attention. Can he cut a deal, or will the negotiations be pointless? Then, the guys take another Harrison under their wing for a summer job he'll never forget. Next, some vintage baseball cards slide into the shop, leaving both Rick and Corey speechless over the $60,000 asking price. Will they knock this deal out of the park, or strike out? Finally, a guitar pick belonging to Elvis has Corey all shook up. He can't help falling in love, but the deal might land him in the heartbreak hotel.
0 votes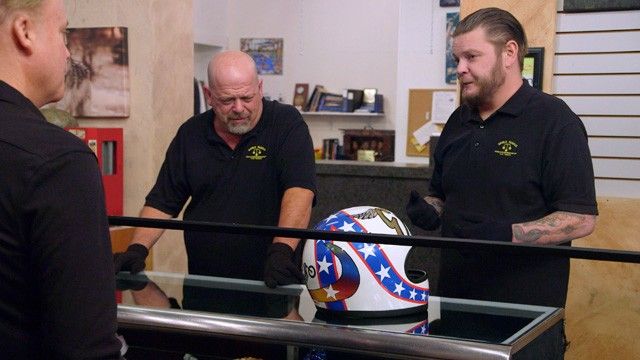 #2 - Rick's Surreal Supper
Season 2021 - Episode 5 - Aired Apr 12, 2021
When Chum gets his hands on a one-of-a-kind chair with a strange feature, will Rick turn a blind eye to his spending? Then, a helmet that once belonged to Evel Knievel lands in the shop. Will Rick take a leap of faith, or will the deal crash and burn? Next, Corey pedals into the past with a toy inspired by the Weinermobile. Will he get roasted by the seller, or can he sink his teeth into a deal? And finally, Rick cracks open a cookbook by artist Salvador Dali, and gets a surreal idea – to host a dinner party. But when things quickly get hairy, will Rick melt under pressure?
0 votes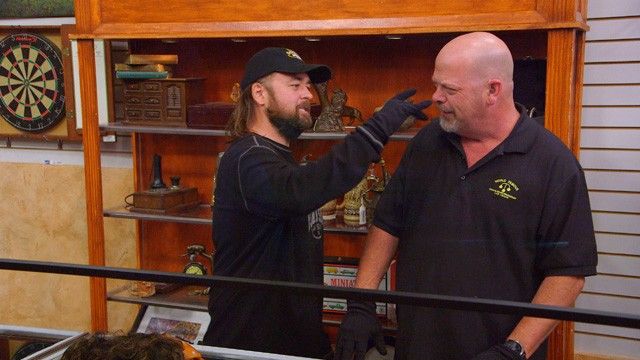 #3 - That's the Way the Cookie Crumbles
Season 2021 - Episode 6 - Aired Apr 19, 2021
When a Mick Foley t-shirt and autographed mask come into the shop, Rick calls in a very special guest to authenticate it. Can he wrestle a superstar price, or end up getting slammed? Next, a seller walks in with an unopened McDonald's cookie from the 1980s. Will Corey take a bite out of this deal, or will the negotiation go stale? Later, Murray the Magician shows Chum a few tricks up his sleeve when they check out a magical book. Is a purchase in the cards, or is the deal cursed? And finally, Rick and Corey clown around in LA when they take a road trip to see a collection of vintage coin operated arcade machines. Can they score big, or will it be game over?
0 votes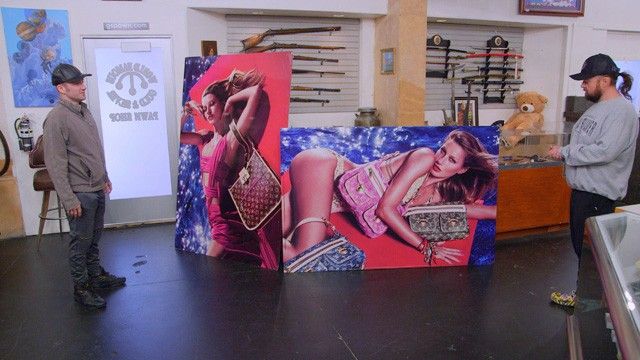 #4 - To Infinity and Be-pawned!
Season 2021 - Episode 7 - Aired Apr 26, 2021
Rick tries to win one from the Gipper when a special pendant hits the counter. Can the patron saint of pawn shops help Rick land the deal? Next, a massive collection of vinyl LPs has Chum's head spinning. Can he get into a groove with the seller, or will this deal get scratched? Then, it's happy days for Corey when a dress from Laverne and Shirley comes into the shop. Will he be able to skirt the issues with this item? Or will Corey take the L and let the dress walk out of the shop? And finally, Rick and Chum get fired up when they head to the desert to shoot the shop's newest firearm. But their canon feels quaint when they spot the big guns - and Rick might just explode from jealousy.
0 votes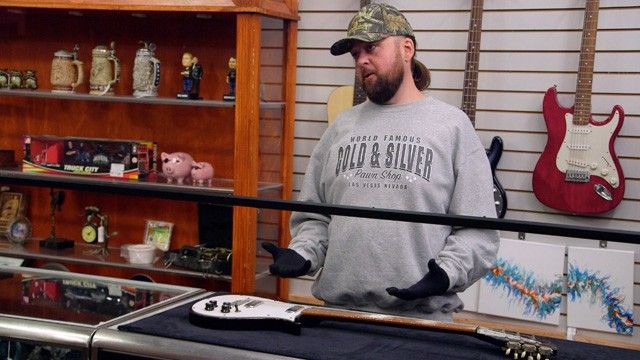 #5 - Pawn Stars and Movie Stars
Season 2021 - Episode 8 - Aired May 3, 2021
Rick and Chum flip out when Spencer stops by the shop with a few vintage items. Will they tilt the negotiations in their favor, or will they not be able to see eye to eye? Next, a Bruno Mars platinum album spins into the shop. Can Corey land a funky deal, or will he get locked out of negotiations? Later, Chum twists and shouts when a pair of boots signed by Ringo Starr walk into the shop. Will he and the seller be able to come together, or will Chum have to make his peace with not landing a deal? And finally, Rick calls in actor Dennis Quaid to help authenticate a signed poster for his upcoming movie. Can Rick be a great communicator, or will the seller give him the cold shoulder?
0 votes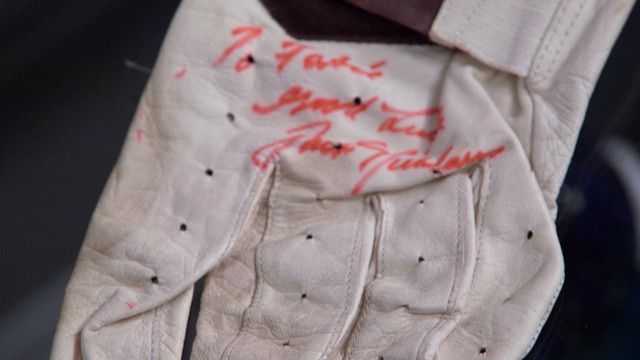 #6 - Atomic Pawn
Season 2021 - Episode 9 - Aired May 10, 2021
Chum goes for a hole-in-one when a signed Jack Nicklaus golf glove swings into the shop. Meanwhile, Corey targets a G.I. Joe Tomahawk helicopter toy. Will he get to be a real American hero, or will this deal go AWOL? Next, an antique Fender amp rocks Chum's world. Will the price be music to his ear, or off key? And later, Rick and Spencer go on a picking adventure in Huntington Beach, California. When they find a treasure trove of military items, does Rick have enough ammunition to close the deal?
0 votes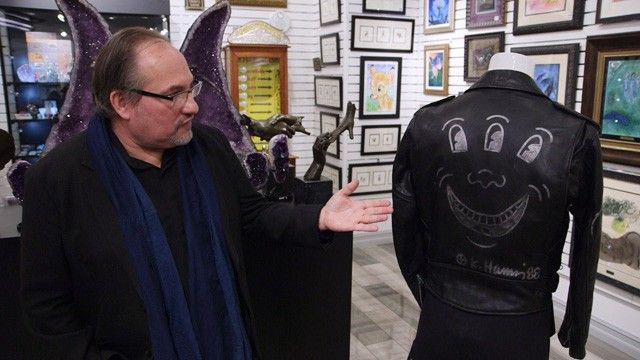 #7 - Once a Pawn a Time in Hollywood
Season 2021 - Episode 10 - Aired Aug 14, 2021
When a vintage Yellow Cab hat pulls into the shop, can Rick hail a fare deal? Next, a seller pops in with a gum ball machine. Will he stick to a fair price, or do Corey and Chum have to burst his bubble? Then, Corey gets to play with the world's first video game console. Can he control the negotiation, or will it be game over? Finally, Rick and Chum are ready for their close up as they head west to check out a treasure trove of Hollywood memorabilia in California.
0 votes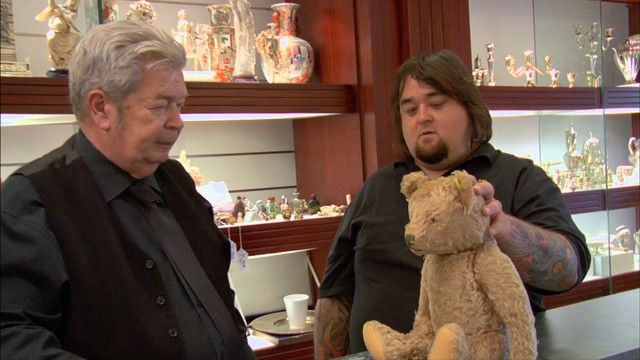 #8 - Off the Rails
Season 2021 - Episode 11 - Aired Aug 14, 2021
When Chum gets his hands on a trio of vintage comic strip characters, will the seller play with his emotions, and toy around with a deal? Next, a book by Amelia Earhart flies into the shop. Will Rick dare to make a deal, or will the price soar too high? Then, a pair of "Romeo and Juliet" sculptures hits the counter. Can Chum play a part in the negotiation before it turns tragic? And later, the guys take a trip to meet up with Spencer at the Glamis Sand Dunes to check out a one of a kind sandrail. Can Rick drive home a deal, or will he be left in the dust?
0 votes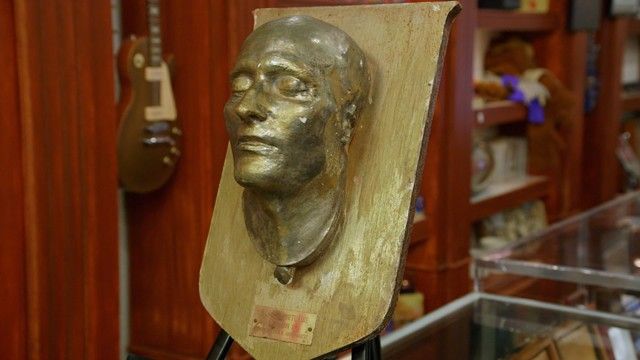 #9 - Bohemian Pawnsody
Season 2021 - Episode 12 - Aired Aug 14, 2021
When Rick gets a chance at an iconic collection of Hard Rock photographs, can he capture a deal, or will another one bite the dust? Next, Corey gets revved up for a Harley Davidson motor. Will he put the pedal to the metal, or stop short? Then, Rick and Chum come face to face with giant statues of the Chipmunks. Are they nuts for wanting to squeak out a deal? And finally, when a collection of Pat Morita memorabilia comes into the shop, are happy days ahead, or will Rick's offer get karate kicked to the curb?
0 votes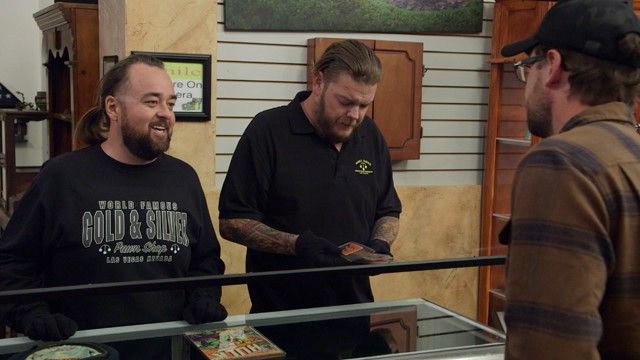 #10 - Wanted: Pawned or Alive
Season 2021 - Episode 13 - Aired Aug 21, 2021
Rick is ready for some football when a Super Bowl bucket hat rushes into the shop. Can he score big, or will he fumble the deal? Later on, Corey and Chum turn green with envy when Spencer brings in an Incredible Hulk comic book. They give their strongest offer, but will it get smashed? Next, a set of Snow White and the Seven Dwarfs pencil holders awaken Corey's interest. Will the negotiations be the fairest of them all, or leave him feeling grumpy? And finally, Rick and Chum take a trip to Los Angeles to see a coveted pair of sneakers that Michael Jordan wore in the movie "Space Jam." But will an out of this world asking price, drive Rick looney?
0 votes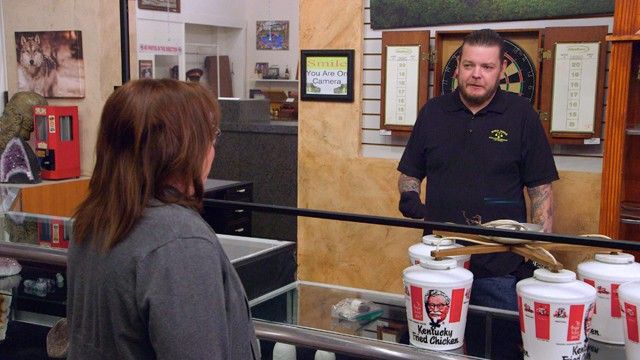 #11 - Rick's Big Triumph
Season 2021 - Episode 14 - Aired Aug 28, 2021
When a chandelier made out of KFC buckets lights up the shop, does Corey's future look bright, or will he get fried? Then, Rick gets revved up over a very special motorcycle. But will he come out of the negotiations triumphant? Next, Chum tries to talk his way into buying a vintage Teddy Ruxpin doll. But will a lowball offer even bear considering? And finally, Corey loses his head over an eerie artifact that has a strange resemblance to Chum.
0 votes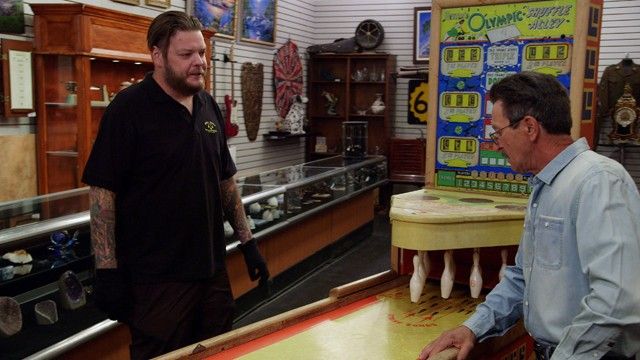 #12 - Rick vs. the Globe of Death
Season 2021 - Episode 15 - Aired Sep 4, 2021
Rick and Chum get a relatively genius package containing letters signed by Albert Einstein. But can they figure out the equation to work out a deal? Then, Chum and Corey marvel at replicas of Thor's helmet and hammer. Will they nail the negotiation, or be deemed unworthy? Next an antique game shuffles into the shop. Will Corey try to bet the house, or will he strike out? And finally, Rick heads out to meet Spencer for a death-defying picking adventure of global proportions.
0 votes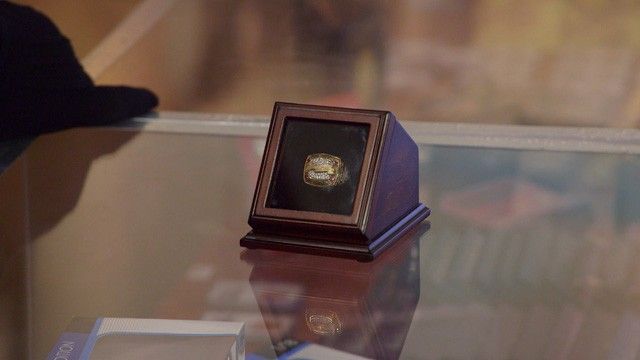 #13 - Jurassic Pawn
Season 2021 - Episode 16 - Aired Sep 18, 2021
Chum gets into the teen spirit when a unique piece of Kurt Cobain memorabilia comes into the shop. Will the deal reach nirvana, or will the seller say nevermind? Next, Rick takes a swing at a 1996 Atlanta Braves National League Championship Ring. Then, when a customer comes in with a Jurassic Park POG collection, Chum gets slammed with a hefty asking price of $775,000. And finally, Rick takes Corey to check out his childhood dream car - a 1967 Meyers Manx. But the father/son bonding comes to a screeching halt when a test drive leaves the duo stranded in the desert.
0 votes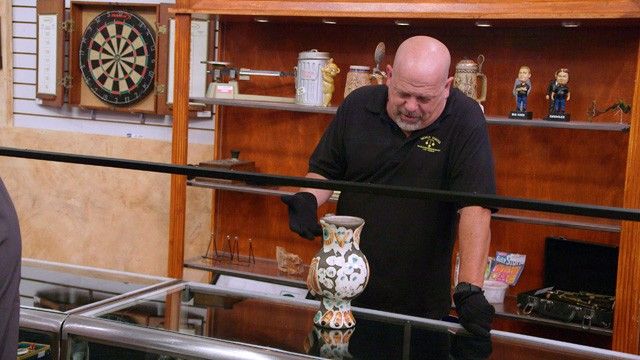 #14 - Action Packed Pawn
Season 2021 - Episode 17 - Aired Sep 25, 2021
Things in the shop get lit when Corey checks out a Jason Aldean neon light. Is the seller's asking price crazy town, or will it be Corey's kind of party? Then, Rick has a hoot when he checks out a ceramic owl vase made by none other than Pablo Picasso. Next, a deal turns peppery when a poster from the Beatles' "Yellow Submarine" movie lands on the counter. Will Chum be left feeling blue, or will it all come together now? And finally, when Rick buys 507 signed basketball cards, Chum makes a full court press to convince Rick that a mystery pack sale is just what he needs to turn a profit--but is his suggestion out of bounds?
0 votes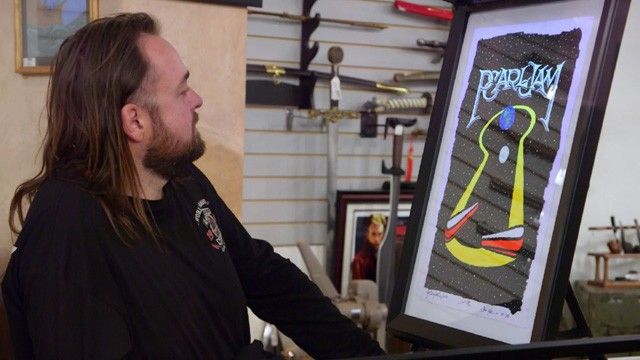 #15 - Pawn Jam
Season 2021 - Episode 18 - Aired Oct 2, 2021
When a very special cowboy hat owned by President Ronald Reagan moseys into the shop, can Rick wrangle an offer? Next, Chum lights up when a glowing Pearl Jam painting rocks across the counter. Will a deal make him come alive, or will the seller look for a better man to buy it? Next, Rick and Corey rehash the past when a seller brings a Sammy Sosa signed baseball into the shop. Who will win the race to bring home a deal? And finally, inspired by a signed copy of photographer, Peter Lik's book, Chum sets out to capture an unforgettable muse.
0 votes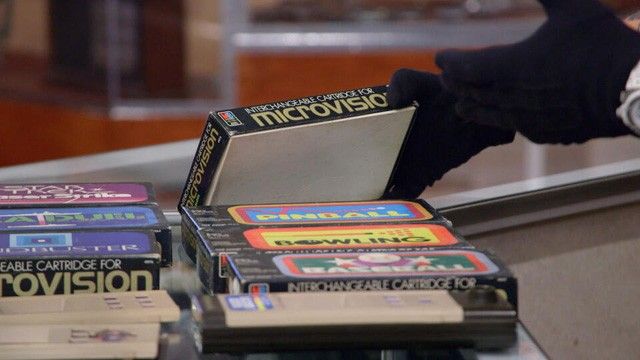 #16 - When Pawns Cry
Season 2021 - Episode 19 - Aired Oct 9, 2021
When Pawns Cry; Sci Fi Finds: Retro handheld video game console; tambourine played by the late musician Prince; Ty Cobb autographed baseball roster; silent film program; autographed "Star Trek" memorabilia; "Back to the Future" DeLorean replica.
0 votes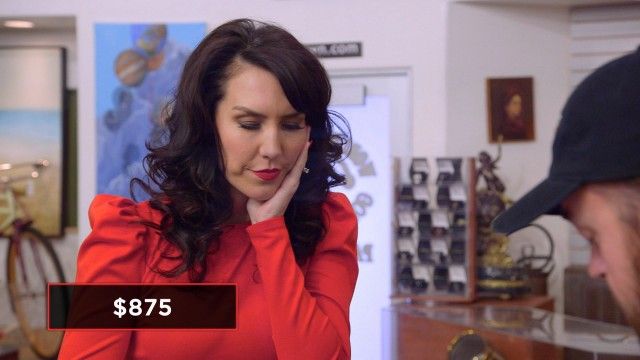 #17 - Rick and Chum's Wild Ride
Season 2021 - Episode 20 - Aired Oct 16, 2021
Corey becomes enchanted with a collection of magical memorabilia; rare first edition copy of 'Anne of Green Gables"; a vintage Harley T-shirt makes Corey go hog wild; Rick and Chum head to California to take a peek at a massive Disney collection.
0 votes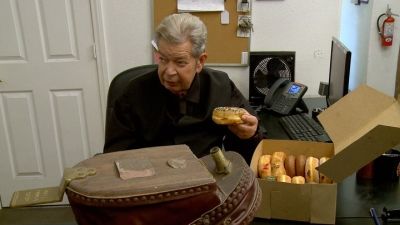 #18 - Rescue 9-1-Chum
Season 2014 - Episode 11 - Aired Feb 6, 2014
Fight fire with the Pawn Stars when Rick and the Old Man check out a vintage smoke suit air pump. Missing its most valuable piece, will the guys end up getting burned? Then, Corey looks to cash in on a silver certificate when he finds an unexpected error. Will he be able to rack in the big bucks or be left with an empty wallet? And later, Chumlee gets hosed when he shows up to work late again. Given a special task, will his plan go up in flames?
81 votes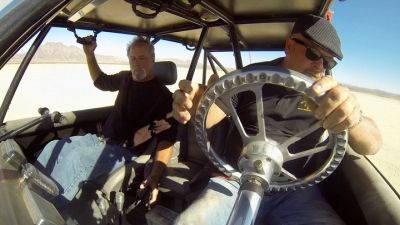 #19 - Rock Bottom
Season 2014 - Episode 15 - Aired Feb 20, 2014
Hit rough terrain with the Pawn Stars when Rick bumps into a vehicle known as a rock crawler. Will he steer this off-roading dream machine home or will negotiations hit rock bottom? Then, Corey does a touchdown dance when a game worn jersey from Bob Hayes gets carried in. Will his victory be short-lived? And later, when the guys realize they're getting negative reviews online they attempt to solve the problem, but will they change for the better or worse?
66 votes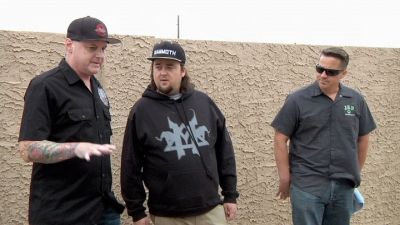 #20 - Extreme Pawnover
Season 2014 - Episode 12 - Aired Feb 6, 2014
Hop on the highway to hell with the Pawn Stars when Chumlee checks out a one-of-a-kind Ford Model A dubbed the "Hellbilly." Complete with flamethrowers and a skull stick shift, will he burn a hole in Rick's pocket to score this custom car? Then, Rick and Corey get nostalgic when vintage Pinocchio and Donald Duck toys wind up in the shop. Will they hit the negotiation on the nose or end up getting played? And later, when the Old Man leaves town, Rick rushes to make some expensive renovations. Will the Old Man get ugly, or just get even?
77 votes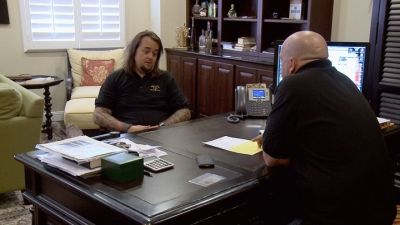 #21 - Chords, Swords and Rewards
Season 2014 - Episode 16 - Aired Feb 20, 2014
Rick and Corey check out a sword belonging to the Freemasons. Will the guys be able to sneak in an offer or will negotiations get chopped? Then, Corey and Chumlee play with the idea of scoring a Gibson Master Museum guitar. Stamped with the serial number 1, how far will they go to pluck out this rare instrument? And later, Chumlee tries to prove he deserves a raise, but will his weaknesses outweigh his strengths?
68 votes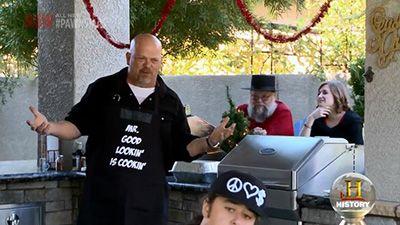 #22 - A Very Vegas Christmas
Season 2013 - Episode 61 - Aired Dec 19, 2013
Celebrate the holidays Vegas style as the guys from Pawn Stars, Counting Cars and American Restoration get together for a Christmas barbecue. First they'll deck the halls with pawn shop drama, when they debate the best and worst deals they've ever made. Then, the guys take a look back at all of the amazing restorations that Rick Dale and Danny have done for the pawn shop. And later, it's finally time to eat. But can these guys cook as well as they negotiate?
75 votes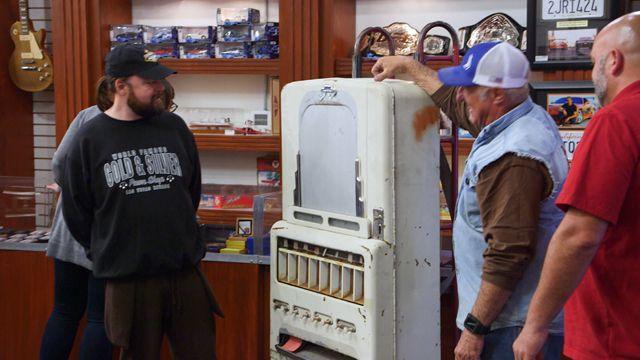 #23 - Mo' Monet, Mo' Problems
Season 2020 - Episode 26 - Aired Dec 7, 2020
Chum becomes the chosen one when a seller brings in Buffy figurines. Can he slay the deal before the stakes are raised? Next, an artist's letter makes quite an impression on Rick. Will Rick show him the Monet? Then, Chum's got a sweet tooth for an old vending machine. Will his investment be a candy rush, or candy crush? Finally, a 1949 fire truck light races into the shop. Is the price too alarming to make Rick stop, drop and buy?
6 votes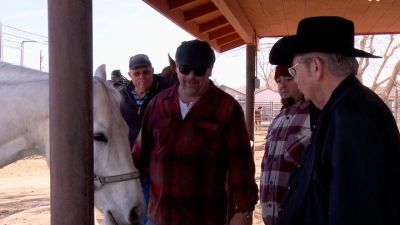 #24 - Saddle Up
Season 2014 - Episode 32 - Aired Apr 17, 2014
Cast your vote for the Pawn Stars when an Abraham Lincoln campaign poster comes up for grabs. Used in his 1864 re-election campaign during the Civil War, will it cost Rick a pretty penny or will he veto the negotiation? Then, Chumlee's feeling like a kid again when a Turbo Man action figure flies into the shop. Can he cough up the dough to snag this fictional superhero or will it "jingle all the way" out the door? And later, Chumlee's plan for a hike with the guys turns into a day on horseback, but it seems Vegas is a one-horse town.
67 votes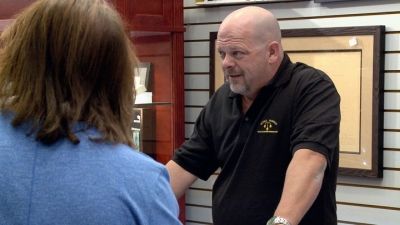 #25 - The Great Pawnbino
Season 2014 - Episode 14 - Aired Feb 13, 2014
Step up to the plate with the Pawn Stars, when Rick tries to hit a home run with a personal check signed by Babe Ruth. Will he be able to hit it out of the ballpark or strike out swinging? Then, Corey floats the idea of purchasing Navy buttons that date back to the Civil War. Will he make an offer or let it sink? And later, when Rick's back starts acting up Chum tries to help. Will he come to the rescue or just cause a bigger pain?
70 votes